Vietnam Prepares for Success in 4IR with World Economic Forum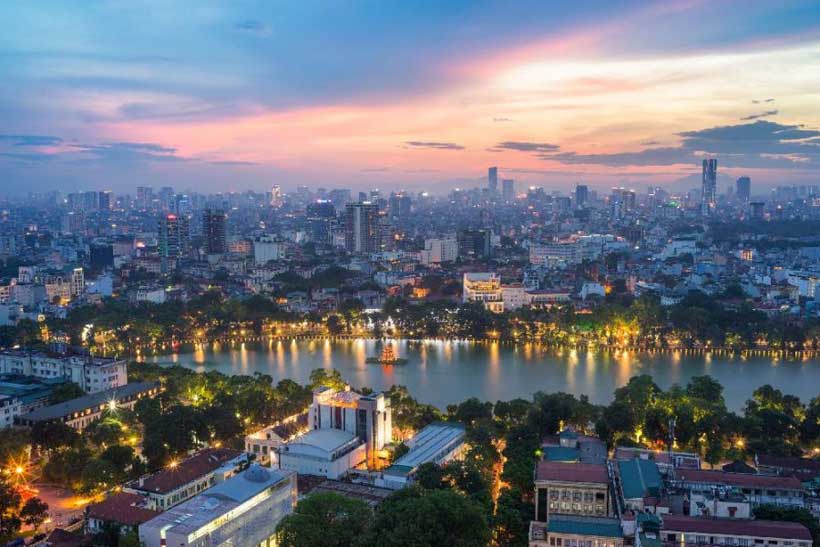 Over the past three years, the Government of Viet Nam has partnered with the World Economic Forum to identify, assess and greenlight areas of improvement for the country's economy. By the end of the Country Partnership, Viet Nam's score on the Global Competitiveness Index rose from 51 out of 100 in 2017 to 62 out of 100 in 2019.
Truong Hoa Binh, Deputy Prime Minister of Viet Nam, attended the World Economic Forum's Annual Meeting 2020 in Davos-Klosters this week and was presented with a report of the Country Partnership. "It has been an honour for us to work with the Vietnamese government over the past three years," said Børge Brende, President of the World Economic Forum.
Working with business, government and civil society at large, the Forum conducted extensive research, workshops and policy development activities in Viet Nam. Topics included: human capital, the future of jobs and reskilling. Projects ranged from reforming education and skills to improving healthcare, building infrastructure and upgrading the agriculture sector. The report also sets out policy recommendations for the government.
During 2020, the Forum will partner with the Ministry of Information and Communications of Viet Nam to open an Affiliate Centre for the Fourth Industrial Revolution. It will focus on technology governance and join a global network of Centres in the China, Colombia, India, Israel, Japan, South Africa, the UAE and the US.
"We look forward to continuing our collaboration," Brende said. "In particular, we look forward to the launch of an Affiliate Centre for the Fourth Industrial Revolution in Viet Nam this year." The purpose of these Centres is to bring government and business together to work collectively on shaping policies that ensure that these technologies, which include artificial intelligence, blockchain and the internet of things, have their benefits maximized and their risks minimized throughout society.
"The Country Partnership between Viet Nam and the World Economic Forum has made an important contribution to enhancing substantially the fruitful cooperation between Viet Nam and the Forum. The successful partnership is an excellent example of mutually beneficial cooperation between ASEAN members and the Forum so as to harness opportunities of the Fourth Industrial Revolution", said Deputy Prime Minister Truong Hoa Binh.
In the coming year, as well as launching an Affiliate Centre for the Fourth Industrial Revolution, the Forum will also launch a major new initiative to tackle plastic pollution and improve how Viet Nam manages plastic waste. This National Plastic Action Partnership is a collaboration between Viet Nam's Ministry of Natural Resources and the Environment and the Forum's Global Plastic Action Partnership.
Survey Reveals Extent of the Fallout from the Pandemic on MSMEs in Nepal
The COVID-19 pandemic has spurred more Nepali businesses to start using internet, social media or digital platforms to seize business opportunities, in the wake of declining traditional sales.
The finding is revealed in the COVID-19 Nepal Business Pulse Survey carried out between May 25and June 10 by the IFC and World Bank, in partnership with the government of Japan. It shows a fifth of businesses surveyed have started to use or have been using the Internet, social media, specialized apps, or digital platforms for business purposes.
The survey also reveals over half of Nepal's micro, small and medium enterprises (MSMEs) face the risk of permanently closing their operations within a month under the current conditions of COVID-19 impacts.
Based on a sample of more than 540 representatives from MSMEs across all provinces the survey also revealed over eighty percent of businesses have suffered from a slump in sales and have taken measures such as granting leave without pay or reduced the hours or wages of their employees.
"These findings highlight the severe burden micro, small and medium sized businesses are facing in Nepal due to the impacts of COVID-19," said Rolf Behrndt, IFC South Asia Manager for Advisory Services. "We know these businesses play a vital role in Nepal's economy but clearly with a drop-in demand and sales, employers have had to opt for a range of measures to cope with less revenue, prompting questions about their future viability."
Forty-five percent of the firms had granted leave of absence to employees, and 27 percent had reduced working hours. Across all sectors, sizes and locations of firms, 12 percent of female employees have been put on reduced pay.
"The COVID-19 pandemic has dealt a major blow to Nepal's economy, with enterprises of all sizes bearing the brunt with little to no revenue. Eighty-three percent of the firms reported a decline in sales compared to the same time last year," said Wendy Werner, IFC Country Manager for Nepal, Bangladesh and Bhutan. "Micro, small and medium sized businesses play a key role in helping Nepal's economy grow. I believe these findings would be useful in preparing a well-informed response to help the businesses get back on their feet."
MSMEs contribute 22 per cent to the country's Gross Domestic Product (GDP) employing about 1.75 million people. The Central Bureau of Statistics projects that the fallout from the pandemic will mean significant contractions in the expected growth rate for the sector in the fiscal year 2020 compared to years past.
"These survey results shine a stark light on the importance of ensuring that this sector not only survives the COVID-19 pandemic but also transforms in ways that improves its resilience and capacity to contribute to economic recovery. To this end, the World Bank – working closely with the government and the private sector – has prepared new projects to support micro, small and medium enterprises, including in the agriculture, tourism and financial sectors", said Faris Hadad-Zervos, the World Bank Country Director for Maldives, Nepal and Sri Lanka.
Globally, IFC has put in place a package of measures—worth a total of $8 billion—to help sustain economies and protect jobs around the globe. In Nepal, IFC has just invested $25 million in NMB Bank to support small and medium-sized enterprises (SMEs) and green projects, and there are more under discussion with other clients.
Ghana to Provide 550,000 People with Improved Water and Sanitation Services
The World Bank Board of Executive Directors today approved $125 million from the International Development Association for the Greater Accra Metropolitan Area Sanitation and Water Project (GAMA SWP). This additional financing will support the Government of the Republic of Ghana's effort to reach 550,000 people in low income urban communities of the Greater Accra Metropolitan Area (GAMA) and the Greater Kumasi Metropolitan Area (GKMA) with improved sanitation and water supply services.
"Providing equitable access to safe and improved water supply and sanitation services is essential to improve people's lives particularly in the context of the COVID-19 pandemic. Through this project, we are committed to provide better access to water and sanitation to the most vulnerable, therefore improving lives and reducing poverty," said Pierre Laporte, World Bank Country Director for Ghana, Sierra Leone and Liberia.
The additional financing to the GAMA SWP will also help strengthen the management of environmental sanitation services in the GAMA and GKMA. It will provide water, sanitation and hygiene facilities to schools and healthcare facilities and promote handwashing. Households benefiting from toilets and/or water connections will benefit from handwashing facilities and relevant handwashing training.
"By promoting the use of safe sanitation and hygiene practices, the existing project has enabled vulnerable communities combat the spread of COVID-19 pandemic. While encouraging results have been achieved so far, more work is needed to address remaining challenges and ensure sustainable universal coverage by 2030," said Yitbarek Tessema, Senior Water Supply and Sanitation Specialist at the World Bank.
The project will also improve coordination between key agencies and strengthen the capacity and performance of the Ghana Water Company Limited (GWCL) and Metropolitan and Municipal Assemblies by reducing Non-Revenue Water, improving wastewater management, addressing issues of pollution, climate-change and translating development plans into focused actions. The Government of Ghana will replicate the successful GAMA SWP approaches in Kumasi, and further expand services to targeted beneficiaries. Overall, some of the key results include providing 250,000 people with household toilets; 200,000 people with institutional sanitation facilities; and 500,000 people with improved water services.
* The World Bank's International Development Association (IDA), established in 1960, helps the world's poorest countries by providing grants and low to zero-interest loans for projects and programs that boost economic growth, reduce poverty, and improve poor people's lives. IDA is one of the largest sources of assistance for the world's 76 poorest countries, 39 of which are in Africa. Resources from IDA bring positive change to the 1.6 billion people who live in IDA countries. Since 1960, IDA has supported development work in 113 countries. Annual commitments have averaged about $21 billion over the last three years, with about 61 percent going to Africa.
Rosewood conservation: A success story from Madagascar
For Madagascar farmer Edmond, who goes by one name, it was a breakthrough. In 2019 he perfected a complicated technique to grow a rare species of tree known as Dalbergia normandii.
The plants hail from a valuable, and difficult-to-propagate family of trees known as rosewoods, which have been felled near to the point of extinction in many parts of Madagascar.
"This year is one of the happiest years of my life because the time I spent on this technique was not in vain," said Edmond, 60, who lives in Ambodimanga village on Madagascar's eastern coast. "This time, luck is with me."
Edmond is working on a rosewood conservation project coordinated by the United Nations Environment Programme (UNEP). Its aim is to safeguard a group of trees that is the world's most trafficked wild product by value and volume. From Guatemala to Madagascar to Thailand to Zambia, rosewoods have been targeted by timber traffickers who seek to profit especially from its growing demand in China and Viet Nam, principally for furniture.
"Over the last decade, the share of total rosewood imports to China coming from Africa has steadily increased, with a portion of this share suspected to have been illegally sourced in or exported from Africa," says a July 2020 report by the United Nations Office for Drugs and Crime (UNODC).
To help reverse this trend, in 2017 UNEP, Madagascar's Ministry of Environment and Sustainable Development, and local partners launched a Global Environment Facility-funded project titled Conservation of key, threatened, endemic and economically valuable species. The project, which runs till 2022, seeks to reduce the threats to 21 economically important but threatened species at 18 sites in Madagascar. The production of large quantities of healthy new rosewood plants is critical to the project's success.
The Pointe à Larrée protected area, on the coast in central-eastern Madagascar, currently managed by Missouri Botanical Garden, is one of the project sites. It's home to 13 species targeted by the project, including six species of Dalbergia, most of them rosewood. (All species of Dalbergia fall within the Convention on International Trade in Endangered Species Appendix II.)
Rosewood species "threatened for decades"
"These species have been threatened for decades due to commercial exploitation for their very valuable `precious wood' and habitat loss due to slash-and-burn cultivation," says Adolphe Lehavana, project manager at Pointe à Larrée and an employee of Missouri Botanical Garden, an international non-governmental organization mandated by Madagascar to manage the protected area.
"Population levels for some species are now critically low and they seemed doomed to local extinction since isolated trees fail to produce seeds.
"For example, within the landscape, including the protected area, researchers have been able to locate just 10 remaining individuals of Dalbergia maritima and just one remaining individual of Dalbergia louvelii – all outside the protected area," he adds.
Through the project, resources are now being mobilized to prevent the local extinction of these very rare species by reinforcing the wild population as part of an ecological restoration programme.
In 2019 the team produced 2,328 young rosewood plants using the technique developed by Edmond, the farmer. Known as air-layering, it allows conservationists to grow new roots from a plant's branches which can then be deposited into the ground. The rosewoods have been used, with other native tree species, to enrich around 10 hectares of degraded forest. To date, the survival rate of young rosewoods has been nearly 100 per cent.
The project contributes to the objectives of the United Nations Development Assistance Framework in Madagascar (2015-2019), providing vulnerable populations with employment opportunities and supporting sustainable development. It is also part of the broader effort to conserve biodiversity as set out in The Global Biodiversity Outlook 5, published by the United Nations Convention on Biological Diversity.
Through activities such as forest enrichment and restoration, the conservation of endemic species also contributes to Sustainable Development Goal 15, which aims to safeguard forests and protect biodiversity.