Creating societies where every person has the same opportunity to fulfil their potential in life irrespective of socioeconomic background would not only bring huge societal benefits in the form of reduced inequalities and healthier, more fulfilled lives, it would also boost economic growth by hundreds of billions of dollars a year. This is the key finding from the World Economic Forum's Social Mobility Report 2020, published today.
The report measures 82 economies against five key dimensions, distributed over 10 pillars, that are necessary for creating social mobility. These are: Health; Education (access, quality and equity); Technology; Work (opportunities, wages, conditions); and Protections and Institutions (social protection and inclusive institutions).
A common theme in the report is that few economies have adequate conditions to foster social mobility. As a consequence, inequality has become entrenched and is likely to worsen amidst an era of technological change and efforts towards a green transition. The report identifies four key areas among the 10 pillars where progress – across both developed and emerging economies – is particularly lagging: low wages; lack of social protection; inadequate working conditions; and poor lifelong learning systems for workers and the unemployed.
"The social and economic consequences of inequality are profound and far-reaching: a growing sense of unfairness, precarity, perceived loss of identity and dignity, weakening social fabric, eroding trust in institutions, disenchantment with political processes, and an erosion of the social contract. The response by business and government must include a concerted effort to create new pathways to socioeconomic mobility, ensuring everyone has fair opportunities for success," said Klaus Schwab, Founder and Executive Chairman of the World Economic Forum.
The economic return from lifting social mobility across the board is considerable. According to the report, if economies were able to improve their social mobility score by 10 points, GDP would increase by 4.4% by 2030 on top of the societal benefits such investments would bring.
Further, the report warns that while social mobility requires a new set of public investments, it is the mix and quality of investments that will make them effective and they must be paired with shifts in business practices. Improving social mobility is a multistakeholder challenge, in which businesses must also take the leadby promoting a culture of meritocracy in hiring, providing vocational education, reskilling, upskilling, improving working conditions and paying fair wages.
Social mobility in 2020
The most socially mobile societies in the world, according to the report's Global Social Mobility Index, are all European. In the inaugural year of the report, the Nordic nations hold the top five spots, led by Denmark in first place (scoring 85 points), followed by Norway, Finland and Sweden (all above 83 points) and Iceland (82 points). Rounding out the top 10 are the Netherlands (6th), Switzerland (7th), Austria (8th), Belgium (9th) and Luxembourg (10th).
Among the G7 economies, Germany is the most socially mobile, ranking 11th with 78 points, followed by France in 12th position. Canada comes next (14th), followed by Japan (15th), the United Kingdom (21st), the United States (27th) and Italy (34th).
Among the world's large emerging economies, the Russian Federation is the most socially mobile of the BRICS grouping, ranking 39th, with a score of 64 points. Next is China (45th), followed by Brazil (60th), India (76th) and South Africa (77th).
The report also examines which economies stand to gain the most from increases in social mobility. The economy with the most to gain is China, whose economy could grow by an extra $103 billion a year, or $1 trillion dollars over the decade. The US is the economy that would make the second-largest gains, at $87 billion a year. Next is India, followed by Japan, Germany, Russia, Indonesia, Brazil, the UK and France. Most importantly though, the returns are intangible in the form of social cohesion, stability and enhanced opportunity for more people to fulfil their potential.
Fears about social mobility weigh heavy on the global public. According to a study conducted exclusively for the World Economic Forum by Ipsos, 44% of global respondents believe prospects for today's youth in terms of being able to buy their own home will be worse than for their parents compared to only 40% that believe prospects will be better. The survey also found that more people were pessimistic than optimistic for today's youth compared to their parents when it comes to having a secure job, being able to live comfortably when they retire or being safe from crime or harm.
A call for stakeholder capitalism
The report makes a powerful case for stakeholder capitalism. The most socially mobile economies all share an emphasis on effective social policies that benefit communities as well as provide a platform for healthy, competitive economies. By comparison, economies that are organized more on "shareholder value maximization", or "state capitalism", tend to perform less well. In order to optimize social mobility, the report calls for action in the following areas:
A new financing model for social mobility: Improving tax progressivity on personal income, policies that address wealth concentration and broadly rebalancing the sources of taxation can support the social mobility agenda. Most importantly, however, the mix of public spending and policy incentives must change to put greater emphasis on the factors of social spending.
Education and lifelong learning:Targeted at improvements in the availability, quality and distribution of education programmes as well as a new agenda for promoting skills development throughout the working life, including new approaches to jointly financing such efforts between the public and private sector.
A new social protection contract:A contract that offers holistic protection to all workers irrespective of their employment status, particularly in the context of technological change and industry transitions, requiring greater support for job transitions in the coming decade.
Business to take the lead:By promoting a culture of meritocracy in hiring, providing vocational education, reskilling and upskilling, improving working conditions and by paying fair wages. This includes industry- and sector-specific plans to address historic inequalities within and between sectors.
"Improving social mobility must be the fundamental imperative of this new decade: As long as an individual's chances in life remain disproportionately influenced by their socioeconomic status at birth, inequalities will never be reduced. In a globalized world where there is transparent information on the gulf between the 'haves and the 'have-nots', we will continue to see discontent, with far-reaching consequences for economic growth, the green transition, trade and geopolitics. Social mobility matters for building a fairer and more optimistic world, but it also matters because we won't succeed in achieving other objectives without it," said Saadia Zahidi, Managing Director, New Economy and Society, World Economic Forum.
Tracking inequalities with big data
The geography of social mobility is in part determined by an individual's profession. Metrics from Burning Glass data reveal that different professionals employed in different occupations are more or less "rooted" in particular geographic locales. Higher paid and skilled professions are more likely to retain their value across different locations. Professionals such as chief executives, dentists, computer research scientist and human resources mangers are offered similarly (high) wages across different parts of the US. On the other hand, judges and magistrates, specialized teachers, transport workers, gaming managers and agricultural engineers face more unequal prospects across the US.
Professional networks, an implicit driver of social mobility, are affected by geography and socio-economic background. LinkedIn data reveals that individuals in rural areas of the US face more limited professional networks as do those who grew up in low-income households. The locations where individuals have the most diverse social network in the US are urbanized states such as the District of Columbia, which houses the country's capital Washington D.C. It is followed by Massachusetts, New York, Connecticut, New Jersey and California. At the opposite end of the scale is a set of less urbanized states –Kansas, West Virginia, Mississippi and Arkansas in ascending order.
A combination of technological change, economic trends and talent demand is changing income inequality outcomes within different industries. Metrics from ADP demonstrates the inequalities workers are likely to face on the basis of the industry in which they're employed. The Media, Entertainment and Information (MEI) industry is the most unequal in the US. The Financial Services (FS) industry is similarly unequal but has seen a reduction in those inequalities in the period between 2014 and 2018. In contrast, the MEI Industry and the Information and Communication Technologies industry have seen increasing inequalities between 2014 and 2018.
Platform for Shaping the Future of the New Economy and Society
The Social Mobility Report is a new publication of the Forum's Platform for Shaping the Future of the New Economy and Society. The platform aims to advance prosperous, inclusive and equitable economies and societies. It focuses on three interconnected areas: growth and competitiveness; education, skills and work; and equality and inclusion. Working together, stakeholders deepen their understanding of complex issues, shape new models and standards and drive scalable, collaborative action for systemic change.
Over 100 of the world's leading companies and 100 international, civil society and academic organizations currently work through the platform to promote new approaches to competitiveness in the Fourth Industrial Revolution economy; deploy education and skills for tomorrow's workforce; build a new pro-worker and pro-business agenda for jobs; and integrate equality and inclusion into the new economy, aiming to reach 1 billion people with improved education, skills, jobs and economic opportunities by 2030.
"Westlessness": Munich Security Report 2020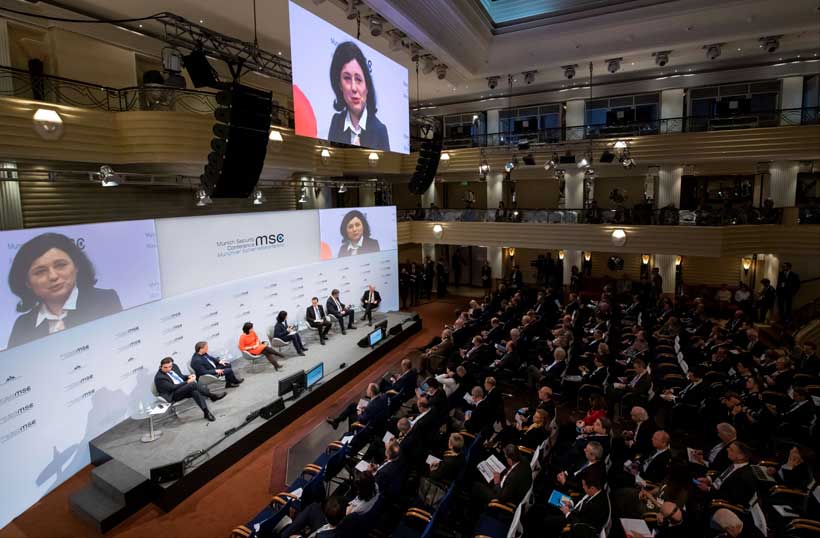 Is the world becoming less Western? Is the West itself becoming less Western, too? What does it mean for the world if the West leaves the stage to others? What could a joint Western strategy for an era of great power competition look like?
The Munich Security Report 2020 sheds light on the phenomenon that it refers to as "Westlessness" – a widespread feeling of uneasiness and restlessness in the face of increasing uncertainty about the enduring purpose of the West. A multitude of security challenges seem to have become inseparable from what some describe as the decay of the Western project. What is more, Western societies and governments appear to have lost a common understanding of what it even means to be part of the West. Although perhaps the most important strategic challenge for the transatlantic partners, it appears uncertain whether the West can come up with a joint strategy for a new era of great-power competition.
In this context, the Munich Security Report 2020 provides an overview of major security policy challenges and features insightful data and analyses across selected geographic and thematic spotlights. In addition to its role as a conversation starter for the Munich Security Conference, the report series has also become a go-to resource for security professionals and the interested public around the world. The previous report was downloaded more than 30,000 times and received widespread coverage in German and international media.
The Munich Security Report 2020 provides an overview of major security policy challenges and features insightful data and analyses across selected geographic and thematic spotlights. In addition to its role as a trusted companion and conversation starter for the Munich Security Conference, the report series has also become a go-to resource for security professionals and the interested public around the world. The previous report was downloaded tens of thousands of times and received widespread coverage in German and international media.
The Munich Security Report 2020 analyzes current security policy developments in China, Europe, Russia and the United States, and furthermore examines regional dynamics in the Mediterranean, the Middle East and South Asia. In addition, it provides insights into the issues of space and climate security, as well as into the threats arising from new technologies and increasingly transnational right-wing extremism.
The Munich Security Report features a number of exclusive and unpublished materials. For the preparation of the report, the Munich Security Conference Foundation collaborated with renowned partner institutions, including the Armed Conflict Location & Event Data Project (ACLED), The Brookings Institution, The Chicago Council on Global Affairs, International Crisis Group, The International Institute for Strategic Studies (IISS), Mercator Institute for China Studies (MERICS), McKinsey & Company, Pew Research Center, Stockholm International Peace Research Institute (SIPRI), and the Zentrum für Osteuropa- und international Studien (ZOiS).
Uganda: Expanding Social Protection Programs to Boost Inclusive Growth
Uganda's economy grew by 6.5 percent in FY18/19, maintaining the rebound in economic activity over the last two years, according to the latest edition of the Uganda Economic Update released by the World Bank today.
The fourteenth Uganda Economic Update report, "Strengthening Social Protection Investments to Reduce Vulnerability and Promote Inclusive Growth" shows that the economy was boosted by strong consumer spending, and sustained levels of public and private investment. Foreign investors have been particularly interested in the oil and gas, manufacturing and hospitality sectors.
Following the release of new Gross Domestic Product (GDP) estimates in October 2019, the share of the services sector has fallen from 57.7 percent to 46.2 percent, while industry has risen to 29.5 percent from 20.1 percent and agriculture to 24.2 percent from 22.3 percent. There has been a strong jump in manufacturing growth supported by recent expansions in the sector, including investments in new factories.
The outlook is favourable with the economy expected to grow at 6 percent over the next year. This requires sustaining high levels of investment in energy transmission, road construction and maintenance, industrial parks, and oil production-related infrastructure and services. Such investments also need to be executed effectively. Improving domestic revenue collection and utilizing concessional lending is important to ensure continued debt levels sustainability.
Uganda's economy faces several risks on the macro and micro level. One in five Ugandans still live in extreme poverty and more than a third live on less than $1.90 a day with 70 percent still depending primarily on agriculture for their livelihood. This exposes them to risks of weather-related and other shocks.
Furthermore, with the expected population growth over the next 10 years, it is now estimated that average annual GDP growth rates will need to exceed 8 percent for Uganda to have a chance of reaching lower middle-income status by 2030. So, policy makers need to consider innovative ways for Uganda to reach its development goals.
Evidence shows that social protection programs can provide an answer to some of these challenges. Expanding social protection could have positive impact on growth and would provide social safety nets to reduce vulnerability to shocks, build equity, and maintain high labour productivity.
"Two out of three people who get out of poverty fall back in – that is about 1.4 people in the last household survey conducted in 2016. We need to consider the importance of investing in people, building their human capital, and providing them with the tools and assets to manage shocks and reduce their vulnerability," said Tony Thompson, Country Manager, World Bank.
Despite the potential that social protection initiatives offer, the Senior Citizens Grant (SCG) and the Northern Uganda Social Action Fund (NUSAF) – the two main social protection programs reach only 3 percent of the population compared to 6 percent in Kenya. The Government of Uganda spent 0.14 percent of GDP (FY17/18) on the two programs, less than Kenya and Rwanda at 0.4 percent and 0.3 percent of GDP, respectively.
The coverage and spending on these types of initiatives in Uganda is not optimal, based on regional and global comparisons. There is therefore a strong case to be made to expand these programs, and to consider how to reach different vulnerable groups. Simulations show, for example, that programs covering the poorest 50 percent of households with infants under 2, would cost an estimated 0.23 percent of GDP, whereas similar programs covering the poorest 50 percent of all households with children under 5 would cost 0.50 percent of GDP.
The Update makes several recommendations, including the need to expand direct income support investments in human capital and to help mitigate shocks and scale up existing disaster risk financing pilot programs to better prepare for climate-related shocks, such as drought, and mitigate other shocks.
Given that there are competing fiscal demands on government resources, there is need to prioritize social protection expansion. One way of doing this, as recommended in the Update, is to focus on the poor and vulnerable in the neediest geographical areas, with various options outlined in the report to guide expansion to these areas, based on levels of vulnerability and human capital.
Ireland: Prepare now for rising fiscal pressures, external risks
Ireland needs to prepare itself to meet rising pressures on public finances from an ageing population and significant external risks such as new EU-UK trade barriers post Brexit. Another important development could be future changes to the international tax rules, according to a new OECD report.
The latest OECD Economic Survey of Ireland projects Irish GDP growth at 6.2% in 2019, then at still solid rates of 3.6% in 2020 and 3.3% in 2021. Yet the risks to these forecasts are significant and Ireland's high public debt and fragilities in the banking system could exacerbate any economic shock. The coming years will also be marked by rising health and pension costs, as the population ages, and a possible end to several years of tax windfalls.
The Survey recommends taking concrete steps to improve public spending efficiency and find new sources of revenue. It is also vital to maintain Ireland's attractiveness as an investment hub for multinationals, for example through addressing skills shortages in the workforce, lowering barriers to competition such as complex licensing procedures, and ensuring good transport infrastructure and affordable housing in Dublin. Improving skills and the use of new technologies could also help to narrow the productivity gap between Irish and foreign firms.
"Ireland's open economy has helped it emerge stronger from the crisis, yet the country is very exposed to external factors. Fiscal prudence will be vital with health and pension costs set to rise just as the economy faces disruption from Brexit and a potential drop in corporate tax receipts," said OECD Chief Economist Laurence Boone. "This is a crucial time for Ireland and the focus for the incoming government should be to keep the economy on a solid track."
Ireland has enjoyed windfall tax receipts as an investment hub for multinationals, but a planned overhaul of global tax rules is expected to lower related tax receipts by changing how and where corporate tax is paid. In recent years, Ireland has partly used one-off tax receipts to fund cost overruns in health and welfare. Future windfalls should go towards paying off debt or into the country's strategic 'rainy day' investment fund, and cost overruns should be reined in through better budget planning.
Health spending per person is already high in Ireland. Ageing will push it higher, while reducing revenues from labour taxes. Simulations suggest that public health and pension costs could rise by 1.5% of GDP annually by 2030 and by 6.5% of GDP by 2060. Basic pension benefits have risen much faster than inflation in recent years; indexing future increases to consumer prices would produce budgetary savings.
New revenue sources could focus on property and consumption taxes, which are less distortive for economic activity than income tax. Property values should be regularly reassessed for calculating local property taxes – today's are based on 2013 values – and VAT should be streamlined from five rates to three. Low-income households should be cushioned from any adverse impacts. Separately, efforts to increase housing supply should continue as a way to curb soaring property prices.
Ireland stands particularly exposed to Brexit risks. The United Kingdom is an important trading partner, particularly in agriculture and food, and a vital land bridge for the majority of Irish exports that are bound for Europe. Exports of machinery, equipment, chemicals and tourism to the UK have stagnated or fallen since the 2016 UK referendum on EU membership, and any re-imposition of customs and border controls would hurt flows of goods to EU destinations.
Such risks make it even more important that Ireland reap as much benefit as it can from the digital economy. Irish businesses have tended to embrace new technologies well, the special digital chapter shows, but the impact on firm-level productivity growth has been modest.