Authors: Israel Nyaburi Nyadera and Farida Lukoko Ibrahim*
Research on China-Africa relations has often been dominated by the economic component, as well as debates over whether China's involvement in the continent will have a negative or positive impact. Some scholars have questioned Beijing's reluctance to attach good governance practices to its financial assistance. On the other hand, some look at China's approach as a unique opportunity for countries in Africa, previously isolated by traditional western donors due to the lack of political reforms, to access funding. However, the fascination with the nature and approach of economic relations between China and Africa has meant little attention has been given to non-economic aspects of these engagements. More specifically is that economic explanations are often made to justify China's non-economic activities. China Peacekeeping in Africa is one of the areas that remains shrouded by economic explanations. Yet, the motivation by Beijing to commit troops and resources towards peacekeeping in Africa has significant importance beyond the economic aspects. Indeed, several studies have highlighted the economic benefits for countries committing soldiers to UN peacekeeping missions. However, the benefits of China's involvement transcend the potential revenues gained from troop deployment. This article adopts the rational choice theory to argue that policymakers in Beijing are able to derive several benefits beyond the economic aspects of the peacekeeping operations in Africa. Some of these factors as key drivers of China's peacekeeping in Africa are also identified.
Peaceful Rise
The rise of China as a global economic power has left several scholars debating whether or not the anticipated rise will be peaceful. Some have used the analogy of the 'Thucydides trap' to opine that the rise of China has increased the chances of war between Beijing and Washington. Therefore the peacekeeping operations are meant to project what president Xi has described as China's "peaceful development" approach. It also enhances China's efforts not only to appear to be a responsible great power but also increase its involvement in global governance issues as it collaborates with other international actors, for example providing training to troops in Mali in collaboration with the EU.
Supplement Economic Drivers
While China has become a significant source of foreign capital in Africa over the last three decades, its impact is often exaggerated. The continent is still the lowest recipient of outward Chinese capital and foreign direct investment (FDI) (approximately 4 per cent). Similarly, China's ODA to the continent and globally is still lower than other developed and emerging countries. This, combined with concerns over trade imbalance and unfavourable economic deals, provides another path through which China can increase its attractiveness to the continent.
Nature of Conflict in Africa
Often overlooked, the nature of conflict in Africa is somewhat unique compared to others in the Middle East and Latin America, first and foremost because peacekeepers can easily be deployed. The narrative that China has deployed 80 per cent of its troops in the continent should be accompanied by information that nearly 85 per cent of peacekeeping missions by the UN are in Africa. Yet, according to the International Crisis Group, only three out of the ten crises in 2018 are in Africa. The others include Yemen, Afghanistan, Ukraine, Israel and Arab Countries, Syria, Venezuela, US-China and US-North Korea, as well as the Iranian issue more recently, Hong Kong, Bolivia, Iraq, Lebanon, the Mexico drug war and others. The mentioned conflicts have claimed more lives and caused more devastating socio-economic and humanitarian crises than the conflicts in Africa. Yet, the nature of these conflicts makes it impossible to deploy peacekeepers. Therefore, some African countries provide an avenue for states interested in peacekeeping to deploy their troops.
Conflicts as an Obstacle to Development in the Region
The commitment by Beijing, through its investments, especially on infrastructure in Africa, is an essential step in promoting development. However, conflicts are a serious threat to achieving this goal, and it would be prudent for China to try to address some of these challenges. This explains the broad approach of deploying peacekeepers as well as training African troops to cover regions such as Mali where China has little interest. Besides, security is an important issue for African countries and a significant sphere of influence for the US and European countries. China needs to be involved in security issues to increase its relevance in the region.
Taiwan Factor
Taiwan has made significant efforts to try and gain recognition as an independent state for years. China, on the other hand, is keen on maintaining the status quo. This question remains at the heart of Beijing and Taipei's foreign policy, and more often than not, African countries have been involved. For example, when Albania introduced Resolution 2758 to the UN General Assembly for voting to determine the de facto representative of China to the organisation in October 1971, the resolution passed with 75 votes in favour of China (More than 20 from Africa) and 35 against the government in Beijing becoming the sole representative of the country. With a two-thirds majority needed to pass the resolution, over 20 votes out of the 75 that passed were indeed quite significant. Secondly, despite China employing its economic and political muscle to isolate Taiwan's diplomatic efforts, four African countries have recognised it. Therefore, China's involvement in peacekeeping is strategic in gaining strong relations with the new governments to isolate Taiwan further.
Domestic Factors
The Chinese population is becoming increasingly optimistic that their country is becoming more and more relevant on the international stage. Not only are they supportive of Beijing's financial support to developing countries, but military activities beyond Southeast Asia is also further proof of China's growing influence on its domestic constituency. Equally important, Chinese troops are benefiting from real combat experience in these operations.
Conclusion
This study concludes that Beijing seeks to maximise the effects of its peacekeeping missions by rationally choosing to deploy its troops in Africa. These efforts have enabled China to supplement the gaps in its economic engagements with the continent, all while improving its international image while strengthening domestic support to the regime.
*Farida Lukoko Ibrahim, Graduate School, Anhui University, China
From our partner RIAC
Can cryptocurrencies be used as a geopolitical weapon? The case of Central African Republic
April 27 can be considered a trailblazing day for the cryptocurrency industry in Africa, as the Central African Republic (CAR) approved bitcoin as its legal tender. This is the second country globally to move forward with such a bold move, after El Salvador, in September 2021, decided to adopt the prevalent cryptocurrency for internal financial transactions. This move might be seen by blockchain and cryptocurrency enthusiasts as the start of a revolution in Sub-Saharan Africa and, under certain circumstances, this might prove to be true, eventually. Nonetheless, in the current state of affairs, where CAR ranks in the 9th place in poverty globally and only 15% of its residents enjoy the perks that electricity entails, this move seems to be out of scope and not taking into consideration the actual issues that people in the Central Africa state are facing. In addition, the adoption comes at a very suspicious timing, where Russia, CAR's main security guarantor, already 4 months into the war on Ukraine, is eyeing positively cryptocurrencies as a way to perform financial transactions. Combined with the overall conundrum in the region regarding cryptocurrencies and the urge of the Bank of Central African States towards Bangui to annul this decision, a strong geopolitical element arises. Hence, several questions are brought up, including the feasibility of such a decision and the impact it can have on the local communities, lessons that can be learnt from regions where crypto tokens are being mined, as well as threats and potential geopolitical implications for CAR and for the region.
Can bitcoin make such a big impact on the CAR community?
As mentioned, it would be safe to deem it impossible that a nation with less than 15% access to electricity, less than 10% access to internet and a highly problematic grid could, at the moment, support an energy-intensive practice such as decentralized finance and its broader mining process. President Touadera, a PhD holder and assistant professor in mathematics, is fully aware of that and hitherto resorted in the short-term move of establishing the mining company for the electronic currency in Dubai. Nevertheless, this kind of structure and arrangements are very unlikely to benefit the people in the Central African country on the long-term. If Bangui is willing to support this technology, major reforms are needed in the electricity sector to increase access and reliability. President Touadera can follow two paths with that regard.
The first one would involve power plants that rely on conventional fossil fuels, such as coal, oil and natural gas, or hydropower stations. Currently, Bangui is mostly an oil importer, part of which is used to power the only thermal station in the country, located in Bangui. Imports come mainly from DR Congo($37.8mln), with France being also a significant oil partner($547k). A decision to build several conventional power plants to support digital currency mining would require, first of all, major funding. For a country that has around 45% debt-to-GDP ratio and has already resorted to the IMF for assistance 17 times and still has unresolved arrangements, seeking assistance to international financial institutions would face backlashes. Additional imports will also be needed. For both challenges to be overcome, another obstacle are the sustainability pledges in light of the Paris Agreement. Development banks, for example, are no longer funding such projects, even if they will actually change the macroeconomic landscape in a country. CAR will then need to involve global key players that still support conventional fuels, such as Russia and China. And while Moscow is in a financially weakened position amidst its isolations following the invasion of Ukraine, China is better situated. However, Beijing has also made several promises to participate in combating climate change. These promises limit the potential maneuvers it can make with regards to fossil fuel investments, but they certainly do not constitute a complete ban. These can be considered good news for Bangui and it can pursue support from the East Asian giant, but it is advisable that they do so with caution, as alleged debt traps are already starting to generate devastating results in countries such as Sri Lanka and Pakistan.
The second path would encompass broad investments in intermittent renewable energy units, such as solar and wind parks. This move has an acutely higher chance of attracting investment from key actors from around the world, both public, private but also international financial institutions with much friendlier arrangements. In this case, however, other issues come up. A grid that relies heavily on intermittent RES is a decentralized grid that requires modernization both of its infrastructure and its regulatory framework. Both will need resources, which translates to additional funding/potential debt, but also higher technical expertise, which is very challenging to be found within the country. A big impediment with that regard is expected to be put by the government as well. Reflecting on the fact that the government in Bangui scored solely 24/100 in the transparency index, place in the 154th position globally, modernization and unbundling of the grid is a tedious process that mandates transparency and hence a conflict of interest is projected to happen. Last, but not least, the ambitions of President Touadera to make CAR a blockchain hub could also backfire, converting it into a terrorist hub instead. Electronic currency mining hubs in a decentralized grid become an extremely appealing target, both to control energy resources and to make untraceable financial transactions. Considering CAR's proximity to Lake Chad, where FACT rebels and Boko Haram have occasionally been active, and to the Great Lakes, where the ADF currently operates, making such reforms for a radical shift to decentralization ought to come with the respective security measures.
Geopolitical and Security Implications for a Conflict-Torn Region
Comprehending the myriad challenges that the Central African state will have to face, so that the adoption of bitcoin can actually have a substantial societal impact, many are contemplating on potential hidden agendas in Bangui. The action of Russian PMC's in CAR to fight insurgents, such as terrorist groups, audibly delineate the status of the Kremlin as a security partner for the country. Considering the alliance of the two countries and the fact that, virtually simultaneously, both states started exploring the possibility of using digital currencies, this move can be seen as additional pressure from Moscow to exert influence to partners in Sub-Saharan Africa. The fact that Gazprom Neft decided to partner with BitRiver, the largest crypto-mining colocation services supplier, for the mining of bitcoin with flare gas, depicts that Russia sees another solution to break out of the isolation by the global community due to the war in Ukraine and that solution is decentralized finance. This means that, from now on, electronic currency from blockchain has the potential of being converted to a geopolitical asset, or even geopolitical weapon. This becomes remarkably alarming if one considers that the outreach of the Russian mercenaries spans across Sudan, South Sudan, Madagascar, Mozambique, Libya and other African states.
For Moscow and its security partners, this creates a fine line between strengthening their partnership and becoming a harbor for terrorists which will enhance instability and mayhem. On one hand, this will increase financial interconnection with Sub-Saharan Africa, which is something that the Kremlin is currently lacking and the situation is expected to get worse. Trade with Africa is projected to be heavily disrupted due to the sanctions and decentralized finance can function as a lifeline for Moscow, but also as a way to even enlarge its influence. On the other hand, a form of currency that is not able to be controlled by a centralized authority, in a terrorism-torn region, has a high chance of being used for financial transactions between terrorists. This can make the job of the Russian PMC's orders of magnitude difficult and destabilize Central and Southern Africa. Combined with the effects of the pandemic and climate change over the past years, a mix of devastation that can wreak complete havoc has high potential of occurring.
As final, and obvious, potential geopolitical implications, Sub-Saharan Africa can easily turn into a fully fragmented arena based on each country's stance on cryptocurrency. Countries such as Cameroon and Gabon have a clear stance against the actions of CAR and have audibly stood against the actions of Russia in Ukraine. This decision from Bangui comes as a means for additional polarization, leading to a decrease in collaboration efforts within the region. A further fragmentation can only be seen as a positive outcome for terrorist groups to expand their action across Central and Southern Africa. It can also lead to escalations and a replication of the battlefield in Ukraine. This would be a catastrophic scenario, as CEMAC has made colossal efforts and steps forward to maintain regional peace and stability. Other regional security guarantors, such as France, ought to pay a great deal of attention during the coming months and even play the role of the mediator, should any verbal disputes arise.
What does the future have in store for CAR and Central Africa?
Blockchain is a disruptive technology that can have an immense positive impact on the local communities, if circumstances allow and if used appropriately. This does not seem to be the case for CAR, as President Touadera made a bold move of adopting bitcoin as a legal ledger, but has done so without considering the current major limitation posed by the electricity grid nor the geopolitical implications for the region. Both internally and regionally this can create a chain of events that can have far-reaching ramifications for regional stability and can end up backfiring for cryptocurrency enthusiasts' ambitions to increase the usage of decentralized finance. Combined with the current shift of the geopolitical world order and the influence of the Kremlin on Bangui, there are numerous signs that digital currencies might start being used as a geopolitical weapon. The international community, with EU being a key player, ought to pay more attention to the Central African region. Important state actors, such as France, but also international institutions both on security and on finance, such as NATO, the IMF and African Development Bank, need to immediately approach regional players that are willing to cooperate, such as Cameroon and Gabon, but also to approach CAR directly and engage with CEMAC as a whole to find a solution that is fit for everyone, before potential disputes escalate, something that might be used by Russia as leverage later on.
With Peace and Accountability, Oil and Agriculture Can Support Early Recovery in South Sudan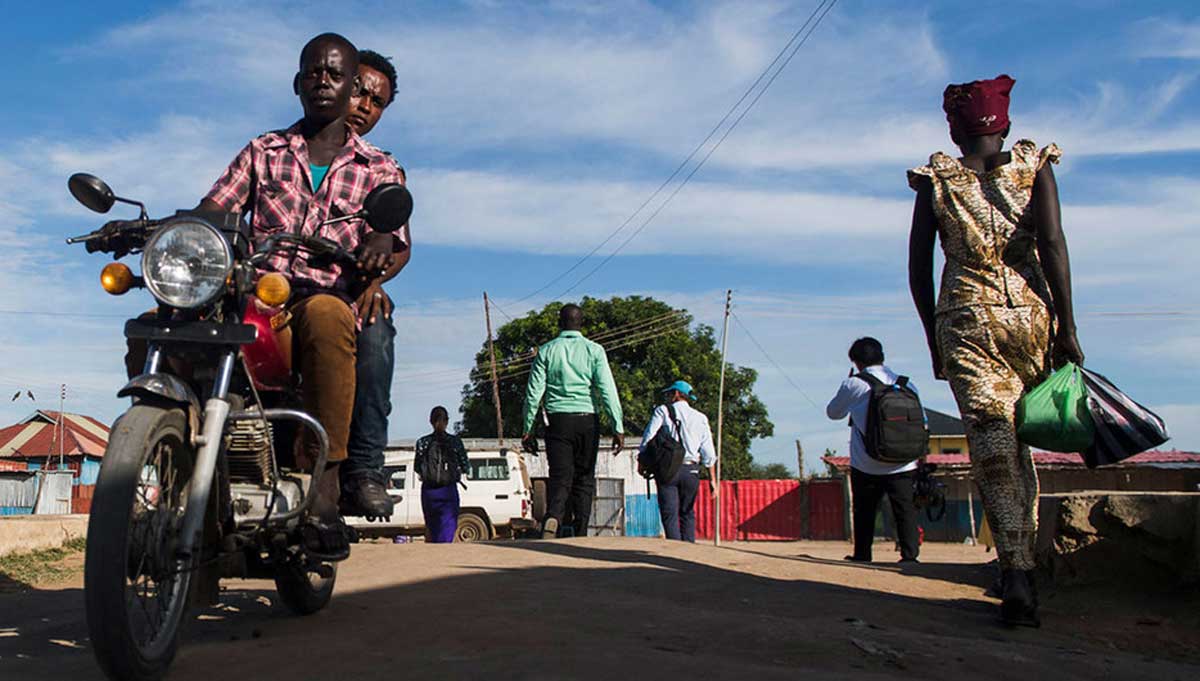 Economic recovery has stalled in South Sudan amid a multitude of crises, including the COVID-19 pandemic, climate shocks and dwindling oil production, and most recently, the adverse effect of the broad-based rise in commodity prices brought on by the war in Ukraine.
The latest World Bank economic analysis for South Sudan, Directions for Reform: A Country Economic Memorandum (CEM) for Recovery and Resilience, highlights the need for the country to leverage its natural capital in the agriculture and oil sectors to support recovery and resilience.
Oil and agriculture are the most important sectors of South Sudan's economy, with oil contributing to 90 percent of revenue and almost all exports, while agriculture remains the primary source of livelihood for more than four in five households. Thus, the report suggests a focus on the country's use of its main endowments of natural capital—oil and arable land—is warranted in the early stages of recovery.
"Getting South Sudan to realize its potential will require steps aimed at consolidating peace and strengthening institutions, as well as targeted reforms tailored at harnessing South Sudan's rich natural capital for development impact as first-order prerequisites for inclusive economic recovery," said Firas Raad, World Bank Country Manager for South Sudan.
With weak institutions and recurring cycles of violence, South Sudan remains caught in a web of fragility and economic stagnation a decade after independence. A dearth of economic opportunities and food insecurity are major concerns, and are reinforced by inadequate provision of services, infrastructure deficits, displacement, and recurring climatic shocks
The cost of the conflict has been immense, with South Sudan's real gross domestic product (GDP) per capita in 2018 estimated at being one-third of the counterfactual estimated for a non-conflict scenario. However, authorities in 2020 initiated an ambitious reform program aimed at macroeconomic stabilization and modernization of the country's public financial management architecture. With this reform effort, the gap between the official and parallel exchange rates was eliminated, and inflation declined. To consolidate and broaden these gains, more will have to be done to strengthen governance systems and improve transparency in economic management.
"Three messages emerge from this report. First, there is a peace dividend in South Sudan. South Sudan's real GDP per capita in 2018 was estimated at one third of the counterfactual estimated for a non-conflict scenario. Thus, maintaining peace can by itself be a strong driver of growth. Second, with better governance and accountability, South Sudan's oil resources can drive transformation. Third, South Sudan's chronic food insecurity could be reversed with targeted investments to improve the resilience of the agricultural sector," said Joseph Mawejje, World Bank Country Economist for South Sudan.
The CEM outlines several recommendations, including:
Addressing the drivers of fragility, ending all forms of conflict, and ensuring peace and stability in all parts of the country are prerequisites for an inclusive economic recovery.
Stay the course on macroeconomic reforms and continue on a stabilization path, building on key milestones already achieved in unifying the exchange rate and taming inflation.
Improve oil sector governance by ensuring that all oil revenues and expenditures are on budget and used effectively to achieve national development goals.
Support the resilience of agricultural sector to reverse the food crisis and achieve food security for all households.
The Country Economic Memorandum is a World Bank Knowledge product that provides an assessment of the country's drivers of growth and productivity. In this context, this report highlights what South Sudan can do to sustain future growth, but it also shows why the country has not yet managed to achieve high levels of diversified growth alongside peace, stability, and a better standard of living for its people. The report also suggests strategic pathways by which South Sudan can break free from its legacy of persistent food insecurity, in a country with enormous agricultural potential.
Victoria Nuland visits Djibouti, Mozambique and Nigeria, Pledges US$40 million to Support Mozambique
Reports monitored from the U.S. Department of State, Deutsche Welle and Rádio Moçambique have shown that the United States would be assisting with a further donation of US$40 million (€38.2 million) to support the displaced and victims of natural disasters in northern Mozambique. In addition, the United States would also offer US$14 million annually, over the next ten years to help rebuild Cabo Delgado.
US Under-Secretary of State for Political Affairs, Victoria Nuland, announced these after visiting World Food Program (WFP) warehouses in the city of Matola, Maputo province. She was on an official visit to Djibouti, Mozambique and Nigeria, June 11-17, 2022.
In Djibouti, Under Secretary Nuland and an interagency team interacted with government counterparts to advance U.S.-Djibouti relations and close security cooperation.
In Mozambique, the Under Secretary and team held talks with government and civil society members. It relates to the full range of bilateral and regional issues, including opportunities to advance stability and economic recovery in conflict-affected areas in support of our new partnership under the U.S. Strategy to Prevent Conflict and Promote Stability.
In Nigeria, Under Secretary Nuland and the team discussed with government and civil society representatives significant issues of shared concern including regional security, free and fair elections, and business innovation. Throughout the trip, the Under Secretary highlighted the important work the United States has been doing with African and international partners to shore up global food security and health systems.
With Mozambique, Nuland said the financial grants were part of the "emergency response to the food needs of those displaced by war and terrorism, social protection, building resilience to climate change and nutritional support for children" and the priority was to prevent "people in a situation of food insecurity in Mozambique from falling into a situation of hunger" in the country.
She emphasised that the United States would also try to persuade other rich countries to provide more aid to victims of hunger in the world, especially in Africa, especially given the worsening of the situation due to "the blockade of cereals by Russia" in the context of its invasion of Ukraine.
"One of the great global challenges is food insecurity," which "results from climate change, droughts, conflicts and terrorism, exacerbated by the war waged by Russia against Ukraine," she explained.
Of the amount announced by the United States government, WFP will receive the largest share, worth US$29.5 million (€28.2 million). "It is timely support from the US, because it allows us to maintain humanitarian assistance to the approximately 940,000 war-displaced people from Cabo Delgado until September," WFP Mozambique director Antonella D'Aprile said.
D'Aprile said that the resources made available would make it possible to help victims of armed violence in Cabo Delgado and host families in the provinces of Nampula and Niassa, for which the WFP needs US$17.4 million a month. The United States is the largest WFP donor in Mozambique, having channelled US$207 million (€197 million) since 2017.
The International Organization for Migration (IOM) estimates that almost 12,000 people have fled the new wave of attacks on Cabo Delgado that began about a week ago, this time in the south of the province, which was considered a safe zone. More than half are children and there are at least 125 pregnant women among the terrorised population, some of whom are fleeing for a second time, abandoning places where they were starting life anew.
The new wave of attacks is hitting areas around 100 kilometres from Pemba, which already served as refuge for people forced in recent years to leave the worst affected areas to the north, with the epicentre in districts close to the gas extraction projects under construction.
Joint forces of the Southern African Development Community and the Mozambican government killed an unspecified number of terrorists and wounded others in an offensive against armed groups in Cabo Delgado on June 9th.
Cabo Delgado province, in northern Mozambique, is rich in natural gas, but has been terrorized since 2017 by armed rebels, with some attacks claimed by the Islamic State extremist group. According to the International Organization for Migration (IOM), about 784,000 persons have been internally displaced by the conflict, which has killed about 4,000, according to the ACLED conflict registry project.
Since July 2021, an offensive by government troops, with the support of Rwandan and later Southern African Development Community (SADC) troops, has recovered a number of areas from rebel control, but their flight has led to new attacks in districts through which they have passed or taken up temporary refuge.
African leaders at the summit of the African Union held in Addis Ababa highly praised Mozambique's approach to terrorism in the northern province of Cabo Delgado, involving troops from Rwanda and the Southern African Development Community Military Mission (SAMIM).
Mozambican Minister of Foreign Affairs and Cooperation, Verónica Macamo, has expressed confidence in the election to the UN Security Council, saying that the experience in the fight against terrorism would be an "advantage" in its favour.
Mozambique, during its campaign for UNSC seat, was support by the African Union. June witnessed the final election of five member states – Ecuador, Japan, Malta, Mozambique and Switzerland – for the five new non-permanent member seats at the United Nations (UN) Security Council for the 2023-2024.