Meet the Climate Heroes Coming to Davos
This year's World Economic Forum 2020 Annual Meeting will be more action-oriented than ever. Or, in the words of Founder and Executive Chairman Klaus Schwab, a "Do shop, not a talk shop." Helping bring about systemic change to return our planet to a sustainable path will be an unprecedented number of leaders from across civil society making progress at the community, national and global level, including:
Teenage changemakers
Fionn Ferreira (Netherlands): as a young scientist, Fionn has created a project extracting micro plastics from water and aims to prevent them from reaching oceans.
Ayakha Melithafa (South Africa): this 17 year-old South African advocates for low-carbon footprint in her community and advocates for the inclusion of diverse voices in climate activism.
Autumn Peltier (Canada): Autumn has been advocating for water conservation since the age of 8 and is Anishinabek's Chief Water Commissioner, representing over 40 First Nations in Canada.
Greta Thunberg (Sweden): Greta is an International climate activist and leader of the school strike for climate movement
Melati Wijsen (Indonesia): with her initiative Bye Bye Plastics that she founded with her sister, she has banned plastic bags, straws and Styrofoam on Bali since 2019.
Civil Society and Academia
Gary Bencheghib (Indonesia): Gary's film-making has brought home the impact of environmental degradation to millions of people. For example in a film he made navigating the world's most polluted river in Java in a kayak made of plastic bottles
Kerstin Forsberg (Peru): Kerstin has lead dozens of community-based environmental projects in Peru, engaging hundreds of citizen scientists and over 50 schools in marine education.
Salvador Gómez-Colón (Puerto Rico): after Huricanne Maria devastated Puerto Rico in 2017, Salvador developed project 'Light and Hope' which supported over 3000 families with solar lamps and manual washing machines.
Jane Goodall (USA): A world-renowned primatologist, Jane's work has paved redefined the relationship between humans and animals
Krithi Karanth (India): As Chief Conservation Scientist and Director of the Centre for Wildlife Studies, Kirithi's work focuses on human-animal conflict and land use change
Wanjuhi Njoroge (Kenya): A Global Shaper, Wanjuhi founded #SaveOurForestsKE a campaign that raised awareness about the decimation of forests and led to a nine-month ban on national forest logging in the country.
Carlos Afonso Nobre (Brazil): Carlos dedicated his career to the Amazon region and developed pioneer research on the climate impacts of deforestation.
Johan Rockström (Germany): Johan's work developing the planetary boundaries framework that facilitates human development while defending the planet's boundaries is regarded as seminal.
Lord Nicholas Stern (UK): Lord Stern's seminal 2006 study on the economics of climate change was the first of its kind to quantify the cost of climate change.
Holly Syrett (Netherlands): Holly led a grassroots approach in 40 cities for citizens to re-use, re-purpose, buy less, buy second-hand and use their purchasing-power to support items that respect people and planet.
Neel Tamhane (Bangladesh): Neel's citizen-led tree-planting drive has already planted 9 billion trees in 27 cities in South Asia.
Asha de Vos (Sri Lanka): Asha founded the Sri Lankan Blue Whale Project in 2008, the first long term study on blue whales within the northern Indian Ocean
The World Economic Forum is also showcasing a series of installations, including Partnering with Nature, developed in collaboration with the Cooper Hewitt, Smithsonian Design Museum, the Algae Platform by Atelier Luma and Department of Seaweed by Julia Lohmann, two projects exploring the potential of algae as an alternative to conventional materials such as plastic; and Totomoxtle by designer Fernando Laposse which aims to reintroduce native varieties and restore indigenous farming practices in Mexico.
Climate Heat Maps Show How Hot It Could Get for Today's Tweens
Climate-related impacts such as the wildfires in the western United States will only become more severe if we allow the worst-case scenario to unfold by 2100. A new EarthTime visualization shows just how hot the world may become in 2100, within the life expectancy of today's tween, 10-12-year olds.
The findings, announced at the fourth World Economic Forum Sustainable Development Impact Summit, place even more urgency on business and government leaders to fast-track solutions and act now to prevent such a scenario unfolding.
Experts attempting to rank the severity of climate change scenarios likely to play out by the year 2100 refer to the worst of them as "RCP 8.5." This entails more than 4°C in warming above pre-industrial levels, rising emissions, hundreds of millions of people being forced to migrate, and a big increase in forested area prone to the type of fires that have raged this summer (due to a phenomenon dubbed the "moisture deficit").
The World Economic Forum has used data from the Climate Impact Lab, Climate Central, the Washington Post, and NASA satellites to create a visualization of this worst-case scenario.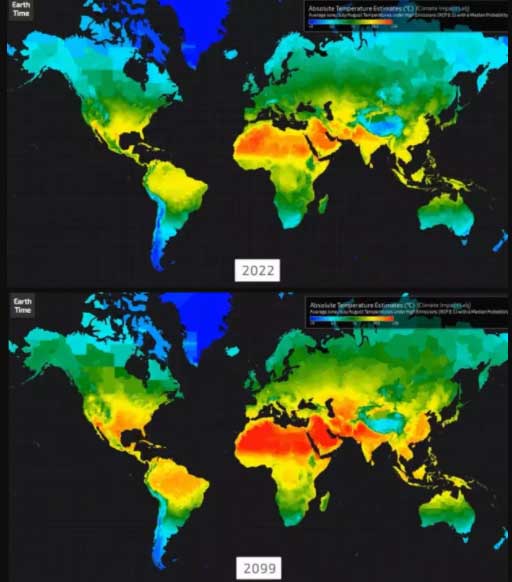 The data model shows that by 2100:
Average June-August temperatures reach 38°C (100.4°F) for many parts of the world
New Delhi, India, has eight months a year with temperatures averaging 32ºC (89.6°F) up from six
Phoenix, Arizona, has nearly 200 days a year of temperatures hitting at least 32ºC (89.6°F)
Regions of southern Europe average June-August temperatures of 30°C (86°F)
Viet Nam, Cambodia, Malaysia and Indonesia's June-August temperatures average more than 30°C (86°F)
Miami and Fort Lauderdale, Florida, disappear under water due to rising sea levels
"Longer-term trends can often seem abstract and intangible," said Stephan Mergenthaler, Head of Strategic Intelligence at the World Economic Forum. "Visualizing the effects of these trends, based on the latest scientific data, can help people take action and work towards shared goals."
Experts agree that the worst impacts of climate change can be avoided if we limit global warming to below 2ºC above pre-industrial levels. Effective climate policies, fighting efforts to discredit legitimate science, removing carbon dioxide from the atmosphere or offsetting it by planting new forests, and upgrading transportation and energy systems can all be part of the equation.
"To speed up the delivery of the Sustainable Development Goals and create change, we need to get as many people involved as possible," said John Dutton, Head of UpLink at the World Economic Forum. "Anyone can make an impact. We have seen the next generation of change-markers and social entrepreneurs stand up and create action plans on the UpLink platform to make sure we don't see this visualization come true. Connecting these ideas to funding sources, scaling up impact and creating a community of support will help us address the critical opportunities ahead for this generation."
Innovative projects on the UpLink platform include how to reduce emissions by buying and selling unused shipping container space, how to use waste management and data analytics to reduce plastic in the ocean, and how to create packaging made from sustainably farmed seaweed. Projects allow start-ups to flag what they need to succeed and connect them with software developers, funders, or resources to deliver impact.
80 EarthTime Stories
The climate visualization is one of nearly 80 EarthTime stories that have so far been published alongside hundreds of related topics on the Forum's Strategic Intelligence platform. They cover a broad range of issues including environmental protection, technology development, intellectual property trends and systemic racism. These visualizations are intended to help illustrate important global trends and dynamics in an easy-to-understand, readily accessible way.
Rosewood conservation: A success story from Madagascar
For Madagascar farmer Edmond, who goes by one name, it was a breakthrough. In 2019 he perfected a complicated technique to grow a rare species of tree known as Dalbergia normandii.
The plants hail from a valuable, and difficult-to-propagate family of trees known as rosewoods, which have been felled near to the point of extinction in many parts of Madagascar.
"This year is one of the happiest years of my life because the time I spent on this technique was not in vain," said Edmond, 60, who lives in Ambodimanga village on Madagascar's eastern coast. "This time, luck is with me."
Edmond is working on a rosewood conservation project coordinated by the United Nations Environment Programme (UNEP). Its aim is to safeguard a group of trees that is the world's most trafficked wild product by value and volume. From Guatemala to Madagascar to Thailand to Zambia, rosewoods have been targeted by timber traffickers who seek to profit especially from its growing demand in China and Viet Nam, principally for furniture.
"Over the last decade, the share of total rosewood imports to China coming from Africa has steadily increased, with a portion of this share suspected to have been illegally sourced in or exported from Africa," says a July 2020 report by the United Nations Office for Drugs and Crime (UNODC).
To help reverse this trend, in 2017 UNEP, Madagascar's Ministry of Environment and Sustainable Development, and local partners launched a Global Environment Facility-funded project titled Conservation of key, threatened, endemic and economically valuable species. The project, which runs till 2022, seeks to reduce the threats to 21 economically important but threatened species at 18 sites in Madagascar. The production of large quantities of healthy new rosewood plants is critical to the project's success.
The Pointe à Larrée protected area, on the coast in central-eastern Madagascar, currently managed by Missouri Botanical Garden, is one of the project sites. It's home to 13 species targeted by the project, including six species of Dalbergia, most of them rosewood. (All species of Dalbergia fall within the Convention on International Trade in Endangered Species Appendix II.)
Rosewood species "threatened for decades"
"These species have been threatened for decades due to commercial exploitation for their very valuable `precious wood' and habitat loss due to slash-and-burn cultivation," says Adolphe Lehavana, project manager at Pointe à Larrée and an employee of Missouri Botanical Garden, an international non-governmental organization mandated by Madagascar to manage the protected area.
"Population levels for some species are now critically low and they seemed doomed to local extinction since isolated trees fail to produce seeds.
"For example, within the landscape, including the protected area, researchers have been able to locate just 10 remaining individuals of Dalbergia maritima and just one remaining individual of Dalbergia louvelii – all outside the protected area," he adds.
Through the project, resources are now being mobilized to prevent the local extinction of these very rare species by reinforcing the wild population as part of an ecological restoration programme.
In 2019 the team produced 2,328 young rosewood plants using the technique developed by Edmond, the farmer. Known as air-layering, it allows conservationists to grow new roots from a plant's branches which can then be deposited into the ground. The rosewoods have been used, with other native tree species, to enrich around 10 hectares of degraded forest. To date, the survival rate of young rosewoods has been nearly 100 per cent.
The project contributes to the objectives of the United Nations Development Assistance Framework in Madagascar (2015-2019), providing vulnerable populations with employment opportunities and supporting sustainable development. It is also part of the broader effort to conserve biodiversity as set out in The Global Biodiversity Outlook 5, published by the United Nations Convention on Biological Diversity.
Through activities such as forest enrichment and restoration, the conservation of endemic species also contributes to Sustainable Development Goal 15, which aims to safeguard forests and protect biodiversity.
Day-to-Day Items That Can Now Be Made Using Organic Materials Only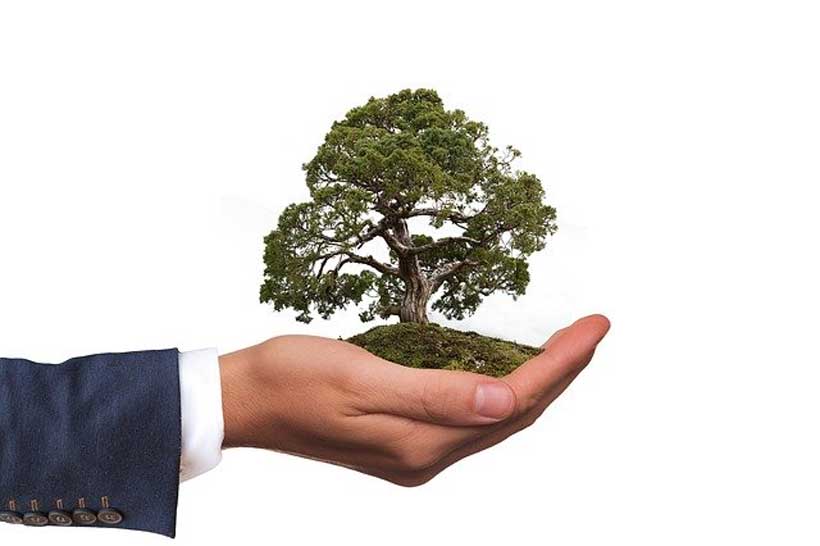 According to Pew Research, three-quarters of Americans are concerned about helping improve the environment.
Unfortunately, only one in every five Americans is willing to make an effort to change the negative impacts on the environment. A key reason why this happens is that many people have no idea where to start when it comes to saving mother earth.
But did you know that you can be a hero just by substituting some of the essential items you use every day with eco-friendly products?
If you're in doubt, here are a few everyday items that you can substitute with their readily available eco-friendly alternatives.
1. Reusable Grocery Bags
Every year, an estimated one trillion plastic bags are used globally. Most of these bags end up in landfills, where they take forever to degrade.
The use of recyclable shopping bags can reduce plastic waste without any inconvenience on your part.
Unlike bags made of plastics, recyclable shopping bags decay faster due to their natural materials. Being reusable also means that they last longer, which allows you to save money while saving the planet.
2. Eco-friendly Blankets
A comfortable blanket that also eases your ecological footprint worries will definitely give you a restful sleep. Blankets made from recyclable materials are environmentally friendly as they leave less synthetic fillings on the environment.
A eucalyptus blanket is an excellent example of an eco-friendly blanket. These blankets are soft and subtle as they are made from a poly microfiber eucalyptus fabric. Unlike traditional beddings, these eco-friendly blankets keep 50 plastic bottles away from landfills, which is much better for our environment.
3. Recyclable Straws
Americans use around 500 million plastic straws daily, which could fill over 125 million school buses.
Plastic straws are made from polypropylene, a dangerous chemical that affects our estrogen levels. The disposal of these plastic straws also introduces a lot of plastic waste into the environment.
But you can now substitute your plastic straws with reusable stainless steel straws. We also have biodegradable straws in the market made from bamboo sticks, coconut leaves, cane stems, or paper.
4. Organic Sanitary Towels
Organic sanitary pads are gaining popularity as they have fewer dyes and additives. They are also safer for the environment.
Most of the modern sanitary pads are manufactured from plastics or their derivatives. Many women complain that the perfumes and dyes often used on these pads irritate their sensitive skin. This has seen many ladies turn to organic pads.
Most organic sanitary towels are made of cotton cloth or other biodegradable materials. Others have a plant-based top material made of wood, bamboo, jute palp, or banana. This makes them free from plastics, chemical dyes, and additives. The organic sanitary towels are also more comfortable, sustainable, and eco-friendly. Since they are also compostable, their use reduces the accumulation of plastic waste on our planet.
The above four products are just a few examples of eco-friendly alternatives that you can use in place of everyday products. If you haven't started saving our planet, now would be a good time to start!