Kashmir: India's services chief confesses blinding protesters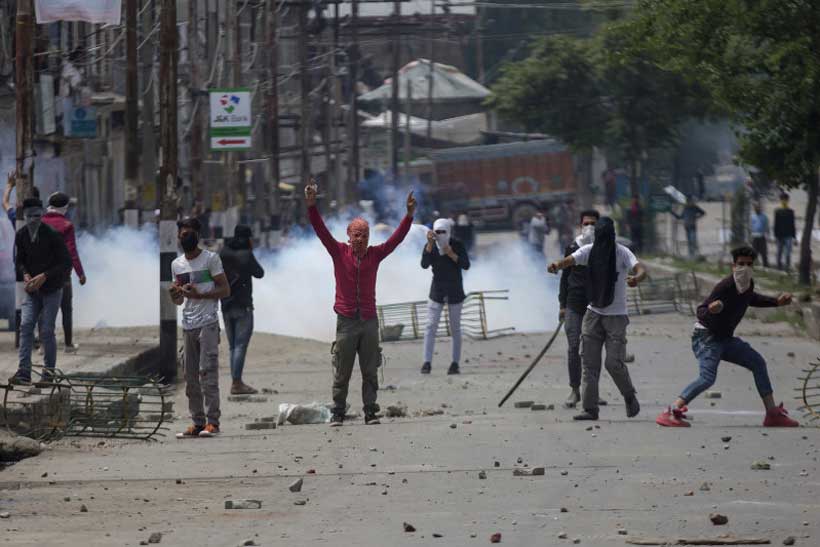 Through a host of draconian measures, India has gagged digital and voice protests in disputed Kashmir. It has barred local and foreign journalists from visiting Kashmir. Indian forces fire pellets (called `birdshots') with pump-action shot-guns against unarmed protesters or stone throwers, even women, and children five to eight years' old.
India cheated Kashmiris. Indian forces fire pellets (called `birdshots') with pump-action shot-guns against unarmed protesters or stone throwers, even women, and children five to eight years' old. A New York Time report portrays a gruesome picture ("An Epidemic of 'Dead Eyes' in Kashmir as India Uses Pellet Guns on Protesters", New York Times, August 28, 2016`) It says` the patients have mutilated retinas, severed optic nerves, irises seeping out like puddles of ink'. Doctors call them `dead eyes'. A similar report in Washington Post (December 12, 2017) is no less poignant.
Let India realise it can't stifle Kashmiris' dissent. To stifle the Kashmiri's fighting spirit, the dogra (1846-1947) punished even Kashmiri children who played with fork-slings (ghulail in Urdu) and stones (Muhammad Yousaf Saraf, Kashmiris Fight for Freedom, vol. 1, p. 50). Struggle for freedom goes on despite Indian forces' reign of terror (abductions, custodial deaths, rapes, arson, and pellet shelling). `The Security Council should make clear that it opposes Mr. Modi's brutal tightening of India's control on Kashmir. While Mr. Modi may think he can control this volatile conflict on his own, he almost certainly cannot' (The U.N. Can't Ignore Kashmir Anymore, New York Times, October 2, 2019).
Defence services chief's ergonomic confession: Irked by international-media censures, Bipen Rawat, India's ex-army chief, now Chief of Defence Services has tendered a funny explanation.
He says, ` Most of the eye injuries are caused because those pelting stones bend to the ground to pick up stones and because pellet guns are fired at the legs they get hit them in the eyes (Indian Express, January 17, 2020). Indian opposition took him to task for explaining how Kashmiris were being "radicalized". They advised him to desist from dabbling in politics. Asaduddin Owaisi asked him, `Who'll deradicalise lynchers and their political masters? `Yogi (UP chief minister] and "Pakistan jao" Meerut SP?
An unending struggle: An immutable lesson of history is that Kashmiris never reconciled with foreign rule. If they could no longer fight an invader with arms, they pelted stones on invaders (Moghal). The stone throwers were called dilawars, and the Moghal, were addressed as shikas mogle. This Kashmiri-language expression, akin to French C'est dommage (it's too bad), is spoken when something is lost. The Moghal were Muslim. Yet, the Kashmiri hated them. Shikas mogle affords a peek into the Kashmiri heart and mind. They cursed foreigners, be they be Muslim.
Kashmiris hate cheating and consider Akbar `the Great' an epitome of treachery. Akbar invited Kashmir ruler Yusuf Chak (1579 – 1586) for talks. But, he treacherously imprisoned and killed him in Bihar state. Be it noted that Akbar had failed to subjugate Kashmir in his earlier two expeditions. After take-over, the Moghal lived in a walled nagri (city), later called Sri nagar. The helpless Kashmir used to throw stones at walled city to express their anguish. The general feeling of hatred, kashmiriat, was akin to what Ibn-e-Khuldoon calls asabiya (national cohesion). It ran across all sects (shia-sunni), religions, castes and creed.
Let India realise it can't stifle Kashmiris' dissent. To stifle the Kashmiri's fighting spirit, the dogra (1846-1947) punished even Kashmiri children who played with fork-slings (ghulail in Urdu) and stones (Muhammad Yousaf Saraf, Kashmiris Fight for Freedom, vol. 1, p. 50). Struggle for freedom goes on despite Indian forces' reign of terror (abductions, custodial deaths, rapes, arson, and pellet shelling). `The Security Council should make clear that it opposes Mr. Modi's brutal tightening of India's control on Kashmir. While Mr. Modi may think he can control this volatile conflict on his own, he almost certainly cannot' (The U.N. Can't Ignore Kashmir Anymore, New York Times, October 2, 2019).
RSS's role in persecuting minorities: The present-day anti-minority India caricatures Mahatma Gandhi's and Ambedkar's vision of India. They both envisioned India as a modern country with due place for minorities. Gandhi did not care a fig for Rashtrya Swayem Sevak Sangh leaders in his life-time. So was the case with Ambedkar also. Yet, tragically RSS-BJP conglomerate and their offshoots are trying to portray Gandhi-Ambedkar as Hindu communalists. They are v trying to co-opt Gandhi and pitch him against the Congress.
What a wonder it is hard to find RSSs' founding father, Hedgewar's mention in the 21 volumes of the writings and speeches of Ambedkar. Hedgewar thought of Hindu raj, rule by Hindu Rashtra. Chiplunkar, Tilak and their disciple Hedgewar abhorred Gandhi `a Bania leading the freedom movement'. After Tilak's death, Hedgewar left the Congress-led freedom struggle and began struggle to regain past glory of Aryavarta. Ambedkar explicitly rejected idea of the Hindu Rashtra. He stressed, ` No matter what the Hindus say, Hinduism is a menace to liberty, equality and fraternity. On that account it is incompatible with democracy. Hindu Raj must be prevented at any cost.' Renowned lawyer AG Noorani rightly said `their [RSS's] bible is V.D. Savarkar's essay 'Hindutva' published in 1925. He called Muslims `hissing Yavana snakes' (Dawn, October 5, 2019).
RSS is a terrorist organisation: Terrorism Research Centre, an American think-tank based in East Virginia, enlisted RSS among the world's leading terrorist organisations. It is significant to note that the Indian media is heavily tilted towards the RSS. In fact the RSS has of late become the unofficial spokesman of the Indian government. Even the enlightened Hindu and the military writers believe that India's prosperity during various periods of history, for example during the Maurya and the Gupta periods, rose or fell pari passu with rise or fall of military leadership (Major General Rajendra Nath, Military Leadership in India: Vedic Period to Indo-Pak Wars.1990.Lancers Books).
Upsurge in Hindutva: Hindutva ideology is being pupularised in India to persecute minorities, particularly Musims in Kashmir and other Indian states. It is controversially defined in Vinayak Damodar Savarkar in his book Hindutva, and adopted by Hedgewar as the basis of his ideology (An Indian parliamentary committee resurrected him as a hero by allowing his portrait to be hung in Indian parliament). The RSS's aims are a mix of cultural, religious and political objectives – To serve Hindu dharma (religion), sanskriti (culture) and rashtra (nation). Sarvarkar distinguishes 'Hinduism' from 'Hindutva'. He clarified that the `Hinduism' was concerned with `relevance of life after death, the concept of God and the Universe'. 'Hindutva', on the other hand, was 'Hindus being a nation, bound by a common culture, a common history, a common language, a common country and a common religion'. Koota yuddha is an article of faith with the Rashtriya Swayemsewak Sangha. All its recruits, 10 years' old and above, are obliged to take the following pratigya (oath): In the name of God and my ancestors. I hereby become a member of the Rashtriya Swayamsewak Sangh for the all-round progress of Bharatvarsh (ancient name of India) by strengthening the holy Hindu dharma (religion). Hindu sanskiti (culture and Hindu society). I shall do the Sangha work with all my heart to the best of my ability and that I shall be bound by this oath for the whole of my life. Bharat Mata Ki Jai ! (Glory to Mother India!).
Minority Lynching: Beef eating people are lynched in public. A Christian priest was murdered right in front of his son. The RSS's genocidal role is a caricature of Preamble to The Constitution of India which states: "WE THE PEOPLE OF INDIA, having solemnly resolved to constitute India into a [SOVEREIGN SOCIALIST SECULAR DEMOCATIC REPUBLIC] …" Besides, Article 15 of the Constitution prohibits discrimination on the grounds of religion, race, caste, sex or place of birth.
Not only the RSS, but also Vishwa Hindu Parishad, and Indian political parties tacitly believe in koota yuddha. Reason: The minorities together are not more than one third of the Hindu population (read Brihaspati's udyog parva principle justifying 2,800 years back merciless attack when one is numerically three times superior). Illustrations of koota yuddha are Gujarat carnage under prime minister Narendra Modi, then chief minister, burning of Christians' alive, attack on Golden Temple, anti-sikh riots of 1984, killing of beef-eating minorities by cow guards (gao rakhshak), persecution of Kashmiri students in Indian states, and so on. A crystal-clear manifestation of this mentality was ruling-BJP-supported then Gujarat chief minister Narendra Modi's 11-phase gaurav or papadshahiyatra (pride parade) in July 2002. Earlier, in June 2002, Bal Thackray had said, 'Muslims can never be trusted. They are like snakes'.
Wake-up call for Pakistan: History tells that only countries with a stable equilibrium between its centrifugal and centripetal forces stay afloat in comity of nations. At the time of Partition, it was predicted that both India and Pakistan would break up into 'congeries of states'. The basis of this prediction was inability of the new republics to deal with myriad centrifugal forces gnawing into the body politic. In post-independence period, India was fortunate to have visionary leaders who tactfully muzzled centrifugal forces like insurgencies in East Punjab and eastern states, besides the Dravidian and Naxal Bari movements. Indian Union bowed to insurgents' demands for creation of new states. And, insurgency leaders became chief ministers! India forgot yester years when they burnt to ashes copies of Indian constitution, uprooted rail tracks, immobilizing everyday life. Tamil Nadu, Andhra Pradesh, Nagaland and the East Punjab appeared to secede from the Union. India stayed united because of its resilience, we disintegrated.
Pakistan learnt nothing from East-Pakistan debacle (Asghar Khan, We've learnt nothing from history). India is now engaged against Pakistan in what Kautliya calls maya yuddha (war of tricks) or koota yuddha (all-out warfare). She is out to isolate Pakistan, get it dubbed as a terrorist state, and corner it by presence in Chahbahar and some Central Asian airbases (Aeini or Farkhor airbases in Tajikistan). Ibn-e-Khaldun says that it is asabia (nationalism) that enables a country to withstand challenges. Toynbee's Challenge and Response Theory also reminds that if challenges are too heavy, a nation becomes apathetic to environment. Apathy leads to mental degradation, decay and extinction.
Pakistani leaders, including prime-ministers-weres and prime-ministers-to-be should take off their blinkers and try to understand how India, through koota yuddha, hands in glove with likeminded countries, is trying to wreck their economy and country.
Inference: History tells that ebbs and flows of Kashmiris' resistance never ceased. Palliatives failed to stifle the struggle. A lasting solution is to allow Kashmiris to determine their own fate. It's no use harping integral-part (atoot ang) mantra any longer. In marked contrast to India's colonizing policy, Pakistan gives an iron-clad constitutional assurance to Kashmiris to re-craft their relation with Pakistan under Article 257 of its Constitution. It states: `when the people of the State of Jammu and Kashmir decide to accede to Pakistan, the relationship between Pakistan and that State shall be determined in accordance with the wishes of the people of that State'.
The G20, the Global South and India
The G20 summit in India turned out to be not ordinary event. The summit of representatives of the largest economies and military-political potentials showed global trends in the struggle for leadership and development. The G20 meeting demonstrated India's diplomatic triumph, which proved a rather profound understanding of world processes and trends. The most important consequence of the summit was the adoption of a new global economic and infrastructure project to export goods from India through the Middle East to Europe. In addition, the countries of the Global South have shown that they are not ready to oppose Russia openly and do not want to politicize the Ukrainian crisis.
The Group of Twenty originated at the turn of the XXI. During the deep economic and financial crisis in Asia, the developed countries of the West sought to formalize a new coordination structure. The idea was to create a forum to exchange views and global coordination of financial and economic issues. Then, the finance ministers of the Group of Eight solicited an initiative to expand the range of countries to discuss financial policy issues, inviting such large and actively growing states as China and India.
By the beginning of the XXI, there was an objective viewpoint in Western capitals that it was impossible to solve world problems without involving India and China in the problems of global governance. The idea of globalization was becoming dominant among intellectuals and development leaders during this period. After the collapse of bipolarity and the disintegration of the USSR, the world lost unnecessary dividing lines, ideological enmity and confrontation between the two blocs. Globalization was becoming a natural and necessary aspect of development. The idea originated in the UK and the USA and has become prevalent in the capitals of developed countries. Thus, the Group of Twenty was created.
Nonetheless, after the founding conference in Berlin in December 1999, the G20 was almost forgotten. Before the new financial crisis in 2008, there were no summits: the main format was the annual meetings of finance ministers and heads of central banks. The fact that the situation in the global economy was critical is indicated by the fact that the G20 summits met not once a year but as emergency meetings. The first, named "anti—crisis", was held in November 2008 in Washington, the next in April 2009 in London, and, in Pittsburgh in September of the same year.
The severity of the economic crisis has passed over time, and the G20 has upgraded to the political level. The Forum, which unites countries from different parts of the world, is much more representative and balanced than the G7 and allows world leaders to meet without organizing an official visit to discuss current affairs. The Group of Twenty, major advanced and emerging economies collectively represent about 80-90% of the world's gross national product, 70-80% of world trade, and two-thirds of the world's population. The Group includes 19 major national economies, as well as The European Union as a joint participant.
The G20 Summit in New Delhi on September 9-10 was an outstanding event in the life of this organization. Three aspects can be stressed out. First, the G20 has expanded at the expense of the African Union. Secondly, the summit reached an agreement on creating a transport corridor that will be completed by India and its partners and is considered by New Delhi and the West as an alternative to the Chinese One Belt, One Road project. If this transport project is successfully implemented, it can change the balance of power in the global economy and significantly strengthen India's position in the international system. Thirdly, the topic concerning the Ukrainian-Russian conflict was essentially secondary for the first time since February 2022 at a representative interstate forum. The countries of the Global South refused to politicize this conflict and take sides.
All three developments have become possible thanks to the successful work of Indian diplomacy. Apparently, it is safe to talk about India as a growing and established contender for the status of a great power. The last day of the summit was marked by a visit of its participants to the Raj Ghat memorial, created at the cremation site of the national hero of India – Mahatma Gandhi.
From the perspective of world politics, the most important idea was the creation of a new transport corridor, which was supported by all the largest economies in the world. It was decided to develop an action plan within a few months and start implementation. Its goal is to launch a large–scale project for the construction of railways and ports intended to transport goods from India to the Middle East and Europe. The memorandum of understanding, based on which the project is being created, is signed by Joseph Biden, Narendra Modi, and the Crown Prince of Saudi Arabia, Mohammed bin Salman al Saud.
China's excessive and active growth worries the most developed countries of the world, especially the United States and Great Britain. Some concern is also present in a number of Asian capitals, including Japan, India, South Korea, and partly Vietnam. Growth generates China's ambitions, and intentions to spread its power and influence have a particular impact on the actions of other major players. Having a complicated history of relations with China, several countries are looking for formats and systems of cooperation to deter possible aggressive attempts to expand their influence and growth. Many intellectuals are convinced that the confrontation between the United States and China will become the main and determining factor of the XXI. The idea of a new transport corridor, which has become a demonstration of the success of the diplomacy of India and its partners in the West, has a specific potential for diversifying transport supplies and hedging the risks of Chinese growth.
Therefore, the G-20 summit was a success for India and demonstrated a sufficiently deep understanding of world processes, stability, and professionalism of its diplomacy. New Delhi's ideas and projects have been supported by many players, including the conflicting West and East. India has become a conductor and mentor of the interests of the Global South. The expansion of the G20 at the summit in India at the expense of the African Union has become a symbol of this. In addition, despite the high level of conflict in current international relations and pressure, India managed to protect the economic summit from excessive politicization and collective condemnation.
The G20 New Delhi declaration: Is "One future" possible?
The G20 New Delhi Declaration, themed "One earth, one family, one future," stands as a remarkable diplomatic achievement for India, even in the face of intricate geopolitical dynamics challenging the notion of "one future." It demonstrates how India's diplomatic masterstrokes, whether the breakthrough on Ukraine or the inclusion of the African Union as a permanent G20 member, transformed the seemingly impossible into reality. Specifically, the joint statement on the war in Ukraine by the West and the Russia-China bloc was unimaginable. The absence of Russian President Putin and Chinese President Xi Jinping raised questions and concerns, but India's Foreign Minister Jaisnakar addressed it as "not unusual." Against all odds, India's diplomacy successfully built bridges between the divided powers. How did the G20 New Delhi Declaration work this magic?
The language used in the 37-page G20 New Delhi Declaration is a testament to the power of wordsmithing, persuading everyone involved. While Western nations were eager to address the conflict in Ukraine, India deftly navigated this sensitive terrain. The declaration tactfully states, "Today's era must not be one of war" in reference to the Ukrainian conflict, avoiding explicit condemnation of Russia. Notably, Prime Minister Modi engaged in a telephone conversation with President Putin just before the summit, demonstrating Russia's willingness to engage in discussions regarding the Ukrainian conflict without falling into the blame game. In contrast, the Bali Declaration from the previous year used more robust language, explicitly condemning the "aggression by the Russian Federation against Ukraine" and demanding a complete and unconditional withdrawal. Foreign Minister Jaisakar aptly remarked, "Bali was Bali, New Delhi is New Delhi," signifying the evolving dynamics of diplomacy.
Prime Minister Modi specifically emphasized India's desire to become the voice of the Global South. Another notable achievement was India's successful push for the African Union's inclusion as a permanent G20 member. This strategic move reflects India's commitment to representing the Global South, considering the African Union's growing significance, representing 55 states and a quarter of the world's population by 2050.
The recommendations enshrined in the New Delhi Declaration hold the promise of fostering "One future" if diligently implemented. Initiatives such as the Green Development Pact, Climate and Sustainable Finance, Financial Institution Reforms, and Gender Equality are vital objectives that benefit both developed and developing nations. The declaration made significant strides toward addressing climate and sustainable finance concerns by advocating for a robust replenishment of the Green Climate Fund. It underscored the imperative of securing $5.8 to $5.9 trillion by 2030 to support developing countries in fulfilling their Nationally Determined Contributions.
Nevertheless, the question lingers: Can the G20 New Delhi Declaration genuinely usher in "One earth, one family, one future"? In the context of the Russia-Ukraine conflict, the G20 witnessed a convergence of positions between Western nations and Russia-China, aligning with India's aspirations. However, Western nations may face domestic scrutiny for their approach toward the war in Ukraine at the G20 meeting. While India may have achieved diplomatic success with the G20 Delhi Declaration, the core issue between Western nations and Russia remains the war in Ukraine. In my opinion, India has no interest in becoming a mediator between Russia and the Western nations to find a solution to the war in Ukraine. Without resolving this conflict, India will not be able to bridge the gap between Western nations and Russia in a true sense.
Even though PM Modi has been trying to become the voice of the Global South, China is far ahead of India in Africa. The truth is that "funds are power" in the Global South. If India and other Western nations fail to provide funds in the Global South, then India's dream of becoming the voice of the Global South will remain unreal. In the BRICS meeting, President Xi Jinping emphasized industrialization in the Global South, which implies more infrastructure projects. Now it will depend on how far Western countries are willing to go in the context of the Global South.
The absence of China's President Xi Jinping at the G20 summit in New Delhi raised eyebrows. Recent developments, such as the joint commitment by President Xi and Prime Minister Modi to resolve border issues during the BRICS meeting in Johannesburg and China's release of a controversial map laying claim to Arunachal Pradesh and Aksai Chin just before the G20 summit, have added complexity to India's diplomatic agenda. Post-G20, the China Institute of Contemporary International Relations, under the Ministry of State Security, accused India of 'sabotaging' the G20 for its own interests. This underscores China's unease with India's deepening ties with Western powers. The "No Limit Partnership" between China and Russia is a concern for India, prompting a closer alignment with the West. While the G20 confirmed the centrality of the US-India partnership to the US Indo-Pacific strategy, it is evident that New Delhi may have to face difficult national security issues with Beijing. As India approaches elections, Prime Minister Modi's firm stance on China is expected to persist.
Achieving Sustainable Development Goals and addressing climate change concerns are paramount priorities, as agreed upon by all member countries. The real challenge lies in translating these goals into tangible actions on the ground. As witnessed with the Paris Agreement on climate change and the challenges related to it, the G20's aspirations must not remain mere objectives.
Clearly, Western nations aspire to strengthen their ties with India. At the same time, India plays an important role for the Global South and the Russia-China bloc. The diplomatic success of the G20 New Delhi Declaration has bolstered India's position in this increasingly polarized geopolitical landscape. The key challenge for New Delhi will be to navigate its relations with China while bridging the divides in the world's power dynamics.
Following India's moon mission, the Chandryan-3 safely landed over the moon, triggering questions and debate among scientists, political pundits, and laymen of Pakistan, as Pakistan has never been on a moon mission. However, whenever one of the twin nations or even a younger nation makes any achievement or progress in any field whether economic, social, political, or diplomatic, it raises questions for the other country, such as Pakistan and India. Besides, the humongous discrepancy between the global north and the global south also poses questions about why one is progressive and the other is not. The success of developed, developing, and least developed countries is always pregnant with some distinct decisions, so is their fruit. Simply put, only the priorities of a nation can make it or destroy it. Developed and developing countries engineer different priorities that result in different outcomes.
Each country designs its priorities accordingly. It's the reason Pakistan lags behind in the global race because the world's developed or most developing countries prioritize the economic and social well-being of their people, whereas Pakistan's top priority is her security, which consumes most of its budget, leaving other sectors on the verge of destruction, despite the fact that Pakistan is replete with a myriad of natural and human resources. Resultantly, Pakistan undergoes the same fate of backwardness even in the 21st century.
Despite consuming most of Pakistan's budget, the security challenges remain alarming in some border areas of the country. However, the internal security challenges have been tackled almost successfully. The security agencies failed to terminate the insecurity in the country completely even after two decades of war with Tehreek-e-Taliban Pakistan (TTP). As per the research, armed group attacks in Pakistan increased by 79% during the first half of the current year. Basically, the terror-related incidents peaked in 2013. The average was 4 attacks per day, and as a result, nearly 2700 fatalities had taken place. Similarly, the terror-related incidents didn't stop but ebbed over time. Pakistan's priority, even regarding tackling terrorists or insurgents, is ineffective. Crushing militants is impractical since Afghanistan is an all-weather safe haven for them. Whenever the Pakistani military attacks them, the top brass of the TTP relocate to Afghanistan. So it is totally difficult to end terror-related attacks and insurgencies within Pakistan, if Islamabad does not find a constructive approach to deal with them. There are two ways to exterminate them. Firstly, there must be a truce under the umbrella of Pakistan's constitution. Secondly, if the previous doesn't work, Pakistan must get a clear stance from Kabul to curb their safe havens for TTP top brass and then take actions accordingly. Apart from this, it is equally difficult because the Afghan Taliban and the Pakistani Taliban belong to the same ethnic group.
Previously, the ceasefire between the banned outfit and Pakistani officials could not bear reasonable fruit; instead, spared her time to amass weapons and organize order within the outfit, which in consequence, can be far more dangerous than it used to be. So, it is better to keep everything in mind before making any policy regarding this. Comparatively, no developed country places as much emphasis on security. If anyone pays attention to security, it comes with economic benefits, as demonstrated by the United States. The secure environment also provides economic opportunities. Also, only working on other sectors but security can bear no fruit because in an uncertain situation, no business can grow.
Apart from this, in every budget statement, economic development is prioritized, but the allocation of the budget and the practical approach differ. Key indicators of economic development are deemed Gross Domestic Production (GDP), a low poverty rate, low inflation, human development, etc. However, Pakistan's performance in each is noncompetitive with even regional countries. Our birth partner, India, occupies the 5th largest economy in the world, whereas Pakistan occupies the 46th largest economy as of 2023. The poverty rate is 37% in FY 2023, as per the World Bank, which is higher than regional competitors; the inflation rate has crossed 30%; and human development is equal to none.
Where the global players' key focus is economic growth, creating multiple job opportunities, balancing demand and supply, increasing purchasing parity, decreasing or even exterminating current account deficits, and terminating dependence on essential imported goods, Pakistan compellingly, through flawed policies, relies on imports even for essential consumable items, which creates a current account deficit. Mainly, Pakistan's problem lies in the current account deficit. Low exports burden Pakistan's current account, which accelerates the prices of consumable items and results in cost-push inflation. Besides, expensive imported raw materials and a higher interest rate increase the production cost of domestic products, which discourages local producers and further burdens Pakistan's current account by importing those goods. On the contrary, developed or most developing countries encourage local production of essential items instead of relying on costly imports.
Also, the black economy of Pakistan adds to the problem because it is unaccountable and doesn't come into the tax net, thus reducing revenue. The black economy includes a wide range of illegal activities such as corruption, money laundering, tax evasion, and underground and concealed economic activities from the eyes of the government. The black economy of Pakistan is estimated to be worth billions of dollars, and it's increasing rapidly. As per surveys by many organizations, the black economy is going to be worth trillions of dollars. If these economic activities come under the tax net, strengthening Pakistan's revenue and proper expenditure, Pakistan will be among its top global competitors.
Additionally, Pakistan's salt mines and coal resources are the second- and third-largest globally. Pakistan ranks fifth in terms of the country's greatest gold resources. Pakistan's copper is one of its most abundant natural resources, and the country ranks seventh in the world in terms of its amount. Despite being rich in terms of natural resources, their improper use renders Pakistan a poor country. Negligence towards the proper utility of natural resources is one of the major contributors to existing economic woes. If natural resources are prioritized and contracts are provided to local companies instead of international ones, more than half of Pakistan's problems will be resolved. As local companies will hire local engineers and workers that will provide employment, hence increasing purchasing power and impacting poverty.
Apart from this, the most prioritized issue among developed nations is the social well-being of their denizens. For this, their key focus remains on education, an effective health care system, life expectancy, nutrition, empowerment of vulnerable groups, quality of employment, quantity of free time, availability of clean water, cost of living, and gender parity.
But, the education system in Pakistan is in the worst condition. It is mainly based on theory, an outdated syllabus, incompetent teachers, and an unfriendly learning environment where students are not encouraged, leaving a few institutes. Our literacy rate stuck between 60% and 65%, not even crossing 70%. But when it comes to learning ability, the rate even decreases. However, global competitors have garnered even more than a 90% literacy rate. Not to mention others, even India and Bangladesh have surpassed Pakistan in adult literacy rates. Apart from that, Pakistan has established universities, but scarcely have they managed any slots even among the 500 best universities in the world. Consequently, Pakistan's graduates remain unable to compete globally. In contrast, India's MIT and IIT are fully competing in the global race. Since technology is the future, India has culminated at a higher level, but Pakistan is too far away. As they have occupied key positions as CEOs in top tech companies such as Google, Microsoft, IBM, and many more.
Besides, the health care system in Pakistan is also not up to par. As per the world population view, Pakistan is ranked even after India, Bangladesh, Iran, and Ecuador. This is a matter of concern for Pakistan. Since it's one of the fundamental rights of denizens of a country, this sector too must be focused and invested in. However, the world's countries invest hefty amounts of their resources in their health care and health research because a healthy individual contributes constructively to the well-being of society and brings about positive change.
Apart from this, Pakistan is also behind the eight ball in life expectancy, nutrition, empowerment of vulnerable groups, quality of employment, quantity of free time, availability of clean water, cost of living, and gender parity. Apart from being fundamental rights of the people of a country, these are the indicators that show the development of a country.
To encapsulate, the priorities of a nation play a crucial role in shaping its future. If any country prioritizes anything other than the basic rights, social well-being, and economic growth of the country, the kismet of that country remains in the doldrums. So, Pakistan too should reset its priorities and put into action their words so that Pakistan can be a global player and equally confer each basic right and facility on its citizens.