Kashmir: India's services chief confesses blinding protesters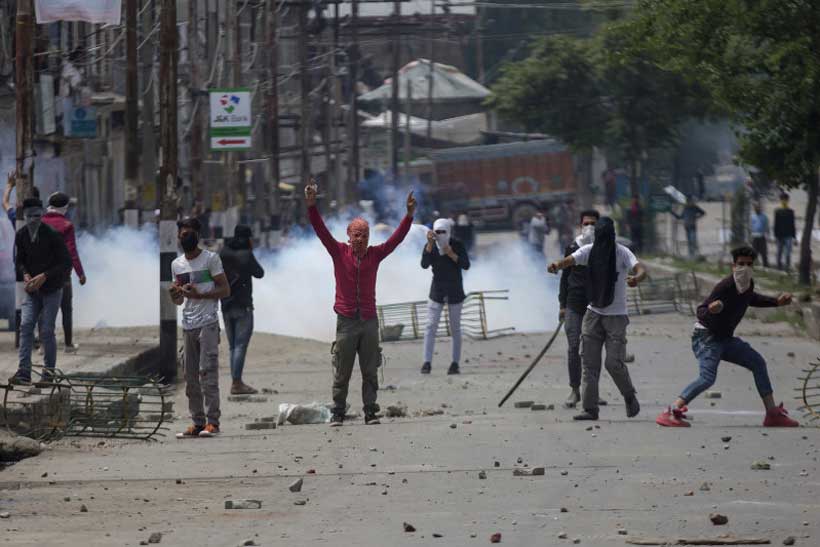 Through a host of draconian measures, India has gagged digital and voice protests in disputed Kashmir. It has barred local and foreign journalists from visiting Kashmir. Indian forces fire pellets (called `birdshots') with pump-action shot-guns against unarmed protesters or stone throwers, even women, and children five to eight years' old.
India cheated Kashmiris. Indian forces fire pellets (called `birdshots') with pump-action shot-guns against unarmed protesters or stone throwers, even women, and children five to eight years' old. A New York Time report portrays a gruesome picture ("An Epidemic of 'Dead Eyes' in Kashmir as India Uses Pellet Guns on Protesters", New York Times, August 28, 2016`) It says` the patients have mutilated retinas, severed optic nerves, irises seeping out like puddles of ink'. Doctors call them `dead eyes'. A similar report in Washington Post (December 12, 2017) is no less poignant.
Let India realise it can't stifle Kashmiris' dissent. To stifle the Kashmiri's fighting spirit, the dogra (1846-1947) punished even Kashmiri children who played with fork-slings (ghulail in Urdu) and stones (Muhammad Yousaf Saraf, Kashmiris Fight for Freedom, vol. 1, p. 50). Struggle for freedom goes on despite Indian forces' reign of terror (abductions, custodial deaths, rapes, arson, and pellet shelling). `The Security Council should make clear that it opposes Mr. Modi's brutal tightening of India's control on Kashmir. While Mr. Modi may think he can control this volatile conflict on his own, he almost certainly cannot' (The U.N. Can't Ignore Kashmir Anymore, New York Times, October 2, 2019).
Defence services chief's ergonomic confession: Irked by international-media censures, Bipen Rawat, India's ex-army chief, now Chief of Defence Services has tendered a funny explanation.
He says, ` Most of the eye injuries are caused because those pelting stones bend to the ground to pick up stones and because pellet guns are fired at the legs they get hit them in the eyes (Indian Express, January 17, 2020). Indian opposition took him to task for explaining how Kashmiris were being "radicalized". They advised him to desist from dabbling in politics. Asaduddin Owaisi asked him, `Who'll deradicalise lynchers and their political masters? `Yogi (UP chief minister] and "Pakistan jao" Meerut SP?
An unending struggle: An immutable lesson of history is that Kashmiris never reconciled with foreign rule. If they could no longer fight an invader with arms, they pelted stones on invaders (Moghal). The stone throwers were called dilawars, and the Moghal, were addressed as shikas mogle. This Kashmiri-language expression, akin to French C'est dommage (it's too bad), is spoken when something is lost. The Moghal were Muslim. Yet, the Kashmiri hated them. Shikas mogle affords a peek into the Kashmiri heart and mind. They cursed foreigners, be they be Muslim.
Kashmiris hate cheating and consider Akbar `the Great' an epitome of treachery. Akbar invited Kashmir ruler Yusuf Chak (1579 – 1586) for talks. But, he treacherously imprisoned and killed him in Bihar state. Be it noted that Akbar had failed to subjugate Kashmir in his earlier two expeditions. After take-over, the Moghal lived in a walled nagri (city), later called Sri nagar. The helpless Kashmir used to throw stones at walled city to express their anguish. The general feeling of hatred, kashmiriat, was akin to what Ibn-e-Khuldoon calls asabiya (national cohesion). It ran across all sects (shia-sunni), religions, castes and creed.
Let India realise it can't stifle Kashmiris' dissent. To stifle the Kashmiri's fighting spirit, the dogra (1846-1947) punished even Kashmiri children who played with fork-slings (ghulail in Urdu) and stones (Muhammad Yousaf Saraf, Kashmiris Fight for Freedom, vol. 1, p. 50). Struggle for freedom goes on despite Indian forces' reign of terror (abductions, custodial deaths, rapes, arson, and pellet shelling). `The Security Council should make clear that it opposes Mr. Modi's brutal tightening of India's control on Kashmir. While Mr. Modi may think he can control this volatile conflict on his own, he almost certainly cannot' (The U.N. Can't Ignore Kashmir Anymore, New York Times, October 2, 2019).
RSS's role in persecuting minorities: The present-day anti-minority India caricatures Mahatma Gandhi's and Ambedkar's vision of India. They both envisioned India as a modern country with due place for minorities. Gandhi did not care a fig for Rashtrya Swayem Sevak Sangh leaders in his life-time. So was the case with Ambedkar also. Yet, tragically RSS-BJP conglomerate and their offshoots are trying to portray Gandhi-Ambedkar as Hindu communalists. They are v trying to co-opt Gandhi and pitch him against the Congress.
What a wonder it is hard to find RSSs' founding father, Hedgewar's mention in the 21 volumes of the writings and speeches of Ambedkar. Hedgewar thought of Hindu raj, rule by Hindu Rashtra. Chiplunkar, Tilak and their disciple Hedgewar abhorred Gandhi `a Bania leading the freedom movement'. After Tilak's death, Hedgewar left the Congress-led freedom struggle and began struggle to regain past glory of Aryavarta. Ambedkar explicitly rejected idea of the Hindu Rashtra. He stressed, ` No matter what the Hindus say, Hinduism is a menace to liberty, equality and fraternity. On that account it is incompatible with democracy. Hindu Raj must be prevented at any cost.' Renowned lawyer AG Noorani rightly said `their [RSS's] bible is V.D. Savarkar's essay 'Hindutva' published in 1925. He called Muslims `hissing Yavana snakes' (Dawn, October 5, 2019).
RSS is a terrorist organisation: Terrorism Research Centre, an American think-tank based in East Virginia, enlisted RSS among the world's leading terrorist organisations. It is significant to note that the Indian media is heavily tilted towards the RSS. In fact the RSS has of late become the unofficial spokesman of the Indian government. Even the enlightened Hindu and the military writers believe that India's prosperity during various periods of history, for example during the Maurya and the Gupta periods, rose or fell pari passu with rise or fall of military leadership (Major General Rajendra Nath, Military Leadership in India: Vedic Period to Indo-Pak Wars.1990.Lancers Books).
Upsurge in Hindutva: Hindutva ideology is being pupularised in India to persecute minorities, particularly Musims in Kashmir and other Indian states. It is controversially defined in Vinayak Damodar Savarkar in his book Hindutva, and adopted by Hedgewar as the basis of his ideology (An Indian parliamentary committee resurrected him as a hero by allowing his portrait to be hung in Indian parliament). The RSS's aims are a mix of cultural, religious and political objectives – To serve Hindu dharma (religion), sanskriti (culture) and rashtra (nation). Sarvarkar distinguishes 'Hinduism' from 'Hindutva'. He clarified that the `Hinduism' was concerned with `relevance of life after death, the concept of God and the Universe'. 'Hindutva', on the other hand, was 'Hindus being a nation, bound by a common culture, a common history, a common language, a common country and a common religion'. Koota yuddha is an article of faith with the Rashtriya Swayemsewak Sangha. All its recruits, 10 years' old and above, are obliged to take the following pratigya (oath): In the name of God and my ancestors. I hereby become a member of the Rashtriya Swayamsewak Sangh for the all-round progress of Bharatvarsh (ancient name of India) by strengthening the holy Hindu dharma (religion). Hindu sanskiti (culture and Hindu society). I shall do the Sangha work with all my heart to the best of my ability and that I shall be bound by this oath for the whole of my life. Bharat Mata Ki Jai ! (Glory to Mother India!).
Minority Lynching: Beef eating people are lynched in public. A Christian priest was murdered right in front of his son. The RSS's genocidal role is a caricature of Preamble to The Constitution of India which states: "WE THE PEOPLE OF INDIA, having solemnly resolved to constitute India into a [SOVEREIGN SOCIALIST SECULAR DEMOCATIC REPUBLIC] …" Besides, Article 15 of the Constitution prohibits discrimination on the grounds of religion, race, caste, sex or place of birth.
Not only the RSS, but also Vishwa Hindu Parishad, and Indian political parties tacitly believe in koota yuddha. Reason: The minorities together are not more than one third of the Hindu population (read Brihaspati's udyog parva principle justifying 2,800 years back merciless attack when one is numerically three times superior). Illustrations of koota yuddha are Gujarat carnage under prime minister Narendra Modi, then chief minister, burning of Christians' alive, attack on Golden Temple, anti-sikh riots of 1984, killing of beef-eating minorities by cow guards (gao rakhshak), persecution of Kashmiri students in Indian states, and so on. A crystal-clear manifestation of this mentality was ruling-BJP-supported then Gujarat chief minister Narendra Modi's 11-phase gaurav or papadshahiyatra (pride parade) in July 2002. Earlier, in June 2002, Bal Thackray had said, 'Muslims can never be trusted. They are like snakes'.
Wake-up call for Pakistan: History tells that only countries with a stable equilibrium between its centrifugal and centripetal forces stay afloat in comity of nations. At the time of Partition, it was predicted that both India and Pakistan would break up into 'congeries of states'. The basis of this prediction was inability of the new republics to deal with myriad centrifugal forces gnawing into the body politic. In post-independence period, India was fortunate to have visionary leaders who tactfully muzzled centrifugal forces like insurgencies in East Punjab and eastern states, besides the Dravidian and Naxal Bari movements. Indian Union bowed to insurgents' demands for creation of new states. And, insurgency leaders became chief ministers! India forgot yester years when they burnt to ashes copies of Indian constitution, uprooted rail tracks, immobilizing everyday life. Tamil Nadu, Andhra Pradesh, Nagaland and the East Punjab appeared to secede from the Union. India stayed united because of its resilience, we disintegrated.
Pakistan learnt nothing from East-Pakistan debacle (Asghar Khan, We've learnt nothing from history). India is now engaged against Pakistan in what Kautliya calls maya yuddha (war of tricks) or koota yuddha (all-out warfare). She is out to isolate Pakistan, get it dubbed as a terrorist state, and corner it by presence in Chahbahar and some Central Asian airbases (Aeini or Farkhor airbases in Tajikistan). Ibn-e-Khaldun says that it is asabia (nationalism) that enables a country to withstand challenges. Toynbee's Challenge and Response Theory also reminds that if challenges are too heavy, a nation becomes apathetic to environment. Apathy leads to mental degradation, decay and extinction.
Pakistani leaders, including prime-ministers-weres and prime-ministers-to-be should take off their blinkers and try to understand how India, through koota yuddha, hands in glove with likeminded countries, is trying to wreck their economy and country.
Inference: History tells that ebbs and flows of Kashmiris' resistance never ceased. Palliatives failed to stifle the struggle. A lasting solution is to allow Kashmiris to determine their own fate. It's no use harping integral-part (atoot ang) mantra any longer. In marked contrast to India's colonizing policy, Pakistan gives an iron-clad constitutional assurance to Kashmiris to re-craft their relation with Pakistan under Article 257 of its Constitution. It states: `when the people of the State of Jammu and Kashmir decide to accede to Pakistan, the relationship between Pakistan and that State shall be determined in accordance with the wishes of the people of that State'.
Political Lessons from Kerala: People's Response to the Communist Welfare System
Amid covid-19 fears, the elections to the legislative assemblies of four Indian states- West Bengal, Tamil Nadu, Assam and Kerala, and the Union Territory of Puducherry were conducted in the months of April-May 2021. Of these four states, West Bengal and Kerala continue to challenge the ideology of Hindu nationalism and pose serious ideological opposition to BJP.'s right-wing politics. While BJP-led NDA ruled Assam, Tamil Nadu was ruled by AIADMK, a Dravidian party with strong BJP connections. Puducherry, the Union Territory, was ruled by a Congress-led government in which the DMK, another Dravidian political party, was an ally. Since elections to these major states were significant for the Indian political scenario, election contestations acquired national attention. Therefore, many exit poll surveys were conducted, which showed the lack of anti-incumbency in three states except Tamil Nadu, and the results almost matched the exit polls. What is common in this election result is that Indian National Congress (INC) and their allies faced setbacks in the five states. Despite the expulsion of the AIADMK and INC-led governments in Tamil Nadu and Puducherry, respectively, the parties in Bengal, Assam and Kerala returned to power.
Of these states, election results of Kerala and Bengal have unparalleled potential in national politics, especially with the explosive performance of the LDF government in Kerala and the prospects it will raise in national politics. Moreover, Bengal and Kerala show that the tactics of the BJP, a giant of national politics, have failed miserably in challenging the party in rule. While BJP could sweep almost 75 seats in West Bengal, they lost miserably in Kerala. The loss of Nemam constituency, BJP's only seat in the state assembly, shows that Kerala is not yet their cup of tea. On the one hand, the LDF coalition, which lost miserably in nineteen of the total twenty seats in the 2019 Lok Sabha elections in Kerala, has won a landslide victory in the local body elections and assembly elections 2021. The LDF, a coalition of 11 centre-leftists leaning parties, showed a new model of political activism in which its traditional opponents are shattered. Conversely, LDF's success in the state shows that they succeeded in understanding and responding to the socio-political changes since May 2019.
With this election, the practice of alternating LDF (Left Democratic Front) and UDF (United Democratic Front) every five years has changed in Kerala. We have to admit that anti-government sentiment is entirely non-existent in Kerala and that the Kerala Chief Minister Pinarayi Vijayan, who led it, has succeeded in creating an alternative to the UDF centered politics. Of course, Kerala has well-rooted soil for left ideology as it is home to the first Communist Ministry to come to power through ballot paper after San Marino, a microstate surrounded by Italy. The LDF was active in the electoral field in Kerala since 1957 and the social sphere decades ago. By now, Kerala remains the last bastion of the communists who lost their political sway in other parts of India. However, this time, it is noteworthy that the left front has been able to garner neutral votes along with the traditional left-leaning votes and the Congress BJP votes. This indicates that the Pinarayi model of governance will undoubtedly influence other rulers in India and they may gradually implement such a model. On the other hand, there is no need to be alarmed if Indian politics is gradually shifting towards the Pinarayi model of governance.
The Shift towards New Politics
It is methodologically appropriate to start analyzing Kerala politics with the 2019 Lok Sabha election review. One of the reasons for this is that though left parties lost their electoral prominence in the 2019 Lok Sabha elections, they returned to a glittering victory in the 2021 state elections. To understand such a transformation, we need to divide Kerala politics into two sections. While the first phase is between 2016 and 2018, the second phase is between 2019 and 2021. The Communist Party of India (Marxist) – led LDF came to power in the 2016 elections with 91 seats in the 140 – member assembly, defeating the Congress – led UDF. For LDF, the beginning was not comfortable as various natural calamities, and the outbreak of pandemics posed severe threats to the government. Cyclone Okhi, which struck Kerala in November-December 2017, claimed the lives of more than 140 fishermen. The outbreak of the Nipah virus in 2018 further dragged the government machinery into new responsibilities. Before the waves of the Nipah outbreak and cyclone Okhi subsided, a flood hit Kerala in 2018, killing and leaving thousands homeless. The floods devastated the economy of Kerala and, to some extent, blame fell on the government, raising allegations that the government failed in curbing the disaster. There were allegations that government systems were not working efficiently and that carelessness in opening the dams caused the floods. In other words, until 2018, the LDF government in Kerala, like many other Indian governments, created the impression that it was just an ordinary government.
Meanwhile, the Sabarimala issue erupted, shaking Kerala politics. A Supreme Court ruling in October 2018 lifted the ban on women between the ages of 10 and 50 from entering the Hindu temple of Sabarimala. As the LDF-led state government decided to implement the Supreme Court judgment, various Hindu organizations and the Congress-BJP factions came out against the government. The entry of women in Sabarimala has long been acknowledged by Congress and BJP leaders, but they have used it as a weapon against the government. Anti-left sentiment grew decisive in the state as women were forcibly taken to Sabarimala. Of course, Hindu sentiment was against the government and reflected in the collapse of the leftists in the 2019 Lok Sabha elections. The shrinking to just one seat and the congress winning nineteen seats in Kerala broke the backbone of the LDF.
Nevertheless, the Sabarimala issue was not the only reason for the Congress' victory as there was another national issue. This was the Citizenship Amendment Bill enacted by the BJP-NDA government in power at the Centre in December 2019. As the perception that the 2019 CAA was anti-Muslim spread, Muslims had a strong observation that the central government should be replaced. Although the struggles against the CAA were suppressed, the anti-BJP sentiment was strong among Muslims. Naturally, this was the reason why Muslim votes in Kerala went to the congress-led UDF. In other words, there was a strong perception among the minorities that it is better to vote for the Congress, which opposes the BJP at the national level, than to vote for the LDF, which is nothing at the national level. It is noteworthy that after the 2019 elections, the Pinarayi government's style and the policy towards Sabarimala issue drew criticism from the parties in opposition and the general public.
Meanwhile, in May 2019, the Nipah virus, which Kerala once defeated, was back. However, the government of Kerala succeeded in controlling the disease, and with this, the state government was able to gain national and international attention. The next flood in August 2019 devastated Kerala, again killing many people and devastating the state. From this flood, Kerala society began to notice the changing face of the LDF government. The left parties became closer to the people by setting up a rehabilitation fund and intervening in charitable activities. The government's image was enhanced because leftist youth organizations such as DYFI and SFI stood with the people in all possible cooperation. The Congress and the BJP, two major political parties with anti-leftist ideologies, were asleep all this time.
In 2020 March, Kerala entered the post-Covid-19 lockdown. During this period, food kits and welfare pensions, which had nurtured the leftist government's famous face, became more popular. The most significant relief to the large section of the people who lost their jobs and income due to lockdown and covid-19 was the delivery of food items and welfare pensions to all sections of the people through ration shops every month. The Life Mission project, which started in 2017, has already provided housing to two million homeless families. For the first time in Kerala's history, the government's activities have created the impression of a welfare state, and the UDF and the BJP were merely clowns, unable to cope with any of this.
Congress: A Baseless Palace
The fact that the perception of a coalition government is the key to the leftist victory is evident from the local body elections of 2020-2021. However, it should also be noted that instead of understanding the timely changes, even the backbenchers in Congress have adopted blind policies. Congress was in the mood to come to power after five years as a natural process without recognizing what was going on in the country. This laziness is evident in the way they dealt with the Kerala Congress (M), a previous ally of the UDF which joined the LDF camp at a crucial moment.
We have observed that since 2018, Kerala has been going through disasters. While cyclone Okhi, Nipah, 2018 and 2019 floods and Covid-19 were making the life of Kerala miserable, Congress and the BJP machinery failed to stand with the people. The pearly white leaders dressed in khadi were only involved in politics where the clothes were not soiled. It was the policy of the Congress, which had already lost its activists, to sit on ivory towers and enjoy a comfortable life without having to go down with the people during floods and illness. If people are wondering why they should count those who are not with them, they should not be blamed for it. And they have to check for themselves whether they are eligible for the 41 seats won by the Congress. At the same time, it should be noted that Congress does not have an effective organizational structure. While the LDF and BJP were fighting for more electoral success, the Congress was dragging its feet. In short, the strategy of Congress was to spread anti-leftism without trying to understand the will of the people and social reality. Further, Congress has humiliated itself by filing a complaint in court against the state's food kits and welfare pensions. Such foolish gimmicks were seen as a power-hungry movement that affected the prospects of the Congress. In this situation, it will not be easy for Congress to mobilize organizational and political power. If no alternatives can be found, the Congress, the grand old party, will remain in the memory of Kerala as an erstwhile party.
BJP: Picture of a Dead Snake
In Kerala, the BJP is mainly targeting the Hindu population of about 45-50 per cent. The BJP succeeded in winning a seat in the Kerala Legislative Assembly for the first time in 2016, and its vote share was increased in the 2019 Lok Sabha and 2020 Local Body elections. However, the BJP has been adversely affected by its failure to reach out to the masses and its continued stigma of being a vote-selling party. The fact that the BJP's nomination papers were rejected in three constituencies and they lost their only seat shows how pathetic the Kerala BJP leadership is while approaching the elections. Moreover, the election results also show how much the BJP's Kerala faction has failed to understand the will of the people.
Further, BJP leadership in Kerala is indeed distancing itself from the masses. For example, consider the case of the BJP state president's election campaign. BJP State President K. Surendran contested from two places, and a helicopter was hired to cover these two constituencies. While the videos of the helicopter-campaign were circulated on social media, laypeople realized the futility of such filmy approaches. That is why in Konni, the second constituency where he contested, the State President came third with tens of thousands of votes less than in 2016, despite Prime Minister Narendra Modi's massive campaigns. Such irresponsible attitudes from the BJP leadership in Kerala resulted in a humiliating defeat despite the pro-cyber wing and pro-organization structure. The crisis is compounded by the abandonment of the BJP's so-called Gujarat constituency, Nemam in Trivandrum, and the low turnout of 429834 votes across Kerala.
Are these the only reasons for BJP's electoral defeat in Kerala? There are many answers to this situation. The commoner, who has to pay Rs 92 for a litre of petrol and Rs 850 for a pinch of gas cylinder, will vote for the left that benefit him, even if he pretends to be a BJP man under the pressure of circumstances. Not many ordinary Hindus of Kerala will vote for the BJP unless Rama Rajya or Sabarimala are the factors that help his daily expense, especially at this time of pandemic. Therefore, Kerala Hindu's political decision is closely linked to what they experience in life. Along with this, the current perception in Kerala, that the left saves Kerala from various crises, also continues to be a boon for the LDF. Similarly, in Kerala, the BJP has consistently failed to intervene in popular issues and keep the ordinary people together. BJP leaders lead the party from pit to pit, believing that their speechifying in television channels is politics and encroaching on communist martyrdom hall is service to the people.
Why Leftists? : Kerala's answers
The left government in Kerala has made it clear that coming to power is not a license to do anything for five years but a brief to work hard and to move forward with the people. This victory shows that the leftists have not lost their relevance in Kerala, where various castes and religions are equally strong in political assertions. Kerala's recent electoral surge also indicates that politicians should be open to local realities and grass-root sentiments. While the Congress-led UDF in Kerala and the BJP-led NDA were building anti-communist programmes and anti-government allegations, the government and the LDF went out to the people. In the last five years, the opposition has had the opportunity to build anti-leftist politics and has been able to raise them all strongly, but such strategies seemed to have failed before the welfare model approach. The huge drop in the BJP's vote share and the defeat of even the young faces of the Congress are signs that the soil under their feet is slipping away, even though they do not take it that seriously!
At the national level, the Kerala model of governance may be copied by all the ruling parties and power-hungry politicians. There is no doubt that the experience of LDF in Kerala will further motivate other politicians to formulate more welfare schemes. Earlier, in Kerala, the strategy to come back to power was to accuse the ruling party of corruption and lack of development to build reserves of anti-incumbency. However, the new mantra is the image of a welfare state and reminding the people that the government is always with them and working for them.
Conclusions
The LDF government has returned to power after overthrowing anti-left forces at the national and state levels. Although the welfare activities and projects of the Covid-19 era have created the image of a people's welfare government, it is a matter of great challenge to the government how long it can go on. Long term progress of the Kerala model also depends on how Pinarayi's assurance on CAA, Covid-19 vaccination, welfare schemes, pensions, and food kits is kept. In short, the success story of the leftists in Kerala deserves serious scrutiny. The victory of the left is not only that they returned to power in 2021. On the contrary, it is noteworthy that the anti-left climate that existed until 2019 has been eliminated and the precarious conditions, including Covid-19, have been positively used by the left brigade. In India, we believe that democracy ultimately chooses the right leaders. In the next five years, Kerala society will have another opportunity to examine the realities of such a belief.
Has Modi Conceded 'South Asia' to the United States?
Prime Minister Narendra Modi has been pursuing an assertive and confrontational foreign policy. From carrying out 'surgical strikes' across the Line of control to unilaterally scrapping Kashmir's special autonomy, Modi has shown that he has no aversion to undertaking bold actions. For the last seven years, he has essentially reshaped India's foreign policy to match the brand of muscular nationalistic politics that he and his party have pursued for decades. In other words, like India's domestic politics, its foreign policy has been (excuse the pun) Modi-fied. However, no other foreign policy position of the Modi government would be as consequential as his decision to align India with the Quad, a NATO-like strategic coalition centred on the Indo-pacific. By joining the alliance, Modi has removed the last Nehruvian pillar of New Delhi's foreign policy: Non-alignment.
Following Independence, India's first Prime Minister Jawaharlal Nehru crafted India's foreign policy on the Principles of Anti-Imperialism and solidarity among the third world states recently broke free from the shackles of colonialism. Nehru was one of the founders of the Non-Aligned Movement along with Nasser and Sukarno. Despite being a comrade and disciple of Gandhi, Nehru was in no way a pacifist. He was not hesitant in using force to pursue Indian national interest wherever and whenever it was possible. Under Nehru's leadership, India invaded and occupied Goa from the Portuguese. He also initiated India's nuclear program. Nehru envisioned India as the hegemon of South Asia, which he believed was the country's 'manifest destiny'. He proposed a 'Broad doctrine' that hinged on the idea that New Delhi has an exclusive right to protect its national interests within its landmass and its periphery. In Nehru's words, "any attempt by a foreign power to interfere in any way with India is a thing which India cannot tolerate, and which, subject to her strength, she will oppose." However, this 'Broad doctrine' achieved maturity under Indira Gandhi, who pursued a policy of aggressive use of military force to deter external powers from interfering in South Asia. Her interventionist foreign policy led to the breakup of Pakistan and the creation of Bangladesh in 1971. Indira's and later Rajiv Gandhi's foreign policy revolved around keeping external powers at bay and maintaining Indian primacy in South Asia. New Delhi was so opposed to the idea of external powers gaining a foothold in South Asia that it intervened in Sri Lanka's civil war out of fear that the United States might secure a naval base in the strategic port city of Trincomalee.
However, it seems that Narendra Modi has reversed India's long-standing opposition to the presence of external powers in South Asia. New Delhi has openly backed a defence agreement between Maldives and United States. Among other things, it seeks to increase cooperation between the two countries. Though Indian officials have stressed that the agreement would not "impinge on India's role as a 'Net security provider' in South Asia", it begs the question: would such policy reversals have specific implications on the geopolitical status quo in South Asia? Have India conceded its role as the primary guarantor of security of South Asia to the United States?
It certainly seems that the Modi government has abandoned India's 'move alone' policy. The concept of an alliance is becoming more and more attractive to Indian policy makers. This shift signals one crucial factor: India is no longer confident of its capabilities to resist the Chinese juggernaut's inroads into South Asia. Beijing has established a significant presence in South Asia over the years. China is now the largest source of investments in all of India's neighbouring countries. The BRI initiative has gained many tractions among South Asian countries. New Delhi is concerned that Beijing is strategically funding infrastructure projects which could be used for military purposes in future. The very fear of encirclement by China has led India to welcome more American engagements in South Asia. But what would be New Delhi's role in this strategic arrangement? There is no doubt that New Delhi holds a central position in US indo-pacific strategy, but the power asymmetry between the two countries overwhelmingly favours Washington.
On 7 April, US Navy's 7th fleet conducted a freedom of navigation operation (FONOP) without consulting with New Delhi. It is interesting to note that the US generally carries out such operations in the backyards of its rivals, like in the South China Sea or Black Sea. But conducting these operations in the Exclusive Economic Zone (EEZ) of an allied nation is unusual. This action indicates that Washington is unwilling to concede any space to India just for the sake of the alliance.
Historically, any partnership between a greater power and a lesser power had never been treated as 'equal'. No matter what officials in New Delhi might believe, this is the conventional wisdom in Washington. Indo-US relations might have come a long way but, if such cooperation continues through the upcoming decades, the position of the lesser power, in this case, India, is bound to relegate to a role of a 'junior partner', and the United States is making no ambiguity in signaling it.
India's Decision to Deport Rohingyas- How Fair?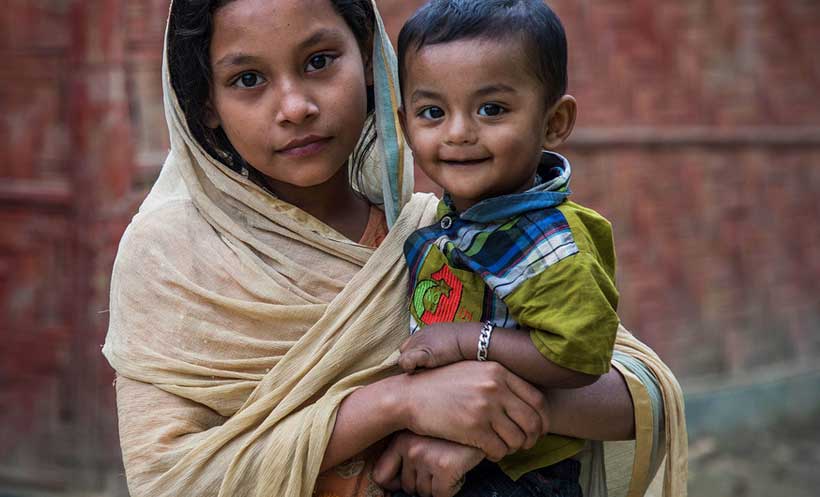 India's Apex Court recently ruled in affirmative the deportation of about 170Rohingya refugees who were detained in Jammu's Jail. Critics have been uneasy with this decision, for this sharply contradicts the principle of non-refoulement – a principle that places human lives on the highest pedestal and prevents states from returning refugees to those places where their lives will be threatened. Simultaneously, critics have also been vocal about their displeasure with the current dispensation that is no longer willing to extend its magnanimity vis-a-vis refugees. This shattering reality marks the defeat of human right champions. In the light of these attacks, it is necessary to evaluate the current Supreme Court decision vis-a-vis International Law and whether India is justified in taking the stance that it has taken.
International Law on Refugee Rights
International regime has given the 1951 Refugee Convention as well as the 1967 Refugee Protocol that inter alia define who a refugee is. The definition clearly enumerates those who have a well-founded fear of persecution for reasons of race, religion, nationality, membership of a particular social group or political opinion in their country of nationality or in their country of residence. The definition also covers stateless people in its ambit. Convention also envisaged the right to non-refoulement which affords the basic right of refugees to not be returned to the place where they are likely to face persecution on the abovementioned grounds. This is a natural corollary to the very foundation of refugee law, for in the absence of provision of non-refoulement, the instrument would be a mockery. Suffice to say, non-refoulement remains the basic provision and has obtained the status of customary international law. In fact, its incorporation in numerous international instruments as well as regional instruments has underscored the significance States attribute to human lives. To scholars, the concept of non-refoulement has attained the status of jus cogens or peremptory norm of general international law from which no derogation is permitted. In fact, as per UNHCR's experience, states, including non-parties to the convention, have overwhelmingly accepted the practice of non-refoulement.
However, this fundamental norm is subject to exceptions. The first exception is when the said person is a threat to the national security of the state in which he has taken refuge. This remains an important parameter since national security weighs heavily in a state's radar, and any such threats would necessitate measures such as expulsion or deportation. However, the threats must be assessed and weighed against the threat to one's life in case of refoulement. Lauterpacht and Bethlehem have suggested certain criteria such as, whether there is a prospective threat to the security of the country of refugee; whether there is a threat to the country of refugee and not to a third country or international community at large; and whether there exists a reasonable threat, the criteria for which must be set high, bearing in mind the adverse consequences of refoulement; and whether the said measures are proportional to the said threat.
The second exception is when the person has been convicted by a final judgement of a particularly serious crime and constitutes a danger to the community. For the purpose of our analysis, the first exception requires focus.
India's Position vis-a-vis Refugees
India has been a gracious host to the refugee communities that have sought refuge in its territory, despite it not having signed the 1951 Refugee Convention or Refugee Protocol. Tibetans who sought refuge in India after a failed revolt against Chinese in 1959 were allowed a government in exile and have received active support from the Indian government since. Similarly, many Sri Lankan Tamils, who fled the war ravaged country have been living in India with the support of the government. India has also accepted many of the refugees who escaped the wrath of Pakistan in the months preceding the Bangladesh Liberation War. Fair to say, India's record on sheltering refugees has been exceptional and has been consistent with the principles enshrined in its constitution, granting the right to 'life and liberty' admirably.
However, India's stance on Rohingyas has taken a different road. While India prides itself on being the champion of individual rights and rightly so, its response was largely muted during the 2017 military crackdown in Rakhine. And its current stance to deport Rohingyas is in consonance with its initially muted response. But that can largely be attributed to the threat that India had already perceived vis-a-vis these refugees.
Rohingyas and Extremist Nexus
Scholarship on this issue has pointed to an early connection between Rohingyas and extremist organizations. A Paper by European Foundation for South Asian Studies has highlighted the nexus between the Rohingya Solidarity Organization (RSO) and extremist groups. This group, which was founded in 1980s by Mohammad Yunis, had links to Jamaat-e-Islami of Bangladesh and Pakistan, Hizb-e-Islami of Gulbuddin Hekmatyar and Hizb-ul-Mujahideen in the 1980s-90s. Many of the members (of RSO) received training at Afghan facilities in the early 1990s. Afghan instructors have also trained RSO in camps in Bangladesh, a claim that can be corroborated by a 2005 Congressional Research Service Report on Terrorism in South Asia. The same report pointed out the connections between Al-Qaeda and Rohingyas. Another organization, Harkarah al-Yakeen (HaY), founded by Ataullah Abu Amar Janani, that later changed its name to Arakan Rohingyas Salvation Army (ARSA) was also noted to have connections to Pakistan and Saudi Arabia where they received training. It has further been noted by a 2016 report of the International Crisis Group that ARSA has clear links to elements in Pakistan.
The fact that Rohingyas remain a fertile ground for terrorism and can be used by non-state actors to further their political agenda has been noted by Lt. Gen. Chowdhury Hasan Sarwardy (Retd.). In fact, a piece by The Week has pointed that Lashkar-e-Taiba has been making inroads in the refugee camps and has been providing the youth with arms, ammunition and training. The growing terrorism in Bangladesh and its spillover effect in the Rohingya community had already alarmed Indian security officials. However, with many of the Rohingyas living in India, more specifically in the Union Territory of Jammu and Kashmir, doubts have been raised. Of course, the first question remains, why Jammu and Kashmir despite its distance to Myanmar? Shouldn't Rohingyas instead seek refuge in the Northeast, which is geographically closer? A clear answer is not present.
What is apparent is that many of these refugees in the Union Territory have been receiving training from Pakistani terror groups. The same European Foundation for South Asian Studies report has pointed out that many of the Rohingyas have fought alongside Pakistani terror outfits in the Indian Administered Kashmir, which is an imminent threat to India's national security. Besides, there is a clear proof of Pakistani based terror outfits such as Lashkar-e-Taiba (LeT) and Jaish-e-Muhammad (JeM) lending support to Rohingya terrorist outfits such as Aga Mul Mujahideen (AMM). This, coupled with their proximity to Pakistan, via Kashmir, has naturally heightened India's security concerns.
Pakistan's enthusiasm to use proxy wars as a way to seek revenge from 'Hindu India' has frequently disrupted peace in the region. India, unfortunately, has suffered the brunt of Pakistan's ill-decision making. With Pakistan effectively losing respect in the international community due its active support for terrorists, it has channelled its funding to many of these refugees through Bangladesh. This concern has been backed by South Asia Democratic Forum's Director, Siegfried O. Wolf, who has pointed out to Inter-Services Intelligence's support for camped Rohingyas in Bangladesh who can serve Pakistan's long term goal of annihilating India.
This brings India to the position where it stands. India has credible evidence to showcase that its national security has been heavily compromised due to the nexus between Rohingya Refugees and Pakistan backed terror groups, and that its decision is hinged on national security imperatives. The presence of these refugees in the fragile Union Territory of Kashmir has added to India's concerns, given the precarious state of affairs of the UT especially since the revocation of its special status. Global Terrorism Index 2020 has pointed out the same reality – India's biggest threat comes from Islamist terrorist groups. Thus, India stands very well within its rights to turn back the said refugees who pose a glaring threat to India's national security, and it does not amount to a violation of customary international law on non-refoulement. Nor does it diminish India's credibility as a magnanimous host that tries to uphold the tenets of 'life and liberty.' To the keyboard warriors, this marks the death of 'democracy' at the hands of a communally blind government, but to the patriot it is another rightful step in safeguarding the country's integrity.