Kashmir: India's services chief confesses blinding protesters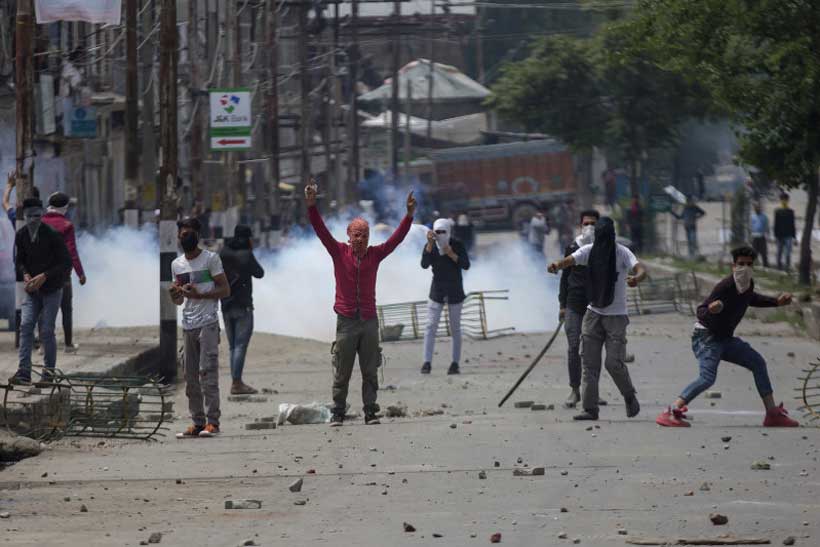 Through a host of draconian measures, India has gagged digital and voice protests in disputed Kashmir. It has barred local and foreign journalists from visiting Kashmir. Indian forces fire pellets (called `birdshots') with pump-action shot-guns against unarmed protesters or stone throwers, even women, and children five to eight years' old.
India cheated Kashmiris. Indian forces fire pellets (called `birdshots') with pump-action shot-guns against unarmed protesters or stone throwers, even women, and children five to eight years' old. A New York Time report portrays a gruesome picture ("An Epidemic of 'Dead Eyes' in Kashmir as India Uses Pellet Guns on Protesters", New York Times, August 28, 2016`) It says` the patients have mutilated retinas, severed optic nerves, irises seeping out like puddles of ink'. Doctors call them `dead eyes'. A similar report in Washington Post (December 12, 2017) is no less poignant.
Let India realise it can't stifle Kashmiris' dissent. To stifle the Kashmiri's fighting spirit, the dogra (1846-1947) punished even Kashmiri children who played with fork-slings (ghulail in Urdu) and stones (Muhammad Yousaf Saraf, Kashmiris Fight for Freedom, vol. 1, p. 50). Struggle for freedom goes on despite Indian forces' reign of terror (abductions, custodial deaths, rapes, arson, and pellet shelling). `The Security Council should make clear that it opposes Mr. Modi's brutal tightening of India's control on Kashmir. While Mr. Modi may think he can control this volatile conflict on his own, he almost certainly cannot' (The U.N. Can't Ignore Kashmir Anymore, New York Times, October 2, 2019).
Defence services chief's ergonomic confession: Irked by international-media censures, Bipen Rawat, India's ex-army chief, now Chief of Defence Services has tendered a funny explanation.
He says, ` Most of the eye injuries are caused because those pelting stones bend to the ground to pick up stones and because pellet guns are fired at the legs they get hit them in the eyes (Indian Express, January 17, 2020). Indian opposition took him to task for explaining how Kashmiris were being "radicalized". They advised him to desist from dabbling in politics. Asaduddin Owaisi asked him, `Who'll deradicalise lynchers and their political masters? `Yogi (UP chief minister] and "Pakistan jao" Meerut SP?
An unending struggle: An immutable lesson of history is that Kashmiris never reconciled with foreign rule. If they could no longer fight an invader with arms, they pelted stones on invaders (Moghal). The stone throwers were called dilawars, and the Moghal, were addressed as shikas mogle. This Kashmiri-language expression, akin to French C'est dommage (it's too bad), is spoken when something is lost. The Moghal were Muslim. Yet, the Kashmiri hated them. Shikas mogle affords a peek into the Kashmiri heart and mind. They cursed foreigners, be they be Muslim.
Kashmiris hate cheating and consider Akbar `the Great' an epitome of treachery. Akbar invited Kashmir ruler Yusuf Chak (1579 – 1586) for talks. But, he treacherously imprisoned and killed him in Bihar state. Be it noted that Akbar had failed to subjugate Kashmir in his earlier two expeditions. After take-over, the Moghal lived in a walled nagri (city), later called Sri nagar. The helpless Kashmir used to throw stones at walled city to express their anguish. The general feeling of hatred, kashmiriat, was akin to what Ibn-e-Khuldoon calls asabiya (national cohesion). It ran across all sects (shia-sunni), religions, castes and creed.
Let India realise it can't stifle Kashmiris' dissent. To stifle the Kashmiri's fighting spirit, the dogra (1846-1947) punished even Kashmiri children who played with fork-slings (ghulail in Urdu) and stones (Muhammad Yousaf Saraf, Kashmiris Fight for Freedom, vol. 1, p. 50). Struggle for freedom goes on despite Indian forces' reign of terror (abductions, custodial deaths, rapes, arson, and pellet shelling). `The Security Council should make clear that it opposes Mr. Modi's brutal tightening of India's control on Kashmir. While Mr. Modi may think he can control this volatile conflict on his own, he almost certainly cannot' (The U.N. Can't Ignore Kashmir Anymore, New York Times, October 2, 2019).
RSS's role in persecuting minorities: The present-day anti-minority India caricatures Mahatma Gandhi's and Ambedkar's vision of India. They both envisioned India as a modern country with due place for minorities. Gandhi did not care a fig for Rashtrya Swayem Sevak Sangh leaders in his life-time. So was the case with Ambedkar also. Yet, tragically RSS-BJP conglomerate and their offshoots are trying to portray Gandhi-Ambedkar as Hindu communalists. They are v trying to co-opt Gandhi and pitch him against the Congress.
What a wonder it is hard to find RSSs' founding father, Hedgewar's mention in the 21 volumes of the writings and speeches of Ambedkar. Hedgewar thought of Hindu raj, rule by Hindu Rashtra. Chiplunkar, Tilak and their disciple Hedgewar abhorred Gandhi `a Bania leading the freedom movement'. After Tilak's death, Hedgewar left the Congress-led freedom struggle and began struggle to regain past glory of Aryavarta. Ambedkar explicitly rejected idea of the Hindu Rashtra. He stressed, ` No matter what the Hindus say, Hinduism is a menace to liberty, equality and fraternity. On that account it is incompatible with democracy. Hindu Raj must be prevented at any cost.' Renowned lawyer AG Noorani rightly said `their [RSS's] bible is V.D. Savarkar's essay 'Hindutva' published in 1925. He called Muslims `hissing Yavana snakes' (Dawn, October 5, 2019).
RSS is a terrorist organisation: Terrorism Research Centre, an American think-tank based in East Virginia, enlisted RSS among the world's leading terrorist organisations. It is significant to note that the Indian media is heavily tilted towards the RSS. In fact the RSS has of late become the unofficial spokesman of the Indian government. Even the enlightened Hindu and the military writers believe that India's prosperity during various periods of history, for example during the Maurya and the Gupta periods, rose or fell pari passu with rise or fall of military leadership (Major General Rajendra Nath, Military Leadership in India: Vedic Period to Indo-Pak Wars.1990.Lancers Books).
Upsurge in Hindutva: Hindutva ideology is being pupularised in India to persecute minorities, particularly Musims in Kashmir and other Indian states. It is controversially defined in Vinayak Damodar Savarkar in his book Hindutva, and adopted by Hedgewar as the basis of his ideology (An Indian parliamentary committee resurrected him as a hero by allowing his portrait to be hung in Indian parliament). The RSS's aims are a mix of cultural, religious and political objectives – To serve Hindu dharma (religion), sanskriti (culture) and rashtra (nation). Sarvarkar distinguishes 'Hinduism' from 'Hindutva'. He clarified that the `Hinduism' was concerned with `relevance of life after death, the concept of God and the Universe'. 'Hindutva', on the other hand, was 'Hindus being a nation, bound by a common culture, a common history, a common language, a common country and a common religion'. Koota yuddha is an article of faith with the Rashtriya Swayemsewak Sangha. All its recruits, 10 years' old and above, are obliged to take the following pratigya (oath): In the name of God and my ancestors. I hereby become a member of the Rashtriya Swayamsewak Sangh for the all-round progress of Bharatvarsh (ancient name of India) by strengthening the holy Hindu dharma (religion). Hindu sanskiti (culture and Hindu society). I shall do the Sangha work with all my heart to the best of my ability and that I shall be bound by this oath for the whole of my life. Bharat Mata Ki Jai ! (Glory to Mother India!).
Minority Lynching: Beef eating people are lynched in public. A Christian priest was murdered right in front of his son. The RSS's genocidal role is a caricature of Preamble to The Constitution of India which states: "WE THE PEOPLE OF INDIA, having solemnly resolved to constitute India into a [SOVEREIGN SOCIALIST SECULAR DEMOCATIC REPUBLIC] …" Besides, Article 15 of the Constitution prohibits discrimination on the grounds of religion, race, caste, sex or place of birth.
Not only the RSS, but also Vishwa Hindu Parishad, and Indian political parties tacitly believe in koota yuddha. Reason: The minorities together are not more than one third of the Hindu population (read Brihaspati's udyog parva principle justifying 2,800 years back merciless attack when one is numerically three times superior). Illustrations of koota yuddha are Gujarat carnage under prime minister Narendra Modi, then chief minister, burning of Christians' alive, attack on Golden Temple, anti-sikh riots of 1984, killing of beef-eating minorities by cow guards (gao rakhshak), persecution of Kashmiri students in Indian states, and so on. A crystal-clear manifestation of this mentality was ruling-BJP-supported then Gujarat chief minister Narendra Modi's 11-phase gaurav or papadshahiyatra (pride parade) in July 2002. Earlier, in June 2002, Bal Thackray had said, 'Muslims can never be trusted. They are like snakes'.
Wake-up call for Pakistan: History tells that only countries with a stable equilibrium between its centrifugal and centripetal forces stay afloat in comity of nations. At the time of Partition, it was predicted that both India and Pakistan would break up into 'congeries of states'. The basis of this prediction was inability of the new republics to deal with myriad centrifugal forces gnawing into the body politic. In post-independence period, India was fortunate to have visionary leaders who tactfully muzzled centrifugal forces like insurgencies in East Punjab and eastern states, besides the Dravidian and Naxal Bari movements. Indian Union bowed to insurgents' demands for creation of new states. And, insurgency leaders became chief ministers! India forgot yester years when they burnt to ashes copies of Indian constitution, uprooted rail tracks, immobilizing everyday life. Tamil Nadu, Andhra Pradesh, Nagaland and the East Punjab appeared to secede from the Union. India stayed united because of its resilience, we disintegrated.
Pakistan learnt nothing from East-Pakistan debacle (Asghar Khan, We've learnt nothing from history). India is now engaged against Pakistan in what Kautliya calls maya yuddha (war of tricks) or koota yuddha (all-out warfare). She is out to isolate Pakistan, get it dubbed as a terrorist state, and corner it by presence in Chahbahar and some Central Asian airbases (Aeini or Farkhor airbases in Tajikistan). Ibn-e-Khaldun says that it is asabia (nationalism) that enables a country to withstand challenges. Toynbee's Challenge and Response Theory also reminds that if challenges are too heavy, a nation becomes apathetic to environment. Apathy leads to mental degradation, decay and extinction.
Pakistani leaders, including prime-ministers-weres and prime-ministers-to-be should take off their blinkers and try to understand how India, through koota yuddha, hands in glove with likeminded countries, is trying to wreck their economy and country.
Inference: History tells that ebbs and flows of Kashmiris' resistance never ceased. Palliatives failed to stifle the struggle. A lasting solution is to allow Kashmiris to determine their own fate. It's no use harping integral-part (atoot ang) mantra any longer. In marked contrast to India's colonizing policy, Pakistan gives an iron-clad constitutional assurance to Kashmiris to re-craft their relation with Pakistan under Article 257 of its Constitution. It states: `when the people of the State of Jammu and Kashmir decide to accede to Pakistan, the relationship between Pakistan and that State shall be determined in accordance with the wishes of the people of that State'.
SAARC against COVID-19: Is everybody in?
On 15th March, under the initiative led by Indian Prime Minister Narendra Modi, distinguished dignitaries of SAARC nations came together through a video conference and joined their hands to chalk out a common strategy to fight against the deadly COVID-19 in the region. They raised their concerns about the disease and shared possible preventive measures among themselves. This initiative received a huge appreciation both from member states and other parts of the world. Notably, SAARC leaders did not meet on a regional platform since after attending the 18th SAARC Summit. In 2016, the 19th SAARC Summit was scheduled to be held in Islamabad was later got canceled.
In the video conference, the Indian Prime Minister expressed his faith in regional cooperation. He proposed the establishment of an emergency COVID-19 Fund that can be utilized by any member states for meeting up their cost of immediate actions. India has made an initial offer of USD 10 million for this fund. Simultaneously, all SAARC members have made a significant contribution to this fund including Afghanistan (USD 1 million), Bangladesh (USD 1.5 million), Bhutan (USD 100,000), Maldives (USD 200,000), Nepal (USD 831,393.45), and Sri Lanka (USD 5 million). Pakistan is the only SAARC member that has yet not made any contribution to the fund (data is collected on 25th March 2020 from the website of SAARC Disaster Management Centre.
During the video conference, Pakistan Prime Minister's Special Assistant on Health Dr. Zafar Mirza made a remark on Kashmir that was howsoever unrelated to the mandate of the video conference. Article II of the SAARC Charter specifically mentions that "Cooperation within the framework of the Association shall be based on respect for the principles of sovereign equality, territorial integrity, political independence, non-interference in the internal affairs of other States and mutual benefit." Pakistan is an essential part of the SAARC region. It is a home for around 12% of the South Asian population. As of 25th March, it has the highest number of people affected by a coronavirus, that is, 887 in the region. This makes it more important for Pakistan to actively engage with the joint measures for the welfare and prosperity of the region.
There is a difference between politics and pandemic. Both of them should not be mixed at this juncture. Our development has been halted. Our movement has been restricted. Recently, UN Secretary-General António Guterres has also called for an immediate global ceasefire. We are not living a similar life, as we were a few months ago. This is a crucial time when countries should keep aside their differences and come together facilitating each other in the common fight against such global concern.
SAARC is aptly being utilized in these challenging times when the COVID-19 virus has already infected 1647 people and causing the death of 20 people from the region. The initiative aimed to discuss measures to contain the spread of COVID-19 in the region. SAARC is founded upon historical and cultural ties among its member states and advocates for a co-operation for the development of the region. Preambular paragraph of SAARC Charter specifically recognizes the commonalities within the region and provides for cooperation to:
"Aware of the common problems, interests, and aspirations of the peoples of South Asia and the need for joint action and enhanced cooperation within their respective political and economic systems and cultural traditions;"
It further provides, "Convinced that regional cooperation among the countries of South Asia is mutually beneficial, desirable and necessary for promoting the welfare and improving the quality of life of the peoples of the region; Recognising that increased cooperation, contacts and exchanges among the countries of the region will contribute to the promotion of friendship and understanding among their peoples;"
Similarly, Article I of the SAARC Charter provides the objectives of this Association that includes: "to promote the welfare of the peoples of South Asia and to improve their quality of life; to contribute to mutual trust, understanding and appreciation of one another's problems; to promote active collaboration and mutual assistance in the economic, social, cultural, technical and scientific fields". Indeed, SAARC can bring all members together and collectively overcome this pandemic. Also, the effective co-operation among its members can play a significant role in the success of this initiative.
On 26th March, SAARC Health professionals shall meet again to share their experiences and build up joint actions for the prevention and cure of the disease. It will be pertinent to observe the role of SAARC members in their collective fight against COVID-19. What advancements will be brought to its status after the eradication of this disease? How SAARC members will proceed jointly before the international community? These are a few questions that can be answered over time. Meanwhile, this initiative has provided a good opportunity for the region to strengthen its loose ties while fighting against COVID-19. The SAARC initiative on COVID-19 is making good progress. Member parties are significantly willing to cooperate. If everything goes well, SAARC could re-emerge as a significant voice in the global east.
SAARC Video Conference: Reclaiming the Humanness
The opportunity provided by crisis in the backdrop of worldwide emergency due to lethal Corona pandemic (Covid 19) has re-set the button to once again appreciate the values of human connectivity and to co-exist on March 15, 2020 in South Asia as well. A call by the Prime Minister of India, Narendra Modi in a bid to foster collective thinking amongst the SAARC countries after a hiatus of four years, was a welcome step responded enthusiastically by all the member states. Reclaiming the space essential for a multilateral or even a bilateral dialogue, particularly between Pakistan and India, scuttled by the protracted and historically generated acrimony, this nature's intervention has a lesson to learn from, as humans. It is a lesson needed much more than ever, against merciless encroachment allowed to the politics of might through arms race, nuclear supremacy and economic concentration. Already, the arrogance of nationhood has significantly destroyed the peace of the stressed habitat belonging to the South Asian region occupied by 3% of the world's landmass and 21% of world's population. The SAARC countries have even agreed to set up COVID-19 fund with India contributing an initial corpus of $10 million. All the leaders shared country situations and experiences in the aftermath of the outbreak of COVID-19, as well as measures taken by them to control the spread of the virus. They also recognized the need to analyze and address the long-term economic consequences of the COVID-19 pandemic in the region and continue with the consultation process through meetings at the ministerial and experts' level; identifying the Nodal Experts to take further action on the proposals discussed during the Conference; and formulating a comprehensive regional strategy against COVID-19 through the SAARC process and other appropriate steps.
South Asia has managed to resist the COVID-19 assault so far, given the vast region it covers but the unpredictability continues to loom. How long will this sense of cooperation and coordination prevail and help the nations of the region transition the defunct SAARC? It is direly essential to improve the immunity required to counter unprecedented challenges? How sustainable will these measures be in the absence of building confidence ruined so brutally over the years?
The Advisor to the Prime Minister of Pakistan, Dr.Zafar Mirza, in his address to the video conference of South Asian Association Regional Cooperation (SAARC),very pertinently pinpointed the member states; India, Pakistan, Nepal, Bhuttan, Sri Lanka, Maldives, Bangladesh and Afghanistan, and urged them to gear up its resources as a region to fight against the deadly virus collectively. However, while highlighting the core human issue, realizing the freedom of Kashmiris living in Indian Occupied Kashmir forcefully quarantined for more than 200 days is could be the first step of not only towards the humanness, but also would encourage the importance of unanimity. India itself was the first one to have taken the Kashmir issue to the world's international forum, UN, way back in 1958 while respecting the collective solution of the outstanding issues. The issue has taken an ugly curve due to India's non-compliance with the UN decision of holding plebiscite. Instead Kashmiris are suffering from worst denial of human rights by using the brutal mechanism of state terrorism. They are being constitutionally ripped off their demand for self-determination. More so, the exponential rise in communal progrom seen in the recent past has further exasperated the fear of non-secular behavior. The contradiction in the primary role itself along with the fancied or may be masquerated in a perpetual hypocritical policy already fractures the collective mechanism proposed by India itself. India needs to do more to initiate a human gesture.
Already, founded in 1985, the cooperative outcomes denied by the pain of non-socialisation of the member states particularly after the Uri attack, mainly initiated by India during the 19th SAARC Summit, which was to be held in Islamabad in November 2016; undermined the vitality of regional integration. In March 2018, during his visit to Kathmandu, Pakistan Prime Minister Shahid Khaqan Abbasi once again sought the help of Nepal, the chair of SAARC, to revive the organisation by convening the pending Summit in Islamabad. Pakistan has also solicited the support of Sri Lanka. Aimed at achieving peace, freedom, social justice, and economic prosperity by promoting a shared understanding, good neighbourly relations, and meaningful cooperation, improving the quality of life in the member countries by fostering self-reliance, promoting mutual assistance, and strengthening the relations has been a baseline objective. However, the mismatch between SAARC's ambitions and achievements has been unfortunately profound. Unlike the other regional forums like European Union (EU), The South East Asian Association of ASEAN etc,no tangible economic or political benefits have been realised by SAARC so far. It is mostly termed as a case of 'retarded regionalism'. Regrettably, the regional behavior of India has also not been very encouraging, since no initiatives have been portrayed by India to transcend the parochial politics with Pakistan as a co-member of Shanghai Cooperation Organization (SCO) unlike the other smaller states of the organization. In fact, the behavior had been on the contrary with continuing strategic offense. The resonance of surgical strikes, the pronounced offensive nuclear doctrines, the politics of diplomatic and economic isolation desired for Pakistan, all add more weight to the disrespect of peaceful co-existence rather than the cooperative and coordinated step. The re-buttoning of SAARC is a welcome opportunity and holds silver line, yet the journey holds massive ifs and buts for its structure to sway the temporariness in the call. The mechanism of this Regional Association has to be strengthened with more permanent sincerity.
Trends on Afghan Peace Agreement
The long awaited and much deliberated Afghan Peace Agreement has finally been concluded. However, amid the celebrations and new found hope, naysayers rightly point out the fragility of the painstakingly negotiated agreement between USA and the Taliban. Skeptics rightly bring to forth the unhappiness of the Afghan government, which was not given any weight during the "two-sided" agreement. The intra-Afghan talks have been scheduled between Taliban and the Government as the next phase of the peace process; however, a question arises that which government should the Taliban talk to? The comical situation of two individuals taking up their oath as the president of the country certainly does not do any favors.
The basic aim of the enduring Afghan Peace Agreement between the two conflicting parties that were first held in Doha was to standstill the longest and superfluous war of the history of mankind. The global actors however possess special geopolitical interests in Afghanistan which directly or indirectly effects the Afghan peace process. There exists a reality related to the peace accord that remained unobserved not only at regional level but globally as well. President Ashraf Ghani defined the success of the agreement as "disruption the status quo" but what is this status quo Ghani was referring to? The never-ending eighteen years long war between the Afghan Taliban's/forces and the United States of America and the improvised rule of the Karzai and later Ashraf Ghani on the Afghanistan under western influence is the status quo if given a reality check – nothing beyond that.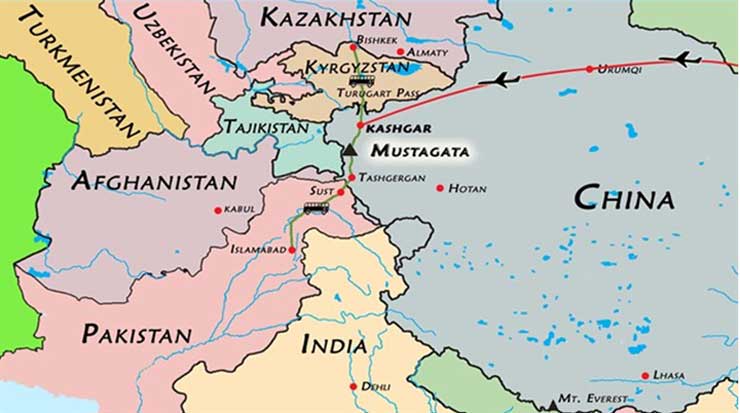 President Trump of the U.S. had made his reservations on the U.S. led Afghan war time to time and has been seen keen to deescalate the prolonged war. Even before his selection as a President, he was critical of the unending Afghan war and made a commitment – when in power, he'll withdraw U.S. forces from Afghanistan. The reality persists that the Afghan war has been badly hurting U.S. economy and U.S. forces. In other words, the occupation of an unruly and tribal Afghanistan has once again proved to be another misadventure by yet another superpower. Clearly, the U.S. had decided long ago to withdraw its forces from Afghanistan but was in search of a face-saving exit which came in the form of this agreement. The U.S, however, will not lose its interest in the region and the clout it enjoys over the Afghan Government. Keeping in perspective the unpredictable personality of President Trump; one can not rule out the reversal of the peace agreement, as it may be a mean of winning the next term.
Russia and China have actively supported the Afghan peace process and have facilitated the resumptions of talks. With the peace agreement and eventual withdrawal of US forces from Afghanistan, Russia will definitely term it as a sweet revenge for the humiliating defeat dealt to her by the USA after its invasion of the country in late twentieth century. China will surely like to have a sigh of relief with the superpower not breathing down its neck and pose a constant threat to its trade initiatives through proxies. Both countries will then try to exert their influence on the country through various proxies as part of their expansionist strategies.
There is no doubt that an enduring peace on the western border of Pakistan would directly benefit Pakistan in every conceivable way. Instability in Afghanistan precisely damages Pakistan in a full spectrum – thus, tranquility in Afghanistan will help Pakistan not only with the tribal apprehensions on the western border but also expand the economic ties, primarily in the shape of CPEC into Afghanistan which indeed is a territory with huge geographical and economical potential. The expansion of CPEC from just north-south to east-west will bring along its own perks to the entire CPEC project which will benefit not only Pakistan and China but the people of Afghanistan as well. Pakistan also looks forward towards a friendly and cooperative regime in Afghanistan as a result of the peace talks; which has a reduced Indian influence over its foreign policy.
Talking about the Indian role in Afghanistan which previously was active and dominating for quite some time has been clearly marginalized during the Afghan Peace Agreement. Despite investment of huge capital with a goal to find a strong strategic partner in South Asia primarily to counter Pakistan – India dooms to a partial failure as Pakistan played a vital and active role in the Afghan peace accord. Though, India will not easily give up on their geopolitical motives in Afghanistan, they might act as spoilers with opportunities to sustain and instigate conflict in the region.
The real stakeholders in the peace process are the Afghan people. It is unfortunate that despite being played in the hands of other powers; the country is still strife with conflict and does not show a united front. Tribalism and parochial approach by different Afghan factions has only brought them short term benefits and a sense of false security. Everyone is happy with whatever little clout they enjoy and no one thinks of the benefit of the Afghan nation as a whole. Perhaps, this is the "status quo" that the President of Afghanistan was referring to while showing his discontent with the peace pact. The never-ending eighteen years long war between the Afghan Taliban's/forces and the United States of America, the improvised rule of the Karzai and later Ashraf Ghani on the Afghanistan under western influence – this is the status quo to be exact. How the various factions approach the intra-Afghan peace talks yet remains to be seen.
In view of the domestic conflicts in Afghanistan between various factions, peace in Afghanistan would remain a dream even after the withdrawal of U.S. and NATO forces until and unless good sense prevails in the region. It certainly requires the will of the facilitating nations like U.S, Russia, China and Pakistan to ensure that the process goes towards an amicable end. The only spoilers to the peace process are the Indians and the Afghans themselves.