Half of World's GDP Moderately or Highly Dependent on Nature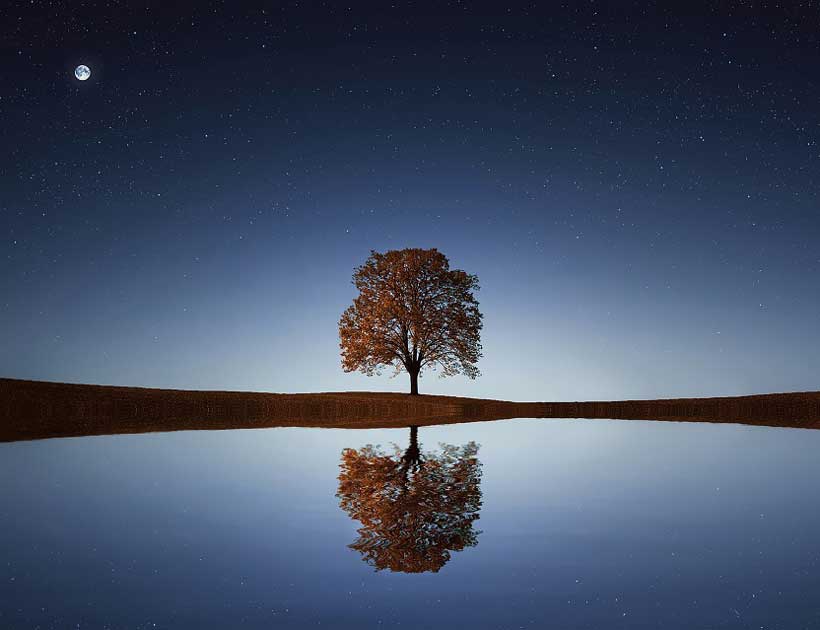 Businesses are more dependent on nature and biodiversity than expected, according to The New Nature Economy Report, released today.
Analysis of 163 industry sectors and their supply chains found that over half of the world's GDP is moderately or highly dependent on nature and its services. Pollination, water quality and disease control are three examples of the services an ecosystem can provide.
$44 trillion of economic value generation – over half the world's total GDP – is moderately or highly dependent on nature and its services and, as a result, exposed to risks from nature loss. Construction ($4 trillion), agriculture ($2.5 trillion) and food and beverages ($1.4 trillion) are the three largest industries that depend most on nature. Combined, their value is roughly twice the size of the German economy. Such industries rely on either the direct extraction of resources from forests and oceans or the provision of ecosystem services such as healthy soils, clean water, pollination and a stable climate.
As nature loses its capacity to provide such services, these industries could be significantly disrupted. Industries highly dependent on nature generate 15% of global GDP ($13 trillion), while moderately dependent industries generate 37% ($31 trillion).
This World Economic Forum report, produced in collaboration with PwC UK, found that many industries have significant "hidden dependencies" on nature in their supply chain and may be more at risk of disruption than expected. For instance, there are six industries which have less than 15% of their direct gross value added (GVA) that is highly dependent on nature, yet over 50% of their supply chains' GVA is highly or moderately nature-dependent. The industries are chemicals and materials; aviation, travel and tourism; real estate; mining and metals; supply chain and transport; and retail, consumer goods and lifestyle.
Country and regional breakdown
In terms of global exposure, larger economies have the highest absolute amounts of GDP in nature-dependent sectors: $2.7 trillion in China, $2.4 trillion in the European Union and $2.1 trillion in the United States. This means even regions with a relatively lower share of their economy at high exposure to nature loss can hold a substantial share of the global exposure and, therefore, cannot be complacent.
"We need to reset the relationship between humans and nature," said Dominic Waughray, Managing Director at the World Economic Forum. "Damage to nature from economic activity can no longer be considered an 'externality'. This report shows how exposure to nature loss is both material to all business sectors and is an urgent and non-linear risk to our collective future economic security."
"Given the scale and severity of nature loss, business needs a wake-up call," said Celine Herweijer, Partner and Global Innovation and Sustainability Leader, PwC UK. "The cascading physical, regulatory and legal, market and reputation risks we see mean nature risk now needs to be a mainstream issue for corporate enterprise risk management. We have an opportunity to extend the recent response of regulators, businesses and investors on climate change to nature; both are interrelated and both pose a systemic risk to the global economy. As for climate, business leaders need to identify and minimize the material nature-related risks but also play a part in restoring nature."
"The very need for this report shows that we are in dire straits. We all rely on nature and we all take it for granted," said Alan Jope, Chief Executive Officer of Unilever. "Business and government leaders still have time to act on the findings of the New Nature Economy Report. If we work together, COP15 and COP26 can generate the commitments we need to move the planet from the emergency room to recovery."
"Together we can put nature at the heart of a healthy world economy," said Marco Lambertini, Director-General of WWF International. "This research provides compelling evidence of the tremendous extent to which our economy depends on nature and its services. Business can play a critical role in reversing nature loss by adopting sustainable practices – which make sound business sense. Governments must make ambitious decisions and adopt a New Deal for Nature and People in 2020 for the future of our economies and society."
Potential for a nature positive-economy
Nature-related risks can be incorporated within existing ERM (enterprise risk management) and ESG (environmental, social and governance) processes, investment decision-making, and financial and non-financial reporting. Using a similar framework across environmental risk, categories should enable more efficient and effective integration into business decision-making.
Many large businesses have already adopted the framework proposed by the Financial Stability Board's Task Force on Climate-related Financial Disclosures (TCFD) for identifying, measuring and managing climate risks. This could be adapted and leveraged for managing nature risks.
"It is important to note that there is a path forward," Waughray said. "Businesses can formulate specific pathways to help 'bend the curve' of nature loss and damage within the decade by slowing down and halting biodiversity loss, then restoring nature and – as a massive co-benefit – contribute to achieving net-zero emissions by mid-century through smart nature-based solutions, all in the same package. There is potential for a win-win-win for nature, climate, people and the economy, but the science is telling us we must start this urgent transition now."
As the trend for greater transparency and accountability continues, costs are likely to rise for businesses which have not begun to include nature at the core of their enterprise operations. Businesses that ignore this trend will be left behind while those that have embraced this transformation will exploit new opportunities.
The New Nature Economy Report series aims to catalyse a public-private momentum in 2020 with a focus on the UN Convention on Biological Diversity (CBD) crucial summit (COP15) in Kunming, China, and the related Business for Nature mobilization. In the run-up to this event, the UN CBD has released its zero draft of the post-2020 Biodiversity Framework with the aim of setting the path to transforming society's relationship with biodiversity and to living in harmony with nature by 2050.
Capabilities fit is a winning formula for M&A: PwC's "Doing the right deals" study
Ensuring there is a capabilities fit between buyer and target is key to delivering a high-performing deal, according to a new PwC study of 800 corporate acquisitions. . The study finds that capabilities-driven deals generated a significant annual total shareholder return (TSR) premium (equal to 14.2% points) over deals lacking a capabilities fit.
The "Doing the right deals" study looks at the 50 largest deals with publicly-listed buyers in each of 16 industries and evaluates the characteristics that delivered superior financial outcomes for the buyers, as measured by annual TSR.
A capability is defined as the specific combination of processes, tools, technologies, skills, and behaviours that allows the company to deliver unique value to its customers.
Two types of deals were found to outperform the market: capabilities enhancement deals – in which the buyer acquires a target for a capability it needs — and capabilities leverage deals – in which the buyer uses its capabilities to generate value from the target. These represent a true engine of value creation, delivering average annual TSR that was 3.3% points above local market indices. Deals without these characteristics – limited-fit deals – had an average annual TSR of -10.9% points compared to the local market indices.
While 73% of the largest 800 deals analysed sought to combine businesses that did fit from a capabilities perspective, 27% were limited-fit deals. The analysis shows that for every dollar spent on M&A, roughly 25 cents were spent on such limited-fit deals that in many cases destroyed shareholder value.
Alastair Rimmer, Global Deals Strategy Leader, PwC UK said: "Our analysis confirms that deals where the buyer is focused on enhancing its own capabilities or leveraging its capabilities to improve the target can result in a substantial TSR premium. Whether a deal creates value depends less on whether it is aimed at consolidation, diversification or entering new markets. What matters is whether there is a solid capabilities rationale between the buyer and the target."
Capabilities fit delivers shareholder value across industries
The capabilities premium was found to be positive across all of the 16 industries studied. The share of capabilities-driven deals was highest in pharma & life sciences (92%), an industry where deals often combine one company's innovation capabilities with another's strength in distribution. Other leading industries in capabilities fit deals were health services and telecommunications (both with 90% capabilities-driven deals) and automotive (86%). Limited fit deals were found to be most prevalent in the oil & gas industry (62%), where asset acquisition can play an important role in addition to capabilities fit.
The analysis shows that the stated strategic intent of a deal, as defined in corporate announcements and regulatory filings, has little to no impact on value creation. Whether a deal fits or not depends less on stated goals of consolidation, diversification or entering new markets. What matters is whether there is a capabilities fit between the buyer and the target. Deals aiming for geographic expansion notably stood out as performing less well than others, largely because many of them (34%) were limited-fit deals.
The M&A playing field has shifted due to COVID-19
More than ever, companies must be clear in defining which capabilities they can leverage to succeed, and which capabilities gaps they need to fill.
Hein Marais, Global Value Creation Leader, PwC UK added: "Deal rationales have shifted in a COVID context, reflecting the heightened need for new and different capabilities if an enterprise is to generate value and create sustained outcomes.  The need to move quickly increases the pressure to do deals at pace – and thereby the risk of failing to evaluate capabilities fit with enough care. Ensuring such capabilities fit, however, dramatically increases the chances of your deal creating value."
Companies may be overlooking the riskiest cyber threats of all
A majority of companies don't have a handle on their third-party cyber risks – risks obscured by the complexity of their business relationships and vendor/supplier networks. This is the finding of the PwC 2022 Global Digital Trust Insights Survey. The survey of 3,600 CEOs and other C-suite executives globally found that 60% have less than a thorough understanding of the risk of data breaches through third parties, while 20% have little or no understanding at all of these risks.
The findings are a red flag in an environment where 60% of the C-suite respondents anticipate an increase in cyber crime in 2022. They also reflect the challenges organizations face in building trust in their data — making sure it is accurate, verified and secure, so customers and other stakeholders can trust that their information will be protected.
Notably, 56% of respondents say their organizations expect a rise in breaches via their software supply chain, yet only 34% have formally assessed their enterprise's exposure to this risk. Similarly, 58% expect a jump in attacks on their cloud services, but only 37% profess to have an understanding of cloud risks based on formal assessments.
Sean Joyce, Global & US Cybersecurity & Privacy Leader, PwC United States said: "Organizations can be vulnerable to an attack even when their own cyber defenses are good; a sophisticated attacker searches for the weakest link – sometimes through the organization's suppliers. Gaining visibility and managing your organization's web of third-party relationships and dependencies is a must. Yet, in our research, fewer than half of respondents say they have responded to the escalating threats that complex business ecosystems pose."
Asked how their companies are minimizing third-party risks, the most common answers were auditing or verifying their suppliers' compliance (46%), sharing information with third parties or helping them in some other way to improve their cyber stance (42%), and addressing cost- or time-related challenges to cyber resilience (40%). But a majority have not refined their third-party criteria (58%), not rewritten contracts (60%), nor increased the rigor of their due diligence (62%) to identify third-party threats.
Simplifying the way to cybersecurity
Nearly three quarters of respondents said the complexity of their organization poses "concerning" cyber and privacy risks. Data governance and data infrastructure (77% each) ranked highest among areas of unnecessary and avoidable complexity.
Simplification is a challenge, but there is ample evidence that it is worthwhile. While three in 10 respondents overall said their organizations had streamlined operations over the past two years, the "most improved" in our survey (the top 10% in cyber outcomes) were five times more likely to have streamlined operations enterprise-wide. These top 10% organizations are also 10 times more likely to have implemented formal data trust practices and 11 times more likely to have a high level of understanding of third party cyber and privacy risks.
CEO engagement can make a difference
Executive and CEO respondents differ on how much the support the CEO provides on cyber, with CEOs seeing themselves as more involved in, and supportive of, setting and achieving cyber goals than their teams do. But there is no disagreement that proactive CEO engagement in setting and achieving cyber goals makes a difference. Executives in the "most improved" group, reporting the most progress in cybersecurity outcomes, were 12x more likely to have broad and deep support on cyber from their CEOs. Most executives also believe that educating CEOs and boards so they can better fulfill their cyber responsibilities is the most important act for realizing a more secure digital society by 2030.
Sean Joyce concluded: "Our survey shows that the most advanced organizations see cybersecurity as more than defense and controls, but as a means to drive sustained business outcomes and build trust with their customers. As leaders of organizations, CEOs set the tone for focusing their cyber teams on bigger-picture, growth-related objectives rather than narrower, short-term expectations."
Are we on track to meet the SDG9 industry-related targets by 2030?
A new report published by the United Nations Industrial Development Organization (UNIDO), Statistical Indicators of Inclusive and Sustainable Industrialization, looks at the progress made towards achieving the industry-related targets of Sustainable Development Goal (SDG) 9 of the UN 2030 Agenda for Sustainable Development. The report is primarily based on the SDG9 indicators related to inclusive and sustainable industrialization, for which UNIDO is designated as a custodian agency, showing the patterns of the recent changes in different country groups.
Six years after the adoption of the 2030 Agenda for Sustainable Development and its 17 SDGs, there has been increasing demand for information on whether the SDG targets could be reached, and what actions should governments take to accelerate progress. The UNIDO report introduces two new tools developed by UNIDO to help countries measuring performance and progress towards SDG9 industry-related targets: the SDG9 Industry Index and SDG9 progress and outlook indicators. The SDG9 Industry Index benchmarks countries' performance on SDG-9 targets over 2000-2018 for 131 economies. In addition, the report develops two measures to answer the main questions:
Progress: how much progress has been made since 2000?
Outlook: how likely is it that the target will be achieved by 2030?
The global COVID-19 pandemic has inevitably had a negative toll on the progress towards reaching the SDG9 indicators, but the extent of the long-term impact remains to be seen. Industrialized countries continue to dominate global manufacturing industry, but their relative share has gradually declined over the past decade. In 2010, industrialized economies made up 60.3% of global production, which has decreased to 50.5% in 2020. China has been the largest manufacturer, now accounting for 31.7% of global production. This is a trend that has been reinforced by the pandemic.
Progress for the least developed countries (LDCs), at the heart of the 2030 Agenda, is a different story. While economic theory and countries' experiences across the world have established that industrialization is an engine of sustainable growth, progress among LDCs remains very diverse. Asian LDCs are poised to double their share of manufacturing in GDP and thus meet SDG target 9.2, but African LDCs have stagnated.
SDG9 Industry Index
The SDG-9 Industry Index, consisting of five dimensions, covers three targets and five indicators and assigns a final score to countries. In 2018, the top ten consisted of exclusively industrialized economies, with Taiwan, Province of China, Ireland, Switzerland, the Republic of Korea and Germany making up the top five. In general, industrialized economies perform best in all dimensions of the Index.

The countries at the bottom of the ranking are LDCs, in particular those located in sub-Saharan Africa. Although some African countries have been displaying impressive growth rates, growth has been driven by an extended commodity boom and foreign capital inflows, while industrialization and structural transformation have stagnated. Additionally, substantial data is lacking for a significant amount of the countries. In the SDG9 Industry Index, only 24 out of 54 African countries are included, from which only eight are LDCs. It is clear that national statistics offices need strengthening, as data availability helps countries formulate, review and evaluate their development plans and programmes.