ADB History Book Explains Asia's Five Decades of Economic Success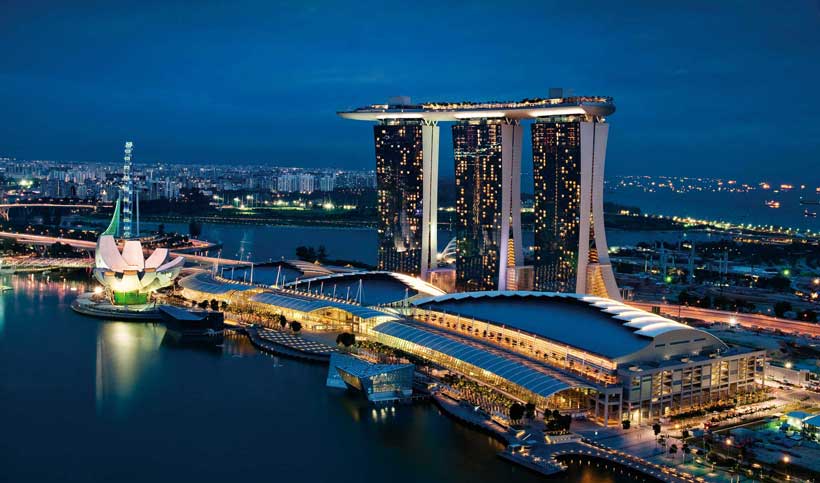 Sound economic policies and strong institutions have transformed Asia and the Pacific over the past five decades into a center of global dynamism, according to a new book from the Asian Development Bank (ADB). The book—Asia's Journey to Prosperity: Policy, Market, and Technology Over 50 Years—explains the reasons for Asia's economic success, while cautioning against complacency.
Developing Asia's share of global gross domestic product (GDP) rose from 4% in 1960 to 24% in 2018. Including Australia, Japan, and New Zealand, the share increased from 13% to 34%. During the same period, developing Asia's per capita GDP grew 15-fold (in constant 2010 United States dollars), from $330 to $4,903, boosting incomes and lifting hundreds of millions out of poverty.
"In 1966, when ADB was established, developing economies in the Asia and Pacific region were very poor. There was pessimism about prospects for industrialization and broad development. But the region's performance over the past 50 years has surpassed expectations by any measure—be it economic growth, structural transformation, poverty reduction, or improvement in health and education," said ADB President Mr. Takehiko Nakao.
The book emphasizes that there is no such thing as a unique "Asian Consensus" in the region's journey to prosperity. Rather, the policies pursued in Asia can be explained by standard economic theories, not so different from those prescribed by the "Washington Consensus" set of policies. Economic transformation in the region came about in much the same ways as in many developed economies. What was important was that many Asian countries took a pragmatic approach. They implemented import liberalization, opening up of foreign direct investment, financial sector deregulation, and capital account liberalization in a sequential way and based on meeting certain conditions.
In the past half century, many Asian countries enjoyed a "demographic dividend" and benefited from rapid technological progress, globalization, and the generally open trade and investment regimes of developed countries. However, even with favorable demographic and external conditions, the process of economic growth is not automatic.
Asia's postwar economic success owed much to creating effective policies and strong institutions. It was supported by governments' pragmatism in making policy choices, decisiveness in introducing reforms, and an ability to learn from their own and other's achievements and mistakes. In many countries, a clear vision for the future, which is often championed by forward-looking leaders and shared across a wide spectrum of social groups, contributed to broad-based growth and made a difference, especially when backed by a competent bureaucracy.
Over time, Asian economies adopted open trade and investment policies; facilitated agricultural modernization and industrial transformation; supported technological progress; invested in education and health; mobilized the high level of domestic savings for productive investments; promoted infrastructure development; pursued sound macroeconomic policies; and implemented policies for poverty reduction and inclusiveness.
The book notes that Asia should not be complacent and that it is too early to describe the 21st century as the "Asian Century". Developing Asia still faces pockets of persistent poverty, increasing income inequality, large gender gaps, environmental degradation, and climate change. Millions still lack adequate access to health, education, electricity, and safe drinking water. Mr. Nakao also pointed out that it will take more time for Asia to become as influential as the West has been over the last five centuries. Asia must continue to make efforts to strengthen its institutions, contribute to the development of science and technology, assume more responsibilities in tackling global issues, and articulate its own ideas.
The book was produced by a diverse ADB team, led by the management group of the Economic Research and Regional Cooperation Department and the President himself, over 3 years. It provides a broad historical overview of rapid transformation in all ADB's 46 developing economies, beyond the newly industrialized economies and several Southeast Asian countries discussed by the well-known 1993 World Bank publication, The East Asian Miracle. It considers a longer time horizon from the immediate postwar period to the present, capturing the transition from centrally planned systems to market-oriented economies. In writing, the team tried to make the book as interesting as possible by including anecdotes, data, and country examples.
The book consists of 15 chapters: (i) an overview of 50 years of development; (ii) the roles of markets and the state; (iii) industrial transformation; (iv) land reform and green revolution; (v) technological progress; (vi) education, health and demographics; (vii) investment and saving; (viii) infrastructure (energy, transport, water, and telecommunication); (ix) trade and foreign direct investment; (x) macroeconomic policies; (xi) poverty reduction and income equality; (xii) gender and development; (xiii) environmental sustainability and climate change; (xiv) multilateral and bilateral development finance; and (xv) regional cooperation. Several chapters benefit from contributions by staff engaged in ADB operations.
Major Impact from COVID-19 to Thailand's Economy, Vulnerable Households, Firms
Thailand's economy is expected to be impacted severely by the COVID-19 pandemic, shrinking by at least 5 percent in 2020 and taking more than two years to return to pre-COVID-19 GDP output levels, according to the World Bank's latest Thailand Economic Monitor, released today. The COVID-19 pandemic shocked the economy especially in the second quarter of 2020 and has led already to widespread job losses, affecting middle-class households and the poor alike.
While Thailand has been successful in stemming the tide of COVID-19 infections over the last three months, the economic impact has been severe. The tourism sector, which makes up close to 15 percent of Thailand's GDP, has been hit hard, with a near cessation of international tourist arrivals since March 2020.
Exports are expected to decline by 6.3 percent in 2020, the sharpest quarterly contraction in five years, as demand for Thai goods abroad remains weakened by the global slowdown. Household consumption is projected to decline by 3.2 percent as movement restrictions and dwindling incomes limit consumer spending, especially in the second quarter of 2020.
As Thailand starts to ease mobility restrictions, domestic consumption, Thailand's traditionally strongest driver of growth, may pick up in the second half of 2020 and in 2021, but economic recovery will be gradual and uncertain. In the baseline, the Thai economy is projected to grow by 4.1 percent in 2021 and by 3.6 percent in 2022, which represents a slow recovery to pre-COVID GDP output levels by mid-2022. The shape of the recovery is subject to considerable downside risks, including weaker global growth, feeble tourism, and continuing trade and supply chain disruptions.
"The strength of the economic recovery will depend in part on an effective policy response, in particular effective support to vulnerable households and firms," said Birgit Hansl, World Bank Country Manager for Thailand. "As the recovery phase begins, a key challenge will be how to help people who lost their jobs reconnect with the labor market. Active labor market measures, such as wage-subsidies targeted to individuals in the most vulnerable sectors, and for on-the-job training to promote reemployment should be explored."
An estimated 8.3 million workers will lose employment or income by the COVID-19 crisis, which has put many jobs, in particularly those related to tourism and services, at risk. The report finds that the number of economically insecure, or those living below USD 5.5 per day (in purchasing power terms), is projected to double from 4.7 million people in the first quarter to 9.7 million people in the second quarter of 2020. In particular, the share of economically insecure middle-class households with workers in the manufacturing and services sector will rise by three-fold, from 6 percent to 20 percent.
To protect vulnerable households, the report recommends extending social protection coverage to ensure that no gaps remain for the elderly and migrant workers. The report also recommends continuing cash transfers for the most vulnerable groups and, where possible, linking such transfers to training, mentoring, and other types of support that could create income-generating opportunities. Over the medium term, Thailand could consider establishing programs with universal benefits to help cushion against epidemic outbreaks as well as other negative shocks, complemented by more targeted programs for the poor.
"For vulnerable firms, the nature of support will need to shift from emergency relief to more support for productive firms that are still standing," said Kiatipong Ariyapruchya, World Bank's Senior Economist for Thailand. "This includes redirecting fiscal support from emergency measures to temporary job creation programs by easing firm participation in public procurement and public works."
Going forward, interventions could revamp firm support programs focused on promoting firms and productivity growth, especially towards promoting investments for worker training, management training, and technology adoption.
COVID-19 Accelerates Cycle of Paid Entertainment Subscriptions and Cancellations
U.S. consumers had an average of 12 paid media and entertainment subscriptions pre-COVID-19.
Eighty percent of U.S. consumers now subscribe to a paid streaming video service. Subscribers pay for an average of four services, up from three pre-COVID-19.
In just a few months, since the COVID-19 outbreak, 17% of current subscribers cancelled a paid streaming video service.
Forty-seven percent of U.S. consumers cited using at least one free ad-supported streaming video service during the pandemic as they search for budget-friendly entertainment.
Thirty-eight percent of consumers have tried a new digital activity since the pandemic began, such as watching a livestreaming event.
Fifty percent of Millennials would be willing to attend a sporting event in the next six months, compared with just 28% of Boomers.
A third of U.S. consumers and nearly half of Gen Z and Millennials say that video games helped them get through a difficult time.
Why this matters
Deloitte conducted a pre-COVID-19 survey December 2019 – January 2020 and a second survey in May following the onset of the pandemic. Together, the surveys provide insight into how media consumption has changed. Deloitte found trends that were present pre-COVID-19 have accelerated, sometimes dramatically, in a short time.
Consumers have more time on their hands to watch, listen and play games. At the same time, it's harder to keep customers as they can easily sample services via subsidized trial offers with no fear of penalties for cancelling. The pressures are likely to mount as consumers have less money to spend, with 39% of consumers reporting a decrease in their household income since the pandemic began. Media and entertainment companies can take this unprecedented moment to ask insightful questions and reevaluate their business in order to take advantage of windfalls, recover from setbacks, and thrive in the decade to come.
Subscriptions continue to swell, in spite of fatigue
Pre-pandemic, the survey found consumers were still enjoying digital entertainment more than ever and were willing to pay for multiple subscriptions. This trend has continued during the pandemic. However, there is growing frustration in trying to navigate the flood of streaming options, all while trying to manage costs. This fatigue may lead to increased cancellations. The May survey found that some consumers sign up for free trials, cancel when the trial ends or a favorite show or series is completed, and switch services in search of fresh content.
Pre-COVID-19, the average U.S. consumer had 12 paid entertainment subscriptions. Millennials averaged 17 subscriptions, Gen Z had 14, while Gen X had 13. Twenty-seven percent of consumers, including 42% of Millennials, said they planned to subscribe to more services in the coming year.
Pre-COVID-19, 40% of millennials were "overwhelmed" by the number of subscription services they manage, and 43% intended to reduce them.
Since the pandemic began, consumers have added and cancelled subscriptions of all kinds. For example, 20% of U.S. consumers made changes to their streaming music subscriptions: 12% added at least one music service, 5% cancelled at least one, and 3% added some and cancelled others.
Streaming video trending upward; will it sustain?
Not only do more consumers have streaming video services, the average streamer pays for more services than ever. However, as more media providers join the fray, competition is growing and putting pressure on content and pricing. Additionally, when COVID-19 restrictions are lifted, consumers may reduce their subscriptions as they turn their time and attention to other activities.
Eighty percent of U.S. consumers say their households now subscribe to at least one paid streaming video service, up from 73% in the pre-COVID-19 survey.
Subscribers now have an average of four paid streaming video subscriptions, up from three in the pre-COVID-19 survey.
Pre-pandemic, 27% of U.S. consumers said they plan to add a new streaming video service in the coming year; since COVID-19, 32% have added at least one new paid streaming video service.
Nearly 70% of Boomers now have a paid streaming video subscription.
For nearly a quarter of subscribers, a free or discounted rate was a big factor in choosing a paid streaming video service.
Subscribers are drawn to streaming video services with a broad range of shows and movies (51%) and content they can't get anywhere else (45%) — both originals and old favorites.
In the earlier survey, 20% of streaming video subscribers cancelled at least one service in the past year. Since the pandemic began, 17% of subscribers have already cancelled a service.
High costs (36%) and expiring discounts or free trials (35%) were cited as the top reasons for cancellation.
Ad-supported video streaming: battle of the business models
Ad-supported video streaming services may be gaining traction as some consumers would rather watch a certain level of advertising to reduce the cost of a subscription, or watch for free. Providers should consider which business model will resonate best with different consumers as they fight for viewers.
During the pandemic, nearly half (47%) of consumers cited using at least one free ad-supported streaming video service.
More U.S. consumers want access to cheaper, ad-supported streaming video options, both before (62%) and since the COVID-19 pandemic (65%), while 35% of consumers don't want ads and will pay to avoid them.
Gen Z and millennials are more likely than older generations to prefer the subscription-only model they grew up with; Boomers and Matures like the ad-only option that closely resembles TV.
Binge gaming booms during the crisis
Consumers have been spending more time playing video games, especially during the pandemic. Video gaming has become a social experience, but also a family experience as more kids and teenagers embrace it and draw in their parents as well. In fact, a third of U.S. consumers and nearly half of Gen Z and Millennials say that video games helped them get through a difficult time.
Earlier this year, 24% of consumers surveyed listed playing video games among their top three favorite entertainment activities. For Gen Z and Millennials, it was 44% and 37% respectively.
In that same survey, 29% of consumers noted they were binge gaming weekly, for an average of 3.3 hours per session.
Since the crisis began, nearly half (48%) of U.S. consumers have participated in some form of video gaming activity. For Millennials, it is 69%, and for Gen Z, it is 75%.
In fact, 29% of U.S. consumers said they are likely to use their free time to play a video game than watch a video.
Seven percent (7%) subscribed to a video gaming service for the first time during the pandemic.
Among those participating in video gaming activities during the pandemic, 34% are playing video games at home with their families much more, and 27% are playing to socially connect with others.
Prior to COVID-19, 25% of consumers watched live-streamed and recorded video of others playing games. For Millennials and Gen Z, it was around 50%. These numbers continue to hold strong during the pandemic.
What does the future hold?
The pandemic has created conditions and opportunities for people to try new things as they search for ways to stay entertained during a challenging time. The question for service providers is will these new interests remain as consumers get back to normal, continue to grapple with economic hardship and become increasingly selective about the content they choose.
During the pandemic, 38% of consumers have tried a new digital activity or subscription for the first time.
The most popular activities are viewing livestreamed events and watching video with others through a social platform, web application, or videoconference.
More than two-thirds of consumers said they are likely to continue their new activity or subscription.
Twenty-two percent of consumers — 30% of Gen Z and 36% of Millennials — paid to watch a first-run movie on a streaming video service during the pandemic. Of those that did, 90% said they would likely do so again. Of those who did not, 42% of consumers said it was too expensive.
One-third of consumers noted they will not be comfortable attending live events for the next six months. Notably, 50% of Millennials and 47% of Gen Z would be willing to attend a sporting event in the next six months, compared with just 28% of Boomers.
Sustained Reforms Crucial for Mongolia's Long-Term Growth
Mongolia can build a more inclusive and sustainable economy by improving macroeconomic management, strengthening human development, increasing international trade, and diversifying the economy by building on the country's existing knowledge and expertise, including in the mining sector, says a new Asian Development Bank (ADB) Country Diagnostic Study.
The study, Mongolia's Economic Prospects: Resource-Rich and Landlocked Between Two Giants, presents an in-depth analysis of Mongolia's economic opportunities and challenges, including the country's wealth in natural resources as well as its unique geographical location, bordered by two of the world's largest economies, the People's Republic of China (PRC) and the Russian Federation.
"Mongolia has seen major economic progress in the last 30 years and it has realistic aspirations to continue this development," said ADB Country Director for Mongolia Pavit Ramachandran. "While challenges such as the coronavirus disease (COVID-19) pandemic presents near-term obstacles, Mongolia has the right tools and opportunities to achieve long-term economic growth. This study provides a menu of policy options for the country to consider as it continues its remarkable economic journey."
With the COVID-19 pandemic, the country's gross domestic product (GDP) decelerated by 10.7% in the first quarter of 2020 as weaker global economic conditions combined with internal restrictions on economic activity dragged down growth. In a supplement of its Asian Development Outlook 2020, ADB is projecting a 1.9% contraction of Mongolia's economy this year, before recovering to 4.7% growth in 2021.
Despite an almost threefold increase in Mongolia's GDP per capita since 2000, the country's economic growth has suffered from a series of boom and bust cycles over the last few years. The study notes that macroeconomic policy should aim to limit the volatility induced by fluctuating commodity prices, while focusing on a steady fiscal regime to entice foreign investors and creating a permanent savings mechanism.
International trade and long-term regional cooperation and integration should also be a priority for Mongolia given its unique geographic location. This will aid in the government's goal of economic diversification, with international trade and tourism bringing in more resources, revenue, and technology to the country.
Last, the study notes that a focus on infrastructure with strong private sector participation—particularly in transport, communications, and energy—is key to Mongolia's long-term economic growth. With the COVID-19 pandemic and the country's transition to a more services-based economy, policies focusing on strengthening the health care system and ensuring the development of strong human capital through quality education and skills development will also be key.