It was indeed cynical and out-of-touch for the EU (Parliament) to suddenly blame, after 80 years, the Soviet Union for triggering WWII. It is unwise (to say least) to resurrect the arguments surrounding the circumstances of the start of World War II. The historians have agreed, the history has been written and well documented, and is in our books already for many decades.
There is no point in contemporary politicians of eastern flank of the EU (with a striking but complicit silence from the central Europe) pushing up the facts regarding who was to blame. There are neither mandated, nor qualified or even expected to do so.
Nazi Germany, Imperial Japan, Mussolini 's Italy and its satellites (helped by the ring of Useful Idiots, then called Quislings) were the culprits and that is universally accepted with no exception. It is now all in the past. Let us leave it there and not in the 21st century which has severe multiplying challenges, especially for the EU, that are still waiting to be tackled.
Enveloped in its own myopia of economic egoism and überfremdung phobia, Europeans are in fact digging and perpetuating defensive self-isolation. While falling short to constructively engage its neighborhood (but not conveniently protected by oceans for it like some other emigrant-receiving countries), Europeans constantly attract unskilled migrants from that way destabilized near abroad. The US, GCC, Far East, Australia, Singapore, lately even Brazil, India, or Angola – all have enormously profited from the skilled newcomers. Europe is unable to recognize, preserve, protect and promote its skilled migrants.
Simply, European history of tolerance of otherness is far too short for it, while the legacies of residual fears are deep, lasting and wide. Destructive efforts towards neighbors and accelatered hatreds for at home are perpetually reinforcing themselves. That turns Europe into a cluster of sharply polarized and fragmented societies, seemingly over history and identity, but essentially over the generational and technological gap, vision and forward esteem.
One of the latest episodes comes from a recent political,and highly ahistorical,initiative to make an equation of communism with Nazism. Driven by the obsessive Russophobe notion, this myopic short-term calculusmay bring disastrous long-term consequences – first and most of all for the Slavic Eastern/southeastern Europe, as well as to the absent-minded Scandinavian Europe, or cynically silent Central Europe.
Needleless to say, consensus that today's Europe firmly rests upon is built on antifascism. This legacy brought about prosperity and tranquility to Europe unprecedented all throughout its history. Sudden equation of communism with Nazism is the best and fastest way to destroy very fundaments of Europe once for good.
One is certain, the EU-led Europe is in a serious moral and political crisis of rapid de-evolution. Let's have a closer look.
Una hysteria importante
History of Europe is the story of small hysteric/xenophobic nations, traditionally sensitive to the issue of ethnic, linguistic, religious, and behavioristic otherness. If this statement holds the truth, then we refer to events before and after the Thirty Years' War in general and to the post-Napoleonic Europe in particular. Political landscape of today's Europe had been actually conceived in the late 14th century, gradually evolving to its present shape.
At first, the unquestioned and unchallenged pre-Westphalian order of Catholicism enabled the consolidation and standardization of the feudal socio-economic and politico-military system all over the Europe. However at its matured stage, such a universalistic world of Holy Roman Empire and Papacy (Caesaropapism) is steadily contested by the explicitly confrontational or implicitly dismissive political entities, be it ideologically (the Thirty Years' War culminating with the Peace of Westphalia) or geopolitically (Grand Discoveries and the shift of the gravity center westwards). The early round of colonizers, the two Iberian empires of Spain and Portugal, are the first entities that emerged, followed by France, Holland, England and Denmark. (Belgium too, although it appeared as a buffer zone at first – being a strategic depth, a continental prolongation of England for containment of Central Europeans, of Dutch and Scandinavians from the open sea, while later on also becoming a strategic depth of France for balancing Britain and containment of Denmark and Prussia.)
Engulfed with the quest of the brewing French revolution for the creation of a nation state, these colonizers, all of them situated on the Atlantic flank of Europe, have successfully adjusted to the nation-state concept. Importantly, the very process of creation/formation of the nation-state has been conducted primarily on linguistic grounds since religious grounds were historically defeated once and for all by the Westphalia.[1] All peoples talking the Portugophone dialects in one state, all Hispanophone dialects in another state, all Francophone dialects in the third state, etc.[2] This was an easy cut for peripheral Europe, the so-called old colonizers on the Atlantic flank of Europe, notably for Portugal, Spain, France, England, Denmark, the Netherlands, and Sweden.
Although geopolitically defeated at home, in France, and ideologically contained by the Vienna Congress and its instrument – the Holy Alliance of Eastern Conservative Courts, the very idea of a nation-state remained appealing. Both of that-time federations of theocracies (the non-territorial principle-based Habsburg and the Ottoman empires) were inevitably corroding by two 'chemical' precursors: secularism (enlightenment) and territoriality. Once the revolutionary 1848 ousted the principal guardian of feudalism and Rimo-Christian orthodoxy in Europe, Metternich, the suppressed concept got further impetus. And, the revolutionary romance went on…
Interestingly, the very creation of Central Europe's nation-states was actually enhanced by Napoleon III. The unification of Italophones was his, nearly obsessive, intentional deed (as he grew up in Nice with Italian Carbonari revolutionaries who were fighting papal and Habsburg's control over the northern portions of today's Italy). Conversely, the very unification of Germanophones under the Greater Prussia was his non-intentional mis-chief, with the two subsequently emerging 'by-products'; modern Austria (German-speaking core assembled on the ruins of mighty multinational and multi-lingual empire) and modern Turkey (Turkophone core on the ruins of mighty multiracial and multi-linguistic empire).
Despite being geographically in the heart of Europe, Switzerland remained a remarkably stable buffer zone: Highly militarized but defensive and obsessively neutral, economically omnipresent yet financially secretive, it represents one confederated state of two confronting versions of western Christianity, of three ethnicities and of four languages. Absent from most of the modern European politico-military events – Switzerland, in short – is terra incognita.
Historically speaking, the process of Christianization of Europe that was used as the justification tool to (either intimidate or corrupt, so to say to) pacify the invading tribes, which demolished the Roman Empire and brought to an end the Antique age, was running parallel on two tracks. The Roman Curia/Vatican conducted one of them by its hammer: the Holy Roman Empire. The second was run by the cluster of Rusophone Slavic Kaganates, who receiving (the orthodox or true/authentic, so-called Eastern version of) Christianity from Byzantium, and past its collapse, have taken over a mission of Christianization, while forming its first state of Kiev Russia (and thereafter, its first historic empire). Thus, to the eastern edge of Europe, Russophones have lived in an intact, nearly a hermetic world of universalism for centuries: one empire, one Tsar, one religion and one language.[3]
Everything in between Central Europe and Russia is Eastern Europe, rather a historic novelty on the political map of Europe. Very formation of the Atlantic Europe's present shape dates back to 14th–15th century, of Central Europe to the mid-late 19th century, while a contemporary Eastern Europe only started emerging between the end of WWI and the collapse of the Soviet Union – meaning, less than 100 years at best, slightly over two decades in the most cases. No wonder that the dominant political culture of the Eastern Europeans resonates residual fears and reflects deeply insecure small nations. Captive and restive, they are short in territorial depth, in demographic projection, in natural resources and in a direct access to open (warm) seas. After all, these are short in historio-cultural verticals, and in the bigger picture-driven long-term policies. Eastern Europeans are exercising the nationhood and sovereignty from quite a recently, thus, too often uncertain over the side and page of history. Therefore, they are often dismissive, hectic and suspectful, nearly neuralgic and xenophobic, with frequent overtones.
The creation of a nation-state (on linguistic grounds) in the peripheral, Atlantic and Scandinavian, as well as Central Europe was relatively a success-story. However, in Eastern Europe it repeatedly suffered setbacks, culminating in the Balkans, Caucasus and the Middle East. The same calamity also remained in the central or Baltic part of Eastern Europe.[4]
Keeping the center soft
Ever since Westphalia, Europe maintained the inner balance of powers by keeping its core section soft. Peripheral powers like England, France, Denmark, (early Sweden and Poland to be later replaced by) Prussia and Habsburgs, and finally the Ottomans and Russia have pressed on and preserved the center of continental Europe as their own playground. At the same time, they kept extending their possessions overseas or, like Russia and the Ottomans, over the land corridors deeper into Asian and MENA proper. Once Royal Italy and Imperial Germany had appeared, the geographic core 'hardened' and for the first time started to politico-militarily press onto peripheries. This new geopolitical reality caused a big security dilemma. That dilemma lasted from the 1814 Vienna congress up to Potsdam conference of 1945, being re-actualized again with the Berlin Wall destruction: How many Germanies and Italies should Europe have to preserve its inner balance and peace?[5]As the latecomers, the Central Europeans have faced the overseas world out of their reach, as clearly divided into spheres of influence solely among the Atlantic Europeans (and Russians).
In rather simplified terms, one can say that from the perspective of European belligerent parties, both world wars were fought between the forces of status quo and the challengers to this status quo. The final epilogue in both wars was that Atlantic Europe has managed to divert the attention of Central Europeans from itself and its vast overseas possessions onto Eastern Europe, and finally towards Russia.[6]
Just to give the most illustrative of many examples; the Imperial post-Bismarck Germany has carefully planned and ambitiously grouped its troops on the border with France. After the assassination of the Austrian Archduke in Sarajevo (28 June 1914), Europe was technically having a casus belli – as the subsequent mutually declared war between all parties quickly followed this assassination episode and the immediate Austrian ultimatum to Serbia. However, the first armed engagement was not taking place on the southeastern front, as expected – between the Eastern belligerent parties such as Austria, Serbia, Russia, the Ottomans, Greece, Bulgaria, etc. The first military operations of WWI were actually taking place in the opposite, northwest corner of Europe – something that came only two months past the Austrian ultimatum to Serbia. It was German penetration of Belgian Ardennes.
Still, the very epilogue of la Grande Guerra was such that a single significant territorial gain of Germany was achieved only in Eastern Europe. Despite a colossal 4-years long military effort, the German western border remained nearly unchanged.
The end of WWI did not bring much of a difference. The accords de paix – Versailles treaty was an Anglo-French triumph. These principal Treaty powers, meaning: Atlantic Europe, invited Germany to finally join the League of Nations in 1926, based on the 1925 Treaty of Locarno. By the letter of this treaty, Germany obliged itself to fully respect its frontiers with Belgium and France (plus demilitarized zone along Rhine) with the unspecified promise to arbitrate before pursuing any change of its borders with Czechoslovakia and Poland. The same modus operandi applied to the Austrian borders with Italy, Yugoslavia, Hungary and Czechoslovakia. The Locarno accord actually instrumentalized two sorts of boundaries around Central Europe (Germany–Austria): strict, inviolable ones towards Atlantic Europe; but semipermeable and soft towards Eastern Europe.[7]
That is how the predominant player from Central Europe, Germany, was accepted to the League, a collective system which the Soviet Russia (meaning: Rusophone Europe) was admitted to only a decade later (1934).
Soon after, this double standard sealed-off a faith of many in Europe and beyond.

---
[1]To be more accurate: Westphalia went beyond pure truce, peace and reconciliation. It re-confirmed existence of western Christianity's Ummah. Simply, it only outlawed meddling into the intra-western religious affairs by restricting that-time absolute Papal (interpretative) powers. From that point of view, Westphalia was not the first international instrument on religious freedoms, but a triumph of western evangelic unity. This very unity later led to the strengthening of western Christianity and its supremacy intercontinentally.
[2] All modern European languages that are taught in schools today, were once upon a time, actually a political and geographic compromise of the leading linguists, who – through adopted conventions – created a standard language by compiling different dialects, spoken on the territory of particular emerging nation-state.
[3]Early Russian state has ever since expanded north/northeast and eastward, reaching the physical limits of its outreach by crossing the Bering straits (and the sale of Russian Alaska to the USA in 1867). By the late 17th and early 18th century, Russia had begun to draw systematically into European politico-military theatre. (…) In the meantime, Europe's universalistic empire dissolved. It was contested by the challengers (like the Richelieu's France and others–geopolitical, or the Lutheran/Protestant – ideological challengers), and fragmented into the cluster of confronted monarchies, desperately trying to achieve an equilibrium through dynamic balancing. Similar political process will affect Russian universal empire only by late 20th century, following the Soviet dissolution. (…) Not fully accepted into the European collective system before the Metternich's Holy Alliance, even had its access into the post-Versailles system denied, Russia was still not ignored like other peripheral European power. The Ottomans, conversely, were negated from all of the security systems until the very creation of the NATO (Republic of Turkey). Through the pre-emptive partition of Poland in the eve of WWII, and successful campaigns elsewhere in Eastern Europe, Bolshevik Russia expanded both its territory and its influence westwards. (…) An early Soviet period of Russia was characterized by isolated bilateral security arrangements, e.g. with Germans, Fins, Japanese, etc. The post WWII days have brought the regional collective system of Warsaw Pact into existence, as to maintain the communist gains in Europe and to effectively oppose geopolitically and ideologically the similar, earlier formed, US-led block. Besides Nixon's rapprochement towards China, the collapse of the Soviet Union was the final stage in the progressive fragmentation of the vast Sino-Soviet Communist block (that dominated the Eurasian land mass with its massive size and centrality), letting Russia emerge as the successor. The sudden ideological and territorial Soviet break-up, however, was followed by the cultural shock and civil disorder, painful economic and demographic crisis and rapidly widening disparities. All this coupled with the humiliating wars in Caucasus and elsewhere, since the centripetal and centrifugal forces of integration or fragmentations came into the oscillatory play. Between 1989 and 1991, communist rule ended in country after country and the Warsaw Pact officially dissolved. Subsequently, the Gorbachev-Jeltsin Russia experienced the greatest geopolitical contraction of any major power in the modern era and one of the fastest ever in history. Still, Gorbachev-Jeltsin tandem managed to (re-)brand themselves domestically and internationally – each got its own label of vodka.
[4] Many would say that, past the peak Ottoman times, the aggressive intrusion of Atlantic Europe with its nation-state concept, coupled with Central Europe's obsessive control and lebensraumquest, has turned lands of a mild and tolerant people, these pivotal intellectual exchange-corridors of southeastern Europe and the Near East into a modern day Balkan powder keg. Miroslav Krleza famously remarked: "It was us humans who transformed our good swine to a filthy pig."
[5] At the time of Vienna Congress, there were nearly a dozen of Italophone states and over three dozens of Germanophone entities – 34 western German states + 4 free cities (Kleinstaaterei), Austria and Prussia. Potsdam conference concludes with only three Germanophone (+ Lichtenstein + Switzerland) and two Italophone states (+ Vatican).
[6] Why did the US join up Atlantic Europe against Central Europe in both WWs? Simply, siding up with Central Europe would have meant politico-military elimination of Atlantic Europe once and for all. In such an event, the US would have faced a single European, confrontation-potent, block of a formidable strategic-depth to engage with sooner or later. Eventually, Americans would have lost an interfering possibility of remaining the perfect balancer. The very same balancer role, the US inherited from the declining Britain.
[7] Farce or not, history of 1914 nearly repeated itself to its last detail in early 1990s. And, it was not for the first time. 25 and again 75 years after 1914 – meaning that 1939. was nearly copied by the events of 9/11 in 1989. Hence, November 1989 was the third time that the western frontiers of Central Europe remained intact, while the dramatic change took place to its East. Besides Anschluss of Eastern Germany by the Western one, borders there in 1990s nominally remained the same, but many former neighbors to Central Europe have one by one disappeared for good from the political map of Eastern Europe.
Europe's former imperial countries are now desperate U.S. colonies
India is no longer a colony of the UK, but Germany and other European countries have become — now quite obviously — colonies of the United States, and their economies will be financially bled by the world-bestriding U.S. imperialist center, just like the UK and other European nations had previously (and infamously) exploited India and its other colonies.
The U.S. Government's having blown-up the Nord Stream gas pipelines from Russia to Europe — after years of efforts to sabotage them more subtly by other, more 'diplomatic' (but less permanent), means — will leave Europe permanently forced to pay vastly higher rates to America and other liquefied natural gas (LNG) suppliers, and no longer with even a hope of receiving the far less-expensive Russian gas, which, until recently, fueled so many European firms to international competitiveness. Now, there's no longer even a hope for Europe to avoid sliding into the usual model of colonies, as being banana republics, of one sort or another.
It was so natural for Russia to be Europe's main energy-supplier, because Russia is a part of Europe, on the same continent as the other European nations, and therefore could pipeline its energy to them, and Russia had a surfeit of energy while the other European nations had a surfeit of need for it. That's the way international capitalism is supposed to function, but imperialistic capitalism is instead international fascism, and it survives and grows only by exploiting other nations. From now on, the European nations, other than Russia, will, for at least a long time (because those giant gas-pipelines have been destroyed) be paying the world's highest prices for energy (containerized and shipped, instead of simply pipelined), and buying much of it from Europe's imperial center, which is increasingly recognizable now as being Europe's real enemy: America. They will be paying tribute to the emperor — the billionaires who control the USA. These are the puppet-masters behind "the free world" (as their 'news'-media refer to it), which is actually the new international-fascist empire. As Barack Obama called it, America is "the one indisensable nation," which means that all other nations (in this case, the ones in Europe) are "dispensable." Now, these former imperial nations will finally get a taste of what it's like to be a "dispensable nation."
Here are some of the key U.S. operatives in Europe, who managed this situation, for the U.S. owners — brought this situation about (before Joe Biden's agents ultimately just pulled the plug on the whole operation):
Boris Johnson, Olaf Schulz, Annalena Baerbock, Robert Habeck, Ursula von der Leyen, Josep Borrell, Anders Fogh Rasmussen, Jens Stoltenberg, Emmanuel Macron, Mario Draghi — and, of course, behind the scenes, the billionaires who funded those leaders' political careers (via political donations, plus those billionaires' news-media and their other mass-public-opinion-forming organizations). These key agents will no doubt be paid well, in their retirements, regardless of what the public might think of them after their 'service to the public' is over.
Exporting Religious Hatred to England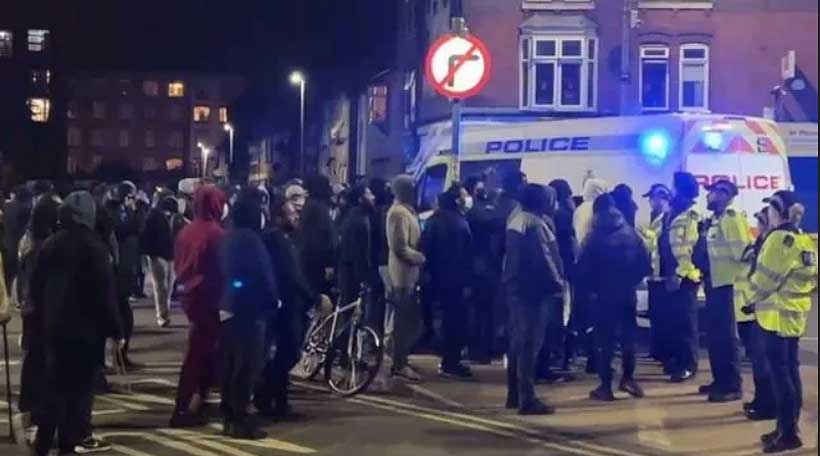 Not a place hitting the main news channels often, Leicester is a small town of 250,000 inhabitants about a hundred miles north of London and 40 miles east of Birmingham the UK's second largest city.
But an imported ideology is now the cause of religious violence that has profoundly affected Leicester's ethnic community of South Asians. This Hindutva ideology represents a belief in the transcendence of Hinduism and its culture.
Leicester prides itself as a city of tolerance and diversity where different religions and races all live together in relative harmony — a sort of 'live and let live and mind your own business' philosophy that had worked until recently. But under the surface simmering tensions burst forth recently. The trigger was a South Asia Cup cricket match between Indian and Pakistan held in Dubai and won by India.
Couple Hindutva with India's win and groups of Hindu young men were keen to demonstrate their might, and did so on isolated young Muslims. The latter then formed their own groups ready for revenge.
Where were the police one might ask. Well, a couple of beaten up Asian teenagers did not register as exhibiting anything more than random teenage violence. They were slow to react and did not discuss the ominous truth of religion as the prime mover behind the violence.
Civic leaders on both sides are now trying to quell the attacks. But the damage has been done and the seeds of ill-feeling have been sown within the community meaning Hindus vis-a-vis Muslims and vice versa.
India's per capita GDP is higher than for Pakistan or Bangladesh, the two countries bordering it, which together constitute the subcontinent. Thus the three countries are similar culturally. The next question to ask is why then is India hugging the bottom on the 2020 World Happiness Report, next to ill-fated war-torn places like Yemen. India is ranked 144 while its rival and neighbor Pakistan, although lower in per capita GDP, ranks a shocking (for India) 66. Bangladesh also ranks much higher than India at 107, despite its devastating floods and typhoons.
Perhaps the answer lies in the pervasive hate that is the currency of the ruling BJP (Bharatia Janata Party), a currency spent liberally during general elections to the detriment of the Congress Party, which has stood for a secular India since independence.
But hate yields more votes as BJP leaders Norendra Modi and Amit Shah know well. After all, they came to power via the destruction of the historic nearly five century old Babri Mosque, built on a Hindu holy site in an effort to ally Hindus by an astute Babur, the Mughal whose hold on India, just wrested from the Muslim Pathan kings, was still weak. It worked for Babur then; its destruction worked for the BJP in the 21st century
Has India become more civilized since?
Giorgia Meloni: a return to Mussolini's Italy?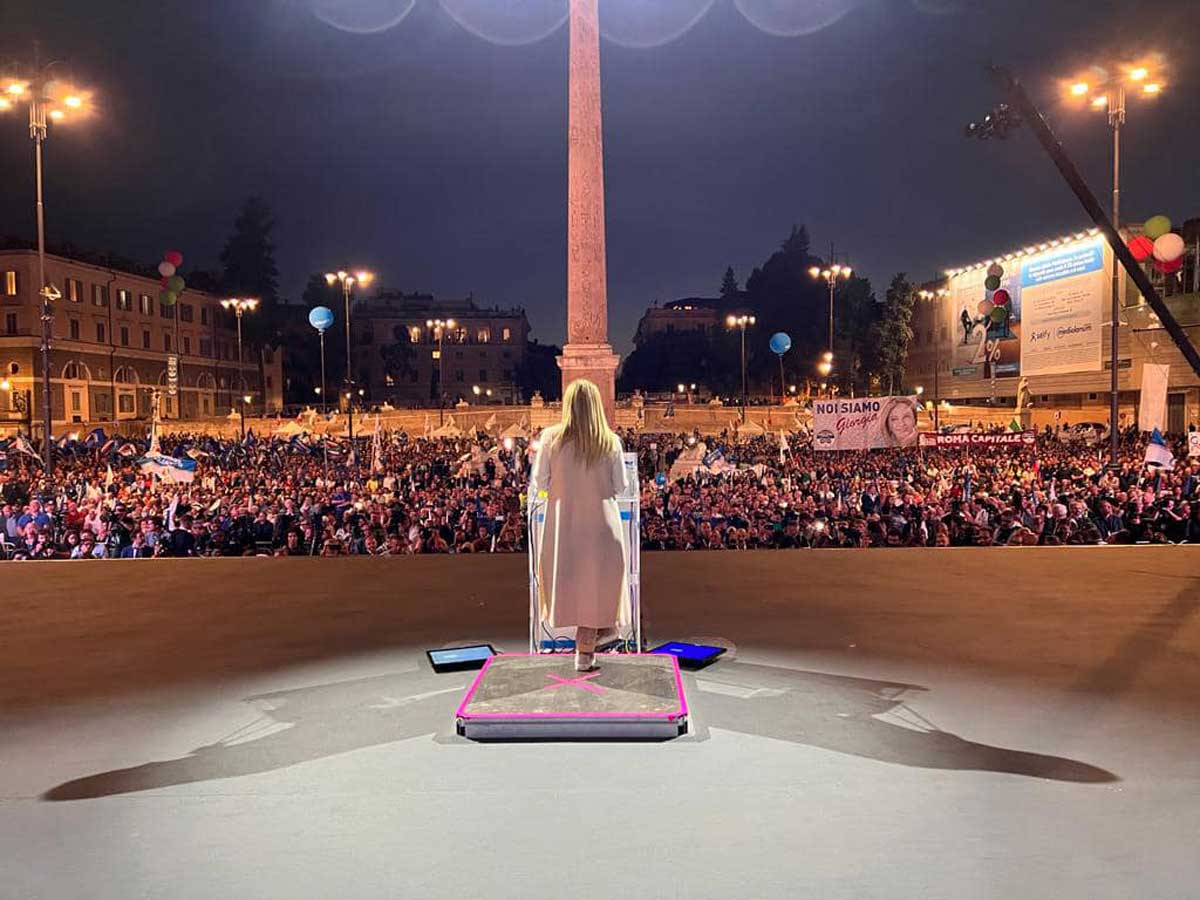 In recent years there has been a dramatic increase in the number of far-right political parties across Europe. They have managed to use the widespread discontent from society with the values and functioning of democracy to establish strong footholds in many countries, including those that were thought to be immune to such radicalisation. The reach of the far right does not recognise boundaries, and it is not a new phenomenon either. It has had a considerable historical role in Latin America, in Indonesia, Japan, Australia, Myanmar, India, South Africa, Germany, Italy, the United States, and more recently in Turkey, Brazil and Hungary which have suffered serious damage to their democratic rules and institutions. It is in this context that the election of Giorgia Meloni in Italy as the possible next Prime Minister.
Italy has a long history with fascism and far-right extremism that has forever characterised Italian politics. Italy's history after the WWII can largely be blamed for this slow but steady radicalisation of its political landscape. Unlike Germany that went through a serious process of denazification after allied victory, Italy was not cleared of vestiges of fascism. After 1945, and with the emergence of the USSR as a rival power, the allies focused their attention and efforts on fighting Communist USSR. Italy, surprisingly, had a considerable number of communist supporters, therefore fascism was seen as something positive in the fight of USSR ideology expansionism. Fascism was good to fight communism, and allies turned a blind eye to it, and the creation of the Italian Social Movement (MSI) in 1946 did not raise any red flags. The party managed to become the fourth largest in Italy in 20 years.
The woman who will become Italy's next Prime Minister leads a conservative party that can be traced back to the MSI: The Brothers of Italy, whose logo revives the MSI emblem. Meloni´s victory should be read against the backdrop of recent triumphs for the far right elsewhere in Europe. In France, despite the loss of Le Pen in the presidential election, the share of popular vote shifted the French political centre to the right; in Sweden the Sweden Democrats are expected to play a major role in defining Swedish politics after having won the second largest share of seats at the general election earlier in September; the same in happening in Hungary and Poland.
This revival of far-right extremism is not new. The collapse of the USSR allowed formerly dormant far right movements to flourish. This resurgence should also be understood as the inability of centre and centre-left parties to connect with voters, and to appear attractive. Italy's recent economic crisis has made Italians particularly susceptible to anti-establishment ideas. Italy was one of the countries that suffered the most during the pandemic specially fairly early on: Lots of people died, a lot of businesses had to close down, Italy found it hard to get support from the rest of the European Union. Meloni and her coalition capitalised this discontent. Meloni has chosen to fight the same enemies as other populist leaders: the LGBTQ+ community; immigrants, the European Union, Muslims; former Italian leaders and multiculturalism. She echoes Mussolini's natalist obsession; Volume Mussolini argued that the Western race was in danger of extinction by other races of colour, Meloni has focused on ethnic substitution, defined as the loss of Italian identity as a result of globalisation and uncontrolled mass immigration fostered by the European Union. This has translated into harsh xenophobic policies.
Meloni's election ironically coincide with the 100th anniversary of the March on Rome in October 1922 that brought Mussolini to power. 100 years later Italians. May have elected its first woman to become a Prime Minister, while this represents a break with the past and it symbolises a good step forward in theory, she also represents one of Italy's worst chapters in its past: Mussolini's Fascism. Meloni was a former MSI activist, and she is likely to form a government deeply rooted in populism and fascism, are very dangerous combination for contemporary European politics. We should not also allow to be fooled by her election as a woman. She has followed a similar path to Marie Le Pen called gender washing. She has adopted unknown threatening image as a female politician to mask the force of her extremism. For someone who is not familiar with Italian politics, her victory could be read as the triumph of female empowerment and gender equality. Throughout her campaign, she posed as a defender of women, however, her party has rolled back on women's rights, especially access to abortion.
Gender washing is particularly predominant among right wing parties, as they do a better job at promoting women. Women like Meloni and Le Pen Are protected by the elite, because they support, the very pillars of male power and privilege, these women very often behave in the same way as the men in power. Meloni's slogan God, Fatherland, and Family echoes the man-dominated and conservative model dating back to the Italy of Mussolini in the 1920s. Meloni's politics should become more important than her gender, especially as she does not advance women's empowerment, on the contrary, her victory means a drawback for women's rights in Italy. Meloni is simply one more far-right candidate that has made it to power.
This should be worrying for Europe as a whole. There has been a constant failure to address the growing threat of the far-right movement at national and on a European level. In recent years, we have seen a slow and steady shift of European politics to the right, and the normalisation of a less inclusive and more racist and discriminatory discourse. This shift to the right should be seen as a ticking time bomb for the pillars of democracy. The pandemic and the current war in Ukraine have not helped the case for democracy.
There are rising living costs in the continent that are undermining governments and European institutions, and making people feel less satisfied with the way their countries are handling these issues. Crises have always been excellent breeding grounds for extremism, whatever political ideology it is. People are more scared during a crisis, allowing the politics or fear to work, and swing voters towards far-right extremists in particular. People that are more likely to vote for far-right alternatives, favour certainty and stability amidst societal changes. Change is perceived as a threat to conservative voters. Under current conditions, there are enough real or perceived changes for extremist to put the blame on. This is one of the greatest paradoxes and dangers of populism and extremism: it often identifies real problems, but seeks to replace them with something worse, the slow and almost imperceptible destruction of democratic values, institutions, and liberties.
The irony behind this is that although populists are usually extremely bad at running a country, the blame will never be placed on them. Populist leaders consolidate support by creating enemies and dividing the population between "us" and "them". Failure in public policies, inability to provide viable solutions to crises will never be attributed to their elected officials, but rather to the enemies they have decided to use as scapegoats. In this way, as populist governments are unlikely to solve crises, things will eventually worsen, and more crises are inevitable; meaning more fear is also unavoidable. This creates a vicious circle that provides populists and extremists with further opportunities for power.
If there is something to be learnt from the current shift in international politics to the right, is the fact that voting behaviour differs from country to country. All politics is local. Voters are influenced by charismatic leaders, local events, regional issues etc. However, when it comes to the rise of extremism, common ground can be found between countries: the existence of a political, economic, or social crisis. Some far-right narratives have been able to cross borders, namely, anti-immigration and white and male supremacism. The Europe of today may be very dissimilar to the Europe of the near future should far-right movement continue to attain power in most countries. Far-right populist parties are a pan-European concern that should be addressed if we want democracy to survive in the long run.