Colombia: 'Staggering number' of human rights defenders killed in 2019
The UN human rights office, OHCHR, is "deeply troubled by the staggering number of human rights defenders killed in Colombia" last year, its spokesperson said on Tuesday.
"The single most targeted group was human rights defenders advocating on behalf of community-based and specific ethnic groups such as indigenous peoples and Afro-Colombians", Marta Hurtado told reporters in Geneva, adding that the number of women human rights defenders killed increased "by almost 50 per cent in 2019 compared to 2018".
According to OHCHR, 107 activists were killed last year. And staff in the country are still in the process of verifying 13 additional cases reported during 2019 which, if confirmed, would raise the annual total to 120 killings.
Attacks on human rights defenders during 2018 had already intensified, with 115 killings confirmed by the UN.
Vicious cycle of violence 'must stop'
"This terrible trend is showing no let-up in 2020, with at least 10 human rights defenders already reportedly killed during the first 13 days of January", Ms. Hurtado lamented.
The UN office renewed its call on the Government to "make a strenuous effort" to prevent attacks on those who are defending fundamental rights, investigate each case and prosecute those responsible, including those aiding and abetting the deadly attacks.
"The vicious and endemic cycle of violence and impunity must stop", the spokesperson spelled out. "Victims and their families have a right to justice, truth and reparations".
Vulnerable villages
The vast majority of last year's killings happened in rural areas, 98 per cent of which occurred in municipalities with black market economies, and where criminal groups or armed groups hold sway.
And around 86 per cent of the deaths took place in villages with a poverty rate above the national average.
Although more than half were recorded in the four provinces of Antioquia, Arauca, Cauca and Caquetá, 21 other provinces also saw fatalities.
While the figures reflect the gravity of the problem, Ms. Hurtado pointed out that "they conceal the structural causes that sustain violence against human rights defenders".
"Any attack against human rights defenders is unacceptable and constitutes an assault against democracy, undermining participation and people's access to their human rights", she underscored.
Other factors
There were a number of other contributing factors including the penetration of criminal groups and armed groups linked to illicit economies in areas vacated by FARC-EP rebels, and the favouring of a military response from the Government to control the violence.
In November 2016, the Secretary-General welcomed the signing of an historic UN-backed peace agreement between the Colombian Government and the FARC-EP group, ending an armed conflict that had been ongoing since 1964.
However, continuous challenges in implementing the peace agreement have also played a role in the violence, especially the dismantling of paramilitary linked-groups; the security situation in conflict-affected communities; land restitution, illicit crop substitution programmes and the fulfilment of victims' rights.
While OHCHR has acknowledged some positive steps, such as a recent meeting of the National Commission on Security Guarantees convened by the Government early this month, to tackle this problem, the number of killings clearly shows much more needs to be done.
"We call on the authorities to redouble their efforts to ensure a free and secure environment for civic engagement and to increase the presence of civil State authorities in rural areas to provide basic services, such as health and education", asserted Ms. Hurtado.
She concluded by stressing the need to urgently tackle disparities in the enjoyment of all rights, particularly economic, social and cultural rights – especially in rural areas, saying that "measures of a collective nature aimed at protecting geographical areas or communities must be further developed."
Nearly 300,000 Syrians displaced from Idlib since mid-December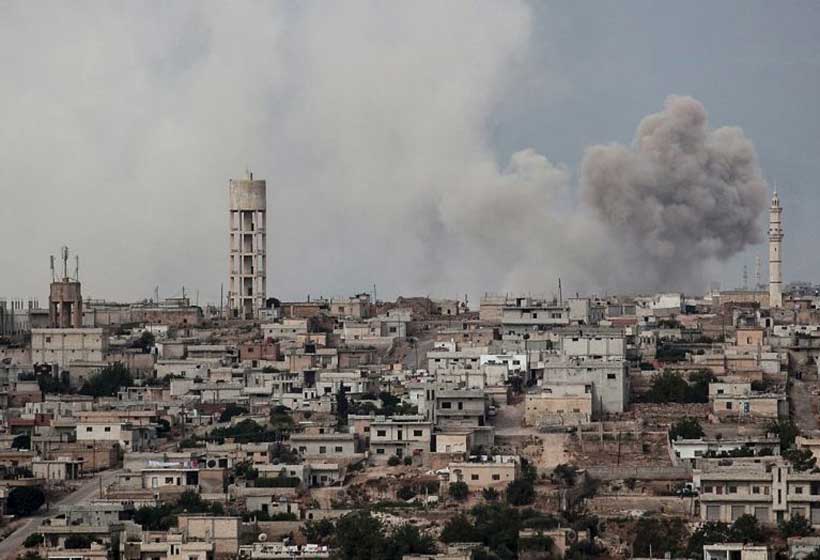 Amidst concern for the safety and protection of more than three million civilians in Syria's last rebel-held enclave, the UN's most senior humanitarian and political affairs officials briefed the Security Council on Syria behind closed doors on Friday.
Following the recent escalation of hostilities on the ground in the country's northwest, Emergency Relief Coordinator Mark Lowcock and the Under-Secretary-General for Political Affairs, Rosemary DiCarlo, painted a dire picture of the deteriorating conditions.
"Nearly 300,000 people have been displaced from southern Idlib since 12 December, according to current estimates, with children and women being the most affected", UN Deputy Spokesperson Farhan Haq told reporters in New York. "Over half of the displaced, at least 175,000, are children".
He spelled out that the city of Ma'arrat An-Numan and its surrounding areas are reported to be "almost empty of civilians as families flee north to safety".
The new displacements add to over 400,000 women, children and men who were displaced by hostilities between the end of April and early December, many of them multiple times.
Over that same period, the UN human rights office (OHCHR) recorded over 1,330 civilian deaths.
"Winter conditions are exacerbating the dire humanitarian situation", said Mr. Haq. "Families are fleeing in torrential rain and temperatures at night are close to freezing".
Moreover, the rain and cold are leaving those who had moved further north in an even worse situation, with many reported to be living in camps, unfinished or partially destroyed buildings, in tents, under trees and in the open.
Humanitarian agencies have provided emergency food and cash to over 180,000 of the newly displaced, according to the deputy spokesperson.
He also flagged that additional ready-to-eat rations for more than half a million people, for up to five days, had already been pre-positioned in anticipation of further displacement.
Situation deteriorating daily
At the media stakeout before the Council met, French Ambassador Nicolas de Rivière told reporters that the United Kingdom and France called for the session to "take stock on where we are".
"The situation in Idlib is deteriorating day after day", he said.
"We formally condemn indiscriminate bombing by the regime and its allies", such as civilian facilities that include a school and hospitals, and "it should stop", underscored the French Ambassador.
He also called for the preservation of humanitarian access in both the northeast and northwest of the country.
UN: Israel/Palestine war crimes probe 'momentous step forward'
An independent UN human rights expert hailed on Tuesday, the International Criminal Court's (ICC) decision to consider a formal criminal investigation into allegations of war crimes in Palestine as a "momentous step forward in the quest for accountability" in the five-decade-long Israeli occupation.
"Accountability has, until now, been largely missing in action throughout the 52-year-old occupation," said Michael Lynk, the Special Rapporteur for the situation of human rights in the Palestinian territory occupied since 1967.
On 20 December, ICC Prosecutor Fatou Bensouda announced that she was "satisfied that there is a reasonable basis to proceed with an investigation into the situation in Palestine".
Mr. Lynk maintained that although the international community has adopted hundreds of UN resolutions condemning various features of "Israel's entrenched occupation of the Palestinian territory…rarely has it ever combined criticism with consequences for Israel".
"Now, the possibility of accountability is finally on the horizon", the UN expert said.
Ms. Bensouda has spent the past five years reviewing the initial evidence as part of a preliminary investigation in the 2014 war on Gaza, the IsraeIi settlements and, more recently, the killing and wounding of Palestinian demonstrators near the Gaza frontier.
Territory confirmation
The ICC prosecutor said that before initiating a formal investigation, she would ask for a ruling by the Pre-Trial Chamber to confirm that the territory over which the Court may exercise its jurisdiction comprises the West Bank, including East Jerusalem, and Gaza.
"In a world that proclaims its devotion to human rights and a rules-based international order, it is vital that the international community defend the decision of the ICC Prosecutor to advance her investigation and to seek a favourable ruling from the Pre-Trial Chamber on the issue of territorial jurisdiction," said the Special Rapporteur.
"International law must be the basis for seeking justice for the victims of war crimes in this interminable conflict, and the international community must resolutely support the laws and the institutions that it has created and nurtured."
'Justice delayed is justice denied'
The UN expert noted that the Prosecutor also intended to investigate whether members of Hamas and other Palestinian armed groups had committed war crimes in the period since June 2014.
"If the evidence gathered by the ICC Prosecutor leads her to make findings against these organizations, then her efforts must also be supported," he continued, adding that the Rome Statute is meant to be applied "dispassionately", as "the only way to build the necessary political and popular support for its mission."
Addressing the long-standing concern about how slowly the wheels of justice have turned in this matter, Mr. Lynk urged that the Pre-Trial Chamber present and resolve territorial jurisdiction issue as expeditiously as possible.
"Justice delayed is justice denied", he spelled out.
"Should the allegations of war crimes then proceed to the formal investigation stage, every effort must be made to advance the work of the Prosecutor's office in a reasonably speedy manner consistent with legal fairness, so that the many victims of this conflict can realistically hope that justice might yet prevail within their lifetimes", concluded the UN Special Rapporteur.
Special Rapporteurs and independent experts are appointed by the Geneva-based UN Human Rights Council to examine and report back on a specific human rights theme or a country situation. The positions are honorary and the experts are not UN staff, nor are they paid for their work.
Mr. Lynk was designated in 2016.
WFP calls for increased support as eight million in Zimbabwe face hunger
The World Food Programme (WFP) is calling on countries to step up support to Zimbabwe, where millions of people are facing hunger brought on by prolonged drought and economic meltdown.
Nearly eight million people, or roughly half the population, are not getting enough to eat, the UN agency said on Monday.
WFP plans to double the number of Zimbabweans that it assists, up to 4.1 million, but will require over $200 million to meet needs in the first half of 2020 alone.
"As things stand, we will run out of food by end of February, coinciding with the peak of the hunger season – when needs are at their highest," said Niels Balzer, WFP's Deputy Country Director in Zimbabwe.
"Firm pledges are urgently needed as it can take up to three months for funding commitments to become food on people's tables."
Declining harvests due to ongoing drought
Zimbabwe, once known as an African breadbasket, has been hit hard by three consecutive years of drought.
As a result, the maize harvest dropped by 50 per cent this year when compared to 2018.
To meet increasing needs, WFP was forced to launch an emergency lean season assistance programme in August, months earlier than expected.
Hilal Elver, the UN Special Rapporteur on the right to food, visited Zimbabwe in November where she witnessed how women and children are bearing the brunt of the crisis.
"In a desperate effort to find alternative means of livelihood, some women and children are resorting to coping mechanisms that violate their most fundamental human rights and freedoms. As a result, school drop-outs, early marriage, domestic violence, prostitution and sexual exploitation are on the rise throughout Zimbabwe," she said in a statement following her 11-day mission.
Runaway inflation affecting food prices
The hunger crisis comes as Zimbabwe is facing its worst economic downturn in a decade.
Runaway inflation is just one of the symptoms, and it has put the price of basic goods beyond the reach of the average citizen. WFP reported that bread is now 20 times more expensive than it was six months ago.
Increasing hardship is forcing families to skip meals, take children out of school, or sell off livestock, among other desperate measures.
Gladys Chikukwa sells tomatoes at the second largest market in the country, Sukubva, and is finding it hard to survive.
"Just because we are selling tomatoes in this market doesn't mean that we have enough food for ourselves. We are seriously struggling," she said.
"Our produce is rotting in this market because of prices. Today, tomatoes will go for 250 Zimbabwe dollars, tomorrow 300 dollars, the next day 400 dollars and people don't have that money."
Funding is essential
The drought shows no signs of letting up, and forecasts indicate another poor harvest in April, according to WFP.
The UN agency also faces challenges in scaling-up its operations in Zimbabwe as the shortage of local currency coupled with rapid inflation requires switching from cash-based assistance to food distributions.
And with other southern African countries also gripped by drought, food stocks must be sourced outside the continent and then shipped to neighbouring South Africa or Mozambique before being transported to landlocked Zimbabwe.
WFP will require nearly 200,000 metric tons of food to assist the 4.1 million Zimbabweans it plans to target. Mr. Balzer, the agency's Deputy Country Director, underlined why financial support from the international community is so desperately needed.
"While WFP now has the staff, partners, trucking and logistics capacity in place for a major surge in Zimbabwe, it is essential that we receive the funding to be able to fully deliver," he said. "The lives of so many depend on this."