The regulatory environment for women's economic participation has improved over the past two years, with 40 economies enacting 62 reforms that will help women – half the world's population – realize their potential and contribute to economic growth and development, says a new World Bank study. Still, the results are uneven — women in many countries have only a fraction of the legal rights of men, holding back their economic and social development.
The study, Women, Business and the Law 2020, measures 190 economies, tracking how laws affect women at different stages in their working lives and focusing on those laws applicable in the main business city. It covers reforms in eight areas that are associated with women's economic empowerment, conducted from June 2017 to September 2019.
"Legal rights for women are both the right thing to do and good from an economic perspective. When women can move more freely, work outside the home and manage assets, they are more likely to join the workforce and help strengthen their country's economies," said World Bank Group President David Malpass. "We stand ready to help until every woman can move through her life without facing legal barriers to her success."
The areas of Workplace and Marriage saw many reforms, especially in the enactment of laws that protect women from violence. In the last two years, eight economies enacted legislation on domestic violence for the first time. Seven economies now have new legal protections against sexual harassment in employment.
Twelve economies improved their laws in the area of Pay, removing restrictions on the industries, jobs and hours that women can work. Globally, the most frequent reforms were in areas related to Parenthood, with16 economies enacting positive changes. Reforms included expansion of the amount of paid maternity leave available to mothers, introduction of paid paternity leave and prohibition of dismissal of pregnant employees.
Achieving legal gender equality requires strong political will and a concerted effort by governments, civil society, and international organizations, among others. But legal and regulatory reforms can serve as an important catalyst to improve the lives of women as well as their families and communities.
"This study helps us understand where laws facilitate or hinder women's economic participation. It has incentivized countries to undertake reforms that can eliminate gender imbalances," said World Bank Group Chief Economist Pinelopi Koujianou Goldberg. "Achieving equality will take time, but it is encouraging that all regions have improved. We hope that this research will continue to serve as an important tool to inform policy making and level the playing field for women."
The WBL index measures only formal laws and the regulations which govern a woman's ability to work or own businesses– a country's actual norms and practices are not captured. The global average score was 75.2, which improved slightly from 73.9 two years ago. Clearly, much more work remains as women in many countries have only a fraction of the legal rights of men, holding them back from opportunities for employment and entrepreneurship.
The eight areas covered by the index are structured around women's interactions with the law through their careers: Mobility, Workplace, Pay, Marriage, Parenthood, Entrepreneurship, Assets, and Pension.
Reforms are urgently needed in the area of Parenthood, which scored just 53.9 on average. In almost half of economies that provide any form of paid maternity leave, the burden falls on the employer, making it more costly to hire women. But paid maternity leave can help to retain female employees, reducing turnover cost and improving productivity. These longer-term benefits often outweigh the short-term costs to employers, according to the study.
Of the ten economies that improved the most, six are in the Middle East and North Africa, three are in Sub-Saharan Africa and one is in South Asia. While there was considerable progress, the Middle East and North Africa remains the region with the most room for improvement. Eight countries now have a score of 100, with Canada joining Belgium, Denmark, France, Iceland, Latvia, Luxembourg and Sweden due to a recent reform in parental leave.
Regional Highlights
Advanced Economies: Advanced economies continue to make progress on the indicators. Of the 40 economies with scores above 90, 27 are OECD high-income economies. The Czech Republic and the United States reformed laws related to paternity and parental leave, giving parents more opportunity to share childcare responsibilities, while Italy and Slovenia equalized pension benefits between men and women.
East Asia and the Pacific: Four economies conducted four reforms in three areas. Thailand introduced a reform in the area of getting paid, and Timor-Leste in the area of getting a pension. Fiji increased the duration of paid maternity leave and introduced paid leave for fathers for the first time.
Europe and Central Asia: Four economies enacted five reforms in five areas, and two economies changed laws to reduce opportunities. Armenia enacted legislation protecting women from domestic violence. Cyprus introduced paid paternity leave. Georgia adopted legislation to provide for civil remedies in the case of the unfair dismissal of a victim of sexual harassment. Moldova lifted some restrictions on women's employment by limiting them to pregnant, nursing, and postpartum women.
Latin America and the Caribbean: Four economies made four reforms in four areas. Barbados enacted legislation on sexual harassment in the workplace. Peru and Paraguay received high scores in the 90s. Economies in this region made important strides toward lifting restrictions placed on women in the 1980s and 1990s, but the pace of reforms slowed over the past decade.
Middle East and North Africa: Seven economies enacted 20 reforms in seven areas, although one economy implemented a negative reform. Saudi Arabia made the biggest improvement globally, enacting reforms in six out of eight areas measured including in women's mobility, sexual harassment, retirement age and economic activity. The United Arab Emirates also reformed in five areas. Djibouti, Bahrain, Jordan, Morocco and Tunisia implemented an additional nine reforms.
South Asia: Four economies enacted seven reforms in four areas.Nepal introduced a new labor law that prohibits discrimination in employment, paternity leave and new pensions regulation. Three other countries also enacted reforms: Pakistan and Sri Lanka made progress in the area of Parenthood. In India, the state of Maharashtra eliminated restrictions on women's jobs.
Sub-Saharan Africa: Eleven economies implemented 16 reforms in seven areas. The Democratic Republic of Congo introduced social insurance maternity benefits and equalized retirement ages. In Côte d'Ivoire, spouses now have equal rights to own and manage property. Mali enacted reforms on non-discrimination in employment. São Tomé and Príncipe adopted a new labor code to meet job market demands and bring laws in compliance with international standards. South Sudan adopted its first labor law since independence.
People are increasingly worried about inequalities but divided on how to address them
For a recovery from the COVID-19 crisis that is strong, sustainable but also fair, it will be key to tackle inequalities and promote equal opportunities. Yet while there is growing consensus that inequality is a problem, people are increasingly divided about its extent and what to do about it, according to a new OECD report.
Does Inequality Matter? says that most people are concerned about inequality. Four in five people in the OECD feel income disparities are too large in their country. People care about inequality of both outcomes and opportunities, as they perceive high income and earnings disparities as well as low social mobility. Moreover, concern over income and earnings disparities has risen in the last three decades, in line with the increase in income inequality.
People's perceptions are not disconnected from reality. Along the lines of observed trends in income inequality, people believed, on average, that top earners earned 5 times as much as bottom earners in the late 1980s/early 1990s, while this perceived top-to-bottom earnings ratio has increased to 8 today, after having reached a peak of 10 during the Great Recession. Tolerance for inequality has also increased, though by less. Today people believe, on average, that top earners should earn 4 times as much as the bottom earners, up from 3 times in the late 1980s.
More than 6 out of 10 OECD citizens believe their government should do more to reduce income differences between rich and poor with taxes and transfers. The more people are concerned about inequality and perceive low social mobility, the higher their demand for redistribution.
However, beliefs about effectiveness of policies and determinants of inequalities matter. People are less likely to demand more redistribution if they believe that benefits are mistargeted, and they are less in favour of progressive taxation if they believe that corruption is widespread among public officials, prompting the misuse and misallocation of public benefits.
Demand for more progressive taxation is also lower where people believe that disparities are justified by differences in personal effort, rather than to circumstances beyond people's control. For example, in 2018 in Poland 25% of people believe poverty is due to lack of effort rather than injustice or bad luck and 54% demand more progressive taxation, while in Germany that figure is 4% and 77%, respectively.
Yet, despite most people being concerned about inequality, they have strongly different beliefs about its extent and what to do about it. Within the average OECD country, one fourth of people thinks that more than 70% of the national income goes to the 10% richest households, contrary to another fourth who think that less than 30% goes to the richest households.
Furthermore, the large heterogeneity of people's views on inequalities has grown in the last three decades, even among people with similar socio-economic characteristics. There is evidence of growing polarization: in most OECD countries there is an increasing gap between those who believe inequality is high and those who believe it is low. More unequal countries have a more divided public opinion: in Chile and the United States – two among the most unequal OECD countries – the perceptions about the extent of the top richest 10% shares diverge the most.
Data show how the COVID-19 pandemic has hit all aspects of people's well-being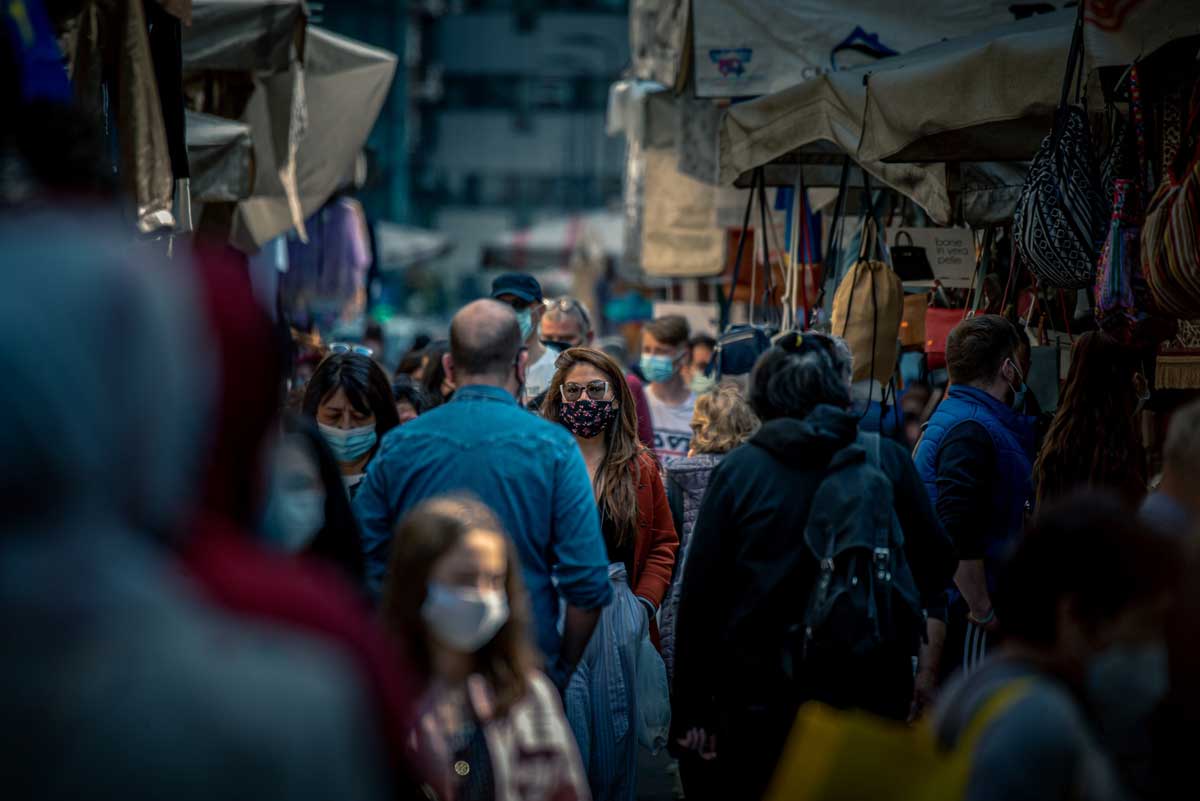 The COVID-19 pandemic has not only had devastating effects on physical health and mortality but has touched every aspect of people's well-being, with far-reaching consequences for how we live and work, according to a new study by the OECD.
COVID-19 and well-being: life in the pandemic says the virus caused a 16% increase in the average number of deaths across 33 OECD countries between March 2020 and early May 2021, compared with same period over the previous four years. Over the same time frame, survey data in the report reveal rising levels of depression or anxiety and a growing sense among many people of loneliness and of feeling disconnected from society.
Government support helped to sustain average household income levels in 2020 and stemmed the tide of job losses, even as average hours worked fell sharply. Although job retention schemes offered workers some protection, 14% of workers in 19 European OECD countries felt it was "likely they would lose their job" within three months, and nearly 1 in 3 people in 25 OECD countries reported financial difficulties.
The report says experiences of the pandemic have varied widely depending on age, gender and ethnicity, as well as on the type of job people do and on their level of pay and skills. The crisis also aggravated existing social, economic and environmental challenges.
In those countries with available data, workers from ethnic minorities have been more likely to lose their jobs during the pandemic. Mental health deteriorated for almost all population groups on average in 2020 but gaps in mental health by race and ethnicity are also visible. COVID-19 mortality rates for some ethnic minority communities have been more than twice those of other groups.
Younger adults experienced some of the largest declines in mental health, social connectedness and life satisfaction in 2020 and 2021, as well as facing job disruption and insecurity.
Launched on the first anniversary of the new OECD Centre for Well-being, Inclusion, Sustainability and Equal Opportunity (WISE), the report offers a primer for OECD recommendations on well-being. It assesses the impact of the pandemic across the 11 dimensions identified in the OECD's Well-being Framework – income and wealth; work and job quality; housing; health; knowledge and skills; environment; subjective well-being; safety; work-life balance; social connections; and civil engagement. It features data on inclusion and equality of opportunity, and also considers how the stocks of economic, human, social and environmental resources that sustain well-being have fared.
The report argues that as governments move from emergency support to stimulating the recovery, they need to refocus their action on what matters most to people's well-being.
A key objective must be to increase the job and financial security of households, and particularly those most affected by the crisis – with a focus on the most vulnerable, on youth, women and the low skilled. Addressing the burden of poor physical and mental health and a cross-government approach to raising the well-being of the most disadvantaged children and youth must also be prioritised. The report also stresses that actions to raise living standards and equality of opportunity must take place within the context of greening the economy: the climate and biodiversity crises, like the pandemic, require a coordinated response across public policy.
A well-being approach, the report explains, looks at government objectives as interconnected goals, focusing on how different policies can complement each other. Such an approach encourages decision-making that simultaneously considers impacts on current well-being, inclusion, and the sustainability of well-being over time. For instance, improving long-term economic opportunities through raising child well-being, or aligning efforts to combat climate change with social and economic objectives by increasing employment and mobility for people and places left behind.
Natural, human and social capital will need rebuilding after the crisis, the report adds. Reducing inequalities in access to, and uptake of lifelong learning, for example, will help people – especially the disadvantaged – get high quality jobs by developing training programmes that address skills gaps and emphasise digital abilities.
Social capital – the norms, shared values and institutions that foster co-operation – has shaped communities' responses to the pandemic. Data from across OECD countries shows that both trust in institutions and interpersonal trust influenced the effectiveness of pandemic containment. Although it has recently shown signs of weakening, institutional trust in 2020 in most OECD countries was at its highest since records began in 2006.
The report says reinforcing trust is key to reconnecting people to their societies, and to the institutions that are meant to support them. By doing so, the well-being of citizens is improved both today and in a post-pandemic future.
Inflation Concerns Push Up Emerging East Asia Bond Yields
Emerging East Asia's bond market grew 3.4% in the third quarter to $21.7 trillion, although rising global inflation and a shift in the United States (US) monetary stance weakened regional financial conditions, according to the latest issue of the Asia Bond Monitor.
Bond yields rose, currencies weakened, and risk premiums edged up amid increased global inflation and the US Federal Reserve's announcement that it would limit bond purchases starting in November, according to the report, released today by the Asian Development Bank (ADB).
"The encouraging macroeconomic outlook and accommodative policy stances are supporting the region's financial conditions," said ADB Acting Chief Economist Joseph Zveglich, Jr. "However, central banks in the region may find they need to be less accommodative to keep inflation in check and to keep in step with US monetary policy changes. That said, the chance of another 'taper tantrum' is limited as the direction of the Federal Reserve's stance is clearly communicated and the region's economic fundamentals remain strong."
Emerging East Asia comprises the People's Republic of China (PRC); Hong Kong, China; Indonesia; the Republic of Korea; Malaysia; the Philippines; Singapore; Thailand; and Viet Nam.
Government bonds remained the dominant segment, increasing 3.9% from the previous quarter to $13.6 trillion. The bond markets of the Association of Southeast Asian Nations (ASEAN) members—many of which suffered from the coronavirus disease's (COVID-19) Delta variant outbreak—grew 14.4% from a year earlier to $1.9 trillion in the third quarter, compared with 12.6% and 7.6% growth in the PRC and the Republic of Korea, respectively.
ASEAN bond markets showed sound market capacity during the pandemic, evident in low bond yields amid rapid market expansion. Domestic financial institutions, particularly banks, anchored bond market functioning. At the same time, a few ASEAN central banks facilitated market liquidity and government financing via asset purchasing programs. Mid- and long-term bonds account for a majority of outstanding bonds in ASEAN bond markets, implying a relatively stable financing structure.
Sustainable bond markets in the ASEAN region plus the PRC; Hong Kong, China; Japan; and the Republic of Korea totaled $388.7 billion, remaining the largest regional sustainable bond market after Europe and accounting for 19.2% of global sustainable bond markets at the end of September. Green, social, and sustainability bonds accounted for 71.6%, 13.0%, and 15.3% of the region's sustainable bonds outstanding, respectively. As this regional market develops, the issuer base is also diversifying from just the financial sector to other business sectors.
The latest issue of the Asia Bond Monitor analyzes the price and yield differences between labeled and unlabeled green bonds. Recent research finds that investors would pay more for labeled or certified green bonds that have better information disclosure and lower reputational risk.
The report also discusses how the Delta variant outbreak and uneven vaccination progress slowed and caused divergences in regional economic recovery; the likelihood of a "taper tantrum" repeat; and risks to the current outlook, including continuing pandemic-induced uncertainty, slow vaccination rollouts in developing countries, and supply chain disruptions.