The North Atlantic Treaty Organization (NATO) celebrated its 70th anniversary and after the long passage of time, it is almost as if the alliance has become a fixture of Europe's security architecture. Founded at the start of the Cold War as a collective response to the threat of Soviet expansion into Western Europe, the alliance has since outlasted the conflict by close to three decades. This longevity should not be taken for granted. Similar organisations like the Southeast Asia Treaty Organization (SEATO) and the Central Treaty Organization (CENTO) failed to even last the full stretch of the Cold War, and in order to remain relevant, the alliance has had to reinvent itself politically following the end of the Cold War, a process that again became necessary in the wake of 9/11. Indeed, it is the ability of Western Europe's old guard dog to learn new tricks that has helped extend its lifespan beyond the completion of its original mandate.
Nonetheless, age has not been kind to the alliance. "No Action Talk Only" – a tongue-in-cheek play on the abbreviated version of alliance's name –is a less than flattering description of its effectiveness but one that is perhaps becoming increasingly justified as criticisms against it mount. Ironically, it is the resurgence of Russia that has precipitated the latest round of soul-searching, with the annexation of Crimea and NATO's relatively muted response highlighting concerns over its continued ability to live up to its raison d'être of being a collective bulwark against external encroachment. The findings of a recent study showing that NATO lacks the capacity to effectively defend its Baltic members against Russian adventurism does little to alleviate these concerns, nor do U.S. President Donald Trump's latest allegations which suggest that the alliance has outlived its usefulness. NATO certainly has its flaws, but these imperfections aside, how valid is this latest wave of criticism? Is it perhaps time to put the old dog down?
The U.S. and NATO: First among Equals
To address the question of whether the alliance still has a future, it is important to examine what allowed it to succeed in the past. Essentially, the question that should be asked is why has NATO managed to survive as long as it did where many of its peers have not. There is one important reason for this – the tangible commitment of U.S. military forces to the defence of Europe. Despite the U.S.' own initial misgivings over the benefits and costs of maintaining a permanent military presence in Europe,[1]the fact of America's eventual contribution provided the foundation upon which a lasting security arrangement could be based. The importance of this cannot be understated. Under the Cold War's bipolar framework and with most of Western Europe's post-war economies in tatters, American commitment was crucial to constructing a collective framework that was credible and effective enough to deter Soviet expansion.
Equally important was the idea that NATO was from the very onset more than just a military pact. It was also an alliance of shared values, underpinned by America's commitment to rebuilding Western Europe's shattered economies and fostering long-term economic growth and prosperity.[2]As encapsulated in the preamble to the North Atlantic Treaty, America's involvement in NATO was not just a marriage of convenience – it is also an acknowledgement of the shared belief in "the principles of democracy, individual liberty and the rule of law". NATO's existence was therefore as much a product of ideology as it was of practicality. This does not however mean that the U.S. was purely altruistic in its outlook toward European security, but there were certainly more commonalities that could be leveraged and built upon than not. Resulting from this, NATO's framework of collective security was a more deliberate and holistic undertaking than similar projects initiated in Southeast Asia and the Middle East, where partnerships were often more opportunistic in nature. U.S. involvement in Vietnam for example was more focused on finding military solutions at the expense of other possible diplomatic and political options, a decision that ultimately doomed the enterprise to failure.
A subtler but no less important contribution which the American involvement in Europe provided was to serve as a moderating force between its European allies, helping to allay pre-existing tensions and mistrust. It should not be assumed that a Europe unified is the natural state of affairs, particularly given the continent's fractious history. It is worth pointing out that in the half-century prior to NATO's formation, the greatest threat to stability in Europe was Germany, not the Soviet Union, a fact that was painfully demonstrated by the two World Wars. Even in the immediate aftermath of the Second World War, Western Europe was more concerned with a potential threat of a revived Germany than that from the Soviet Union.[3]The U.S. may therefore be unequally yoked in terms of its contributions to Europe's collective defence as compared to that of the other NATO member states, but its status in the alliance as a first among equals places it in a unique position to foster greater unity than would otherwise have been possible.
It is perhaps then this tacit acceptance of America's unofficial leadership that has helped the alliance survive its initial birth pangs and even thrive thereafter. At the same time, it is this very dependence on American support that has made President Trump's recent comments about the potential withdrawal of the U.S. from NATO so problematic. While Western Europe has come a long way since the bleak post-war years – the European Union's (EU) total value of all goods and services produced (GDP) surpassed the U.S. in 2017 – future predictions for a NATO shorn of U.S. assistance are understandably pessimistic even if, to paraphrase the famous American author Mark Twain, the rumours of its death are greatly exaggerated. Nonetheless, the historical record proves that NATO will be better off with the continued involvement of the U.S. than without.
The Case for NATO
Should NATO then be allowed to continue to exist? There are numerous angles with which to address this question but this paper shall focus on three conceptual perspectives. First, before deciding whether to put down the guard dog, it is important to consider why it was placed there in the first place. NATO's primary mission has always been the defence of Western Europe, specifically from Soviet encroachment,[4] and while the end of the Cold War provided a brief respite from a state of constant vigilance, the recent tensions with a revanchist Russia suggest that the threat has merely been dormant. The issue then is less whether the guard dog still has a purpose but how the new parameters of its assigned domain should be defined.
Indeed, NATO's post-Cold War eastward extension has been a significant contributing factor toward escalating tensions with Russia,[5]particularly with Russia's interests predominantly focused in the post-Soviet region where it seeks to reinstate and maintain its position as the dominant regional actor, by military force if necessary.[6] Where NATO draws the line is important then because while Russia does not necessarily seek to recreate the Soviet Union,[7] it cannot tolerate Western encroachment into what it perceives as its own backyard. Part of NATO's earlier success rested on the simplicity of its mission as well as the clear dualistic nature of the Cold War's bipolar framework. NATO's eastward expansion has however arguably corrupted its mission and added unnecessary complexity.[8]Despite the gains that have been made thus far by NATO, particularly in the Baltic region, further modification to the existing status quo must be tempered by prudence.
Second, it has already been argued that NATO is more than just a military pact, but the extent to which the ties that bind its member states have evolved bears further examination. In his study on the security dynamics of the Association of Southeast Asian Nations (ASEAN), Dr. Ralf Emmers explored the concept of security communities. According to the constructivist approach, a security community is the final evolution of a defence network, which when fully integrated is characterised by shared identities, values and meanings; multiple and immediate relations among its members; and numerous instances of reciprocity based on long-term interest.[9]In this state, the use of force within the community becomes unthinkable, resulting in a lasting peace. After decades of cooperation, NATO's member states have arguably become, or approached a state close to, what a security community is. While Western Europe enjoyed a long peace during the Cold War in terms of its successful avoidance of open war with the Soviet Union, the long peace was also embodied by the lack of hostilities between the member states of NATO, a feat that Admiral James Stavridis (Ret.), a former Supreme Allied Commander, has described as the alliance's greatest accomplishment. The value of maintaining this community therefore extends beyond the alliance's military objectives, and its successful political and military integration of Germany is perhaps the most prominent testament to the alliance's enduring ability to positively shape and influence the region's security architecture.[10]
Furthermore, NATO's existence serves to enshrine a regional form of strategic culture, one that directs the bellicose energies of Western Europe outwards against an external threat as embodied by the Eastern "Other". Dr. Yitshak Klein defined strategic culture as "the set of attitudes and beliefs held within a military establishment concerning the political objective of war and the most effective strategy and operational method of achieving it", and in the case of NATO, the most obvious means of countering the potential encroachment of a more powerful Eastern foe was through collective defence.[11]The nature of the foe is more subjective, but while the role of penultimate villain has most recently been filled by the Soviet-Russian menace, similar parallels can be drawn to historical precedents such as the Mongols and Ottomans. Neither is the notion of a collective response new, and the German historian Hubertus Prince zu Löwenstein and diplomat Dr. Volkmar von Zühlsdorff, observing the alliance in action during its formative years,even described it as but another manifestation in a long tradition of Western collective defence, one that included the likes of the Hellenic League and Roman Empire.[12] NATO of course formalises these mechanism more concretely, and with the western reaches of the European continent bounded by the sea, ensures the internal peace of Western Europe as long as sufficient buy-in exists in the centrality of the alliance to regional security.
Finally, the reality is that there is no real viable alternative to NATO. Even the United Nations (UN) is inadequate, hampered by its inability to take decisive action in the event of a crisis by the potential abuse of the veto powers afforded to the permanent members of the Security Council. This problem is exacerbated when such actions run counter to the national interests of that member, such as when the Soviet Union vetoed the 1947 decision to restore order in Greece following an earlier local communist uprising.[13]Ultimately, in spite of all its flaws and imperfections, NATO remains the most viable means of enhancing regional security, and while that speaks more to the lack of alternatives than to NATO's own capabilities, it should not detract from the benefits the alliance brings as described above.
Final Musings
In closing, it is fair to say that NATO still has something to contribute in terms of enhancing stability in Europe, and by extension the world. Pressing issues will still need to be resolved, not least the repairing of NATO's fractured relationship with the U.S., but the sense is that the continued presence of NATO is on the whole a positive rather than a negative. Like an old guard dog, NATO can at times be underappreciated, receiving less love than its contributions otherwise deserve. This is because the value of guard dog is measured in what does not happen. It is only in its absence that the guard dog's true worth becomes evident although by then it might already be too late. At age 70, NATO is the venerable guard dog of Western Europe, and old it might be, it still has some teeth to bare.

---
[1] Douglas, Frank R. "American Focus on a Credible Defense of Western Europe." Chap. 1 in The United States, NATO, and a New Multilateral Relationship. Connecticut & London: Praeger Security International, 2008. 7-27.
[2]Ibid.
[3] Ibid.
[4]Perlmutter, Amos. "The Corruption of NATO: The Alliance Moves East." Chap. 7 in NATO Enters the 21st Century. London & Oregon: Frank Cass Publishers, 2001. 129-153.
[5]Ibid.
[6] Renz, Bettina and Hanna Smith. "PART 3: What does Russia want? The importance of understanding Russian goals and intentions." In Russia and Hybrid Warfare – Going Beyond the Label, Aleksanteri Papers 1/2016. Helsinki: Kikimora Publications, 2016. 14-24.
[7]Ibid.
[8]Perlmutter, Amos. "The Corruption of NATO."
[9] Emmers, Ralf. "Enduring Mistrust and Conflict Management in Southeast Asia: An Assessment of ASEAN as a Security Community." TRaNS: Trans –Regional and –National Studies of Southeast Asia 5, no. 1 (2017): 75-97.
[10]Perlmutter, Amos. "The Corruption of NATO."
[11]Klein, Yitzhak. "A Theory of Strategic Culture." Comparative Strategy 10, no. 1 (1991): 3-23.
[12] Prince zu Löwenstein, Hubertus and Volkmar von Zühlsdorff. "The Right to Self-Defense." Chap. 1 in NATO and the Defense of the West. New York: Frederick A. Praeger, Inc., Publisher, 1962. 3-16.
[13] Prince zu Löwenstein, Hubertus and Volkmar von Zühlsdorff. "When the West Disarmed." Chap. 4 in NATO and the Defense of the West. New York: Frederick A. Praeger, Inc., Publisher, 1962. 40-50.
A Matter of Ethics: Should Artificial Intelligence be Deployed in Warfare?
The thriving technological advancements have driven the Fourth Industrial Revolution nowadays. Indeed, the rapid growth of big data, quantum computing, and the Internet of things (IoT) has been reshaping all human activities – it creates a new business model, removes geographical boundaries, and revamps the decision-making process not only on the individual level but also on the state level. It has also influenced all human dimensions, from economic and social sectors to the political sphere. One of the results of this transformation is the emersion of Artificial Intelligence (AI). AI is designed to recognize speech, learn, plan, and solve a problem. Generally, AI is described as a machine that can learn by itself, eventually imitating how the human brain works.
In the past few decades, researchers have achieved a breakthrough related to AI development that significantly exceeds the projections of experts in this field. An AI specialist who created Go-Playing, also known as Alpha Go, in 2014 said that it would take another ten years for a computer to overcome human Go-Champion. However, one year later, a researcher at Google DeepMind successfully established a technology to defeat it. From this point forward, AI is progressing at a breakneck speed. According to Greg Allen and Taniel Chan in their research about Artificial Intelligence and National Security, the evolution of AI is driven by some key factors, including: (1) exponential development in computing capability; (2) enlarged data-set; (3) advancement in the application of machine learning method and algorithm; and most importantly (4) the fast expansion of business interest and investment in AI.
There have been broad usages of AI in recent years, and it can be found in various programs and technological devices. AI has helped humans map and target markets, providing safer travel through a smart car or self-driving car, helping people predict the weather, and much more. The expansion of AI holds a promising future in many sectors, including in military dimensions. Its existence has become a huge turning point for creating autonomous weapons, vehicles, and logistic tools which could increase military capability. Robert Work, in his remark at CNAS Inaugural National Security Forum in 2015, stated that world leaders have been quick to recognize Artificial Intelligence's revolutionary potential as a critical component of national security. It is proved by the increasing global investments in Artificial Intelligence for national security and the rising usage of AI in defense strategy.
The Usage of AI in Military Sector
Since World War II, semi-autonomous weapons have been deployed on the battlefields. This type of weapons system is continuously being developed in numerous countries. The massive growth of Artificial Intelligence, supported by extensive investments in this sector, has transformed semi-autonomous weapons into fully-autonomous ones. Unmanned Aerial Vehicles (UAVs), notably deployed by the US in Kosovo in 1999, were one of the first by-products resulting from this significant development. Back then, the US Defense had not thoroughly investigated how this technology might impact future military actions.
Fast forward two decades after the first usage of UAVs in military operations, the US Government has successfully improved the AI aspect significantly. By 2019, the Sea Hunter Uncrewed Surface Vessel (USV), owned by the United States Navy (USN), successfully sailed without crew from California to Hawaii. It was navigated by AI using a data set collected by the vessel's onboard sensors, radars, and cameras. Further, the US Defense Advanced Research Project Agency (DARPA) launched an AI-powered F-16 Fighter Aircraft in 2020. During some trials, this aircraft could defeat a comparable simulation controlled by a very experienced human. The number of funds invested by the US Department of Defence for AI development has also increased – from USD 600 Million in 2016- 2017 to USD 2,5 Billion in 2021-2022. This trend is not only happening in the US.
China is now using AI to increase the speed and precision of its tactical decision-making by automating its command and control system. This practice effectively established predictive operational planning. Apart from that, the government of China has already begun testing AI-enabled USVs for future development in the South China Sea. Russia might lag, but Putin presumably does not want to be excluded in this race as the government has targeted 30 percent of its entire military forces to become robotic by 2025. Russia is also working on multiple fronts by conducting research focused on using AI in information operations and increasing the efficacy of land warfare operations. This indicates how AI has gained compelling popularity among various states regarding its military usage. It seems that the prospect of wars using robots with minimum or even no human involvement in the future would be inevitable.
Deploying AI in Warfare: Against Human Ethics?
Along with technological development, military warfare is also growing; both are interwoven. The emergence of Artificial Intelligence would bring up the same effect, if not more. The initial indications have clearly shown how AI will play a significant role in shaping future wars. Even when AI has yet to be tested in the harsh environment of the natural world of combat operations, its prospect for future warfare cannot be ignored. However, despite all its benefits to improving a state's defense and offense capability, the increasing adoption of AI into military forces gives rise to a debate, mainly related to legal, ethical, and security perspectives. Current AI development can address some specific problems more consistently than humans. It can detect patterns and anomalies within vast unstructured data faster than humans. According to Peter Layton in his publication – Fighting Artificial Intelligence Battle: Operational Concept for Future AI-Enabled Wars – the latest generation of AI is influential in five main areas, including identifying, grouping, generating, forecasting, and planning. Humans can execute those activities, but AI can do those tasks efficiently and much faster.
Nevertheless, some aspects need to be considered for further deployment of AI in warfare. With all of the intelligence an AI machine can uphold, it would still be vulnerable to cyberattacks, which brings more concern towards security. Furthermore, AI is still proven to be unably adapting to minor changes. It still has difficulties to apply the same knowledge to different contexts. And with human life at stake, this shortcoming is more or less unacceptable. In a war situation, where it is a matter of life and death, removing human footprints in the decision-making process would put ground morals and ethics at stake. After all, AI is not a human; in a general context, it should not be the one making a decision over a human.
Between the Greater Russia and the MAD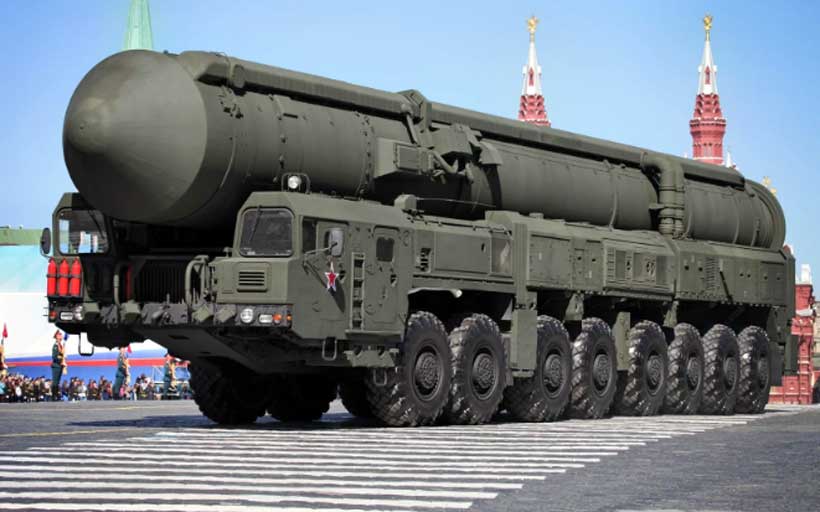 With 'The Greater Historical Russia', the impossible that the dream appears to be, and the Russian defeat at Liman and the attack on Nord Stream 1 and Nord Stream 2, the threat to use nuke by Russia has increased implying the 'Mutual Assured Destruction (MAD) and the catastrophic time for Europe ahead. MAD, a term coined by Donald Brennan, a strategist working in Herman Kahn's Hudson Institute in 1962, is flying high with the audience of IR theatre and war strategy. This has come in the wake of seven month long Russo-Ukrainian war that has lingered far longer than expectation, of course with the clandestine support of NATO. The whole gamut revolves around the Russian allegation against the US and the European counterparts that Russia is not like the African and Asian states and it won't allow its colonisation with NATO reaching at its thresholds by accepting Ukraine as its new member. In a time when US is having tough time with China, the NATO's insistence has pushed Russia further towards Asia.
The heat generated by the current Russo-Ukrainian conflict fuelled by NATO and its sympathisers on the one hand and Russia on the other reminds one of 35 days long deadlock of Cuban missile crisis of 1962. In 1961 in the aftermath of US deployment of Jupiter Missiles in Italy and Turkey Soviet Union had positioned its nuclear missiles in Cuba when the Soviet First Secretary Nikita Khrushchev signed an agreement with Cuban Prime Minister Fidel Castro in July 1962 over the deployment and the construction of a number of missiles launch facilities.
Now Russia after the occupation of Crimea and Sevastapol in 2014 has, in the midst of the war, unilaterally conducted a referendum against the world opinion on September 23, 2022 to annexe parts of Donetsk, Kharkiv, Kherson, Luhansk, Mykolaiv, and Zaporizhzhia oblasts. The annexation of about 15 percent of the territory of Ukraine is the first one after World War II and would not be digested by the world community easily. The Secretary General of NATO Jens Stoltenberg has even remarked that the NATO members "do not and will not recognise any of this territory as part of Russia". Russian President Vladimir Putin calls them the 'accession treaties' that is the part of Russia's unfinished task of the past to annex the ethnically Russian dominated areas. President Putin remarked that "The people made their choice, and that the choice won't be betrayed by Russia. Occupied regions of Ukraine vote to join Russia in staged referendums. The Russian leader called on Ukraine to end hostilities and hold negotiations with Moscow – but insisted that the status of the annexed territories was not up for discussion (Mayens, September 23, 2022). The proposal implies forced annexation and a complete surrender, which could have been the option of President Volodymyr Zelensky, well before the calling for so much of destruction of life and material.
The Russian action calls for serious attention since it rips apart the spirit of international law and United Nations by opening up the alternative of forcible solution to the unfinished territorial agendas of different states. The United Nations Secretary General António Guterres remarked that in this moment of peril, I must underscore my duty as Secretary-General to uphold the Charter of the United Nations. The UN Charter is clear. "Any annexation of a State's territory by another State resulting from the threat or use of force is a violation of the Principles of the UN Charter and international law (United Nations). The Russian actions entails UNSC response under article 39, 41 and 42 of United Nations Charter which may further alienate it from the world community.
The Russian action is not short of rather goes beyond the 'China's 'Salamy Slice Strategy' of annexing the opponent's territory in a series of small operations. Should China and India follow the suit in Taiwan and Kashmir? There is a long list of unsettled territories and boundaries among states which may catch fire from the Russian action. Should the states put aside the peaceful negotiations and return to the pre-World War state of complete chaos and colonisation? This is a big question in the face of the nuclear threat posed by President Vladimir Putin.
Russian President Vladimir Putin warned Western countries that his country's nuclear threats are 'not a bluff'. Vladimir Putin recapped to the world President Harry S. Truman's decision to drop atomic weapons on Hiroshima and Nagasaki in 1945. Ramzan Kadyrov, the Chechen leader has also advised President Putin to use low yield nuclear weapon (tactical weapon) to plug the NATO offensive against Russia in Ukraine. The use of such weapon would be less lethal (about 1 to 2 percent) to the one dropped in Hiroshima and help determine the war outcome. "Putin also issued the warning after accusing Western countries of resorting to 'nuclear blackmail', despite no NATO countries threatening to use nuclear weapons. The threat comes as Russia's prospects in Ukraine are grim, with Putin's military losing thousands of square miles of territory to a Ukrainian counteroffensive" (Hagstrom, September 21, 2022). President Biden has slammed Russia for having violated the core tenets of UN Charter. Nuclear war shouldn't be fought as its solves nothing. But NATO will protect every inch of its territory. In the heat of exchange the nearing of catastrophe frightens the world.
The Russian decision of mobilising citizens to bolster Ukraine invasion has evoked huge resistance from people. A Russian draft officer has been shot in Siberia region and people have thronged on to the streets to protest against the forced recruitment. Therefore, President Putin has been placed at two hostile fronts – domestic and international and his mercurial position is keeping everyone at the toes. Winston Churchill's counsel of declaring 'Diplomacy as the art of telling people to go to hell in such a way that they ask for directions' may sound interesting but let's remember, Russia is not a state that looks for direction. But President Putin should remember that 'as he has failed in Ukraine, the use of nuke may fail him more and bring assured destruction to Russia'.
References
Deudney, Daniel. (1983). Whole earth security: A geopolitics of peace. Washington: Worldwatch Institute. p. 80.
Hagstrom , Anders. (2022, September 21). Fox News. Putin warns West: Threat to resort to nuclear weapons 'not a bluff'. Putin claims NATO countries are using 'nuclear blackmail.
Maynes, Charles. (2022, September 30). NPR. Putin illegally annexes territories in Ukraine, in spite of global opposition.
Secretary General. (2022, September 29). Secretary-General's remarks on Russian decision on annexation of Ukrainian territory [as delivered]. www.un.org
Urgency of Reviewing India-Pakistan's CBMs & Risk Reduction Measures
In an unprecedented event on March 9, 2022, India launched a missile, reportedly identified as the BrahMos supersonic cruise missile, which landed in Pakistan. After crossing the international border, the missile travelled 124 kilometres at an altitude of 40,000 feet into Pakistani airspace before impacting near the city of Mian Channu, Khanewal District. Following the incident, India started issuing clarification statements only after Pakistan reported the matter. In its first statement, India noted that the missile was accidently launched owing to a technical malfunction. Later, the Indian government changed its statement and termed it a human error, involving 'possible lapses on part a Group Captain and a few others.' Around six months later, India terminated the services of three Indian Air Force (IAF) officers, after a Court of Inquiry found 'deviation from the Standard Operating Procedures (SOPs)' by the officers and held them responsible for misfiring the missile.
Pakistan has rejected the purported closure of the incident and called the findings of the Court of Inquiry unsatisfactory and inadequate. While reiterating its call for a joint probe, Pakistan not only termed Indian clarifications 'simplistic' but also criticised the country for failing to immediately inform when the missile was launched. India's failure to communicate the incident violated the 1991 agreement with Pakistan on preventing air space violations. Under the agreement, both India and Pakistan have to inform and investigate inadvertent violations of airspace promptly. Meanwhile, India also failed to activate the high-level military hotline to inform Pakistan. Both the countries maintain mechanisms of hotline contact between their Director Generals of Military Operations (DGMOs) to resolve misunderstandings.
Fortunately, the missile was unarmed and no lives were lost. Pakistan also responded towards the situation with restraint. However, the incident marks an alarmist event. Whether the incident was an accidental launch, an unauthorised launch, or a simulated exercise, it suggests not only shortcomings in India's technical and procedural system but also shows its irresponsible behaviour as a nuclear weapon state. The incident also raises numerous questions about the country's safety protocols, Command and Control (C2) of nuclear weapons and missiles, and communication mechanisms. The situation would have escalated if the accident had led to destruction or loss of lives, since there were several indications that Pakistani authorities had considered retaliation. Second, if the incident had taken place during a crisis, it could have led to inadvertent military escalation owing to miscalculations.
In this regard, there is a great urgency that both India and Pakistan collaborate on Confidence Building Measures (CBMs) to ensure that such accidents or unauthorised launches do not take place in the future. Even if they do, the two countries should be able to inform each other before any military response.
First, India and Pakistan need to review their joint 2005 Agreement on the Pre-Notification of Flight Testing of Ballistic Missiles. The agreement covers surface-to-surface ballistic missiles only, and each country provides at least three days' notice for a test launch. Both countries are obligated to not situate test launch sites within 40 kilometres of their shared border nor land a weapon closer than 70 kilometres from the border. However, the agreement has its limitations as it does not cover cruise missiles. In 2005, New Delhi declined to accept Islamabad's proposal to include launch of cruise missiles in their joint agreement on pre-notification of ballistic missile launches. Currently, Pakistan and India have multiple and diverse types cruise missiles in their arsenal with high ranges. There is an urgency of expanding the pre-notification regime to include cruise missiles, including surface, air or sea-launched versions to avoid misunderstanding. Second, in order to avoid accidents in case of routine maintenance or inspection, India should efficiently and professionally ensure safety precautions regarding its missiles.
Additionally, India and Pakistan could also consider devising new Risk Reduction Measures (RRMs). For example, missiles that are scheduled to be inspected, both countries need to configure their weapons' guidance systems to unoccupied places such as oceans or deserts where they pose minimum dangers. Moreover, the weapons' pre-fed adversary target locations need to be removed while used for inspection, training, or simulated exercises. The maintenance of actual coordinates of adversary targets could lead to unintended escalation in accidental launches. These measures would not only help avoid accidents, they could also serve as an added layer of protocol to minimise the possibility of unauthorised launch.
However, accidents happen despite best safety protocols as there are limits of safety procedures. In such a possibility, there is a need of haste to communicate accidental launches. India needs to make use of existing channels of communication to avoid miscalculations in times of crises. The BrahMos missile incident indicates that crisis could erupt quite quickly between India and Pakistan. Unless the two countries adhere to their existing CBMs and establish new measures, mitigating such incidents and preventing risk of escalation could become a Gordian knot.