The dawn of 2020marked as a new era for Indonesian foreign affairs, as the Indonesian government issued a new foreign policy direction shortly after Retno Marsudi re-elected as foreign minister for the second period. On its new foreign policy direction, Marsudi altering her previous policy priority to compete with global economic challenges in the new decade.
In 2015 Marsudi asserted that Indonesia top priority in foreign affairs was to maintain state sovereignty. It was demonstrated by Indonesia intensity to carried out around 129 border negotiation which resulted in significant border agreements. But now, economic diplomacy seemingly become Indonesia's prominent foreign policy outlook.
With a sluggish economic growth in the past five years, Indonesia intentionally boost its economy through the implementation of economic diplomacy strategy. Theoretically, economic diplomacy is the government strategy to engage possible stakeholders (states or non-state actors) for the sake of national economic growth.
In the Indonesian case, economic diplomacy originally has been implemented through many initiatives during Marsudi's first period. Economic ties with new and potential market in other regions such as South Asia, Latin America and African states have grown stronger. Also, profound bilateral cooperation was taken through comprehensive economic partnership (CEPA) mechanism, among others are Indonesia CEPA agreement with Australia, Chile and European Free Trade Association that was finally concluded in the past five years.
One of the most historical breakthrough was the achievement to hold Indonesia-Africa Forum (IAF) in 2018. It was a milestone for Indonesia footprint in African states. The dialogue has generated more than $568 million business deals and $1.3 billion business announcement only two days after the forum.
Unfortunately, we all also witnessing the plot-twist result of Indonesian economic growth. In the beginning of president Joko "Jokowi" Widodo administration, he was very confident to elevate Indonesia economy up to 7% in GDP. In fact, Indonesia economy has desperately stagnated in the number of 5%. And yet, Jokowi's economic priority in the second terms predominantly inherited by his lack of budget infrastructure development projects. It reflects that some possible hurdles for Indonesia's economic diplomacy are waiting to be address.
The challenge lay down in the weeds
According to Minister of Public Works and Public Housing (PUPR), Basuki Hadimuljono, reiterated that infrastructure development in 2019-2024requiring up to Rp2000 trillion budget allocation, while the state-budget only covered Rp620 trillion out of it.He added that private sectors and state-owned company are expected to patch the remaining budget through cooperation framework. This scheme is about the same of the previous National Medium-Term Development Plan (RPJMN) mechanism, stated that 36% of the development were funded by the private sectors and 22,2% were funded by state-owned company.
The problem is, Indonesia was hassles in providing economic capital for infrastructure projects. As what Prameswaran has been said, the challenge for Indonesia is not in the big picture, but lay down in the weeds. Some local investors are unable to provide assistance due to large funding requirement. Otherwise, foreign investor become the government's main target.
However, to attract foreign investors─ it requiring radical changes in the system and circumvent possible regulatory hurdles, included stipulate legal certainty, restrain corruption and harmonizing regulations. After so many ineffective economic package policies, the omnibus billhas been offered from the government as an ultimate effort to regulate its investment environment. The bill encompassed 82 regulations and expectedly boost Indonesia GDP up to 6% in a near future. However, Indonesia's limited experience on conducting omnibus law remain questioned.
Therefore, Jokowi inward looking foreign policy has been impeded by the ─ classical problem of─ convoluted bureaucracy, his round-the-clock slogan of "deregulation and simple bureaucracy" has not been able to realize by far, as we can see when he evokes it again in 2019 election. Having said that, Marsudi's five-year foreign affairs plan of4+1 formula raises doubts.
Trade deficit
Another critical challenge for Indonesia's economic diplomacy is how to conduct productive trade relations, as the country facing massive deterioration of its trade balance. In April 2019, Jokowi administration recorded the worst trade deficit in history, as the nation posted $2.5 billion trade deficit, surpassing the previous record $2.05 billion in December 2018. After some improvement in a next months, trade deficit reoccurs in November 2019 when the number slumped at $2.29 billion.
The global economic slowdown that resulted to the lower demand for Indonesian products deemed to be the causative factor of trade deficit and contributed to the slackening of Indonesia's export absorbency. In the other side, huge imports have caused to the increasing number of trade deficit into $3.11 billion during 2019.
In addition, oil and gas exports posted as one of the most influential commodities for Indonesian trade balance fluctuation. The April and November trade deficit were among the example of how oil and gas deficit causing to the widen gap of Indonesia's trade balance. Reversely in May 2019, Indonesia encounter trade surplus, mostly driven by a narrower trade balance in oil and gas industry. It reflects that oil and gas exports largely influence the trade balance stability.
Therefore, Indonesian trade relations are an important feature to achieve the resilience of economic diplomacy. Given its three-quarter of Indonesian exports by value were delivered to Asian countries, Indonesia's commendable efforts to open diplomatic relations to new regional market need to encompass Indonesia's export interests. Especially, widening a new and promising relations to other regions for oil and gas sectors, it is required as most of Indonesian exports (23%) are driven by this product.
Overall, Indonesian economic diplomacy direction depended on domestic ability to produce a healthy and competitive environment for economic activity. Similarly, government intervention to manage productive trade relations are crucial in order to escalate Indonesian economic growth.
Reforming Islamic jurisprudence shapes the battle to define moderate Islam
The world's largest, most moderate Muslim civil society movement has called for abolishing the concept of a caliphate in Islamic law.
In a radical break with Islamic orthodoxy, Indonesia's Nahdlatul Ulama, or Revival of Islamic Scholars, wants to replace the concept with notions of the nation-state and the United Nations that are non-existent in Islamic legal tradition.
The reform is one pillar of the Indonesian movement's campaign to update or, in its words, recontextualise Islamic law, free it from obsolete or outdated concepts, and deprive militants and jihadists of the ability to employ references to the Sharia to justify their theology, extremism, and violence.
Islamic scholars from across the globe discussed the call in February at a day-long gathering in the Javan city of Surabaya.
The call was made public at a commemoration of Nahdlatul Ulama's centennial, according to the Hijra calendar, attended by more than a million people and Indonesian President Joko Widodo.
"Nahdlatul Ulama believes it is essential to the well-being of Muslims to develop a new vision capable of replacing the long-established aspiration, rooted in Islamic jurisprudence (fiqh), of uniting Muslims throughout the world into a single universal state, or caliphate," the group said in a declaration read out at the rally.
"It is neither feasible nor desirable to re-establish a universal caliphate that would unite Muslims throughout the world in opposition to non-Muslims. As recently demonstrated by the Islamic State in Iraq and Syria, or ISIS, attempts to do so will inevitably be disastrous and contrary to the purposes of Sharia (Islamic law): i.e., the protection of religion, human life, sound reasoning, family, and property," the declaration went on to say.
The declaration asserted that Islam faces a choice: maintaining the obligation to create a caliphate or reforming Islamic jurisprudence so that it would "embrace a new vision and develop a new discourse regarding Islamic jurisprudence, which will prevent the political weaponization of identity; curtail the spread of communal hatred; promote solidarity and respect among the diverse peoples, cultures, and nations of the world; and foster the emergence of a truly just and harmonious world order."
In a discussion paper distributed shortly after the conference and rally, Nahdlatul Ulama argued that "Muslims should acknowledge that a socio-political construct (or imperium) capable of operationalizing these normative views across the Muslim world no longer exists" and that "as a consequence of choosing to retain the established fiqh view and norms associated therewith it would automatically be a religious duty incumbent upon Muslims to revive the imperium. This, in turn, would necessarily entail dissolving any and all existing nation-states, under whose governance Muslims currently live."
With its assault on the concept of a caliphate, Nahdaltul Ulama laid down a gauntlet for autocratic and authoritarian Muslim leaders by insisting that change needs to involve reform of religious jurisprudence, not just social change as enacted, for example, by Saudi Crown Prince Mohammed bin Salman and United Arab Emirates President Mohammed bin Zayed.
These reforms have enhanced women's social rights and professional opportunities, eased restrictions on gender interaction and embraced Western-style entertainment. However, the two men anchored these changes in civil law and ignored the need to synchronise religious jurisprudence.
Anchoring the United Nations and its charter in Islamic religious law would increase the pressure on regimes in Muslim-majority countries to respect human rights.
The UN charter obliges member states to honour "fundamental human rights…the dignity and worth of the human person, (and)…the equal rights of men and women" and makes it legally binding for its Muslim signatories.
Muslim-majority states accepted that obligation when they joined the United Nations but couched their religious legitimacy in the language of Islamic jurisprudence employed by the Organisation for Islamic Cooperation (OIC) rather than the law itself. The OIC groups the world's 57 Muslim-majority countries.
By reforming the jurisprudence, Nahdlatul Ulama would introduce guardrails for the incorporation by OIC members of Islamic law into domestic legal systems.
Muslim-majority states have used the OIC framework to monopolise the right to interpret Islamic law and bend it to their will, for example, in the justification of abuse of human rights or, in the case of countries like Saudi Arabia and the UAE, to demand on religious grounds absolute obedience of the ruler.
The OIC and some of its members have also used the organisation's religious framing and the 1990 Cairo Declaration on Human Rights in Islam to curtail rights enshrined in the UN charter and lobby the United Nations to classify blasphemy a violation of human rights and a form of hate speech.
In its discussion paper, Nahdlatul Ulama asserted that the view that Muslims "should have a default attitude of enmity towards non-Muslims, and that infidels…should be subject to discrimination is well established within turats al-fiqh (the tradition of Islamic jurisprudence)."
An earlier Nahdlatul Ulama concept note argued that "views that legitimize and encourage suspicion, segregation, discrimination, and even hostility and conflict towards those who bear the legal status of infidels…are scattered throughout classical texts on Islamic jurisprudence (fiqh). These views…are still considered…credible…and should…be practiced to the present day. Muslim groups involved in conflict – including the use of violence and terror – defend their position by citing references from these classical fiqh texts."
In 2019, the Indonesian movement put its money where its mouth is when 20,000 of its scholars issued a religious finding that eliminated the category of the kafir in Islamic law.
Nevertheless, notions of the kafir and the caliphate remain at the core of the Muslim world's response to religious extremism and jihadism.
An open letter to Abu Bakr al-Baghdadi, the late leader of the Islamic State, written after he declared in 2014 a caliphate with himself as caliph, insists that "there is agreement (ittifaq) among scholars that a caliphate is an obligation upon the Ummah (Muslim community)." The letter was signed by 126 prominent Islamic scholars, including participants in the Surabaya gathering.
Among the letter's signatories were state-aligned proponents of autocratic forms of moderate Islam.
They included Egyptian Grand Mufti Shawqi Allam; Egypt's former grand mufti, Ali Goma, who religiously endorsed the killing on a Cairo square in 2013 of some 800 Muslim Brotherhood protesters by security forces; several members of Egypt's state-controlled Fatwa Council; and scholars At Al Azhar, Cairo's citadel of Islamic learning.
Also among the signatories were Abdullah Bin Bayyah, the head of the Fatwa Council of the United Arab Emirates, and one of its other members, popular American Muslim preacher Hamza Yusuf, men who do the Gulf state's religious bidding.
For over two decades since the 9/11 Al Qaeda attacks on New York and Washington, Muslim leaders and their Western counterparts have insisted that Islam and Islamic jurisprudence need no reform. Instead, they asserted that jihadist ideology was not rooted in religious jurisprudence and misrepresented and misconstrued the faith.
Muslim autocrats and authoritarians have used that argument to squash criticism of their often brutal, repressive rule that brooks no dissent and potentially breeds violence.
Moreover, casting jihadists as deviants rather than products of problematic tenants of religious jurisprudence allowed them to project autocracy as a necessary means to combat extremism and promote a moderate Islam.
At the core of the debate about Islamic jurisprudence is a battle for the soul of Islam, involving competition for religious soft power and leadership of the Muslim world and who will define what constitutes moderate Islam.
The battle pits Nahdlatul Ulama's concept of Humanitarian Islam, which calls for religious reform and unambiguously endorses pluralism, the United Nations Charter, and the Universal Declaration of Human Rights against an autocratic definition of moderate Islam that rejects religious and political reform but supports a formalistic, ceremonial form of inter-faith dialogue and the loosening of social restrictions long advocated by orthodox Islam.
Autocrats and their clerical surrogates ignore Nahdlatul Ulama at their peril.
The Indonesian movement is a player with an estimated 90 million followers, 18,000 religious seminaries, 44 universities, tens of thousands of Muslim scholars that constitute a religious authority independent of traditional centers in the Middle East, a five million-strong paramilitary militia, and a political party that was part of Indonesian President Widodo's coalition government and is an influential member of Centrist Democrat International (CDI), the world's largest alliance of political parties.
The degree to which Nahdlatul Ulama threatens proponents of an autocratic definition of moderate Islam was reflected in how prominent state-aligned Islamic scholars responded to invitations to attend the Surabaya conference.
Messrs. Bin Bayyah and Goma initially said they would attend but then backed out. Others opted for making statements on a video link but not participating in person or any of the conference's deliberations.
Mr. Allam used his video remarks to express opposition to Nahdlatul Ulama's proposition.
Muhammad Al-Issa, the head of the Muslim World League, Mr. Bin Salman's vehicle for propagating his autocratic version of moderate Islam, chose to ignore Nahdlatul Ulama's proposition in his video statement. Like Mr. Allam, Mr. Al-Issa had initially indicated that he would attend.
Theirs is a tactic that, at best, buys time for state-aligned Muslim scholars.
"The majority of the Arab and Islamic delegations at the First International Convention on Islamic Jurisprudence for a Global Civilization expressed a traditional mindset that has become outdated. For they dealt with the centenary of Nahdlatul Ulamas as if it were a carnival," said Muhammad Abu Al-Fadl, deputy editor of Egypt's Al Ahram newspaper, in his coverage of the Surabaya conference.
"If the leadership of religious institutions in the Arab world continues to insist on burying their heads in the sand, then Arab states may require another 100 years to absorb the Nahdlatul Ulama project in Indonesia," Mr Abu Al-Fadl went on to say.
In the ultimate analysis, state-aligned Islamic scholars are either able to coopt the Indonesian reformers or will be forced to join the bandwagon.
So far, efforts to coopt Nahdlatul Ulama have failed.
These efforts included the Muslim World League joining Nahdlatul Ulama in hosting the November 2022 Religion Forum 20 or R20, a summit of religious leaders in Bali on the eve of the meeting of leaders of the Group of 20 (G20) that groups the world's largest economies.
Indonesia, last year's G20 chair, designated the R20 as an official G20 engagement party.
To be sure, Nahdlatul Ulama's jurisprudential reform is not binding in a Muslim world where religious legal authority is decentralised.
Nevertheless, influential commentators in Saudi Arabia and Egypt echoed Nahdlatul Ulama's call for religious reform without referencing the Indonesian group.
"All religious institutions must work to create contemporary jurisprudence… The Islamic world is waiting for (Saudi Arabia) to lead it towards contemporary jurisprudence," said Okaz newspaper columnist and Jeddah-based lawyer Osama Al-Yamani.
Earlier, journalist Mamdouh AlMuhaini proposed top-down Martin Luther-like religious reforms that would be led by Mr. Bin Salman, even though the writer stopped short of identifying the crown prince by name.
"There are dozens, or perhaps thousands, of Luthers of Islam… As such, the question of 'where is the Luther of Islam' is wrong. It should instead be: Where is Islam's Frederick the Great? The King of Prussia, who earned the title of Enlightened Despot, embraced major philosophers in Europe like Kant and Voltaire and gave them the freedom to think and carry out scientific research," Mr AlMuhaini said.
The journalists' comments suggest that, at the very least, Nahdlatul Ulama has laid down a marker that other Muslim religious authorities will ultimately be unable to ignore if they want recognition as proponents of a genuinely moderate Islam.
Commenting on Nahdlatul Ulama's campaign, Mr. Abu Al-Fadl, the Al Ahram editor, asserted that Middle Eastern Islamic scholars risk missing the boat.
"The majority of Muslims look to the Arab world for guidance, and the failure of this region's ulama (Muslim religious scholars) to keep up with the transformations taking place will lead to the rug being pulled out from under them. For the openness adopted by Nahdlatul Ulama and its new Chairman, Yahya Cholil Staquf, will not stop at one specific country or region."
Bali governor puts Indonesia on the spot
A refusal by the governor of Hindu-majority Bali to host an Israeli soccer team at this May's FIFA Under-20 World Cup puts the Indonesian government, football association, and foremost Muslim civil society movement on the spot.
Wayan Koster's refusal threatens to lead FIFA to deprive Indonesia of its hosting rights, which oblige it to allow national teams to compete irrespective of whether countries recognise one another.
The International Paralympic Committee (IPC) stripped Malaysia of its right to host the 2019 World Para Swimming Championship because it refused to allow Israel to participate.
"We request the Minister adopt a policy of banning the Israeli team from competing in Bali. We, the provincial government of Bali, declare that we reject the participation of the Israel team to compete in Bali," Mr. Koster wrote in a March 14 letter to the youth and sports ministry a day after the minister resigned because he was elected deputy chairman of the Indonesian Football Association.
Indonesia has refused to establish diplomatic relations with Israel as long as it fails to resolve its conflict with the Palestinians.
The rise of a far-right, ultra-nationalist, and religiously ultra-conservative Israeli government has further dampened already dim hopes that the world's most populous Muslim-majority country and democracy would follow the United Arab Emirates and other Arab states in recognising Israel soon.
This week, the Indonesian foreign ministry condemned Israeli Finance Minister Bezalel Smotric's denial of Palestinian existence. "Indonesia continues to consistently support the Palestinian people's struggle," the ministry said.
Earlier, ministry spokesman Teuku Faizasyah asserted that Israeli participation in the FIFA tournament would "not weaken Indonesia's consistent position on Palestine."
If world soccer body FIFA deprived it of its hosting rights, Indonesia would suffer a setback in positioning itself as a Southeast Asian sports powerhouse. In addition, Indonesia would lose its spot in the championship.
Indonesia qualified for this year's tournament as the host rather than because of its performance in qualification matches.
Mr. Koster's refusal was celebrated by Muslim oragnisations, including the Indonesian Ulama Council (MUI), which groups the country's top clerics, and Muhamadiyya, the country's second-largest civil society movement with tens of millions of followers. The groups this week protested Israeli participation in the tournament.
The refusal and the protest shine a spotlight not only on pro-Palestinian sentiment in Indonesia but also the at times blurred distinction between legitimate criticism of Israel and anti-Jewish sentiment.
To be sure, the slogans of the protest were anti-Israel, not anti-Jewish.
Even so, Israel has sought to spin crossovers between the two to discredit all criticism as anti-Semitism.
The controversy over Israeli participation in the Bali tournament also highlights the outreach to Jews and other faith groups by Indonesia's Nahdlatul Ulama, the world's largest and most moderate civil society movement.
Nahdlatul Ulama has been a driving force in reforming Islamic law to rid it of supremacist concepts. Some 20,000 Nahdlatul Ulama Islamic scholars in 2019 replaced the notion of the kafir or infidel with that of a citizen.
In addition to tackling problematic concepts in Islamic law, Nahdaltul Ulama has been at the forefront of efforts to take inter-faith dialogue beyond hollow, feel-good, lovey-dovey declarations by putting historical grievances, truth-telling, and the troubled histories of Islam and other faiths on the agenda.
Nevertheless, Aan Anshori, a young Nahdlatul Ulama religious scholar, cautions that antipathy in Indonesia toward Jews is "culturally deep-seated."
"The key to turning this around is to instill the importance for coexistence between Islam and other faiths today," Mr. Anshori said.
Last year a poll showed that 51 per cent of Indonesian Muslims had serious misgivings about having Jewish neighbors, 57 percent opposed allowing Jews to teach in public schools, and 61 per cent objected to Jews becoming government officials.
Also last year, the alliance of Islamic scholars on the Javan island of Madura, a region with a history of intolerance, and a conservative cleric who identifies himself as a Nahdlatul Ulama associate, protested against the participation of an Argentinian rabbi, known for her advocacy of human rights, in a summit of religious leaders organised by the group under the auspices of Indonesian President Joko Widodo.
"I am an NU (Nahdlatul Ulama) member, rejecting (the leadership's) efforts to bring the Jewish rabbi, Silvina Chemen, to Indonesia… The infidels from the children of Israel have been cursed through the words of Prophet Dawud (David) and Prophet Isa (Jesus), son of Maryam (Mary)," said Luthfi Bashori Alwi.
A Sunni Muslim mob armed with machetes and sickles attacked and burnt a Shiite-majority village in Madura in 2012, killing a 45-year-old woman and seriously injuring several others.
Nahdlatul Ulama secretary general Yahya Cholil Staquf set the tone for his leadership by addressing, shortly after his election in January 2022, the Simon Wiesenthal Center on Holocaust Remembrance Day as well as the Palestinian embassy in Jakarta at about the same time.
Calling for compassion, Mr. Staquf referred only obliquely in his Wiesenthal Center speech to the Palestinians and other repressed groups.
He noted that "Holocaust remembrance serves as a memorial and vivid reminder of the cruelty, violence, and suffering that so many human beings — acting in the name of their 'group identity,' whether ethnic, racial, religious, or political — have, for thousands of years, inflicted upon others. This pattern of malignant behavior continues to threaten humanity, and civilization itself, to the present day."
Mr. Staquf was more explicit in his speech at the Palestinian embassy.
"If the people of the world fail to ensure a better, more noble future for Palestinians, humanity will have failed in its collective responsibility to ensure a better future for everyone, by fostering the emergence of a global civilization," Mr. Staquf said.
Mr. Staquf is one of two Nahdlatul Ulama leaders, alongside former Indonesian President Abdurrahman Wahid, to visit Israel. Mr. Wahid travelled when he was head of Nahdlatul Ulama rather than when he was head of state.
Discussing his own experience Ezra Abraham, a 29-year-old Indonesian Jew, suggests that engagement with others as well as frank and honest dialogue as pursued by Mr. Staquf produces results.
"Part of the problem (in Indonesia) is that the decades-long invisibility of the Jewish people has made us into the convenient, never-seen bogeyman,.. At past interfaith events, (Indonesian) Muslim participants were initially uncomfortable when I told them I was Jewish. But by the end of our frank discussions, most would've modified their stance," Mr, Abraham said.
Indonesia: Climate Change Challenges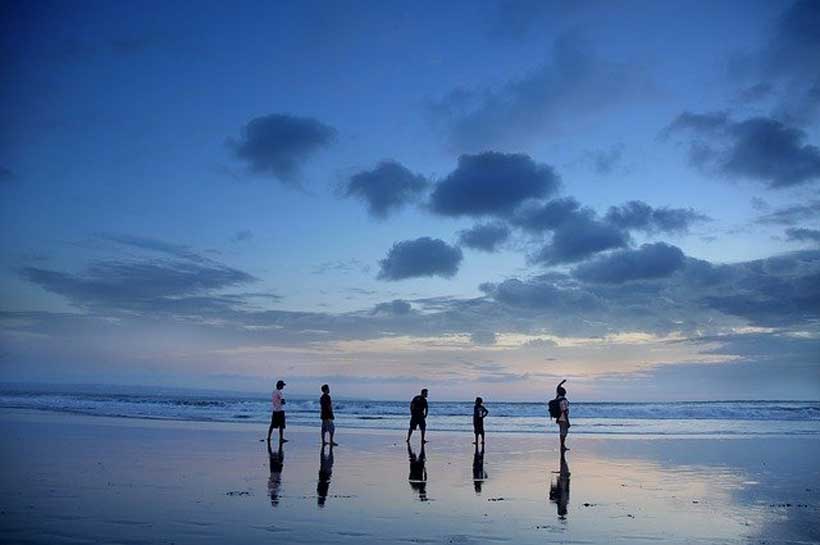 Indonesia is a nation that faces the threat of drowning land due to the impact of global warming. Rising sea levels, caused by the warming of the Earth's atmosphere, are leading to the submergence of low-lying areas in the country, particularly in coastal regions. The effects of this problem are not limited to the loss of land, but also include the displacement of populations, environmental degradation, and the potential exacerbation of social, economic, and political issues.
The impact of rising sea levels on Indonesia's archipelagic status is a real concern as many of its outermost islands and basepoints could potentially be submerged in the future. As an archipelagic state, Indonesia benefits greatly from UNCLOS, which permits Indonesia to claim sovereignty over all of the waters between its islands. If sea levels rise, the basepoints used for drawing archipelagic baselines might be partly or fully covered by water, affecting the measurement of the allowable distance between all the basepoints. In a worst-case scenario, where the basepoints are completely underwater, Indonesia may have to find alternative basepoints or rebuild them. Rising sea levels could cause total territorial loss, including the loss of baselines and maritime zones measured from them.
To protect its archipelagic status, Indonesia needs to assess the impact of sea level rise on the outermost points of its islands and drying reefs of its archipelago. It should also record the heights above sea level of these basepoints, and how much they will be impacted by sea level rises. Indonesia could consider declaring its archipelagic baselines as final once defined and declared notwithstanding sea level rise. Additionally, Indonesia and other Southeast Asian countries threatened by rising sea levels could adopt a regional declaration recognizing the stability of their baselines and secure their maritime entitlements. As chairs of ASEAN this year, Indonesia could take this opportunity to take collective action to respond to rising sea levels.
The issue of environmental migrants is closely tied to this problem. Environmental migrants are individuals or groups of people who are forced to migrate from their homes or communities due to environmental factors, including sea-level rise, drought, desertification, and deforestation. In the case of Indonesia, many people are likely to be displaced by the submergence of coastal areas, which can lead to a variety of challenges, including housing insecurity, food insecurity, and economic instability.
In the face of these challenges, it is crucial that effective protection of fundamental human rights is prioritized. This includes ensuring that the rights of environmental migrants are protected, including the right to adequate housing, food, and healthcare, as well as the right to seek asylum and protection from persecution. Governments must also take steps to address the root causes of environmental migration, such as by reducing greenhouse gas emissions and promoting sustainable development.
Existing policies and international frameworks, such as the United Nations Framework Convention on Climate Change and the Paris Agreement, provide a basis for action on this issue. However, it is essential that governments and other stakeholders take concrete steps to implement these policies effectively, and that the voices of affected communities are heard in the decision-making process. This requires a commitment to collaboration, transparency, and accountability at all levels of governance, as well as a recognition of the urgent need to address the threat of climate change and its impact on vulnerable populations.
International efforts, such as the International Organization for Migration's support for a research project on climate and migration in Indonesia, and the World Bank's South Asia Water Initiative and Climate Adaptation and Resilience for South Asia project, are encouraging but insufficient. Therefore, three policy recommendations to reduce the risk of climate-induced migration in South Asia are offered:
-Promote more livelihood opportunities in non-agricultural sectors to reduce the vulnerability of agriculture workers to climate-driven displacement.
-Empower non-federal authorities to better tackle climate-induced displacement risks, particularly at the local level.
-Host and sponsor dialogues and other exchanges to generate greater regional cooperation so that South Asian states can jointly combat the shared and transnational threats of climate change and climate-induced displacement.
The threat of drowning land in Indonesia due to global warming highlights the urgent need for action on the issue of environmental migration and the protection of fundamental human rights. Governments and other stakeholders must work together to address the root causes of this problem and to provide effective support and protection to affected communities.