Five Steps to Wellness for 2020
The Wellness Floor at One Dalton is dedicated in its passion for guiding guests to an increased sense of wellbeing. Taking a lead role in this initiative is Wellness Manager McKenzie Cassidy, who ensures her team of experts at Four Seasons Hotel One Dalton Street, Boston delivers guests the perfect environment to focus upon rebalancing both body and mind.
A signpost to The Wellness Floor's philosophy, McKenzie spends time with the guests that she interacts with on a daily basis, ensuring that outside of the time they spend on property at One Dalton's pristine, state-of-the-art spa facilities, that they are doing their utmost to look after themselves.
"At the turn of the year, with all the functions and entertaining that came with the festive season now behind us, our guests typically enter January with a level of fatigue and find themselves needing to re-charge and in some cases, re-boot entirely for the year ahead," says McKenzie. "Here in Boston, it's also a time of year when we experience extreme cold weather and this can leave guests susceptible to feeling depressed, low on energy, and it's also a hard time on the immune system."
With a career path dedicated to health and wellbeing that has taken her profession from Florida to Texas and now to Massachusetts at Four Seasons Hotel One Dalton Street, Boston, McKenzie Cassidy is well placed to share her top five tips for wellbeing this winter:
1. Rest – "There are endless benefits to us all, if only we just got better sleep at night!" exclaims McKenzie. "A restful night's sleep will give you more energy and can help boost your immunity. Try to get to bed earlier at night, and make sure you wind down before you do – I love to stretch a little on the floor, and about a year ago I banished electronics from my bedroom."
2. Diet – "I'm not into fad diets; I have an active lifestyle and simply do my best to eat a balanced diet with plenty of fruits and vegetables," she says. "When the cravings come for sugar, grab a ripe piece of fruit instead of candy. I recommend stocking the fridge with fruits and veggies and have your blender out on the counter ready to make smoothies on the go."
3. Drink more water – "I can give you several reasons why we should all kick our addictions to soda and start drinking more water. Aside from being better hydrated, drinking more water can help with achieving clearer skin, weight loss and overall feeling more energised," she outlines. "Start by simply bringing a refillable bottle to keep at work and opt for water when dining out instead of a soda."
4. Physical exercise – "Guests staying with us have the benefit of a state-of-the-art fitness centre," explains McKenzie, pointing to the Hotel's range of Precor equipment chosen by celebrity trainer and Four Seasons Global Fitness Advisor Harley Pasternak. "By getting up in time to exercise before work, you can set the stage for a successful day ahead and can enjoy whatever social commitments you have in the evening guilt-free!"
5. Start off slowly – "Listen to your body, it's not a race! Starting off slowly with exercise, especially if you're just coming back into the routine, is so important. I recommend my guests use a personal trainer to guide them from the outset. The team of trainers we use in our partnership with Lynx Fitness Club are great at setting our guests on their way and then keeping them accountable to their goals," explains McKenzie.
The Wellness Floor at One Dalton is open from 8:00 am to 9:00 pm daily, offering a range of massages, body treatments, facials and more provided by Boston's finest therapists and aestheticians.
Boston's newest luxury spa and wellness facility also boasts an expansive fitness centre, stunning 64-foot (20 metre) lap pool, which arcs along the building's curved windows. Tasteful loungers and chairs are positioned all around for relaxation and taking in the city views below.
COVID-19: Testing still vital even as vaccines roll out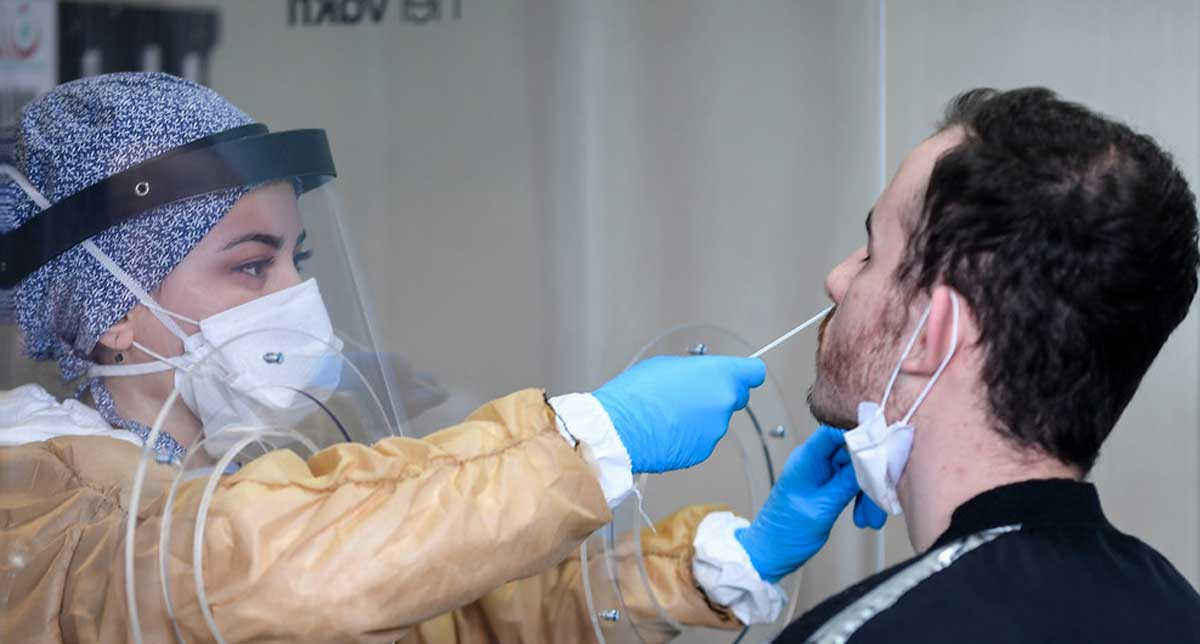 Testing will still be a critical tool against COVID-19, even as vaccines are deployed against the disease, the head of the World Health Organization (WHO) said on Friday during his regular briefing on the crisis.
WHO chief Tedros Adhanom Gheybreyesus emphasized how testing has been common among countries which have worked to control the virus.
"As vaccines are rolled out, testing will continue to play a vital role", he said.
"Initially, health workers, older people and other at-risk groups will be prioritised for vaccination. That will still leave the virus with a lot of room to move, and testing will remain a vital tool for controlling the pandemic."
However, Tedros stressed that though vital, testing is only part of the strategy against COVID-19.
"Testing is the spotlight that shows where the virus is. Investments in testing must be matched by investments in isolation facilities, clinical care, protecting health workers, contact tracing, cluster investigation and supported quarantine", he stated.
More evaluation needed
Meanwhile, WHO said more information is needed concerning the vaccine developed by the pharmaceutical company AstraZeneca and Oxford University.
The partners announced this week that clinical trials showed a regimen consisting of one half-dose of the vaccine, followed by a full dose a month later, was more effective than two full doses.
Dr. Katherine O'Brien, Director of Immunization, Vaccines and Biologicals at WHO, underlined the need for further evaluation as the data were reported in a press release.
"I think what we can emphasize, though, is that from what we understand about the press release, there is certainly something interesting that has been observed. But there are many reasons that could underlie the differences that were observed," she said.
WHO's Chief Scientist, Dr. Soumya Swaminatha, pointed out that less than 3,000 people were given the lower-dose regimen, according to the press release, all of whom were 55 years old or younger.
She added that the other group consisted of more than 8,000 people of varying ages, thus making it very hard to compare the two, while overall, their numbers were too small to come to any definitive conclusions.
"It would be speculation at this point," Dr. Swaminathan told reporters.
She said AstraZeneca has informed WHO that it intends to run a full trial of the lower-dose regimen.
Lessons from Ebola
Global experience with storage and distribution of the Ebola vaccine could inform delivery of any potential inoculation against COVID-19 once developed, according to WHO.
"There is demonstrated experience of delivering ultra-cold chain vaccines, even in some of the most difficult and remote areas," said Dr. O'Brien. "But that has also taken enormous resources to do that."
The WHO official was responding to a journalist's question concerning the experimental vaccine developed by pharmaceutical companies Pfizer and BioNTech, which was recently submitted to authorities in the United States for emergency approval.
The vaccine, which has shown a more than 90 per cent efficacy rate, requires very cold storage of -70 degrees Celsius or below, prompting concerns about potential distribution in African countries.
No one vaccine is enough
"We do have experience in a number of countries, specifically in Africa, being able to deploy a vaccine with that ultra-cold chain requirement", said Dr. O'Brien, referring to the Merck Ebola vaccine used in outbreaks in the Democratic Republic of the Congo.
"So, as we anticipate the use of the Pfizer vaccine, the intention is certainly to be able to use it along with other vaccines because no one vaccine is going to have adequate supply, nor will any one vaccine necessarily have suitable operational characteristics to meet all of the needs."
Dr. O'Brien added that Pfizer has developed a special "shipper" which can maintain the vaccine's temperature for up to 10 to 15 days.
Furthermore, the vaccine can be stored at refrigerated temperatures for five days, she continued, while portable freezers that do not run on electricity, and even dry ice, also can be used.
Innovate for delivery
As ultra-cold chain logistics are not in place everywhere, including in high-income nations, Dr. O'Brien suggested that countries will have to "innovate" around systems for delivering COVID-19 vaccines that have this requirement.
One approach could be to use them for immunizing certain segments of the population.
She cited health professionals as an example, because they work in facilities where immunization would take place and where it would be easier to install the ultra-cold chain freezers.
Move your body
Although the pandemic has imposed many restrictions on our lives, there is no excuse to sit on the couch, WHO affirmed on Friday, announcing new guidelines on physical activity and sedentary behaviour, published this week.
Exercise is essential for physical and mental health throughout life, the agency said, but one in four adults, and four in five adolescents, do not move enough.
The guidelines recommend between 150 and 300 minutes of moderate to vigorous activity per week for adults, and an average of 60 minutes per day for children and adolescents.
Global HIV toll likely to be far higher owing to COVID-19
Countries should adopt ambitious new targets to tackle HIV / AIDS to avoid hundreds of thousands of additional infections and deaths linked to the COVID-19 pandemic, the UN said on Thursday.
In its appeal, the specialised UN agency UNAIDS warned that the pandemic has pushed the world's AIDS response even further off track, and that 2020 targets are being missed.
It urged countries to learn from the lessons of underinvesting in healthcare and to step up global action to end AIDS and other global health emergencies.
Human cost
Citing new data showing the pandemic's long-term impact on global HIV response, UNAIDS said that there could be up to nearly 300,000 additional new HIV infections between now and 2022, and up to 148,000 more AIDS-related deaths.
"The collective failure to invest sufficiently in comprehensive, rights-based, people-centred HIV responses has come at a terrible price," said Winnie Byanyima, Executive Director of UNAIDS. "Implementing just the most politically palatable programmes will not turn the tide against COVID-19 or end AIDS. To get the global response back on track will require putting people first and tackling the inequalities on which epidemics thrive."
Although countries in sub-Saharan Africa including Botswana and Eswatini have achieved or even exceeded targets set for 2020, "many more countries are falling way behind", UNAIDS said in a new report, entitled Prevailing against pandemics by putting people at the centre.
Get on track to ending AIDS
The UNAIDS document contains a set of proposed targets for 2025 that are based on the actions of countries that been most successful in overcoming HIV.
Specifically, the goals focus on a high coverage of HIV and reproductive and sexual health services, together with the removal of punitive laws, policies, stigma and discrimination.
"Far greater investments" in pandemic response will be needed along with "bold, ambitious but achievable HIV targets", UNAIDS said.
"They put people at the centre…the people most at risk and the marginalized," it added. "Young women and girls, adolescents, sex workers, transgender people, people who inject drugs and gay men and other men who have sex with men."
If these targets are met, the world will be back on track to ending AIDS as a public health threat by 2030, the agency maintained.
Pharmaceutical Strategy for Europe: Affordable, accessible and safe medicines for all
The Commission has today adopted a Pharmaceutical Strategy for Europe to ensure patients have access to innovative and affordable medicines and to support the competitiveness, innovative capacity and sustainability of the EU's pharmaceutical industry. The Strategy will allow Europe to cover its pharmaceutical needs, including in times of crisis, through robust supply chains. A key component of building a stronger European Health Union, as called for by President von der Leyen in her State of the Union Speech, the Strategy will help to establish a future-proof and crisis-resilient EU pharmaceutical system.
Europe's Pharmaceutical Strategy has four main objectives:
Ensuring access to affordable medicines for patients, and addressing unmet medical needs (e.g. in the areas of antimicrobial resistance, cancer, rare diseases);
Supporting competitiveness, innovation and sustainability of the EU's pharmaceutical industry and the development of high quality, safe, effective and greener medicines
Enhancing crisis preparedness and response mechanisms, and addressing security of supply;
Ensuring a strong EU voice in the world, by promoting a high level of quality, efficacy and safety standards.
Although the Strategy is much more than a crisis-response instrument, it draws lessons from the initial response to the COVID-19 pandemic, and makes Europe's pharmaceutical sector better prepared and more resilient.
The Strategy presents concrete actions to ensure accessibility, availability and affordability of medicines. It supports diversified and secure supply chains, ensuring the EU's open strategic autonomy in the world, and it promotes environmentally sustainable pharmaceuticals.
The Strategy will also ensure that the EU's pharmaceutical policy continues to serve public health in an ever-changing environment of scientific and commercial transformations. It will support patient centred innovations and accommodate digital and technological change.
Members of the College said
President of the European Commission, Ursula von der Leyen, stated: "The coronavirus pandemic has highlighted the vital need to strengthen our health systems. This includes access to safe, effective and high-quality medicines at an affordable price. In the challenging economic and social times the EU is currently facing, the strategy adopted today will ensure that Europe and Europeans will continue to benefit from such medicines. I call on Member States and the Parliament to endorse this approach which will be rolled out in the next three years, and beyond."
Vice-President for Promoting the European Way of Life, Margaritis Schinas, said: "Effective and safe medicines, vaccines and treatments have helped to tackle some of the leading causes of disease and life-threatening illnesses in the past. These products will be crucial to uphold the health and well-being of the European citizens in these challenging times. Today's strategy supports the EU's pharmaceutical industry to remain competitive and innovative, whilst addressing the needs of the patients and those of our health systems."
Stella Kyriakides, Commissioner for Health and Food Safety, stressed: "Today we launch the work to ensure that safe and effective medicines are accessible and affordable at all times and to all patients across the EU. With our Pharmaceutical Strategy for Europe, we are delivering on our commitment to create a future-proof and patient-centred pharmaceutical environment in which the EU industry can innovate, flourish and continue to be a global leader. It is our long-term vision for open strategic autonomy, and our response to the challenges of today and the vulnerabilities exposed by COVID-19. Today we put in place another pillar of the European Health Union."
Background
The Pharmaceutical Strategy for Europe marks the beginning of a process: its implementation includes an ambitious agenda of legislative and non-legislative actions which will be launched over the coming years.
Actions will cover the whole ecosystem of pharmaceuticals, but also some aspects of medical devices. It creates synergies with the Green Deal and our actions under the EU Strategic approach of pharmaceuticals in the environment to reduce their environmental risk, address pollution from pharmaceutical residues and promote greener manufacturing, use and disposal (a progress report is available). It is also linked to the action plan on Intellectual Property presented today.
The flagship actions of the Strategy include:
A revision of the basic pharmaceutical legislation* (target date for a proposal: 2022) with a view to making this framework future-proof and innovation friendly;
A proposal for a EU Health Emergency Response Authority (proposal: 2nd semester 2021);
Initiating a structured dialogue with and between all actors in the pharmaceutical manufacturing and public authorities to identify vulnerabilities in the global supply chain of critical medicines and shape policy options to strengthen the continuity and security of supply in the EU;
Cooperation between national authorities on pricing, payment and procurement policies, to improve the affordability, cost-effectiveness of medicines and health system's sustainability;
The creation of a robust digital infrastructure, including a proposal for a European Health Data Space (target date for a proposal: 2021);
Support to research and innovation, notably via Horizon 2020 and EU4Health;
Actions to promote innovative approaches to EU R&D and public procurement for antimicrobials and their alternatives and measures to restrict and optimise their use.