Russia and Muhajireen are both interventionists in Syria
The Russian military intervention in the Syrian civil war has strengthened the anti-Russian ideological wave of the al-Qaeda-aligned Central Asian and North Caucasian Salafi-Jihadi groups fighting alongside the Hayat Tahrir al-Sham (HTS) against the Bashar al-Assad regime. After the outbreak of the Syrian civil war in 2011, fueled by the Arab Spring protests, several hundred Central Asian Islamic radicals, calling themselves Muhajireen (Migrants, i.e. Sunni foreign fighters), performed a Hijrah (the migration of Muslims for Jihad) in response to the call of al-Qaeda to Syria.
Since then, Syria's northwest Idlib province, long a hotbed of armed resistance and the heartland of al-Qaeda-linked operations has become a real-life shelter for Muhajireen from the former Soviet Union and Chinese Xinjiang. Among them, the Uzbek groups Katibat al-Tawhid wal Jihad (KTJ) and Katibat Imam al-Bukhari (KTB), Uighur fighters of Turkestan Islamic Party (TIP), as well as Chechen's Jaish al-Muhajireen wal-Ansar (JMA) and Ajnad al Kavkaz (AK) are affiliated with al Qaeda. They share al Qaeda's ideological doctrine and consider its leader Ayman al-Zawahiri their ideological mastermind. The activities of TIP and KTJ jihadists, which have remained loyal to al Qaeda but simultaneously subordinate to HTS, indicate that they have become a link between al Qaeda and HTS after their formal detachment of ties. That is, today they coordinate all their military operations in Syria and conduct them under the leadership of the Hayat Tahrir al-Sham, the largest Sunni jihadist group, controlling most of Idlib province which is the last major opposition stronghold.
At the beginning of the Syrian jihad, the ideology of the Central Asian Salafi groups was not particularly distinguished by anti-Russian hostility but after the Russian invasion of Syria in support of the Bashar al-Assad regime in 2015, Central Asian jihadists and the Russian military found themselves on opposite sides of the front line and became sworn enemies. This was also facilitated by the fact that many Uzbek and Tajik Muhajireen came from Russia, where they worked as labor migrants and were often discriminated against by Russian nationalists. They also experienced moral and psychological humiliation by the corrupt Russian police, local officials and employers. Some Mujahideen admitted on the social networks Telegram and Odnoklassniki that the unfair Russian reality inflicted unbearable humiliation which contributed to their migration to Syria and joining jihadist groups.That is, the anti-Russian ideology of the Central Asian Salafi-Jihadi groups appeared not only because of the radicalization of their religious views but also as a response to discrimination by Russian nationalists and the invasion of Russian troops in Syria.Thus, over the past five years, al Qaeda's Takfiri ideology of conducting global jihad against the infidel regimes of the West has been supplemented by the anti-Russian ideology of the Central Asian Muhajireen.
In order to better understand the roots and causes of the anti-Russian ideology of the Central Asian Sunni extremist movements, it is necessary to analyze the Khutbah preaching (Sermons) of their leaders and famous ideologists during Jumma Namaz (Muslim Friday Prayer Service), which they actively disseminate on the Internet in Uzbek, Russian, Tajik, Kyrgyz, and Arabic.
Characteristic features of the Muhajireen's anti-Russian ideology
Over the past five years, Idlib has become not only the real-life shelter for Russian-Speaking foreign fighters but also the place of fueling the aggressive anti-Russian ideology of the Central Asian Salafi-Jihadi groups. It's interesting to note that they are actively using the Russian entrepreneur Durov's social networking Telegram channel to widely disseminate anti-Russian ideology. Central Asian Muhajireen have the radio station "Voice of Sham" which also has the website "www.muhajeer.com" and provides daily updates over ten channels on Telegram through which they praise holy Jihad and spread anti-Russian propaganda.
Leaders and ideologues of the Central Asian Salafi-Jihadi groups advance the idea that al-Qaeda's global network needs more support from like-minded Muslims around the world, who are willing to help its jihad. Therefore, in order to catalyze support, mobilize the base, and expand awareness of the Syrian jihad, they are waging an active "anti-Russian ideological war" on the Internet. Jihadist websites are designed to entice, inform, and rally Russian-speaking Muslims to join in the fight to safeguard Islam in Syria.
The ideologues and propagandists of al Qaeda-linked Central Asian movements seek to use Moscow's heavy hand to recruit new fighters and accumulate financial resources.Each time after the Russian aviation's scorched-earth tactics and indiscriminate bombing of civilian areas in the province of Idlib, the anti-Russian ideology of Central Asian jihadists intensifies on the Internet.
KTJ former leader Abu Saloh (his real name Sirojiddin Mukhtarov), who possesses excellent oratory skills and deep knowledge of the Quran, is the fiery voice of the anti-Russian ideology. He urges his listeners to establish religiously pure communities governed by a strict Salafi reading of Sharia or Islamic law.He regards modern post-Soviet countries in Central Asia to be illegitimate and desires not only the overthrow of these states but the creation of a new theocratic state in their place that unites all Muslims and, ultimately, a global Islamic Caliphate.In his opinion, the ideal conditions for conducting jihad today arose precisely in Syria and the Muslim Ummah should achieve an inevitable victory over the enemies of Islam by which he means not only the West but also the Bashar al-Assad's regime, its military and political patrons, Russia and Iran. Abu Saloh believes that the victory of the Ahlus Sunnah (Sunni Islam) begins precisely with the holy land of Sham, where the Prophet Muhammad and his Sahaba (companions) shed their blood to raise the banner of jihad.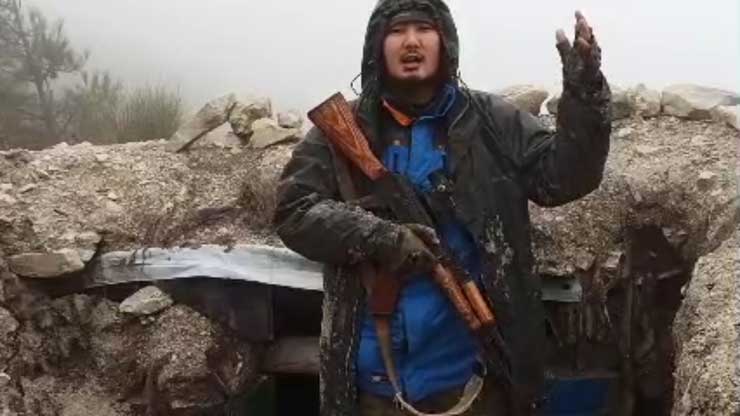 In the last video published on December 26, 2019, on Telegram, entitled "Appeal from the Blessed Sham to the Muslim Ummah" he calls on Muslims of Central Asia and Russia to make financial donations for jihad. He argues that jihad can be done in the path of Allah against the infidels in three ways: by one's life, wealth, and speech. If Central Asian migrant workers in Russia make financial donations to support jihad in Syria, then Allah will consider them as participants in holy jihad who have fulfilled their mission to the Almighty. Participation in the wealth jihad will atone for their sins before Allah on Judgment Day. Therefore, migrant workers are required to participate in the wealth jihad, even while in Russia, he said. He calls on Central Asian Muslims not to become slaves of Russian kafirs (infidel) and warns that jihad is an obligation of every Muslim and that any Muslim who denies its sanctity should be considered as a kufr (unbeliever in Allah).
It should be noted that Russia accused Abu Saloh of the terror attack on St. Petersburg's metro in April 2017 and the Kyrgyz authorities blamed him for the attack on the Chinese Embassy in Bishkek on August 30, 2016.He and his Uzbek-speaking fighters from the Fergana Valley of Central Asia swore allegiance to al-Qaeda leader Ayman al-Zawahiri.
Another well-known ideologist of Central Asian jihadism and a vocal critic of Russian occupation of Sham is the KIB's leader Abu Yusuf Muhojir. On January 3, 2020, he posted his video message on the KIB's webpage on Telegram entitled "Appeal from the mountain range Jebel al-Turkman of Latakia."He claims that only jihad can to protect the Islam Ummah from Russia's and Iran's oppressors and free our occupied land of the blessed Sham from the terrorists of the Nusayri regime (Alawites).Following the concepts of the militant Salafi ideology, Abu Yusuf Muhojir regards violent jihad as an obligation for all Muslims and seeks to engage in jihad in both Khorasan and Sham, where opportunities have arisen.Then he quotes the Quran's Surah of Al-Ankabut (The Spider) in Arabic and says that Allah is testing Muslims in Sham, and that only jihad will help us to pass this test with dignity. In conclusion, he said neither America nor Russia can close the path of holy jihad since jihad is the path to Allah. If the Mujahideen get killed in the jihad, he affirms that Allah himself will guide them and admit them to Paradise. Furthermore, Uzbek militants ofKIB have sworn allegiance to the Taliban and are conducting jihad in both Syria and Afghanistan.On March 22, 2018, the US State Department designated KIB a global terrorist organizations.
The root of the Jihadists' anti-Russian ideology
The so-called "media activists" (Faruk Shami, Muhammad Jazira, Gulyam Muhammad,Saad Muhtor, Abdul Aziz Kazanly) who live and work among the Central Asian jihadists in Syria play a significant role in increasing anti-Russian ideology. They organize live broadcasts, interviews with leaders of Central Asian and Caucasian Salafi-Jihadi groups on YouTube and Instagram, and translate theological works of al Qaeda's ideologues from Arabic into Russian, Uzbek, Tajik, Kyrgyz and Uighur.
One of the channels called "Mujahideen of Sham" in Kyrgyz on the Telegram, for instance, published short information: "Russian kafirs, who were the enemies of our ancestors, bombed the city of Sarakib on December 21, 2019, as a result of which they were killed more 120 innocent Muslims of Sham." Further, this channel posted an audio message from a Kyrgyz Muhajir to the Russian military: "Oh, Russian infidels, keep your eyes peeled, we are attacking to shed your blood. As you love vodka, Zina (illicit sexual relations), so we are in a hurry to die in the name of Allah to stop the kafirs' invasion on Islamic lands."
Al Qaeda-linked Central Asian jihadists sometimes use some historical events of the Russian colonial policy of the 18-19 centuries in Central Asia to rally support for the Islamist agenda and radicalize those sympathetic to the plight of Muslims in Syria. The same channel "Mujahideen of Sham" writes: "Russian Tsarist forces, which killed tens of thousands of Kyrgyz during the Genocide of 1916, today are massacring innocent Muslims of the blessed Sham. The colonial policy of the Russian Empire continues. Make dua (prayer) for Muslims of Sham." It is probably about the 'Urkun' ("Exodus") tragedy 1916, when 150 thousand Kyrgyz died during the uprising against Russian Tsarist forces and a mass exodus to China. Such information is aimed at winning the hearts and minds of Central Asian jihadists who are familiar with historical events.
Translation of books, essays and videos of medieval and modern jihadi thinkers from Arabic into Russian and local languages and its distribution on the Telegram channel is an important part of the work of Central Asian jihadists. Spreading classic works of Salafi-Takfiri thinkers help legitimize anti-Russian Jihadi ideology and stoke the fire of jihad. Crucial spiritual nourishment for Central Asian Muhajireen are the essays of Ibn Taymiyyah, Abd al-Wahhab, Sayyid Qutb, Abdullah Azzam, Abu Muhammad al-Maqdisi, Sulayman al-ʿAlwān, Osama bin Laden, Ayman al-Zawahiri, Abu Qatada al-Filistini and other scholars of Salafism. This clearly indicates the ideological affinity of Central Asian Muhajireen with transnational Islamic fundamentalist groups that utilize sacred violence in their war against Russia and the West. Moreover, KTJ, KIB, and TIP explicitly try to define its ideological and operational agenda as being intimately tied to an integrated effort of al Qaeda aimed at asserting the global dominance of Islam through armed jihad.
Despite the fact that the Central Asian jihadists are seen as a small cog in the transnational Sunni-Jihadi network, they are actually drawing up and spreading anti-Russian ideology in the post-Soviet space and the Middle East alongside Chechen and Uighur jihadists. They are using pejorative terms in reference to Russia such as "Russian terrorists," "Russian bandits," "Russian pig executioners," as well as pejoratives directed toward Vladimir Putin such as "Putin is a killer," "Putin is a war criminal," and "Slaves of Putin's Chef Prigozhin," as well a variety of generalized pejoratives comparing Russians to Fascists, swine and vermin.
The anti-Russian ideology of the Central Asian jihadists in Syria has gone far beyond the national and geographical framework and they are trying to create the image of Putin's Russia as an enemy of the entire Muslim Ummah.The Russian military operation in support of the Bashar al-Assad regime, the destruction of hospitals, schools, and other social facilities in Idbil by Russian aircraft, the flow of refugees towards the Turkish borders, the deaths of hundreds of civilians, children and women from the bombing create a favorable background for strengthening the trend of anti-Russian ideology among the Muhajireen in Syria.
Muhajireen's propagandists also skillfully manipulate the historical rivalry between Sunnis and Shia. The analysis showed that they consider the enemies of Ahl al-Sunna of all Nuseyrites, Rafidites and their ally Russian Crusaders. The Jihadi ideologists claim that Russia is a leading player in the global conspiracy to destroy Ahl al-Sunna in Sham, and therefore helps Nuseyrites. The call to defend the last stronghold of Ahl al-Sunna gives them the opportunity to recruit new militants from the Sunni population of Central Asia and Russia.
At the same time, some facts of atrocities and heinous crimes perpetrated by Russian mercenaries of the Wagner group and Iranian proxy militias in Syria, which became public knowledge, create spaces for promoting Central Asian Jihadi ideas. Recently, after a video appeared on the Internet in November 2019 in which four Russian mercenaries tortured, stabbed and beheaded a Syrian man, Russian President Putin has become the main target of criticism of Salafi-Jihadi agitators from the former Soviet countries. This gave Central Asian jihadists a reason to accuse Putin's Russia of using terror policy against Islam and the Muslims of Sham.
In order to foment jihadist sentiments in the Russian speaking Eurasian region, Salafi-Jihadi ideologists are manipulating the strongman Putin'sphrase that "Syria has become a field for testing the latest Russian weapons systems." They regularly publish victims' photographs of Russian air bombing, which are intended to rally support for the Islamist agenda and radicalize those sympathetic to the plight of Sunni Muslims in northwest Syria. They wonder "how much longer will Putin's terrorists be testing their weapons in Syria and using civilian Muslims as living targets?"
Conclusion
The Central Asian Muhajireen's anti-Russian ideology and the aggressive imposition of global Jihadi ideas on the internet undoubtedly pose a threat to Russia's national security but, at the same time, the major actors of the Syrian conflict, primarily Russia, Iran and the Syrian government must understand that further tightening the screws of the Syrian war, exacerbating the humanitarian catastrophe and a new mass influx of refugees, will lead to further strengthening of anti-Russian and anti-Shiite ideology. Because of this, Central Asian Jihadi groups, following the strategy of al Qaeda, are trying to infiltrate local Sunni communities of Syria, build influence there by expressing the interests of the Ansar (natives).
Engaging with Local Stakeholders to Improve Maritime Security and Governance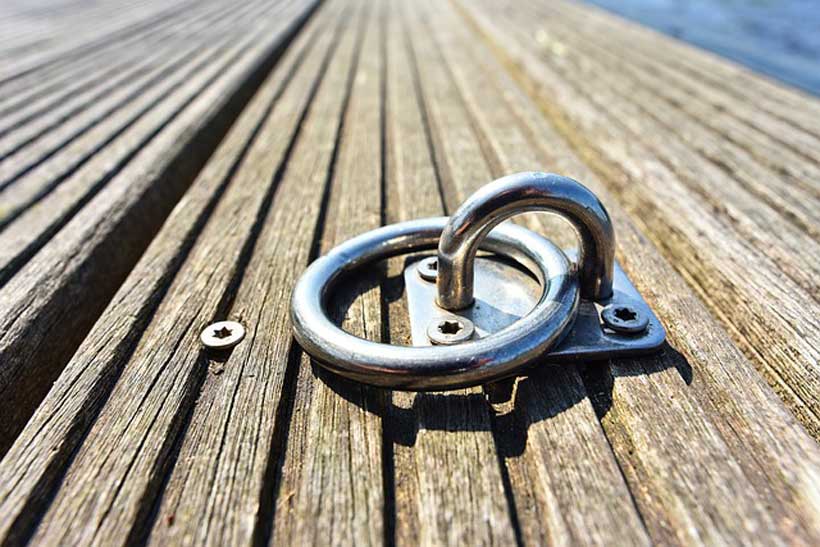 Illicit activity in the maritime domain takes place within a complex cultural, physical, and political environment. When dialogue is initiated with a diverse range of stakeholders, policy recommendations can take into account region-specific limitations and opportunities. As noted in the Stable Seas: Sulu and Celebes Seas maritime security report, sectors like fisheries, coastal welfare, and maritime security are intrinsically linked, making engagement with a diverse range of local stakeholders a necessity. This collaborative approach is essential to devising efficient and sustainable solutions to maritime challenges. Engagement with local stakeholders helps policymakers discover where in these self-reinforcing cycles additional legislation or enforcement would have the greatest positive impact. Political restrictions against pursuing foreign fishing trawlers in Bangladesh, for example, have allowed the trawlers to target recovering populations of hilsa while local artisanal fishers suffer. In the context of the Philippines, the Stable Seas program and the Asia Pacific Pathways to Progress Foundation recently conducted a workshop that highlighted the importance of consistent stakeholder engagement, resulting in a policy brief entitled A Pathway to Policy Change: Improving Philippine Fisheries, Blue Economy, and Maritime Law Enforcement in the Sulu and Celebes Seas.
Physical Environment
Consistent communication with local stakeholders on regional anomalies allows policymakers to modify initiatives to adjust for the physical, cultural, and political context of a maritime issue. The physical environment affects how, where, and why illicit actors operate in the maritime domain. Knowledge held by local stakeholders about uninhabited coastlines, local currents, and the locations of important coastal communities helps policymakers find recognizable patterns in the locations and frequency of maritime incidents. The 36,289 km of coastline in the Philippine archipelago means that almost 60 percent of the country's municipalities and cities border the sea. The extensive coastline and high levels of maritime traffic make monitoring coastal waters and achieving maritime domain awareness difficult for maritime law enforcement agencies. A Pathway to Policy Change outlines several recommendations by regional experts on ways to improve maritime domain awareness despite limitations imposed by a complex physical environment. The experts deemed collaboration with local government and land-based authorities an important part of addressing the problem. By engaging with stakeholders working in close proximity to maritime areas, policymakers can take into account their detailed knowledge of local environmental factors when determining the method and motive behind illicit activity.
Cultural Environment
Culture shapes how governments respond to non-traditional maritime threats. Competition and rivalry between maritime law enforcement agencies can occur within government structures. A clearer understanding of cultural pressures exerted on community members can help policymakers develop the correct response. Strong ties have been identified between ethnic groups and insurgency recruiting grounds in Mindanao. The Tausug, for instance, tend to fight for the MNLF while the MILF mostly recruits from the Maguindanaons and the Maranao. Without guidance from local stakeholders familiar with cultural norms, correlations could be left unnoticed or the motivations for joining insurgency movements could be misconstrued as being based solely on extremist or separatist ideology. Local stakeholders can offer alternative explanations for behavioral patterns that policymakers need to make accommodations for.
Political Environment
Local stakeholder engagement allows policymakers to work on initiatives that can accommodate limitations imposed by the political environment. Collaboration with local stakeholders can provide information on what government resources, in terms of manpower, capital, and equipment, are available for use. Stakeholders also provide important insights into complex political frameworks that can make straightforward policy implementation difficult. Understanding where resource competition and overlapping jurisdiction exist enables policymakers to formulate more effective initiatives. Despite strong legislation regulating IUU fishing in the Philippines, local stakeholders have pointed out that overlapping jurisdictions have created exploitable gaps in law enforcement. In A Pathway to Policy Change, local experts suggested that the government should lay down an executive order to unify mandates in the fisheries sector to address the issue. Similarly, the Bangsamoro Autonomous Region of Muslim Mindanao (BARMM) is highlighted as a region that heavily influences maritime security in the Sulu and Celebes seas. Working with government officials to understand how policy initiatives need to adjust for the region's semi-autonomous status ensures maritime issues are properly addressed. BARMM, for instance, issues fishing permits for its own waters in addition to government permits, which can cause inconsistencies. Working alongside local stakeholders allows policymakers to create initiatives that take into account special circumstances within the political system.
Private Sector Engagement
Extending engagement with local stakeholders to the private sector is particularly important during both the policy research and implementation processes. Encouraging private stakeholders to actively help counter illicit activity can help policymakers create a more sustainable and efficient solution to security threats. As A Pathway to Policy Change highlights, private companies already have a strong incentive from a business perspective to involve themselves in environmental and social issues. Governments can encourage further involvement of private stakeholders like blue economy businesses and fishers by offering tax breaks and financial compensation for using sustainable business practices and for helping law enforcement agencies gather information on illicit activity. Offering financial rewards to members of the Bantay Dagat program in the Philippines, for example, would encourage more fishers to participate. Governments can also double down on educational programs to raise awareness of important issues threatening local economic stability. By communicating consistently with local stakeholders, policymakers can both more accurately identify maritime security needs and more comprehensively address them.
Conclusion
The unique physical, cultural, and political context in which maritime issues take place makes the knowledge of local stakeholders an invaluable asset. While many important types of information can be collected without working closely with stakeholders, there are also innumerable important aspects of any given context which cannot be quantified and analyzed from afar. Engagement with stakeholders provides a nuanced understanding of more localized and ephemerial factors that affect regional maritime security. Engaging with local stakeholders allows policymakers to capitalize on opportunities and circumvent limitations created by the political, cultural, and physical environment surrounding maritime issues in order to create sustainable, long-term solutions.
Turkey Faced With Revolt Among Its Syrian Proxies Over Libyan Incursion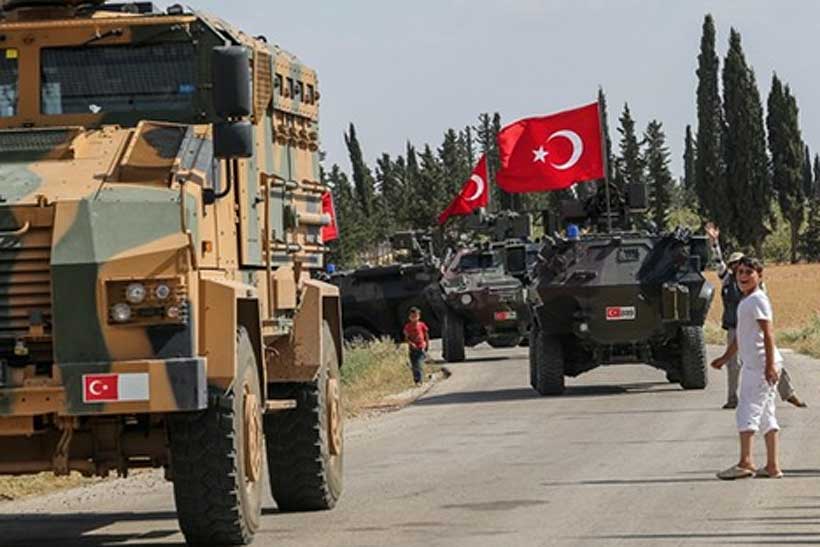 Relations between Turkey and Syrian armed groups that used to be considered cordial due to massive support provided by the Turkish authorities to the Syrian opposition are rapidly deteriorating over Turkey's incursion into the Libyan conflict, according to sources among the Syrian militants fighting in Libya.
Last month, over 2,000 fighters defected from Sultan Murad Division, one of the key armed factions serving the Turkish interests in Syria. The group's members chose to quit after they were ordered to go to Libya to fight on the side of the Turkey-backed Government of National Accord (GNA). This marks a drastic shift in the attitude of the Syrian fighters towards participation in the Libyan conflict: just a few months ago there was no shortage of mercenaries willing to fly to Libya via Turkey for a lucrative compensation of $2,000 – 5,000 and a promise of Turkish citizenship offered by Ankara.
Both promises turned out to be an exaggeration, if not a complete lie. The militants who traveled to Libya got neither the money nor the citizenship and other perks that were promised to them, revealed a fighter of Ahrar al-Sharqiya faction Zein Ahmad. Moreover, he pointed out that after the fighters arrived in Libya they were immediately dispatched to Tripoli, an arena of regular clashes between GNA forces and units of the Libyan National Army despite Turkish promises of tasking them with maintaining security at oil facilities.
Data gathered by the Syrian Observatory for Human Rights shows that around 9,000 members of Turkey-backed Syrian armed factions are currently fighting in Libya, while another 3,500 men are undergoing training in Syria and Turkey preparing for departure. Among them are former members of terror groups such as Al-Qaeda affiliate in Syria Hayat Tahrir al-Sham, as confirmed by reports of capture of a 23-years-old HTS fighter Ibrahim Muhammad Darwish by the LNA forces. Another example is an ISIS terrorist also captured by the LNA who confessed that he was flown in from Syria via Turkey.
By sending the Syrian fighters to Libya Ankara intended to recycle and repurpose these groups for establishing its influence without the risks and consequences of a large-scale military operation involving major expenses and casualties among Turkish military personnel. However, the recent developments on the ground show that this goal was not fully achieved.
The Syrian fighters sustain heavy casualties due to the lack of training and weaponry. Total count of losses among the Turkey-backed groups reached hundreds and continue to grow as GNA and LNA clash with intermittent success. Until Turkey's President Recep Erdogan curbs his ambition, destructive nature of involvement of the Syrian armed groups in Libya may result in the downfall of Turkey's influence over the Syrian opposition.
Covid-19: A New Non-traditional Security Threat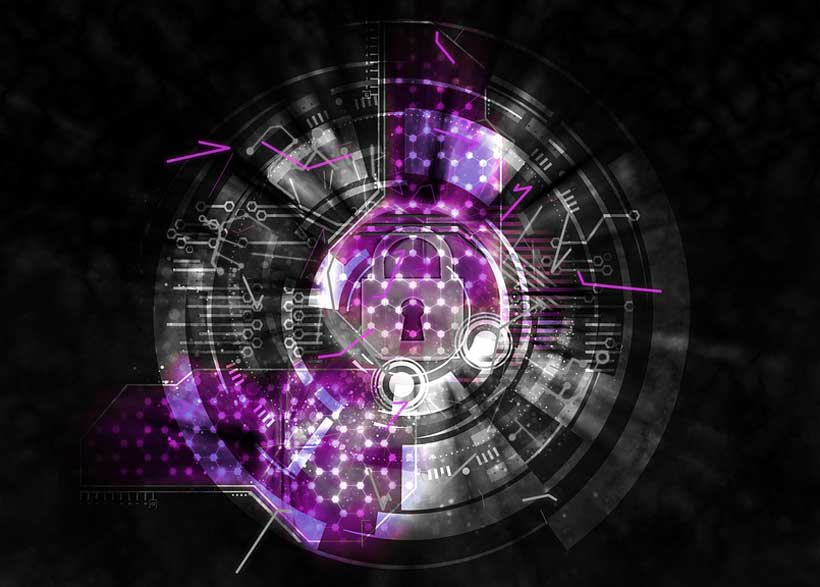 Authors: Dhritiman Banerjee & Ayush Banerjee
Traditional Security vs Non-traditional Security
There exist various types of threats that a nation faces in today's world. These primordial threats, in turn, affect a nation's security dilemma in ways more than one. These can be of two primary type- traditional security threats and non-traditional security threats. Traditional security threats are threats to national security that arise out of conventional international issues such as water sharing, land sharing, etc. These disputes often result in a full-scale war or conventional conflicts among the nations involved.
Similarly, non-traditional security threats are the concerns that a nation faces due to the increased complexity in the conduct of foreign relations after the wake of the new world order, post-1945. As more nations gained their independence and as more international organisations were formed, these threats spread throughout the world resulting in diplomatic tensions and, intra-state and inter-state armed conflicts. At times these conflicts also involve non-state belligerents as well. Large scale migration, environmental degradation and climate change action, intensification of ethnocentrism towards ethnonationalism leading to ethnic conflicts, cyberspace security risks, terrorism and violent extremism, etc. are examples of such non-traditional security threats.
Traditional security threats were directly aimed at the system of governance of the involved international actors, often involving various proportions of military conduct and an aggressive foreign policy coupled with intelligence operations. Meanwhile, non-traditional security threats are complex systems of organised opposition to a dominant entity or actor. These may not involve armed warfare or an aggressive foreign policy as such. For instance, the 9/11 attack on the twin towers in the United States by Al-Qaeda affiliates amount to a non-traditional security threat, in general, and terrorism, in particular. This attack was not directly aimed at toppling over the regime in power, rather spread the message of radical extremism globally by a non-state actor of violent nature. Such threats are becoming more and more predominant in the 21st century.
Another instance of a non-traditional security threat stemmed out of the growing resentment for the authoritarian regime in power in Syria, which triggered the Syrian refugee crisis in 2011-12. The rapid displacement of people in rural locals within the nation created large scale dissatisfaction in terms of the economy with a rise in unemployment rates and poverty among with the loss of their means of livelihood. This displaced populace travelled beyond the already fragile Syrian border into several European states that triggered a spillover of the Syrian refugee crisis resulting in a security risk for most south European states such as Greece and Italy. Invariably, most of the European states shut down their borders due to an imminent security risk from extremism and rising ethnocentrism that may have resulted from integrating the refugees into their formal economies. More recently, India shut down its borders on the displaced Rohingya refugees from Myanmar, stating the probable cause of extremism being imminent within such a marginalised, persecuted populace.
The Case of Covid-19
This year shook the global political order. By March 2020, the coronavirus outbreak in Wuhan turned into a full-scale health crisis across the world. The virus had spread throughout the globe and new epicentres were discovered almost every week. Nations such as the United States, Spain, Italy, India, United Kingdom, among others have been severely affected ever since. However, alongside the health risks associated with the virus, as most governments focus on the research and development of a safe vaccine, the security risks are becoming more important as a part of this discourse with each passing day. There are restrictions on fundamental freedoms such the freedom of movement and assembly. While most major channels of information have shifted to the domains of cyberspace, governments have become heavily reliant on data infrastructures and domestic resource capacities. The transportation industry alongside others has been severely affected, affecting the national economy. The food supply chain has frayed. There have been no practical international trade operations except for highly politicised transfers of essentials and medicare. Millions have lost their employment and means of livelihood. Fear and panic have spread among the public at large. In a few nations, internal displacement has risen hundred folds.
However, as the Covid-19 pandemic spreads chaos, non-traditional security issues may not result in a nuclear catastrophe, but it may directly or indirectly threaten the survival of States. This time period is extremely important for all governments to reshape their policy processes to curtail the social, economic, political, diplomatic and human security risks associated with the outbreak. While many governments have opted to follow a phased lockdown model to tackle the health-related issues associated with the outbreak, they have failed to implement public policy to curtail the other risks associated with it. This nonchalance has resulted in a new age security dilemma that coerces the States into taking policy actions they never planned to adopt.
There are several security threats that pose a risk to major governments due to the Covid-19 pandemic. In the economic context, Covid-19 has increased market volatility such that the price of risk assets has fallen sharply with economies both large and small recording a significant drop of at least 30% at the trough. Tobias Adrian and Fabio Natalucci estimate that "Credit spreads have jumped, especially for lower-rated firms. Signs of stress have also emerged in major short-term funding markets, including the global market for U.S. dollars. Volatility has spiked, in some cases to levels last seen during the global financial crisis, amid the uncertainty about the economic impact of the pandemic. With the spike in volatility, market liquidity has deteriorated significantly, including in markets traditionally seen as deep, like the U.S. Treasury market, contributing to abrupt asset price moves." It is said that all jobs created since the financial crisis in the US, have been completely wiped away during this Covid-19 outbreak. This creates an atmosphere of public agitation against the government that continues to trigger mass protests and activism. The financial security, housing security, employment security concerns are paramount in this distraught for the public and government alike. International trade is at a standstill affecting all the export-oriented economies around the globe. These nations are now bound by self-reliance on domestic industries creating a need to romp up securitisation efforts at the domestic level itself.
Moreover, Covid-19 is set to increase political instability in countries such as Japan, South Korea, India, Italy, China and the US due to the economic repercussions of the lockdown and also due to the public reaction to governmental policy in efforts towards eradicating the virus. In fact, if the virus causes a global economic meltdown or a global recession, it will perhaps be due to the economic perils the US economy shall face in the coming years. This will also considerably influence Trump's reelection campaign, as he may be forced to prioritise digital media campaigns over public campaigns due to the risks emanating from Covid-19. There will be rising security concerns with regard to the same considering the fact that there has already been illegitimate involvement of foreign actors in the previous election campaigns wherein Cambridge Analytica was allegedly charged for deliberating manipulating audience content with the help of the Russian Federation.
The Covid-19 pandemic has increased the dependence on cyberspace as software applications such as Google Meet, Skype and Zoom gain in popularity. This gain has been noticeably triggered by the idea of working from home and due to the conversion of physical classroom education to online learning modules. This brings into focus the need for an enhanced cybersecurity mechanism that can allow easy access while also protect the private and personal data of the users. There have already been reports which suggest that the security at Zoom has already been breached. This called for close inspection and proper securitisation of the features to ensure its clients' next-generation data protection, as a remarkable landmark in the domains of cyberspace security. It is also said that the spread of Covid-19 will increase strategic disinformation campaigns leading to the spreading of propaganda, fake news and manipulated content. Much of this content may also undertake dubious angles on the virus outbreak itself inciting public dissatisfaction leading to panic and mass hysteria. While governments may also attempt at withholding valuable information and data on the actual consequences of the virus especially by downlisting the rate of mortality and infection behind the veil of public security.
The Council of Europe Cybercrimes division has reported that there is valuable evidence that malicious actors are exploiting the cyberspace vulnerabilities to cater to their own advantage. For example, it stated that phishing campaigns and malware distribution through seemingly genuine websites or documents providing information or advice on Covid-19 are used to infect computers and extract user credentials. Attacks against critical infrastructures or international organizations, such as the World Health Organization are becoming seemingly probable. Such agents also use ransomware targeting the mobile phones of individuals using applications that claim to provide genuine information on Covid-19 in order to extract financial information of the user. They can also obtain access to the systems of organisations by targeting employees who are teleworking or video conferencing. Fraudulent schemes where people are tricked into purchasing goods such as masks, hand sanitizers and fake cheap medicines claiming to prevent or cure Covid-19 are also being used for the same purpose by the cybercriminals. These are a few instances that add to the security dilemma the nations face due to the rapid spread of Covid-19 across the world.
Alongside these, the defence industry is set to experience a major slowdown due to the pandemic. Production, manufacturing facilities and supply chains could be affected as the requirements shift towards civilian and police equipment from heavy military equipment. More importance will be given to recovery and aid systems than weapons and ordnances. However, defensive readjustments continue to remain important for ensuring adequate security especially with respect to border control, protection of personnel and institutions, protection of natural resources from exploitation, ensuring law and order as law enforcement and paramilitary operations remain the primary preventive measures at the monopoly of the governments. This crisis will also have profound geopolitical consequences, particularly for the US-China relationship.
Tarık Oğuzlu believes, "the years ahead will likely see the geopolitical rivalry between the U.S. and China intensify. This power competition will likely transpire within a post-liberal international order in which neither the U.S. will continue to act as the chief provider of global public goods nor China will acquiesce in the role of norm-taker." We already know that the USA under President Trump's presidency has already begun questioning the liberal international order from within. Notwithstanding Trump's reelection in November, the isolationist and nationalist tendencies within the current American society will continue to grow more radical and dominant. There may be smear campaigns that could affect the well-settled Chinese populace in order to expunge them from the integrated American society. Instances of racism and ethnocentrism will grow and lead to civic hostilities threatening public order and human security norms. Similarly, China under President Xi Jinpinghas adopted a more assertive and claimant role in international politics, and China has changed its course from the 'bide your time and hide your capabilities' dictum in history. Trade between the two major powers has already come to a standstill.
In the words of Ahyousha Khan, "…it is essential for states to counter non-traditional security threats because they can potentially reduce national resilience of states to prosper. The consequences of these threats would be more damaging for developing world, where there is population density, lack of medical facilities and most importantly economic vulnerability of the state to handle such threats for a prolonged period of time." It is evident from the aforementioned instances that Covid-19 is, in fact, a non-traditional security threat in ways more than one. It leads to multitudes of security concerns hat encompasses most major domains of politics including the economy and cyberspace. Securitisation and protection services are of paramount importance in the same regard. It can be stated that the need to protect the civilians from such non-traditional security threats will lead States to assume a more authoritarian role whereby the State will increase surveillance on its citizens and will curtail the freedoms of movement and expression. Political leaders often exploit these non-traditional security threats to fulfill their own political interests and to secure their own position as the leader of the party. Such is the security risk arising out of the pandemic at large.