There is a little doubt that the recent move by Washington have already started having short term impacts in the Middle East but there are many other aspects which should not be forgotten and they might compensate for those short-term mishaps in the region.
Limited Menu of options for Tehran
Although Iran has started using its options of warfare in the region against US troops it has to be noted that it has a very limited scope of options available presently. It does have the warfare tools but present circumstances are such that Tehran is in no position to use them up to their maximum plausible extent. Washington seems to have taken a clear advantage of the crisis that Iran has been facing after the decision that White House took to revoke the Nuclear Deal with Iran in mid of 2018. Given the fact that Iran is suffering from domestic crisis and its citizens are echoing the democratic values inside the country, for US it could have been no better time to make an attempt to destabilize the Foreign policy aspects of Tehran. Soleimani, as an influential leader in the region, had an ability to easily gameplay the political affairs of other neighbouring countries and thereby increasing a probability of "Iran Friendly" region but after his assassination the vacuum created by him would not be filled sooner. In this context, Iran's ability to persuade its neighbours in its favour during any possible conflict with US in future has also got a severe blow.
The options which Iran could have used are harming US bases in its nearby borders – which it has already done by blowing US bases in Iraq; using a covert warfare against Washington troops and officials – which yet again has been used when US embassy in Iraq came directly into attack from one of the radical military organisation known to have links with Tehran – the Hezbollah; it could also continue going against the provisions of Nuclear Deal up to an extent but not completely – because of segregation that it might face, in a worst case scenario, from other partners of Trade Deal which are also essentially members of European Union. Simultaneously considering the Syria problem and its own domestic issues, it is highly unlikely that Iran at this moment would like to have an excessive influence of Kremlin beyond a particular limit.
Also given the global slowdown; US Congress' opinion in the further tussle with Iran; Tehran's own economic issues; and a regional political instability in Middle East, a full-fledged war is a hypothetical situation which is highly unlikely to take place in near future. So, Tehran, even after having a potential to compete US up to some extent wouldn't be able to do so in the present global order.
Iran's Domestic Problems
Presently Iran is stuck into its own domestic problems which revolve around its political and economic spectrum. After the Iranian Revolution of 1980s, the realities have changed when it comes to Iranian politics and its various important components. A complete contrast can easily be observed in the country. In the early years, there was more of a single party system having only Islamic Republican Party and more than half of the representatives belonged to one particular section of the society – the clerics. More profoundly, the electorates or the people weren't literate enough, the media was not free from the state influence, and overall a much more conservative and non-vocal society was there.
Presently there's a multi-party system in the country having a much more educated group of electorates which occasionally raises its voice on various issues, there's no more unlimited censorship on the media and women participation in the parliament has also seen a growth.
Given the economic slowdown in the country after the US imposed the sanctions in 2019 on the countries importing the oil and other natural resources from Tehran and failure of JCPOA in long term to create employment among the youth of the country backed by the changed political reality has created a domestic turmoil in the country. People have come out on the streets and have shown their anger to the decision makers by raising their concerns of unemployment amid the economic backlash that country has been going through. Furthermore, the issues of corruption and shutting down the protesters by present regime have just escalated the turmoil.
In this situation where the regime was going through its domestic crisis, it faced a severe disadvantage of having a lack of public support and thereby giving an optimum chance to Washington to strike on its another stronger branch – the military. Now by striking the military and assassinating Iran's one of the most prominent military leader since decades, it has left Iran in a situation where it is shaken from both within inside – by internal challenges as well as from outside – by loss of a military leader thereby affecting its influence in the region as well as in the direct warfare.
Middle East without US is Not Possible at the Moment
Thinking of Middle East, presently, without US involvement would be immature. The region has always been high on the political instability having a constant tussle among the regional players. Trump, for his political motivations, might have had announced his will to free the region from US military but the policy makers in the Washington themselves are aware that leaving Middle East in the an era which has marked the chaos of political instability could be a major risk and certainly couldn't be afforded as it would directly or indirectly lead to the regional tussle as well as hurdle in the global imports and exports of the trade of oil, petroleum, and other natural resources. Given this, Trump has yet again got an excuse to maintain US's presence in the region as well as countering his political opponents for not fulfilling the election promise which he had made.
The Economy that US would like to Excel
The core benefit that Trump would be getting from this warfare with Iran – which is quite far away from a direct full-fledged war – is the economic boost for US and simultaneous exponential economic loss for Tehran. Since 2018, world has seen a complete flip in an overall picture of Washington's net import and export of oil and other natural resources. This initially had created a conundrum for the OPEC countries and their respective policies. Now Trump is using it as a covert warfare weapon against Iran in the given circumstances. In September 2019, the US exported 140,000 bpd more total crude oil and petroleum products than it imported; and total exports exceeded imports by 550,000 bpd in October. Also, the expected estimate for the same in 2020 is 13.2 billion bpd.
OPEC countries are mostly from Middle East and the political instability in the region clearly implies the hurdles in the exports of oil, petroleum and shale giving direct benefit in the trade and exports of these resources to the US. Moreover, the already imposed US sanctions on the countries importing the resources from Iran backed by the fact that deadline of May 2020 for exemptions of sanctions to those countries like India which didn't face sanctions at first place will further reduce Iranian market of export of resources and giving a clear edge to US in near future.
Thus, it would be very much incorrect to perceive the killing of military leader of Iran mainly as a mistake of White House. Trump might have a history of doing blunders but this time he has played cleverly in the region. It would be noteworthy to have a look at future implications and how Iran – after suffering few major blows – finds a way to deal with the situation which presently is not in its favour and in future too is moderately likely to be reinforced on the US side unless a major mistake is committed by Washington.
Removed Diplomacy: Why U.S. Sanctions Against Russia Have Gone Stale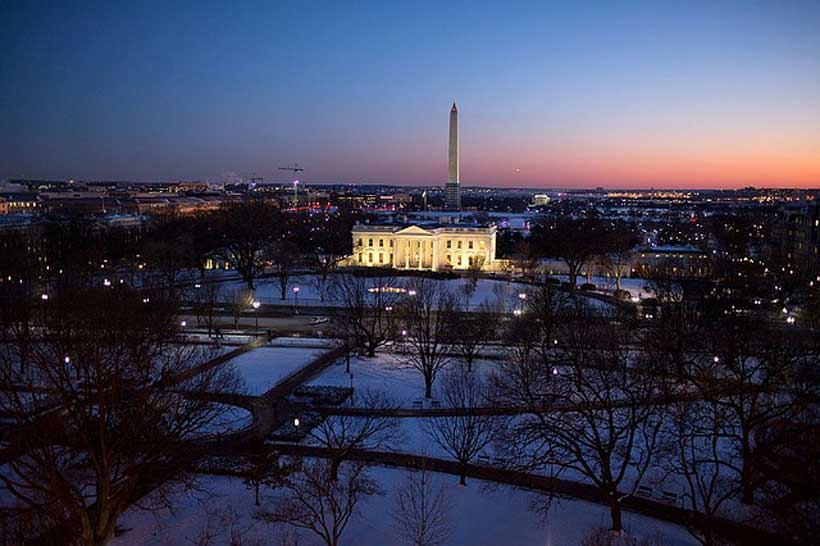 Since 2014, Russian and American diplomacy has been defined by economic sanctions. This has become the default, expected option for U.S. policymakers—but Russia has refused to concede, repent and ask for forgiveness. The U.S. had hoped Russia would experience just enough economic hardship that they would revert their course, retract their reunification with Crimea, and end any involvement in Eastern Ukraine. Almost seven years later, there is no evidence to suggest that Russia has any intention of buckling under the pressure and denying its national interests.
What the United States has failed to realize is that sanctions work on highly dependent countries. Russia is an independent country and has become more economically autonomous as a result of U.S. sanctions. The Russian domestic industry has flourished since sanctions were first imposed. Sanctions imposed by the United States are predicated on some combination of the following: either the United States has enough of an economic relationship prior to sanctions, so the loss of the United States as a trade partner alone is hugely detrimental to the target economy, or the United States can influence other countries who share a more extensive economic relationship with the target country to carry out the same policies.
Venezuela is a country that has been grievously affected by U.S. sanctions, as one would predict, given the country's dependence on the exportation of crude oil, particularly to the U.S. With oil comprising roughly 95 per cent of exports and their petroleum industry making up 25 per cent of overall GDP, Venezuela is considered very resource dependent when engaging in international trade. Venezuela has also been plagued by Dutch Disease, which has largely prevented its economy from diversifying for the past century. In 2013, the United States brought in 29.5 per cent of Venezuelan exports and delivered 23 per cent of the county's imports. Strangely, despite the sanctions imposed in 2014, Venezuela has grown more dependent on the United States. By 2018, 39.2 per cent of Venezuelan exports and 52.9 per cent of Venezuelan imports were in trade with the U.S. With this increased dependence on the United States after the implementation of U.S. sanctions. It is no wonder that Venezuela has been increasingly devastated beyond comprehension since sanctions were first imposed in 2013. Venezuela's trade balance through this period has consistently been in surplus. However, the volume of trade has shrunk USD 101.9 billion, from USD 143.76 billion in 2013 to USD 41.86 billion in 2018. The country has been rocked by astronomical inflation, reaching as high as 344 509 per cent. Is it the same case for Russia? No, which is due, in part, to Russia's Soviet legacy. The vast territory and harsh climate have also helped the Russians develop a much more diverse and independent economy. Additionally, the United States is simply not one of Russia's main trade partners.
As illustrated by data from the Observatory of Economic Complexity, Russia and Venezuela couldn't be more unalike. Russia's largest trade partners for the past 20 years have been Germany and China. In 2014, when the sanctions were first imposed, Russia's economy and international trade figures were at an all-time high. In that year, Russia exported USD 454 billion and imported USD 296 billion, a trade surplus of USD 158 billion. This year, the United States only accounted for 5.58 per cent of Russia's imports and 3.87 per cent of Russia's exports. In 2018, with even stricter sanctions imposed, Russia exported USD 427 billion and imported USD 231 billion, increasing the trade surplus from USD 158 billion in 2013 to USD 196 billion in 2018. Russia's trade balance from 2013 to 2018 still experienced a shrink of USD 92 billion. A key difference between Russia and Venezuela is that from 2014 to 2018, Russian trade decreased by just 12 per cent, compared to Venezuela's loss of 71 per cent. What does Russia have working to its advantage that Venezuela is lacking? Remember, for sanctions to work, they require high economic dependence from either the country issuing the sanctions.
Russia and Germany have an interesting codependency on one another. The Nord Stream project has been a source of tension between the U.S. and Germany; a recent Bloomberg article points out that there is an anticipated clash between newly elected president Biden and German Chancellor Angela Merkel. The German chancellor openly supports the completion of the second pipeline because the project is a means for securing German influence over Western Europe, as they will maintain their status as energy distributors once the pipe project is complete. Merkel also understands that the German economy depends on Russian energy. Nord Stream has become the only option since the Ukrainian pipelines have gone cold. Merkel has received criticism from those close to her, including from Norbert Röttgen, the head of the foreign affairs committee in German parliament. In September of 2020, he is quoted saying, "We need to respond with the only language that Putin understands, the language of natural gas," Meaning the one thing that Germany has at its disposal is the ability to back out of the Nord Stream deal to pressure the Kremlin into correcting their behaviour to satisfy western leaders. The only problem is that Germany is dependent on Russian natural gas. Germany has been falling behind other European countries in environmental efforts and has grown more dependent on coal power to supplement energy demand when renewable sources fail to meet the needs of the German people.
It's important to consider is the continuation of oil trade between the Netherlands and Russia. If the West is so concerned about preserving its ideals, why hasn't this trade been pressured? Likely because Nord Stream 2 is a relatively recent development, but the arrangement between the Dutch and Russia has been around for some time. What is odd, however, are the numbers. Between the Netherlands and Russia, there is hardly a difference in the dollar value of Russian exports in various petroleum products. It has maintained an average of about USD 33 billion for the past decade. This spans time both before and after sanctions. How does the West expect itself to be taken seriously if it is hyper selective about the battles it chooses to fight even when concerning sanctions. What is more comical about this particular deal is that the Netherlands supplies much of Western Europe's oil. Henceforth, further defending the point of Western Europe's dependence on Russian energy.
In conclusion, Russia has proven to be very resilient over the past six years. It shouldn't be implied that the sanctions have not affected the Russian economy. However, Russians have faced pervasive negative externalities, such as inflation and decreased average national income, despite the sanctions having been designed only to affect a select group of individuals. Even so, the Russian economy is growing and proving to be insulated and resilient against increased trade barriers. At first, the sanctions appeared to have a tremendous effect on the Russian economy, shrinking it by 44 per cent from USD 2.292 trillion in 2013 to USD 1.272 trillion in 2016. Since 2016, however, the GDP has steadily stabilized and gained back 42 per cent of losses from 2013 figures at USD 1.7 trillion as of 2019. It can be surmised that if the U.S. continues to impose sanctions on Russia for years to come, the Russian economy will continue to grow, develop, and become more independent.
From our partner RIAC
The World Should Get Rid of "Trump Inertia"
Authors: He Jun and Chan Kung
A new chapter is about to begin for the politics of the United States as the "Trump Era" will soon give way to the "Biden Era". As the United States still has major global influence, any shift in the American politics would therefore inevitably change the global geopolitical landscape as well as international investments and the trade environment. After four years of extreme policies in the Trump Era, coupled with the impact of the COVID-19 pandemic, countries around the world hope to see change and a return to relative normalcy.
However, the end of the Trump Era does not spell the end of "Trumpism." The many marks, characteristics, and ideological trends brought about by Donald Trump will continue to influence the world for some time. However, in the real economic field, countries may need to startridding itself of the environment characterized by unilateralism, America First, and the politicization of economic issues. Researchers at ANBOUND call these remaining Trumpist characteristics and their effects on countries' behavior "Trump Inertia".
"Trump Inertia" has many specific manifestations. The deterioration of the relationship between Australia and China is a clear example of this. Australia followed the Trump administration's side by choosing and adopting many extreme politicization practices against China despite China being Australia's largest trading partner, largest export destination and largest source of imports. In 2019, Australia-China trade volume totaled approximately US$158 billion; Australia's trade surplus with China was approximately US$48.83 billion, and its exports to China totaled US$103.90 billion, accounting for 38.2%
During the Trump Era, Australia followed the United States in adopting antagonistic approaches against China, which is understandable. Yet, though the Trump Era is coming to an end, Australia's attitude towards its largest trading partner is still considerably arrogant and hostile. While it is true that there are differences in ideology and values, such paranoia is still unreasonable and there is a lack of political insight in recent shift of international exchanges.
China too, has retaliated against Australia. On the one hand, it has adopted countermeasures in economic and trade, and imposed trade restrictions on the import of coal and a variety of agricultural products. On the other hand, China has also adopted tit-for-tat approaches against Australia in diplomacy.
With the withdrawal of Trump from the political arena, it is puzzling as to why there are lingering disputes between Australia and China as theirrelationscontinue to deteriorate. Trump might even feel proud if he sees that the two countries are still at odds even after he steps down. For China and Australia, this means that they have fallen into the quagmire of "Trump Inertia".
Though being a member of the Five Eyes alliance (FVEY) like Australia, New Zealand's approach is far different. Damien O'Connor, New Zealand Minister of Trade and Export Growth and Minister of Agriculture, stated that strong global demand for dairy products, especially in the Chinese market, will offset the adverse effects of weak dairy prices. It is estimated that in the year ending June 2022, New Zealand's dairy products export revenue is expected to reach NZ$ 20.1 billion. At the same time, forestry exports are showing a recovery trend. The New Zealand Government's Situation and Outlook for Primary Industries (SOPI) report predicts that in the year to June 2021, the export revenue of primary industries will exceed NZ$47.5 billion; in the year to June 2022, this figure will reach the NZ$ 49.2 billion record. It is worth noting that New Zealand's Foreign Minister Nanaia Mahuta also publicly stated that New Zealand is willing to help China and Australia achieve peace talks.
The policies and flexibility shown by New Zealand which differs from Australia'sreflect a normal response of a rational country. This is also something that China should learn from. In the current situation, geopolitical relationship between China and Western countries is tense, and this is seen as the most "successful" part of the Trump administration, all due to "Trump Inertia". For both Western countries and China, it is necessary to get rid of "Trump Inertia" as soon as possible.
Though the attitudes of other countries cannot be controlled by China, China is able to adjust and change its own actions. As the Biden Era is approaching, all countries need to adjust to the new changes and find new consensus points in terms of diplomacy, trade, multilateral cooperation, and global climate change. China is a major power with huge national interests. For that reason, it should have long-term visions and goals. China will need to adjust certain foreign policies and practices in accordance with the overall national situation and long-term interests to pave the way for its future development.
Final analysis conclusion
The Trump Era is about to end, but Trumpism will still linger for some time to come. In the face of the "political switch" in the United States, China and many Western countries need to adjust their strategies, get rid of "Trump Inertia" as soon as possible, and return their diplomacy to a rational and normal track.
The Shape of Sino-US Relations under President Joe Biden
Chinese and United States reports and statements indicate that the foreign policy of the United States will not undergo a radical change. The US president may introduce amendments to some sub-details, as for the broad headings of the US policy towards China; it will not change, as some people claim. President Biden was clear from the outset that China is the main competitor for his country and that the US must curb China's political reign and its tremendous economic progress, in a recent fiery statement by the US President that China will be held accountable for its human rights violations, such statements are similar to those made by former President Donald Trump during his political attack on China.
However, last week, President Biden made his first phone call to Chinese President Xi Jinping. During the call, the US President affirmed that the US adheres to preserving the security and stability of the Indian and Pacific oceans, and that the interest of the American people will be on the top of priorities. Unfortunately, President Biden expressed, in a way that does not differ from his predecessor, the US's concern about the economic policies pursued by the Chinese administration in the Hong Kong and Xinjiang regions, and criticized the rapid steps taken by Beijing regarding Taiwan. Before making that phone call, President Biden had referred to the intense competition between his country and China, which is raging in terms of the great Chinese economic and political progress in addition to the enormous military capabilities that the Chinese People's Liberation Army has become.
As for the Chinese president, he called on his US counterpart for cooperation and constructive communication with the aim of resolving the accumulated crises that have worsened greatly during the era of former President Donald Trump. Also, the leadership in the Chinese Communist Party has called on the US administration to cooperate and extend a hand instead of political maliciousness and destructive economic policies. But it seems that the US administration is intent on placing China in the category of political accusations. US Secretary of State Antony Blinken has expressed that the US is determined to hold China accountable with regard to human rights and the violation of the rules of democracy in Xinjiang, Hong Kong and Tibet.
China has made many achievements in the last decade. For the first time in modern human history, a non-Western country can accomplish a technological achievement. China was able to obtain 5G while it is on its way to 6G.This achievement was a resounding shock in the West, specifically the United States; this achievement was a resounding shock in the West, specifically the United States. In an unethical and illegal manner, the daughter of the president of the Chinese company "Huawei" was arrested in Canada and then the Canadian authorities handed her over to the US. This random step indicates the US failure and imbalance in the technological sector for the first time in favor of China after the US was on the throne of technology. The rational policy pursued by the Chinese administration has recently led to the elimination of extreme poverty, and China has made economic progress in light of COVID-19 and the economic recession, which indicates the resilience of the Chinese economy and its ability to achieve growth in the most difficult circumstances.
The US administration often criticizes China for violating human rights, oppression and unjust order, but in fact the Chinese administration pursues a development policy towards Xinjiang and other rural areas in China. In recent years, China has expanded the transportation network to reach all Chinese regions and increased the budget allocated for development and education, thus most of the rural population has become skilled and specialized workforce. It is a smart strategy to eliminate extremism and terrorism because poverty is an incubator for terrorism. The West often refers to technical institutes and training centers designed to integrate marginalized Chinese populations into active citizens as centers of oppression and torture. More than once, the Chinese administration has made it clear through reports, but it seems that the US is determined to maintain the maliciousness.
Chinese-US cooperation in the era of President Biden will be limited to global issues of concern to humanity, such as: climate change, health (specifically in the fight against COVID-19) and arms control; as for economic competition and political rockslide, the situation is still unclear on the horizon, but it is unlikely to reach a state of calm. President Biden is pursuing a policy of openness and engagement with international organizations, unlike his predecessor, which constitutes a golden opportunity for China to improve its relationship with the US and restore what President Trump has destroyed. The Sino-US relationship is the most important bilateral relationship in the field of international relations and cannot be overlooked. Both the United States and China possess a strong economy, a developed military, and an increasing political role on the international stage.
China adopts a policy of openness to neighborhood and stable relationship with some countries with which it shares contradictory interests and regional differences, such as South Korea, Japan and the Philippines. This wise Chinese policy makes it difficult to create regional differences or Asian rift between China and other regional countries. It is clear that the Asia-Pacific region will be on the top of President Biden's priorities. The United States is on its way to making a nuclear agreement with Iran and ending the conflicts in the Middle East, such as reopening the borders between the Kingdom of Saudi Arabia and Qatar, and serious peace negotiations to end the war on Yemen. Therefore, the Middle East is not a priority for the United States in this era because the greatest danger threatens the US economy and the US's position in the modern international system is coming from the East, specifically China, which has become the main competitor to the US.
Wang Da indicated that President Biden's policy will be more severe than President Obama's policy toward China, although both presidents belong to the same party and have similar visions. Biden was Vice President Barack Obama, but the political and economic situation of China in continuous progress and it has become difficult for the United States to tame despite President Trump's attempts to impose economic sanctions through trade war and taxes, Wang Da indicates that President Biden's policy will be softer in dealing with China than President Trump. The United States is very concerned about China's acquisition of advanced technology and its tremendous economic growth, so the efforts of the new US administration will focus on curbing this Chinese progress.
Li Xiao points out that the Biden administration will restore the alliances that President Trump's policies have destroyed in East Asia and the ASEAN region, as most of President Biden's team members were concluding agreements in the Asia-Pacific region to confront China economically and politically, such as the Trans-Pacific Partnership. Jiang Yang considers that the Chinese administration should strengthen its relations with its Asian neighbors, especially those countries that have troubled relations with China, such as India, Japan and Vietnam, in order to block the door on the United States to create differences in Asia. Most experts expect that the public opinion campaign launched by the United States against China will intensify regarding Xinjiang, Hong Kong, Tibet and Taiwan, but this fake propaganda will not affect the Chinese progress.
The United States under President Obama does not resemble the United States under President Biden. The capabilities of the United States are constantly shrinking, while China is in stable progress and it is expected to become the first economic power in the coming years. Even the United States' European allies do not agree with it on the hostility of China because of the great economic interests that unite Europe with China. The United States is still the great power, but there is a shift from unipolarism to competitiveness with the United States. The Chinese-US relationship will not be worse than it was during the era of President Trump, as the reliance is always on President Biden to break the ice and restore what his predecessor corrupted.