ADB, Norway Sign Agreement to Support Pakistan's National Disaster Risk Management Fund
The Asian Development Bank (ADB) and the Royal Norwegian Embassy in Pakistan signed an agreement today to expand support for the National Disaster Risk Management Fund (NDRMF), further strengthening financing for natural disaster risk reduction and preparedness in the country.
Under the agreement, the Government of Norway will provide $5 million to NDRMF from the unused resources of the Pakistan Earthquake Fund. Norway's assistance for NDRMF will be administered by ADB. The Secretary of Pakistan's Economic Affairs Division Mr. Syed Pervaiz Abbas, Ambassador of Norway to Pakistan Mr. Kjell-Gunnar Eriksen, and the Director General of ADB's Strategy, Policy, and Partnerships Department Mr. Tomoyuki Kimura signed the agreement.
NDRMF was approved in 2016 to provide support in the immediate aftermath of disasters and to invest in disaster mitigation projects in Pakistan. ADB provided the initial financing through a $200 million loan while the Government of Australia contributed a $3.4 million grant. In 2018, the Swiss Agency for Development provided a $1.5 million grant and technical assistance via the secondment of disaster risk finance experts.
NDRMF is currently fully operational, financing up to 70% of the cost of eligible projects that enhance Pakistan's resilience to climate change and other natural hazards. It is structured as a nonprofit, government-owned company incorporated with the Securities and Exchange Commission of Pakistan.
In the last 15 years, Pakistan lost 85,000 people—including more than 26,000 children— and suffered substantial economic losses due to various natural disasters. The government as well as the affected people had limited capacity and resources to recover. NDRMF was established to finance projects aimed at mitigating disaster risks, while also developing and piloting disaster risk financing instruments in Pakistan for fiscal risk transfer.
Norway has offered significant financial and technical support to Pakistan including in good governance, education, health, and emergency assistance. Norway worked with ADB and other partners to help Pakistan swiftly rebuild and recover from the 2005 earthquake. Following the heavy floods which devastated large parts of Pakistan in 2010 and 2011, Norway provided more than $56.4 million in aid for flood-affected families and to restore basic services.
Syrian conflict has 'erased' children's dreams -new UN report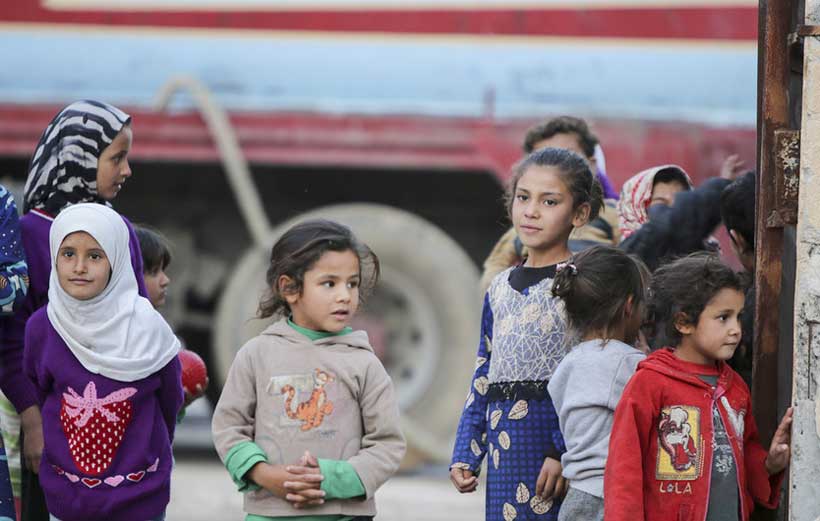 Nearly nine years of conflict in Syria have robbed boys and girls of their childhood and subjected them to "unabated violations of their rights", including being killed, maimed, displaced, forced to fight or subjected to torture, rape and sexual slavery.
The findings come in the latest report by the UN Commission of Inquiry on Syria, released on Thursday.
"I am appalled by the flagrant disregard for the laws of war and the Convention on the Rights of the Child by all parties involved in the conflict", said Commission chair Paulo Sérgio Pinheiro.
"While the Government of the Syrian Arab Republic has the primary responsibility for the protection of boys and girls in the country, all of the actors in this conflict must do more to protect children and preserve the country's future generation."
Dreams erased
The three-member Commission was appointed by the UN Human Rights Council to investigate and record all violations of international law related to the Syrian conflict, which began in March 2011.
Its latest report is entitled: They have erased the dreams of my children – a quote taken from a 2012 interview with a woman discussing attacks on her village in Idlib.
The study is based on approximately 5,000 interviews conducted between September 2011 and October 2019 with Syrian children, but also eyewitnesses, survivors, relatives of survivors, medical professionals, defectors, members of armed groups, healthcare professionals, lawyers and other affected communities.
The Commission said the use of cluster munitions, so-called thermobaric bombs and chemical weapons by pro-Government forces, have caused scores of child casualties.
Additionally, children's experiences in the conflict "have been deeply gendered."
Women and girls worst affected
Women and girls are "disproportionally affected" by sexual violence, and the threat of rape has led to restrictions in their movements. Girls have been confined to their homes, removed from school or faced obstacles to access health care.
Meanwhile, boys, particularly those 12 and over, have been arrested and kept in detention facilities, and targeted for recruitment by armed groups and militia.
"The younger ones are very good fighters. They fight with enthusiasm and are fearless. Fighters who are 14 -17 years old are on the frontline", a person associated with an armed group told the authors.
The war has also had an impact on access to education, with more than 2.1 million children not regularly attending classes of any form.
"Urgent efforts are required by the Syrian Government to support as many children as possible to return to education. Armed groups holding territory also need to act with haste to facilitate access to education," said Karen AbuZayd, one of the commissioners.
Commit to protecting children
The report also expresses concern over the severe impact the conflict has had on children's long-term physical and mental health.
Large numbers of young Syrians now have disabilities as well as devastating psychological and development issues. Additionally, fighting has displaced some five million children.
As the mother in Idlib stated: "They have erased the dreams of my children. They have destroyed what we have built during our whole life; my daughter was so depressed when she found out that our house was burnt down. My other child, a three-year-old boy, is traumatized by the crisis. He is continuously drawing tanks."
The Commission members called on all sides to "commit in writing" to granting children special protection during wartime, in line with international law.
Other recommendations include ending child recruitment and taking child rights into consideration during military planning.
They stressed that displaced children also require protection, which includes the obligation to repatriate children with family ties to ISIL extremist fighters.
"States have well defined obligations to protect children, including from statelessness. Failing to abide by such fundamental principles would be a clear derogation of duty," said Commissioner Hanny Megally.
ADB Inaugurates Project to Replace Diesel Systems with Solar Hybrid Across Maldives
The Asian Development Bank (ADB) and the Environment Ministry of the Maldives have inaugurated the implementation of a solar–battery–diesel hybrid system in 48 islands under the flagship Preparing Outer Islands for Sustainable Energy Development (POISED) Project to help the country tap solar power and reduce reliance on costly, polluting diesel.
The POISED Project aims to transform existing diesel-based energy minigrids into hybrid renewable energy systems in 160 inhabited islands of the atoll nation, out of which installations on 48 islands spread across 8 atolls have been commissioned. The project has been achieving this by investing in solar photovoltaic (PV) power plants, battery energy storage systems, energy management systems, and efficient diesel generators, as well as distribution grid upgrades to allow future renewable energy penetration.
"The POISED project—one of the largest energy sector interventions in the Maldives—will introduce sustainable energy in the outer islands as well as help reduce the cost of energy, minimize CO2 emissions, achieve considerable fuel savings, and reduce the burden on the government budget," said the Director of ADB's Energy Division for South Asia Mr. Priyantha Wijayatunga.
Mr. Wijayatunga, Minister of Environment Mr. Hussain Rasheed Hassan, and Minister of National Planning and Infrastructure Mr. Mohamed Aslam were among those taking part in a ceremony to inaugurate the project in Malé.
The Maldives is the first country in South Asia to achieve 100% access to electricity. Each inhabited island was electrified with its own diesel-powered grid system that was old and inefficient, resulting in expensive and sometimes unreliable electricity supply. Diesel power is also costly and requires government subsidies in excess of $40 million a year. The 100% diesel dependence of the Maldives makes it completely reliant on oil imports and also makes its carbon emissions per unit of electricity among the highest in the region. Project installations were able to prove that the optimally designed solar–battery–diesel hybrid systems could significantly lower the power generation cost compared to existing options.
The project already installed approximately 7.5 megawatt peak (MWp) of solar PV facilities, 5.6 megawatt-hour (MWh) of battery energy storage systems and 11.6 megawatts of energy-efficient diesel gensets, while also upgrading distribution grids in 48 islands. The overall project will target a minimum of 21 MWp of solar PV installations. This will cater for an annual demand of 27,600 MWh, accounting for a reduction of 19,623 tons of CO2 emissions annually.
The POISED Project, approved in September 2014, is supported by $55 million in grants from ADB—$38 million from the Asian Development Fund, $12 million from the Strategic Climate Fund (SCF), and $5 million from the Japan Fund for the Joint Crediting Mechanism (JFJCM)—and $50 million loan from the European Investment Bank (EIB). All the contracts under ADB for SCF have completed installations, while installation under JFJCM is currently in progress. Disbursements under EIB funding have commenced and EIB funds would be used for most of the remaining smaller islands.
IRENA and UAE Ministry of Energy and Industry Sign MoU to Cooperate on Renewable Energy
The International Renewable Energy Agency (IRENA) today signed a memorandum of understanding (MoU) with the United Arab Emirates (UAE) Ministry of Energy and Industry, to cooperate in the field of renewable energy and drive an accelerated shift to low-carbon energy sources.
The MoU was signed in by IRENA Director-General Francesco La Camera and Undersecretary of the UAE Ministry of Energy His Excellency Dr. Matar Hamed Al Neyadi in the presence of UAE Energy Minister His Excellency Suhail Al Mazrouei, during Abu Dhabi Sustainability Week
H.E. Suhail bin Mohammed Al Mazrouei, Minister of Energy and Industry, said that signing of the MoU with IRENA comes in line with UAE's vision and the direction of the UAE's wise leadership aimed at promoting sustainable development in the UAE, enhancing the use of renewable energy, as well as supporting and developing relevant policies and organisational frameworks.
H.E. Minister Mazrouei added that the MoU is aimed at promoting the exchange of open data and allowing the UAE to learn new ideas and benefit from best practices in the field of renewable energy. He said these efforts are aimed at achieving the UAE Vision 2021 objective of creating a sustainable environment in the UAE.
IRENA Director-General Francesco La Camera said: "The case for renewable energy in the UAE and across the Gulf is unquestionable. Today, solar and wind are the country's most cost-effective sources of new power generation – contributing to growth, economic diversification and sustainable development in the Emirates."
"This agreement marks a further strengthening of the Agency's close relationship with the UAE government as it charts a new course of energy leadership into the 21st century," continued Mr. La Camera. "Together with the Ministry of Energy, IRENA will work to explore the full potential of the UAE's vast and diversified energy resources."
For his part, H.E. Dr. Matar Hamed Al-Neyadi, Undersecretary of the Ministry, said that the aim of this MoU is to organize and maximize cooperation between the Ministry and IRENA's general secretariat in order to deliver benefits to both parties.
The agreement aims to strengthen and enhance cooperation and the existing business relationship between the UAE Ministry of Energy and Industry and IRENA to develop knowledge products, conduct analysis, exchange information and organize workshops on renewable energy.
Cooperation between the two parties includes the following:
The development of a UAE renewable energy road map, taking into account UAE's characteristic demand for air-conditioning and associated technology
Support with renewable energy dissemination policies, both current and planned, intended to support deployment of renewables
Electrical interconnection and energy exchange plans and procedures intended to enhance integration of variable and renewable energy, as well as the impact of renewable energy on the stability of transmission networks together with possible technical and operational solutions in this regard.
Under the MoU the two partners will exchange quantitative information on data, statistics, costs, benefits and analytical information related to renewable energy technologies and policies. Best practice in financial instruments and regulatory measures including energy efficiency, market design, system flexibility and long-term planning for a high shares of renewable energy will also feature.