Summer seems to get all the vacation glory, but nothing helps beat the winter blues like booking a getaway to chill out — especially to a new location.
The long winter season, which stretches from December 21st to March 19th, is a great time to cozy up by a fire in a snowy city or escape the cold in a sun-drenched destination. And travelers are catching on to the appeal. According to WalletHub's 2019 Travel Survey, two out of three Americans plan to travel this upcoming winter, up 4% from last year.
The uptick makes sense. Winter offers a multitude of things travelers can't do other times of the year, like ice-skating in Montreal, glimpsing the northern lights in Iceland or taking a sunny snowy stroll along the cliffs of Newport, Rhode Island. And those looking to escape the cold can take advantage of summer in the Southern Hemisphere, where sun-soaked beaches in Cartagena or breathtaking sunsets in Rio de Janeiro will make them (temporarily) forget about home.
With hotels (and guests) across both hemispheres, Hilton has compiled a list of cold- and warm-weather getaways and accommodations for those upcoming long winter months. Included are both well-known and unexpected cities with a mix of appeal for a range of travelers — whether they're looking to escape the crowds, embrace nature or improve a golf game.
Cold-Weather Getaways
Newport, Rhode Island: Embrace the cold in Newport, Rhode Island, a city known for Gilded Age mansions lining Bellevue Avenue and sweeping ocean views. On a sunny winter day, visitors can take a snowy stroll along the famous Atlantic Ocean Cliff Walk or explore Brick Market Place, which is home to 25 unique shops that sell fine jewelry, exotic meats and local handicrafts. Visitors looking to stay indoors can take a guided tour of The Breakers, Cornelius Vanderbilt's Italian Renaissance-inspired summer home. Those looking to explore some local culture can plan a visit in February to check out the Newport Winter Festival, which has live music, a chili cook-off and ice-sculpting demonstrations. The Homewood Suites by Hilton Newport Middletown, RI provides the perfect shelter from the cold Rhode Island days and is located just 15 minutes by car from The Breakers and near all that Newport has to offer.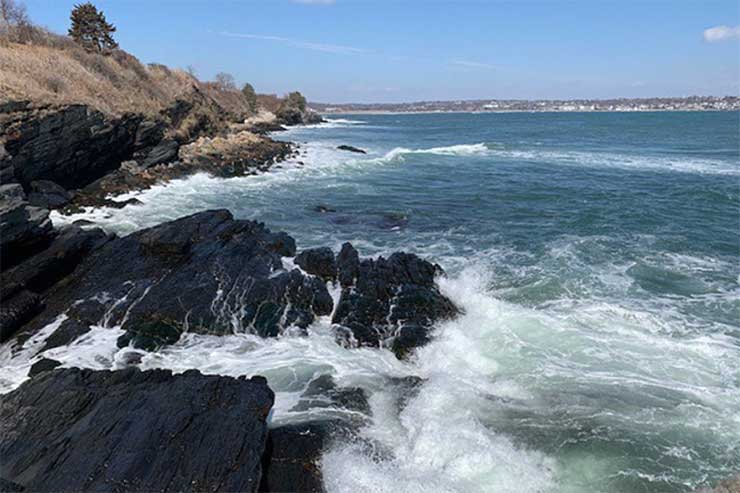 Montreal Canada: Montreal shines during the cooler months when the city transforms into a magical winter wonderland. Visitors can enjoy everything winter brings to the city – from icy landscapes and winter sports to warm comfort food. Travelers looking for an interesting way to see the city can join or create their own food tour. Try a taste of wood-fired bagels at Fairmount Bagel Bakery, comforting poutine at Poutineville and an orange julep (to wash it all down) from retro spot Gibeau Orange Julep. Those looking for more adventure can climb Mount Royal to find cross-country skiing in January and February and ice skating on frozen Beaver Lake from December to March. After a long day discovering in the cold, explorers can head back to Embassy Suites by Hilton Montreal for a complimentary evening reception. The hotel is just steps from several of the city's best art galleries, museums and nightlife and a 12-minute walk from The Old Port.
Reykjavik, Iceland: Reykjavik gives travelers the opportunity to visit the northernmost capital city in the world and a playground full of winter fun. Visitors can climb to the top of the world-renowned Hallgrímskirkja Church for 360-degree views of the entire city to get their bearings before exploring Reykjavik. Once they're back on the ground, they can explore by foot, or bicycle, to enjoy Laugavegur, one of Reykjavik's oldest shopping streets. Travelers can also take advantage of the longer winter days at the Winter Lights Festival in early February, where they can access museums and thermal pools for free. Canopy by Hilton Reykjavik City Centre is in the heart of the city center and provides an optimal base for exploring Reykjavik's attractions. Guests can take a quick stroll to the Old Reykjavik Harbour and see the Sun Voyager sculpture, a modern take on a Viking ship. They can return to the hotel for a culinary journey at Gott, where famous chefs Sigurdur Gislason and Berglind Sigmundsdottir sit at the helm.
Munich, Germany: Once the Oktoberfest crowds have dissipated, travelers will find a quieter, colder Munich covered in snow. They can escape the cold at the Munich Residenz, which was once home to the royal family of Bavaria, or embrace the cold by exploring snow-covered grounds at the Nymphenburg Palace (or Schloss Nymphenburg), a baroque-style palace where they can spot swans in the snow. Fairy tale enthusiasts can take an easy two-hour day trip from city center to tour Neuschwanstein Castle, the inspiration for Cinderella's castle at Walt Disney World. Hilton Garden Inn Munich City West is centrally located, making it easy to explore Munich in the winter. Guests can go anywhere using the Donnersbergerbrücke S-Bahn station and Trappentreustraße tram stop, both just a short walk from the hotel. After a day in the snow, guests can grab a drink in the hotel restaurant or order room service and relax in their guest room.
Tokyo, Japan: As temperatures drop, the vibrant city of Tokyo shines. Winter brings less rain to Japan, which makes it easier to see the incredible views across the city and surrounding countryside. Travelers looking to escape the cold can slip into a Japanese onsen, — geothermal hot springs scattered throughout the city — to destress and beat the winter blues. Those looking for adventure can travel one hour outside of the city to ski Japan's world-renowned slopes. Conrad Tokyo provides a city retreat after a day spent exploring. Guests can choose among the four restaurants on property, which include Japanese cuisine at Kazahana, gourmet Cantonese cuisine at China Blue, modern French fare at Collage and casual eats at Cerise. They can end the night at the TwentyEight, the hotel's skyscraper bar, to enjoy live music and refreshing cocktails.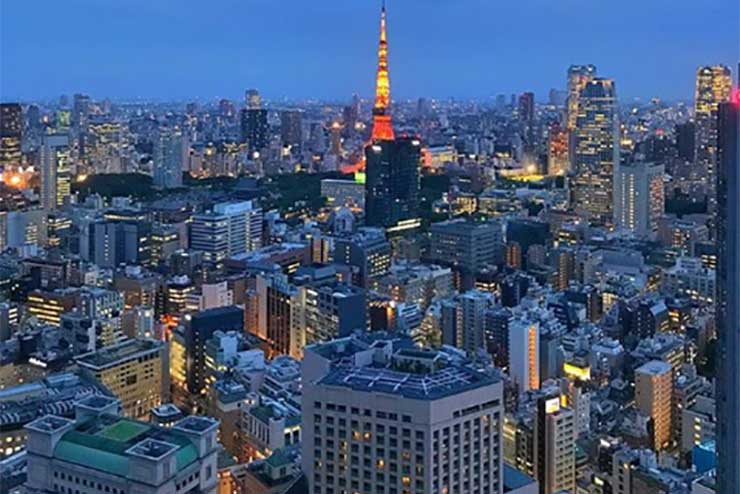 Warm-Weather Getaways
Key West, Florida: Escape the chill with a trip to Key West, Florida, where snowbirds can find a year-round tropical paradise with no passport required. After relaxing in a hammock under swaying palms, visitors can venture back in time and visit the Key West Lighthouse Museum, which opened in 1848, before wandering across the street to the Ernest Hemingway Home and Museum that houses 40-plus cats. As the sun sets, visitors can trek to Mallory Square to enjoy local entertainment and crafts while watching a stunning sunset. Travelers can dance the night away on Duval Street and enjoy a drink from popular destination Sloppy Joe's Bar, which opened in 1933, enjoy local "pinks" (shrimp) and sample some world-renowned key lime pie. Casa Marina Key West, A Waldorf Astoria Resort offers guests access to Key West's largest private beach and a quick bicycle journey to the fun on Duval Street. Guests also have access to sister property The Reach Key West, Curio Collection by Hilton located just steps away. Guests can rent a Jet Ski and cruise down the shoreline or get a massage in a private beachfront tent.
Rio de Janeiro, Brazil: Rio offers a rich cultural experience that includes great food, music, history and art, along with relaxation. Its location south of the equator means the seasons swap and winter turns to summer. Hot and sunny days are perfect for exploring the city's outdoor activities, such as enjoying the world-renowned Copacabana and Ipanema beaches or hiking the Pedra do Telegrafo to capture a panoramic photo of the beaches below. Visitors can taste the local flavors by sipping on caipirinhas, Brazil's national cocktail, or biting into a steak cooked churrasco-style at a local churrascaria. View the hand-painted tiles of the famous Selaron Steps (or Escadaria Selarón), or wind through the streets of downtown Rio filled with cafes and museums. Located on Copacabana Beach, the Hilton Rio De Janeiro Copacabana is a great launch point to explore Rio's beaches and city center. Guests can enjoy panoramic sea views while sampling traditional feijoada — a Brazilian black bean stew — at a weekend brunch at the hotel's restaurant, The View, served on Saturdays. For chilling out, the rooftop pool and brand-new rooftop bar, Isabel Lounge, are the perfect spots.
Cartagena, Colombia: Escape the winter blues and welcome balmy breezes from the Caribbean Sea in Cartagena, Colombia. Beachgoers of all types will find something that matches their vacation preference, from family-friendly beaches at Castillogrande and watersports in El Laguito to the beach clubs of Manzanillo del Mar. After brushing off the sand, visitors can walk the walled city of Cartagena, a UNESCO World Heritage Site, shop the bustling food stalls of the Mercado Bazurto or party on a chiva, a colorful party bus with local liquor and dancing. Conrad Cartagena offers a beachside retreat from the hustle and bustle of Cartagena. Guests can get exclusive beach access at the Karibana Beach Club, unwind at the Conrad Spa, hit a few holes at a TPC Nicklaus Design golf course or dine at one of the seven on-property restaurants.
Best Restaurants and Bars of Downtown Calgary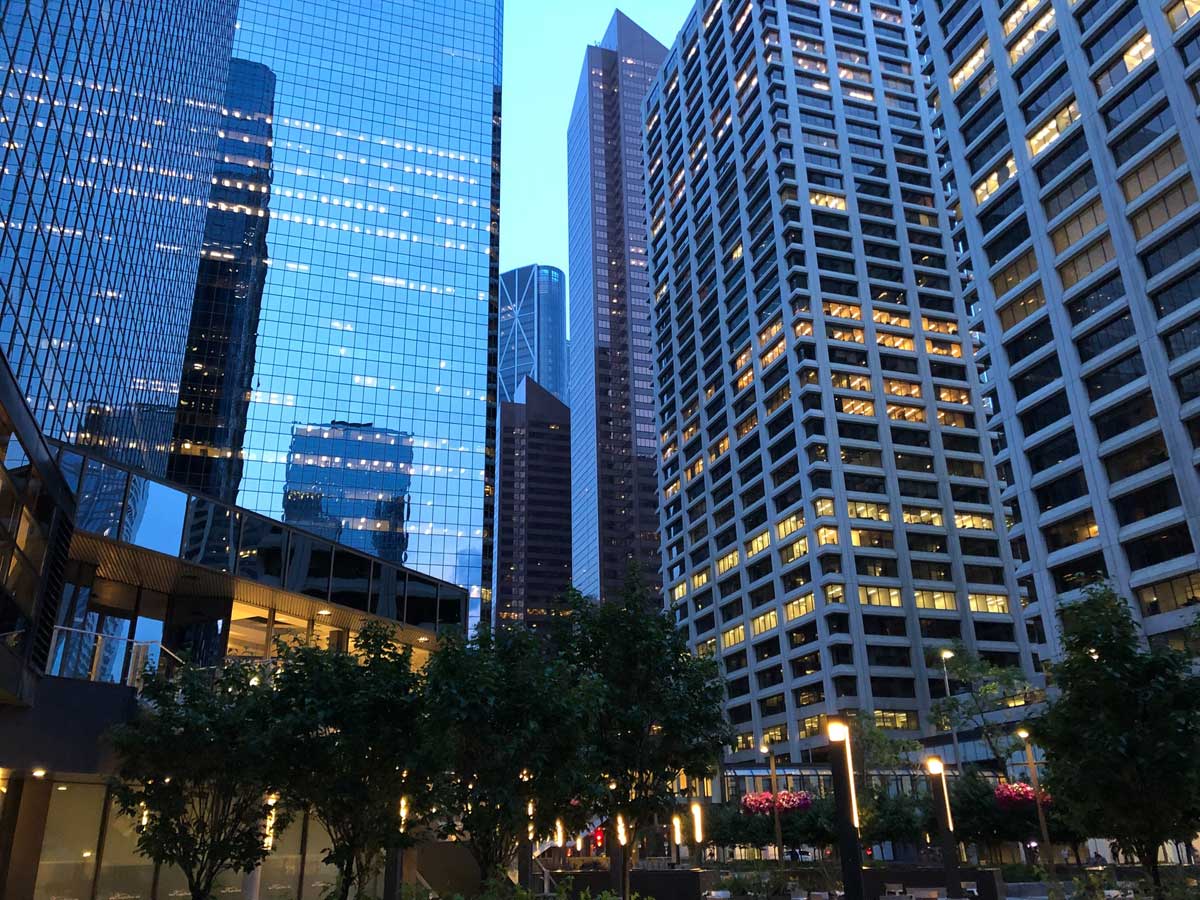 Located on the prairies, Calgary receives the most sunlight of all of Canada's major cities. Summers can be hot and humid, while winters are generally mild especially in contrast to the rest of Canada. The city receives so much sunshine throughout the year, even during the winter months, that living there is a desirable option for many looking to relocate.
Although this expanding metropolis is wealthy, living expenditures in Calgary are lower than in its coastal neighbor Vancouver. Calgary Homes for Sale are selling at an all-time high, with individuals migrating from townhouses and condominiums to single-family homes, and those who already own a home are choosing to upgrade.
Calgary has achieved significant progress in the culinary business during the last decade. The city is presently thriving with a rich restaurant culture that rivals that of any other big metropolis. Below are some of the best restaurants and bars of downtown Calgary.
Ten Foot Henry
Healthy eaters typically develop a big craving for Ten Foot Henry. They provide a fresh veggie menu and family-style eating, and they're open until 11 p.m. every day to accommodate those who might have a late-night yearning for really tasty (and healthy) cuisine. Also, if you're in a hurry, you can stop by the Little Henry café for a quick bite.
Holy Grill
Holy Grill is a must-visit if you're in the downtown area and searching for a decent lunch spot. They understand that your lunch break is limited with work or personal obligations, but that you don't want to trade outstanding taste for convenience. Customers can order hot meals from the grill, which are cooked using fresh ingredients. Meals are carefully prepared and the service is generally quick so you can return to work or get back to touring Calgary's streets as soon as possible.
Betty Lou's Library
Betty Lou's Library is considered Calgary's best kept local secret because discovering the library's entrance is half the pleasure. You'll need to remember the password given to you while making a reservation to get through the concealed doorway. Once inside, you'll be transported to the Prohibition Era of the 1920s, where you'll be able to relax on classic furniture while sipping cocktails named after notable 20s-era icons such as Zelda Fitzgerald. When you're here, you can snack on little dishes of wonderful cuisine while reading The Great Gatsby, or enjoy stimulating conversation with members of your party.
Taste
Taste Restaurant serves tapas and specialty cocktails in a trendy and modern setting. The cozy and low-lit atmosphere is ideal for a date night. Visitors have the opportunity to observe their cuisine being prepared in the open kitchen. The tiny plates of food are designed to be shared and are brought to the table on a regular basis throughout the night. Taste's menu changes seasonally to reflect the availability of local and seasonal products, ensuring that you always receive something new every time you visit.
The Lake House
The Lake House is a beautiful restaurant perched above Lake Bonavista with large glass windows lining the building's façade, providing panoramic views of the lake and surrounding landscape. The menu features distinct rocky mountain cuisine, reflecting Western Canada's regional tastes that are so flavorful that you'll certainly return for seconds.
The future of travel – an all-hands-on-deck effort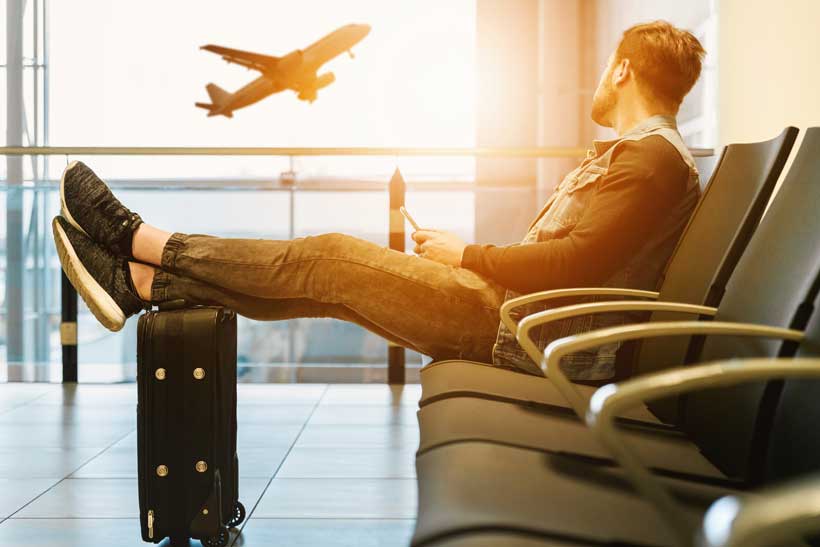 The COVID-19 pandemic has undoubtedly shaken up the world, with travel and tourism, a major global growth driver accounting for 10 per cent of the world's economy, one of the hardest-hit industries. The outbreak has in its wake created severe domino effects in the ecosystem; not only the major airlines or chain hotels affected, but also the 80% of the tourism sector made up of smaller accommodation providers plus the peripheral services associated with tourism, including food and beverage, cleaning service providers, local tour guides and transportation. With World Travel and Tourism Council's latest forecast that up to 75 million jobs will be at risk, it begets the question: Is the industry going to recover?
The answer is yes, but it will take all hands on deck, and a strong collaboration among all parties.
Government support is crucial
The travel industry supports one in 10 jobs within the global workforce in Asia Pacific, the Americas and Europe, and rising to 13.3% of total employment in Southeast Asia. Governments can and are playing a critical role in supporting the industry to protect individuals' livelihoods and in turn lead to economic recovery. Several governments have already announced stimulus packages to cushion the impact of the outbreak. This funding is proving crucial for the travel industry to maintain business continuity in the short term, but further to that, collaboration and cooperation with key industry players is important to help drive sustainable recovery within this sector. And the industry has not waited for smoke to clear to commence such conversations. For example, governments have already started working with key players and SMEs to develop and promote new, transparent safety and hygiene standards across tourism-related businesses, which will be crucial in driving traveler confidence again. Tourism ministries and destination marketing organizations (DMOs) can partner with online travel agents (OTAs) to inspire desire to travel and attract travelers to destinations right across their markets in a sustainable way, which supports communities outside of key tourist destinations that were also impacted by COVID-19. These digital travel platforms, with their expansive reach and marketing tools, act as a bridge to help DMOs reach domestic and international travel audiences, while DMOs can encourage future travel planning by funding traveler incentives, while properties offer flexible cancellations.
Role of industry players
Agile travel players can take the opportunity to improve their offering and build new capabilities, preparing for when travel picks up again. In fact, the recent guidelines from the United Nations World Tourism Organization (UNWTO) to help the global tourism sector re-open smoothly and safely, emphasised the importance of innovation and technology in building the industry's resilience. Accommodation providers, airlines and tour operators need to be attuned to changing travelers' expectations, which may look quite different post-pandemic. Innovation to anticipate these evolving needs is essential and identifying solutions that prioritize safety and flexibility now during travel downtime, will go a long way to rebuilding confidence.
Research from Agoda.com shows that travelers expect more from their travel experience in the 2020s with advances in technology improving the efficiency and ease of booking and traveling. In fact, aside from improving payment options and booking processes, one in two South East Asians anticipate that mobile app check-in will become the norm at hotels or holiday accommodation this decade. This desire may be even more prevalent for travel post-COVID, as people may demand contactless processes as far as possible.
In addition, hoteliers and airlines for example, are reviewing and updating their cancellation policies and procedures to align with travelers' new expectations. These updates will likely to include more flexible booking options, making use of data analytics to better review occupancy levels and pricing strategies according to demand, as well as working with different distribution channels to reach travelers with their accommodation offers or flight deals. Other players, such as credit card networks and banks, have a role to play as well and can support by promoting safe travel campaigns.
Most importantly, across the travel ecosystem, all parties should work in tandem to not only align the conditions for such new policies and strategies, but also coordinate on campaign themes and periods, making it easier and more attractive for travelers to plan and book their travel. OTAs are well positioned and equipped to connect these players, from DMOs, hotels, airlines, activity providers, and other supporting partners, to a wider consumer audience.
Travelers also have a part to play
Last but not least, travelers fuel the sector. People will want to travel again, to explore the beauty of the world on their doorstep and further afield, though we expect the pace of travel industry recovery will differ across the world. However, without the collective understanding for responsible travel once governments begin to lift travel restrictions, the recovery process will be a slow and arduous one.
Agoda's Next Decade Survey found that more than 25% of people want to make more eco-friendly travel choices in the next decade. The pandemic may make us reflect even more on sustainable travel; travelers may become more aware of the impact of their decisions and habits, which may lead to seeking out more environmentally friendly hotels, or picking destinations in less visited secondary cities to help spread tourism dollars and rebuild local communities.
Travel was one of the fastest-growing industries and over the years we have seen that the industry is resilient in bouncing back from crises. People's desire to travel will not be quelled. However, bringing back tourists and re-building confidence in travel is going to take new approaches and collaboration. Like the story of the bundle of sticks, where a single stick can be easily broken but not when held in a bundle, it will take a collaborative effort from all players to pull through this together and reinvigorate the travel sector in a safe and sustainable manner.
Sea Adventures: Athens Riviera
Athens may be known for its archaeological attractions, but it's also one of few European capitals blessed with a swimmable coastline of EU-designated Blue Flag beaches and idyllic coves.
For those yearning for adventures on the water, you'll feel spoiled for choice. Greece is home to some of the world's most desirable sailing grounds, so there's plenty of boating fun to be had, starting with the Athens Riviera. And there's no better jump-off point than Four Seasons Astir Palace Hotel Athens, which sits at the edge of a secluded peninsula that juts out into the Saronic Gulf.
Choose between the slow and steady rhythm of a sailing yacht and the adrenaline rush of slicing through the water in a high-powered RIB. Whatever it is that floats your boat, a private yachting trip is the best way to reach the nearby islands of the Saronic.
Greece's culture and way of life is inextricably tied to the sea, therefore, adventures on the water are a signature resort experience. Here, water therapy comes in all sorts of forms, from scuba diving and kayaking to open water swimming and beyond. Consult our concierge, who can tailor the experience to your specific interests.
Sail Your Way to Serenity
Few moments in life invoke a sense of freedom and serenity like casting along the water in a sailboat, the wind rushing through your hair. There's something about being on the water and relying on the wind to chart your course that allows you to rediscover your spontaneous side. You'll set off from Astir Marina for a half-day skippered sunset catamaran cruise around the islets of Hydrousa and Fleves, whose crystalline waters are ideal for swimming. Raise a toast to the generosity of Mother Nature with a glass of prosecco along with finger food, traditional Greek delicacies and fresh fruit. Make the experience even more memorable with a candlelit dinner at anchor in a sheltered bay.
Reach Remote Coves in a RIB Boat
Not only are RIB boats the fastest mode of marine transport, they also allow you to reach the most remote coves located along the Riviera and off the Saronic islands, many of which are inaccessible by land. Hop aboard and, in no time, your skipper will have you flying across the water, jetting between secret bays and inlets. You'll be surprised to find aquamarine waters reminiscent of the Aegean, in locations such as tiny, pine-dotted Agistri island, situated a relatively brief boat ride away from the resort. All you need do is drop anchor and take a soul-reviving dip. As late afternoon rolls around, dock outside casual seaside taverna Apónēssos at the southwest tip of Agistri and sample grilled sardines and tuna carpaccio, the house specialty.
Take to the Sea on a Traditional Caique
One of the most unique ways to sail the Saronic is aboard a traditional Greek caique, or trehandiri, with a captain who knows these waters like the back of their hand. Powered by motor and, in some cases, sails, these boats are renowned for wide wooden hulls that are specifically designed for navigating Greece's waters in safety and comfort. Guests can choose between lovingly-refitted wooden motor sailing boats such as the 48 foot (15 metre) Faneromeni, which was built from pine on the Sporades island of Skiathos in 1945. Like most of these hardy vessels, there's a story behind each one: Faneromeni originally transported food and other goods to the islands. Today, many caiques feature cabins, dining facilities, deck lounges and water toys such as SUPs and snorkelling gear. Ask our concierge about packing a Four Seasons picnic basket filled with culinary delights. You may prefer one of our chefs to join you on the trip to prepare a delectable menu on board.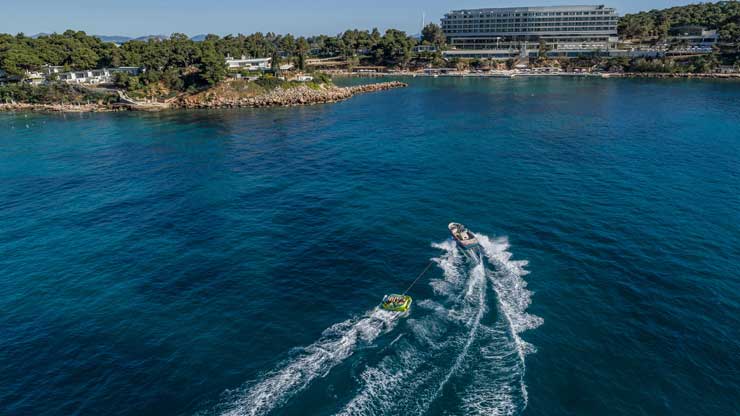 Scuba Diving for Everyone
Newbie scuba divers often find it hard to paint a picture of what it is like to see the underwater world for the first time. Below the sea surface, the world falls beautifully silent. Looking at the delicate marine ecosystem up close, one feels a deep sense of peace, wonder and delight. For those wanting to try scuba diving during their stay in Athens, the calm, protected waters of the Saronic make for ideal conditions. Our expert team can provide a one-hour taster lesson in the basics of diving close to shore, whereas private dive sessions further out at sea can be arranged for the more advanced.
Kayak to Cape Sounion
Test your form and explore the spectacular coastline around Cape Sounion, at the southeastern tip of greater Athens, on a guided sea kayak tour. Our kayak experts will show you rugged cliffs, take you to hidden caves and introduce you to Archi islet and the sand dunes of wild Legrena beach. You'll have the opportunity to swim in refreshingly cool seas and fuel up with a snack before you continue to Cape Sounion. There, you'll park your kayak on the shore and take a wander around the painstakingly-preserved fifth-century BC Temple of Poseidon, dedicated to the Olympian god of the sea. British poet and philhellene Lord Byron was so impressed that he carved his name on the white marble structure when he visited in the 19th century.
Swim Freely in the Open Sea
Recruit our professional swim coach, who is also a trained lifeguard, for an open water swimming session in the exceedingly safe, shallow Blue Flag waters of Vouliagmeni Bay. Treat it as a training session as part of your regular program or make it a leisurely swim in the sunshine, taking in sweeping views of the verdant peninsula. Your coach will wear a floatable safety device for the duration of your swim to ensure added peace of mind.