New Narratives Lab Promotes Next Generation of Cultural Leaders to Advance Change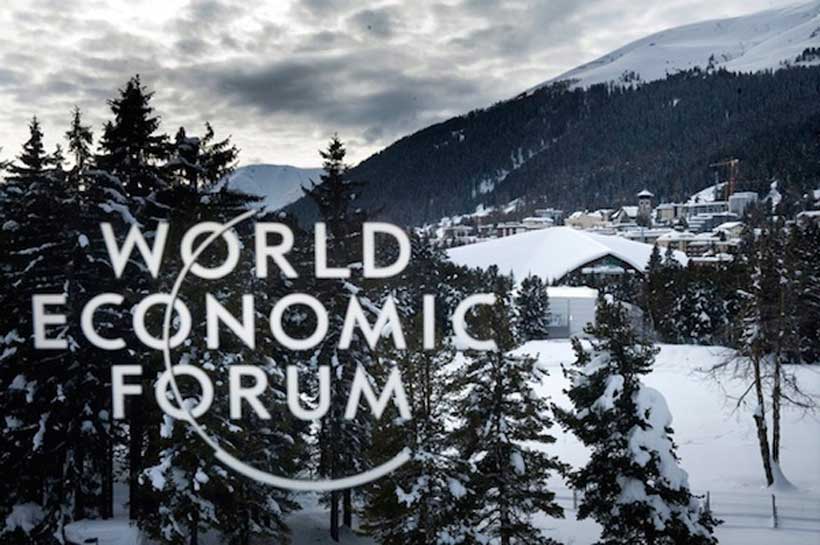 The World Economic Forum today launches the New Narratives Lab, a year-long fellowship dedicated to fostering a new and diverse generation of Cultural Leaders. Through one-to-one mentorship by the World Economic Forum's network of Cultural Leaders and support from peers, Fellows will develop leadership skills to navigate circles of power and decision-making to bring about change.
The Lab is developed in collaboration with 2020 Crystal Awardee Lynette Wallworth, with major support from the Ford Foundation. "Many artists from under-represented communities demonstrate great leadership potential and desire but may not have the access or resources to activate that leadership. This fellowship is a platform to support their journeys as leaders", said Nico Daswani, Head of Arts & Culture at the World Economic Forum.
Fellows will engage with their Mentors throughout the course of 2020, including at the Annual Meeting in Davos in January, during a weeklong residency at their mentor's location in the spring, during the UN General Assembly week in New York in September, and at other Forum events. In addition, Fellows benefit from targeted introductions to business leaders, policy-makers and media influencers in line with their development goals; a coordinated social media, media and documentation strategy; and a $15,000 stipend. Follow the Lab journey at #newnarrativeslab.
"By creating a new fellowship for cultural leaders who strive to create change and by surrounding them with a team of allies who have experience navigating corridors of power, we hope to elevate the role of artists as leaders and to lift them up as they generate urgent new narratives for a changing world", said Lynette Wallworth, Artistic Director of the Lab and 2020 recipient of the Forum's Crystal Award.
Fellow and Mentor pairings include:
Rena Effendi (Fellow, Istanbul) with Platon (Mentor, New York)
Rena Effendi is an award-winning photographer whose work portrays the socioeconomic effects of globalization on marginalized communities around the world. Effendi will be supported by Platon, one of the great photographers of our time, to combine powerful storytelling with real-world impact through the creation of multi-stakeholder coalitions.
Thando Hopa (Fellow, Johannesburg) with Angélique Kidjo (Mentor, Paris/New York)
Thando Hopa is a model, diversity activist and lawyer. In April 2019 she made history by becoming the first person with albinism to appear on the cover of Vogue. Hopa will be supported by Grammy Award winning musician and UNICEF Goodwill Ambassador Angélique Kidjo in advocating for more inclusive representation in media to benefit and support all bodies and identities.
Wanuri Kahiu (Fellow, Nairobi) with Jin Xing (Mentor, Shanghai)
Wanuri Kahiu is a filmmaker whose award-winning stories and films have received international acclaim and screened at more than 100 film festivals worldwide. Celebrated abroad, her latest film Rafiki was banned by her government for depicting a joyful lesbian love story. Kahiu will be supported by choreographer, media personality and one of China's most popular TV hosts, Jin Xing, in developing the narratives that will empower artists in Kenya and beyond to advocate effectively for their freedom of expression.
"This fellowship is a response to the critical need for a diversity of perspectives and voices, including those of artists, to be in conversation at the most influential levels, about a world guided by the goals of equity, justice and dignity." Said Cara Mertes, Project Director, Moving Image Strategies, International Programs, Ford Foundation
Ama Ata Aidoo: Ghanaian Novelist, Poet, Playwright and Renowned Feminist
On 31 May 2023, Ama Ata Aidoo, Ghanaian feminist, poet, playwright, novelist, and author of works including Our Sister Killjoy (1977) and Changes: A Love Story (1991), passed away aged 81. Aidoo's death was announced in a press statement signed by the Aidoo family head, Kwamena Essandoh Aidoo. "With deep sorrow but in the hope of the resurrection, informs the general public that our beloved relative and writer passed away in the early hours May 31st, after a short illness," the statement read.
Political & Teaching Career.
In January 1982, Aidoo was appointed as the minister of education under the government of President Jerry Rawlings. As minister of education, Aidoo sought to make education in Ghana freely available to everyone while serving as minister. However, after 18 months, when she realized she couldn't accomplish her goals, she resigned. She went on to live and teach in the US before relocating to Zimbabwe in 1983 on a self-imposed political exile to pursue her career as a writer and an advocate for education.
Useful Achievements
Aidoo was one of Africa's greatest literary voices and her status was evident in her numerous achievements and accomplishments. In 1987, she won the Nelson Mandela Poetry Award for Someone Talking to Sometime; in 1992 she was awarded the Commonwealth Writers Prize for Africa for her novel, Changes: A Love Story. In 1992, she became the first recipient of the International PEN Women's Committee Travel Fellowship from UNESCO, and in 1998, she was chosen to lead the African Visions Literature Tour. In 1999, Aidoo was awarded Companion of the Star of Volta, Ghana's highest civic honour.
The "Dreams of Africa" Gala Shows Wonderful World of African Culture
Africa is getting renewed attention from all corners of the world. Africans celebrate their continental day on May 25th. Some believe it is the best time to observe it with cultural performances. The concept of pan-Africanism has offered the grounds to show Africa's diverse culture, food and artworks to the world.
With the 60th anniversary of Africa Day, there are good reasons to mark the event in solidarity with brothers and sisters irrespective of the political differences. In short, the necessity to sustain the already established unity in cultural diversity by all Africans in the continent and the Diaspora across the world.
In the Russian Federation, the KizzAfro Art Week of African Culture was held in Moscow. The KizzAfro Art Week of African Culture is held with the aim of developing African culture in modern Russian society, establishing important social and cultural ties between creative people from Russia and African countries.
The main objectives of the event are: creating a favorable atmosphere for cultural and business cooperation between the peoples of Africa and Russia, familiarizing a wide audience with the customs and traditions of African countries, developing friendly ties between the peoples of the world through African culture and art.
According to Nadezhda Kuzmina, General Producer of KizzAfro Art Week of African Culture, participants of the festival event will have a one-week immersion in the wonderful world of African culture. About a thousand dancers, musicians, designers from various African countries and Russia actively participated in the project. The culmination was the "Dreams of Africa" gala show.
At the show it was simple possible to hear musicians from African countries such as Cape Verde, Nigeria, Zambia and Guinea accompanied by a symphony orchestra from Angola "Kaposoka". There were traditional dances and modern choreography from professional dancers, their voices captivating rhythms of Afrobeat music, from Angola, Rwanda, Russia and other countries.
"We gathered here this evening to watch African culture. These African cultural performances, of course, aim at showcasing the enormous cultural potentials in the continent and importantly its happening in a unique place here. We are today in space, in Kosmos hotel, navigating and promoting our diverse culture (best artistic voices and sounds), which is part of the celebrations to distinctively mark the Africa Day," said Professor Zenebe Tadesse Kinfu from Moscow's International University and President of the Union of African Diaspora in the Russian Federation.
He further underlined the fact that "May 25th, the day serves as an opportunity to acknowledge the remarkable progress Africa has made while reflecting on the challenges it continues to face. Africa is a continent of diverse landscapes and rich cultural heritage. These musical groups performing together simply shows our unique adherence of pan-Africanism concept and the continental unity by the African Union. Therefore, it beholds on us and to remember that the Africa Day is a celebration of both the diversity of African countries and cultures, as well as our continued efforts to encourage greater unity among African people and the African Diaspora."
The project was implemented with the support of the African International Congress. Here is what Konstantin Klimenko, Co-Chairman of the African International Congress from the Russian side, Chairman of the Organizing Committee of the Week of African Culture, Rector of the Eurasian International University, said: "The creators of the largest African dance festival are now starting with a new large-scale project of the African Culture Week KizzAfro Art. A large-scale forum of public diplomacy and culture has already emerged from a successful dance project."
As part of the gala show, an informal Russia-Africa dialogue was held with the participation of ambassadors of African states, representatives of federal and regional authorities of Russia, cultural figures, representatives of the business community, including members of the African International Club. For the most part, this action will also contribute to successful preparations for the second Russia-Africa summit with the participation of African heads of state and Russian President Vladimir Putin.
Despite all kinds of challenges, African men and women in the diaspora showed their collective strength and unity to have the long-awaited cultural festival featuring solidarity and friendship to their Russian audience, friends and hosts. The musicians admirably amplified their voices presenting the continental cultural unity considered as a component of the Africa's century.
For priceless European art, extra protection costs very little
Inexpensive new materials and sensors will help even small museums prevent irreversible damage to objects.
By ALEX WHITING
Overlooking the waters of the Grand Canal in Venice, the former home of American art collector Peggy Guggenheim houses one of Italy's most important collections of 20th century works. Until recently, many of them were at risk from an invisible attacker: acetic acid released by their ageing wooden picture frames.
Chemists based in another renowned Italian city, Florence, have come up with a new material that will protect the artworks from acetic acid, formaldehyde and other damaging volatile organic compounds (VOCs) for between 50 and 100 years.
Clever and cheap
'We synthesised the first absorber for acetic acid and formaldehyde using a very clever, cheap method,' said Piero Baglioni, professor of physical chemistry at the Center for Colloid and Surface Science, or CSGI, in the University of Florence.
The material is flexible and biodegradable and can absorb twice its weight in pollutants. It's made mainly from castor oil.
Curators at the Peggy Guggenheim Collection have applied sheets of it to the backs of paintings and on a wall in one room, which includes a 1929 painting by Vasily Kandinsky and a 1915 sculpture by Umberto Boccioni.
Levels of acetic acid in the room have since dropped from two parts per million (ppm), which is high enough to damage artwork, to safe levels of 0.5 ppm, according to Baglioni.
The material, Nanorestore VOCs, can be produced in any shape, size and colour, said Baglioni, who coordinated an EU-funded research project called APACHE that developed a range of products designed to protect valuable artworks.
The discovery is likely to have a major impact on the future health of artworks, including those in storage. That's because many galleries and museums store their collections in wooden containers, which release VOCs.
The Pompidou Centre in Paris – home to Europe's largest collection of modern and contemporary art – is testing the material for its storage containers. The museum keeps most of its 120 000 pieces in wooden crates, including works by Pablo Picasso, Amedeo Modigliani and Georges Braque.
Scream test
Baglioni is also testing the material in the Oslo, Norway-based museum dedicated to Edvard Munch and featuring one of the artist's most famous paintings – The Scream. Hundreds of Munch's prints and drawings are kept in wooden drawers that would cost a small fortune to change to a new material, according to Baglioni.
In February, following APACHE's end last year, his team put sheets of the material – costing about €5 each – in the storage drawers and will check the VOC levels in June.
'If it works, the museum will save a lot of money,' Baglioni said.
The product will soon be on the market for museums and galleries. It's also being marketed as a way to purify the air in homes, hospitals and offices. VOCs comprise 80% of indoor air pollutants and can affect people's health.
Baglioni is working with researchers at Sweden's Chalmers University to produce what they hope will be the world's most effective and environmentally friendly material for absorbing VOCs.
APACHE also developed sensors that cost just €0.10 each to monitor levels of VOCs. These will be made by Goppion, an Italian company that produces display cases used by the Louvre and other cultural institutions.
But the company, which took part in the project, needs broader demand for production to be viable.
'If the market for this system is restricted to museums and galleries, it won't be profitable,' said Baglioni. 'So we have to find an additional use for them.'
Invisible threats
Most threats to Europe's masterpieces and historical artefacts are invisible to the naked eye: changes in temperature or humidity, ultraviolet light, small vibrations from the footfall of visitors or building works as well as VOCs.
Even the type of building that the works are housed in – modern or old, stone or wooden – affects them. Often, the impacts become visible only once the damage is done.
Whereas large museums and art galleries can pay for multiple sensors to monitor closely their collections, cash-strapped smaller institutions struggle to meet international standards on maintenance and storage.
'It's really hard for small and medium-sized museums to preserve their artefacts because of a lack of expertise, human resources and means,' said Marie-Dominique Bruni, programme manager at the French Alternative Energies and Atomic Energy Commission, also known as CEA.
Bruni coordinated a project called SensMat that developed sensors and software to monitor as many as 12 different environmental factors – from dust levels to vibrations – and alert conservators to the risks to art in their care so they can act before damage occurs.
'We facilitate the way they collect and interpret this data to decide the best way to display an exhibit, or what to change if its environment puts it at risk of damage,' said Bruni.
That may mean changing the climate controls, limiting the number of visitors or moving the item to another room.
Metal objects, for example, can corrode in the wrong temperature, humidity and light conditions.
'When that corrosion becomes visible, it's too late,' said Bruni. 'So we have to move the objects or change the temperature and humidity to prevent their corrosion.'
One of the most detrimental effects is low-frequency vibration. These could come not just from visitors' footfall and building works but also auto traffic.
'Museums need to diagnose the impact of vibrations,' said Bruni. 'Frescoes painted on walls or ceilings and objects made with different layers are particularly vulnerable.'
Software success
Museums and galleries increasingly lend collections to each other, a practice that creates new challenges for the transport and display of objects.
'Museums and galleries have to guarantee they won't endanger the objects they are receiving,' said Bruni. 'Our software could help them define the conditions needed before receiving new objects. Insurance companies are very interested in this kind of information.'
SensMat, which ran from January 2019 through August 2022, worked with museums in seven European countries including Denmark, France, Germany and Italy.
'It was really important to have studies in different climates and different locations,' said Bruni.
This meant being able to develop solutions suited to a wide range of scenarios. The SensMat team hopes its findings will be used to help update international recommendations on how to display and preserve objects.
Today Bruni is trying to find investors in order to complete the last stage of development and put the software on the market.
Large museums have expressed interest in the software, but making it affordable for small galleries is the ultimate goal.
'We've received lots of demand for the software,' Bruni said. 'We just need to develop it a little bit more. We are almost there.'
Research in this article was funded by the EU. The article was originally published in Horizon, the EU Research and Innovation Magazine.