New Narratives Lab Promotes Next Generation of Cultural Leaders to Advance Change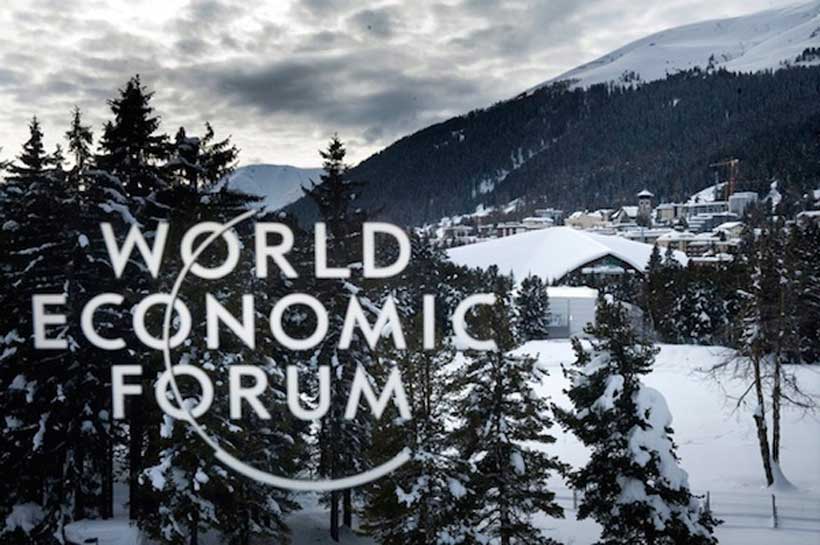 The World Economic Forum today launches the New Narratives Lab, a year-long fellowship dedicated to fostering a new and diverse generation of Cultural Leaders. Through one-to-one mentorship by the World Economic Forum's network of Cultural Leaders and support from peers, Fellows will develop leadership skills to navigate circles of power and decision-making to bring about change.
The Lab is developed in collaboration with 2020 Crystal Awardee Lynette Wallworth, with major support from the Ford Foundation. "Many artists from under-represented communities demonstrate great leadership potential and desire but may not have the access or resources to activate that leadership. This fellowship is a platform to support their journeys as leaders", said Nico Daswani, Head of Arts & Culture at the World Economic Forum.
Fellows will engage with their Mentors throughout the course of 2020, including at the Annual Meeting in Davos in January, during a weeklong residency at their mentor's location in the spring, during the UN General Assembly week in New York in September, and at other Forum events. In addition, Fellows benefit from targeted introductions to business leaders, policy-makers and media influencers in line with their development goals; a coordinated social media, media and documentation strategy; and a $15,000 stipend. Follow the Lab journey at #newnarrativeslab.
"By creating a new fellowship for cultural leaders who strive to create change and by surrounding them with a team of allies who have experience navigating corridors of power, we hope to elevate the role of artists as leaders and to lift them up as they generate urgent new narratives for a changing world", said Lynette Wallworth, Artistic Director of the Lab and 2020 recipient of the Forum's Crystal Award.
Fellow and Mentor pairings include:
Rena Effendi (Fellow, Istanbul) with Platon (Mentor, New York)
Rena Effendi is an award-winning photographer whose work portrays the socioeconomic effects of globalization on marginalized communities around the world. Effendi will be supported by Platon, one of the great photographers of our time, to combine powerful storytelling with real-world impact through the creation of multi-stakeholder coalitions.
Thando Hopa (Fellow, Johannesburg) with Angélique Kidjo (Mentor, Paris/New York)
Thando Hopa is a model, diversity activist and lawyer. In April 2019 she made history by becoming the first person with albinism to appear on the cover of Vogue. Hopa will be supported by Grammy Award winning musician and UNICEF Goodwill Ambassador Angélique Kidjo in advocating for more inclusive representation in media to benefit and support all bodies and identities.
Wanuri Kahiu (Fellow, Nairobi) with Jin Xing (Mentor, Shanghai)
Wanuri Kahiu is a filmmaker whose award-winning stories and films have received international acclaim and screened at more than 100 film festivals worldwide. Celebrated abroad, her latest film Rafiki was banned by her government for depicting a joyful lesbian love story. Kahiu will be supported by choreographer, media personality and one of China's most popular TV hosts, Jin Xing, in developing the narratives that will empower artists in Kenya and beyond to advocate effectively for their freedom of expression.
"This fellowship is a response to the critical need for a diversity of perspectives and voices, including those of artists, to be in conversation at the most influential levels, about a world guided by the goals of equity, justice and dignity." Said Cara Mertes, Project Director, Moving Image Strategies, International Programs, Ford Foundation
Rising Pak-Turk Cultural Diplomacy: "Dirilis Ertugrul"- The Prime Catalyst
Amid massive success of famous Turkish drama series Dirilis Ertugrul, also titled as Resurrection Ertugrul in English for Netflix, is both a fictional and historic story based on the life of father of Osman I; Ertugrul Ghazi- set in 13th Century made records across Pakistan in terms of its views and popularity. It gained massive fan-following among all age groups inspiring them to value integrity, steadfastness and have faith. The current Prime Minister of Pakistan Mr. Imran Khan urged people to watch this series to increase their knowledge about the glorious history of Muslims and true essence of Islam and learn from it. The high-budget drama got dubbed in Pakistan's national language; Urdu, therefore reaching mass audience.
The viewership of the series shoot up primarily during the month of Ramadan. As a result not only did the people of Pakistan get enlightened and entertained but also the state television earned huge profits. Most importantly it boosted cultural, media and public diplomacy between two Muslim countries; Turkey and Pakistan. The drama serial promoted people-to-people contact, join forces for mutual media and cultural ventures and promote Pak-Turk Tourism, and last but not the least – strengthen relationship between the Muslim countries purely based on love and mutual respect. Therefore, establishing a strong mutual alliance is raison d'être for these potential efforts by the both ends. Pakistan having a strong support-system in Europe and for Turkey to have in South Asia is a prerequisite for both to counter the future challenges – as it has become the need of times keeping the geopolitical dynamics in perspective. Speaking of challenges – Saudi Arab; with whom Pakistan's relations are already struggling – expressed their reservations regarding the broadcasting of Turkishdizi (dramas) in Pakistan. Irked by the success of Dirilis Ertugrul – Saudi Arab has come up with their own counter narrative version of historical series titled, "Kingdom of Fires", with an aim to combat Turkish cultural invasion and growing global influence. Fatima Bhutto, in her article for Foreign Policy, 'How Turkey's Soft Power Conquered Pakistan', says that in contemporary times – Turkish dramas has come second only to American ones, otherwise it has toppled the previously most viewed languages in the world, such as, French, Spanish, and Mandarin. Turkish has now become the most watched language worldwide.
Acknowledging the blockbuster success, the lead actors visited Pakistan receiving a warm welcome, immense praise and love from people. The actors too expressed their gratitude and happiness. Several lead actors of the super-hit series namely Engin Altan Duzyatan aka Ertugrul, Cavit Çetin Güner aka Dugan Bey, Nurettin aka Bamsı and Ayberk Pekcan aka Artuk Bey etc.on their short visits met selected Pakistan's media personnel henceforth expressed their willingness to strengthen the cultural bond by collaborating with each other in future media-based projects and bring together the people of the two nation. Rumor has it – both the Muslim countries are already in talks to come forth with a Pak-Turk TV series; a Pakistan-original with joint efforts for the project by Ansari Films and TRT Films named, "Lala Turki", commemorating the Khilafat Movement – with an ultimate aim to aware the unaware about the legacy of Islam.
It must be mentioned here that it is not the first time that any Turkish drama series had been aired in Pakistan. The trend was set few years back by URDU 1 channel which ran mostly Turkish dubbed dramas in Urdu so that people of Pakistan would also get a taste of Turkish flavor of serials. It gained massive popularity. Thereon, the trend to air Turkish productions became a new normal. Another series that gained massive popularity was "the Magnificent Century" locally known as "Mera Sultan". This was run by the channel Geo Kahani. The trend of Turkish dramas never seized till date. However, what "Dirilis Ertugrul"managed to do in this past year can't be matched. This is the only drama that started involving the two nations on diplomatic level and opened up new ways for collaboration among the brother countries. It helped people realize that not only the flags but the hearts of the two nations are also very similar united by a shared magnificent past and a hope for an incredible future.
New European Bauhaus: Commission launches design phase
Commission launched the design phase of the New European Bauhaus initiative, announced by President von der Leyen in her 2020 State of the Union address. The New European Bauhaus is an environmental, economic and cultural project, aiming to combine design, sustainability, accessibility, affordability and investment in order to help deliver the European Green Deal. The core values of the New European Bauhaus are thus sustainability, aesthetics and inclusiveness. The goal of the design phase is to use a co-creation process to shape the concept by exploring ideas, identifying the most urgent needs and challenges, and to connect interested parties. As one element of the design phase, this spring, the Commission will launch, the first edition of the New European Bauhaus prize.
This design phase will lead to the opening of calls for proposals in autumn this year to bring to life New European Bauhaus ideas in at least five places in EU Member States, through the use of EU funds at national and regional level.
European Commission President, Ursula von der Leyen, said: "The New European Bauhaus is a project of hope to explore how we live better together after the pandemic. It is about matching sustainability with style, to bring the European Green Deal closer to people's minds and homes. We need all creative minds: designers, artists, scientists, architects and citizens, to make the New European Bauhaus a success."
Mariya Gabriel, Commissioner for Innovation, Research, Culture, Education and Youth said: "With the New European Bauhaus our ambition is to develop an innovative framework to support, facilitate and accelerate the green transformation by combining sustainability and aesthetics. By being a bridge between the world of art and culture on one side and the world of science and technology on the other, we will make sure to involve society as a whole: our artists, our students, our architects, our engineers, our academia, our innovators. It will kick-off a systemic change."
Commissioner for Cohesion and Reforms, Elisa Ferreira commented: "The New European Bauhaus is about how we live together, our values, our common spaces of work and leisure, our collective and private experiences. This is a project for all regions and territories in Europe. In promoting affordable solutions, it should contribute to social cohesion and to solving housing problems. If we want to bring real change around us – for a more beautiful, sustainable life together, we need to think about how the New European Bauhaus can bridge the generation of new ideas with implementation in physical places. We are therefore exploring across the Commission how our tools could be mobilised to launch a first set of concrete New European Bauhaus actions."
Background
The New European Bauhaus is a creative initiative, breaking down boundaries between science and technology, art, culture and social inclusion, to allow design to find solutions for everyday problems.
On the dedicated website launched today, artists, designers, engineers, scientists, entrepreneurs, architects, students, and all interested people can share examples of inspiring achievements for the New European Bauhaus, their ideas about how it should be shaped and how it should evolve, as well as their concerns and challenges.
This is the beginning of an innovative co-design process. Organisations that want to put more effort into their engagement in this process can become 'Partners of the New European Bauhaus,' by responding to the call on the website.
In the coming months, the Commission will award prizes to existing examples that represent the integration of the key values of the initiative, and that may inspire the discussions about, and the transformation of, the places where we live.
In the next phase of the initiative – the 'delivery' phase, five pilot projects will be set up to co-design new sustainable and inclusive solutions with style. The objective of the third phase – 'dissemination', is to spread the ideas and concepts defining the New European Bauhaus via new projects, networking and sharing of knowledge, in Europe and beyond.
World Economic Forum Announces 2021 Crystal Award Winners
The Opening Night of The Davos Agenda on Sunday 24 January at 19.00 CET (rebroadcast at 19.00 EST and on Monday 25 January at 20.30 CST), will feature several world-class artists and creative change-makers coming together in a show of togetherness.
The 27th Crystal Awards
Co-hosted by Hilde Schwab, Chair of the World Arts Forum, and photographer Platon, the 27th Crystal Award ceremony honours Ghanaian-British architect Sir David Adjaye for his leadership in serving communities, cities and the environment, and French-Brazilian photographer Sebastião Salgado for his leadership in addressing inequality and sustainability.

"Both Sir David and Sebastião are important storytellers of our time who offer insights into the possibility for change. They connect us to each other, they give us a language to imagine, and they provide visions of the world that can cut through the limitations of short-term or linear thinking," said Hilde Schwab.Sir David Adjaye
Sir David and his architecture firm operate globally, with a diverse portfolio spanning private houses, offices, monuments and museums. His largest project to date is the National Museum of African American History and Culture in Washington DC. He uses architecture as a social act to serve communities and achieve an ambitious environmental agenda.
"For me architecture represents opportunities for storytelling, justice and transformation and my ambition has always been toward projects with these qualities. I am deeply humbled to be recognized with this year's Crystal Award and inspired to continue to pursue my work with social impact as the guiding force," said Sir David.
Sebastião Salgado
Salgado's iconic black and white photographs span decades and more than 100 countries.His work documents life on Earth, revealing both awe-inspiring and horrifying scenes, provoking debate about the human condition and issues of inequality and sustainability. The photographs impart the dignity and integrity of his subjects, without forcing their heroism or implicitly soliciting pity.
"In the late 1960s, I was employed as an economist at the International Coffee Organization and I began traveling around Africa. One day, I borrowed my wife Lélia's camera and I began to see the world in a different way. Soon I wanted to share what I saw through the lens of the camera. I am deeply honoured to receive the Crystal Award for my work," said Salgado.
World Premiere of "See Me: A Global Concert"
Immediately following the 27th Crystal Awards, the World Economic Forum will hold the world premiere of its 23-minute cinematic musical production, "See Me: A Global Concert", an international collaborative effort. Filmed on location from September through December 2020 despite the challenges of COVID-19, it is led by music director Marin Alsop and includes the participation of Yo-Yo Ma (USA), the Chamber Orchestra of the Afghanistan National Institute of Music (Afghanistan), the Vienna Radio Symphony Orchestra (Austria), the Black Pearl Chamber Orchestra (USA), the Choir of the State Orchestra of São Paulo (Brazil), the Orchestra della Toscana (Italy), the Drakensberg Boys Choir (South Africa), the China NCPA Orchestra (China), and sand artist Jim Denevan (USA). The film includes an original composition, See Me, by Reena Esmail. In addition to Marin Alsop, the creative team behind the project includes Film Director Bernadette Wegenstein, Creative Director Es Devlin and Director of Photography John Benam. The project has been made possible thanks to generous support from Intesa Sanpaolo.
"This project is intended as a shared expression of trust and connection in these tough times. We are so grateful to the hundreds of artists, musicians and film teams who took a leap of faith and collaborated across borders to make this beautiful film together," said Nico Daswani, Head of Arts and Culture at the Forum and Executive Producer of the film.
Preceding the 27th Crystal Awards and the world premiere of "See Me: A Global Concert", the Opening Ceremony will begin with a welcome message from Klaus Schwab, Executive Chairman of the World Economic Forum, followed by a special address from Guy Parmelin, President of the Swiss Confederation.