On Sunday morning 5 January 2020, the great investigative journalist and geostrategist who blogs as "Moon of Alabama" (MOA) headlined "Iraqi Parliament Expels Foreign Militaries From Iraq" and he reported that not only the parliament but also the nation's Prime Minister (Abdel Mahdi) are demanding departure from Iraq of all foreign military forces, and that Iraq will now — as UAE's The National puts it — "lodge an official complaint against the US at the UN." The complaint will "condemn #US airstrikes on #Iraqi soil targeting Iraqi soldiers and both Iraqi and #Iranian military leaders."
(U.S.-and-allied 'news'-media, such as Reuters, lied about this matter when saying that "While such resolutions are not binding on the government, this one is likely to be heeded: Prime Minister Adel Abdul Mahdi had earlier called on parliament to end foreign troop presence as soon as possible." As MOA had already explained, the assassination was profoundly embarrassing personally to Mahdi, and he "and the whole cabinet supported the resolution." Under such circumstances, there is no way possible that the Prime Minister can reverse himself and his cabinet and the Parliament, on that demand. It's a non-reversible demand. But, later on January 5th, the U.S. State Department nonetheless said, "While we await further clarification on the legal nature and impact of today's resolution, we strongly urge Iraqi leaders to reconsider the importance of the ongoing economic and security relationship between the two countries and the continued presence of the Global Coalition to Defeat ISIS." That was a stupid statement, but at least it wasn't so demeaning to Shiites and to Shiite-led governments as the U.S. President's statements normally are. It was instead a public display that the American dictator can't believe that, from now on, Iraqis are going to be running Iraq, and that there's no way the ruler in Washington DC can possibly dictate to Iraq again. Yet, Axios reported later in the day, that "'I think it would be inconvenient for us, but it would be catastrophic for Iraq,' said a U.S. official familiar with the Trump administration's effort to block the vote. 'It's our concern that Iraq would take a short-term decision that would have catastrophic long-term implications for the country and its security.'" The U.S. Government was already becoming desperate and resorting to veiled unspecific 'catastrophe' for Iraqis if Iraq's Government won't reverse this command. Some fat chance that the outraged and temporarily united Iraqi public are going to cave to such veiled threats from Iraq's viscerally hated invader.)
MOA, a progressive German who despises fascists (such as Trump), makes abundantly clear that "Without any bases in Iraq the U.S. position in Syria will become untenable." He quotes another respected geostrategist, Elijah Magnier, saying, "#QassemSoleimani managed to reach with his death what he couldn't reach when he was alive. That is his last spectacular act for Iran and for the 'Axis of the Resistance': legislation forcing the US to withdraw and cease all kind of collaboration."
Instances in which I have tracked the accuracy of predictions of both MOA and Magnier, have shown MOA's to have an even higher (virtually 100%) rate of having proven accurate than Magnier's do; and, consequently, MOA's quoting this from Magnier makes it MOA's prediction also, and not only Magnier's. This adds weight to it. Consequently, the U.S. regime's long war against Iran, which started by its successful coup in 1953 overthrowing Iran's democratically elected Government and replacing that legimate Government by a barbaric dictatorship which lasted until 1979 and which American billionaires even up to the present time cannot tolerate having been overthrown by the Iranian people in 1979, does finally appear likely to end, with the fascist imperialist U.S. regime's humiliating defeat, one way or another, but not necessarily quickly.
MOA closes with:
There is a clear danger in this act [by Iraq's Government, expelling all U.S. forces]. The Trump administration is now likely to see Iraq as completely in the Iranian camp. That never was and never will be true but that is how it will be seen. The U.S. may therefore again start to pay (with Saudi money?) Sunni extremists, i.e. ISIS, to change the current situation to its advantage.
That is one reason why I recommend to Iraq to invite Russia to train its army.
However, here I respectfully diverge from MOA's view. While I do favor Iraq's becoming allied with Russia — the nation that America's Government has been aiming ever since 26 July 1945 (when the U.S. Government became taken over by America's Deep State or aristocracy) to conquer — I believe that immediately is not the best time to do this. My sense of the situation is that Trump has already trapped himself here, and that if only Iran will refrain from fulfilling anytime soon its threats to retaliate, then Trump will become forced by circumstances to accept a settlement on Iran's terms. Consequently, any public action by Russia right now would serve only to provide America's billionaires (acting, as they customarily do, via their agents and fronts) yet another opportunity to call Russia 'an enemy of America' and thereby to distract the global public from the blatant, sheer, and unalloyed, evil, of Trump's constant efforts to crush Iran — a nation that never invaded nor even threatened to invade America. Furthermore, Iraq's leadership have probably already been advised by Russia to refrain from publicly seeking alliance with Russia at the present stage; and, so, I do not expect that any such request by Iraq will be made at this time. If Iraq requests it now and Russia does not favorably respond, that would only weaken both Iraq and Russia; so, I do not expect it to happen. Not yet.
Timing is almost everything. On 18 November 2019, Russia's Sputnik News bannered "Russia Ready to Deliver Arms to Iran After Int'l Sanctions Lifted — Defence Cooperation Body", and this obviously means that Russia doesn't want to come out publicly on Iran's side unless and until the U.S. regime has cancelled its sanctions against Iran. Putin is an extremely intelligent man; he understands timing. Trump's 3 January 2020 assassination of Iran's #2 leader is an overt (by means of that action) declaration of war by him against Iran; and, so, Russia clearly can see that if Russia overtly comes out as being allied with Iran against the United States, then the conflict between U.S. and Iran would immediately be also a conflict between U.S. and Russia — and at an even higher level of adversariality than since 30 September 2015 (when Russia started bombing America's and Saudi Arabia's hired boots-on-the-ground fighters — led by Al Qaeda in Syria — who were trying to overthrow Syria's secular Government) has existed regarding the war in Syria. It would be wrong for Russia, until U.S. troops are already gone from Iraq. Russia's strategy has always been to delay World War III until all other means of pacifying America's cravenous aristocracy have become exhausted — which hasn't happened yet. If Russia will be coming out publicly in favor of Iran against the U.S. regime, then that would be just one step away from a direct hot war with the United States, which would produce global nuclear annihilation. Obviously, Russia won't yet do that. Forcing Trump either to become publicly humiliated by backing down, or else for him to destroy the planet within less than an hour by means of WW III, isn't necessary now, though could later occur, if Trump is crazy enough to refuse to comply with Iraq's January 5th command.
So: neither Iraq nor Iran should make any such move (inviting Russia in), at the present time. Only after U.S. troops are gone from the region could Iraq and Iran become publicly allied with, and under the protection of, Russia. Only then will the realigned global order start. Right now would be too early.
Iran's leadership team are remarkably intelligent. (America's, after FDR died, have usually been cunning but now — under Trump — aren't even that.) Iran's leaders have promised retaliation for what Trump did. But they haven't said when it will be done, or what it will entail. If they just stand back and wait while the world-at-large (other than American billionaires' core foreign allies the aristocracies of Saudi Arabia, Israel, and UK) gradually abandon their alliances with the U.S. regime, then not only Iran but also the U.S. regime's other main targets — Russia and China — will naturally rise in the international order, and this could become the way that the world's most dangerous imperialistic regime, the United States Government (since 1948 the serial perpetrator of coups and invasions), will finally be able to be defeated peacefully, and defanged gradually thereafter.
That would be Iran's retaliation — none.
Here is what I see as a possible end-point to this matter, if all non-U.S. entitities respond to this turning-point in history in the optimal ways:
Trump would announce that he is herewith cancelling sanctions against Iran and restoring U.S. participation in the Iran nuclear agreement, the Joint Comprehensive Plan of Action, which in 2015 was signed by China, France, Russia, United Kingdom, United States, Germany, and then the entire European Union. Iran would then announce that it is willing to discuss with all of the signatories to that agreement, if a majority of them wish to do so, international negotiations regarding possible changes (amendments) to be made to that agreement. The United States would then offer, separately, and on a strictly bi-lateral, U.S.-Iran, basis, to negotiate with Iran a settlement to all outstanding issues between the two nations, so that they may proceed forward with normal diplomatic relations, on a peaceful instead of mutually hostile, foundation.
Trump also would announce that he is seeking negotiations with Iraq about a total withdrawal of the United States from Iraq — the end of the U.S. occupation that started on 20 March 2003 — and closure of the U.S. Embassy there, to be replaced by a far smaller U.S. Embassy. America's imperial sway over Iraq will end, though not immediately — its ending will be a process. This will be a negotiated termination, a peaceful one (unless Trump is crazy enough to resist).
Trump would initiate this as a package-deal confidentially offered by him to Khamenei — all steps of it — in advance of any carrying-out of the steps, and initiated by him soon enough to ward off any retaliatory action by Iran (just in case Iran isn't smart enough to give him all the time he needs in order to quit his further provocations), so as to avoid further escalation of the hostilities, which otherwise would likely escalate to a widespread and possibly global war. In other words, this direct communication between the two should already have been sought by Trump. (But, since he's probably too stupid to have thought that out in advance, let's all hope that Iran's leadership are sufficiently intelligent to give him all the time that he needs.)
I do not expect Trump to do any of that, not even the first step, and not even the offer to Khamenei; and Iran is in no position to make the first step, in any case (since the U.S. had started the mutual hostilities between the two nations in 1953). However, if Trump does, at least make the offer and then do the first step (ending sanctions), then I think that he will easily win re-election, regardless of whom the Democratic nominee will be. If he can re-establish friendly relations with Iran, then that will be a diplomatic achievement of historic proportions, the best and most important in decades. No one would then be able to deny it. He would, in fact, then deserve to win the Nobel Peace Prize (which Obama never deserved to win, though he did win it). But I don't expect any of that to happen, because it would be exactly contrary to the way that any recent U.S. President has behaved, and because many in power in the United States would be furious against him if he did do it.
But just give it time; and, if Iran simply waits for 'the right time to retaliate', then retaliation by Iran won't even be necessary.
This would be "Checkmate!" by Iran, against the U.S. regime. And that would be Iran's (and everyone's except U.S.'s, UK's, Israel's, and Saudi Arabia's) 'retaliation', for Trump's personal combination of psychopathy and stupidity. (Those four nations — the core U.S. group — would then go on together, to decline peacefully in the global order.)
An interesting feature of this outcome is that Iran would then be using Trump's enormous blunder in a way that would simultaneously defeat all four of the nations that are seeking to defeat Iran: U.S., Saudi Arabia, Israel, and UK. Even if Trump ends up winning his vaunted Nobel Peace Prize and Iran won't share in it, Iran would be the winner of what really is important, and (no matter how much such a prize would then be deserved only by Iran), that meaningless piece of PR dross wouldn't mean anything to Iran's leaders, anyway. They're not nearly so petty as Trump — that's for sure.
Iran's biggest weapon now will be patience, if they're smart enough to use it.
Trump's assassination of Soleimani could turn out to have been the best thing that has ever happened for Iran. If so, Soleimani, were he around to see the outcome, would be ecstatic that Trump did it. He was a true Iranian patriot, nothing of the fake sort. In any case, nothing, from now on, will be able to detract from the legend that will arise in Iran about him. The ball is now in Iran's court, for Soleimani's successors to determine the world's future. Trump made this possible. Without what he did on January 3rd, it would not be possible.
UPDATE:
However, the news on the morning of January 7th is that at least thus far, Iran is behaving badly, and also Europe is behaving badly. Iran is withdrawing from the Iran nuclear agreement, the Joint Comprehensive Plan of Action, which in 2015 was signed by China, France, Russia, United Kingdom, United States, Germany, and then the entire European Union. This drives European nations to continue relying on America and its NATO. And the rhetoric from European leaders is suddenly more favorable toward Trump's assassination of Soleimani. Things right now are hurtling toward an isolated Iran against 'The Western Alliance' or the U.S.-and-allied regimes. Perhaps Iran's leaders (Khamenei and Solemani's replacement, announced by Khamenei on January 3rd, Brigadier General Ismai Ghani), are expecting that in a lurch they will ask Russia to back them up against U.S.-and-its-allies. This suggests that Putin hasn't yet told them that unless they adhere to this plan, he would say no to that. If this is what's happening behind the scenes, then Putin goofed there by having assumed they understood, and should promptly but privately tell Iran this, and should privately instruct Iran promptly to reverse its announced withdrawal from the nuclear agreement. That reversal would turn out to be temporary if EU leaders fail then to back Iran and Iraq against U.S. on Soleimani and on the necessity for Trump to comply with the order from Iraq to end occupying Iraq now. Unless Iran promptly reverses its announced withdrawal from JCPOA, everything will fall apart and not be able to be put together again, and, at the very least, Iran will be destroyed and probably almost all of the Middle East too. The Cold War would go on, and the U.S. regime would be in an even stronger position than before. America's occupation of Iraq woud continue. The misery and humiliation of Iraqis would intensify even further, China would be practically isolated, and America's all-but-total conquest of the world would be good for nobody but U.S.-and-allied billionaires. But the results would be worst of all for Iranians.
The Russian bear in Lebanon
It turned out that the Biden-Putin summit on May 16 has established a wider effect than anyone would expect.
It exceeded by far political analysis, especially in Lebanon. The summit almost coincided with the Russian economic delegation's visit to Beirut on the 18th of the same month and the announcement of its study results to initiate investments projects in Lebanon.
The results revealed the Russian delegation's future plans in rebuilding the oil refineries in Zahrani and Tripoli and rehabilitating the latter's port. Regardless of the projects, the Russian companies intend to deal with, if they are approved and encouraged by good signs changes can be relied upon. It means that Lebanon has taken an important leap in its economic policies by gradually moving towards the East.
Naturally, Lebanon's orientation towards the East "if it happens" will not be absolute and definitive, but rather principled and partial. This is an important matter by itself. It is marked as a qualitative leap that may minimize the private companies' monopolization of energy imports, which will be directly reflected, firstly, in electricity production in Lebanon, and secondly in facilitating the provision of petroleum products in Lebanon. Such projects became a necessity, in particular, after the collapse of the Lebanese lira against the American dollar.
Logically, changing the reality of the production of electricity will reveal immediate results. It will be reflected in the change in the rehabilitation of the economic infrastructure fields in Lebanon. It will also positively reflect in other vital areas, such as determining the prices of food commodities, which became outrageously high.
Accordingly, one of the most important reasons for the obscene rise in food prices is related to the high costs of transportation in the last month alone. It is almost above the purchasing power of the Lebanese. For example, the prices of vegetables and fruits, a non-imported commodity, which is not supervised by government support, remained within reasonable prices; however, once the diesel prices started rising, it directly affected the prices of the seasonal vegetables and fruits.
In addition, there are unseen accomplishments that will go with the entry of Russian companies, which is creating new job opportunities in Lebanon. Lately, it was reported that unemployment in Lebanon will reach 41.4% this year. It is a huge rate, which the Lebanese media, in general, use to provoke people against the current resigned government. However, it neglects to shed the light on the importance of the Russian investment in creating new job opportunities, which will affect all social groups, whether they were transporters, building workers, porters, cleaners, or university graduates.
The companies coming to Lebanon are directly supported by the Russian state. However, they are private companies, a fact that has its advantages. They are familiarized with dealing with other Western international companies. Russian companies have previously coordinated with French and Italian companies in Lebanon, through contracts concluded for the extraction of gas in Lebanese fields and in other fields outside Lebanon. Russian- European coordination process is also recognized in rebuilding Beirut's harbor. A German company will rebuild the docks, while the French will rebuild the containers or depots, and the Russian companies will rebuild the wheat silos.
It seems that the process is closely related to the future of Lebanon and the future of the Chinese project, the New Silk Road, [One Road, and One Belt]. However, it is not clear yet whether the Russian companies will be investing in Tripoli's refinery and in regenerating and expanding its port or it will be invested by the Chinese companies. If this achievement is accomplished, then Tripoli will restore its navigating glorious history. Tripoli was one of the most important ports on the Mediterranean. Additionally, there is a need for the Russian and the Chinese to expand on the warm shores of the Mediterranean Sea.
Secondly, the project will boost Tripoli and its surroundings from the current low economic situation to a prosperous economic one, if the real intentions are there. The results in Tripoli will be read as soon as the projects set foot in the city. Of course, this will establish another Sino-Russian victory in the world of economy and trade, if not in politics as well.
The entry of the Russians and the Chinese into the Lebanese field of commerce has international implications. It will come within international and global agreements or understanding. Nevertheless, it is a sign that the Americans are actually losing their grip on Lebanon. This entry will stop the imposition of a limited number of European-oriented Lebanese monopolizing companies, which have dominated the major Lebanese trade of oil and its products. Dominance is protected with the "illusion" of meaningless international resolution. It is true that the Americans are still maneuvering in several places; however, this is evident to the arbitrariness of decisions making in the U.S. today. It is the confusion resulting from ramifications of the "Sword of Jerusalem" operation in Palestine; it seems that they do not have a clear plan towards policies in the region, other than supporting "Israel".
If the above is put into action, and the Russian companies start working within a guarantee agreement with the Lebanese state. This means a set of important issues on the international and regional levels. And it also means that the Americans would certainly prefer the Russians to any Chinese or Iranian economic direct cooperation in Lebanon.
Firstly, it is clear that in their meeting Mr. Biden and Mr. Putin reached a kind of consent to activate stability in the region. Two years ago, the Americans had a different plan. According to an established source, the Americans actually intended to strike internal stability in Lebanon and ignite another civil war round, before finalizing stability in Syria. This assertion tunes with David Hale's, an American envoy to Lebanon, a declaration about the American anger over the $10 billion spent in Lebanon to change the political reality and overthrow Hezbollah from the government. Consequently, the American project is behind us now. Russia and China need to invest in the stability of Lebanon, in order to secure their investments in the process of rebuilding Syria.
Secondly, the Lebanese state guarantee, which the Russians require, is directly related to the lack of confidence in the Lebanese banking policies, which have lost their powers as a guarantor for investments after the role they played since November 17, 2019 till today. It proved the inefficiency of the financial policies of the Lebanese banks, which was based on the principle of usury since the nineties of the last century. In addition, a state guarantee will enable the Russian companies to surpass the American sanctions.
The state guarantee increases the value and importance of the Lebanese state as an entity in the region, and this can be understood from Macron's statements after the explosion of Beirut port last August when he said that Lebanon's role in the region as we know it must change.
Thirdly, if we consider the history of international unions in the world, including the European Union, the (Persian) Gulf Cooperation Council and others, they started as economic alliances before they end as political alliances. Therefore, at this historical stage and in order to work on the economic recovery of Lebanon, which needs more investments instead of falling under the burden of more debts. Lebanon needs to head East towards economic unity with Syria. In cooperating with two superpowers, Lebanon and Syria can form an economic bloc on the Mediterranean shores, a bloc that can get Lebanon out of the vortex of Western absurdity and expand its alliances and horizons to be a real economic and cultural forum where the East and the West can meet.
From our partner Tehran Times
A New Era in US-Jordan Relations
King Abdullah of Jordan is the first Arab leader who met American President Joe Biden at the White House. The visit has reaffirmed the strong and long-standing Jordan-US strategic partnership and reinvigorated the bilateral engagement for working together on security issues, and economic development on the basis of shared values and priorities. The King's visit to Washington reaffirmed Jordan's value as a reliable ally who plays a critical role for stability in a highly volatile region.
Jordan's value is multi-dimensional and ranges from bilateral military cooperation, intelligence sharing and joint global counterterrorism operations including as a member of the Global Coalition to Counter ISIS and the Combined Joint Task Force-Operation Inherent Resolve to deployment of almost three thousand (3,000) American troops to Jordan as part of the ongoing campaign to combat regional terrorism. The US has expanded military footprint to Jordan after Washington's decision to withdraw forces from Syria and reduce military presence in the Turkish airbase of Incirlik. In addition, the kingdom's geopolitical position in the heart of the Middle East provides a viable alternative for logistical support to the American military taking into consideration the US decision to withdraw from Afghanistan and close three bases in Qatar. Notably, the remaining supplies from the three Qatari bases along with the Support Mission have been transferred to Jordan and have become part of the Area Support Group-Jordan that operates as the Base Operations Support Integrator to back contingency operations and military-to-military engagements within the US Army Central Command's area of responsibility.
Jordan's value also stems from its critical role in addressing the overwhelming humanitarian needs created by the conflicts in Syria and Iraq as well as in hosting almost two million registered Palestinian refugees.
Support of Two-state Solution
The fact that Jordan remains at peace with Israel and is a key interlocutor with the Palestinians adds to the kingdom's reliability to mediate and advance initiatives that support the two-state solution. This presupposes the resetting of Jordan-Israel relations. Washington is well-placed to offer its good offices and help restore trust between the two neighboring countries. The twenty-seventh year Jordan-Israel peace treaty shows not only the possibilities for coordination and co-existence but also the ceilings to peace with Israel in the absence of a solution to the Israeli-Palestinian conflict. A "cold peace" and quiet, limited cooperation are currently the maximum possibilities vis-a-vis a "warm peace" that will unlock Jordan-Israel cooperation and potential.
It is nevertheless noteworthy that the last five years have been discerned by the previous American administration's lack of appreciation of the complexity of the Israeli-Palestinian conflict. The Trump peace proposal, known as "the Vision", not only undermined the long-established aim of a two-state solution but also reinforced discussions over alternatives including a one state outcome to the Israeli-Palestinian conflict; different measures of annexation, such as Israeli annexation of Area C in the West Bank; "exotic options" such as a federation in which Israel and Palestine share certain aspects of sovereignty; potential unilateral Israeli initiatives with most prevailing a Jordanian model, in which Jordan takes control of the West Bank and Palestinians are given Jordanian citizenship; and, reinforcement of the notion that "Jordan is "Palestine"".
Practically, Jordan can serve as honest broker in any future Israeli-Palestinian peace process, but as the late King Hussein stated in an interview with The New York Times in 1991 "Jordan should not be, cannot be, will not be a substitute for the Palestinians themselves as the major aggrieved party on the Arab side in a process that leads to peace". The cited statement is fully embraced by Jordan's current leadership.
Acknowledgment of Jordan's Custodianship
The public acknowledgement by the American President of the kingdom's special role as custodian of the Muslim holy places in Jerusalem is translated into a vote of confidence and a commendation for Jordan's efficient safeguarding of religious sites for decades. As known, Amman pays the salaries of more than one thousand (1,000) employees of the Jerusalem Waqf Department and its custodianship role is carried out on behalf of all Islamic nations. The kingdom holds the exclusive authority of the Jordanian-appointed council, the Waqf, over the Temple Mount/ Haram Al Sharif and has spent over 1 billion dollars since 1924 for the administration and renovation of Al Aqsa mosque.
Jordan has admittedly served at multiple occasions as credible intermediary for Israel and the Palestinians to suspend tensions in the old city of Jerusalem, particularly at the Temple Mount/Haram Al-Sharif and pursues a successful administration of religious funded schools favoring moderate religious education and religious tourism. Jordanian moderation has guaranteed co-existence of the three monotheistic religions in Jerusalem at a time when on the contrary, counties like Turkey funnel millions of dollars in charity projects in Jerusalem promoting the ideology of the Muslim Brotherhood.
Overall, Jordan's custodianship has proved to be successful in maintaining delicate arrangements for the benefit of all religions and parties involved.
American Loan Guarantees
The King's discussions with the American President also centered on the economic challenges exacerbated by the effect of the pandemic and the enhancement of bilateral economic cooperation. Admittedly, Jordan showed strong leadership and governance with early actions that reduced the coronavirus pandemic pressure on the kingdom's health system. The Jordanian government imposed a nationwide lockdown and severe social distancing measures at a much earlier stage of the pandemic than other Middle East countries.
Jordan withstood the pandemic's impact with minimal loss of life but with a significant cost to its economy. As of June 2020, most restrictions on economic activity were lifted turning Jordan into one of the first Arab countries to reopen. Gross Domestic Product (GDP) has contracted in 2020 by 3.5 percent after growing 2 percent in 2019 due to losses in state revenues because of fewer remittances and a weakened tourism market.
To cope with the direct negative effects of the pandemic on its state budget, the Kingdom received $396 million from the International Monetary Fund (IMF). The amount of finance has specifically helped address the country's balance of payments needs and allowed for higher spending on healthcare, and assistance to households and companies most affected by the pandemic. Despite that the IMF provided in March 2020 another multi-year $1.3 billion loan package to Jordan, the pandemic has caused a $1.5 billion shortfall in its balance of payments.
This complex economic reality along with Jordan's moderation in the Arab world justify continued robust annual American economic assistance to the kingdom in the form of budgetary support (cash transfer), USAID programs in Jordan, and loan guarantees. US cash assistance should increase in the coming years taking into consideration that it is directed to refugee support and to segments of the economy that are mostly affected by the pandemic like foreign debt payments and fuel import costs. Overall, a pledge should be made for Jordan in American congress for the authorization of moreUS sovereign loan guarantees that will help the kingdom weather the pandemic's adverse medium-to-long-term effects on its economy. US sovereign loan guarantees will allow Jordan to issue debt securities that are fully guaranteed by the American government in capital markets, effectively subsidizing the cost for the Jordanian government to access financing.
It is also noticeable that in a genuine effort to help the kingdom contain the pandemic and safeguard public health, the American administration proceeded with the delivery of over 500 thousand covid-19 vaccines to Jordan highlighting American commitment to international vaccination programs including that of the kingdom.
US-Jordan Defense Partnership
The strategic US-Jordan defense relationship was reflected in the discussions that were conducted between the Jordanian King and the American President. American support for the modernization of Jordan's F-16 fighter jets has been at the forefront of the agenda with the aim of achieving greater interoperability and effectiveness for the Jordanian Armed Forces. The American President recognized Jordan's contribution to the successful international campaign to defeat ISIS and honored as an example of heroism the memory of captain Muath al-Kasasbeh who was executed in 2015 by the terrorist organization's militants.
Jordan has suffered avowedly from terrorism throughout the years and works collectively at regional and international levels to eliminate all its forms. The kingdom lost two prime ministers, Haza'a Al-Majali and Wasfi Al-Tal, as victims of terrorism and experienced a series of terrorist attacks like the simultaneous suicide bombings against three hotels in Amman in November 2005 that led to the loss of life of American, Israeli, Palestinian, and Jordanian nationals.
In effect, Jordan is the third-largest recipient of annual American foreign aid globally, after Afghanistan and Israel. A Memorandum of Understanding on American foreign assistance to Jordan commits the United States to providing $1.275 billion per year over a five-year period for a total of $6.375 billion (FY2018-FY2022). Renegotiations on the next such agreement for FY2023-FY2027 is estimated that will aim at increasing the American commitment to Jordan, a key ally in the fight against international terrorism whose military should be in position to procure and maintain conventional weapons systems.
On the whole, Jordan is a steadfast security partner of the United States in the Middle East whose moderation and pragmatism helped the kingdom weather regional and world challenges. As 2021 and past years have showed, Jordan's position as a bridge between the Levant and the Persian Gulf provides it a unique geopolitical standing, in a way that nowadays Amman is granted with a significant security, diplomatic and humanitarian role that signals a new era in US-Jordan relations.
Chinese FM Wraps Up his Visit to Egypt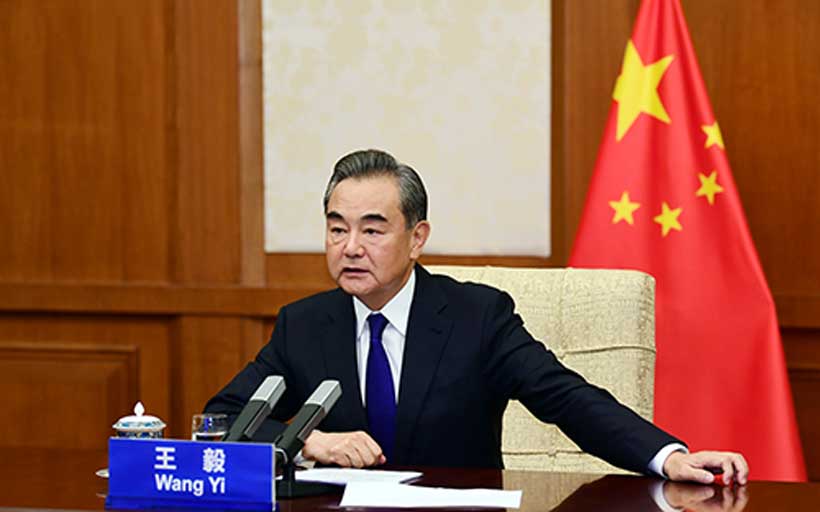 Wang Yi, the Chinese State Councilor and Foreign Minister, visited Egypt on July 18, 2021, in El Alamein City, northwest Egypt. The Chinese Foreign Minister is the first foreign official to visit this strategic city.
Wang Yi met with his Egyptian counterpart, Sameh Shoukry, during his visit to Egypt, and they discussed bilateral relations between the two countries. This year marks the 65th anniversary of the establishment of diplomatic relations between Egypt and China. Egypt is the first Arab country to establish diplomatic relations with China and the first African country to do so. In the Arab world, the Islamic world, Africa, and developing countries, Egypt has long been one of China's most important strategic partners. At the international level, the two countries mutually support one another. The meeting between Egypt's Foreign Minister and China's Foreign Minister focused on three main issues: the Covid-19 vaccine, the One Belt One Road Initiative, and international and regional issues such as Palestine and Syria
Covid-19 Vaccine
Both Egypt and China have a long history of cooperation and friendship. Before the outbreak of the Covid-19, the two countries' relations were based on economic and trade cooperation, with China being Egypt's first trading partner for the eighth year in a row since 2013, and the volume of trade exchange between the two countries exceeding $14.5 billion in 2020. However, as the outbreak Covid-19, cooperation between the two countries expanded to include medical cooperation. Egypt and China worked together to combat the virus. Egypt sent medical supplies to China, and China sent medical supplies and Chinese vaccine to Egypt. In addition, in December 2020, the two sides signed a cooperation agreement on COVID-19 Vaccine Production and China dispatched technical teams to Egypt to assist in the vaccine's local manufacture. As a result, Egypt is considered Africa's first vaccine manufacturer.
One Belt One Road Initiative
Egypt is an important strategic partner in building the Belt and Road Initiative. According to CGTN, the Egyptian president, Abdel Fattah al- Sisi, stated that:" Egypt supports the Belt and Road Initiative(BRI)." He added that Egypt is ready to strengthen cooperation with China in the fields of economy, trade, industry, science and technology, and expand human exchanges within the framework of the "Belt and Road Initiative." One Belt and One Road Initiative is one of the most important initiatives of the twenty-first century, announced by President Xi Jinping during official visits to Indonesia and Kazakhstan in 2013. Egypt was one of the first countries to participate in this initiative. In 2014, Egyptian President al-Sisi expressed in an interview that China's One Belt and One Road Initiative was an "opportunity" for cooperation between China and Egypt. Egypt was willing to participate in it actively.
International and Regional Issues
Regarding the international and regional issues, the two sides exchanged views and coordinated positions on some issues as Palestine, Syria issues. It's worth mentioning that Wang Yi paid a visit to Syria the day before his trip to Egypt, marking him the first Chinese official to visit Syria since the country's civil war began. China supports the Syrian sovereignty and rejects foreign interference in Syria, and also rejects the regime change. The Egyptian Minister Sameh Shoukry also discussed with his Chinese counterpart Wang Yi the GERD issue. According to Sky News, Shoukry explained Egypt and Sudan's positions as two downstream countries, the importance of preserving the interests of all parties and not jeopardizing the downstream countries' water security, and the importance of engaging in intensified negotiations under the auspices of the African Union presidency. The two sides signed an agreement on the Egyptian-Sino Intergovernmental Cooperation Committee at the end of their meeting.