Ayatollah Khamenei: Americans must leave the region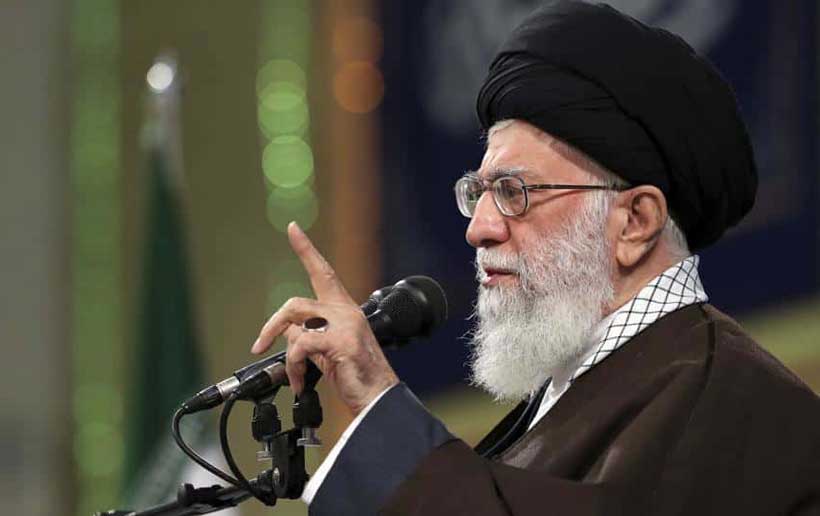 Leader of the Islamic Revolution Ayatollah Ali Khamenei said on Wednesday that the United States' "corruptive presence" in the region must come to an end.
"This region does not accept presence of the United States. The people in the region and the regional governments rising from the people do not accept this issue," he said during a speech in Qom.
The remarks by the Leader came a few hours after Iran fired dozens of ballistic missiles at two U.S. military bases in Iraq in retaliation to the U.S. assassination of top Iranian military commander Qassem Soleimani in Baghdad on January 3.
Top Iranian political and military figures had vowed "harsh revenge" for the martyrdom of General Soleimani.
"A slap was delivered last night," the Leader remarked.
However, Ayatollah Khamenei said, such military actions are not enough and the U.S. forces must leave the region.
"The issue of revenge is another issue. They were slapped last night which is another issue. Such military actions will not be enough. The United States' corruptive presence in the region must come to an end. They have brought war, sedition, destruction, and also destruction of infrastructures to the region."
He added that the U.S. has acted in this way wherever it has entered.
"They insist on extending this corruption and destruction to Iran. Their insistence on negotiations is preliminary to such presence and interference," the Leader pointed out.
Ayatollah Khamenei added that the people are duty bound to know the enemy.
"We should not make mistake in knowing the enemy. Do not say that we all know. Enemy is global arrogance and the United States. However, comprehensive efforts are being made to change the people's opinion through complicated methods of propaganda," the Leader stated.
Ayatollah Khamenei noted that animosity of the enemies is not something temporary.
"This animosity is inherent and constant and they hit us whenever they can. To counter them, we have to empower ourselves. We have to be empowered in areas of military, security, politics and economy to prevent enemy from hitting us," he said.
He noted, "It is wrong to think that they leave animosity when we back down."
'Martyrdom of Gen. Soleimani shows Islamic Revolution is alive'
Ayatollah Khamenei also said that martyrdom of General Soleimani showed that the Islamic Revolution is alive.
"His martyrdom showed the world that the revolution is alive," he said.
He said, "They wanted to pretend that the revolution in Iran is dead… However, his martyrdom showed that the revolution is alive."
The Leader added the enemies tried to portray General Soleimani as a terrorist.
Soleimani was considered a legendary commander against terrorist groups, including Daesh (ISIS), in Iraq and Syria.
Elsewhere in his remarks, Ayatollah Khamenei said, "The United States is unfair and liar and we cannot attach value to its words."
Pointing to mass participation of the people in funeral procession of General Soleimani in various cities, the Leader said, "The people slapped them
[the U.S.]
in the mouth."
"You saw what happened in Tehran and other cities."
The huge participation of people in the funeral processions for Soleimani in the cities of Ahvaz, Mashhad, Tehran, Qom and Kerman were highly surprising.
The massive crowding during the funeral procession in Kerman, the general's hometown, 59 people were killed and many more injured in a stampede.
"I am upset about that bitter incident in Kerman and I express condolences to the families of the victims," the Leader remarked.
Source: Tehran Times
Mali: COVID-19 and conflict lead to rise in child trafficking
Child trafficking is rising in Mali, along with forced labour and forced recruitment by armed groups, due to conflict, insecurity and the COVID-19 pandemic, the UN refugee agency, UNHCR, said on Tuesday.
Some 230 cases of child recruitment were reported during the first half of the year, compared with 215 cases for the whole of 2019, according to a UNHCR-backed study.
Armed groups are also trafficking children to work in gold mines, with the profits being used to fuel the arms trade and finance violence, the agency added.
Meanwhile, adults operating in the mines are subjected to extortionate "taxes".
Worst forms of abuse
"As a result of conflict and socio-economic deterioration worsened by the pandemic, we are seeing some of the most egregious human rights violations in the Sahel," said Gillian Triggs, UNHCR's Assistant High Commissioner for Protection.
"Children are being forced to fight by armed groups, trafficked, raped, sold, forced into sexual or domestic servitude, or married off. Many more children are at risk in the Sahel, a region which is becoming the fastest-growing humanitarian crisis in the world."
Overall, an estimated 6,000 children, mainly boys, were found working across eight mining sites in Mali, according to UNHCR child protection assessments.
These youngsters are exposed to the worst forms of child labour, economic exploitation, and physical, sexual and psychological abuse.
Working to pay off bogus 'debt'
Some children arrived at the mine sites on "credit", meaning a third party had financed their transport and food, while others said they worked for days without being paid. They are expected to work for an unspecified time until they pay of their "debt".
Additionally, UNHCR said reports of communities of women and girls being abducted, sexually assaulted and raped, have been received from the Mopti region in central Mali, with more than 1,000 cases recorded so far this year.
The agency fears child marriage will also inevitably increase in a country where an estimated 53 per cent of girls are married before they turn 18.
Trafficked in transit
The victims of these crimes are Malians, but also refugees, asylum seekers and migrants.
Despite the conflict, and COVID-19 movement restrictions, UNHCR said Mali remains a key transit country for people attempting to reach northern Africa and Europe.
Some of these "people on the move" are trafficked for forced labour in the agriculture sector, while others, particularly women, are trafficked on the way to promised jobs in North Africa, Europe and the Middle East. Others are diverted to the capital, Bamako, or to mining or agricultural areas where they are forced to engage in so-called survival sex.
UNHCR said traffickers and their accomplices range from the echelons of organized crime and outlawed armed groups, tribal chiefs or state authorities, but can even include parents, relatives or community members.
The agency continues to press for greater support for efforts to prevent and respond to trafficking, to protect those at risk, and to provide assistance to victims while also ensuring perpetrators are brought to justice.
However, insufficient funding threatens these efforts, according to a recent report.
Revealed: The cost of the pandemic on world's poorest countries
More than 32 million of the world's poorest people face being pulled back into extreme poverty because of COVID-19, leading UN economists said on Thursday, highlighting data showing that the pandemic is likely to cause the worst economic crisis in decades among least developed countries (LDCs).
In a call for urgent investment and support from the wider international community, the UN trade and development agency, UNCTAD, warned that the new coronavirus risked reversing years of "painstaking progress" in poverty reduction, nutrition and education.
"The COVID crisis is leading LDCs to their worst economic crisis in 30 years, with per capita GDP (Gross Domestic Product) for the group expected to fall by 2.6 per cent this year ," said Mukhisa Kituyi, UNCTAD Secretary-General, during a virtual press conference.
"We project that absolute poverty indices will be expand by 32 million, and extreme poverty rates in these countries will rise from 32.5 per cent to 35.7 in the current year."
An estimated 1.06 billion people live in the 47 LDCs, which account for less than 1.3 per cent of global economic turnover, orGDP.
Extreme poverty is defined as having an income lower than $1.90 per day.
In 2019, average earnings per capita in these countries – which are mainly in Africa – was $1,088 compared with the world average of $11,371, the UN agency said, highlighting their weak infrastructure and reduced financial means to withstand economic shocks.
Disastrous fallout
The potentially disastrous fallout from the new coronavirus pandemic could be reversed with urgent investment and support from the international community to help overcome LDCs' vulnerabilities and improve their manufacturing capacity, Mr. Kituyi insisted.
Turning to concerns about how COVID-19 threatens to push back moves to implement much-needed transformative economic changes in line with the Sustainable Development Goals (SDGs), the UNCTAD chief said that those which had invested most in boosting production capacity were the ones that were likely to weather the global downturn.
"The LDCs that have been most active and innovative in combating the pandemic have been those with the most productive capacity or institutional capacity," Mr. Kituyi said. "Countries like Senegal, which produced cheap and rapid COVID testing kits, Bangladesh and others like Ethiopia, repurposing garment factories to produce PPEs (personal protective equipment)."
The development of productive capacity had been "too small" in most LDCs which have now "fallen behind" other developing countries, Mr Kituyi explained.
"Structural transformation in the LDCs has been restricted to just a handful of countries like Bangladesh, Ethiopia, Cambodia, Laos, Myanmar, Nepal and Rwanda. Only in these small handful of LDCs have we experienced sufficient industrial growth and an expansion of modern services sectors, leading to stronger labour productivity gains."
By contrast, most African LDCs and Haiti have seen much smaller structural change, where agriculture and other traditional activities were likely to see continuing low levels of economic growth and lead to little improvement in people's living standards.
The report, which assesses the economic potential and capacity of least developed countries, also highlights what key measures will help them recover better after the pandemic.
As an example of sustainable industrial change, it cited Uganda's Kayoola Bus initiative, which has established the domestic production of buses powered mainly by renewable energy, to tackle the environmental and health problems of transport-related air pollution.
Climate Action: It's time to make peace with nature
The UN Secretary-General, António Guterres, has described the fight against the climate crisis as the top priority for the 21st Century, in a passionate, uncompromising speech delivered on Wednesday at Columbia University in New York.
The landmark address marks the beginning of a month of UN-led climate action, which includes the release of major reports on the global climate and fossil fuel production, culminating in a climate summit on 12 December, the fifth anniversary of the 2015 Paris Climate Agreement.
Nature always strikes back
Mr. Guterres began with a litany of the many ways in which nature is reacting, with "growing force and fury", to humanity's mishandling of the environment, which has seen a collapse in biodiversity, spreading deserts, and oceans reaching record temperatures.
The link between COVID-19 and man-made climate change was also made plain by the UN chief, who noted that the continued encroachment of people and livestock into animal habitats, risks exposing us to more deadly diseases.
And, whilst the economic slowdown resulting from the pandemic has temporarily slowed emissions of harmful greenhouse gases, levels of carbon dioxide, nitrous oxide and methane are still rising, with the amount of CO2 in the atmosphere at a record high. Despite this worrying trend, fossil fuel production – responsible for a significant proportion of greenhouse gases – is predicted to continue on an upward path.
'Time to flick the green switch'
The appropriate global response, said the Secretary-General, is a transformation of the world economy, flicking the "green switch" and building a sustainable system driven by renewable energy, green jobs and a resilient future.
One way to achieve this vision, is by achieving net zero emissions (read our feature story on net zero for a full explanation, and why it is so important). There are encouraging signs on this front, with several developed countries, including the UK, Japan and China, committing to the goal over the next few decades.
Mr. Guterres called on all countries, cities and businesses to target 2050 as the date by which they achieve carbon neutrality – to at least halt national increases in emissions – and for all individuals to do their part.
With the cost of renewable energy continuing to fall, this transition makes economic sense, and will lead to a net creation of 18 million jobs over the next 10 years. Nevertheless, the UN chief pointed out, the G20, the world's largest economies, are planning to spend 50 per cent more on sectors linked to fossil fuel production and consumption, than on low-carbon energy.
Put a price on carbon
For years, many climate experts and activists have called for the cost of carbon-based pollution to be factored into the price of fossil fuels, a step that Mr. Guterres said would provide certainty and confidence for the private and financial sectors.
Companies, he declared, need to adjust their business models, ensuring that finance is directed to the green economy, and pension funds, which manage some $32 trillion in assets, need to step and invest in carbon-free portfolios.
Far more money, continued the Secretary-General, needs to be invested in adapting to the changing climate, which is hindering the UN's work on disaster risk reduction. The international community, he said, has "both a moral imperative and a clear economic case, for supporting developing countries to adapt and build resilience to current and future climate impacts".
Everything is interlinked
The COVID-19 pandemic put paid to many plans, including the UN's ambitious plan to make 2020 the "super year" for buttressing the natural world. That ambition has now been shifted to 2021, and will involve a number of major climate-related international commitments.
These include the development of a plan to halt the biodiversity crisis; an Oceans Conference to protect marine environments; a global sustainable transport conference; and the first Food Systems Summit, aimed at transforming global food production and consumption.
Mr. Guterres ended his speech on a note of hope, amid the prospect of a new, more sustainable world in which mindsets are shifting, to take into account the importance of reducing each individual's carbon footprint.
Far from looking to return to "normal", a world of inequality, injustice and "heedless dominion over the Earth", the next step, said the Secretary-General, should be towards a safer, more sustainable and equitable path, and for mankind to rethink our relationship with the natural world – and with each other.