Every year, Russian President Vladimir Putin addresses the Federal Assembly, which is a combined gathering of all members from the Federation Council (Senate), State Duma (House of Representatives) deputies, members of the Government, leaders of the Constitutional Court and Supreme Court, governors from all the regions in the Russian Federation.
As always expected, Putin's address primarily focuses on current achievements, outlines future domestic social and economic development plans and strategies, offers insight into key foreign policy objectives and brings out the challenges and some possible steps in resolving both internal and external setbacks.
According to official reports, Vladimir Putin will hold the next federal meeting on January 15, 2020, to review performance and set new targets. While awaiting his next address, it's important to look back at a summary of his pledges and promises made on February 20, when the ceremony last took place in Gostiny Dvor, about 100 metres away from the Kremlin, central Moscow.
The objectives, among others, have been designed to raise development infrastructure and to bring about a new quality of life for all generations. "Departing from the targets that were outlined would be unacceptable. It is true that these are challenging objectives. That said, lowering the requirements for specific targets or watering them down is not an option. It is our duty to keep pushing ahead and gaining momentum, results must be visible in each region in the Russian Federation," Putin said at the gathering last year. Here are few selected from his speech at the Federal Assembly:
*Russia has entered an extremely challenging period in terms of demography. Nevertheless, the country has to return again to natural population growth by late 2023 – early 2024. Preserving the family, childbirth, procreation and respect for the elderly have always served as a powerful moral framework for Russia. Strengthening family values and commitment, this task has to be shared by the state, civil society, religious organisations, political parties and the media.
*Starting January 1, 2020, Putin proposed raising the bar to two subsistence wages per family member. This is what people have requested and these requests come directly into the Executive Office. This measure will increase the number of families entitled to additional benefits by almost 50 percent. Some 70 percent of families with one or two children will be able to benefit from help from the Government.
*The tax burden on families needs to be relieved. The approach should be very simple: the more children there are, the lower the tax. The income of Russian families must increase.An additional measure of support for families with a child who needs special care.
*Considering the sustainability and stability of the macroeconomic situation in the country and the growth of the state's revenues, it possible to introduce another measure of support for families having a third and subsequent children to pay for morgage. Importantly, proposed backdating morgage payment starting January 1, 2019, recalculating it and allocating relevant sums from budget.
*Moving on, when construction companies build social facilities and transfer them to the state or munipalities, they have to pay profit tax and VAT. The need to relieve construction companies of this burden (including our innovations in the construction sector). This will serve as an impetus for the comprehensive development of cities and townships, ensuring that families have all facilities near their homes: clinics, schools and sports facilities. By doing this, it enables parents to work, study, live happily and enjoy parenthood.
*Solving demographic problems, increasing life expectancy and reducing mortality rates are directly related to eradicating poverty. In 2000, there were more than 40 million people living below the poverty line. Now there are about 19 million, but this is still too many, too many. However, there was a time when their number dropped to 15 million, and now it has grown a little again. The government must, certainly, focus on combating poverty.
*The state helps people find jobs and improve their skills. The state provides financial resources to families to run a household farm or to start a small business. It is estimated that more than 9 million people will be able to benefit from these support measures over a five-year period.
*Pension. Starting 2019, adjustments of pensions and monthly payments should by all means be above the subsistence rate of pensioners that is established every year. In other words, the state should first bring pensions to the subsistence level and only after that make adjustments in pensions and monthly payments. Payments, for the first months of 2019, must be recalculated and people should be paid the money due to them that they have not received.
*The next important subject is healthcare. The current state seems to be improving, and medical treatment is becoming more accessible. Nevertheless, many people are not satisfied. The medical treatment should become accessible for everyone by the end of 2020 in all populated areas across Russia. For information, an additional 1,590 outpatient clinics and paramedic stations are to be built or renovated in 2019–2020.
*Improving IT penetration in healthcare will make it more accessible. Online links between medical institutions, pharmacies, doctors and patients must be streamlined over the next three years.
*Primary care is understaffed. Putin proposed a programme for fighting cancer and leukaemia. This is about providing timely, effective and accessible treatment, using advanced technologies that are effective in most cases and enable people to overcome this dangerous disease. Next, over the next few years we must create a number of new areas combining healthcare with social services.
*In 2019, the regions began adopting a new system of solid municipal waste management. The people have increasingly high demands on environmental safety issues. Perhaps, the most painful topic is municipal waste.need to build a civilised and safe system of waste treatment, recycling and disposal. It is necessary to restore order in this area, to get rid of shady businesses that do not bear any responsibility and only get super-profits dumping trash at random sites. It is necessary to introduce stricter environmental requirements when it comes to utility services and energy and transport enterprises.
*Education. The share of schools with modern study conditions has increased. The number of students from small towns and remote areas studying at the best Moscow and regional universities is increasing. Nevertheless, regions where poorly equipped schools still exist the government the government has to support the regions that lack their own resources.
*The content of educational programmes must also change. The national standards and programmes must reflect the priorities of the country's science and technology development, while the federal lists of recommended textbooks must include the best of the best books. Expanding assistance to local cultural initiatives, that is, projects dealing with local history, crafts and the preservation of the historical heritage of Russian peoples.
*More than 70 million people work in manufacturing, agriculture, the services or are small business owners. The state of Russia's economy has a direct bearing on their income, wellbeing and confidence in the future. The primary tool for achieving steady wage increases is to promote quality employment and free enterprise, qualified, well-paid jobs in all regions, including both traditional and new sectors. This is the only way to overcome poverty and ensure steady and perceptible increases in income. By 2021, Russia's economic growth rate must exceed 3 percent and stay above the global average afterwards. This objective should not be discarded.
*In order to achieve high growth rates, it is also necessary to resolve systemic problems in the economy. Putin highlighted four priorities here. The first one is faster growth in labour productivity, primarily based on new technologies and digitalisation; the development of competitive industries and, as a result, an increase in non-primary exports by more than 50 percent in six years.
The second one is to improve the business climate and the quality of national jurisdiction, so that no one moves their operations to other jurisdictions, to ensure that everything is reliable and runs like clockwork. Growth in investment should increase by 6–7 percent in 2020. Achieving this level will be one of the key criteria for evaluating the Government's work.
The third priority is removing infrastructural constraints for economic development and for unlocking the potential of our regions. And the fourth is training modern personnel, of course, and creating powerful scientific and technological foundations.
*A colossal guaranteed demand for industrial and high-tech products is formed in Russia. The Government and the regions are faced with historical opportunities for a qualitative growth of Russian business, mechanical engineering and machine-tool making, microelectronics, IT-industry, and other industries. And of course, now is the time for more daring initiatives, for creating businesses and production companies, for promoting new products and services. The entire Russian legislation must be geared up to reflect the new technological reality. These laws must not restrict the development of innovative and promising industries but push this development forward.
*The most crucial indicator of a business's efficiency and competitiveness lies in expanding export and entering external markets. The success of agricultural industry is, of course, a good example of such development. Agricultural export increased by 19.4 percent in 2018 reaching $25.8 billion. In 2024, it must reach $45 billion. Russia must have the entire range of its own advanced agricultural technology, which must be available not only to large but also to small farms. This is literally a matter of national security and successful competition in the growing food markets.
*Infrastructure upgrades need to be accelerated using state-of-the-art technology. This is essential for enhancing a country's connectivity, and especially for Russia, the world's largest country with its vast territory. This is essential for strengthening statehood, unleashing the country's potential and driving national economic growth.
In 2019, the railway section of the Crimean Bridge becomes a powerful impetus. As said, trains will begin using the Crimean Bridge in 2019, creating a powerful development driver for Crimea and Sevastopol. In addition to this, the expressway linking Moscow and St Petersburg expected to be completed, creating new business opportunities and jobs for people living in Novgorod, Tver, Leningrad and Moscow regions.
More than 60 airports will benefit from upgrades over the next six years, including international airports in Khabarovsk, Yuzhno-Sakhalinsk and Petropavlovsk-Kamchatsky. In 2025, the capacity of the Baikal-Amur Mainline and Trans-Siberian Railway will grow 1.5 times, reaching 210 million tonnes, which is very important for the development of Siberia and Russia's Far East.
Putin reiterated that key indicators related to social and economic development and quality of life in all Russia's Far Eastern regions are expected to exceed the national average. This is a national cause, and a major priority of collective efforts to promote Eastern Siberia and the Far East as strategic territories. All agencies have to constantly keep this in mind.
*Next, to adopt a master plan for developing the infrastructure of a digital economy, including telecommunications networks, as well as data storage and processing capacities. The task for the next few years is to provide universal access to high-speed internet and start using 5G communications networks. To achieve a revolution in communications, navigation and systems for remote sensing of the Earth. Russia has unique technology for this, but such tasks require a fundamental upgrade of the entire space industry. Putin instructed Roscosmos and the Moscow Government to establish a National Space Centre.
*For Russian Youth. Passion for a future career and creativity is formed at a young age. In the next three years, thanks to the development of children's technology parks, quantoriums and education centres for computer skills, natural sciences and the humanities, around one million new spots in extracurricular education programmes will be created. All children must have access.
Relying on the WorldSkills movement experience, Russia will accelerate the modernisation of secondary vocational education, which includes installing modern equipment at more than 2,000 shops in colleges and technical schools by 2022. The Sirius educational centre in Sochi is becoming a true constellation. The plan was for centres supporting gifted children, based on its model, to open in all regions by 2024.
*The Kremlin believes in the importance of promoting closer cooperation within the Union State of Russia and Belarus, including close foreign policy and economic coordination. Together with integration partners within the Eurasian Economic Union, it continues creating common markets and outreach efforts. This includes implementing the decisions to coordinate the activities of the EAEU with China's Belt and Road initiative on the way to a greater Eurasian partnership.
*Russia also hopes that the European Union and the major European countries will finally take actual steps to put political and economic relations with Russia back on track. People in these countries are looking forward to cooperation with Russia, which includes corporations, as well as small and medium-sized enterprises, and European businesses.
*Russia has been and will be a sovereign and independent state. Building relations with Russia means working together to find solutions to the most complex matters instead of trying to impose solutions. Thus, Russia's foreign policy priorities include strengthening trust, countering global threats, promoting cooperation in the economy and trade, education, culture, science and technology, as well as facilitating people-to-people contacts. These tenets underpin the work within the United Nations, the Commonwealth of Independent States, as well as within the Group of 20, BRICS and the Shanghai Cooperation Organisation.
In this context, Putin emphasised the need for sustainable long-term development. Russia has ambitious goals, is approaching solutions in a systematic and consistent way, building a model of socio-economic development that will ensure the best conditions for the Russian people, and through combined efforts to provide befitting answers to the challenges of a rapidly changing world.
The 30th Anniversary of the Renewal of Diplomatic Relations Between Russia and Israel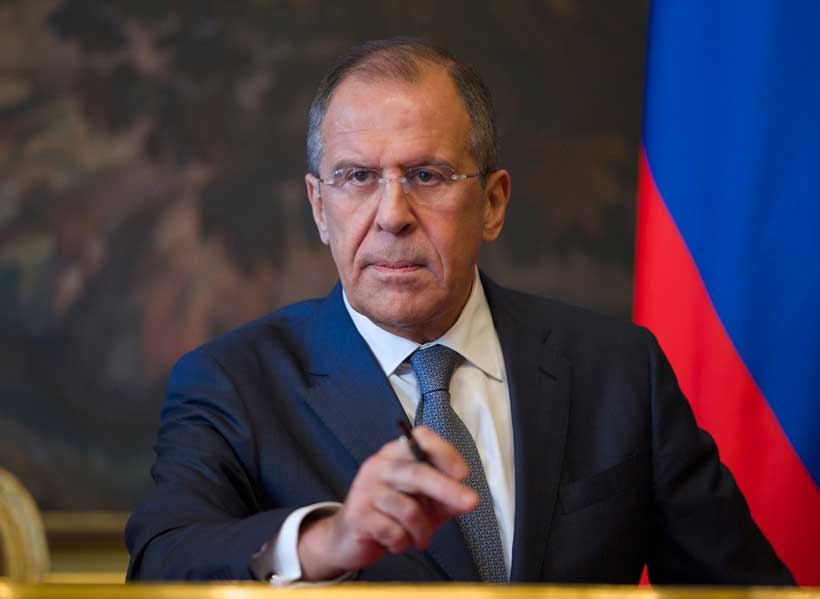 Minister of Foreign Affairs of the Russian Federation Sergey V. Lavrov's article for the Israeli Newspaper "Yedioth Ahronoth" dedicated to the 30th Anniversary of the Renewal of Diplomatic Relations Between Russia and Israel, October 15, 2021.
On October 18, Russia and Israel celebrate the 30th anniversary of the renewal of full-fledged diplomatic relations – the beginning of a new era of common history.
Turning to the pages of the past, let me recall that the USSR was the first country to recognize de jure the State of Israel back in May 1948. Of course, there were ups and downs in the chronicle of our relationship. Today, it could be assessed with confidence that Russian-Israeli mutually beneficial cooperation has stood the test of time and continues to actively develop in all directions.
Its foundation is formed by an intensive political dialogue, foremost – at the highest level. Inter-parliamentary contacts are progressing, bolstered by Friendship Groups established in the legislative bodies of our countries. Inter-ministerial communications are carried out on a regular basis.
Over the past decades, a solid experience of diversified cooperation has been accumulated in such spheres as economics, science and technology, healthcare and education. More than twenty acting intergovernmental agreements reflect the richness of the bilateral agenda.
Our mutual practical cooperation has significant potential. A number of joint projects are being successfully implemented. Many initiatives have received the support of the President of the Russian Federation and the Prime Minister of the State of Israel. The interest of Israeli business circles in entering the Russian market continues to grow. Despite the consequences of the coronavirus pandemic, by the end of 2020 trade between Russia and Israel decreased by only 3.9%, and in January-July this year it increased by 51.8% over the previous year's period. The key coordinating mission in these common efforts is fulfilled by the Joint Russian-Israeli Commission for Trade and Economic Cooperation, founded in 1994. We are interested in the early resumption of its work in full.
A special role in strengthening the unifying baselines of our relations as well as ensuring their stability and continuity belongs to humanitarian contacts. We appreciate the high level of mutual understanding between the peoples of Russia and Israel, connected by a common historical memory and convergence of cultures. It is encouraging that this thread, which has no geographic boundaries, is only getting stronger in course of time.
There are millions of Russian-speaking compatriots living in Israel, including descendants both from the former Republics of the USSR and from the Russian Federation. Veterans of the Great Patriotic War, survivors of the siege, former prisoners of concentration camps are among them. The fate of these people is of major interest to us.
Most vigorous rejection of the attempts of historical revisionism, combatting the distortion of the genesis, course and generally recognized international legal outcomes of the World War II have always united Russia and Israel. We will continue to coordinate our efforts, and specifically at the UN, to counter this shameful phenomenon.
While in some countries of Central and Eastern Europe Nazi henchmen are being brought to the level of national heroes and neo-Nazi tendencies are being revived, the memory of the decisive contribution of the heroic soldiers of the Red Army to the Victory over Nazism, the saving of Jews and other peoples from extermination, the liberation of the world from the horrors of the Holocaust is sacred in Israel. We see how Israeli colleagues – at the state and public levels – encourage the activities of the veterans and compatriots movements, conduct active work to educate the younger generation.
It is difficult to overestimate the significance of the law on Celebrating the Victory Day over Nazi Germany on May 9, approved by the Israeli parliament in 2017. It is particularly telling that on the 76th anniversary of the Great Victory, celebrated this year, festive events and commemorative parades along with the Immortal Regiment march were held in more than 45 Israeli cities. Thousands of Israelis of all ages as well as officials participated. This scale speaks for itself.
Cooperation in the field of education and science – whether through student and academic exchanges or joint scientific research continues to move forward. Every year, students from Israel get an opportunity to receive higher education in Russian universities. All of them are sincerely welcome there.
We hope that it will be possible to restore mutual tourist flows as soon as the sanitary and epidemiological situation improves. Russia is traditionally one of the top three countries in terms of the number of visitors to Israel.
The Russian-Israeli dialogue is vigorously advancing through the foreign ministries. It is obvious that without constructive interaction of diplomats it is impossible to solve a number of international and regional problems that are of paramount importance both for ensuring the prosperous future of the peoples of Russia and Israel just as for strengthening international and regional security and stability. From this perspective, diversified contacts between the Security Councils and the defense ministries of our countries have also proven themselves well. On a regular basis it allows us to compare approaches and take into account each other's legitimate interests.
Russia is pursuing an independent multi-vector foreign policy, contemplating pragmatism, the search for compromises and the observance of balances of interests. Creation of the most favorable external conditions for our internal socio-economic development remains its backbone. We have no ideological likes and dislikes, or any taboos in relations with our foreign partners, therefore we can play an active role in the international arena and specifically through mediation in the settlement of conflicts.
We are interested in continuing consultations with our Israeli partners on security and stability issues in the Middle East. We always draw attention to the fact that comprehensive solutions to the problems of the region must necessarily take into account the security interests of Israel. This is a matter of principle.
At the same time, we are convinced that there is no alternative to the two-state solution of the Israeli-Palestinian conflict on a generally recognized international legal basis. We strongly support direct negotiations between Israelis and Palestinians. A comprehensive solution to all issues of the final status is possible only through it. We are ready to work with Israeli colleagues, including multilateral formats, primarily in the context of the renewal of work of the Middle East Quartet of international mediators in close cooperation with representatives of the Arab League.
I am convinced: it is in the common interest to maintain the momentum. Ahead of us are new milestones and additional opportunities not only to continue, but also to enrich the positive experience of multifaceted cooperation for the benefit of our states and peoples, in the interests of peace and stability.
Source: Minister of Foreign Affairs
The Emerging "Eastern Axis" and the Future of JCPOA
Iranian Foreign Ministry spokesperson, Saeed Khatibzadeh recently said that Tehran would further strengthen its ties with Moscow via a strategic partnership. Said Khatibzadeh 'The initial arrangements of this document, entitled the Global Agreement for Cooperation between Iran and Russia, have been concluded'
This agreement will be similar in nature to the agreement signed by Iran with China in March 2021, dubbed as the strategic cooperation pact, which sought to enhance economic and strategic relations (China would invest 400 Billion USD in infrastructure and oil and gas sector while also strengthening security ties). Commenting on the same, Khatibzadeh also said that an 'Eastern axis' is emerging between Russia, Iran and China.
Closer ties with Russia are important from an economic, strategic point of view, and also to reduce Iran's dependence upon China (many including Iran's Foreign Minister had been critical of the 25 year agreement saying that it lacked transparency). Iranian Foreign Minister, Hossein Amir-Abdollahian on the eve of his Russia visit from October 5-6th, 2021 also stated that Iran while strengthening ties would not want to be excessively dependent upon either country.
Iranian Foreign Minister's visit to Russia
Iranian Foreign Minister, Hossein Amirabdollahian during his Russia visit discussed a host of issues with his Russian counterpart, Sergey Lavrov including the current situation in Afghanistan, South Caucasus, Syria and the resumption of the Vienna negotiations.
Russia and Iran have been working closely on Afghanistan (on October 20, 2021 Russia is hosting talks involving China, India, Iran and Pakistan with the Taliban).
It is also important to bear in mind, that both Russia and Iran have flagged the non-inclusive nature of the Taliban Interim government. Russia has in fact categorically stated that recognition of Taliban was not on the table. Said the Russian Foreign Minister, Sergey Lavrov on the sidelines of the United Nations General Assembly, 'the whole gamut of Afghan society — ethno-religious and political forces — so we are engaging in contacts, they are ongoing.'
China's approach vis-à-vis Afghanistan
Here it would be pertinent to point out, that China's stance vis-à-vis Afghanistan is not identical to that of Moscow and Tehran. Beijing while putting forward its concerns vis-à-vis the use of Afghan territory for terrorism and support to Uyghur separatist group East Turkestan Islamic Movement (ETIM), has repeatedly said that there should be no external interference, and that Afghanistan should be allowed to decide its future course. China has also spoken in favor of removal of sanctions against the Taliban, and also freeing the reserves of the Afghan Central Bank (estimated at well over 9 Billion USD), which had been frozen by the US after the takeover of Afghanistan by the Taliban.
If one were to look at the Joint Comprehensive Plan of Action JCPOA/Iran Nuclear deal, Russia has been urging Iran to get back to the Vienna negotiations on the one hand (these negotiations have been on hold since June), while also asking the US to return to its commitments, it had made under the JCPOA, and also put an end to restriction on Iran and its trading partners.
Conversation between US Secretary of State and Russian Foreign Minister
The important role of Russia is reiterated by the conversation between US Secretary of State Anthony Blinken with Russian Foreign Minister. Angela Merkel during her visit to Israel also made an important point that both China and Russia had an important role to play as far as getting Iran back on JCPOA is concerned. What is also interesting is that US has provided a waiver to the company building the Nord Stream 2 pipeline connecting Russia and Germany. The US has opposed the project, but the Department of State said waiving these sanctions was in US national interest. Both Germany and Russia welcomed this decision.
In conclusion, while there is no doubt that Russia may have moved closer to China in recent years, its stance on Afghanistan as well as it's important role in the context of resumption of Vienna negotiations highlight the fact that Moscow is not keen to play second fiddle to Beijing. The Biden Administration in spite of its differences has been engaging closely with Moscow (a number of US analysts have been arguing for Washington to adopt a pragmatic approach vis-à-vis Russia and to avoid hyphenating Moscow with Beijing). In the given geopolitical landscape, Washington would not be particularly averse to Tehran moving closer to Russia. While the Iranian spokesperson, Saeed Khatibzadeh spoke about a Eastern axis emerging between Moscow, Tehran and Beijing, it would be pertinent to point out, that there are differences on a number of issues between Moscow and Beijing. The Russia-Iran relationship as well as US engagement with Russia on a number of important geopolitical issues underscores the pitfalls of viewing geopolitics from simplistic binaries.
New U.S. travel rules excludes foreigners vaccinated with Russia's Sputnik V
Local and foreign media have stepped up reports about rising Covid-19 infections in Russia. While the reports also indicated high deaths in the country, other highligted new trends that are noticeably appearing. Interestingly, directors at the Russian tourism and travel agencies say that many Russians are lining up for vaccine tourism in Serbia, Bulgaria and Germany and a few other foreign countries.
These Russians aim at getting foreign vaccines including Pfizer, Moderna and Johnson & Johnson and AstraZeneca.
Here are a few facts about Russian vaccines.
Russia's Sputnik V was the first officially registered coronavirus vaccine on August 11, 2020. Russia is using four vaccines for mass vaccination for Covid-19. These are Sputnik V and Sputnik Light developed by the Russian Health Ministry's Gamaleya Center.
EpiVacCorona developed by the Vector Center of the Federal Service for Surveillance on Consumer Rights Protection and Human Wellbeing (Rospotrebnadzor), and CoviVac developed by the Chumakov Institute of the Russian Academy of Sciences.
Clinical trials of the EpiVacCorona vaccine on teens aged from 15 to 17 might begin in the near future.
China has 1.3 billion population and has given the two billionth vaccine by the end of August, the United State has 380 million and attained 60% of its population. In Europe, vaccination rate is highly at an appreciable level.
Overall, Russia with an estimated 146 million people has Europe's highest death toll from the pandemic, nearly 210,000 people as at September 30, according to various authentic sources including the National Coronavirus Task Force.
More than 42 million Russians have received both components of a coronavirus vaccine, according to Russian Deputy Prime Minister Tatyana Golikova.
"The number of citizens who have received the first component of a vaccine has topped 44 million, and more than 37 million people have completed a full vaccination course," Golikova said.
She gave an assurance back in July that once the population have been immunized with at least the first component of a two-shot vaccine, herd immunity to Covid-19, or at least an 80% vaccination rate, should be reached by November 1.
Reasons: Even though Russia boasted of creating the world's first coronavirus vaccines, vaccination is very low. Critics have principally blamed a botched vaccine rollout and mixed messages the authorities have been sending about the outbreak.
In addition, coronavirus antibody tests are popular in Russia and some observers suggest this contributes to the low vaccination numbers.
Western health experts say the antibody tests are unreliable either for diagnosing Covid-19 or assessing immunity to it. The antibodies that these tests look for can only serve as evidence of a past infection. Scientists say it's still unclear what level of antibodies indicates that a person has protection from the virus and for how long.
Russia has registered Sputnik V in more than 150 foreign countries. The World Health Organization is yet to register this vaccine. For its registration, it must necessarily pass through approved procedures, so far Russia has ignored them, according reports.
There have also been several debates after the World Health Organization paused its review process of the Sputnik V vaccine over concerns about its manufacturing process, and few other technical reasons. While some talked about politicizing the vaccine registration, other have faced facts of observing recognized international rules for certifying medical products as such vaccines.
During the first week of October, Russian Health Minister Mikhail Murashko has reiterated or repeated assertively that a certain package of documents were needed to continue the process for the approval of the Russian coronavirus vaccine Sputnik V by the World Health Organization. The final approval is expected towards the end of 2021.
Still some the problems with the registration as unfair competition in the global market. For instance, Russian Minister of Industry and Trade Denis Manturov said in an interview with the Rossiya-24 television channel on October 5: "I think it is an element of competition. Until Pfizer covers a certain part of the market, it is pure economics."
On the other side, Pyotr Ilyichev, Director for International Organization at the Russian Foreign Affairs Ministry, told Interfax News Agency, for instance that World Health Organization has been playing politics around Russian vaccine especially when it is need in most parts of the world.
"The world is facing an acute shortage of vaccines for the novel coronavirus infection. In certain regions, for instance in African countries, less than 2% of the population has been vaccinated. The Russian vaccine is in demand, and the UN stands ready to buy it," he told Interfax.
"However, certification in the WHO is a complex, multi-step process, which was developed in the past in line with Western countries' standards. It requires time and serious efforts from our producers. We hope that this process will be successfully finalized in the near future," Ilyichev said.
Chairman of the State Duma's Foreign Affairs Committee Leonid Slutsky has described as discriminatory a decision reported by foreign media that the United States, under its new consular rules, would deny entry for foreigners immunized with the Russian Covid-19 vaccine Sputnik V.
"Thus, the U.S. will blatantly embark on a path of 'vaccine discrimination.' There are absolutely no grounds for such decisions. The efficacy and safety of the Sputnik V vaccine have been confirmed not only by specialists, but also by its use in practice," Slutsky said on Telegram.
He cited an article in The Washington Post saying that from November the United States may begin denying entry to foreigners vaccinated with Sputnik V.
It means that if such additional border measures are adopted, foreigners seeking entry to the United States will have to be immunized with vaccines approved for use either by American authorities or the World Health Organization.
According to an article published in The Washington Post, for the first time since the pandemic began, the United States intends to loosen entry restrictions for foreigners vaccinated against Covid-19.
The new rules, which enter into force in November, will not apply to Russians vaccinated with Sputnik V and citizens of other countries using this Russian vaccine.
Under the new rules, foreigners will enter United States only if they are immunized with vaccines approved for use by the United States Food and Drug Administration or the World Health Organization. Russia's Sputnik V is yet to be approved by the World Health Organization and is not recognized by the United States.