Every year, Russian President Vladimir Putin addresses the Federal Assembly, which is a combined gathering of all members from the Federation Council (Senate), State Duma (House of Representatives) deputies, members of the Government, leaders of the Constitutional Court and Supreme Court, governors from all the regions in the Russian Federation.
As always expected, Putin's address primarily focuses on current achievements, outlines future domestic social and economic development plans and strategies, offers insight into key foreign policy objectives and brings out the challenges and some possible steps in resolving both internal and external setbacks.
According to official reports, Vladimir Putin will hold the next federal meeting on January 15, 2020, to review performance and set new targets. While awaiting his next address, it's important to look back at a summary of his pledges and promises made on February 20, when the ceremony last took place in Gostiny Dvor, about 100 metres away from the Kremlin, central Moscow.
The objectives, among others, have been designed to raise development infrastructure and to bring about a new quality of life for all generations. "Departing from the targets that were outlined would be unacceptable. It is true that these are challenging objectives. That said, lowering the requirements for specific targets or watering them down is not an option. It is our duty to keep pushing ahead and gaining momentum, results must be visible in each region in the Russian Federation," Putin said at the gathering last year. Here are few selected from his speech at the Federal Assembly:
*Russia has entered an extremely challenging period in terms of demography. Nevertheless, the country has to return again to natural population growth by late 2023 – early 2024. Preserving the family, childbirth, procreation and respect for the elderly have always served as a powerful moral framework for Russia. Strengthening family values and commitment, this task has to be shared by the state, civil society, religious organisations, political parties and the media.
*Starting January 1, 2020, Putin proposed raising the bar to two subsistence wages per family member. This is what people have requested and these requests come directly into the Executive Office. This measure will increase the number of families entitled to additional benefits by almost 50 percent. Some 70 percent of families with one or two children will be able to benefit from help from the Government.
*The tax burden on families needs to be relieved. The approach should be very simple: the more children there are, the lower the tax. The income of Russian families must increase.An additional measure of support for families with a child who needs special care.
*Considering the sustainability and stability of the macroeconomic situation in the country and the growth of the state's revenues, it possible to introduce another measure of support for families having a third and subsequent children to pay for morgage. Importantly, proposed backdating morgage payment starting January 1, 2019, recalculating it and allocating relevant sums from budget.
*Moving on, when construction companies build social facilities and transfer them to the state or munipalities, they have to pay profit tax and VAT. The need to relieve construction companies of this burden (including our innovations in the construction sector). This will serve as an impetus for the comprehensive development of cities and townships, ensuring that families have all facilities near their homes: clinics, schools and sports facilities. By doing this, it enables parents to work, study, live happily and enjoy parenthood.
*Solving demographic problems, increasing life expectancy and reducing mortality rates are directly related to eradicating poverty. In 2000, there were more than 40 million people living below the poverty line. Now there are about 19 million, but this is still too many, too many. However, there was a time when their number dropped to 15 million, and now it has grown a little again. The government must, certainly, focus on combating poverty.
*The state helps people find jobs and improve their skills. The state provides financial resources to families to run a household farm or to start a small business. It is estimated that more than 9 million people will be able to benefit from these support measures over a five-year period.
*Pension. Starting 2019, adjustments of pensions and monthly payments should by all means be above the subsistence rate of pensioners that is established every year. In other words, the state should first bring pensions to the subsistence level and only after that make adjustments in pensions and monthly payments. Payments, for the first months of 2019, must be recalculated and people should be paid the money due to them that they have not received.
*The next important subject is healthcare. The current state seems to be improving, and medical treatment is becoming more accessible. Nevertheless, many people are not satisfied. The medical treatment should become accessible for everyone by the end of 2020 in all populated areas across Russia. For information, an additional 1,590 outpatient clinics and paramedic stations are to be built or renovated in 2019–2020.
*Improving IT penetration in healthcare will make it more accessible. Online links between medical institutions, pharmacies, doctors and patients must be streamlined over the next three years.
*Primary care is understaffed. Putin proposed a programme for fighting cancer and leukaemia. This is about providing timely, effective and accessible treatment, using advanced technologies that are effective in most cases and enable people to overcome this dangerous disease. Next, over the next few years we must create a number of new areas combining healthcare with social services.
*In 2019, the regions began adopting a new system of solid municipal waste management. The people have increasingly high demands on environmental safety issues. Perhaps, the most painful topic is municipal waste.need to build a civilised and safe system of waste treatment, recycling and disposal. It is necessary to restore order in this area, to get rid of shady businesses that do not bear any responsibility and only get super-profits dumping trash at random sites. It is necessary to introduce stricter environmental requirements when it comes to utility services and energy and transport enterprises.
*Education. The share of schools with modern study conditions has increased. The number of students from small towns and remote areas studying at the best Moscow and regional universities is increasing. Nevertheless, regions where poorly equipped schools still exist the government the government has to support the regions that lack their own resources.
*The content of educational programmes must also change. The national standards and programmes must reflect the priorities of the country's science and technology development, while the federal lists of recommended textbooks must include the best of the best books. Expanding assistance to local cultural initiatives, that is, projects dealing with local history, crafts and the preservation of the historical heritage of Russian peoples.
*More than 70 million people work in manufacturing, agriculture, the services or are small business owners. The state of Russia's economy has a direct bearing on their income, wellbeing and confidence in the future. The primary tool for achieving steady wage increases is to promote quality employment and free enterprise, qualified, well-paid jobs in all regions, including both traditional and new sectors. This is the only way to overcome poverty and ensure steady and perceptible increases in income. By 2021, Russia's economic growth rate must exceed 3 percent and stay above the global average afterwards. This objective should not be discarded.
*In order to achieve high growth rates, it is also necessary to resolve systemic problems in the economy. Putin highlighted four priorities here. The first one is faster growth in labour productivity, primarily based on new technologies and digitalisation; the development of competitive industries and, as a result, an increase in non-primary exports by more than 50 percent in six years.
The second one is to improve the business climate and the quality of national jurisdiction, so that no one moves their operations to other jurisdictions, to ensure that everything is reliable and runs like clockwork. Growth in investment should increase by 6–7 percent in 2020. Achieving this level will be one of the key criteria for evaluating the Government's work.
The third priority is removing infrastructural constraints for economic development and for unlocking the potential of our regions. And the fourth is training modern personnel, of course, and creating powerful scientific and technological foundations.
*A colossal guaranteed demand for industrial and high-tech products is formed in Russia. The Government and the regions are faced with historical opportunities for a qualitative growth of Russian business, mechanical engineering and machine-tool making, microelectronics, IT-industry, and other industries. And of course, now is the time for more daring initiatives, for creating businesses and production companies, for promoting new products and services. The entire Russian legislation must be geared up to reflect the new technological reality. These laws must not restrict the development of innovative and promising industries but push this development forward.
*The most crucial indicator of a business's efficiency and competitiveness lies in expanding export and entering external markets. The success of agricultural industry is, of course, a good example of such development. Agricultural export increased by 19.4 percent in 2018 reaching $25.8 billion. In 2024, it must reach $45 billion. Russia must have the entire range of its own advanced agricultural technology, which must be available not only to large but also to small farms. This is literally a matter of national security and successful competition in the growing food markets.
*Infrastructure upgrades need to be accelerated using state-of-the-art technology. This is essential for enhancing a country's connectivity, and especially for Russia, the world's largest country with its vast territory. This is essential for strengthening statehood, unleashing the country's potential and driving national economic growth.
In 2019, the railway section of the Crimean Bridge becomes a powerful impetus. As said, trains will begin using the Crimean Bridge in 2019, creating a powerful development driver for Crimea and Sevastopol. In addition to this, the expressway linking Moscow and St Petersburg expected to be completed, creating new business opportunities and jobs for people living in Novgorod, Tver, Leningrad and Moscow regions.
More than 60 airports will benefit from upgrades over the next six years, including international airports in Khabarovsk, Yuzhno-Sakhalinsk and Petropavlovsk-Kamchatsky. In 2025, the capacity of the Baikal-Amur Mainline and Trans-Siberian Railway will grow 1.5 times, reaching 210 million tonnes, which is very important for the development of Siberia and Russia's Far East.
Putin reiterated that key indicators related to social and economic development and quality of life in all Russia's Far Eastern regions are expected to exceed the national average. This is a national cause, and a major priority of collective efforts to promote Eastern Siberia and the Far East as strategic territories. All agencies have to constantly keep this in mind.
*Next, to adopt a master plan for developing the infrastructure of a digital economy, including telecommunications networks, as well as data storage and processing capacities. The task for the next few years is to provide universal access to high-speed internet and start using 5G communications networks. To achieve a revolution in communications, navigation and systems for remote sensing of the Earth. Russia has unique technology for this, but such tasks require a fundamental upgrade of the entire space industry. Putin instructed Roscosmos and the Moscow Government to establish a National Space Centre.
*For Russian Youth. Passion for a future career and creativity is formed at a young age. In the next three years, thanks to the development of children's technology parks, quantoriums and education centres for computer skills, natural sciences and the humanities, around one million new spots in extracurricular education programmes will be created. All children must have access.
Relying on the WorldSkills movement experience, Russia will accelerate the modernisation of secondary vocational education, which includes installing modern equipment at more than 2,000 shops in colleges and technical schools by 2022. The Sirius educational centre in Sochi is becoming a true constellation. The plan was for centres supporting gifted children, based on its model, to open in all regions by 2024.
*The Kremlin believes in the importance of promoting closer cooperation within the Union State of Russia and Belarus, including close foreign policy and economic coordination. Together with integration partners within the Eurasian Economic Union, it continues creating common markets and outreach efforts. This includes implementing the decisions to coordinate the activities of the EAEU with China's Belt and Road initiative on the way to a greater Eurasian partnership.
*Russia also hopes that the European Union and the major European countries will finally take actual steps to put political and economic relations with Russia back on track. People in these countries are looking forward to cooperation with Russia, which includes corporations, as well as small and medium-sized enterprises, and European businesses.
*Russia has been and will be a sovereign and independent state. Building relations with Russia means working together to find solutions to the most complex matters instead of trying to impose solutions. Thus, Russia's foreign policy priorities include strengthening trust, countering global threats, promoting cooperation in the economy and trade, education, culture, science and technology, as well as facilitating people-to-people contacts. These tenets underpin the work within the United Nations, the Commonwealth of Independent States, as well as within the Group of 20, BRICS and the Shanghai Cooperation Organisation.
In this context, Putin emphasised the need for sustainable long-term development. Russia has ambitious goals, is approaching solutions in a systematic and consistent way, building a model of socio-economic development that will ensure the best conditions for the Russian people, and through combined efforts to provide befitting answers to the challenges of a rapidly changing world.
The U.S. doesn't want to protect Ukraine; it wants to defeat Russia
If the U.S. (and its allies) wanted to protect Ukraine, then it (they) would not be doing all they can to prolong Russia's invasion and destruction of Ukraine. They would not be flooding Ukraine with their weapons to kill Russians. They would not be demanding that Ukraine fight on, which destroys Ukraine even more. But this is what they are doing.
Is this because they are so stupid that they don't know that they are destroying Ukraine? Or is it instead because they don't care about their destroying Ukraine but do care about their defeating Russia?
The U.S. (and its allies) are doing everything they can to defeat Russia. They are also doing everything they can to increase the sales, and profits, and stock-market valuations, of Lockheed Martin and the other corporations whose only or main customers are the U.S. Government and its allied governments which buy their weapons — buy them increasingly now in order for those weapons to be used even more now by their vassal-nations such as Ukraine, and Israel, and Saudi Arabia, against the nations that they also are wanting to defeat, such as Palestine and Yemen, and other countries that the U.S. and its allied governments care nothing about except that they want them to be defeated — to be punished for NOT caving to the U.S. Government and its allied governments, and which nations they condemn while calling themselves 'the free world'.
How evil is this? Let's see:
On May 19th, U.S. President Joe Biden signed into law an additional $40.1 billion to Ukraine in order to continue its war against Russia, which Biden and his boss Barack Obama, and Obama's organizer of the 2014 U.S. coup in Ukraine Victoria Nuland had begun by means of that coup, which had transformed Ukraine from being a peaceful neutralist country on Russia's border, into becoming promptly a rabidly anti-Russian and pro-U.S. country on Russia's border that's in a civil war and that is a prospective future basing-area for U.S. nuclear missiles there (like a 1962 Cuban-Missile-Crisis in reverse) to hit Moscow only a 7-minute flight-time away. It would be a checkmate in the U.S. regime's long war to add Russia to its conquered prizes, if the plan would succeed.
To place that $40.1B additional expenditure into perspective, the comedian Jimmy Dore headlined on May 19th "ALL DEMOCRATS Vote [in Senate] To Send $40 Billion To Ukraine", and Dore said "That's more than three times what the entire U.S. music industry makes in a year," and he called it "a wealth-transfer to the military-industrial complex." He said that if this $40.1B addition to the current year's expenditure on Ukraine's war were instead to be spent domestically, "that would stop homelessness."
I checked those allegations. Here's what I found:
The entire U.S. music-recording industry is $11B retail sales per year. (That's sales; profits would be some percentage of sales, but even if it were ALL of sales, then this $40.1B would be "more than three times" it.)
Annual cost to eliminate homeless in U.S.=$30B.
He wasn't exaggerating; he was under-stating. This is how evil the U.S. Government actually is.
Mr. Dore also noted that all Democratic Party U.S. Senators and members of the U.S. House of Representatives voted for this additional $40.1B expenditure, and that the overwhelming majority of the Republican ones also did. Are Republicans now even more neoconservative than Democrats are? Not really: it is always the case that a neoconservative bill in the U.S. Congress gets virtually 100% support from the Party in power, and gets an overwhelming majority of the votes of the Party that doesn't happen to be in power at the time. All the while, America's 'defense'-contractors increase their sales and profits and stock-market valuations. So, Dore expressed anger that in the Senate, even Bernie Sanders voted for this. And Glenn Greenwald presented a scathing condemnation of the hypocritical 'progressive' Democrat Octavio Ocasio-Cortez's "complete reversal of everything that she pretended to believe in for years". He attributed this contradiction of herself to "In 2016, when Hillary Clinton lost to Donald Trump, … instead of accepting responsibility because they themselves had nominated one of the most destructive and outright hated political candidates in modern American history in Hillary Clinton, … they decided to blame everybody else, … especially Putin and Russia. … And so Democrats have been feeding on this anti-Russia antipathy and hatred" ever since. And, so, "there is no viable anti-war [political] left in the United States."
Though I enormously respect Glenn Greenwald, and everything that he said is true, I think that his analyses suffer from shallowness due to his apparent ignorance of history — his excessive focus on the obvious and recent news, outside of the broader context that's required in order for there to be a deeper analysis, a scientific understanding, which identifies actual historical causes behind current events. This is not to deny that what Greenwald says is true, but to assert that it lacks the wisdom that ONLY an authentic historical analysis can bring to current events and to public-policy issues. Only by understanding causes can one move forward into the future (if there will be a future) so as to control future events in a constructive way, that will benefit future generations, instead of for future events to continue to degenerate even further into a hell which comes closer with every passing day.
I documented at Greanville Post, on May 19th, "The Secret U.S.-&-UK War Against Europe", showing that BOTH American political Parties are controlled, at the very top, by a cabal of very closely connected individuals who are basically servants of the billionaire controlling owners of firms (such as Lockheed Martin, Raytheon, and General Dynamics), which corporations' major or even ONLY customers are the U.S. Government and its allied governments, but especially these controlling individuals are an organization that was started in 1877 by the British aristocrat Cecil Rhodes, and which finally took control over the U.S. Government itself on 25 July 1945, just three months after U.S. President FDR died and became replaced by the naive and manipulable Harry S. Truman, who set America's Government irrevocably onto its control by "the military-industrial complex" and in league with Britain's aristocracy, to ultimately control the entire world and obviate altogether the United Nations that FDR had started planning and hoping for back in 1941. (The Republican Dwight Eisenhower was also a key part of the Rhodesists' American operation.)
This organization by the Rhodesists is the source of the evilness that pervades today's U.S. Government, and it cannot be overcome unless and until it first becomes widely known-about, and then condemned so that all of today's U.S. Government becomes replaced, because the corruptness of America's (and UK's) Government has, by now, become virtually 100%. And if this assertion doesn't seem credible, then check the links in this report, which explains (and those links document) the actual source for the 19 May 2022 law to pour an additional $40.1B into Ukraine, which after the 2014 coup is a U.S. vassal-nation that's self-destructing in order to serve as today's main battleground (and U.S.-proxy) in the American (and British) aristocracy's long war to conquer not only Russia, but also Europe, and the entire world.
First, the entire world (especially in Europe) has to recognize and publicly acknowledge the unacceptability of America's Government, so as to condemn it and to order all of its troops out, ASAP. It is a hostile power, to the publics, everywhere — even in places where its stooges and hangers-on-billionaires are in political control (like a cancer) (such as in Europe). America's Government is NO DEMOCRACY. No empire can be, and America's most assuredly IS NOT a democracy. (Nor is UK's.) It is a hostile occupying alien force, even inside the United States. (And this is widely suspected to be true, even by the American people.) In fact: the U.S. is the world's #1 police-state. It is a cancer, everywhere that it occupies, and needs to be rooted-out everywhere. Franklin Delano Roosevelt, Abraham Lincoln, and the majority of America's Founders, would have viewed this nation, today's U.S. Government, to be their enemy, because it violates everything that they believed in, and hoped for, about America's future, and the world's. Everything.
NYT Presents Strong Case for a War-Crimes Prosecution Against Russia
Whereas numerous instances of U.S. war-crimes have been documented in some news-reports well enough to be successfully prosecuted in international war-crimes tribunals (but the U.N.-authorized agency the International Criminal Court cannot prosecute U.S. war-crimes but only war-crimes by third-world countries' leaders), such well-evidenced instances by Russia are far rarer. However, on May 19th the New York Times presented precisely such an instance, under the headline "New Evidence Shows How Russian Soldiers Executed Men in Bucha". Local security-cameras there recorded the frog-marching to their death of nine Ukrainian men who weren't in Ukraine's official armed forces but who had become armed to fight against the invading Russian soldiers in Bucha, and who were then executed by specifically identified Russian soldiers and their corpses abandoned on the ground as Russia's soldiers left Bucha. Locals also told the NYT's reporters what they had seen, and it fit with what those security cameras showed. The NYT reported:
The execution of the captured fighters and the homeowner in Bucha "is the kind of incident that could become a strong case for war crimes prosecution," said Stephen Rapp, former United States ambassador-at-large for war crimes issues. The captives, having been disarmed and taken into custody by the Russians, were "outside of combat," under the laws of war, Mr. Rapp said. According to the United Nations and the International Committee of the Red Cross, such laws mean that prisoners must be treated humanely and protected from mistreatment in all circumstances.
In addition to the soldiers who shot the men, their commanders could be charged if they knew about the killings and failed to act to prevent or punish the conduct, Mr. Rapp said.
However, Ellen Ioanes at Vox posted on April 9th an excellent article, "Here's what the ICC can actually do about Putin's war crimes", and documented in detail that the consequence would be nothing except bad publicity which the U.S. and its allies could exploit, but even that would entail "a lot of hypocrisy" because:
one of the most vocal nations suggesting Putin be tried at the Hague — the United States — isn't itself a party to the ICC. The US government voted against the ICC during the Rome Conference in 1998; former President Bill Clinton signed on to the Rome Statute in 2000 but never submitted it to Congress for ratification. Former President George W. Bush in 2002 notified then-UN Secretary-General Kofi Annan that the US would not ratify the Rome Statute and didn't have to abide by any of its provisions.
The U.S. Government, and many of its allies (such as the post-U.S.-coup-in-Ukraine's government ever since 2014) perpetrate war-crimes (such as this) far more heinous than what the NYT reports there, but that doesn't excuse what these Russian soldiers did. None of these war-crimes will be able to be successfully prosecuted.
Here is the reason why the ICC, and the U.N. itself, turned out to be this way (Ioanes's article provided only a superficial account regarding that matter — "A permanent international court is still relatively new," etc. — but the actual cause, or reason, goes all the way back to answering how and why that has turned out to be the case, and this requires history going back to the 1940s):
Though the United Nations had first been conceived by U.S. President FDR in 1941 only shortly before the U.S. itself famously entered WW II on "a date which will live in infamy"; and though FDR developed, prior to his death on 12 April 1945, a remarkably detailed plan for what the U.N. would be and for what its Charter would need to include, his immediate successor, Harry S. Truman, while he was at the Potsdam Conference with Churchill and Stalin in July 1945, became persuaded by his hero, General Dwight David Eisenhower, that if the U.S. would not conquer the Soviet Union, then the Soviet Union would conquer the United States; and, so, on 25 July 1945, Truman made the decision (which soon thereafter became irrevocable) to set the U.S. Government onto the path of world-domination, to conquering the Soviet Union, and he even decided to demand of Stalin, regarding eastern European countries that the Soviet Union had freed from Hitler's grip, that "I told Stalin until we had free access to those countries and our nationals had their property rights restored, so far as we were concerned ther'd never be recognition. He seems to like it when I hit him with a hammer." Stalin was shocked at this turn of events, because he knew, in general terms, what FDR had been intending for the U.N. to be — a democratic federation of all nations which would terminate all imperialisms and be restricted to addressing only international relations (thereby excluding anything that pertains to intranational matters, such as Truman insisted upon) — and he still hoped, even for a few months afterwards, that Truman wouldn't turn out to be a 180-degree reversal of what FDR had been, but thereafter Stalin gave up altogether on any such hope, and knew that the U.S. was now at war against the Soviet Union. Tragically, Truman, instead of FDR, oversaw, and basically dominated, the creation of the U.N., and so it turned out to be a toothless tiger, nothing like what FDR had intended, which would have been the international democracy of nations and possessed of a practical monopoly of geostrategic weaponry and international armed force, and also including, at the earliest practicable date, an international criminal court, which would try not only the international crimes by the former Axis powers, but the international crimes by the former Allied powers. The U.N. would have been fundamentally different than it is.
And, so, though there do exist international war-crimes cases regarding which the solidly documented historical record is sufficiently complete for an unprejudiced and trustworthy conviction to be possible, it cannot happen unless and until all of the bad history since 12 April 1945 (FDR's death) has become effectively condemned, repudiated, and reversed, by enough of the world's nations, so that the needed type of world government (international laws and their enforcement and juridical handling), replacing all of the existing imperialisms, becomes finally instituted (which was FDR's obsession from 1941 on). However, even today — after all of these many decades of bad history — no one is even so much as talking about this.
One of the experts that Ioanes quoted said "'It really shows a lot of hypocrisy,' and encourages the perception of 'justice for thee, not for me'." And that ("for thee, not for me") is, really, a pervasive and total impossibility of justice, for anyone. In its place can only be hypocrisy. Perhaps that's what "liberalism" (which is certainly NOT progressivism) comes down to: hypocritical conservatism. Rule by the aristocracy (the super-rich), everywhere.
What is bad in the past must be publicly acknowledged (no longer lied about), if ever we are to go forward to an authentically better world. If that fails to happen, the world will only continue to get even worse.
Putin's House of Cards: What will happen to Russia's satellites if his regime falls?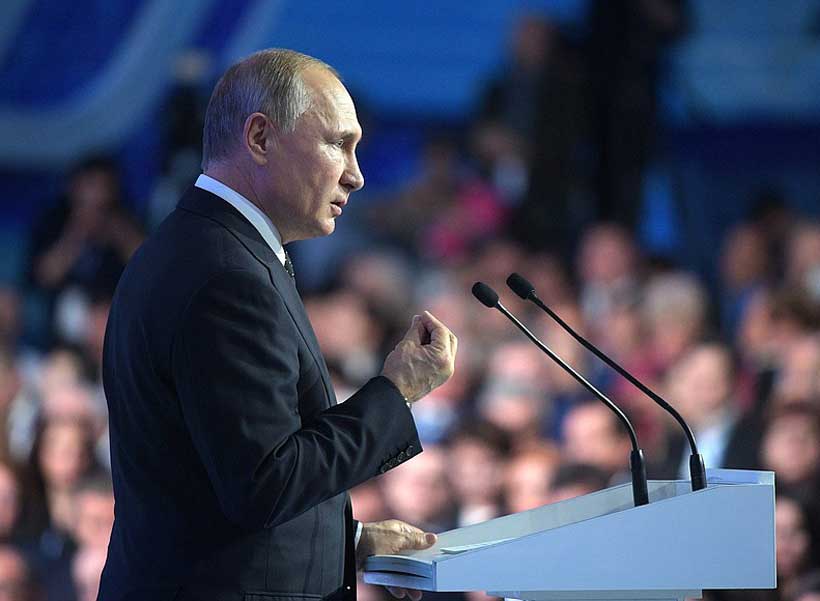 The war in Ukraine has astonished even knowledgeable observers, impressed by Ukraine's valor and ingenuity and by the Russian military's ineptitude. While the war's outcome remains unknown, many are beginning to speculate what Putin's failure to achieve his objectives in Ukraine might mean for the empire he has tried to reconstitute.
Alexei Navalny has even suggested that a defeat for Moscow would result in the break up of the Russian Federation. But what would Putin's humiliation on the world stage mean for those countries beyond Russia's borders that he has dominated? What would it mean for leaders who derive legitimacy not from popular support, but from Vladimir Putin's brutal patronage?
Bashar Al-Assad's regime might be the first to fall. Assad recently traveled to the United Arab Emirates in search of new allies. Prior to that trip, he hadn't left Syria in eleven years except for brief excursions to Tehran or Moscow, his main benefactors. Were Putin to fall, Assad could find himself as isolated internationally as North Korea and possibly the victim of a coup by his elite. Assad currently controls only 60% of Syrian territory. With the coming shortage of bread as a result of severely reduced grain exports from Russia and Ukraine, another Arab Spring could erupt.
The Lukashenko regime in Belarus cannot exist without the economic and power support from Moscow. The Belarusian democratic revolution of 2020 was suppressed by the Russian Federation. Lukashenko possesses few independent resources to defend his unpopular regime. His participation in the Ukrainian war has left him completely dependent on the Kremlin, effectively relinquishing his country's sovereignty. The moment a political crisis arises in Moscow, the turmoil will immediately spread to Belarus. Currently detained opposition leaders, including Viktar Babaryka and Sergei Tikhonovskiy, whose wife Svetlana probably won the 2020 Presidential election, would likely come to power.
The government of Kassym-Jomart Tokayev sacrificed Kazakhstan's national sovereignty by inviting Russian troops to help suppress protests there last January, alienating the Kazakh-speaking majority, and the Almaty elite, who largely shape public opinion, and were already outraged by Tokayev's orders to shoot peaceful protesters. The continuing turmoil has helped produce and is exacerbated by the sharp decline of Kazakhstan's economy, Central Asia's largest, a downturn compounded by sanctions imposed on the Russian Federation, and by Kazakhstan's membership in the Eurasian Economic Union.
The future leader of Kazakhstan will be someone who has the support of the Kazakh-speaking majority, and isn't tainted by last January's bloodshed. Imangali Tasmagambetov has the best shot. Immensely popular, and not a Kremlin puppet, he might be the only candidate who could consolidate support throughout Kazakh society, and enact independent and pragmatic policies.
Putin's downfall could encourage the advancement of universal principles of democracy and human rights in all of Russia's former satellite countries, and the restoration of their territorial integrity. With the support of Turkey, Azerbaijan will take complete possession of Karabakh while ensuring its historic autonomy within Azerbaijan. Georgia would be in a strong position to recover South Ossetia and Abkhazia.
In Moldova, despite Acting Russian Commander Rustam Minnikaev's recent claim that Moscow's forces could extend control along the Black Sea coast to Transnistria, should the Russian army falter, Transnistria could be unified with Chisinău, paving the way for Moldova's European integration.
At the same time, Russia's defeat in Ukraine could propagate new geopolitical risks. Ambitious Turkey will increase its regional influence, and countries bordering Taliban ruled Afghanistan like Tajikistan and Uzbekistan will be subjected to greater Islamist challenges.
China will take advantage of the situation. With Russia's decline, Beijing's Belt Road Initiative could supplant the Eurasian Economic Union in Central Asia. The influence of the democratic West will be limited unless the West provides greater economic assistance to countries in the region to encourage their commitment in word and deed to democratic principles.
Although Putin often compares himself to Czar Alexander III, his real historical parallel is Nicholas II, who believed a small victorious war with underestimated Japan would elevate his second rank power to great power status in the courts of Europe. The result was defeat on the world stage, and more violence and chaos in Russia. Putin made the same mistake with Ukraine, and the consequences will threaten the survivability of his regime and his cherished goal of restoring a great Russian empire.