Americans are unfortunately severely reluctant to disbelieve the lies that normally spew forth from the U.S. Government about foreign countries and especially about foreign countries that it invades or wants to invade. Consider, for examples, the lies that were told against Iraq when Saddam Hussein ruled it, or about Libya when Muammar Gaddafi ruled it, or about Iran right now. But Americans widely believe their Government's lies, nonetheless.
On Friday, January 3rd, the Republican Fox 'News' channel headlined "Rose McGowan, John Cusack bash killing of Iran's Soleimani, slam Trump", and reported the two actors' opposition to the Republican U.S. President Trump's violation of Iraqi sovereignty that day, and to his assassination at the Bagdad airport of Iran's #2 leader, General Qasem Soleman, as well as Trump's murders there of some Iraqis, and of some other Iranians.
To judge from the "Best" (most-liked) reader-comments at that 'news'-report, Trump will have at least that Republican audience behind him regarding this action by him, though what he did there could spark World War III, and though the beneficiaries of his Republican predecessor George W. Bush's 20 March 2003 invasion of Iraq haven't been ordinary people such as those thousands of Republican commenters are, but instead have been, and are, billionaires from around the world who invested in the privatization of Iraq's oil, which resulted from that invasion. For a far-right audience such as that — people who cannot distinguish between nationalism and patriotism, and who know only nationalism — the most-liked comment was "Rose [McGowan], you do realize that in Iran, if you had worn that dress made of nothing but chains, you would have been stoned to death? Congratulations on being the new Jane Fonda." That person, "JanWub1," didn't think, at all, about the U.S. Government's lies that had persuaded the American public to boost their approval of George W. Bush from 57% immediately before the invasion to 71% immediately after his lie-based international war-crime in invading Iraq, and that person and everyone who clicked "Like" on it had obviously learned nothing from that historical example, nor did the individual commenter even so much as just mention the possibility of Trump's having sparked WW III on that occasion, but instead "JanWub1" personalized the issue to that commenter's contempt and hatred of an actress who had opposed that 2003 international war-crime against Iraq by the USA, and transferred that hatred against her onto the present two thespians, who oppose this President's illegal invasion and murders.
So: how do we know who actually benefitted from that international war-crime — the invasion and military occupation of Iraq?
Back on 15 April 2013, a rare entirely honest CNN news-report about Iraq was published online, from the independent journalist Antonia Juhasz, who headlined "Why the war in Iraq was fought for Big Oil". She wrote that:
In 2000, Big Oil, including Exxon, Chevron, BP and Shell, spent more money to get fellow oilmen Bush and Cheney into office than they had spent on any previous election. Just over a week into Bush's first term, their efforts paid off when the National Energy Policy Development Group, chaired by Cheney, was formed, bringing the administration and the oil companies together to plot our collective energy future. In March, the task force reviewed lists and maps outlining Iraq's entire oil productive capacity.
Planning for a military invasion was soon under way. Bush's first Treasury secretary, Paul O'Neill, said in 2004, "Already by February (2001), the talk was mostly about logistics. Not the why (to invade Iraq), but the how and how quickly."
In its final report in May 2001 (PDF), the task force argued that Middle Eastern countries should be urged "to open up areas of their energy sectors to foreign investment." This is precisely what has been achieved in Iraq. …
Juhasz made clear that all of the bombs and the corpses were done for investors in large international oil companies — not only for U.S. companies, but for the benefit of mega-oil investors from all countries. Apparently, George W. Bush was a libertarian, who believed in the gospel of economic competition as being what the world needs more of — and not just more of American oil. She noted:
The new contracts lack the security a new legal structure would grant, and Iraqi lawmakers have argued that they run contrary to existing law, which requires government control, operation and ownership of Iraq's oil sector.
But the contracts do achieve the key goal of the Cheney energy task force: all but privatizing the Iraqi oil sector and opening it to private foreign companies.
They also provide exceptionally long contract terms and high ownership stakes and eliminate requirements that Iraq's oil stay in Iraq, that companies invest earnings in the local economy, or hire a majority of local workers.
Iraq's oil production has increased by more than 40% in the past five years to 3 million barrels of oil a day (still below the 1979 high of 3.5 million set by Iraq's state-owned companies), but a full 80% of this is being exported out of the country. …
The oil and gas sectors today account directly for less than 2% of total employment, as foreign companies rely instead on imported labor.
In just the last few weeks, more than 1,000 people have protested at ExxonMobil and Russia Lukoil's super-giant West Qurna oil field, demanding jobs and payment for private land that has been lost or damaged by oil operations. The Iraqi military was called in to respond.
The Iraqi government serve as gendarmes for foreign oil companies, and for foreign oil workers. The profits, and the jobs, go abroad. The destruction of Iraq was done for those oil companies — it was done for the investors who own them.
Saddam Hussein was killed for refusing to cooperate with this type of plan for his country.
On 1 January 2020, 24 international oil giants were extracting and selling Iraq's oil, and only ExxonMobil was American-based. Five years earlier, back on 20 March 2015, 28 were, and 6 of them were American: Chevron, ExxonMobil, Heritage, Hunt, Marathon, and Occidental. Perhaps Iraq's Government, during the past five years, has been increasingly trying to free itself from the grip of the U.S. regime, and maybe that's the reason why five of the six U.S. firms that were in Iraq in 2015 have left.
Also on January 1st of 2020, Abbas Kadhim, of the nonprofit NATO public relations arm the Atlantic Council, headlined "New low in US-Iraq relations: What's next for 2020", and he opened by saying that, "In early 2019, I predicted that US forces would remain in Iraq this past year despite calls in parliament to pass a law mandating their withdrawal. My prediction was right. My prediction for 2020 is that no US forces will remain in Iraq by the end of the year. As someone who firmly believes in the importance of robust US-Iraq ties and works hard to help both sides improve and strengthen the relationship, I am saddened at this recent deterioration and am concerned about the future."
Donald Trump had tweeted just the day before, on December 31st, "Iran killed an American contractor, wounding many. We strongly responded, and always will. Now Iran is orchestrating an attack on the U.S. Embassy in Iraq. They will be held fully responsible. In addition, we expect Iraq to use its forces to protect the Embassy, and so notified!"
Later on, that day, he tweeted, "Iran will be held fully responsible for lives lost, or damage incurred, at any of our facilities. They will pay a very BIG PRICE! This is not a Warning, it is a Threat."
Whether or not Iran had had anything to do with the attacks which had precipitated Trump's "Threat" against Iran isn't known, any more than it was known, when we invaded Iraq on 20 March 2003, whether or not there were any WMDs in Iraq after the U.N. had destroyed all of them in 1998. Everything that George W. Bush and Dick Cheney and Condoleezza Rice, etc., had said about that were lies, which the U.S. 'news'-media refused to expose as being lies from the Government. Donald Trump is just as much a liar as they were, and as Barack Obama was; so, when Trump followed through on his "Threat" against Iran, inside Iraq, on January 3rd, one can't reasonably assume that it would be any more justifiable than our invasion of Iraq was, or than our conquest of Ukraine by means of a bloody coup in 2014 was, or than our participation in the destruction of Libya in 2011 was, or than our destruction of Syria is, or than our assistance to the Sauds' destruction of Yemen is, or than our destruction of Bolivia for its lithium is.
All of that has been simply fascism, American-style. America's Republicans apparently like it, but perhaps America's Democrats won't like it in this instance (since its from a Republican), and maybe even the independents won't. (However, the reader-comments at Zero Hedge, a non-mainstream, independent libertarian news-site, are unconcerned with the sheer psychopathy and enormous danger of Trump's murders in Iraq on January 3rd, and are concerned almost only with whether or not what he did will be of benefit to Americans; so, perhaps independents will turn out to be largely favorable toward what Trump did here. Also: viewer-comments at a January 3rd youtube "Pakistan: Soleimani killing sparks outrage among Shia community" were rabidly hostile against the demonstrators, like a typical comment there, "feel American power, infidels," is. This is today's supremacist America. It's not just the Republican Trump's "Make America Great Again"; it is also the Democrat Obama's "The United States is and remains the one indispensable nation." Pakistan, Iran, Iraq, etc. — all other nations than the U.S. — are "dispensable," according to Americans in both Parties. Hello, Hitler, here?)
Trump has started off the U.S. Presidential s'election' year of 2020 with a bang, and he's well-supported by America's Republican billionaires, but it's still doubtful whether he will get anything like the 14% boost in approval-rating that Bush did by raping Iraq for global oil-investors, on 20 March 2003. Time will quickly tell. However, already on January 3rd, the leader of Democrats in the U.S. Senate, Charles Schumer, said on the Senate floor, that "No one should shed a tear over his [Soleimani's] death." (Schumer objected only that he had not received "any advance notification or consultation" about the assassination and murders.) Some of the Democratic Presidential candidates have refused to condemn Trump's action. Everyone will be looking at the polling-numbers. And those will reflect the result of what America's billionaires' (or "the mainstream") 'news'-media present about this matter, to their respective publics. It is conceivable that Trump could achieve bipartisan support for entirely needlessly starting WW III. This could be the way that today's Americans are.
Later in the day of January 3rd, Reuters headlined a news-report that, if true, is historically significant about all of this matter, "Inside the plot by Iran's Soleimani to attack U.S. forces in Iraq". Written by "Reuters staff," it opened:
In mid-October, Iranian Major-General Qassem Soleimani met with his Iraqi Shi'ite militia allies at a villa on the banks of the Tigris River, looking across at the U.S. embassy complex in Baghdad.
The Revolutionary Guards commander instructed his top ally in Iraq, Abu Mahdi al-Muhandis, and other powerful militia leaders to step up attacks on U.S. targets in the country using sophisticated new weapons provided by Iran, two militia commanders and two security sources briefed on the gathering told Reuters.
The strategy session, which has not been previously reported, came as mass protests against Iran's growing influence in Iraq were gaining momentum, putting the Islamic Republic in an unwelcome spotlight. Soleimani's plans to attack U.S. forces aimed to provoke a military response that would redirect that rising anger toward the United States, according to the sources briefed on the gathering, Iraqi Shi'ite politicians and government officials close to Iraqi Prime Minister Adel Abdul Mahdi.
Soleimani's efforts ended up provoking the U.S. attack on Friday that killed him and Muhandis, marking a major escalation of tensions between the United States and Iran. …
Obviously, if that report is true, then Trump had cause to do on January 3rd what he did. Even his having not given anyone in Congress advance-notice about it would have been justifiable as this action's being an emergency opportunity and in accord with his Commander-in-Chief powers to do in order to protect the Embassy. It wouldn't justify the psychopathically pro-U.S.-regime reader-comments earlier that day on January 3rd about what Trump had done, because all of recent American history is full of lies by the U.S. Government in order to 'justify' its invasions against countries that neither threatened nor perpetrated invasion of the United States. However, if that Reuters report is true, then what Trump had done on January 3rd was done as an authentic U.S. national-security matter, in response to what Soleimani and his colleagues were doing. This isn't necessarily to say that what Soleimani and his colleagues were doing there would have been unjustified. The United States, ever since its 1953 coup against Iran, has been an oppressive foreign power — Iran's enemy — and the U.S., since at least its 2003 invasion against Iraq, is also Iraq's enemy. Neither Iran nor Iraq ever endangered the national security of the United States. All of the aggressions have instead been by the United States. However, if this Reuters report is true, then the appropriate response by the Governments of U.S., Iraq, and Iran, would be as follows:
Trump would announce that he is herewith cancelling sanctions against Iran and restoring U.S. participation in the Iran nuclear agreement, the Joint Comprehensive Plan of Action, which in 2015 was signed by China, France, Russia, United Kingdom, United States, Germany, and then the entire European Union. Iran would then announce that it is willing to discuss with all of the signatories to that agreement, if a majority of them wish to do so, international negotiations regarding possible changes (amendments) to be made to that agreement. The United States would then offer, separately, and on a strictly bi-lateral U.S.-Iran basis, to negotiate with Iran a settlement to all outstanding issues between the two nations, so that they may proceed forward with normal diplomatic relations, on a peaceful instead of mutually hostile, foundation.
Trump also would announce that he is seeking negotiations with Iraq about a total withdrawal from Iraq and closure of the U.S. Embassy there, to be replaced by a far smaller U.S. Embassy.
Trump would initiate this as a package-deal confidentially offered by him to Khamenei — all steps of it — in advance of any carrying-out of the steps, and initiated by him soon enough to ward off any retaliatory action by Iran, so as to avoid further escalation of the hostilities, which otherwise would likely escalate to a widespread and possibly global war. In other words, this direct communication between the two should already have been sought by Trump. (If the Reuters article is true, this should have been planned by him at the very moment he started seeking an opportunity to assassinate Soleimani.)
I do not expect Trump to do any of that, not even the first step, and not even the offer to Khamenei; and Iran is in no position to make the first step, in any case (since the U.S. had started the mutual hostilities between the two nations in 1953). However (assuming the gtruthfulness of the Reuters article), if Trump does, at least make the offer and then do the first step (ending sanctions), then I think that he will easily win re-election, regardless of whom the Democratic nominee will be. If he can re-establish friendly relations with Iran, then that will be a diplomatic achievement of historic proportions, the best and most important in decades. No one would then be able to deny it. He would, in fact, then deserve to win the Nobel Peace Prize (which Obama never deserved to win, though he did win it). But I don't expect any of that to happen, because it would be exactly contrary to the way that any recent U.S. President has behaved, and because many in power in the United States would be furious against him if he did do it.
Furthermore, the Reuters report might be a lie, like so many other U.S.-and-allied 'news'-reports are.
In any case, however: The answer to the headline-question "Who the Winners Are from America's Destruction of Iraq and War Against Iran" is: the owners of U.S.-and-allied international oil and gas corporations. They were served when the U.S. regime in 1953 overthrew Iran's democratically elected progressive Government and installed the brutal Shah to end Iran's democracy and to control the country, and when he then privatized the National Iranian Oil company and cut American-and-allied aristocrats in on the profits from sales of Iranian oil. The founding members of that privatization in 1954 were British Petroleum (40%), Royal Dutch Shell 14% (Shell now), French Compagnie Française des Pétroles (CFP) 6% (Total now), Gulf Oil 8% (Now Chevron), and the four American partners of Aramco 32% (8% each). And they were served, yet again, when George W. Bush did the same to Iraq by means of an outright invasion (instead of like Eisenhower's 1953 method, coup) in 2003.
America's international oil (and other international extractions) corporations — and not only America's 'defense' contractors — need to be nationalized, so that these ceaseless "regime-change wars" by the U.S. regime will be able to cease. Otherwise, the world will self-destruct by war, if not subsequently by global burnout (which is likely only over a much longer time-frame).
The 25-year China-Iran agreement
On March 27, 2021, a document entitled "Comprehensive Document of Iran-China Cooperation" was signed by Javad Zarif, Iran's Foreign Minister, and his Chinese counterpart. The Iranian regime's Supreme Leader Ali Khamenei had previously called "the agreement between the presidents of Iran and China correct and wise." However, the Iranian people have widely criticized it as entirely against their national interests. Iranian officials have not even publicized the document's contents yet probably because it is highly contentious.
In 2019, excerpts from this document were revealed by the Economist Petroleum news site. The details included:
China invests $460 billion in Iranian oil and transportation sectors. China will get its investment back from the sale of Iranian crude during the first five years.
China buys Iranian petroleum products at least 32% cheaper.
The Chinese can decide before other companies whether to participate in completing all or part of a petrochemical project.
50,000 Chinese security personnel will be deployed to protect Chinese projects in Iran.
China has the right to delay the repayment of its debts for up to two years in exchange for Iranian products' purchase.
At least one Russian company will be allowed to participate in the Tabriz-Ankara gas pipeline design together with the Chinese operator.
Every year, 110 senior Revolutionary Guards officers travel to China and Russia for military training. 110 Chinese and Russian advisers will be stationed in Iran to train Revolutionary Guards officers.
Development of Iranian military equipment and facilities will be outsourced to China, and Chinese and Russian military aircraft and ships will operate the developed facilities.
Even some circles within the regime have criticized the agreement. The state-run Arman newspaper wrote, "China has a 25-year contract with Iran and is investing $460 billion in Iran. It is somewhat ambiguous. Presently, China is holding the money it owes us and blames it on the U.S. sanctions. How can we trust this country to invest $460 billion in Iran?"
Last year, Iran and China had the lowest trade in the previous 16 years, and according to statistics, by the end of 2020, the volume of trade between Iran and China was about $16 billion, which, including undocumented oil sales, still does not reach $20 billion.
Jalal Mirzaei, a former member of Iran's parliament, said: "If in the future the tensions between Tehran and Washington are moderated, and we see the lifting of some of the sanctions, China can also provide the basis for implementing the provisions of this document, but if the situation continues like today, Beijing will not make any effort to implement the document, as it is essentially unable to take concrete action on the ground because of the sanctions."
China's objectives
Iran is vital to China in two ways, through its geopolitical location and its geo-economic importance. China knows that it does not have enough natural resources and is currently having a hard time supplying them from Russia and Saudi Arabia. Saudi Arabia supplies its energy needs from oil giant Aramco, half of which is owned by the United States. That is why China is looking for a safe alternative that the United States will not influence, and the only option is Iran. They may also have a two-pronged plan in Iran, which involves using Iran's profitable market and making Iran into a lever of pressure against the United States for additional concessions.
The Iranian regime's objectives
The deal could deepen China's influence in the Middle East and undermine U.S. efforts to isolate the Iranian regime. While the international dispute over the Iranian regime's nuclear program has not been resolved, it is unclear how much this agreement could be implemented. The regime intends to make it a bargaining chip in possible future nuclear negotiations. However, some of Iran's top authorities believe that China and Russia cannot be trusted 100 percent.
Due to the sanctions, the regime has a tough time to continue providing financial support to its proxy militias in the region. The regime also faced two major domestic uprisings in 2017 and 2019. Khamenei's regime survived the widespread uprisings by committing a massacre, killing 1,500 young protesters in the 2019 uprising alone, according to the Iranian opposition, the National Council of Resistance of Iran (NCRI) and later confirmed by the Iranian regime's Interior Ministry officials. Now with the coronavirus pandemic, Khamenei has been able to delay another major uprising.
Iran's economy is on the verge of collapse. Khamenei must bow to western countries' demands regarding the nuclear issue, including an end to its regional interventions and its ballistic missile program. Khamenei will struggle to save his regime from s imminent uprisings and a deteriorating economy that will undoubtedly facilitate more protests by the army of the unemployed and the hungry at any moment.
Unlike the 2015 JCPOA, the Iranian regime in 2021 is in a much weaker position. In fact, by many accounts, it is the weakest in its 40-year history. By signing the recent Iran-China agreement and auctioning Iranian resources, Khamenei wants to pressure the United States to surrender and restore the 2015 JCPOA as quickly as possible. But in the end, this pivot will not counteract domestic pressures that target the regime's very existence.
China-Arab Relations: From Silk to Friendship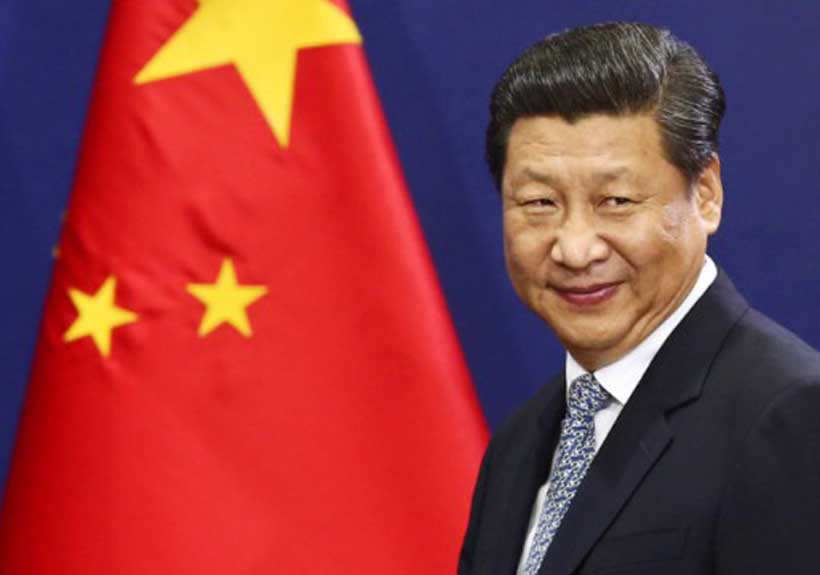 China and the Arabs have a long and rich economic and cultural history, and this distinguished relationship still exists today, with a promising future. This bilateral relationship between the two nations is based on the principles of respect and non-interference in internal affairs or foreign policies. Therefore, China's relationship with the Arabs as well as with other nations is unique and a model to be followed. If you meet a Chinese person, the first phrase will be "Alabo" or an Arab in Mandarin, and he/she will welcome you. The Chinese state's dealings with its counterparts can be measured based on the model of this Chinese citizen. China deals with the Arabs on the basis of friendship and historical ties.
The history of Sino-Arab relations goes back to the Tang Dynasty, and these relations developed with the flourishing of trade between the two nations. Since China was famous for its high quality silk, this trade route was called the "Silk Road". Baron Ferdinand Freiherr von Richthofen, better known in English as Baron von Richthofen, was a German traveller, geographer, and scientist. He is noted for coining the terms "Seidenstraße" and "Seidenstraßen" = "Silk Road" or "Silk Route" in 1877.
Chinese-Arab relations have developed in contemporary history. In 1930, China established official relations with the Arab Republic of Egypt and the Kingdom of Saudi Arabia. A library in China was named the "Fouad Islamic Library", after the late Egyptian king, "Fuad the First". In 1956, Egyptian President Gamal Abdel Nasser cut ties with China and established relations with the Communist People's Republic of China and inaugurated an embassy in Egypt. In the same year, the Arab League established relations with the People's Republic of China. By the year 1990, all Arab countries cut their relations with the Republic of China and established diplomatic relations with the People's Republic of China.
In 2004, the China-Arab Cooperation Forum was established, and today it is considered a milestone for the Sino-Arab relationship. At its inauguration, Chinese Foreign Minister Li Zhaoxing delivered a speech stating:"The Arab world is an important force on the international scene, and that China and the Arab countries have enjoyed a long friendship. Our similar history, our common goals and our broad interests have been credited with enhancing cooperation between the two sides; no matter how the international situation changes, China has always been the sincere friend of the Arab world". The China-Arab Cooperation Forum was officially established during the visit of Chinese President Hu Jintao to the headquarters of the League of Arab States in January of 2004.
Hu Jintao indicated at that time that the formation of the forum is a continuation of the traditional friendship between China and the Arab world. The Chinese president said at the time, "The establishment of the forum is conducive to expanding mutual cooperation in a variety of fields. He added that China had made four proposals; First, maintaining mutual respect, fair treatment and sincere cooperation at the political level. Second, strengthening economic and trade relations through cooperation in the fields of investment and trade, contracted projects, labor services, energy, transportation, communications, agriculture, environmental protection and information. Third, expand cultural exchanges. Finally, conducting training for the employees."
During the second session of the forum in Beijing in 2006, China showed its sympathy for the issues of the Arab world and its interest in the peace process between Palestine and Israel, since China is a peace-loving country; it presented the idea of "a nuclear-free Middle East". China is the best friend of the Arab countries today. Although some Arab countries have strong relations with the West whose policy does not match the Chinese policy, but all Arab countries agree on friendly and good relations with the People's Republic of China.
The Arab citizen is not interested today in the foreign policy of the US, the deadly weapons of the US and Russia, or European culture, but rather the livelihood and economy, and this is what China provides through its wise economic policy. In 2013, Chinese President Xi Jinping launched the Belt and Road Initiative, or New Silk Road, which will restore glow to China-Arab relations; as the Arab world is in a strategic location on the initiative map. Thus, the Arab countries are an important partner for China in the initiative. Although the volume of trade exchanges between China and the Arab countries exceeded 200 billion US dollars, which increased 10 times over the past decade, there was no commercial and institutional arrangement to facilitate trade between the two sides.
China, as a peaceful and non-invasive country, aims to promote economic cooperation with Arab region on an equal basis because it considers the Arab world a historic partner. The historical experience of the Arabs with the Chinese through the Silk Road has confirmed that China differs from the nations of colonialism and imperialism, which consider the Arab region a place rich in natural resources only. In his historic speech at the Arab League, Chinese President Xi stressed that China will not seek to extend influence and search for proxies in the Middle East. The Chinese initiatives will contribute to establishing security and stability through economic development and improving the people's livelihood, in line with the post-2015 development agenda and the aspirations of the Arab people for a better life, as the Chinese experience proves that development is the key to digging out the roots of conflicts and extremism in all its forms.
China is a neutral country and does not favor the use of violence. During the Syrian crisis, for example, the Chinese envoy to the Security Council raised his hand three times, meaning that China, with its wise diplomacy, supported the Syrian regime without entering the military war. During the recent Chinese military parade, Chinese President Xi Jinping revealed some Chinese military capabilities and thus sent a message to the enemies that China will always be ready if a war is imposed on it, and a message of support to China's allies. The Arab region today needs a real partner who possesses economic and military power and international political influence, such as China; to ensure the success of the Belt and Road Initiative, and to consolidate the China-Arab relations and raise it to the level of a strategic alliance.
The analysis of developments in relations between Turkey and Israel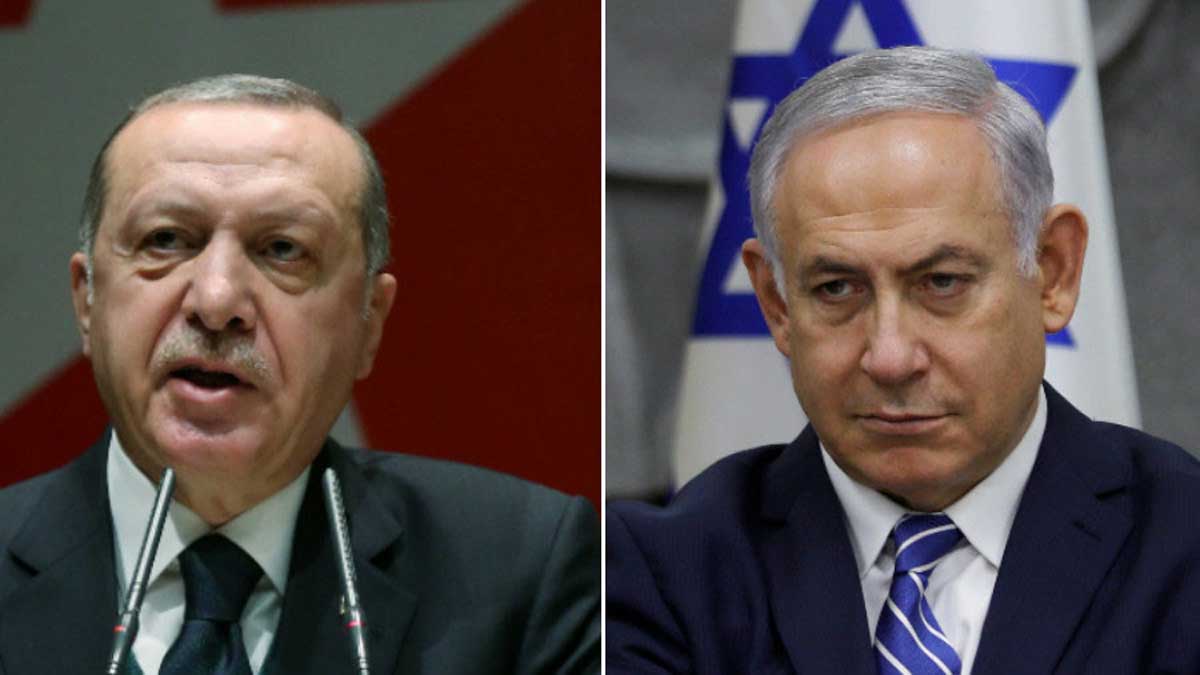 The fear of Biden's Administration, the concern over the Abraham Accords (see below), the positioning of the geopolitical status in the Middle East, and the safeguarding of interests in Israel are the main factors through which Turkish President Recep Tayyip Erdoğan seeks to improve relations with Israel which, however, he connects to the Palestinians.
The statements made by Turkish President Erdoğan's on developments in relations with Israel have confirmed media reports of his repeated attempts to reach an understanding on several controversial issues, as well as paving the way for the re-establishment of diplomatic relations. The statements made by President Erdoğan, as well as other Turkish officials, have stressed the connection between the change in Turkish-Israeli relations and Israel's policy towards the Palestinian issue.
The "linking principle" connecting the two issues has been a key factor in Turkish foreign policy since the 1950s, and it operates in the range between words and deeds, which at times have also led to severe crises in the relations between the two countries.
At the time Turkey opposed the partition plan, but recognised Israel and maintained diplomatic relations with it. Relations were suspended after the second Arab-Israeli war in 1956, when Turkey recalled its diplomatic representative from Tel Aviv, announcing he would not return there "until a just solution to the Palestinian issue was found in accordance with UN Resolutions".
After rising to power, President Erdoğan has developed the aforementioned "linking principle". Against the backdrop of Israel's actions with the Palestinians, Turkey has increased its political and economic support for its Muslim brethren and caused crises.
President Erdoğan's recent statements have been made against the backdrop of this policy: on the one hand, the Turkish President has expressed his country's desire to improve relations with Israel and continue intelligence cooperation; on the other hand, he has maintained that Israel's treatment of the Palestinians is "unacceptable".
It is important to note that Turkey will not relinquish the "linking principle", which differs from the principle of the new Arab normalisation, based on the separation between the Palestinian issue and relations with Israel. The so-called Abraham Accords, such as the recognition of the State of Israel by the United Arab Emirates in September last year: the third Arab country to formally recognise Israel, after Egypt and Jordan; the fourth one if we considers Mauritania's "frozen" recognition.
The policy implemented by President Erdoğan is not only shaped by foreign relations, but is also a Turkish internal issue in which public opinion plays a key role. It seems that until elections are held in Turkey (scheduled for June 25, 2023), there will be no complete normalisation with Israel. The majority of the Turkish population supports the Palestinians and their rights, feels full solidarity for them and opposes the Israeli presence.
Moreover, President Erdoğan regards the Palestinian issue as an important factor in building a renewed Turkish Muslim national identity. These stances increase his popularity and strengthen people's support for him and his party, as well as his authority and prestige in the Muslim world.
At the same time, however, this policy also has pragmatic implications: President Erdoğan is not severing ties with Israel, but merely creating actions that lead to symptoms of "diplomatic" crises.
Despite this wait-and-see attitude, economic ties between Turkey and Israel are flourishing. According to official data, in 2018 exports from Turkey to Israel were worth 6.5 billion dollars and imports 1.9 billion dollars (excluding diamond trade and tourism).
Following the crisis in relations and the expulsion of the Israeli Ambassador from Turkey (May 2018), exports had fallen to 4 billion dollars in 2019 and imports to 1.7 billion dollars. Although declining, there are still deep economic ties.
Trade relations, however, are not the decisive factor in determining the nature of Turkey-Israel relations. There are four issues that are believed to have led Turkey to review its relations with Israel:
1. Turkey has welcome the new U.S. President, Joe Biden, with caution and fear that he will oppose Turkish activities in the region. The U.S. leader may also be very tough on security, armaments and minority rights in Turkey. Some believe that improved relations with Israel will calm down the situation with President Biden, and the U.S. Congress and the Zionist lobby will be able to contribute to this result. It is not known, however, whether Prime Minister Benjamin Netanyahu will be as good a mediator with Biden as he was with Donald Trump.
2. Turkey is seeking to remove the isolation imposed on it due to the distribution of marine economic zones in the Eastern Mediterranean area, and is trying to bring Israel on its side to develop a joint stance and oppose such subdivisions. According to Israeli sources, Turkey has made Israel a generous offer to expand its area of control over the marine economic zones, in exchange for Turkey' siding with Greece, Cyprus and Egypt. Israel has reacted cautiously, both because it much weighs President Erdoğan's intentions and because it is actually interested in strengthening its relations with the above stated countries.
3. Turkey is worried about the Abraham Accords for normalisation with Israel, particularly the aforementioned one with the United Arab Emirates, and Turkey aims at limiting their influence and status as a further "undertaking" of Arab rivals. Turkey endeavours to dismantle a rising alliance between the Arab countries and Israel. After all, we wonder why Turkey is not instead trying to improve its ties with Arab countries to achieve the same goal. Could it still be because of history and traditional mutual dislike?
4. Turkey is trying to relieve the pressure on its activities in Israel and Palestine as a result of the possible improvement in relations with Israel. Turkey funds important projects in Jerusalem and Israel is trying to contain and restrain it. Conversely, an improvement in Israeli-Turkish relations could release the Israeli brake.
To date, no official Israeli response has been provided to Turkish statements. Israel's media speak of suspicion and coldness in response to the Turkish rapprochement, with fears that President Erdoğan is preparing a ploy, a trick aimed not at improving his relations with Israel, but at sabotaging Israel's relations and contacts with other countries.
However, leaks from senior Israeli officials indicate that their country has set conditions for restoring relations, which include ending Turkey's ties with Hamas and transferring Turkish projects to Jerusalem through Israeli channels, as well as abstaining from voting against Israel in international organisations and adopting a balanced position between Israel and the Palestinians.
It is not yet clear what the fate of Turkey-Israel relations will be in the coming months, with President Biden in the White House and after the Israeli elections held on March 23, 2021. It is important to note, however, that Turkey will not give up the "linking principle", which differs from the new principle of Arab normalisation, based on the separation between the Palestinian issue and relations with Israel.
The Turkish "linking principle" is a real need for Turkey- hence the Palestinian leadership must work with Turkey to maximise common goals, especially with regard to Jerusalem, the Al-Aqsa Mosque and Gaza.
Not easy steps to make, but not impossible either.