"Fools, visionaries, sufferers from delusions, neurotics and lunatics have played great roles at all times in the history of mankind…. Usually, they have wreaked havoc."-Sigmund Freud
"He likes me." (New Year's Day, 2020) US President Donald Trump explaining why Americans need no longer worry about North Korea
Though written before the nuclear age, Sigmund Freud's early warning about non-rational decision-making in world politics remains valid. Indeed, in the midst of a steadily-expanding nuclear weapons and infrastructures, this warning has become even more prescient than before. Moreover, such expanding risks need not be confined to foolishness, delusion, neurosis or lunacy. In part, at least, these risks could rise between perfectly rational and well-intentioned national adversaries, and need to be analyzed, inter alia, within the still-evolving context of "Cold War II."[1]
Exactly which national security risks confronting the United States are conceivably existential? Most plausible is the stubbornly complex problem of North Korea. Here, everything may first appear simple to US President Donald Trump, but would actually prove bewilderingly complex and daunting. In essence, during any upcoming periods of competitive risk-taking with Kim Jung Un, certain intersecting and reinforcing searches for "escalation dominance" by the two leaders could lead suddenly or incrementally to an inadvertent nuclear war. Most worrisome, in this regard, would be variable underestimations of enemy resolve and unforeseen synergies between US and North Korean policy decisions.
Immediately, Mr.Trump must make himself much better-informed about all pertinent nuclear conflict scenarios. Necessarily, whatever differences or nuances obtain between them, these narratives would develop within our persistently anarchic[2]or "Hobbesian" world system.[3] Correspondingly, both the Congress and the citizenry would need to maintain a close and preferably non-partisan watchover Trump's discernible willingness to take nuclear war decision-making with seriousness of purpose.[4]In this matter, the American president would need to be reminded that no genuinely scientific estimates of nuclear war are logically possible.[5]The reason? In science, accurate probability assessments must always be based upon the ascertainable frequency of pertinent past events.
Happily, there has never been an authentic nuclear war.[6]
I have been studying nuclear war and strategy for half a century. Following four years at Princeton in the late 1960s, long an intellectual center of American nuclear history and thought, I began to think about adding a personal contribution to the already-growing literatures of nuclear strategic thought. By the mid- 1970s, I was busily preparing an original manuscript on U.S. nuclear strategy and the corollary risks of nuclear war.[7]
At that time, I also became interested in certain very specific questions of presidential authority to order the use of American nuclear weapons.
I soon learned, among other things, that allegedly reliable technological safeguards had been built into all American nuclear command/control decisions, but that these safeguards could not apply at the presidential level. To an aspiring strategic scholar, this ironic disjunction didn't make any intellectual sense, especially in a world where national leadership irrationality was not without precedent. For needed clarifications, I reached out to General Maxwell D. Taylor, USA/ret., a distinguished former Chairman of the Joint Chiefs of Staff.
In impressively rapid response to my query, General Taylor sent off a detailed handwritten reply. Dated 14 March 1976, the General's letter concluded soberly: "As to those dangers arising from an irrational American president, the only protection is not to elect one."
Until now, I had never given any extended thought to this boldly truthful but distressing response. Somehow, I had continuously assumed that "the system" would operate according to plan. Always. Today, as the presidency of Donald Trump coincides with a North Korean nuclear standoff and still-expanding Iranian nuclearization, General Taylor's 1976 warning takes on much greater meaning. Further complicating matters is Trump's New Year's Day 2020 observation about North Korean strategic progress. There was no need to worry, he offered reasuringingly, because Kim Jung Un "likes me." And as if this might not be a compelling enough explanation, the president added: Kim Jung Un (a dictator who has murdered thousands of North Korean citizen's) is "a man of his word."
A primary question should now come immediately to mind. What should be done by the US National Command Authority if it should ever decide to oppose a presumptively inappropriate/irrational presidential order to launch American nuclear weapons? Could the National Command Authority reliably "save the day" by acting in an impromptu or creatively ad hoc fashion? Or should there already be in place various credible and effective statutory measures to (1)assess the ordering president's reason and judgment; and (2) countermand any determinably wrongful order?
In law, Article 1 of the US Constitution, Congressional war-declaring expectations of the Constitution notwithstanding, any presidential order to use nuclear weapons, whether issued by an apparently irrational president or by an otherwise incapacitated one, must be obeyed. All things considered, to do otherwise in such dire circumstances would be prima facie illegal; that is, impermissible on its face. And President Trump could sometime order the first use of American nuclear weapons even if the US were not under any specifically nuclear attack, a prerogative that would add yet another problematic layer of presidential nuclear authority.
A further distinction, both strategic and legal, must be made between first use and first strike. There exists an elementary but vitally important difference. This vital difference has to do, in part, with distinguishing permissible self-defense from aggression.[8] The latter is a properly codified crime under international law.[9] It is, therefore, reciprocally prohibited by US law.
Where should American nuclear decision-making policy go from here? To begin, a coherent and comprehensive answer will need to be prepared for the following antecedent question: If faced with any presidential order to use nuclear weapons, and not offered sufficiently appropriate corroborative evidence of any actually impending existential threat, would the National Command Authority: (1)be willing to disobey? and (2)be capable of enforcing such seemingly well-founded expressions of authoritative disobedience?
In any such unprecedented nuclear crisis circumstances, all relevant decisions could have to be made in a compressively time-urgent matter of minutes. Such tight chronological constraints could quickly become pressing and overriding. What then?
More precisely, we must inquire, is the current US president reasonably well-prepared to deal with any such bewildering and consequential eventualities? If not, what shall we do to effectively remediate such an intolerable shortcoming? Significantly, there can be no more urgent strategic query.
. Though almost everyone might feel comforted if the escalating North Korean nuclear crisis were somehow to subside, there will inevitably arise certain other similar or plausibly more portentous atomic emergencies.[10] To respond purposefully, this country will require far more than a purely ad hoc or reactive policy decision from the White House. It will require intersecting foreign policy goals that are expressly identified and based upon calculable considerations of intellect or "mind," not just on idle or banal political rhetoric.
There is one last but vital observation to be offered here. Whether in reference to some proposed military intervention or some other considered military action, the American president is always bound not only by US law, but by international law. The latter, which is discoverable in various customary norms as well as in bilateral and multilateral treaties, remains an integral part of American law.[11] Such "incorporation" is most prominently expressed at Article 6 of the US Constitution (the "Supremacy Clause"), and also at various major US Supreme Court decisions.[12]
Is US President Donald Trump remotely familiar with this or any other section of the Constitution?
The answer is obvious and distressing.
There is more. US President Donald Trump's policies for dealing with adversarial nuclear threats must remain consistent with presumed American military requirements and with all corollary jurisprudential obligations. Inevitably, striking the necessary and optimal balance between both coinciding national imperatives will confront this president with tangible intellectual and ethical challenges of the very highest order and simultaneously, at the same time. It follows that Americans will soon need to take more seriously (1) Sigmund Freud's early warning about psychologically compromised or disabled national leaders; and (2) the correlative hazards of an accidental or inadvertent nuclear war.
While all accidental nuclear wars would necessarily be inadvertent, not all inadvertent nuclear wars need be accidental. Indeed, the expectedly greatest dangers regarding Donald Trump decision-making "at the brink" would concern one form or another of miscalculation, a warning that while "ordinary" competitive risk-taking with Pyongyang or Tehran might not easily be avoided, the American search for "escalation dominance" should nonetheless be tempered by presumptively core considerations of national survival.
Going forward, there could be no greater "fool" in the White House than an American president who fancies himself a "very stable genius" but patently lacks all basic elements of needed intellectual preparation. Accordingly, to avoid "havoc" – an indispensable avoidance – the American president should first learn from classic military strategist Carl von Clausewitz's On War concept about "friction." This oft-quoted concept references the always vital difference between "war on paper" and "war as it actually is." Although Donald Trump still reveals tangibly little intellectual capacity to understand differences between calculated threats of international violence and US military power, it is a deficit that must first be acknowledged before it can be remedied.
Therein lies the overriding strategic policy challenge to the United States. Unless it can be suitably met and overcome, America's rapid approach to the "brink" could generate authentically catastrophic nuclear outcomes. Under assorted hard-to-fathom circumstances, for example, there could sometime evolve an insufficient understanding of (or attention to) certain hybridized adversaries by the Trump White House, e.g., Iran and Hezbollah. These plausible kinds of deficit could include, inter alia, various unforeseen synergies between state and sub-state adversaries.
For the moment, at least, America is endangered by a president who is plainly "over his head" in managing his nuclear decision-making authority It also goes without saying that American presidential obligations concerning this fearful authority are of the highest possible national and international urgency. Potentially, after all, these complex and multi-layered obligations are now literally coextensive with civilizational survival.
At no point should we regard any future presidentially-spawned atomic havoc as tolerable or forgivable.

---
[1]In orthodox political science terms, positing the expansion of "Cold War II" means expecting that the world system is becoming increasingly bipolar. For early writings, by this author, on the global security implications of just such an expanding bipolarity, see: Louis René Beres, "Bipolarity, Multipolarity, and the Reliability of Alliance Commitments," Western Political Quarterly, Vol. 25, No.4., December 1972, pp. 702-710; Louis René Beres, "Bipolarity, Multipolarity, and the Tragedy of the Commons," Western Political Quarterly, Vol. 26, No.4., December 1973, pp, 649-658; and Louis René Beres, "Guerillas, Terrorists, and Polarity: New Structural Models of World Politics," Western Political Quarterly, Vol. 27, No.4., December 1974, pp. 624-636.
[2] With anarchy, international law remains a "vigilante" system, or, in other words, "Westphalian." This latter reference is to the Peace of Westphalia (1648), which concluded the Thirty Years War, and created the now still-existing decentralized, or self-help, state system. See: Treaty of Peace of Munster, Oct. 1648, 1 Consol. T.S. 271; and Treaty of Peace of Osnabruck, Oct. 1648, 1., Consol. T.S. 119, Together, these two treaties comprise the Peace of Westphalia.
[3] The chaotic condition of Westphalian global anarchy stands in contrast to the classical jurisprudential assumption of solidarity between all states in a presumably common struggle against aggression and terrorism. Such a peremptory expectation (known formally in international law as a jus cogens assumption), is already mentioned in Justinian, Corpus Juris Civilis (533 C.E.); Hugo Grotius, 2 De Jure Belli Ac Pacis Libri Tres, Ch. 20 (Francis W. Kesey, tr., Clarendon Press, 1925) (1690); and Emmerich De Vattel, 1 Le Droit des Gens, Ch. 19 (1758).
[4]For the most part, the U.S. has been modernizing its nuclear arsenal primarily by upgrading existing weapon systems, rather than by deploying altogether new types of such weapons. The ICBM force is in a final phase of a decade-long $8 billion modernization program. Beginning in 2017, the U.S. Navy began to deploy a modified version of the trident II D-5 submarine-launched ballistic missile (SLBM). The U.S. Air Force has already begun Life Extension Programs for its air-launched cruise missile, as well as for the B-2 and B-52 bombers. In any event, prima facie,U.S. nuclear modernization efforts and plans undercut the publicly-stated U.S. goal of achieving "bold reductions" in Russian and U.S. nonstrategic nuclear weapons in Europe.
[5] For an early look at these problematic estimations, see: Anatol Rapoport, Strategy and Conscience (New York: Schocken Books, 1964), 323 pp.
[6] US atomic attacks during World War II do not constitute examples of a nuclear war; rather; they "merely" represent two instances of nuclear weapons use during a conventional conflict.
[7] This book was subsequently published in 1980 by the University of Chicago Press: Louis René Beres, Apocalypse: Nuclear Catastrophe in World Politics.http://www.amazon.com/Apocalypse-Nuclear-Catastrophe-World-Politics/dp/0226043606
[8]Punishment of aggression is a firm and longstanding expectation of international criminal law. The peremptory principle of Nullum Crimen sine poena, "No crime without a punishment," has its origins in the Code of Hammurabi (c. 1728 – 1686 B.C.E.); the Laws of Eshnunna (c. 2000 B.C.E.); the even earlier Code of Ur-Nammu (c. 2100 B.C.E.) and the law of exact retaliation, or Lex Talionis, presented in three separate passages of the Jewish Torah.
[9] Since World War II, aggression has typically been defined as a military attack, not justified by international law, when directed against the territory of another state. The question of defining aggression first acquired legal significance with the Draft Treaty of MutualAssistance of 1923. One year later, the Geneva Protocol of 1924 provided that any state that failed to comply with the obligation to employ procedures of peaceful settlement in the Protocol or the Covenant was an aggressor. Much later, an authoritativedefinition of aggression was adopted without vote by the UN General Assembly on December 14, 1974.
[10] See, generally, Seneca, 1st Century AD/CE: "We are mad, not only individuals, but nations also. We restrain manslaughter and isolated murders, but what of war, and the so-called glory of killing whole peoples? …. Man, the gentlest of animals, is not ashamed to glory in blood-shedding, and to wage war when even the beasts are living in peace together." (Letters, 95).
[11] Note further the jus cogens principle that international law is ultimately deducible from natural law. In this connection, according to Blackstone, each state is always expected "to aid and enforce the law of nations, as part of the common law, by inflicting an adequate punishment upon offenses against that universal law…." See: 2 William Blackstone, Commentaries on the Laws of England, Book 4, "Of Public Wrongs." Lest anyone ask about the significance of Blackstone for current US national security policies, one need only point out that Commentaries are an original and core foundation of the laws of the United States.
[12] See especially The Paquette Habana, 175 US 677, 700 (1900); and Tel-Oren v. Libyan Arab Republic, 726, F. 2d, 774, 781, 788 (D.C. Cir. 1984) per curiam.
American law firm's frivolous lawsuit against China targets the wrong defendant
When I first heard the recent news that Florida's Berman Law Group had the chutzpah to sue China for trillions of dollars for allegedly causing COVID-19, I thought that they must be a bunch of ambulance-chasing shysters who were fronting for President Trump to help him "stick it" to China. But these opinions were wrong. The firm actually is Democratic Party leaning and employs Presidential candidate Joe Biden's brother as its senior advisor. What's going on?
I trained as a lawyer at Harvard but am not always proud of the legal profession. From 1973, the year I graduated to 1993, a Harris survey showed people's confidence in lawyers plummeted from 24% to 7%. In a December 2019 Gallup poll, a mere 4% rated the "honesty and ethical standards" of lawyers as "very high. Among the most despised are personal injury lawyers, the modern day equivalent of medieval alchemists who tried to turn lead into gold. The alchemists never succeeded but some of these lawyers did.
Many people are familiar with the 1994 McDonald's hot coffee lawsuit in which a woman spilled hot coffee on herself and suffered serious burns. Common sense dictates that a reasonable person (the legal standard) would know that very hot coffee could cause injuries and to be careful, but her lawyers turned hot coffee into cold cash with a nearly three million dollar judgment.
Similarly, Berman hopes to turn people's suffering in America into cash awards of which Berman would get a huge cut. Their odds in this case, however, are even less than winning the lottery. But they've already won by generating millions of dollars in free publicity for their firm, besmirching China's reputation in the process.
Berman seeks damages for those who have suffered personal injuries, wrongful deaths, property damage, etc. without one iota of proof due to, among other things, "China's failure to contain the COVID-19 virus, despite their ability to have stopped the spread of the virus in its early stages." They accuse China of creating "essentially a giant Petri dish" in and around Wuhan and allege that China was "conducting ultra-hazardous activity at the Wuhan Institute of Virology" and "that COVID-19 escaped from the Wuhan lab because of lax controls".
The relevant US statute, the Foreign Sovereign Immunity Act, is based on the age-old concept that the king can do no wrong and thus a government is immune from being sued. There are several narrow exceptions that Berman hopes to come under but they stretch facts and logic beyond the breaking point.
Jilin University International Law Professor He Zhipeng called the suit "wrong and absurd, lacking evidence and logic." He said that "as for the alleged delay in decision-making, it is obviously a misunderstanding. Decision making on public issues is a very complicated. Every government must consider a variety of factors when taking decisions. Up to now, facts have proved that the Chinese government's decision is correct, timely, and effective, and there is no obvious intentional or negligent delay. Especially if we compare this with the measures taken by governments around the world, it is quite clear there is no intentional delay."
Foreign law lecturer, School of International Law, China University of Political Science and Law Don Lewis was even more blunt. He said that "it looks to be a spurious lawsuit – but who knows in this highly politically charged atmosphere where US-China relations appear to have hit rock bottom."
Both scholars are right on the law. Mr. Lewis is also correct that the US is so politicized that normal legal precedents don't necessarily apply any more. The US District Court Judge assigned to the case, Ursula Ungaro, was appointed by the first President Bush and I believe from her record that she will be fair and is likely to dismiss the case.
It is no small irony that Berman has not focused on the true culprit: Donald J. Trump who failed to act for nearly 11 weeks from when China informed the World Health Organization of the virus' existence on December 31st, instead belittling the possibility of the coming health emergency to prop up the stock market and his chances for re-election; doing nothing to mobilize federal resources.
Sadly, millions in America and elsewhere will suffer as a result. It didn't have to be this way. Trump's quick action would have dramatically reduced cases. And much of the five trillion dollars promised by G20 members to inoculate world citizens and the global economy from economic meltdown could have instead been repurposed to preparing the world against new coronavirus pandemics and building a community of a shared healthy future for mankind.
The ideology of top candidates for US presidency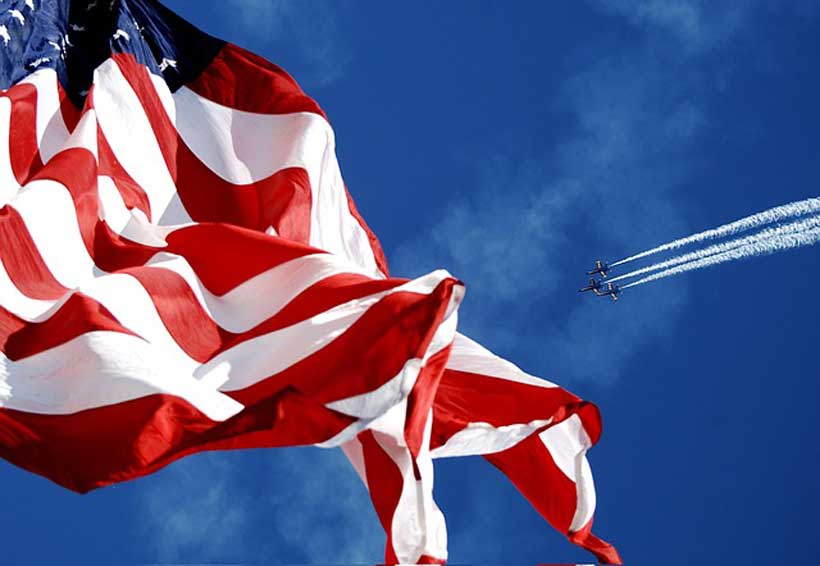 According to US media reports, the incumbent President Donald Trump has secured enough Republican Party support to launch a re-election campaign. Meanwhile, unexpectedly for observers, former Vice President Joe Biden has in recent weeks achieved impressive results in the race for being nominated the Democratic candidate. Although the campaign within the Democratic Party is not over yet, the chances of the former vice president are becoming more tangible. What are the views of the most likely contenders for the presidency?
According to the results of the Democratic Party primaries on March 17, Biden is running nearly 300 votes ahead of his only remaining rival, Senator Bernie Sanders, CNN reported. Thus, the final part of the presidential race will be held between the two "old timers" that represent the outgoing generation of American leaders. All three – Biden, Trump and Sanders – formed as politicians in the "neoliberal era." Biden, according to most commentators, represents its mainstream, whereas Trump attacks neoliberalism "from the right", Sanders – "from the left", accordingly. Should Biden reach the final race, then, similarly to 2016, the fight will be between a representative of the establishment and an "outsider".
In domestic politics, the focus will fall on "American values," and, most importantly, on the young people of the United States. Trump, who describes himself as an American "nationalist", attracts supporters with slogans about the nation's many commitments and "dues" to its citizens. In addition, in all the years he has been in office Trump has clearly preferred to focus his attention on issues that find a ready emotional response among potential voters. However, acting in this manner, Trump has all but added to the split in American society.
Now, with just a few months to go before November, the current head of the White House will have to prove that his policy is more than a fight against the legacy of the Democratic administration. And he will also have to prove whether he is able, having broken the existing model, to offer an equally effective alternative. Meanwhile, the reaction of the Trump administration at the early stage of the coronavirus epidemic seemed somewhat slow. The trillion infusion into the economy may not be enough to prevent the devastating recession that threatens the country because of the pandemic.
Biden, in turn, pledges to revive America's "spirit", expand social welfare programs, primarily for the most socially vulnerable sections of society, and take measures to restore trust within the country's major political forces. According to some experts, this makes Biden similar to European Christian Democrats at the peak of their popularity. The most likely candidate from the Democratic Party is seeking to create a broad coalition of forces, including elite groups, the urban middle class and the rural poor in order to confront the "radicals." This political "range" makes him the most compromising figure of the candidates participating in the presidential race, thereby increasing the chances for stabilizing the US political system.
On the other hand, Biden's main, if not only, advantage may turn out to be the support of the establishment which is opposed to Trump. The election ideology of the former vice president runs the risk of being reduced to "anti-trumpism" in all imaginable spheres of political and socio-economic life. Biden's victory in the race for the White House could thus become a most treasured and valuable asset for his supporters. As a result, his hypothetical presidency may turn out to be "weak and short of purpose" and will not provide the solutions to the many internal and external problems that America faces.
In foreign policy, few observers venture out making predictions about Trump's policy in the event of re-election. On the one hand, as far back as in December 2017, in his version of the National Security Strategy, Trump said that the world has turned into a stage of global competition. Now that literally every day there appears new evidence of the West's dependence on supplies from China in "practically everything", few in America and Europe have doubts about the need to re-evaluate the foreign policy strategies of past decades. The current epidemic that has swept the world provides a good opportunity to legitimize the philosophy of world order based on "egoism and protectionism", which can now be presented to the public as "defense of national interests".
On the other hand, the course for America's unconditional supremacy that has become common in the past three years has cast doubt on the feasibility of the entire "West-centric" development paradigm. However, most of the American establishment, even within the Republican Party, are still preoccupied with maintaining the country's top position in the international system. And to achieve this, as the years of Trump's presidency have shown, America cannot "limit itself to the benefits of bilateral trade relations, ignoring participation in international trade agreements. Practice has shown that such agreements can be created and can function without the United States. " The policy of sanctions and financial and economic pressure adopted by Washington in recent years encourages discussions about the prospects of creating a financial and economic system or systems independent from the USA. New political coalitions are springing up in Eurasia, Asia, and Africa.
Nevertheless, Trump's supporters insist that he is "not an arsonist of war, neither is he an isolationist." His strategy is to exert ever more pressure on opponents with a view to secure "de-escalation on favorable terms." Trump always wants to be prepared for any possible threats. Thus, he demonstrates to the "other party" that America has interests and is determined to protect them. If the opponent recognizes the interests of the United States, then, if the opportunity presents itself, "a deal is struck". The "Trump Formula" combines well-considered, cautious (often aggressive – author) pressure with an invitation to hold a dialogue, for cooperation. … Thus, although Trump's rhetoric smacks of populism, his foreign policy is consistent with the "traditional conservative" paradigm.
The chances of the candidate that represents the left wing of the Democratic Party, Senator Bernie Sanders, are seen by the overwhelming majority of observers as "purely mathematical." Nevertheless, we know little about Sanders' foreign policy views. "Sanders is a big unknown. What exactly his foreign policy could be is unknown ". Sanders' official website announces his intention to "work together with other countries to protect democracy around the world from "forces of intolerance, corruption and authoritarianism. " In public speeches, Sanders more than once "named Russia an authoritarian regime", supported American sanctions against Russia "for Crimea and Donbass".
However, most experts believe that Biden's views on foreign policy are "well known." The ex-vice president is set to restore "US leadership on the world stage." Biden is seen by supporters as the only candidate whose foreign policy philosophy "has proved its efficiency." It combines a "realistic view of the world" and "commitment to principles." Speaking of countries that "behave badly," Biden emphasizes that even if America can do nothing, it must openly express its discontent. Biden expects to bring America back to a time when it "saw farther than others" due to its superiority.
However, skeptics are sure that the world will not dance to the wishes of the Democratic candidate. The next president will have to deal not only with the challenges of the 21st century, but also with geopolitical issues. The American critics of Biden relentlessly repeat that he always supported the current model of globalization, in which the United States was critically dependent on the supplies of a number of strategically important goods from China. As a result, "China is about to oust America". The policy of the Obama administration, of which Biden was one of the main architects, has not had the slightest impact on Beijing's behavior.
In relation to Russia, the failure of the inquiry into allegations of Trump's conspiracy with Moscow during the 2016 presidential election theoretically "unties Trump's hands." However, further dialogue may be obstructed by the numerous sanctions against Russia initiated by the Congress during Trump's first term. American "realists" give it to understand that "from the … practical, political viewpoint, the Russia policy of the Trump administration is tougher and more consistent than that of any other American government since the end of the Cold War." "Not a single American government invested more in Europe to contain Russia or moved troops and military equipment to Eastern Europe".
Biden has a tough, if not "hawkish," position regarding Russia. The years of vice presidency in the Obama administration, many observers believe, left Biden feeling disappointed about prospects for developing ties with Moscow. Nevertheless, Biden has made a number of statements that demonstrate a potential willingness to hold a dialogue with Russia. For example, on strategic stability, regarding the extension of the START III Treaty. German experts expect Biden to return to the classic foreign policy model: to keep "Russia and China at a distance" while maintaining cooperation with these countries on a number of issues. Also, they expect Washington to return to the policy of developing partnership relations with "countries that share US values". Finally, the American establishment has long come to the stable bipartisan consensus about the need to go any lengths to contain China.
Overall, it seems that as long as it is under way the presidential race will most likely create new obstacles to contacts between Washington and Moscow. There are grounds to believe that the United States will begin another round of competition for the title of Russia's most irreconcilable adversary. Considering all this, it is not difficult to assume that the coronavirus epidemic, as well as the resulting economic recession, which is becoming increasingly visible in the United States, will top the agenda of the future head of the White House, no matter who wins. Given the situation, the approach of the Washington establishment to Russia may not go beyond the bounds of its functional role in its internal struggle.
Both Trump, and his most likely contender in the upcoming elections, Biden, seem to be unprepared to admit that the world will no longer adapt to America. On the contrary, the United States will have to adapt to a new, more decentralized and largely chaotic world – to the "post-American dominance world". Are the two "grey-haired candidates" able to accept the new reality? This is the main question of the current American presidential race.
From our partner International Affairs
Can these 6 worldwide Google search trends predict the 2020 US presidential election?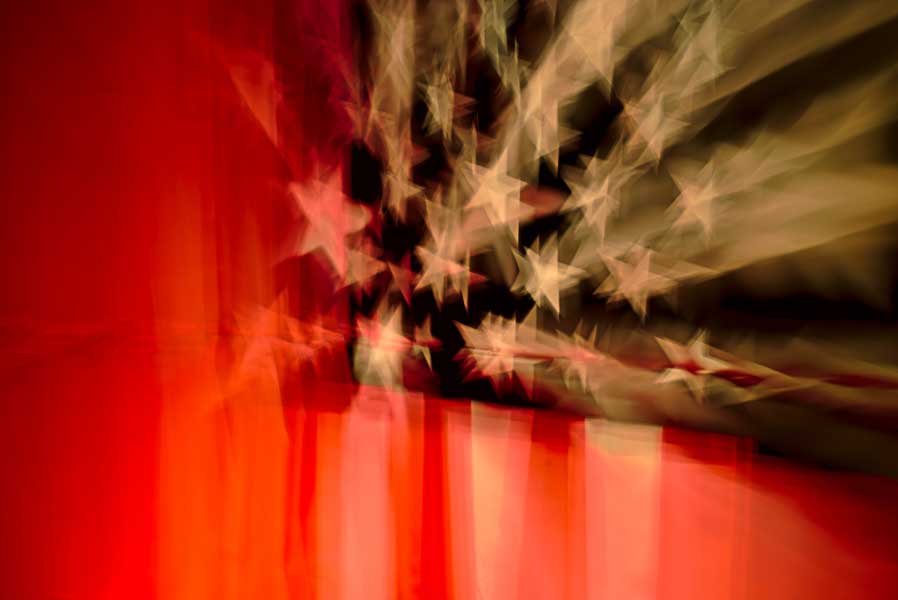 Whilst international observers are commonly deployed in fragile or new democracies in the developing world, elections in the developed world are viewed from outside, partially out of a sense of stake-holding in the outcome by the rest of the world (due to the preponderance of the West in the affairs of these countries) and partially out of curiosity, and therefore are consumed as a piece of popular culture. Out of these, the US electoral cycle is perhaps the most closely watched the world over. This is no coincidence as in each successive year previous records are shattered in terms of expenditures on advertising by the various campaigns. The digital sphere has become the main arena in which the various campaigns reach out to potential voters. By one 2019 Forbes estimate, the current electoral cycle has seen "an increase of 59% from the 2016 election year when an estimated $6.3 billion was spent," which represents nearly 16.5% of total local broadcast TV advertising revenue for this year, whilst digital media is forecast for 21% of political ads, whilst cable TV and radio both claim 14% and 5% respectively.
This disproportional share for digital spending is indicative of what scholars have termed as the rise of "computational politics, "defined by one study as "the application of digital targeted-marketing technologies to election campaigns." With this increase arises the question of which candidate will come out victorious, and whether expenditure is a predictor for which will win. In the last (2016) election, this proved not to be the case, as the Democrats, at $1.191 billion, raised nearly twice as much in dollar terms than the Republicans (at $646.8 million) but still lost. More recently, we've seen Michael Bloomberg being forced to drop out of the campaign, despite spending as much as $936.2 million, whilst Sanders and Biden, the last two Democratic contenders, had spent $162.3 million and $84.7 million, respectively. In fact, US elections are notoriously difficult to predict with a fair degree of certainty. Be that as it may, looking at some data in the previous sixteen years (i.e., four electoral cycles) makes for some insightful analysis, and potential projections.
Briefly, I trace over the 2004-2016 period Google queries for American presidential frontrunners and eventual winners and incumbents in the world. All data utilised in this article is obtained from Google Trends, a publicly available dataset of worldwide Google searches since 1 January 2004. All charts were generated by the author from sorted data. The Google Trends scores are values that are calculated on an index that places scores from 0 to 100, where, according to Google,"100 is the location with the most popularity as a fraction of total searches in that location, a value of 50 indicates a location which is half as popular." The four following charts below show the growth for searches for each candidate between 2004 and 2012.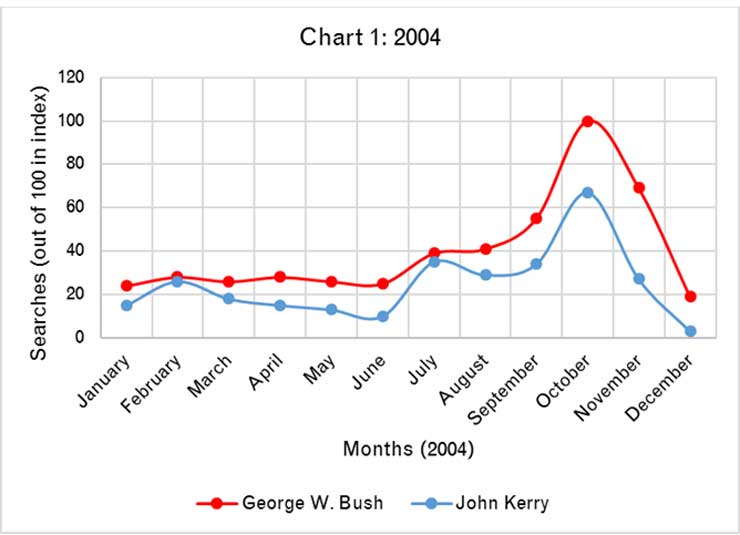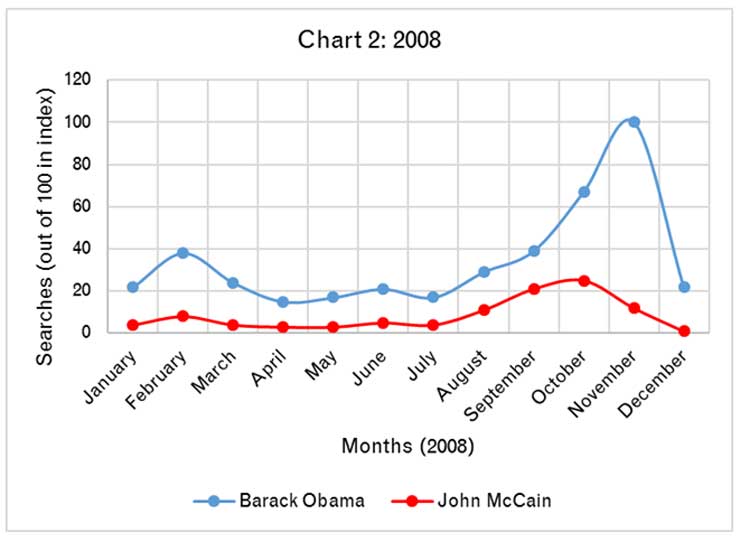 The undeniable trend from all four charts is that the candidate who gets the most searches goes on to win the election, despite both candidates getting an uptick the most amount of searches in November, the month of the election (with the eventual winner experiencing the most amount of searches). Given the results from the four election cycles, it is worth peaking assessing the amount of searches for the two Democratic frontrunners against Donald Trump.
Despite the field only being in a phase of narrowing down, past results show that the eventual winner starts getting the most amount of searches as early as January of the election year.
The only exception was the 4th of March, the day after Super Tuesday, when Joe Biden got the most amount of searches, gaining 40% of the searches, whilst Sanders got 31% and Donald Trump got 29% (see pie chart above). Following the 4thof March, however, the ranking reverted to Trump being more searched than both Democrats, whilst among the Democrats themselves, Vice-President Biden began being more searched than Sanders, which continues to be the case at the time of writing.
For the majority of the first quarter of 2020, therefore, has Trump having 77% of the searches, whilst the two Democrats only have 23% of the searches, split between Bernie Sanders (14%) and Biden (9%). If global Google search trends are any proxy for name recognition, therefore, we can reasonably expect Trump to be re-elected as President in November, regardless of which Democrat is eventually nominated. Indeed, any different outcome would go against the grain of the last four elections.