Around 1,500 BC, a group of nine asteroids crashed on the island of Saaremaa in Western Estonia, incinerating all kind of life-form within a radius of six kilometres and the native inhabitants who settled in this cold part of the world in 10,000 BC.
Located on the eastern coast of the Baltic Sea in Northern Europe, it is impossible to know who took over the Estonian lands after the crash, but we know for sure the new settlers have been under the rule of foreigners from the Russian Empire, the Teutonic Order, Denmark, Sweden, Poland, Nazi Germany, and the Soviet Union.
Because of the tormented past of the Estonian nation, it is impossible to tell if the contemporary citizens are more Nordic (Denmark, Sweden) and German (Teutonic) than Russian. Estonian identity is probably more of a spectrum with Saaremaa people having more ancestors coming from Sweden and Denmark compared to the people in Tartu who have been influenced by the Holy Roman Empire and the Teutonic Order. By contrast, the citizens in Ida-Viru County (Eastern Estonia) are "Russian with a twist".
After the breakup of the Soviet Union and the recovered national autonomy, the Government of Estonia had to take political decisions following the geography and aspirations of most of its citizens to integrate the Euro-Atlantic society. Based on the past and the Nordic-Teutonic identity, the Government of Estonia embraced the idea of joining the European Union, NATO, and later on the Eurozone.
Both Germany and Austria (former parts of Holly Roman Empire) have recognized the Germanic background of the Estonian people when the Nordics – Denmark, Finland, Iceland, Norway, Sweden, Greenland and the Faroe Islands (Denmark) – have denied the Nordic identity of Estonia because of the Russian minority and various political reasons.
Moscow adopted an ambiguous relationship with Estonia when the Soviet troops became the Russian troops and stayed on the national territory between 1991-1994. As of today, the Estonian society is divided regarding the Soviet past, and some are calling the soviets "invaders" when others prefer to see them as "liberators". Contrary Georgia (Abkhazia and South-Ossetia), Moldova (Transnistria), and Ukraine (Crimea and the Donbas), the Russian minority in the Ida-Viru County agrees on staying under the Estonian influence while remaining attached to Orthodoxy and Russian language.
From an economic perspective, Estonia is nowadays one of the most developed countries on the European continent with a nominal GDP of €29,800 per capita, HDI 0.87 (30th worldwide), and attractive to international businesses. The Estonian government also settled the NATO Cooperative Cyber Defence Centre of Excellence in Tallinn and changed the country into one of the most digitalized society in the world with e-Governance and e-Residency.
With the current crisis going on in countries with Russian speaking monitories and the relevance of cyber-diplomacy in our societies, Estonia might be an example to follow when it comes to the good bilateral relationship with Moscow and the future of e-Governance.
Geopolitics of Estonia: Know your opponent (The Art of War, Sun Tzu)
The territory of Estonia consists of a mainland and 1,500 islands in the Baltic Sea covering a total of 45,227 km2 with a humid continental climate and 50 meters average elevation. In such a context, the highest mountain Suur Munamägi (318 meters) is the birthplace of many myths, and the flat land and islands make it easy for invaders to occupy the territory and settle outpost on the islands. Nowadays, Estonian lands are impossible to defend and any fighter jet can fly over the territory in a couple of hours.
Due to the Soviet past and American soft power in the country, the Government of Estonia established strong relationships with NATO during the '90s and integrated the Alliance in 2004. However, it would be naïve to assume the Estonian Ministry of Defence relies exclusively on NATO's recommendations to ensure the national safety, the key to Estonia's successful and peaceful relationship with Russia coming from bilateral foreign relations between Tallinn and Moscow.
From David and Goliath to Baltic brothers: Estonia-Russia relationship after the Cold War
With only 1.3 million inhabitants – 68% Estonians, 24% Russians, 8% others, – the Estonian ethnicity almost disappeared during the Soviet times and still struggles to survive in a globalized world.
Contrary to many countries with an important diaspora, the Estonian identity could disappear in case of a conflict between NATO and Russia. Besides usual national matters, the Riigikogu (State assembly) is responsible for preserving the Estonian language – spoken only in Estonia, – and the History and traditions of the Estonian nation. This responsibility must be underlined because the threat of disappearing partly explains the reluctance to accept Russia as a state language. It also pushes the Riigikogu to pursue good governance and to provide high-level living condition and education to citizens, in order to avoid young Estonians moving and staying abroad. Demographics are the main concern of the Estonian leaders ahead of any hypothetical conflict with Russia.
When it comes to the relationship with Moscow, Tallinn has adopted a mixed strategy combining a pro-NATO/EU diplomacy and pragmatic bilateral relationship with Russia based on mutual understanding and shared interests in the Baltic Sea. Russia is often presented in the Estonian media to be the main threat to national security and NATO partners are afraid to see another Crimea crisis happening in eastern Estonia.
In such a context, the Kaitsevägi (Estonian Ministry of Defence) is welcoming NATO troops on the national territory, developed quality relations with nuclear powers (France, Great Britain, the United-States of America) and with non-NATO countries such as Sweden and Finland.
Should Russia (or anyone else) attack Estonia, the Riigikogu will immediately ask for the application of Article 5 of the Washington Treaty:
"The Parties agree that an armed attack against one or more of them in Europe or North America shall be considered an attack against them all and consequently they agree that, if such an armed attack occurs, each of them, in exercise of the right of individual or collective self-defence recognized by Article 51 of the Charter of the United Nations, will assist the Party or Parties so attacked by taking forthwith"
However, article 5 does not take into consideration the principle of asymmetric warfare (e.g. support to an eventual separatist movement in eastern Estonia).
Theories and practice are two distinct things and some of the NATO member states might also be reluctant to attack a nuclear power. Finally, such reply will need the approval of all NATO member states and some have quality relationships with Moscow (e.g. Turkey) and not ready to risk the lives of soldiers for a country of 1.3 million inhabitants.
Estonian leaders are aware of NATO weaknesses and in order to avoid such conflict scenario by strengthening Estonian soft power in the eastern part of the country and are relying on bilateral cooperations with Moscow more than NATO infrastructures.
The Estonian education system has been the main asset to establish bilateral relationships with many academic programs related to Russia at the University of Tartu, the University of Tallinn, and the Baltic Defence College (military-oriented institution). Russian students are invited to study in Estonia, and the University of Tartu – a German-speaking university in the Russian Empire – is now welcoming Russian citizens. Last but not least, learning the Russian language is not a taboo like in the late '90s and Russia is the third language (after Estonian and English) in libraries and considered to be an asset in the public administration.
Besides the academic world, Estonia is welcoming Russian entrepreneurs and tourists with a particular focus on Saint Petersburg. Estonia has changed in the past decade, and Tallinn is nowadays more of a destination like Helsinki with high-prices, hipster and vegan places, attracting high-tech Russian entrepreneurs interested in settling in the European Union. Looking at the past, the Bronze soldier event seems far away both in Estonian and Russian minds.
The Russian speaking minority in eastern Estonia can be considered to be a geopolitical asset nowadays. Contrary to Ukraine, the Estonian government became more tolerant following the integration in the European Union, even if some improvements must be done to recognize the Russian language at least in regional political institutions (e.g. like in Switzerland).
Russian speakers are enjoying higher salaries in Estonia compared to Russia and good infrastructure to visit their relatives on the other side of the border. Riigikogu and Kaitsevägi are divided when it comes to the approach to adopt regarding the Russian minority, despite the fact Kaitsevägi is following the recommendations of the Riigikogu. One the one hand, giving favourable living conditions to the minority in Estonia pushes them to stay in the country and can be a source of tensions with 24% of the population having a specific relationship to Russia. On the other hand, pushing the Russian minority to leave the country might create tensions with Russia and weaken the national economy. Overall, the national policy of Estonia is more of a "wait and see" when it comes to Russian speakers.
The reason why the Russian speaking minority is less often in the public debate is also due to the recent emigration of Ukrainian workers – 1.8% of the inhabitants in Estonia – and Finnish people coming to find a job and leaving Finland because of the Nokia crisis. Having a look at the current ethnic groups in Estonia, the next threat to Estonian identity might be foreigners from Southern Europe and Finland coming to settle in the country more than the Russian speaking minority.
Global warming is also a threat as people and companies from Southern Europe are interested in settling in Estonia to enjoy the almost unlimited water resources required in the agriculture and industrial sectors.
Nordics identity versus Estonian e-Civilization
Estonia is the missing piece in the Nordic history and the concept of Estonia as a Nordic nation was first introduced by Toomas Hendrik Ilves. The Viking Age, the Danish and Swedish Empires have played an important role in the construction of identity and Estonia would like to be recognized to be Nordic-based on the language (Finno-Ougrian), religion (10% Lutheran Christians) and the geographic location close to the Arctic circle. 53% of the Estonian youth consider belonging in the Nordic identity group and the President of Estonia prefers to used the expression of "Nordic Benelux". At the same time, the Ministry of Foreign Affairs and the National Investment Agency are advertising the Nordic identity of Estonia abroad.
The lack of recognition by the Nordics is mostly due to the German past (Teutonic Order) and the Soviet past, the Russian minority – 24% of the citizens, – the number of Orthodox Christians – 17% of the population, – and the lack of cooperation with other Nordic countries during the Cold War.
Due to the quality of High-Tech and Cyber-defence infrastructures in Estonia, the lack of recognition is diminishing the Nordic Defence Cooperation (NORDEFCO) expertise when it comes to cyber-defence.
Moreover, the wish of recognition by the Nordics has pushed Tallinn to adopt a stereotypical policy to be recognized as such. The proposal of a new national cross flag as early as 1918 is still supported in some political spheres, while renewable energies, good governance, e-Governance have developed more than in any other country in the European Union.
The Nordic policy implemented by Tallinn has considerable effects on the "Baltic Tiger" with a GDP increase of around 4% per year and GDP per capita of 12,100 euros in 2010 versus 29,800 euros in 2018. Paradoxically, the Nordic policy of Estonia makes it even more competitive than the Nordics themselves, and Tallinn ranks 3rd in the Business Bribery Risk Index in front of Denmark. The same goes for the energy sector and renewables have grown to over 13% of production whereas they were less than 1% in 2000. As such Estonia is one of the countries to have reached its EU renewable target for 2020 already.
Overall, Nordic countries can emphasis the fact Estonian GDP if lacking behind. Nonetheless, Estonia has an overall unemployment rate of around 4,5% – 7% in Finland and 7.5% in Sweden – and provided job opportunities to Finnish citizens after the Nokia crisis.
Nowadays, 0,6% of the whole Estonian population is coming from Finland, and start-ups from other Nordic countries are settling in Estonia leading to an increasing demand for employees speaking Nordic languages. According to the Centre d'Études Prospectives et d'Informations Internationales projections, the GDP per capita could rise by 2025 to the level of the Finnish economy. Following the same projections, by 2050, Estonia could become the most productive country in the European Union, after Luxembourg, and thus join the top five most productive nations in the world.
The relationship with Nordic countries is a major issue in Tallinn because the national public policy has been based on the Nordic model since the end of the Cold War. In such a context, Estonian identity might have to re-invent itself if the Nordic model is outperformed in the future, which is already the case when it comes to e-Governance and Cyber-diplomacy.
e-Civilisation
Estonia is at the intersection of the Nordic, Russian, and German (Teutonic Order and Baltic Germans) identities. To the Estonian people, the land is not as important as language and culture, which explains why the concept of e-Governance is nowadays widely developed.
Estonian people have embraced the idea Estonia is not the land but the people, and the diaspora in Finland, Canada, and the United-States of America remains to participate in the political and economic life of Estonia. A typical Estonian citizen living abroad for decades can vote online during the election, pay taxes and register a company without coming to Estonia, read the local news online, and graduate from higher education not showing to the university.
e-Governance and e-Identity are not the only aspects of Estonian uniqueness, and besides the Estonian language, the neopaganism (Estonian native faith) plays an increasing role in society. Taaraism was founded in 1928 by members of the intelligentsia to reaffirm traditional Estonian culture and identity. Viewing Christianity as a universal and foreign religion brought by the Germans, they turned to indigenous religion with its many deities. Taaraists hold a monotheistic worldview in which all the gods are aspects of one only pantheistic reality, which they identify with the god Taara (a deity connected to Indo-European deities such as the Germanic Thunor, the Gallic Taranis, and the Hittite Tarhunt).
Based on the Montevideo convention signed in 1993, Estonia does not belong to the Russian, German, or Nordic worlds and could be recognized for its uniqueness. Moreover, if we focus on the definition of civilizations "the stage of human social and cultural development and organization that is considered most advanced" Estonia can be seen like the first e-Society or e-Civilization (according to the contemporary definition of civilization) based on the accomplishments in the field of e-Governance and cyber-diplomacy in the past two decades.
The three slim blue lions and the conquest of cyberspace
The History of e-Diplomacy in Estonia starts in 1965 with the first school computer in the USSR, when Ural-1 was set up in the town of Nõo in Tartu County. Mass usage of computing networks first came with FidoNet, the first Estonian node of which appeared in 1989 and the first internet connections where introduced in 1992 at the University of Tartu and the University of Tallinn. As early as 1996, the Estonian President started a four-year program Tiigrihüpe to computerized the schools.
In 2005, Estonia introduced a digital ID card system and local elections were held with the possibility to vote online, becoming the first country worldwide to offer such an option. In 2008, NATO established a joint cyber-defence centre in Estonia to improve cyber-defence interoperability and provide security support to all NATO member states.
Nowadays, 99% of the services in Estonia are online, 98% of the citizens have a digital ID-card, and 47% are using internet voting. The Estonian government introduced e-Tax (2000), i-Voting (2005), Blockchain (2008), e-Health (2008), e-Residency (2014), increasing the technological gap between Tallin and NATO/EU partners relying on paper and materialized public services. In Estonia, patients own their health data and hospitals have made this available online since 2008.
Today, over 95% of the data generated by hospitals and doctors have been digitized, and blockchain technology is used for assuring the integrity of stored electronic medical records as well as system access. e-Health solutions are allowing Estonia to offer more efficient preventative measures, increasing the awareness of patients and also saving millions of euros. Each person in Estonia that has visited a doctor in medicine has his or her online e-Health record, containing their medical case notes, test results, digital prescriptions, and X-rays, as well as full log-file tracking access to the data. The banking system has already dematerialized with less and less physical banks and cashless society is a reality to many Estonians for almost a decade.
Ongoing projects are the Data embassy which makes it possible to the Estonian administration to continue operating even if local data centres have been stopped or disturbed due to natural disaster, large-scale cyber-attack, power failure or anything else. Cross border data exchanges, healthcare 4.0, digital transformation in education (by 2020, all study materials in Estonia will be digitized and available through an online e-schoolbag) are a few of the current innovations.
In the future, some Estonian embassies should be fully replaced by the online system doing the work of physical embassies, the same for any state institution. State employees will be able to perform the usual work from anywhere in the world.
As of today, Estonia is the country with the lowest GDP debt in the European Union (8.4% in 2019) and with digitalization is the first nation to save a large amount of paper and time in the administration, diplomatic services are provided immediately without any need for people to move, and e-Services are going hand in hand with savings for the government.
However, the concept of e-Society is challenging to Estonian identity. In such a context of digitalization, nobody knows if Estonian identity will be defined by blood, language, religion, passport, or anything else in the future.
From our partner RIAC
Water Diplomacy – A Tool for Peace and Well Being
Authors: Kiran Bhatt, Prof Dr Sanjay Pattanshetty, Prof Dr Helmut Brand
On March 22nd every year, World Water Day is celebrated. The theme for 2023 focused on accelerating changes to resolve the water and sanitation crisis as part of the Agenda 2030. Starting in 2015, Sustainable Development Goal 6 aims to achieve everyone's access to water and sanitation by 2030, while Goals 14 and 15 focus on conserving water to ensure sustaining marine and freshwater ecosystems. In 2018, the United Nations General Assembly initiated the "International Decade for Action: Water for Sustainable Development – 2018-2028" to promote the management of water resources in an integrated manner. Further, UN Secretary-General António Guterres, as part of its Action Plan, stated that the demand for freshwater is estimated to grow more than 40 per cent by 2050. He added that the increased demand and the adverse impact of climate change would make water scarcity worrisome. Scholars and reports have highlighted that tackling the increasing stress on natural resources such as freshwater while battling climate change would be a primary challenge in the coming years. Thus, with the challenge evolving to affect worldwide, there is a spike in demand for international and regional cooperation despite trends of disregarding globally accepted agreements and geopolitical tensions.
Water as a Source of Conflict?
With the increasing water demand, managing transboundary water basins has become challenging for countries. Although wars or conflicts are not directly instigated by tension over water sharing, using water resources to intimidate the belligerents can potentially drive conflicts, both at the internal and international levels. In addition to the impact on security, scarcity and accessibility to water resources threaten individuals' socio-economic conditions, including food insecurity. Therefore, water impacts regional and international relations through its ability to control tensions and conflicts. As per the United Nations, a territory is termed "water-stressed" if it withdraws 25 or more per cent of renewable freshwater. Statista, an online consumer and market data platform, recently published a report highlighting the regions facing the highest water stress by 2040. Going by the definition given by the UN, the regions of Central and Southern Asia experience high levels of water stress. At the same time, it is critical in the case of Northern Africa and West Asia.
SDG 6 targets equitable access to safe and affordable drinking water. However, in many developing countries, contaminated water and poor sanitation facilities have resulted in the transmission of water-borne diseases like cholera, diarrhoea, and typhoid. Further, the absence of sanitation also enhances the breeding of vectors, which exposes threats of individuals to vector-borne diseases. Another impact of water scarcity and sanitation is its critical role in food security – from food production to ensuring adequate nutrition, which is possible through safe drinking water and improved hygiene practices. Water insecurity also has a far-stretching impact on the well-being of individuals. One of the aspects is social impact, where women are seen to encounter repercussions since they bear the responsibility of water acquisition for household tasks. Studies have further established that gender-based violence is closely related to the factors such as access, adequacy and reliability of water insecurity. Most research linked violence against women to gendered norms that justified aggression, made water and related household activities the primary responsibility of women, and limited women's capacity to seek help.
Figure 1: Sustainable Development Goals Related to Water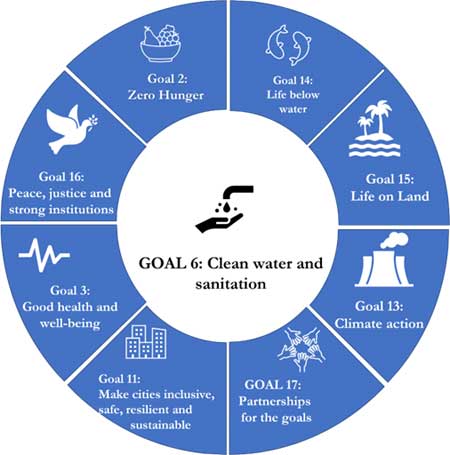 Source: Authors' own
Conflict and Crisis due to Scarcity – A Case of Sub-Saharan Africa
Fast-growing urban centres with a booming population dot the African continent on one side while it suffers from increased stress on the already overburdened water systems on the other. Multiple conflicts in the region trace their origin to increased competition for accessing depleting natural resources, among which water is placed high. The issues have risen at all levels of society; for example, the states of Sudan and Egypt have continuing disputes over the Grand Ethiopian Renaissance Dam with Ethiopia. While in 2021, a dispute between fishermen and herders in Cameroon turned violent, claiming the lives of 22 people while displacing close to 100,000 due to the continued clashes. The dispute was rooted in disagreements over the rights to water from Lake Chad. While water shortage triggers violent clashes, it also leads to food insecurity in the region due to the adverse impacts on agricultural output and wildlife. The impact of water scarcity has taken a severe turn on agriculture, thereby affecting agrarian economies. For example, South Africa, a relatively stable economy in the continent, depends on the agricultural sector for job creation, food supply and development through foreign exchange. However, the water shortage has negatively impacted commercial and subsistence farmers, affecting the latter more severely.
The nexus between climate change and conflict is a complex issue with context-specific factors playing an important role. However, water scarcity has proven to be a threat multiplier affecting lives and impelling migration. While the scarcity of water alone might not be able to explain tensions between conflicting parties, it can be used as a tool to enhance cooperation due to the mere necessity of water for survival.
Water – A tool for peace?
Water can trigger clashes between neighbours, especially in transboundary water basins, and lead to political tensions between upper and lower riparian states. Various factors, such as geography, influence these transboundary water interactions within a basin. For example, while considering the geographical setting of the course of a river, the states upstream are considered more advantageous merely because they can control the flow and volume of water. Actions such as building dams or diverting water to meet their demands are claimed to showcase power to other members. However, an upper riparian state is not always necessary to be the dominant player. This is evident in the case of the Nile basin, where Egypt has a more significant say.
It is in this context that one must view the importance of negotiations surrounding water sharing. Water negotiations provide an opportunity for the riparian states to discuss, debate and deliberate agreements on various critical factors, such as sharing technical information to agreeing upon commitments related to sustainable management of water resources. A further step in the process is water diplomacy, wherein water could be used to build diplomatic relations between states and international relations in general. While water may itself be a cause of conflicts, situations include groups competing for scarce resources. Disagreement may arise over water used for unilateral or mutually beneficial gains. Hence, the failure to address such disagreements could turn into potential conflicts. It is in these scenarios that water diplomacy becomes a tool for preventive tool. Such a diplomatic tool ensures regional cooperation by bringing stability and peace.
A good example of problems arising from water sharing can be analysed in the case of India. India and Bangladesh are known to share cordial relations, but water sharing has been an issue between the South Asian neighbours. The Ganges Water Treaty was signed in 1996, and the recent developments in signing an MoU regarding sharing water from the Kushiyara are some of the successes of water negotiations. However, an exception is the Teesta water sharing which has yet to be implemented due to remonstrance from West Bengal. On the other hand, a commonly sighted example of successful water diplomacy is the Indus Water Treaty, signed between India and Pakistan in 1960. The Treaty, which the World Bank mediated, aimed to ensure equitable access to water in the Indus River basin. Despite numerous flashpoints, the pact is viewed as a milestone not just in the political relations between the two countries but a model to negotiate, collaborate and address other outstanding concerns. The conflicts that had erupted in the Darfur region of Sudan also find water scarcity as one of the root causes of the dispute between the farmers and pastoralists communities. The international community has employed water to address the conflict that killed several and displaced thousands. Led by the African Union-United Nations Mission in Darfur (UNAMID), a project was initiated for sustainable recovery of peace in the Darfur region by enabling efficient water management, which helps build peace.
As a bottom line, water diplomacy ultimately works towards preventing and mitigating issues arising due to disputes and disagreements related to water sharing. But its success depends on the parties' willingness to cooperate. This willingness depends on the interests and motivations of the riparian states. A question arises if a powerful riparian might stall the entire process or the need for such engagements for a comparatively weaker riparian state even if there is no improvement in the prevailing imbalances. One angle to explain such unlikely cooperation is maintaining diplomatic relations and securing unexpected future circumstances that are dubious. The cooperation, if successful, could be extended beyond water management to include economic and security matters, ultimately bringing stability and peace to the region. While the success of such diplomacy centred around water depends on political will, linking the financial aspect to ensure further its implementation is also necessary. Political will is needed to establish relationships and networks for mobilising essential actors. It is also a requisite to bring all the crucial actors around a single table during disputes or crises. India's G20 presidency, along with Lifestyle for the Environment (LiFE), has provided an opportunity to share its successful programs related to water conservation, such as Jal Jeevan Mission (JJM), Namami Gange Programme  Atal Mission for Rejuvenation and Urban Transformation and Pradhan Mantri Krishi Sinchayee Yojana. By explaining and sharing the sustainability of such programmes, India can lead the way for other countries in designing action plans which ultimately help achieve the SDG targets. This would also help address the over-stressing water resources in South Asia. On the other hand, there is also a need to involve other players like the Finance Ministry within the government, regional organisations, Multilateral Development Banks and International Financial Institutions, which ensures financial support. In addition, they also provide a third perspective and act as a binding force for the entire process. Water diplomacy can be used as a practical approach that will ensure a link between sustainability and security.
*Sanjay Pattanshetty is Professor and Head of the Department of Global Health Governance and Coordinator of Centre for Health Diplomacy at Prasanna School of Public Health, Manipal Academy of Higher Education, Manipal, Karnataka, India. He completed Doctor of Medicine in Community Medicine (MD) from Manipal Academy of Higher Education, and Double master's in public policy and human Development with a specialization in Foreign Policy and Development from United Nations University and Maastricht University, The Netherlands. He has over a decade of experience in Public Health policy education program development, implementation, field research and practice. He has several scientific projects, and publications in reputed journals and has contributed to policy briefs in relevant areas.
*Helmut Brand is Jean Monnet, Professor of European Public Health and head of the Department of International Health at Maastricht University, The Netherlands. He studied Medicine in Düsseldorf and Zürich and holds a Master's in Community Medicine from the London School of Hygiene and Tropical Medicine and the London School of Economics. Prof. Brand is a specialist in Public Health Medicine. He holds an honorable doctorate from Sofia Medical University. After working in several Health Authorities and Ministries of Health, he was director of the Public Health Institute of North-Rhine Westphalia, Germany. Since then European Integration in Health is the main topic of his work. He is past president of the Association of Schools of Public Health in the European Region (ASPHER) and the European Health Forum Gastein (EHFG) president.
As a policy advisor he serves on the European Advisory Committee on Health Research (EACHR) of WHO Europe and served on the Expert Panel on "Investing in Health" (EXPH) for the European Commission. At MAHE, India, he is the Founding Director of the Prasanna School of Public Health.
The Role of Student Research in Shaping Diplomatic Discourse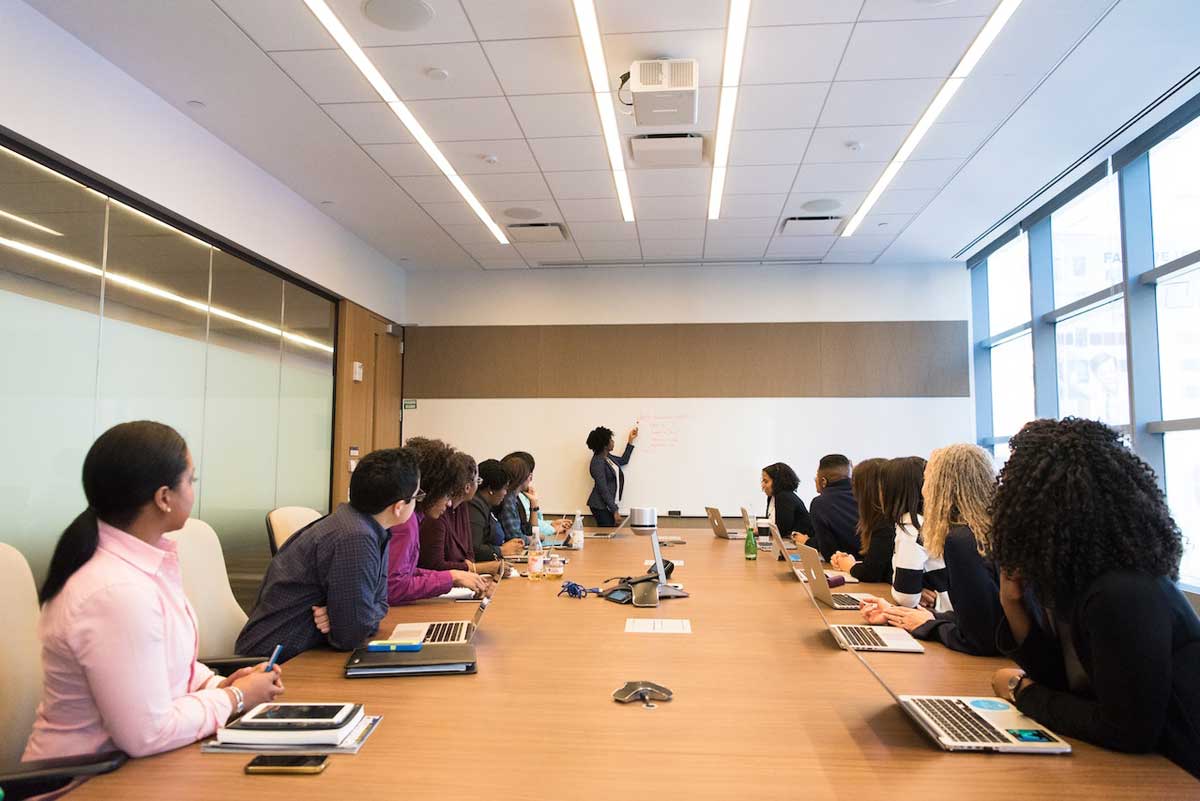 Diplomacy is a complicated field that is always changing. At its core are the fields of international relations and negotiations. To make good decisions in this fast-paced, global world, you need to know a lot about different themes and points of view. One of the key drivers of this understanding is student research, which plays a vital role in shaping diplomatic discourse. This article explores how important student research is and how it affects diplomacy efforts.
Understanding Diplomatic Discourse
Before we talk about the role of student research, let's get a handle on the idea of diplomatic discourse. This is the exchange of ideas, opinions, and negotiations between nations. The goal is fostering cooperation, resolving conflicts, and addressing global challenges. It involves diplomats, policymakers, and experts who engage in dialogue and decision-making processes to shape international relations.
Conducting a thorough investigation requires careful planning, data collection, and critical analysis. It is important to gather reliable and credible sources to support your research. To master the art of academic writing, you need to know how to make a research paper that combines solid research with clear writing. You can make a good contribution to your area of study by carefully interpreting and presenting your findings. A well-written research paper not only shows that you know a lot about the subject, but also adds to the larger academic discussion.
The Value of Student Research
1. Fresh Perspectives
Student research brings a fresh and innovative perspective to diplomatic discourse. When young minds start to learn about many different things, they often approach problems with an open mind and a creative spirit. This can lead to the generation of new ideas, alternative viewpoints, and unconventional solutions. Even those which may not have been previously considered by established diplomatic circles. Diplomatic talks could be more open-minded and focused on the future if they took into account different points of view.
2. In-Depth Analysis
Students often have to do in-depth research on complex global issues. This study goes deeper than a simple understanding and looks at how political, economic, social, and cultural factors shape international relations. It shows that you know more than just the basics about the subject. By thoroughly examining these factors, students provide valuable insights that can enrich diplomatic discourse and inform policy decisions.
3. Cutting-Edge Research Areas
Students are the first to look into new technologies, world problems, and new trends. Their research often focuses on human rights, climate change, sustainable development, and hacking. Which are of great relevance to diplomatic agendas. When diplomats use the results of student research in their discussions, they can stay up to date on the latest developments and adapt their strategies accordingly.
4. Bridge between Academia and Practice
Student research acts as a bridge between academia and practical diplomacy. It allows academic institutions to contribute directly to real-world challenges by producing research that is applicable to diplomatic contexts. This helps to build a more complete plan to solve global problems by making it easier for people to share information and skills.
Promoting Student Research in Diplomacy
To maximize the impact of student research on diplomatic discourse, it is important to create an environment that encourages and makes it easy for students to start their own projects and activities. Here are some things that can be done to get students interested in studying diplomacy:
1. Establish Research Programs
Academic institutions and diplomatic organizations can collaborate to establish research programs focused on international relations and diplomatic studies. These programs can provide funding, mentorship, and resources to students, enabling them to undertake high-quality research projects with direct relevance to diplomatic discourse.
2. Foster Collaboration
Encouraging collaboration between students, diplomats, and policymakers can enrich the research process. By putting on events like workshops, conferences, and lectures that bring together different partners, you can make it easier for them to share useful ideas and build important relationships. This collaboration ensures that student research directly contributes to diplomatic discussions.
3. Recognize Excellence
By recognizing and rewarding students for their great research in diplomacy, they may be more likely to study things that will have a big impact on the world. Institutions can bring attention to the best research results by giving out awards, grants, and publication opportunities. This recognition helps to make student study even more important to the international conversation by making it more well-known and legitimate.
4. Engage in Policy Dialogues
It is important to give researchers chances to talk about policy and take part in diplomatic forums. They get the chance to talk about their results, take part in conversations, and add their points of view to the decision-making processes. Student research and political talk are tied together in a way that is good for both sides. Diplomats and people in charge of policy can learn important new things from these talks.
Conclusion
In conclusion, student research plays a crucial role in shaping diplomatic discourse. Students contribute to the richness and diversity of diplomatic discussions. They give new points of view, in-depth analyses, and insights into areas of research. Promoting student research in diplomacy can help students reach their full potential. This can help answer problems around the world and put the power of young brains to good use. It is important that the international community recognizes and accepts the importance of student research as a catalyst for positive change in the field of diplomacy.
Modern Diplomacy and the New World Order
There is no doubt that the international order is currently in a state of transition. The changes experienced seem to be the most significant in the past few hundred years. This assumption is predicated upon an objective fact — never before in the history of international politics has it included so many participants with different historical and cultural backgrounds. This means that we are not talking about another redistribution of power within a limited circle of states, but about a new distribution of power, capabilities and influence within a wider than ever circle of participants.

However, in practical terms, such large-scale changes result in a paradox: diplomacy is heavily influenced by tactical manoeuvring, rather than strategic considerations. This is especially noticeable in the example of the behaviour of Western countries; however, most of the rest are no exception. Even the actions of such powers as China or Russia, which by many indicators are truly examples of diplomatic conservatism, contain signs of not strategic, but contextual considerations. What can we say about small and medium-sized countries, some of which have even managed to become famous as skilful tacticians, making the most of the most ambiguous international situations?

Suffice it to say, the leading states will not determine the composition of the new world order alone; they have been joined by lesser-order predators, which are now in a state of constant manoeuvre. This, in turn, can lead us to one of two assumptions. Either this order is still very far from its ultimate form, or it is arising through a set of manoeuvres that seem insignificant from our aesthetic point of view, which are not the result of big decisions made by the wise and powers responsible for the fate of mankind.

Despite the fact that in popular literature, the ability to constantly manoeuvre is now, as a rule, one of the attributes of medium-sized states occupying an intermediate geopolitical position, it is precisely the large countries that have become true masters of this genre. Here we see that Europe, which despite its loyalty to transatlantic relations in the long term, certainly occupies first place. The main powers of the European Union, acting in an individual capacity or under the guise of European institutions obedient to them, are in a state of permanent manoeuvring, as the outer contour of the West. This is true in relations with China, Russia or other countries of the so-called world majority, and with their direct partners; they are constantly entering into bargaining relations with Europe's powerful patron, the United States.

For the rest of the world, this creates the illusion that Europe can one day break away from America and embark on a relatively independent voyage. For the Americans themselves, it creates little additional opportunity or concern, but never leads to situations that threaten Washington's monopoly on power.

For example, the visit of French President Emmanuel Macron to Beijing in the first half of April was certainly an example of such manoeuvring. The French head of state tried in every possible way to strengthen the idea among his Chinese counterparts that continental Europe can, at least tactically, act as something other than a territorial base for the realisation of American interests. In part, this was facilitated by objective economic opportunities that make cooperation with the Europeans beneficial for Beijing and the Chinese economy. The Chinese side remains somewhat confident that Germany and France are behaving desperately regarding Russia, precisely because they won't consider a conflict with Moscow that could lead to dramatic consequences for them.

The Europeans are being gently pushed by the UK and the US towards a confrontation with China. For the European Union, going along with this would be economic suicide, especially given the current not-too-cheerful state of the socio-economic systems of most of "old Europe". Moreover, the Europeans' reluctance to refuse the benefits of cooperation with the PRC could even be seen during German Chancellor Olaf Scholz's visit to Beijing.

In addition, China quite rationally believes that the conflict between the West and Russia is more fundamental for Europe than the confrontation between the United States and China itself. Our Chinese friends are well aware of the history of relations between Russia and Western Europe, and understand that the hostility there emanates from the European states. Despite some positive experience of cooperation with Russia in the era when its behaviour was relatively convenient for the EU, the largest EU countries have always had their grievances with Moscow, perhaps even more serious than those of Japan, another American ally in the fight against the restoration of Russian influence and the destruction of American dominance in general. Russia objectively and historically is an adversary of Western Europe; this cannot be said about China, which simply due to its geopolitical position cannot cause serious concern. So the diplomatic manoeuvres of France and the EU as a whole will, of course, continue to be seen very positively by our Chinese friends.

Moreover, China itself manoeuvres in everything except for its strategic partnership with Russia, the true nature of which is hidden from outside observers by the exclusively trusting relations between our political leaders. Regarding all other issues, China is also advancing its long-term vision through decisions that may seem purely tactical. Moreover, as happened in the case of the historical rapprochement between Iran and Saudi Arabia, all the main features of international life are now contributing to the success of Chinese diplomacy. This will continue as long as Beijing can stay above the fight that the West and Russia are directly involved in over unfortunate Ukraine.

The United States is also conducting its own diplomatic manoeuvres, but, like Russia's, they are more dangerous for global security simply because of the volumes of the deadliest weapons that the United States has at its disposal. Having proclaimed a decisive battle with Russia and an equally uncompromising confrontation with China, the US is also trying to play what enthusiastic observers call "subtle diplomacy." However, if Europe relies here on its economic capabilities and certain charm of a sovereign player with a long history, then Washington manoeuvres in a deliberately brutal spirit, trying to play power games and pit everyone against everyone else. Of course, Washington succeeds less and less, but the resources accumulated over the past 50 years are still fantastically far from being exhausted.

Russia, in turn, is conducting its diplomatic manoeuvring by stubbornly refusing to "burn bridges" in relations with the West or damage the integrity of the world economic system. It has also demonstrates impressive tolerance towards those external partners that must take into account the wishes of the United States on the Russian issue, including even formally neutral countries that supply weapons to Kiev's troops. In fact, only the diplomatic dialogue between Moscow and individual NATO countries has been completely stopped, and even there it was not done by Moscow, which emphasises that it is always open to resuming talks. Thus, almost no party involved is completely straightforward. In this regard, a relevant question that may confront experts of international politics is the following: are the general diplomatic manoeuvres simply part of the military activity that is growing on a global scale, or are they replacing the "big" negotiations about a new world order, about which theorists could dream of? It can be assumed that both are being done at the same time — to the particular chagrin of those of us who still believe that order in the world can be established through a single plan and rational, responsible calculations.
from our partner RIAC