WFP calls for increased support as eight million in Zimbabwe face hunger
The World Food Programme (WFP) is calling on countries to step up support to Zimbabwe, where millions of people are facing hunger brought on by prolonged drought and economic meltdown.
Nearly eight million people, or roughly half the population, are not getting enough to eat, the UN agency said on Monday.
WFP plans to double the number of Zimbabweans that it assists, up to 4.1 million, but will require over $200 million to meet needs in the first half of 2020 alone.
"As things stand, we will run out of food by end of February, coinciding with the peak of the hunger season – when needs are at their highest," said Niels Balzer, WFP's Deputy Country Director in Zimbabwe.
"Firm pledges are urgently needed as it can take up to three months for funding commitments to become food on people's tables."
Declining harvests due to ongoing drought
Zimbabwe, once known as an African breadbasket, has been hit hard by three consecutive years of drought.
As a result, the maize harvest dropped by 50 per cent this year when compared to 2018.
To meet increasing needs, WFP was forced to launch an emergency lean season assistance programme in August, months earlier than expected.
Hilal Elver, the UN Special Rapporteur on the right to food, visited Zimbabwe in November where she witnessed how women and children are bearing the brunt of the crisis.
"In a desperate effort to find alternative means of livelihood, some women and children are resorting to coping mechanisms that violate their most fundamental human rights and freedoms. As a result, school drop-outs, early marriage, domestic violence, prostitution and sexual exploitation are on the rise throughout Zimbabwe," she said in a statement following her 11-day mission.
Runaway inflation affecting food prices
The hunger crisis comes as Zimbabwe is facing its worst economic downturn in a decade.
Runaway inflation is just one of the symptoms, and it has put the price of basic goods beyond the reach of the average citizen. WFP reported that bread is now 20 times more expensive than it was six months ago.
Increasing hardship is forcing families to skip meals, take children out of school, or sell off livestock, among other desperate measures.
Gladys Chikukwa sells tomatoes at the second largest market in the country, Sukubva, and is finding it hard to survive.
"Just because we are selling tomatoes in this market doesn't mean that we have enough food for ourselves. We are seriously struggling," she said.
"Our produce is rotting in this market because of prices. Today, tomatoes will go for 250 Zimbabwe dollars, tomorrow 300 dollars, the next day 400 dollars and people don't have that money."
Funding is essential
The drought shows no signs of letting up, and forecasts indicate another poor harvest in April, according to WFP.
The UN agency also faces challenges in scaling-up its operations in Zimbabwe as the shortage of local currency coupled with rapid inflation requires switching from cash-based assistance to food distributions.
And with other southern African countries also gripped by drought, food stocks must be sourced outside the continent and then shipped to neighbouring South Africa or Mozambique before being transported to landlocked Zimbabwe.
WFP will require nearly 200,000 metric tons of food to assist the 4.1 million Zimbabweans it plans to target. Mr. Balzer, the agency's Deputy Country Director, underlined why financial support from the international community is so desperately needed.
"While WFP now has the staff, partners, trucking and logistics capacity in place for a major surge in Zimbabwe, it is essential that we receive the funding to be able to fully deliver," he said. "The lives of so many depend on this."
COVID-19 crisis putting human trafficking victims at risk of further exploitation
Lockdowns, travel restrictions, resource cutbacks and other measures to curb the spread of the new coronavirus are putting victims of human trafficking at risk of further exploitation, while organized crime networks could further profit from the pandemic, according to the UN Office on Drugs and Crime (UNODC).
New analysis from the agency shows that the crisis is having an impact on the lives of trafficking victims before, during and even after their ordeal.
"With COVID-19 restricting movement, diverting law enforcement resources, and reducing social and public services, human trafficking victims have even less chance of escape and finding help", said Ghada Fathi Waly, the UNODC Executive Director.
As countries have closed their borders due to the pandemic, some victims are unable to return home. Others face delays in legal proceedings, as well as a reduction in the support and protection they rely on. Some are also in danger of further abuse or neglect by their captors.
"Human trafficking is the result of the failure of our societies and economies to protect the most vulnerable", said Ilias Chatzis, chief of the UNODC section that works to combat this crime.
"They should not be additionally 'punished' during times of crisis."
Children in danger of new forms of abuse
UNODC said its partners report that due to the pandemic, more children are being forced onto the streets to search for food and money, thus increasing their risk of exploitation.
School closures have not only blocked access to education but also a source of shelter and food for millions of children. The UN recently reported that some 370 million students worldwide are now missing out on school meals, often their only reliable source of nutrition.
Meanwhile, a UN independent human rights expert has underlined the urgent need for child protection services during the pandemic.
Mama Fatima Singhateh, fears the reported surge in violence against children, coupled with new forms of sexual exploitation and abuse, will have "devastating" lifelong implications for millions of youngsters worldwide.
Even before the crisis, as many as 66 million children were already living in "a precarious socio-economic situation", according to Ms. Singhateh, who is the Special Rapporteur on the sale and sexual exploitation of children, appointed by the UN Human Rights Council in Geneva.
'Drive-thru' services for child sexual exploitation
Ms. Singhateh said travel restrictions have spawned new ways to sexually exploit and abuse children, such as attempts to establish "delivery" or "drive-thru" services. There has also been a spike in people trying to access illegal websites featuring child pornography.
"Producing and accessing child sexual abuse material and live-stream child sexual abuse online has now become an easy alternative to groom and lure children into sexual activities and to trade images in online communities", said Ms. Singhateh. In common with all the UN's independent rights experts, she is not a UN staff member nor does she receive a salary from the Organization.
Organized crime could benefit
UNODC warned that the pandemic has also created new opportunities for organized crime to profit.
"Traffickers may become more active and prey on people who are even more vulnerable than before, because they have lost their source of income due to measures to control the virus", said Mr. Chatzis, chief of the agency's Human Trafficking Section.
Some countries have diverted resources meant for fighting crime to the battle to defeat COVID-19. At the same time, services to assist trafficking victims are being reduced or even shut down.
"We know that people in a vulnerable situation are more exposed to contracting the virus, and they have less access to healthcare if they get sick," said Mr. Chatzis.
"So it's alarming to hear that, in some places, trafficking victims no longer have access to shelters, some refuges have even closed down due to the virus and others lack protective equipment – putting both victims and staff at risk."
UNODC steps up support
As the pandemic deepens, UNODC is constantly monitoring the situation through its network of field offices and global partners.
It is also ramping up support, such as helping anti-trafficking units to get protective equipment, and assisting countries in evaluating the impact of the crisis on resources for victims, law enforcement and justice systems.
"As we work together to overcome the global pandemic, countries need to keep shelters and hotlines open, safeguard access to justice and prevent more vulnerable people from falling into the hands of organized crime", said Ms. Waly, the agency's chief.
UNODC further recommends that governments act to ensure that while current restrictions on travel and freedom of movement are respected, access to essential services for victims of human trafficking is guaranteed without discrimination.
Food insecurity in West Africa could leave 43 million at risk as coronavirus hits
Well over 40 million people across West Africa face desperate food shortages in coming months, with COVID-19 restrictions a new factor adding to people's vulnerability, the World Food Programme (WFP) said on Tuesday.
Appealing for continued support from the international community for the agency's global aid effort, WFP spokesperson Elisabeth Byrs, warned that the new coronavirus risked exposing populations that had fled armed conflict and endured climate change emergencies.
"We must sustain our assistance across the region", Ms. Byrs said. "Especially in places such as Central Sahel, Central African Republic, Nigeria and Cameroon."
An estimated 12 million children under five years old could be acutely malnourished in the lean season from June to August, up from 8.2 million in the same period last year.
The alert follows a similar warning from the UN agency about a potentially massive spike in global food insecurity in East Africa, as a direct result of the pandemic.
During the lean season in June and August, more than 21 million people across West Africa "will struggle to feed themselves", she explained, adding Gambia and Benin to the list of countries in need.
"An additional 20 million people could struggle to feed themselves due to the socio-economic impact of COVID-19 in the next six months, doubling the number of food-insecure to 43 million in this region", the WFP official added.
Highest forced displacement in Africa
Highlighting people's vulnerabilities, Babar Baloch from the UN High Commissioner for Refugees (UNHCR), described West and central Africa as "one of largest displacement situations in Africa…we are talking about 5.6 million internally displaced people, more than 1.3 million refugees and 1.6 million stateless."
The UN refugee agency has repeatedly called for greater support for increasing numbers of people forced to flee for their lives amid renewed conflict in West Africa's turbulent Sahel and Lake Chad region.
Burkina Faso has also witnessed massive displacement – of more than 838,000 people since January 2019 – a figure which keeps climbing with each passing day.
In recent weeks, the agency said that armed groups had targeted thousands of Malian refugees sheltering in camps near the border of Burkina Faso and Mali.
On Monday, the agency condemned attacks on 2 May on Malian refugees in Burkina Faso – "reportedly by the country's security forces", in Mentao refugee camp in which at least 32 people were injured.
The camp is located in Burkina Faso's volatile Sahel region close to the border with Mali and hosts some 6,500 refugees, UNHCR said in a statement.
For WFP the priority continues to be the most vulnerable individuals.
Hand-to-mouth existence
They include "the urban poor – who live hand-to-mouth – (who) are most at risk", Ms. Byrs said, highlighting how COVID-19 travel restrictions had compromised the transport of supplies and the functioning of open-air markets that serve most people, resulting in price increases in some countries.
Movement restrictions could also affect farmers as the planting season approaches, WFP said in a statement, warning that "an inadequate response" to current needs "would put the future well-being of millions of people in the region at stake, particularly women and young children".
It could also lead to civil unrest in parts of a region already challenged by insecurity and violent extremism, the agency said, before adding that it was seeking to overcome challenges in partnership with the authorities.
A significant problem is the halt in school meal distribution, which has affected 18 million pupils supported through Government-led programmes and 2.2 million schoolchildren in WFP-supported schools.
"When Governments have had to close schools and stop (serving) school meals, we have worked with them," said Ms. Byrs. "We are working with them, to organize distribution points for the most vulnerable families who can take food rations so that they aren't penalized, as schools have been forced to shut, in line with confinement measures."
She added: "We have put in place monitoring and evaluation systems to help us to target the most at-risk populations, and we do that with partners, with Governments of course, and the international humanitarian community, in the largest sense of the term."
WFP urgently requires an additional $574 million to provide crucial assistance for the next six months in West Africa. These requirements are likely to increase in the coming weeks as the impact of COVID-19 is fully analysed.
Record child displacement figures due to conflict and violence in 2019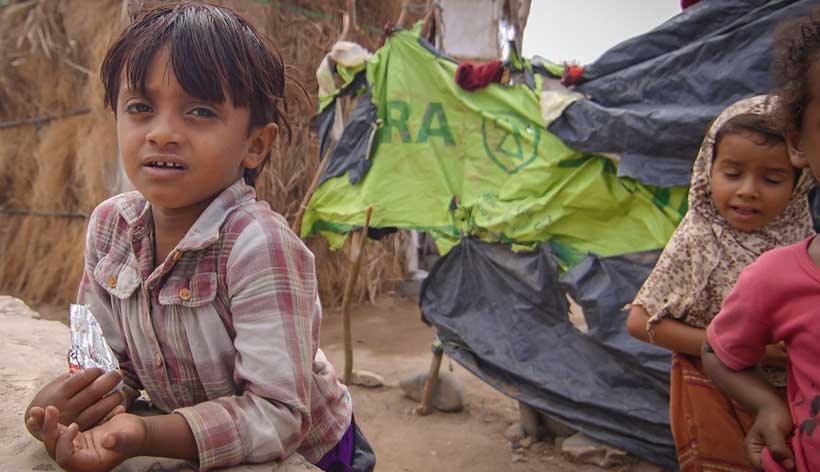 A new UN report finds that some 19 million children were displaced within their own countries due to conflict and violence in 2019, more than in any other year, making them among the most vulnerable to the global spread of COVID-19.
According to the "Lost at Home" report, published on Tuesday by the UN Children's Fund (UNICEF), there were 12 million new displacements of children in 2019: around 3.8 million of them caused by conflict and violence, and 8.2 million, due to disasters linked mostly to weather-related events.
Coronavirus intensifying suffering
The COVID-19 pandemic is only making a critical situation worse, the agency says. Camps or informal settlements are often overcrowded, and lack adequate hygiene and health services. Physical distancing is often not possible, creating conditions that are highly conducive to the spread of disease.
"When new crises emerge, like the COVID-19 pandemic, these children are especially vulnerable," said UNICEF Executive Director Henrietta Fore. "It is essential that Governments and humanitarian partners work together to keep them safe, healthy, learning and protected."
The report looks at the risks internally displaced children face –- child labour, child marriage, trafficking among them — and the actions urgently needed to protect them. It calls for strategic investments and a united effort by Governments, civil society, companies, humanitarian actors and children themselves to address the child-specific drivers of displacement, in particular, violence, exploitation and abuse.
Government investment key
It also calls on Governments convening under the High-Level Panel on Internal Displacement, established by Secretary-General António Guterres, to invest in actions that will provide protection and equitable access to services for all internally displaced children and their families.
Better, timely and accessible data — disaggregated by age and gender — is also critical to delivering on this agenda, the report says. "Internally displaced children and youth themselves must have a seat at the table," it emphasizes, and offered the opportunity to be part of the solution.