As the new year dawns, this is the perfect time to reset and rethink.
As you make your New Year's resolutions, keep the environment in mind.
"The amount we consume to meet our needs and live our aspirations is increasing exponentially for some. Yet many do not have enough to survive. We need to rethink how to live better and lighter," says United Nations Environment Programme (UNEP) Sustainable Lifestyles Officer Garrette Clark.
"Why not take this new year to reboot what you want out of life. Consider what is really important to you, what you really want and need. Think about experiences, being close to family and friends, and buying products that contribute to these goals and that may last longer, can be used multiple times, or enhance everyone's well-being.
"Young entrepreneurs are showing the way. Inspired by creativity and available resources, they are creating new business models to change the world."
If you don't know where to start, don't worry. UNEP's change-maker community is happy to lead the way. Read on for inspiration so that you can kick off 2020 as a more sustainable global citizen!
Think about what you're buying
Be conscious of what you buy. Be aware of how and where your purchases were produced by checking supply chains. Ask where your food is sourced if you are not sure. Speak up if you are served with unnecessary plastic cutlery when washable options may be available. Ask for paper and leave behind that plastic coffee lid!
These are small things you can do. But sometimes it can be hard to keep track. What can help you with this is the app Evocco, founded by Young Champion Hugh Weldon. The app aims to educate the user on the environmental impact of their food purchases. Take a photo of your food shopping receipt to receive instant information on the environmental impact of your purchases.
Specifically be aware of fast fashion—go slow
The fashion industry produces 20 per cent of global wastewater and 10 per cent of global carbon emissions. This is more than all international flights and maritime shipping combined. Every second, the equivalent of one garbage truck of textiles is landfilled or burned. If nothing changes, by 2050 the fashion industry will use up a quarter of the world's carbon budget.
Luckily, there are alternatives. Consider an option like the 100 per cent sustainable clothing line Green Hug, founded by young change-maker Jorge Eduardo Lomeli Carrillo. He makes clothes out of garbage, consisting of 50 per cent PET bottles and 50 per cent recycled clothing. Compared to conventional clothing, the environmental impact is reduced by up to 90 per cent.
Treat yourself to plastic-free personal care products
Each year, an estimated 8 million tonnes of plastic end up in the ocean. Did you know that personal care products are a major source of microplastics? They get washed away into the oceans through our bathrooms. Look for plastic-free facewash, day cream, makeup, deodorant, shampoo and other care products in 2020.
There are many eco-friendly sustainable alternatives to the traditional plastic-polluted products. Batoul El Hakim, finalist for Young Champions in 2018, founded Savvy Element. Her company aims to design safe and green chemical solutions while reducing the use of harsh substances that contribute to emissions and hazardous waste. The active ingredients and materials are native to their country of origin, extracted and produced using eco-friendly, low-energy and with low-water intensive techniques.
A good example of plastic-free personal care products are LastSwab's q-tips, which are incredible alternative to cotton swabs. LastSwab is created to decrease the pollution of our planet and reduce our carbon footprint. It's very easy to use LastSwab's q-tips since you only need to wash them with soap and water after every usage. Additionally, they come in two various models and you can use them about 1000 times.
Carry your own reusable bag if you go shopping
Many shops and supermarkets provide their customers with single-use plastic bags to carry their goods. However, these bags end up harming the environment as a major source of plastic pollution. By bringing your own bag, you decrease your plastic waste.
Young change-maker Alhaji Siraji Bah found his own way to fight single-use plastic bags. He creates eco-friendly biodegradable paper bags from banana leaves to tackle plastic pollution. He has produced more than 250,000 eco-friendly bags already.
Bring utencils when you travel
Whether you eat out or order in, you will probably get disposable utensils with your meal. Around the world, one million plastic drinking bottles are purchased every minute, while up to 5 trillion single-use plastic bags are used worldwide every year.
An easy solution is to turn down plastic cutlery and plastic bottles when eating out or travelling. Pack your own utensils kit and water bottle when you travel or know you will be eating and drinking on the road.
You can also ask for sustainable alternatives at restaurants. Ipsita Gupta, regional finalist for Asia and the Pacific, started Project Patradya which provides 100 per cent bio degradable bio-edible bowls and cutlery.
Plastic pollution on course to double by 2030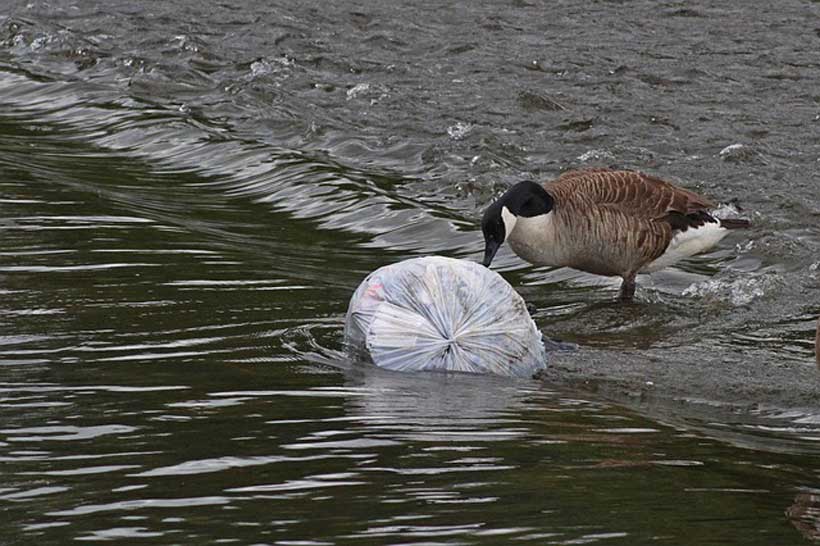 Plastic pollution in oceans and other bodies of water continues to grow sharply and could more than double by 2030, according to an assessment released on Thursday by the UN Environment Programme (UNEP).
The report highlights dire consequences for health, the economy, biodiversity and the climate. It also says a drastic reduction in unnecessary, avoidable and problematic plastic, is crucial to addressing the global pollution crisis overall.
To help reduce plastic waste at the needed scale, it proposes an accelerated transition from fossil fuels to renewable energies, the removal of subsidies and a shift towards more circular approaches towards reduction.
Titled From Pollution to Solution: a global assessment of marine litter and plastic pollution, the report shows that there is a growing threat, across all ecosystems, from source to sea.
Solutions to hand
But it also shows that there is the know-how to reverse the mounting crisis, provided the political will is there, and urgent action is taken.
The document is being released 10 days ahead of the start of the crucial UN Climate Conference, COP26, stressing that plastics are a climate problem as well.
For example, in 2015, greenhouse gas emissions from plastics were 1.7 gigatonnes of CO2 equivalent; by 2050, they're projected to increase to approximately 6.5 gigatonnes. That number represents 15 per cent of the whole global carbon budget – the​​ amount of greenhouse gas that can be emitted, while still keeping warming within the Paris Agreement goals.
Recycling not enough
Addressing solutions to the problem, the authors pour cold water on the chances of recycling our way out of the plastic pollution crisis.
They also warn against damaging alternatives, such as bio-based or biodegradable plastics, which currently pose a threat similar to conventional plastics.
The report looks at critical market failures, such as the low price of virgin fossil fuel feedstocks (any renewable biological material that can be used directly as a fuel) compared to recycled materials, disjointed efforts in informal and formal plastic waste management, and the lack of consensus on global solutions.
Instead, the assessment calls for the immediate reduction in plastic production and consumption, and encourages a transformation across the whole value chain.
It also asks for investments in far more robust and effective monitoring systems to identify the sources, scale and fate of plastic. Ultimately, a shift to circular approaches and more alternatives are necessary.
Making the case for change
For the Executive Director of UNEP, Inger Andersen, this assessment "provides the strongest scientific argument to date for the urgency to act, and for collective action to protect and restore our oceans, from source to sea."
She said that a major concern is what happens with breakdown products, such as microplastics and chemical additives, which are known to be toxic and hazardous to human and wildlife health and ecosystems.
"The speed at which ocean plastic pollution is capturing public attention is encouraging. It is vital that we use this momentum to focus on the opportunities for a clean, healthy and resilient ocean", Ms. Andersen argued.
Growing problem
Currently, plastic accounts for 85 per cent of all marine litter.
By 2040, it will nearly triple, adding 23-37 million metric tons of waste into the ocean per year. This means about 50kg of plastic per meter of coastline.
Because of this, all marine life, from plankton and shellfish; to birds, turtles and mammals; faces the grave risk of toxification, behavioral disorder, starvation and suffocation.
The human body is similarly vulnerable. Plastics are ingested through seafood, drinks and even common salt. They also penetrate the skin and are inhaled when suspended in the air.
In water sources, this type of pollution can cause hormonal changes, developmental disorders, reproductive abnormalities and even cancer.
Economy
According to the report, there are also significant consequences for the global economy.
Globally, when accounting for impacts on tourism, fisheries and aquaculture, together with the price of projects such as clean-ups, the costs were estimated to be six to 19 billion dollars per year, during 2018.
By 2040, there could be a $100 billion annual financial risk for businesses if governments require them to cover waste management costs. It can also lead to a rise in illegal domestic and international waste disposal.
The report will inform discussions at the UN Environment Assembly in 2022, where countries will come together to decide a way forward for more global cooperation.
UNESCO 'eDNA' initiative to 'unlock' knowledge for biodiversity protection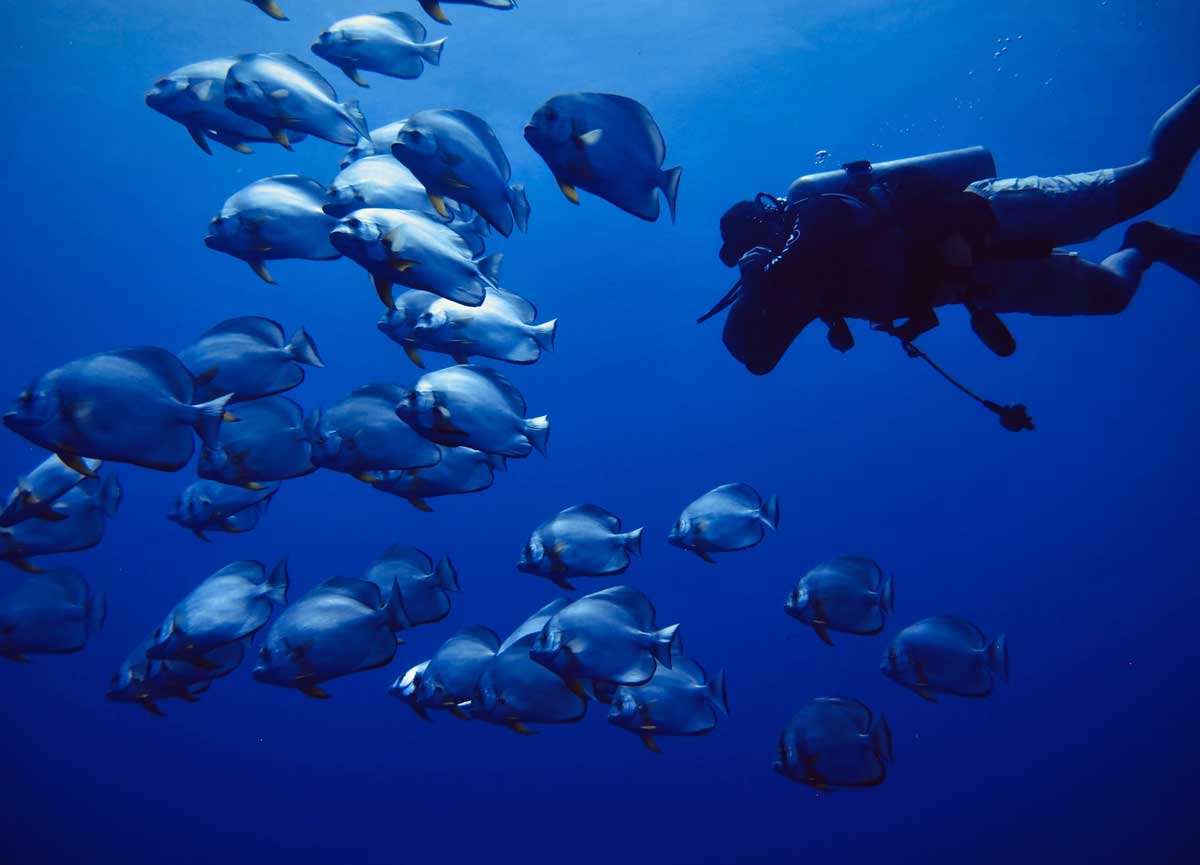 To understand the richness of biodiversity across World Heritage marine sites, the UN scientific organization launched on Monday a project to protect and preserve biodiversity, based on the study of environmental DNA – cellular material released from living things into their surroundings.
Launching the new programme, the UN Educational, Scientific and Cultural Organization (UNESCO) said that scientists and local residents would take samples of genetic material from fish waste, mucous membranes or cells, eDNA, to monitor species.
"Marine World Heritage sites play a critical role in protecting marine ecosystems of exceptional universal value and provide opportunities for the public to appreciate and preserve marine environments", reminded UNESCO Assistant Director-General for Culture, Ernesto Ottone Ramírez.
Species under threat
UNESCO said that the two-year initiative would help measure the vulnerability of marine biodiversity to climate change and its impact on the distribution and migration patterns of marine life across World Heritage sites.
The eDNA project, which involves collecting and analyzing samples from the environment – such as soil, water and air – rather than an individual organism, will also better monitor and protect endangered species included in the International Union for Conservation of Nature (IUCN) Red List. 
"Climate change is affecting the behaviour and distribution of underwater life and we must understand what is happening so we can adapt our conservation efforts to evolving conditions", explained the UNESCO official.
Beneath the waves
UNESCO's marine World Heritage sites are recognized for their unique biodiversity, outstanding ecosystems, or for representing major stages in Earth's history.
In the context of the UN Decade of Ocean Science for Sustainable Development (2021-2030), the project was launched to contribute to the understanding of global trends and knowledge to preserve marine ecosystems.
Since 1981, when Australia's Great Barrier Reef was inscribed at UNESCO's first marine site, a global network of 50 others are now included as "beacons of hope for healing the ocean", according to the UN agency.
Guided by expert support, the eDNA project will engage local citizens to gather material, so samples such as particles gathered through water filtering, can be genetically sequenced in specialized laboratories, without having to disturb animals themselves.  
Implemented by UNESCO's Intergovernmental Oceanographic Commission (IOC) and World Heritage Centre, IOC chief Vladimir Ryabinin described the project as "a step toward the Ocean Decade's vision of unlocking the knowledge we need to create the ocean we want by 2030".
Breaking new ground
The use of eDNA in ocean monitoring and data collection is still in its infancy and standard protocols for sampling and data management will be streamlined in UNESCO's groundbreaking eDNA project. 
For the first time, it will apply a consistent methodology across multiple marine protected areas simultaneously, helping establish global standards, data monitoring and management practices while making that information available to the public.
All data will be processed and published by the Ocean Biodiversity Information System (OBIS), the world's largest open-access data system on the distribution and diversity of marine species, maintained and collectively supported by a worldwide network of scientists, data managers and users. 
Sustainability goal
The project works to advance the world's understanding of life in the ocean, and establish conservation and management policies indicators.  
"eDNA sampling can provide an innovative, affordable, and long-awaited capacity to better understand the ocean ecosystems, their composition and behaviour, and to start managing ocean resources more sustainably", said Mr. Ryabinin.
Act Urgently to Preserve Biodiversity for Sustainable Future — ADB President
The world must act urgently to preserve ecosystems and biodiversity for the sake of a sustainable future and prosperity, Asian Development Bank (ADB) President Masatsugu Asakawa said at the opening of a global event on biodiversity here today.
"The world is at a critical turning point. If we are to reverse the alarming decline in nature, we must respond with urgency and coordinated action," Mr. Asakawa said. "These efforts are needed to ensure the survival of our ecosystems, and for the sake of our shared future and prosperity."
Asia and the Pacific is one of the most biodiverse regions in the world—home to 17 of the 36 global biodiversity hotspots, 7 of the 17 megadiverse countries, and the greatest marine diversity. "If restored and well-managed, these natural capital assets can help to mitigate global climate change and biodiversity loss in a cost-effective and impactful manner," Mr. Asakawa said in his opening remarks at the Ecological Civilization Forum at the 15th Conference of Parties to the Convention on Biological Diversity (COP15) in Kunming, the People's Republic of China (PRC).
The event is cohosted by the PRC's Ministry of Ecology and Environment, Yunnan provincial government, and the Secretariat of the Convention on Biological Diversity. Participants include high-level representatives from governments, the private sector, development agencies including ADB, and civil society.
ADB is committed to helping accelerate and increase nature-positive investments in Asia and the Pacific. "Through our ADB Nature-Positive Investment Roadmap, we are working with partners to scale up finance, develop knowledge of natural capital, and generate financially sustainable projects that deliver on biodiversity and healthy ecosystems," Mr. Asakawa said.
At COP15, ADB is launching a new publication, Greening Development in the People's Republic of China, which outlines how ADB and the PRC have successfully partnered to promote green development and ecological restoration in a way that complements economic and social priorities.
In partnership with the Chinese Academy of Science and Stanford University, ADB is sharing progress on its new Natural Capital Lab due for launch in 2022. This will be a digital platform for sharing methods for valuing biodiversity and ecosystems, and for building knowledge, capacities, and alliances across the region.
In addition, ADB with partners will be launching the Regional Flyway Initiative that will conserve ecosystem services that support people and critical habitats for more than 50 million migratory waterbirds.