UNICEF reports three-fold rise in verified attacks on children since 2010
Conflicts around the world are lasting longer and claiming more young lives, UNICEF Executive Director Henrietta Fore said on Monday, as the agency reported that over this 'deadly decade', there has been a three-fold rise in verified attacks on children since 2010 – an average of 45 violations a day.
"Attacks on children continue unabated as warring parties flout one of the most basic rules of war: the protection of children," said Ms. Fore, noting that the number of countries experiencing conflict is the highest it has been since the adoption of the Convention on the Rights of the Child in 1989.
With dozens of violent armed conflicts killing and maiming children and forcing them from their homes, the UNICEF chief said that for every act of violence against children that creates headlines and cries of outrage, "there are many more that go unreported."
In 2018, the UN verified more than 24,000 grave violations against children, including killing, maiming, sexual violence, abductions, denial of humanitarian access, child recruitment and attacks on schools and hospitals. While monitoring and reporting efforts have been strengthened, this number is more than two-and-a-half times higher than that recorded in 2010.
Attacks and violence against children have not let up throughout 2019. During the first half of the year, the UN has verified over 10,000 such violations against children – although actual numbers are likely to be much higher – in conflict zones from northern Syria to eastern Democratica Republic of the Congo (DRC), and eastern Ukraine.
As 2019 draws to a close with "no letup in the attacks and violence against children in sight," UNICEF is calling on all warring parties to abide by their obligations under international law and to immediately end violations against children and the targeting of civilian infrastructure, including schools, hospitals and water infrastructure.
The UN Children's Fund is also calling on States with influence over parties to conflict to use that influence to protect children.
Migrants left stranded and without assistance by COVID-19 lockdowns
Travel restrictions during the COVID pandemic have been particularly hard on refugees and migrants who move out of necessity, stranding millions from home, the UN migration agency, IOM, said on Thursday.
According to the International Organization for Migration (IOM), the first year of the pandemic saw more than 111,000 travel restrictions and border closures around the world at their peak in December.
These measures "have thwarted many people's ability to pursue migration as a tool to escape conflict, economic collapse, environmental disaster and other crises", IOM maintained.
In mid-July, nearly three million people were stranded, sometimes without access to consular assistance, nor the means to meet their basic needs.
In Panama, the UN agency said that thousands were cut off in the jungle while attempting to travel north to the United States; in Lebanon, migrant workers were affected significantly by the August 2020 explosion in Beirut and the subsequent surge of COVID-19 cases.
Business as usual
Border closures also prevented displaced people from seeking refuge, IOM maintained, but not business travellers, who "have continued to move fairly freely", including through agreed 'green lanes', such as the one between Singapore and Malaysia.
By contrast, those who moved out of necessity – such as migrant workers and refugees – have had to absorb expensive quarantine and self-isolation costs, IOM said, noting that in the first half of 2020, asylum applications fell by one-third, compared to the same period a year earlier.
Unequal restrictions
As the COVID crisis continues, this distinction between those who can move and those who cannot, will likely become even more pronounced, IOM said, "between those with the resources and opportunities to move freely, and those whose movement is severely restricted by COVID-19-related or pre-existing travel and visa restrictions and limited resources".
This inequality is even more likely if travel is allowed for anyone who has been vaccinated or tested negative for COVID-19, or for those with access to digital health records – an impossibility for many migrants.
Health risks
Frontier lockdowns also reduced options for those living in overcrowded camps with high coronavirus infection rates in Bangladesh and Greece, IOM's report indicated.
In South America, meanwhile, many displaced Venezuelans in Colombia, Peru, Chile, Ecuador and Brazil, lost their livelihoods and some have sought to return home – including by enlisting the services of smugglers.
Clashes in Myanmar displace thousands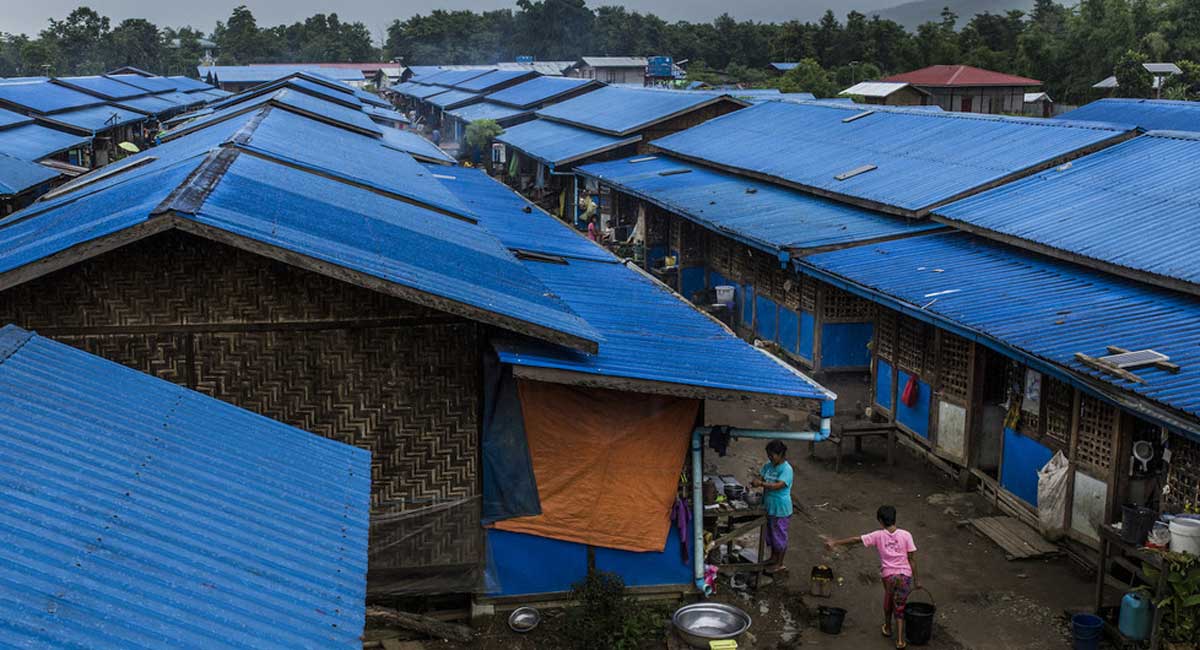 Clashes between the Myanmar security forces and regional armed groups, which have involved military airstrikes, have reportedly claimed the lives of at least 17 civilians in several parts of the country, the UN Office for Coordination of Humanitarian Affairs (OCHA) said on Wednesday.
In a humanitarian update, issued on Tuesday, the Office also noted unconfirmed reports of several thousand people fleeing the hostilities in recent days in the Kayin and Bago regions, in central Myanmar, near Yangon. A medical clinic is also reported to have been damaged in gunfire in a township in Mon state, also in the central part of the country.
An estimated 7,100 civilians are now internally displaced in the two regions due to indiscriminative attacks by the Myanmar Armed Forces (MAF), and the Karen National Union (KNU), as well as growing insecurity since December 2020, according to the update.
"UNHCR [the UN refugee agency] is engaging with partners on the ground to explore possibilities to deliver critical humanitarian assistance and support to the displaced. A further 3,848 people in Kayin State have crossed the border to Thailand since 27 March, due to fears of further hostilities in the area", OCHA said.
The majority are believed to have returned to Myanmar with Thai authorities saying that 1,167 remain in Thailand as of 1 April, the Office added.
'Deep concern' over continued impact of the crisis
Meanwhile, the wider political crisis across Myanmar continues to hit life hard across the southeast Asian nation.
The UN human rights office (OHCHR) has received credible reports of at least 568 women, children and men, have been killed since the military coup on 1 February, though there are fears that total is likely much higher.
Concerns have also been raised over the impact on Myanmar's health and education systems, as well as the long-term effects of the violence on children.
The longer the current situation of widespread violence continuous, the more it will contribute to a continuous state of distress and toxic stress for children, which can have a lifelong impact on their mental and physical health, senior UN officials warned last week.
Since 1 February, there have been at least 28 attacks against hospitals and health personnel and seven attacks against schools and school personnel, UN spokesperson Stéphane Dujarric told reporters at a press briefing at the UN Headquarters, in New York, on Tuesday.
"Attacks against health volunteers and against ambulances are preventing life-saving help from reaching civilians wounded by security forces," he added.
UN agencies have also reported reported sharp increases in food and fuel prices in many parts of Myanmar, on the back of supply chain and market disruptions. Humanitarians worry that if the price trends continue, they will "severely undermine" the ability of the poorest and most vulnerable to put enough food on the family table.
Guterres: Use COVID-19 recovery to make inclusion 'a reality'
Building a more inclusive and accessible world that recognizes the contributions of all people, including persons with disabilities must be a "key goal" as countries work to recover from COVID-19 pandemic, United Nations Secretary-General said on Friday, commemorating World Autism Awareness Day.
"The crisis has created new obstacles and challenges. But efforts to reignite the global economy offer an opportunity to reimagine the workplace to make diversity, inclusion and equity a reality", Secretary-General António Guterres said.
"Recovery is also a chance to rethink our systems of education and training to ensure that persons with autism are afforded opportunities for realizing their potential", he added.
Breaking 'old habits' crucial
Mr. Guterres also emphasized that breaking old habits will be crucial. For persons with autism, he added, access to decent work on an equal basis requires creating an enabling environment, along with reasonable accommodations.
"To truly leave no one behind in pursuit of the 2030 Agenda on Sustainable Development, we must realize the rights of all persons with disabilities, including persons with autism, ensuring their full participation in social, cultural and economic life", he said.
"Let us work together with all persons with disabilities and their representative organizations to find innovative solutions to recover better and build a better world for all."
Inequalities worsened by COVID-19
According to the UN World Health Organization (WHO), one in 160 children has an autism spectrum disorder (ASD). ASD begins in childhood and tends to persist into adolescence and adulthood.
Intervention during early childhood is important to promote the optimal development and well-being of persons with an ASD, WHO added, emphasizing the importance of monitoring of child development as part of routine maternal and child health care.
While some individuals with ASD are able to live independently, others have severe disabilities and require life-long care and support. Persons with an ASD are also often subject to stigma and discrimination, including unjust deprivation of health care, education, protection under law, and opportunities to engage and participate in their communities.
The World Day
The World Autism Awareness Day, to be commemorated annually on 2 April, was established in December 2007 by the UN General Assembly, which affirmed that "ensuring and promoting the full realization of all human rights and fundamental freedoms for all persons with disabilities is critical to achieving internationally agreed development goals".
The General Assembly also highlighted the importance of early diagnosis and appropriate research and interventions for the growth and development of the individual, and called for efforts to raise awareness throughout society, including at the family level, regarding children with autism.