Chinese Russian military and geopolitical cooperation is flourishing – for now.
If, however, the weapons industry is anything to go by, a fraying at the edges of close ties between the two Asian powers may be on the horizon.
To be sure, Russia remains by far China's foremost arms supplier even if China has no scruples about stealing Russian military technology, much like it allegedly does in the West.
So far, Russia, with a weak economy desperately in need of the revenues of weapons sales that undergird Moscow's geopolitical heft, has been willing to look the other way.
The question is for how long.
By the same token, it's a question that also applies to various other opportunistic alliances such as relationships between Russia, Turkey and Iran that are driven by short-term interests, first and foremost a desire to institutionalize a multi-polar world in which US power would be counterbalanced by others.
These alliances, adopting pragmatic approaches, have so far worked by focussing on immediate interests while carefully managing significant differences.
Those differences, nonetheless, surface regularly. Recently, alleged Chinese intellectual property theft as well as diametrically opposed Turkish, Russian and Iranian policies towards conflicts in Syria and/or Libya that have figured prominently in media reports.
Russian state defense conglomerate Rostec this month, in a rare public display of friction that echoed long-standing US allegations of Chinese technology theft, accused China of illegally copying Russian military hardware and weapons.
"Unauthorized copying of our equipment abroad is a huge problem. There have been 500 such cases over the past 17 years. China alone has copied aircraft engines, Sukhoi planes, deck jets, air defense systems, portable air defense missiles, and analogues of the Pantsir medium-range surface-to-air systems," said Yevgeny Livadny, Rostec's chief of intellectual property projects.
Mr. Livadny appeared to be referring among other things to alleged Chinese intellectual property theft after Russia sold to China in 2015 six S-400 anti-aircraft systems and 24 Su-35 fighter jets for US$5 billion.
China is thought to have benefitted from Russian technology when it in 2017 rolled out its fifth generation Chengdu J-20 fighter that is believed to be technologically superior to Russia's SU-57E.
Similarly, China is suspected of having based its J-11 fighter jet and HQ-9 surface-to-air missiles on Russia's Su-27 fighter jets and S-300 missile systems purchased in the 1990s.
Chinese technology theft is unlikely to persuade Russia any time soon to forego the strategic advantages of its geopolitical cooperation with China.
But with China's defense industry significantly improving its technological capabilities, Russia needs to ensure that it remains crucial to the People's Republic's military development for economic reasons as well as in a bid to maintain a balance in an alliance that is based on pursuing short-term common interests while kicking potential friction points down the road.
When it comes to arms, Russia is pressuring China to engage in joint weapons development while seeking to maintain a technological edge.
Russia last week sought to press its technological advantage by announcing that its new Avangard hypersonic intercontinental glide vehicle that can fly 27 times the speed of sound had become operational.
Positioning Russia as the first country to have hypersonic weapons, the Avangard is launched atop an intercontinental ballistic missile, but unlike a regular missile warhead that follows a predictable path after separation it can make sharp manoeuvres in the atmosphere en route to target, making it much harder to intercept.
In geopolitical terms, the Avangard may give Russia a first-starter advantage but at best is yet another band aid to work around the fragility of not only the Russian Chinese alliance but also alliances like that of Turkey with Russia and with Iran.
The fragility of those alliances is evident in Turkish and Russian attempts to balance their competing interests in Syria and Libya. Turkey has criticized the ongoing Syrian-Russian assault on Idlib, the last Syrian rebel stronghold, and called for an immediate ceasefire.
Turkey and Russia are also at odds when it comes to Russian interference in Ukraine, the exploitation of natural gas reserves in the Eastern Mediterranean, the Azerbaijani-Armenian conflict in the Caucasus over Nagorno-Karabagh and they compete for influence in the Balkans and Central Asia.
In Libya, Russia supports rebel Field Marshall Khalifa Haftar while Turkey has responded positively to a request by the United Nations-recognized government headed by prime minister Fayez al-Sarraj for military assistance.
"We believe that foreign interference will hardly help," Kremlin spokesman Dmitry Peskov said in response to reports that Turkey would deploy its navy to protect the Libyan capital of Tripoli, the seat of Mr. Al Sarraj's government which has been under attack by Mr. Haftar's Russian, Egyptian, United Arab Emirates and French-backed forces for the past eight months.
Mr. Peskov conveniently ignored the presence of hundreds of Russian mercenaries and snipers that are supporting Mr. Haftar's insurgents.
To be sure, Turkey and Russia's alliances tap into long-standing anti-Western civilizationalist ideologies adopted by men like prime minister Recep Tayyip Erdogan and president Vladimir Putin who envision a Turkish and a Russian world that serve as spheres of influence.
In discussing the fragility of the Turkish Russian alliance scholars Gonul Tol and Omer Taspinar could in varying degrees have just as well as been talking about relationships between Russia and China, Russia and Iran or Turkey and Iran.
"Moscow and Ankara disagree on almost all issues of regional and strategic significance. In other words, a Eurasianist Turkey may very well be frustrated with both Washington and Brussels, but its military arrangement with Moscow does not automatically translate into harmony based on shared national interests in relations with Russia," the two scholars wrote.
Updating the USSR: A Test for Freedom
Thirty years ago, on March 17, 1991, the only all-Union referendum in the history of the USSR took place. One question was put to a vote: "Do you consider it necessary to preserve the Union of Soviet Socialist Republics as a renewed federation of equal sovereign republics, in which the rights and freedoms of a person of any nationality will be fully guaranteed?" Almost 77 percent of those who voted said "yes" to the preservation of the USSR in an updated form. The authorities of Armenia, Georgia, Latvia, Lithuania, Moldova and Estonia refused to hold the referendum on their territory. By that time, the legislative and executive bodies and institutions in these republics were already controlled by secessionist forces, which did not hide their intentions to leave the USSR.
The March 17 referendum at that time was the only convincing attempt to appeal to public opinion on the most important issue of the political life of a huge country. However, the results did not change anything — by December 8 of the same year, the leaders of Belarus, Russia and Ukraine decided to dissolve the USSR. The referendum itself became the beginning of the end of a unique state — an experiment in the vast expanses of Eurasia. By that time, the republican elites were already ready to take power and wealth into their own hands; the events of August 1991 spurred this readiness — in Turkmenistan, where almost 100 percent of the population voted to preserve the USSR, on August 22, 1991, all enterprises were placed under republican control.
All the republics of the USSR met the new year in 1992 as newly independent states. For some of them, this status was a long-awaited event, for which they had fought. Others were, according to former Prime Minister of Kyrgyzstan Apas Jumagulov, "thrown out of the union, cut off as an unnecessary part of the body." Many economic ties broke off immediately, while others collapsed gradually; the rest survived and were even strengthened. In politics, everyone was left to their own problems. Azerbaijan, Armenia, Georgia, Moldova and Tajikistan plunged into bloody political and interethnic conflicts during their first years of independence.
The path of the countries that emerged from the ruins of the USSR over the years was the road to gaining their own subjectivity in international politics. With great difficulty and despite all odds, Armenia and Moldova are coping with this task. The majority — Russia, Azerbaijan and all the countries of Central Asia — were able to solve the problem more or less successfully. Georgia and two Slavic republics — Belarus and Ukraine, were hanging in the "limbo" between external management and full-fledged statehood. The three Baltic republics quickly transferred their sovereignty to the European Union and NATO. In their independent development, they had to make, in fact, the only decision, which, moreover, was due to historical reasons and external circumstances. This decision was made and now the fate of Latvia, Lithuania and Estonia cannot be perceived outside the context of Russia-West interaction.
For the rest, the direct link between success in creating their own statehood and the scale of interaction with the West (Europe and the United States) is quite obvious. This historical fact reveals a relationship between the ability of small and medium states to ensure their sovereignty and the interests of the great powers in their neighbourhood. Such powers were Russia and the European states, united into the European Union simultaneously with the collapse of the USSR. Also, an important role was played by the United States, which always sought to limit Russian opportunities and supported the newly independent states. At the same time, an attempt to choose in favour of closer relations with the West to the detriment of Russian interests in all cases, without exception, led to a very shaky statehood and the loss of territory.
The dramatic fate of Armenia, Georgia, Moldova and Ukraine shows that the strong collective institutions of the West are capable of exerting a stabilising effect only on those states that directly became part of them.
In all other cases, no matter how complete absorption becomes possible, an orientation towards these institutions only leads to the use of small countries in a diplomatic game with bigger partners.
Therefore, the experience of the development of such major players as Azerbaijan or Uzbekistan is indicative — they were able to confidently form their own statehood, without finding themselves in a situation of choosing between conflicting poles of power. Their main resource turned out to be a rather fair demographic situation. But not only this — the population of Ukraine has also been and remains large by European standards. Kazakhstan is a success by this indicator; equal to the average European country or small Asian states.
Therefore, the ability of most of the countries of the former USSR to build relatively independent and stable statehood played no less important role. In many ways, this ability was established during the years of the Soviet Union's existence. Founded on December 30, 1922, it was not just a continuation of the Russian Empire, which had collapsed five years earlier. Its main distinguishing feature was its unique model of state administration, based on the full power of one political party. As long as the unique position of the Communist Party remained in the Soviet state, the experiment could exist. With the abolition of Article 6 of the Constitution of the USSR, its days were numbered regardless of the desire of the population or the real readiness of the elites to take full responsibility for what was happening.
The USSR model of state structure, new by historical standards, created the conditions for a rather unique experiment, within the framework of which union republics were created, none of which, except for Russia, Georgia and Armenia, had the experience of centralised state administration within the territorial boundaries that they acquired within the framework of the USSR. At least the peoples inhabiting them can boast of a significant experience of statehood as such. Thus, most of the countries of Central Asia trace their ancestry back to great empires or urban civilizations of past centuries.
The Baltic republics were always on the sidelines — their independent statehood arose during the collapse of the Russian Empire and existed as such for almost 20 years before being incorporated into the USSR in 1940. Russia has returned to its historical state of being a major European power or empire of the 19th century, with the development of a multinational and multi-faith society central to its development objectives. In fact, Russia has not lost anything really necessary for its survival in international politics.
The peculiar structure of the USSR formalised the situation in which the former outskirts of the Russian Empire ceased to be part of the Russian state, although Moscow served as the centre of the union. Russia among them was in the most ambiguous position — it did not have its own most important institutions of Soviet statehood — the party organisation and the republican State Security Committee. Russian nationalism was subjected to the most severe and consistent persecution by the Soviet authorities.
The vast majority of republics within the USSR, for the first time, received the experience of building their own state and their national elite.
The backbone of the ruling class was the Soviet and party nomenklatura, which all took power, with few exceptions, after 1991. Even in Tajikistan, where the first years of independence were overshadowed by the civil war, it was this part of society that was eventually able to establish control over the situation. In other Central Asian countries, elites formed on the basis of the state tradition established during the Soviet era, gradually supplemented by representatives of a new generation that grew professionally after the collapse of the USSR.
Thirty years is a sufficient period to assess the results of the independent development of the countries that emerged from the republics of the former USSR. Now the period of their growing up can be considered complete; ahead is an independent future. Russia is increasingly feeling independent and not particularly obligated to its neighbours. In any event, Moscow will continue to follow a moral imperative of responsibility for maintaining peace and strictly ensure that its neighbours correlate their actions with Russian security interests.
From our partner RIAC
Fighting Covid-19 pandemic: The Russian Way
With a strong structured plan and that includes President Vladimir Putin weekly meetings with regional governors and related ministry officials, Russia is indeed making headway in mobilizing first its own domestic resources in fighting and controlling the coronavirus pandemic.
Under these time-testing conditions, the Russian government also ponders on the necessity to adopt a concerted approach to the economic sectors related to public health system, making efforts to strengthen fundamental research in all health disciplines and close the pitfalls in its policy.
Arguably, Russia is really moving with innovative orientations, exploring and finding lasting solutions. Russia is far ahead, both in terms of medical tests and vaccines. Currently, it is partnering with India and South Korea in manufacturing vaccines for immunization of both foreigners and Russians.
"India and South Korea are already producing the vaccine, and many of these enterprises will reach full capacity in April. Thus, this is truly the greatest achievement of Russian science, which is widely acknowledged by the entire world," CEO of the Russian Direct Investment Fund (RDIF) Kirill Dmitriev told Russian President Vladimir Putin during an early April meeting to review developments as well as production and promotion of Russian vaccines.
In addition, he informed the president that RDIF and its partners are actively working with Russian manufacturers, it took us three months to build Sputnik Technopolis, one of the largest plants to produce the vaccine, and together with R-Pharm. Russia is setting up international production per agreements with 10 countries and 20 manufacturers, including the world's largest producers.
Beyond that, the Russian Direct Investment Fund is actively implementing a programme, of course, with a focus on vaccinating Russian citizens, but part of the vaccine produced abroad will simultaneously be delivered to foreign markets, according Dmitriev.
According to his assessment, Russia is not only one of the current leaders in the world in terms of vaccination rate, but it can provide vaccines to all people in Russia who want to be vaccinated before June using the production capacities in Russia and abroad.
"As I understood from talking to experts, our vaccine is effective against all known strains of the virus," Putin commented during the discussion, and Kirill Dmitriev smartly added that "due to the two jabs, it is better than the other vaccines as relates to mutations. We believe that our vaccine is one of the best in the world, including against new strains of COVID-19."
Reports show that Russia has produced 20.1 million doses of the Sputnik V vaccine as of March 17, while 4.3 million people, out of a population of 144 million, have received both shots of the vaccine.
According to data from Johns Hopkins University, at 225,572, the total coronavirus-related death toll places Russia third after the United States, which has reported over 553,000 deaths, and Brazil, with over 325,000.
According to the Russian Statistics Service, this April Russia has recorded over 225,000 deaths related to coronavirus since the start of the pandemic. That Russia has the third highest death toll in the world.
The Russian Direct Investment Fund (RDIF) is Russia's sovereign wealth fund established in 2011 by the Russian government to make investments in leading companies of high-growth sectors of the Russian economy. Its mandate is to co-invest alongside the world's largest institutional investors – direct investment funds, sovereign wealth funds and leading companies.
Growing US Pressure Incentive to Make China-Russia Ties More Diverse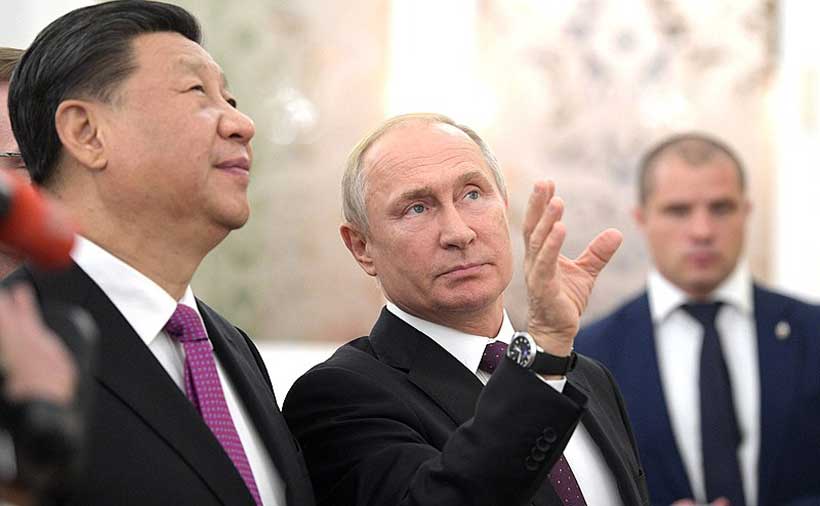 Two months after the inauguration of Present Joe Biden, with the political dust in Washington settling down, it is becoming increasingly clear that the US Democratic administration policy toward Russia and China contains more elements of continuity than elements of change. Unfortunately, this continuity is not something that they would like to observe in Moscow and Beijing.
If someone has hoped that a swift and unconditional extension of the New START agreement might trigger a renewed US-Russian dialogue on strategic stability and arms control, these hopes have gone up in smoke after the US president labeled his Russia peer as a "killer." Biden also unequivocally rejected the idea of security debates offered by President Vladimir Putin. Before the US-Chinese "2+2" meeting in Anchorage, Alaska, there could have been expectations of at least a limited détente between Washington and Beijing. But now after this very tense and not quite productive meeting, such expectations have just evaporated into thin air.
One can only guess why the Biden team opted to continue the "dual containment" approach of its predecessors toward the main US geopolitical opponents with such a relentless zeal and vigor. Maybe in the White House they decided that any shade of US flexibility would be interpreted in Moscow and in Beijing as a sign of an American weakness, and as an invitation to seek more concessions from the administration. Maybe Biden is concerned about potential criticism that a more flexible approach could generate powerful Republican reactions from neo-cons on the Hill and from a defeated, but not yet completely politically destroyed, Donald Trump. Maybe, by pursuing this tough line, the new administration intends to demonstrate to the US public and the American allies and partners abroad its unbreakable commitment to human rights and democracy promotion agenda.
In any case, with the change of guard in the White House the rules of the game on the Great Eurasian Chessboard have not changed a bit. The Biden administration, like the Trump administration before it, continues to push the world toward a new bipolarity. It should not be surprising, therefore, that Russian Foreign Minister Sergey Lavrov rushed to Guilin to meet his Chinese counterpart Wang Yi, marking his first visit to the country since the coronavirus outbreak.
The formal goal of the trip is to discuss the 20-year anniversary of the Treaty of Good-Neighborliness and Friendly Cooperation between the People's Republic of China and the Russian Federation signed in July of 2001. The treaty has indeed been a remarkable accomplishment of the two sides. But the ongoing conversation between Lavrov and Wang is not limited to expressions of mutual admiration; it focuses mostly on how Moscow and Beijing could work hand in hand with each other responding to the US assertiveness. There are many ways to do that—ranging from solidarity voting in international organizations to coordinating national information strategies, to working with like-minded countries across the globe and to exchanging best practices in preventing the US interference into Russia's and China's domestic affairs respectively.
Neither in Moscow nor in Beijing do they harbor illusions about opportunities to fix their problems with Washington anytime soon; the two foreign ministers are going to hammer out a new, enhanced model of the bilateral strategic partnership for years to come. Though a common interest in responding to the growing US pressure is definitely not the only driver for closer economic, political and military ties between Russia and China, the US factor is an important additional incentive for making these ties more diverse and intensive.
After China, Foreign Minister Lavrov is making an extended stop in South Korea. Here, again, the Russian minister can find plenty of issues to discuss with his hosts that have little or nothing to do with the US. After all, we are approaching 30 years since diplomatic relations between Moscow and Seoul were established—a remarkable jubilee and a nice opportunity to reflect on the next 30 years!
However, under the circumstances, Lavrov will undoubtedly try to test the limits of the ROK's "strategic autonomy" from Washington. True, ROK is a US ally and it regards America as its prime security provider. Still, Seoul has special relations with Beijing and Moscow; these special relations are ones the ROK is not ready to give up. The ROK-China economic relations remain critical for the South Korea prosperity. The South Korean approach to North Korea is not a carbon copy of the US or Japanese positions. It is clear that the South Korean leadership is not ready to automatically subscribe to any new anti-Russian or anti-Chinese policies from Washington.
At the end of the day, the outcome of the Great Game on the Global Chessboard will depend on whether there are regional players bold enough to question the archaic bipolar thinking emanating from Washington today. The outcome of Lavrov's trip to Seoul might be an interesting case to watch.
From our partner RIAC