On December 20, 2019, US President Donald Trump signed the National Defense Authorization Act, creating the newest military service since the US Air Force was established in 1947. Although the United States Space Force is intended to bolster this country's overall power in an expanding geostrategic competition with Russia – the usual or orthodox sort of national response amidst our structural global anarchy – its plausible effects will likely be destabilizing. At its core, the critical US policy error committed here is both conceptual and historic; that is, it consists of failing to recognize that literally millennia of Realpolitik-generated competitions have ended in more-or-less catastrophic forms of war. In essence, therefore, by creating Space Force, Donald Trump will merely have passed America's most basic military posture "from one untenable position to another…." Apropos of this flawed transmittal, this article by Professor Louis Rene Beres will further clarify certain assorted details and informed expectations.
"What is the good of passing from one untenable position to another, of seeking justification always on the same plane?"-Samuel Beckett, Endgame
Significantly, US President Donald Trump's newly announced "Space Force" represents an ironic reaffirmation of past policy failures. More precisely, when understood as a witting extrapolation from core Trump policies of "America First," the operational role of this newest US armed service will be to extend Realpolitik[1] or power politics "vertically," into space. Prima facie, at best, the predictable result will be the same as it has always been here on earth. At worst, this result could be utterly baneful and uniquely catastrophic.
Space Force will be founded upon certain conspicuous failures of the past. It will project entire centuries of intellectually vacant policy expectations into still another dimension. Accordingly, Americans should now be inquiring: What conceivable "good" can be expected from such a persistently injurious military posture?
The answer is plain. Instead of "America First" or any of its prematurely celebrated derivatives, a rational and well-intentioned American president should reject all zero-sum derivatives or corollaries of "classical" belligerent nationalism. Any American policy that intentionally seeks to maximize its own national well-being at the expense of others will be acting against certain peremptory norms of international law[2] and against its own dominant security interests. By definition, any such policy – especially in the midst of "Cold War II" [3]– could prove incoherent, indefensible or even altogether irrational.
Nothing could be more apparent to anyone who bothers to take the trouble to think logically and historically about such serious matters.[4] In candor, the requisite analyses are by no means dense or esoteric. Indeed, on such long-documented matters of policy, history is unambiguous.
To clarify further, the world is a system. Always, everything is interrelated. Inter alia, no American foreign policy success can ever be achieved at the sacrificial expense of other countries and peoples. And absolutely no such presumptive success is sustainable if the rest of the planet must thereby expect a consistently more violent and explosive future.[5]
Here, on earth, the basic story is always the same; it is always about certain inane and self-destructive inter-state competitions.
Here, on this irremediably interdependent planet, the national tribe, in one belligerent manifestation or another, has long undermined all needed opportunities for creating a durable and authentic world order.
Still, it is exactly this latest expression of corrosive national tribalism that is championed by Mr. Trump's Space Force. When all cumulative policy impacts are taken into careful account, this "soulless"[6] derivative of America First will inevitably emerge as anything but patriotic. What else should we reasonably conclude about a planned military posture that injures this country and various others abjectly, and at the same time?[7]
Though counter-intuitive, Space Force represents a US security posture that is badly misconceived and prospectively lethal. Left unchallenged, it will further exacerbate the deliberate Presidential choice of endless belligerence as a favored medium of American military well-being. What is required, instead, is the readily decipherable opposite of Space Force. What is needed, immediately, is a markedly broadened US awareness of human and societal interconnectedness.
Always, history is instructive. From the 1648 Peace of Westphalia to the present fragmenting moment, world politics has been shaped by a continuously shifting balance of power and by variously relentless correlates of war, terror and genocide.[8] Ideally, of course, hope should continue to exist. To be sure, there is no rational alternative. But now it should sing much more softly, unobtrusively, in an aptly prudent undertone.
For Americans increasingly endangered by seat-of-the-pants Trump foreign policies, however, more will be required than sotto voce modulations. Merely to survive on this imperiled planet, all of us, together, will have to rediscover an individual human life, one consciously detached from ritualistic patterns of conformance, mindless entertainments, shallow optimism, or any other disingenuously contrived expressions of some retrospectively imagined tribal happiness. At a minimum, such survival will demand a prompt and full-scale retreat from what Donald Trump has termed "America First" and from all of its rapidly dissembling correlates. In this regard, Trump's Space Force is the foreseeable result of a much deeper societal pathology, a know-nothing American populism that drives out intellect and reason in favor of deliberate mystifications and a collective self-delusion.
Jefferson and America's other Founding Fathers had already understood: There is always a necessary and respectable place for serious erudition. Learning from history, Americans may yet learn something from "America First" that is useful to opposing any actual iterations of a planned Space Force. They may learn, even during this national declension Time of Trump, that a ubiquitous mortality is far more consequential than any glittering administration promises of "supremacy," "advantage" or "victory."[9]
In The Decline of the West, first published during World War I, Oswald Spengler asked: "Can a desperate faith in knowledge free us from the nightmare of the grand questions?" Assuredly, this remains a vital query, but one that will never be adequately raised in our universities, on Wall Street or anywhere in the Trump White House. Still, we may learn something productive about these indispensable "grand questions" by more closely studying American roles and responsibilities in a changing world politics.
At that point we might finally come to understand that the most suffocating insecurities of life on earth can never be undone by further militarizing space and abrogating pertinent international treaties.
In the end, even in American foreign policy decision-making, truth is exculpatory. In what amounts to a uniquely promising paradox, Space Force can help illuminate a blatant lie that may still help us see the underlying truth. This peremptory truth is not really mysterious or unfathomable. Americans require, after all, a substantially wider consciousness of unity and relatedness between individual human beings and (correspondingly) between adversarial nation-states.
There is no more urgent requirement.
None.
Though seemingly oriented toward greater American power and security, building an American Space Force would merely propel this country's military strategy from one untenable posture of belligerent nationalism to another. What the proponents of Space Force ignore, inter alia, is that all national security options should be examined from the standpoint of their cumulative impact. Accordingly, if the credible effect of this new America First policy initiative will be to spawn various reciprocal postures of belligerent nationalism among principal foes (e.g., Russia and potentially China) the net effect will prove sorely and comprehensively negative.[10]
Far better for President Trump to consider the relevant insight of Pierre Teilhard de Chardin offered in his masterwork, The Phenomenon of Man: "No element can move and grow except with and by all the others with itself." While not conceived with any particular reference to global chaos[11] or national military strategies, this elucidating fragment of the French Jesuit philosopher's wisdom applies here with substantial purpose and an altogether exquisite perfection. Summing up, Space Force, in all its apparent detachment from historical experience, represents a move in the wrong direction, a determinative step "forward" into another dimension of prospective international conflict, but a consequentially retrograde step nonetheless.

---
[1] See, by this author, Louis René Beres, Reason and Realpolitik: US Foreign Policy and World Order, Lexington Books, 1984; and Louis René Beres, Mimicking Sisyphus: America's Countervailing Nuclear Strategy, Lexington Books, 1983. Regarding philosophical foundations of Realpoliitk: "Right is the interest of the stronger," says Thrasymachus in Bk. I, Sec. 338 of Plato, THE REPUBLIC (B. Jowett tr., 1875). "Justice is a contract neither to do nor to suffer wrong," says Glaucon, id., Bk. II, Sec. 359. See also, Philus in Bk III, Sec. 5 of Cicero, DE REPUBLICA.
[2] According to Article 53 of the Vienna Convention on the Law of Treaties: "…a peremptory norm of general international law is a norm accepted and recognized by the international community of states as a whole as a norm from which no derogation is permitted and which can be modified only by a subsequent norm of general international law having the same character." See: Vienna Convention on the Law of Treaties, Done at Vienna, May 23, 1969. Entered into force, Jan. 27, 1980. U.N. Doc. A/CONF. 39/27 at 289 (1969), 1155 U.N.T.S. 331, reprinted in 8 I.L.M. 679 (1969).
[3] In expressly political science terms, positing the influence of "Cold War II" means expecting that the world system is becoming increasingly bipolar. For early writings, by this author, on the global security implications of just such an expanding bipolarity, see: Louis René Beres, "Bipolarity, Multipolarity, and the Reliability of Alliance Commitments," Western Political Quarterly, Vol. 25, No.4., December 1972, pp. 702-710; Louis René Beres, "Bipolarity, Multipolarity, and the Tragedy of the Commons," Western Political Quarterly, Vol. 26, No.4., December 1973, pp, 649-658; and Louis René Beres, "Guerillas, Terrorists, and Polarity: New Structural Models of World Politics," Western Political Quarterly, Vol. 27, No.4., December 1974, pp. 624-636.
[4] But one should be reminded here of Bertrand Russell's trenchant observation in Principles of Social Reconstruction (1916): "Men fear thought more than they fear anything else on earth – more than ruin, more even than death."
[5] To the extent that any such American foreign policy violates international law, it would also represent a corollary violation of US law. In the sober words of Mr. Justice Gray, delivering the judgment of the US Supreme Court in Paquete Habana (1900): "International law is part of our law, and must be ascertained and administered by the courts of justice of appropriate jurisdiction…." (175 U.S. 677(1900)) See also: Opinion in Tel-Oren vs. Libyan Arab Republic (726 F. 2d 774 (1984)).The specific incorporation of treaty law into US municipal law is most expressly codified at Art. 6 of the US Constitution, the so-called "Supremacy Clause."
[6] Both Sigmund Freud and Carl Jung thought of "soul" (in German, Seele) as the intangible essence of a human being. Neither Freud nor Jung ever provided any precise definition of the term, but it was not intended by either in some ordinary religious sense. For both, it was a still-recognizable and critical seat of both mind and passions in this life. Interesting, too, in the present context, is that Freud explained his already-predicted decline of America by various express references to "soul." Freud was plainly disgusted by any civilization so apparently unmoved by considerations of true "consciousness" (e.g., awareness of intellect, literature and history), and even thought that the crude American commitment to perpetually shallow optimism and material accomplishment at any cost would occasion sweeping psychological misery.
[7] From the standpoint of classical political and legal philosophy, such a national policy would be the diametric opposite of the statement by Emmerich de Vattel in The Law of Nations (1758): "The first general law which is to be found in the very end of the society of Nations is that each Nation should contribute as far as it can to the happiness and advancement of other Nations."
[8] International law remains a "vigilante" system, or "Westphalian." This latter reference is to the Peace of Westphalia (1648), which concluded the Thirty Years War, and created the now still-existing decentralized, or self-help, state system. See: Treaty of Peace of Munster, Oct. 1648, 1 Consol. T.S. 271; and Treaty of Peace of Osnabruck, Oct. 1648, 1., Consol. T.S. 119, Together, these two treaties comprise the Peace of Westphalia.
[9] See by this author, at Oxford University Press: https://blog.oup.com/2016/04/war-political-victories/
[10] Included in this assessment must be the expanding risks of US Presidential nuclear decision-making. By this writer, see Louis René Beres, The Bulletin of the Atomic Scientists https://thebulletin.onuclear rg/2016/08/what-if-you-dont-trust-the-judgment-of-the-president-whose-finger-is-over-the-nuclear-button/
[11] Although composed in the seventeenth century, Thomas Hobbes' Leviathan still offers an illuminating vision of chaos in world politics. Says the English philosopher in Chapter XIII, "Of the Natural Condition of Mankind, as concerning their Felicity, and Misery:" During chaos, a condition which Hobbes identifies as a "time of War," it is a time "…where every man is Enemy to every man… and where the life of man is solitary, poor, nasty, brutish, and short." At the time of writing, Hobbes believed that the condition of "nature" in world politics was less chaotic than that same condition existing among individual human beings -because of what he called the "dreadful equality" of individual men in nature being able to kill others – but this once-relevant differentiation has effectively disappeared with the spread of nuclear weapons.
Does NATO respond positively to the Turkish supererogation?
Turkey is once again turning to the West, while over the past two years, it had been distancing from the West and trying to collaborate with Russia due the success of the Astana peace process on the Syrian conflict.
Damascus's strategic patience is over because Ankara has failed to fulfill its commitments regarding retaking the areas captured by terrorists backed by Turkey. The Syrian army's widespread advances over the last two weeks in areas occupied by terrorist forces in the northwest have led to Ankara's reaction and increased tensions between Syria and Turkey. Along with wresting control over the strategic Damascus-Aleppo highway, the Syrian army carried out successful operations in recapturing 1500 km2 of Syrian territory and about 100 towns and villages in west and south Aleppo, especially key towns of Khan Tuman and Saraqib. Following the Syrian army's operations, the Turkish government has sent thousands of troops and military equipment to the outskirts of Idlib to prevent the continued advance of the Syrian forces.
Turkey's moves were due to greenlight by the U.S., NATO, and the EU, which have so far not been in Ankara's favor; rather they have resulted in massive casualties and the loss of six military bases in Syria's territory.
Recently, Turkish Defense Minister Hulusi Akar called on the North Atlantic Treaty Organization to support the Turkish military in order to halt the Syrian army's offensive against Idlib, the stronghold of the latest Turkish-backed terrorist elements.
Obviously, the move by Turkey has broken the commitments to the Sochi agreement and the Astana process, with the aim of holding its place in NATO. This is a wish that seems unlikely to come true, given the chaotic situation of NATO and the West's distrust of Turkey.
Accordingly, it is certain that Idlib and its outskirts will soon be completely liberated because of the high motivation and ability of the Syrian army. The liberation will definitely thwart all hostile policies that Turkey has adopted in Syria for many years and will bring heavy defeat for Ankara.
The developments in Syria in recent days shows that Turkey is no longer trustworthy as it has explicitly violated Syria's sovereignty as an independent state. There have been some accords on Syria, such as the Sochi agreement, regarding the establishment of a safe zone in Idlib, while Turkey has not considered the slightest value for the agreements.
From our partner Tehran Times
Lithuania: To serve or not to serve in the army
It is well known that in 2015 Lithuanian authorities reintroduced compulsory military service due to the potential threat caused by the Russian Federation.
It should be said, that young Lithuanians do not appreciate the idea and try to avoid the service in every possible way. They even are not afraid of penalties and imprisonment.
In order to force them to serve Lithuanian authorities are inventing new "tools" to make the process of avoidance the conscription harder.
From the beginning of 2015 all Lithuanian men aged 19-26 had to perform compulsory military service in the Lithuanian Armed Forces for a period of 9 months if fate decided.
The matter is the way of choosing the men who will serve is more than surprising. They say that 2 percent of men are randomly selected to complete vacancies in the army within the year. The lists of military conscripts then are published on the Internet. But "randomly" could also mean "nobody knows how they are selected."
At the beginning of this year authorities lowered the age range at which men are called up for mandatory military service to 18-23 years and banned volunteer soldiers from holding seats in the parliament and municipal councils.
Defence Minister Raimundas Karoblis said that the aim of lowering the conscription age is to ensure that conscripts' military service causes the minimum possible disruption to their civilian lives.
The matter is the way of choosing the men who will serve is more than surprising. They say that 2 percent of men are randomly selected to complete vacancies in the army within the year. The lists of military conscripts then are published on the Internet. But "randomly" could also mean "nobody knows how they are selected."
In reality the Ministry of National Defence can't meet its recruitment goals.
The system includes Lithuanians living abroad who are forced to leave their home and come back for the service. The government of Lithuania doesn't care that men living overseas have their personal life, own career paths and financial responsibilities.
The military authorities are trying to take immigrants for service on purpose, not caring about their personal problems, including health issues and financial commitments.
They also discriminate homosexual men by giving them specific tests to find out how gay they are, including a talk with the psychiatrist. Because homosexuality is still a sickness in Lithuania, with existing laws against gay people.
A lot of Lithuania men who decided not to come back for the service, are often wanted by police, and in some circumstances might end up in prison for up to 3 years.
Thus, in December 2019, 24-year-old Marius H. from Kedainiai was prosecuted for not visiting the military registration and enlistment office, but did not change his position. He said later that he would not go to serve, it is not in his interests. He has a well-paid job in Belgium and is not going to change his way of life. So he paid penalty (800 euros) and left for Belgium. And he is not the only one in the country who has made such choice.
Evidently, it is impossible to solve the problem in that way, using methods of coercion and punishment. Unfortunately, reintroducing of compulsory military service was the decision of the authorities, finding the ways to avoid it is the choice of youth. If the government doesn't respect the citizens, the citizens have a right not to obey their decisions.
Assessing India's Enhanced Air Defence Shield with reference to Pakistan's MIRV Capabilities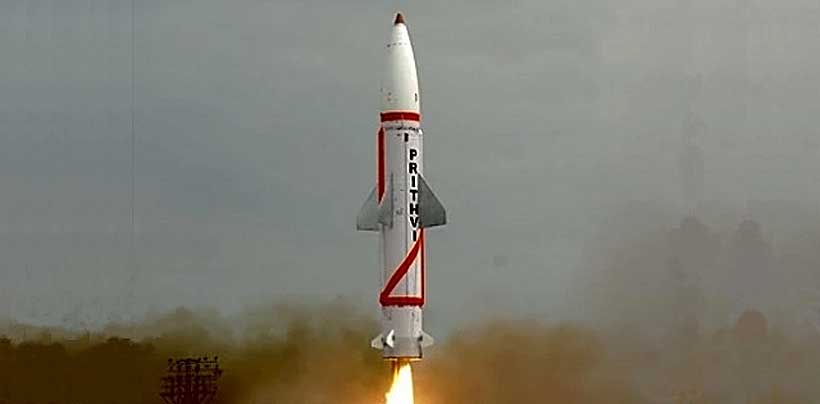 Since the last few years, India has been continuously carrying out an extensive military modernization program aimed at enhancing its counterforce capabilities vis-à-vis Pakistan. Under this notion, one of its most important components is the enhancement of its air defence capabilities aimed at providing an extensive multi-layered air defence shield. This has been done partly by combining indigenously developed systems with some of the world's most expensive and advanced Missile Defence Systems which India has been purchasing over the last few years. Pakistan, due to its economic constraints cannot compete with India on a tit for tat basis. Hence, to address such a threat, Pakistan, for the time being, seems to be enhancing its indigenously developed Multiple Independent Reentry Vehicle (MIRV) capabilities. These, in turn, are aimed at accurately penetrating the Indian Air Defense network that is being currently developed, by swarming it with a plethora of smarter and precision-based warheads to devastating effect.
At present, India possesses and intends to acquire various air defence systems in its missile defence inventory. These include indigenously developed ballistic missile defence systems such as the Prithvi Air Defence (PAD) missiles, the Advanced Air Defence (AAD) Ashwin missiles and the Barak-8 missile defence system which has been jointly developed with Israel. Furthermore, to enhance its future capabilities, India had also signed an agreement with Russia for the acquisition of the S-400 anti-missile system back in October 2018, the delivery of which is expected in October this year. In another significant development, India reportedly intends to acquire the 'National Advanced Surface to Air Missile System-II (NASAMS-II), a medium-range missile system from the US. India's acquisition of advanced missile defence systems such as these would thus likely destabilize the pre-existing deterrence framework in South Asia, as it would embolden India to consider countering Pakistan's existing range of warhead delivery systems such as its ballistic missiles, cruise missiles, fighter jets, and unmanned aerial vehicles with greater impunity.
In order to restore stability, Pakistan has two choices; firstly, in the long term, to purchase similar, albeit expensive missile defence systems from the international market – such as from Russia and/or China. A tall prospect which already seems difficult given the country's economic difficulties. Secondly, to counter the Indian advanced air defence shield while staying within its existing doctrinal posture, it seems that the induction of an increased number of MIRV capable ballistic missiles appears as the more plausible and immediate solution.
It is worth mentioning here that Pakistan's Ababeel Ballistic Missile, a medium-range ballistic missile, which it had tested in January 2017, is believed to have introduced MIRV technology into Pakistan's nuclear arsenal with its reported range of 2200 kilometers. Pakistan's rationale for achieving this milestone is widely believed to be inclined towards neutralizing a broad range of the expected outcomes of India's military modernization drive, including the threat from its enhanced missile defence systems. This is further evident in the statements of Pakistan Military Officials, in which they have clearly stated that the development of the Ababeel weapon system is aimed at ensuring the survivability of Pakistan's ballistic missiles 'keeping in view the growing regional Ballistic Missile Defence (BMD) environment', hence further reinforcing nuclear deterrence.
In the same vein, there is widespread speculation that Pakistan's recently tested short-range ballistic missile Ghaznavi – with its operational range of 290 kilometers – is also MIRV capable. No matter the validity of such speculation, there is still an ongoing debate questioning whether Pakistan needs to have such a short-range MIRV capable ballistic missile. Particularly keeping in view India's counterforce designs which highlight an apparent shift towards nuclear counterforce and the notions of 'splendid first strike' and surgical strikes against Pakistan. A strategy that is, in turn, directly linked to its Air Defence modernization plans because such counterforce temptations might provoke Pakistani retaliation. Hence, the road-mobile Ghaznavi missile, based on its accuracy and, shorter range and flight times could thus be a prospective platform for being a MIRV capable delivery system aimed at penetrating the Indian Air Defence shield. Hence, for Pakistan, the provision of such short-range MIRV capable ballistic missiles like Ghaznavi would likely serve as a key deterrent against the Indian advanced air defence shield.
At the present, Pakistan by being overtly threatened by the ruling BJP government still holds a principled stance in working towards bringing about lost peace and stability in the South Asian region. However, Indian aspirations as evident in its ambitious military modernization plans have compelled Pakistan to take all possible measures to assure its security and preserve its sovereignty. As such Pakistan may need to expand its strategy of playing its cards close to its chest particularly when taking into account India's ongoing expansion of its Air Defence shield. In this regard, the induction and perhaps even testing of a medium to short-range MIRV capable missile seems to be the only way out, at least for the time being.