Ambitious project to restore Andean forests
Growing at altitudes of up to 5,000 metres, polylepis forests, comprising 28 recognized shrub and tree species endemic to the mid- and high-elevation regions of the tropical Andes, are a significant origin of the flow of water into the headwaters of the Amazon.
Crucial to fighting climate change, they absorb mist from the clouds, transforming dry, eroded landscapes into wetlands and habitat for threatened species.
Due to decades-long deforestation for fuel wood and grazing, only 500,000 hectares remain across the Andes. Now High Andean communities, mainly Quechua-speaking Inca descendants, are coming together to bring them back and restore their watersheds.
Acción Andina (Andes Action), powered by Global Forest Generation, is scaling up a time-tested, 19-year, community reforestation model. Developed and implemented by Peruvian conservation non-profit Asociación Ecosistemas Andinos, it has resulted in the planting of over 3 million native trees, including 1.5 million polylepis. Restoring forests which grow just below the (retreating) glaciers is a cost-effective solution for long-term climate resilience.
"Protecting remaining tropical forest while restoring degraded forest and other ecosystems could represent as much as 30 per cent of the immediate solution to climate change," says UN Environment Programme (UNEP) ecosystems expert Tim Christophersen. "Community involvement in planting the right tree in the right place is an important element of any reforestation programme."
Acción Andina's on-the-ground leaders forge ties with the communities which focus their ancient Inca tradition of "Ayni" (close to reciprocity) on reforestation for mutual benefit. On-the-ground conservation leaders harness ancient Incan traditions in local communities to bring the model to scale.
Over the next 25 years, Acción Andina aims to protect the remaining 0.5 million hectares of critically important native polylepis forests in six South American countries (Argentina, Bolivia, Chile, Colombia, Ecuador and Peru) while reforesting an additional 0.5 million hectares.
Almost gone but not lost, these forests serve as water reservoirs for communities, habitat for wildlife and biodiversity and ensure the functionality of the entire Amazon. From upslope communities to major downstream cities and the Amazon, all depend on water to thrive.
"Bringing back forests means ensuring the future of indigenous cultures," says Constantino Aucca Chutas, indigenous leader and President of Asociación Ecosistemas Andinos. "Their tradition of shared community service is an invaluable asset for restoration," adds Florent Kaiser, Executive Director of Global Forest Generation.
The approach
Acción Andina's success depends on scaling a network of experienced leaders with long-term trusted community relations and deep local cultural understanding across the Andes.
"We support our leaders with core leadership and conservation management skills and equip their organizations to scale their project management capacities. This allows Acción Andina to form a growing network of on-the-ground agents that partner with communities to build a massive restoration workforce across the Andes," says Kaiser.
"Conservation partners in each country enable communities to secure titles to their land, which reinforces identity and provides legal protection from exploitation by timber, mining and oil companies.
"The process of designating a protected area generally takes 2 to 3 years; it involves resolving land use disputes, establishing land use agreements and long-term conservation plans to ensure ecosystem resilience and access to native seed stocks for reforestation."
Restoration needs to become a "movement"
Acción Andina is working to connect existing and develop new cutting-edge community restoration projects, and is funded by a mix of donations, private investments, payment for ecosystem services investments and multilateral funding.
"We are in the process of building the infrastructure to make individual projects and the whole initiative investable. This is a requirement to scale up implementation and impact significantly. We are planting 1 million trees in the next planting season (2020–2021) but across the initiative there is potential for 10 million trees per year or more," says Kaiser.
"While long-term finance is vital, successful restoration needs to become a decentralized social and cultural movement. Only then will we mobilize enough momentum to work at the scale needed and attract further finance.
"All restoration projects have to be managed in an integrated way. This costs money and requires long-term efforts. Technically it is possible to plant trees for US$0.10 to US$0.30 per tree, but effective, long-term restoration means you easily end up at costs of US$3 to US$5 per tree or more. The race-to-the-bottom for tree-planting is dangerous. We have to educate civil society, donors and investors about it, and change the market," says Kaiser.
Maharashtra Joins the World Economic Forum in the Fight Against Plastic Pollution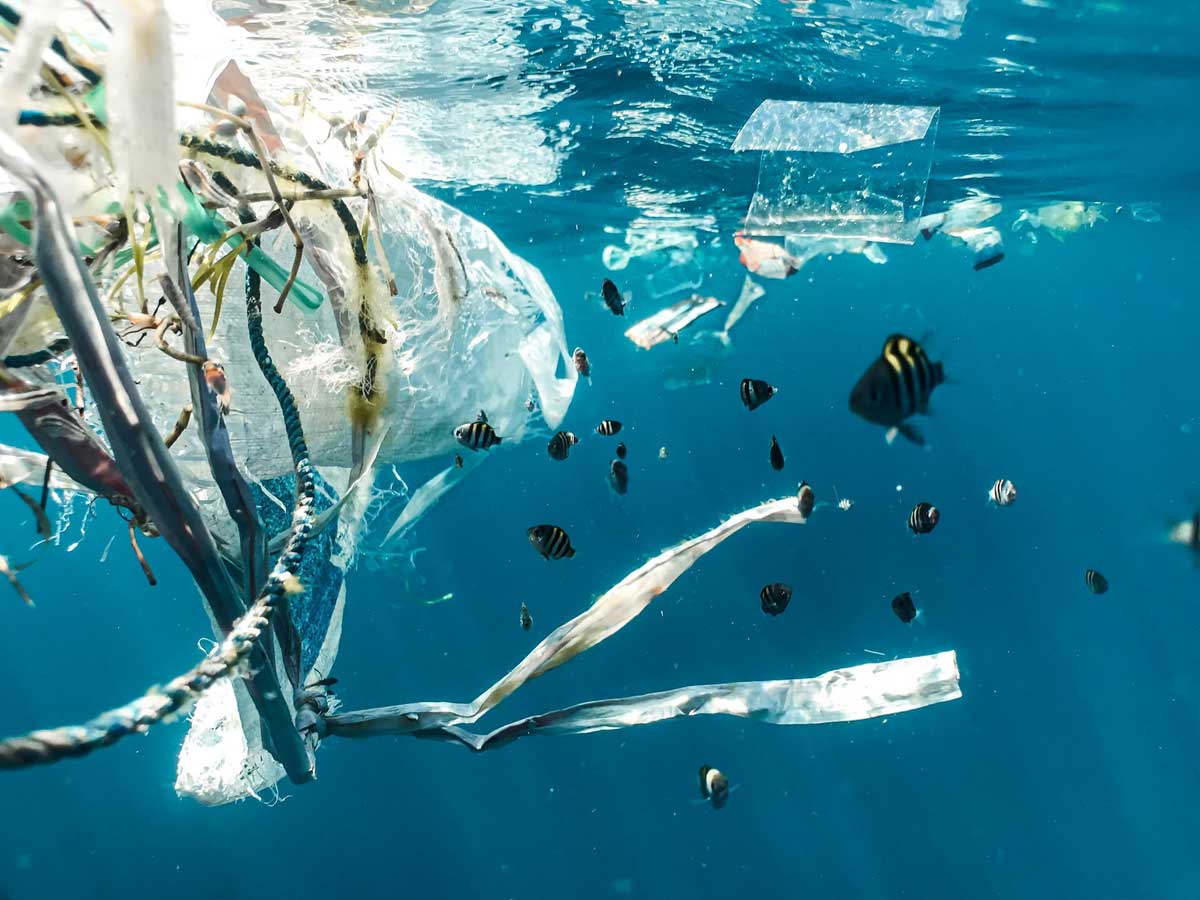 Maharashtra state, through its Ministry of Environment and Climate Change, has joined the World Economic Forum's Global Plastic Action Partnership (GPAP).
The announcement follows the fifth United Nations Environment Assembly (UNEA 5), where a resolution was adopted in March 2022 that will hold member nations legally accountable for their contributions to the global plastic pollution crisis. By joining the Global Plastic Action Partnership, Maharashtra aims to enhance its commitment to curbing plastic pollution, raise its ambition, and ensure accountability and inclusivity throughout the value chain.
The Ministry of Environment and Climate Change of Maharashtra will work with GPAP to launch a National Plastic Action Partnership (NPAP) in Maharashtra as a platform to tackle plastic waste pollution. The GPAP-Maharashtra partnership is the first in India. Maharashtra, whose capital city is Mumbai, has an estimated population of 124 million people, larger than countries such as Ethiopia and the Philippines, making this a significant partnership in per capita terms. Nations currently implementing such partnerships include Indonesia, Ghana, Pakistan, Viet Nam and Nigeria.
"This agreement with the World Economic Forum's Global Plastic Action Partnership marks a critical juncture in our state's battle against the plastic pollution endemic," said Aaditya Thackeray, Minister of Environment and Climate Change for Maharashtra. "Covid proved a hurdle towards our single use plastic ban, where health priorities in PPP took precedent. Now as we refocus on our climate and sustainability objectives, we are laying the foundation to deliver the systems-wide change needed across sectors. This partnership is the building block as we transition towards a more resource circular approach to tackle climate change while strengthening our economy."
The NPAP model creates a circular economy framework for plastics through a locally-led, locally-driven platform. In Maharashtra, it will bring together the state's most influential policy-makers, business leaders and civil society advocates. This group will deliver a state-level action plan to radically reduce plastic pollution and connect high-potential solutions with strategic financing opportunities.
"GPAP is thrilled to partner with Maharashtra to continue their efforts to tackle the plastic pollution problem," said Kristin Hughes, Director of the Global Plastic Action Partnership. "This partnership with Maharashtra signifies the Ministry of Environment and Climate Change's acknowledgement that solutions extend beyond plastic bag bans and that collective action is required. Multiple interventions need to be implemented in a coordinated manner, with strong collaboration between all stakeholders. Inclusivity will be a core pillar of our collaboration to ensure that informal sector workers are not disadvantaged and, as such, form an integral part of each roadmap's implementation plan."
Maharashtra is positioning itself as a leader nationally in India in the fight against plastic waste pollution. In March 2018, the Government of Maharashtra banned the manufacturing, sale and use of single-use plastic bags. It also banned an array of single-use plastic products, including cutlery, straws and containers.
'Lifeline' of renewable energy can steer world out of climate crisis
Greenhouse gas concentrations, sea level rises, ocean heat levels and acidification, all set new records during 2021, while some glaciers reached the point of no return, according to the latest flagship report from the World Meteorological Organization (WMO), published on Wednesday.
The State of the Climate 2021 indicates that extreme weather – the day-to-day face of climate change – wreaked a heavy toll of human lives, triggered shocks for food and water security, and led to hundreds of billions of dollars in economic losses last year.
The report, which describes yet more clear signs that human activity is causing harm on a planetary scale – to our land, ocean and atmosphere – also confirms that the past seven years have been the warmest on record, with global temperature in 2021 reaching about 1.1°C above pre-industrial levels.
"It is just a matter of time before we see another warmest year on record. Our climate is changing before our eyes. The heat trapped by human-induced greenhouse gases will warm the planet for many generations to come", warned WMO chief Petteri Taalas. "Sea level rise, ocean heat and acidification will continue for hundreds of years unless means to remove carbon from the atmosphere are invented".
A plan for renewables
Calling the report, a "dismal litany of humanity's failure to tackle climate disruption", UN Secretary-General António Guterres said that while time is running out to prevent the worst impacts of the climate crisis, there is a 'lifeline' right in front of us.
"We must end fossil fuel pollution and accelerate the renewable energy transition before we incinerate our only home… Transforming energy systems is low-hanging fruit", he emphasized in a video message.
Highlighting that renewable energy technologies such as wind and solar are readily available and in most cases, cheaper than coal and other fossil fuels, the UN chief proposed five critical actions to jump-start the energy transition, which he called the "peace project of the 21st century".
1. Treating renewable energy technologies as essential global public goods
This means removing obstacles to knowledge sharing and technological transfer, including intellectual property constraints.
Mr. Guterres called for a new global coalition on battery storage led by governments and bringing together tech companies, manufacturers and financiers to fast-track innovation and deployment.
2. Secure, scale up and diversify the supply components and raw materials for renewable energy technologies
Supply chains for renewable energy technology and raw materials are concentrated in a handful of countries, and more international coordination is needed to overcome this obstacle.
3. Build frameworks and reform fossil fuel bureaucracies
The UN chief is calling for governments to fast-track and streamline approvals of solar and wind projects, modernize grids and set ambitious renewable energy targets that provide certainty to investors, developers, consumers and producers.
4. Shift subsidies away from fossil fuels
Each year, governments around the world pour around half a trillion dollars into artificially lowering the price of fossil fuels – more than triple the subsidies given to renewables.
"While people suffer from high prices at the pump, the oil and gas industry is raking in billions from a distorted market. This scandal must stop", Guterres highlights.
5. Private and public investments in renewable energy must triple
The UN chief is calling for and adjustment to risk frameworks and more flexibility to scale up renewable finance.
"it's time to jump-start the renewable energy transition before it's too late", the Secretary-General urged.
Climate emergency
The UN chief's plan is long overdue, at a time when extreme weather continues to impact the lives of millions in recent weeks, as seen with the drought emergency in the Horn of Africa, the deadly floods in South Africa, and the extreme heat in India and Pakistan.
The WMO State of the Global Climate report complements the latest assessment of the Intergovernmental Panel on Climate Change (IPCC) which only included data up to 2019, and it will be used as a negotiation document during the upcoming UN Climate Conference in Egypt (COP 27) later this year.
Here are some of its key findings:
· Greenhouse gas concentrations
Levels reached a new global high in 2020 and continued to increase in 2021, with the concentration of carbon dioxide reaching 413.2 parts per million globally, a 149% increase on pre-industrial levels.
"We have broken records in main greenhouse gases, carbon dioxide, methane and nitrous oxide and especially the record in carbon dioxide is striking; we haven't seen any improvement despite of the lockdowns caused by COVID in 2020, so the concentrations continue growing", explains WMO chief Petteri Taalas.
· Ocean heat
Another record high. The upper 2,000m depth of ocean water continued to warm in 2021 and it is expected that it will continue to warm in the future – a change which is irreversible on centennial to millennial time scales, and affects deeply marine ecosystems such as coral reefs.
· Ocean acidification
Because of the excess carbon dioxide (CO2) the ocean is absorbing (some 23% of annual emissions), its waters are increasingly acidifying.
This has consequences for organisms and ecosystems, and also threatens human food security and tourism.
The decreasing PH level also means the ocean's capacity to absorb CO2 from the atmosphere also decreases.
"90 per cent of the excess heat that we have produced to the planet, they are stored in ocean", informs Prof. Taalas.
Sea-level rise
Sea level increased a record of 4.5 mm per year over the period 2013-2021, mainly due to the accelerated loss of ice mass from the ice sheets.
This has major implications for hundreds of millions of coastal dwellers and increases vulnerability to tropical cyclones.
· Cryosphere
The world's glaciers that scientists use as a reference have thinned by 33.5 meters since 1950, with 76% happening since 1980.
In 2021, glaciers in Canada and the US Northwest had a record ice mass loss because of heatwaves and fires in June and July.
Greenland also experienced an exceptional mid-August melt and the first-ever recorded rainfall at its highest point.
· Heatwaves
The heat broke records across western North America and the Mediterranean in 2021. Death Valley, California reached 54.4 °C on 9 July, equalling a similar 2020 value as the highest recorded in the world since at least the 1930s, and Syracuse in Sicily reached 48.8 °C.
A heatwave in British Columbia, Canada caused more than 500 deaths and fuelled devastating wildfires.
Flooding and Droughts
Flooding caused economic losses of US$17.7 billion in Henan province of China, as well as 20 billion in Germany. It was also a factor leading to heavy loss of life.
Droughts affected many parts of the world, including the Horn of Africa, South America, Canada, the western United States, Iran, Afghanistan, Pakistan and Turkey.
The drought in the Horn of Africa has intensified through 2022. Eastern Africa is facing the very real prospect that the rains will fail for a fourth consecutive season, placing Ethiopia, Kenya and Somalia into a drought of a length not experienced in the last 40 years.
"These [climate] impacts are unevenly distributed. If you're living in Central America, South America, Central, East or West Africa, South Asia or in a Small Island Developing State, you're 15 times more likely to die from climate-related impact or a climate-related weather extreme", explains Special Adviser to the Secretary-General on Climate Action, Selwin Hart.
· Food security
The compounded effects of conflict, extreme weather events and economic shocks, further exacerbated by the COVID-19 pandemic, undermined decades of progress towards improving food security globally.
Worsening humanitarian crises in 2021 have also led to a growing number of countries at risk of famine. Of the total number of undernourished people in 2020, more than half live in Asia (418 million) and a third in Africa (282 million).
"There's a component coming from this COVID crisis, and there's a high risk now because of the war in Ukraine that we will see major hunger problems", adds Prof. Taalas.
· Displacement:
Hazards related to water events continued to contribute to internal displacement. The countries with the highest numbers of displacements recorded as of October 2021 were China (more than 1.4 million), the Philippines (more than 386,000) and Viet Nam (more than 664,000).
World Migratory Bird Day illuminates the dark side of light pollution
Governments, cities, companies, and communities around the world are taking action to address a significant and growing threat to wildlife, including many species of migratory birds – light pollution.
The issue is the focus for World Migratory Bird Day, observed this Saturday, 14 April, under the theme "Dim the Lights for Birds at Night."
Light pollution is increasing, with artificially lit outdoor areas rising by 2.2 per cent per year from 2012 to 2016, according to one study cited by the Secretariat of the Convention on Migratory Species of Wild Animals (CMS), a UN environmental treaty.
Currently, more than 80 per cent of the world's population is estimated to live under a "lit sky", and the figure is closer to 99 per cent in Europe and North America.
Altering natural patterns
"Natural darkness has a conservation value in the same way as clean water, air, and soil. A key goal of World Migratory Bird Day 2022 is to raise awareness of the issue of light pollution and its negative impacts on migratory birds," said Amy Fraenkel, the CMS Executive Secretary.
Artificial light alters natural patterns of light and dark within ecosystems, and contributes to the deaths of millions of birds each year.
Light pollution can cause birds to change their migration patterns, foraging behaviours and vocal communication, resulting in disorientation and collisions.
Disorientation and death
Migrating birds are attracted to artificial light at night – particularly when there are low cloud conditions, fog, rain, or when flying at lower altitudes – luring them to dangers in cities.
Birds become disorientated and, as a result, may end up circling in illuminated areas. With their energy reserves depleted, they risk exhaustion, or worse.
"Many nocturnally migrating birds such as ducks, geese, plovers, sandpipers and songbirds are affected by light pollution causing disorientation and collisions with fatal consequences," said Jacques Trouvilliez, Executive Secretary of the African-Eurasian Waterbird Agreement (AEWA), another UN treaty.
"Seabirds such as petrels and shearwaters are attracted by artificial lights on land and become prey for rats and cats."
Safer skies
Two years ago, countries that are party to the CMS endorsed guidelines on light pollution covering marine turtles, seabirds, and migratory shorebirds.
The recommendations call for Environmental Impact Assessments to be conducted for projects that could result in light pollution.
Projects should consider the main sources of light pollution at a certain site, the likely wild species to be affected, and facts about proximity to important habitats and migratory pathways.
New guidelines focused on migratory landbirds and bats are currently being developed and will be presented for adoption at a CMS conference next year.
Solutions to light pollution are readily available, said Ms. Frankel. More and more cities worldwide are taking measures to dim building lights during migration phases in spring and autumn, according to the UN Environment Programme (UNEP).
Call to action
World Migratory Bird Day is celebrated twice a year, on the second Saturday in May and October, in recognition of the cyclical nature of bird migration and the different peak migration periods in the northern and southern hemispheres.
It is organized by a collaborative partnership among the two UN wildlife treaties and the non-profit organization, Environment for the Americas (EFTA).
"World Migratory Bird Day is a call to action for international migratory bird conservation," said Susan Bonfield, the EFTA Director.
"As migratory birds' journey across borders, inspiring and connecting people along the way, it is our aim to use the two days in 2022 to raise awareness of the threat of light pollution and the importance of dark skies to bird migrations."