It is today sadly forgotten, that NATO was created not with one, but with two objectives. The second objective of NATO was to retain inner peace, that is, keep the peace amongst NATO's own members. When NATO was created, future peace between Germany and its neighbors was yet far from secured, especially as seen from the perspective of Germany's neighbors at the time, not least France. Thus, the saying of NATO-creator Lord Ismay included that NATO should "keep the Soviet Union out", but also "the Germans down", that is, to keep NATO members safe, also from themselves. NATO was never only about Russia.
Today Germany is a great and constructive neighbor in Europe. But Europe sadly still sees other inner-neighbor relations, which unfortunately cannot yet be considered absolutely stable. One only needs to refer to the afterglows of the Yugoslav wars. From that perspective, it can be argued that all Balkan countries should be part of NATO — not to protect them against "Russia", or to strengthen NATO externally for that matter, but simply to enhance the safe development of all the Balkan countries concerning one another. Bosnia-Herzegovina is especially relevant here since the country is not even fully stabilized internally yet. There are also other less warm neighbor issues, but still potential minority-heats, notably related to eastern NATO members. NATO keeps all such inner-relations from potentially flaring up, which may also be said to be in the interest of Russia, and of Russia's partner in the Balkan area, Serbia. We should note too, that the EU also has a vital and overlapping interests to co-work in this region.
The Caucasus is here another and very separate question. It is difficult to see any possible NATO enlargement in the Caucasus as stabilizing, perhaps somewhat on the contrary. And the EU is also a more distant partner in the Caucasus. Turkey is, on the other hand, a new and also interesting discussion. Some (perhaps even a kind of "choir") have started to discuss, whether Turkey still "fits" into NATO. On the other hand, to retain peace (again, not in relations with Russia, but here Turkey-Greece and even Cyprus), there is still an argument that peace can be best served with Turkey continuing as partner in NATO (no matter which nationality of weapons Turkey should wish to buy, actually).
An important discussion can start to revolve around whether the USA still belongs to NATO. Right-sizing is not enlarging; it is a change of configuration. Such a change in configuration is possible in that the USA (and we already see increasing Atlantic fractions) could leave NATO, and let the Europeans (including East-European states) take full responsibility for their own safety (including allowing all the Balkan countries into such an EU-NATO arrangement).
Letting the USA out of NATO would imply subsuming the European part of NATO into the EU. Such a possible development can have many advantages for the countries concerned, as well as for Russia.
First of all, subsuming a "NATO-excluding-the-USA" into the EU would, as mentioned, force the Europeans (including the eastern ones) to take full responsibility for their own security. This will prevent "moral hazard" of political escalations in the hope that the USA will "save" them or spend money on them for new US bases in their location. An EU-NATO (without the USA) would have to find new ways of working with the UK as well as with, of course, Russia.
Second, there is sometimes a profound need for measures outside Europe, where security and civilian efforts need to be thoroughly coordinated. Using NATO "out-of-area" tends to be a recipe for disaster today, and the NATO-bombing creating a collapse of Libya was one such catastrophic example. Complex civilian needs during conflict basically cannot be taken care of by NATO, because NATO as an organisation (though big enough in bureaucracy) is simply not designed for civilian efforts in connection with conflict. NATO was created to deter an all-destructive war, which would probably not have left much civilian life left to "reconstruct" afterwards. The cold-war scenario was therefore so totally different from the many extremely complicated social-economical-etchnical-religious-resource-climate-poverty types of civilian-military problems, which we see around in the world of today. That is why NATO interventions automatically, because of the organization's outdated design to focus so heavily on a now defunct "all-or-nothing" type of armagedon-conflict tends to create purely military, and hence quite destructive, approaches. NATO is still so much designed as a hammer, that sadly too many problems seem to be perceived as if they had the shape of nails. As another example of the results of this, take a look at Afghanistan, where most of NATO's "military-civilian" approaches in reality tended to become too much "military-more-military" approaches.
NATO is designed as a pure military organization, an by all means, militaries are (still) designed only to destruct, not to construct. NATO simply does not have notable resources for civilian efforts to go with its military efforts. In parallel to this, we regrettably also see in the USA a very unfortunate long-term general tendency to militarize US foreign policy, sometimes at the expense of resources and focus for civilian US foreign policy. Tools should be designed for situations, not the other way around. But instead of embarking on the long overdue redesign of the setting of NATO, a lot of western politicians instead sadly try to redesign perceptions of today's security-realities in Europe, trying to make the modern world's security perception look more like the old "them-or-us" type, which existed during the cold war. But there is a better road, which can be taken. The EU does have a constructive other tradition than NATO's "all-out-war-preparedness" to build on, and the EU is still totally far from the over-militarized development path, which the USA unfortunately has taken. The EU has developed a robust and broad civilian-oriented conflict management capability. The EU already has quite a range of experience with civilian "out-of-area" missions. And the EU is already developing in a direction to integrate all these political management dimensions: The civilian capabilities, and now increasingly upcoming, also an EU military dimension.
We must remember, that military is politics with other means, and military should not be a destructive stand-alone option, but part of as a series of differentiated political tools. Not just a "hammer", but very varying shades and shapes of tools, within a fully integrated political civil-military toolbox. It therefore can make enormous sense to leave the NATO fully over as a new institutional part of the EU. To enable the EU to manage the full range of all political dimensions, in case a non-European conflict might benefit from European assistance: military, civilian and economical.
Some caveats here include the potential issues this would involve especially in relation to France, but a broader context to all the EU countries. An EU-NATO without the USA will, of course, be centered on France, a country with archaeological remains of imperial thinking and ambitions, and its own possible "military-industrial-political" complex, which might take on an arms race of its own. It is also to be avoided to intervene just for the sake of it — be it under "do-good" or imperial intentions. Because once bureaucratic institutions have been erected for any purpose whatsoever, their inner dynamic is that they urge their surroundings to be made use of. These effects cannot be entirely avoided, but might (hopefully) be mitigated by the full range of EU member countries.
Therefore, even taking account of the caveats just mentioned above, there is a possibility that a lot of positive things could potentially be achieved by letting the USA leave NATO and allowing for the rest of NATO to be subsumed into the EU.
From our partner RIAC
Trump is sending NATO east – the Middle East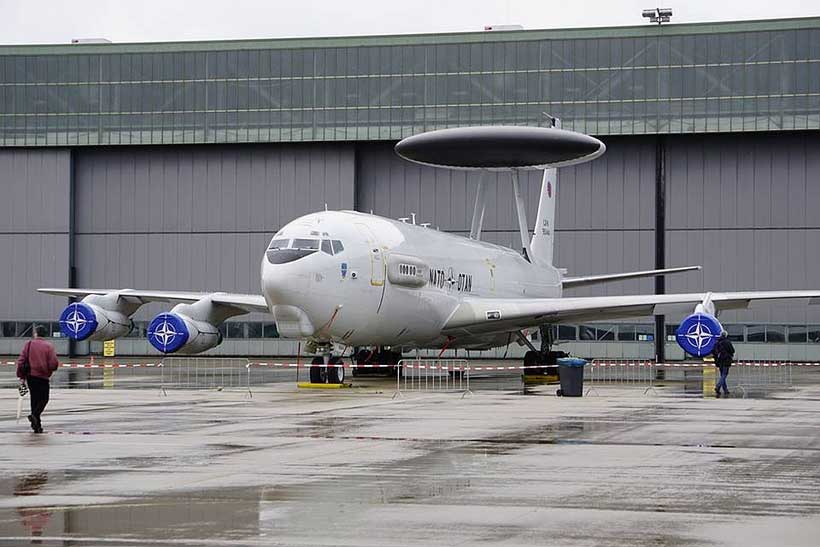 The assassination of General Qassem Soleimani and Iran's retaliatory strike against US bases in Iraq brought the situation in the region to a head with President Donald Trump initially urging NATO to participate more actively in Mideast affairs and later proposing to expand NATO's membership to include Middle Eastern nations, albeit without specifying any concrete candidates.
"I think that NATO should be expanded, and we should include the Middle East. Absolutely," Trump told reporters, adding that "contending that North Atlantic military alliance should take over for the US in the region "because this is an international problem."
The White House owner even proposed a new name: NATO-ME (from Middle East).
All this is taking place amid Washington's rising tensions with Iraq, which "allowed itself" to be outraged by the US drone attack on the Baghdad airport. As to Washington, it has long stopped looking at Iraq as an independent actor, ever since it ousted Saddam Hussein destroying the fragile balance of power in the region and effectively making Iran a regional superpower. And all this time, Iraq has been desperately trying to maintain its territorial integrity. Whether it will eventually succeed in doing this is a big question though.
So, the US drone attack on the Baghdad airport and Iran's retaliatory missile strikes against bases in Iraq housing US troops, "sparing" as they were, resulted in the Iraqi parliament's demand to withdraw all foreign troops currently stationed in the country. Donald Trump saw this as a sign of "disrespect" for the United States (as if ordering a missile strike on a foreign country's airport is a show of respect) and is poised to slap Baghdad with tough sanctions. In addition, due to his predilection for measuring everything with money, Trump added that the US forces would not leave Iraq until Baghdad fully repaid the cost of the air base built there by the United States.
As for Trump's idea (NATO-ME), we have already seen something similar happening before. In 2008, there was much talk going on about creating, under US auspices of course, a new bloc of eight regional states, namely Saudi Arabia, the United Arab Emirates, Kuwait, Qatar, Oman, Bahrain, Egypt and Jordan – the so-called Middle East Strategic Alliance, MESA, or "Arab NATO." Conceived by Washington, the alliance was to create a common front against terrorism, including Iran, which the US views as the main sponsor of terrorism. The idea fell through though, as Qatar has business, almost allied, relations with Iran; Oman actively cooperates with Tehran; Kuwait, mindful of its Gulf neighbors' onetime failure to help it against the Iraqi aggression, chose to stay out of it. Egypt likewise refused to join in.
Almost two years on, these eight countries' position remains pretty much the same. Moreover, NATO itself is going through hard times: some of its members continue to honor the provisions of the 2015 nuclear deal with Iran; in Syria, Americans, British, French, and other allies act as part of a coalition that exists outside NATO's fold; Emmanuel Macron talks about the "brain death of NATO," and that's not to mention Turkey. As for the European Union, it is now suffering from a kind of foreign policy impotence and is showing little interest in NATO affairs.
Even though Donald Trump said that NATO Secretary General Jens Stoltenberg was "delighted" with the prospect of the bloc's expansion to the Middle East, NATO's leading European members do not seem too eager to "get into" this region. First, because "getting out" of there won't be easy, and secondly, because they are eager to keep doing business with Iran. It looks like NATO neophytes from Eastern Europe will be the only ones to once again respond to Washington's call to show how true they are to the values of the "free world," and, of course, to Washington. This leaves Britain the only NATO "oldie" the US can count on.
At the January 6 meeting of the NATO Council, the participants urged the US and Iran to show maximum "restraint" and reduce bilateral tensions. Jens Stoltenberg said that nobody needs a new conflict, apparently because he knows that no effective military assistance from the Arab countries will be forthcoming. Indeed, the Saudi-led Peninsular Shield Force, created in 1984 as a military arm of the Gulf Cooperation Council (GCC), proved unable to repel the 1990 Iraqi invasion of Kuwait. In Yemen, the Sunni coalition is equally unable to defeat the Shiite rebels. The results of the Arab-Israeli wars also speak for themselves. All this meaning that if necessary, it is the Europeans who will have to fight. But the Arab sheikhs have the money.
In a nutshell, Trump's idea is to have European soldiers do all the fighting in the Middle East, and finance the military operations with Arab money (Trump never tires of complaining about NATO allies not contributing enough to the Alliance's funding, and apparently doesn't expect them to pay more).
"And we can come home, or largely come home and use NATO … now the burden is on us, and that has not been fair," Trump said.
Just like that – simple and clear. Besides, this is exactly what the "average" American, who will go to the polls this fall to choose the country's next president, wants to hear.
From our partner International Affairs
Challenges to Eurasian Security in the Coming Decade
Confrontation between Russia and the USA/NATO
There is no reason to believe that the worsening relations between Russia and the West, a process that began six years ago following the Ukrainian crisis, will be rectified in the near future. The current conflict is largely due to the fact that, since Donald Trump's 2016 presidential victory, Russia has become the bogeyman of the US domestic political agenda and is believed by the president's opponents to be a partial factor in his election. Irrespective of who wins the 2020 US presidential election, the new president will continue to feel the inertial anti-Russian pressure from the establishment and the media. The most we can hope for is a cessation of further confrontation and any actual improvement in bilateral relations should not be expected until the mid-2020s.
The US position influences that of European countries, which have been so far mainly following in the footsteps of Washington's policy, despite individual initiatives to improve relations with Russia (for example, by French President Emanuel Macron). In terms of security, this trend is manifested in European remilitarization, for the first time since the end of the Cold War. What is particularly inconvenient for Russia is that this process involves a return to Europe by US troops, which had all but left the continent by the mid-2010s. This time, US forces are being deployed not in Western Europe but right on the border with Russia, in the Baltics and Poland, the new NATO members that need protection from Moscow's "revanchist aspirations". These developments naturally find strong support among local politicians that have been exploiting anti-Russian rhetoric for decades.
It would be fair to say that Moscow's worst fears about the consequences of NATO's eastward expansion have materialized and that the previous agreements, including the promise enshrined in the NATO-Russia Founding Act that the Alliance would not deploy significant forces on the territories of new member states, are turning into a farce. Even though US troops are rotated seamlessly, without any intervals, Washington explains this away as temporary deployment of individual units, implying no violation of the standing agreements. This effective long-term deployment allows the US military to explore the hypothetical war theatre and conduct joint exercises with allies; long-term depots are being set up for weaponry and military equipment that would only require personnel for combat deployment.
Fortunately, despite all the belligerent rhetoric, it is difficult to imagine, even in the distant future, an intentional military confrontation that would be consciously approved by the two countries' leaders: the price of the conflict escalating would be too high. Yet, in a crisis, the high level of militarization in the contact zones between the two blocs, especially involving a large number of actors representing other countries, could result in accidental skirmishes fraught with severe consequences.
Regular meetings between Valery Gerasimov, Chief of the General Staff of Russia's Armed Forces and NATO's Supreme Allied Commander Europe (who doubles as the commander of the US European Command) serve as very positive signals. These events are rarely covered by the general media and the topics discussed are not publicized, but both sides regularly emphasize the importance of this dialogue. It would be no exaggeration to say that the two officers are perhaps the most senior representatives of the Russian and US military-political leadership who meet in person and on a regular basis. It appears extremely important not only to preserve this channel of communication (in fact, it would probably be best for such contacts to be as low-profile as possible, pointedly professional and distanced from politics) but also to develop its potential to include a dialogue between military experts at the regional level or a permanent hotline for resolving potential conflict situations in the Baltic region. Similarly, conducive to resolving crises would be the preservation of the Treaty on Open Skies and other transparency measures (observer missions during exercises and mutual notifications about planned drills and missile launches).
Belarus as an island of stability
Belarus has long remained an island of stability and security on the post-Soviet territory. It happily avoided the numerous nationalist and separatist conflicts that erupted following the USSR's collapse. In fact, Belarus strives to pose as an honest broker in regional conflicts: the Minsk format and the Minsk agreements have become world-class brands (Minsk is not to blame for the hiccoughs in implementing them). It would be highly desirable for this state of affairs to continue into the next decade.
Yet one cannot be entirely certain that this will, indeed, happen. The Russian-US confrontation is stimulating Washington's interest in the situation in Belarus and reducing Moscow's tolerance for Minsk's multi-vector foreign policy. The upcoming changes in the country are also a factor adding unpredictability: the political reforms currently being discussed imply a greater role for parliament and political parties.
With these processes afoot, it is not surprising that the US Congress holds conferences on how best to educate Belarusian youth, who are supposed, in the future, to choose Western values, and how to indoctrinate them with detailed talks about the threat Russia poses to their country's sovereignty. Equally unsurprisingly, authoritative analytical centres, such as the RAND Corporation, publish reports on the possibility of providing international security guarantees to Belarus, which, following a hypothetical regime change, is expected to leave the Collective Security Treaty Organization (CSTO) and thus face the threat of Russian intervention.
The only hope that Belarus will not become the next battlefield for internal and external actors stems from the fact that, at least in this sense, the country has successfully survived the previous several decades. It is, however, evident that Russia will perceive the potential threats associated with Belarus very painfully and certain forces might attempt to take advantage of this.
Moldova and Transnistria: continuing freeze
Transnistria can be described as a textbook post-Soviet example of a frozen, unresolved conflict. The territory is entering the new decade with its status still unrecognized, which complicates economic and social development; it is in a diplomatic dispute with Moldova over the presence of a small Russian peacekeeping force on its soil and its relations with Ukraine have worsened owing to the latter's contradictions with Russia.
Unlike the other long-standing conflicts, however, the probability of the Transnistria situation escalating into an open confrontation remains extremely small. On the contrary, Moldovan President Igor Dodon's Socialist Party, which concentrated power in its hands after the grey cardinal Vladimir Plahotniuc was overthrown, intends to resolve the Transnistrian problem by reintegrating the territory as an autonomous region within the federal state.
This scenario is supported by Russia and might be of interest to the EU, on which Moldova depends economically. On the other hand, it has many opponents, including unionists, who support unification with Romania. Given that Romania is actively developing its military might and gradually becoming a key NATO member in the south of the Alliance's "eastern flank", the prospects of that country integrating Moldova are worrying Moscow.
So far, the unionists' chances of making Moldova part of Romania appear even less realistic than the prospects of the Transnistrian conflict being resolved through federalization of Moldova. Yet the confrontation might aggravate the situation, if not to the level of the tragic 1992 events.
Ukraine: a tangle of contradictions
Ukraine is likely to remain the key area of conflict in the post-Soviet space in the coming decade owing to the huge associated tangle of contradictions, including the political confrontation between Russia and the USA, the economic standoff between the EU and the EAEU, unresolved Soviet-era issues and even more ancient ideological constructs.
The key security challenges for Russia concerning Ukraine will be posed by the need to secure freezing the conflict in the east of that country, provide for Crimea's security, facilitate reliable navigation in the Black Sea and the Sea of Azov, maintain control over the Kerch Strait, and prevent deployment of NATO troops in Ukraine. Even in the best-case scenario (which we may be observing at the moment, because the situation could certainly be much worse), these issues cannot be entirely resolved in the foreseeable future; they will continue to demand Russia's attention and resources.
Georgia on the periphery of focus
Abkhazia and South Ossetia, partially recognized Transcaucasian territories, are somewhat in between Donbass and Transnistria in terms of the situation there. On the one hand, the likelihood of direct military conflict over those territories is extremely small thanks to the presence of Russian troops. On the other hand, their status still poses a problem. Considering the way the status issue was exploited during the Russian-Georgian political confrontation in the summer of 2019, one would have thought that the August 2008 war had taken place merely a few months previously, and the information that Russia had "occupied 20% of Georgian territory" was being presented as fresh and shocking news.
It is possible that, in the coming decade, as internal problems in Georgia intensify or if the international situation takes a favourable turn, the Georgian authorities and media (not necessarily those currently in power: Georgia is known for its frequent changes of power with subsequent reprisals of predecessors) will once again exploit the "Russian aggression" narrative.
The USA will continue to view Georgia as part of the notional defensive perimeter, and joint military exercises will be held there regularly. In reality, however, Georgia, which is separated from the closest NATO member nations by the Black Sea, will remain on the periphery of the focus. One good example here is Exercise DEFENDER Europe 20, planned for the spring of 2020, which will practice new, more Cold War-like scenarios involving the defence of NATO's eastern flank. Georgia, although formally a participant in the drill of nearly 40,000 NATO troops mainly deployed in Poland and the Baltic states, will only be involved in airdropping a small multinational force.
Armenia and Azerbaijan: a powder keg
Another hotspot in Transcaucasia is the Nagorno-Karabakh conflict. Unlike other territorial disputes that sprouted up as the Soviet Union was collapsing, this one cannot possibly be frozen: clashes between special forces and exchanges of fire between border guards on the frontier between the unrecognized Nagorno-Karabakh Republic (NKR) and Azerbaijan take place several times a year. The April 2016 major aggravation, known as the four-day war, resulted in heavy losses (without delving into the parties' diametrically opposed accounts of the losses incurred by themselves and the adversary, it can be stated with certainty that there were more than 100 fatalities) and the border getting reshaped to the benefit of Azerbaijan.
The parties to this conflict continue to militarize actively. Moreover, owing to the serious differences in economic potentials, Azerbaijan's capabilities are much greater: the country is procuring significant quantities of advanced UAVs, armoured vehicles, multiple-launch rocket systems and even theatre missiles. Azerbaijan mainly buys its weaponry and military equipment from Israel, Turkey, Belarus and Russia. Armenia often criticizes Russia and Belarus for their active military cooperation with Azerbaijan, presenting it as nothing short of betrayal on the part of fellow CSTO members. There is, however, no doubt that Azerbaijan would find alternative ways to acquire such weapons and friendly relations with Russia are among the key factors in containing the conflict.
The same applies to the presence of a Russian military base in Armenia and deliveries of Russia-made weapons to that country at internal Russian prices and with use of preferential loans. In particular, Armenia has taken delivery of Russian Iskander missile systems (obviously to balance the procurement by Azerbaijan of Israeli site defence missile systems, which could prove effective against the Armenian Scuds) and will soon receive a small batch of Su-30SM fighters, which, given the specifics of the local theatre of operations, cannot be described as anything but a status purchase.
The domestic political agenda in both Armenia and Azerbaijan, their irreconcilable positions, regular clashes and the militarization of the parties to the conflict leave no hope of any speedy settlement. An optimistic scenario, and Russia's objective, would be to maintain a balance and good relations with both parties and make sure that no significant conflicts break out in the coming decade.
Central Asia: Region X
Central Asia does not attract as much media attention as Ukraine or the Baltic states, which is a fundamental mistake. Russia's "soft underbelly" may well become a source of bad news in the coming decade.
The future of Afghanistan presents the greatest challenge in the region. US troops will leave the country sooner or later, whether commanded out by President Trump or his successor. The USA is already too tired of this war, which will inevitably end with the Taliban staying and Washington leaving. The conflict continues exclusively for the sake of bargaining over withdrawal terms that would help the Americans save face. The process will not necessarily have catastrophic consequences: the Taliban may yet integrate successfully into the existing Afghan state and, as the Americans would like it to, join the fight against groups loyal to the Islamic State (which is banned in Russia). Most likely, however, the civil war will continue between different groups.
This creates additional risks for the post-Soviet states. The Taliban may have so far stayed mostly within the borders of Afghanistan. Still, the same cannot be said of other radical Islamist groups, which might either step up their activity against the background of the chaos in the country or seek new areas of operation, should they be squeezed out of Afghanistan. Central Asian countries, which cannot boast consistent stability, might become their new targets.
This instability, which stems from internal economic and religious problems, the difficult transition of power and generational change within the local elites, could, in and of itself, foster civil and even inter-state wars. For this reason, Central Asia, where outbreaks of violence are virtually inevitable, will become the main field of activity, perhaps even a battlefield, for the CSTO.
From our partner RIAC
Rising Geopolitical Tensions Boost Military Spend on Electronic Warfare Equipment
The emergence of stealth and low observable aircraft along with Anti-Access/Area Denial (A2/AD) systems has made integrated air defense networks very complex and difficult to counter. Additionally, the development of new missile-seeker technologies for surface-to-air missiles poses a serious threat to aircraft as they bypass existing missile-detection systems. The presence of these new threats is driving the demand for modern electronic warfare (EW) systems that are sensitive enough to detect and engage targets before they are visually seen. A recent analysis of the global military airborne electronic warfare market forecasts the sector to rake in revenues over $30.8 billion between 2018 and 2028, with $21 billion worth of addressable opportunities arising from the planned and forecasted procurement of EW equipment.
"Many countries will be modernizing their aging fleets through upgrade or replacement programs in the next 10 years," said Ryan Pinto, Research Analyst, Aerospace and Defense at Frost & Sullivan. "With an increased focus on EW systems, this modernization phase will provide opportunities to replace their existing EW capabilities with modern systems that can counter new threat environments."
Frost & Sullivan's latest research, Global Military Airborne Electronic Warfare Market, Forecast to 2028, investigates the potential of military electronic warfare (EW) equipment in today's volatile geopolitical climate. The report explores the trends influencing electronic warfare and the factors driving sector growth, and offers a segment-wise analysis of the global electronic warfare market. The research also provides detailed revenue forecasts and identifies promising opportunities for growth in the sector.
With Russia demonstrating its advanced electronic warfare capabilities in Ukraine and Syria, China has refocused its efforts toward showcasing similar capabilities in the Pacific. The two countries see EW as an important force multiplier during a conflict. This has made bridging the EW capability gap a major priority for the US and NATO countries to maintain their advanced capabilities and remain competitive. New threats in the EW domain will drive new research and procurement programs.
"There is a growing need for indigenization and collaborative production, especially in emerging markets such as Saudi Arabia and India," noted Pinto. "Defense majors will have to vary their market strategy accordingly to access emerging opportunities in these markets."
Companies operating in this sector can also foster growth by:
Offering more robust EW systems that would enable assets to conduct hybrid EW and CW tasks simultaneously.
Developing faster signal processing and miniaturization to increase the sensitivity of jammers.
Integrating AI and neural networks to enable quicker reactions, faster identification, and effective suppression.
Reducing the size of EW payload to enable horizontal integration of multiple payloads.
Global Military Airborne Electronic Warfare Market, Forecast to 2028, is a part of Frost & Sullivan's Aerospace & Defense Growth Partnership Service program, which helps organizations identify a continuous flow of growth opportunities to succeed in an unpredictable future.