Authors: Zhou Dong-chen & Muhammad Raihan Ronodipuro
At the invitation of Chinese military commission, Indonesian Minister of Defense Prabowo Subianto made a working visit to Beijing during December 17-19. It is clear that the comprehensive strategic partnership between the two countries has maintained good momentum, as Chinese military leaders expressed that the Chinese and Indonesian militaries should implement their consensus reached by the leaders of the two countries, explore deepening cooperation in various areas, promote the two sides' comprehensive strategic partnership and benefit the two countries and the region. Echoing his Chinese counterpart's remarks, Prabowo highlighted the necessity of enhancing regular contacts and dialogues between the two militaries in order to jointly safeguard regional peace.
Though having been partners in modernizing Indonesian weaponry system, this is the first high-level visit to China by Indonesian Defense Minister with a view to discussing the efforts to further enhance cooperation in defense of the two countries. Yet, the rapidly growing power of China has constituted one of the most strategic dimensions in East Asia and beyond. For realist view, it represents a key driver of change in the dynamics of major power relations and will have significant impacts on the Asian-Pacific since the end of the WWII. True, the rise of China, even though it is claimed the peaceful rise, has become a dominant discourse within and outside public circles as well. For Indonesia which is the largest country in Southeast Asia and had complicated relations with China until the early 1990s, the rise of China unexceptionally presents an opportunity and challenge. Since normal relations between Beijing and Jakarta were restored less than three decades, Indonesia's response to the rise of China is still evolving. As scholar Rizal Sukma observed that while recent developments suggest a marked improvement in bilateral relations, Indonesia's policy of re-engagement towards China should also be perceived from the complex relationship of history, the primacy of domestic politics and the imperative of regional considerations.
Given this, the study argues that Indonesia's policy towards China continues to reflect a degree of ambiguity and suspicion as well. On the one hand, Indonesia is sure to take the benefits of having good relations with China and begins to demonstrate increasing comfort in managing the bilateral relations with the rising economic giant. On the other hand, Indonesia remains ambiguous of China's long-term goal and intentions in the region. This mentality has surely led Indonesia to pursue a policy of re-engagement characterized by a mixture of cooperative and suspicious approaches in its response to the rise of China.
There are several reasons to endorse the argument that China's relations with Indonesia should be moving cautiously and attentively. First of all, since China and Indonesia shared modern sacrifices imposed by imperialist powers of Europe and Japan, it did help promote the reciprocal recognition of each other in 1950; yet it unnecessarily means that their relations have proceeded steadily. In effect it is quite opposite as their relations were subject to pressures stemming from each domestic concerns, particularly for the perceptions among the public and the elite have served as the key context within which Jakarta's policy towards Beijing has been formulated and carried out. For example, in the early 1960s, attempts by both parties to forge a radical political alignment, primarily in terms of a united front against the West, failed to withstand the pressure emanating from Indonesia's domestic politics, which was patently manipulated by the West. As a result, the Beijing-Jakarta axis was brutally brought to an end in 1965, followed by the suspension of their normal relations for more than 20 years.
Secondly, it is true that both China and Indonesia can't ignore each other in a long run, it is because China has rapidly increased its power and influence since the 1980s while Indonesia as the largest country in the Southeast Asia has also aspired to be a regional power. In light of the vicissitude of the world politics, the two countries began to rethink of their relations in a more realist perspective. Yet, even during the 1980s, the anti-communist leadership of Indonesia was not moved by what China had already adopted the reform and openness policy. The dynamics of Indonesian politics which required the preservation and the enforcement of anti-communist ideology as the basis of regime legitimacy, arduously carried out the predominance of domestic political interests over other necessary concerns in Indonesia's foreign policy. Only by 1990, did the two countries finally agree to resume direct trade and soon restored diplomacy. Even though, the restoration of normal relations did not improve substantially. Suspicions and sensitivity continued to characterize Jakarta's attitude towards Beijing. The event in 1994 once again verifies this point when a labor unrest soon flared into an anti-Chinese riot in Sumatra. China's official concerns were not only rejected but also accused of flagrant interfering in Indonesia's internal affairs. As for China, the episode is a reflection of its lack of understanding in Beijing on Indonesia's sensitivity on issues involving the ethnic Chinese minority in the country.
Thirdly, from the very beginning since 1990 when both countries resumed their relations, still Indonesia preferred dealing with China within a multilateral framework, either through ASEAN or the ASEAN Regional Forum (ARF). It is argued that ASEAN has been regarded in Jakarta as likely to be a more effective instrument for managing relations with a China regarded with apprehension and some foreboding. Similarly, the ARF has been taken by many Indonesian elites as a regime not only to engage China regionally but also to secure Beijing's respect for international norms of inter-state relations. Prior to early 1998, Indonesia had begun to promote the economic dimension of bilateral relations with China. Since then, the contacts in overall terms have increased rapidly and remarkably. It is said that the great efforts to promote trade between the two sides since 1990 were obstructed by the financial crisis in 1997, yet, ironically it was the political implications of the 1997 financial crisis in Indonesia that opened up the opportunity for a much more cordial relationship between Indonesia and China to develop. For sure, the financial crisis which brought the Suharto regime from power served as a defining moment in bilateral relations of the two countries as the collapse of Suharto's regime was followed in 1998. To certain extent, during the after the financial crisis, the ruling elites of the two sides did manage the issue well and did not let the long issue of Chinese diaspora in Indonesia out of control. Due to this, since 1998, the real improvement in the bilateral relations has become more evident, and the scope of bilateral cooperation has been expanding to include cooperation on areas such as security and defense. In 2005, China and Indonesia further established a strategic partnership which covered all the key areas such as security and defense technology cooperation. In addition, China's image as a responsible and benevolent major power have also received further boost during the Tsunami disaster that struck Indonesia and other Indian Ocean countries in 2004.
Yet, as the past lessons have indicated that despite obvious improvements in bilateral relations, Indonesia and China are not immune from issues. Three issues might affect how Indonesia-China relations would evolve in the future. First, internationally Indonesia's elite remain uncertain regarding China's role and long-term intentions in East Asia. In this context, they are easy to follow the realism that a rising major power with an ancient pride aims to be a dominant power in the region would certainly revive Indonesia's sensitivity. Although some of Indonesians have begun to display their willingness to trust China, but that trust takes time. A public opinion poll conducted by the Lowy Institute in 2006, for example, reveals that Indonesians trust Japan (76%) more than China (59%). For China to be fully trusted, it needs to consistently pursue a good neighbor policy towards Southeast Asia. Second, domestically, there is still the issue regarding the public perceptions of Indonesia's ethnic Chinese. If there is a resurgence of anti-Chinese feeling in Indonesia, and if the issue of the ethnic Chinese minority once again becomes a political victim in Indonesia, then Indonesia-China bilateral relations is sure to be affected adversely. Due to this, both sides need to learn how to avoid their previous mistakes in the new era.
China and Indonesia have learned the lessons from the past. As a result, the bilateral relations have been improved over the last two ten years in terms of maturity and stability. In spite of this, the reality still requires the ability of the two countries to steer in the course cautiously and attentively.
Vietnam as ASEAN Chair and UNSC non-Permanent Member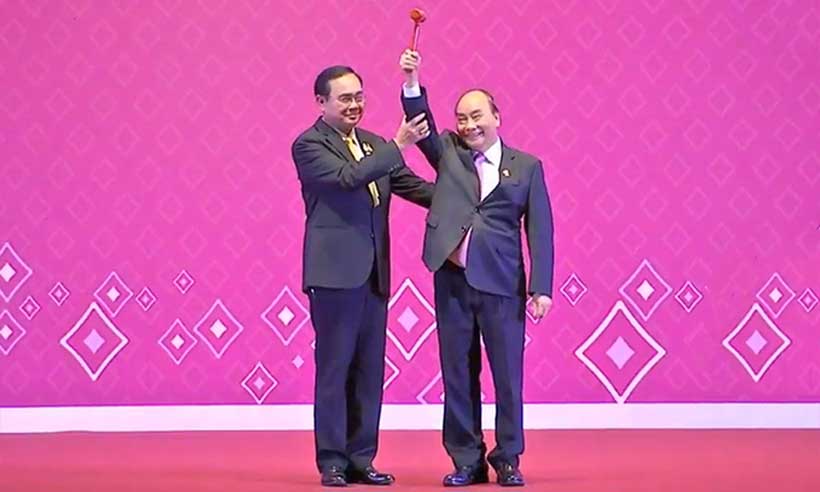 Vietnam took the charge as ASEAN chair from its predecessor Thailand in November 2019, and the agenda for the year 2020 is diverse and challenging. The ASEAN as an organization accepted few geo-political changes and accepted that Indo-Pacific is a larger framework to which it needs to have a strategy. The result was the Indo-pacific outlook statement and this projected that ASEAN as an organization need to adjust to the evolving power configurations.
The developments in the context of Southeast Asia- be it the recurrent tensions in South China Sea because of assertive China; the Indonesian haze, and the tensions between Indonesia and China on illegal fishing in South China Sea are annual challenges for the ASEAN chair. The problem of Indonesian haze and other environmental problems needs cooperative approach. The ASEAN would have to prepare itself for the global recession which is looming large because of the Corona virus epidemic and the resultant slow down which is likely to affect not only Asia but the entire world. Another challenge this year would be for Vietnam to bring about the required understanding among ASEAN members who are party to the South China Sea dispute to come to a converging point so that the Code of conduct can become a legal document with compliance and penalty provisions. The Draft Code of Conduct (COC) is a large document encapsulating the aspirations and the legal position of each of the claimant parties. However, how to address all concerns and come to a common draft would be an arduous task. Vietnam would have to meander its way through deft diplomacy and skillful negotiations. Further, Vietnam is increasingly seen as an emerging economy and a strong nation which need to undertake a regional role. This needs few changes from the set template for consensus building and have to take measures to bring a common dialogue points. The foreign Ministers retreat which happens in the first quarter of each year would be the agenda maker for the number of meetings which would take place the whole year. Vietnam being the emerging economy as well as an APEC members, and also one of the stakeholder in RCEP process would have to make sure that RCEP is signed 'with or without India'. However, if Vietnam by virtue of its comprehensive strategic partnership and excellent relations with India can bring the country back to the negotiating table, it would a shot in the arm for the ASEAN chair. India chose not to attend the Bali meeting to discuss RCEP with ASEAN members.
ASEAN chairmanship does have its own share of problems. However, taking cue from Vietnam chairmanship in 2011 when the same set of problems were existent, the country abided by the ASEAN way rather than proposing out of box thinking and solutions. The geo-political scene and the strategic compulsions do not give that easy comfort zone in decision making and it need strong adjustments both in terms of building a consensus and solving problems. At the international level, questions have been raised whether ASEAN centrality is a useful instrument in resolving maritime issues or it has diminishing returns. ASEAN community programme- Political-Security, Economic and Socio-Cultural Community would require midterm review in 2020 given the fact that the year 2025 is the deadline for its blueprint. Initiative for ASEAN Integration (IAI) Work Plan III (2016-2020), needs a strong effort as only 19 out of 26 actions (73.1%) have been achieved.
One of the biggest challenge for the ASEAN nations would be to counter the spread of 2019-novel coronavirus (2019-nCoV)in the region and work out a comprehensive plan of action to control its spread and work out a common collaborative programme in the region. This might include regional centre for public health emergencies, strengthening regional public health laboratories network, monitoring the working of risk communication centres, and draw lessons from China's experience in fighting the epidemic. Vietnam would have to address it on priority as it might have political, economic and social impact.
In the wake of tensions in South China Sea, the utility of Treaty of Amity and Cooperation in Southeast Asia (TAC) is under duress, there is a need to review and redraw the obligations under TAC for all the major powers of the region. For that there is a need to adopt two pronged approach of building trust and confidence among the dialogue partners as well as protecting interests of the region. The converging point for the dialogue partners would be humanitarian assistance and disaster relief (HADR), counter-terrorism, and humanitarian mine action.
Taking over as non-permanent member of UNSC, it is a unique opportunity for Vietnam to integrate developmental objectives of ASEAN and synergize it with UN initiatives. The convergence between ASEAN Community Vision 2025, and the UN 2030 Agenda for Sustainable Development (Complementarities Initiative) need deep research and effort and in this regard to feasibility study can be commissioned by Vietnam. The challenges related to illicit drug production, trafficking (both human and drugs) needs to be highlighted both at ASEAN and in the UN. ASEAN has adopted the 'Plan of Action to Prevent and Counter the Rise of Radicalization and Violent Extremism' and this needs representation and support from the UN bodies. Vietnam position would be catalyst in this regard so that regional efforts should be promoted in this regard. Cyber security has been addressed in ASEAN also as well as in UN but in terms of regional monitoring mechanisms across the world there is a deficit. Taking cue from ASEAN initiatives such as 'Cybersecurity Centre of Excellence (ASCCE), and the Cybersecurity Capacity Building initiatives' undertaken with support from Singapore and Japan respectively ', Vietnam an make a case in UN for strengthening such institutions. Within ASEAN the efforts needed to streamline and collaborate on Fourth Industrial Revolution (4IR), and digital connectivity are insufficient and therefore it requires better dialogue mechanisms on a regular basis among the ASEAN members.
Vietnam would also have to take cognizance of the possibility of Practical Arrangements (PA) between ASEAN and the International Atomic Energy Agency (IAEA). This would need special attention at the UNSC so as to create a framework in Southeast Asia on nuclear safety, security, and safeguards. This will have a futuristic utility in terms of nuclear technologies and their applications. Within UN Vietnam will have to make special efforts to gain support for effective implementation of the SEANWFZ Treaty and submit it to the First Committee to the United Nations General Assembly.
ASEAN faces a number of cases related to Illegal, Unreported, and Unregulated (IUU) fishing and this needs to be addressed at global level so that a convention on IUU can be adopted. Vietnam would have to make special mention in this regard under the UNSC discussion agenda. Vietnam must also address challenges related to education, promotion and protection of the Women and Children and their rights, skill development and vocational training. Marine pollution and climate change have always resonated in the discussions in UNSC and Vietnam must take these issues to reflect concerns in Southeast Asia and why there is a need for global efforts. Other issues such as peat land management, haze management through financial support and disaster management need careful articulation and proposals in this regard.
While the agenda for the ASEAN requires better efforts as many initiatives need review in the year 2020 and also a comprehensive roadmap for future. On the other hand, issues in the UNSC Vietnam must highlight commitment regarding duties of upper riparian and lower riparian states, water pollution, and disaster risk financing at international level. In fact, the issue of Mekong river pollution and construction of dams would gain attention in this year. Further, Vietnam despite all these challenges would be able to balance the commitments towards ASEAN while at the same time playing a constructive role in the UNSC as non-permanent member. The year 2020 would be a challenging year as well as a year for adopting regional and global commitments towards security, prosperity, development, trade and connectivity.
Russia-Indonesia: 70 years of friendship
"Jauh di mata, dekat di hati [Out of sight, close to the heart]." This is how Lyudmila Georgievna Vorobieva, Russian ambassador to Indonesia, characterized the relationship between the two countries.
In fact, in the 70 years of the relationship, it has gone through different states of proximity. It was pretty "hot" even before and around independence in 1945 when being leftist was identical with an anti-imperialist stance — and certainly during Sukarno's presidency (1945 to 1967).
Then, abruptly, with the annihilation of the Indonesian Communist Party (PKI) in 1965 after a now-largely discounted "coup" by the PKI, the relationship suffered a long cold period of over 30 years during Soeharto's New Order (1967 to 1998). Keeping the communist scare alive was, after all, one of the ways the regime maintained its grip on society.
Then-Soviet leader Mikhail Gorbachev's perestroika (restructuring) and glasnost (openness) in the 1980s, the collapse of the Soviet Union in December 1991 and Indonesia's Reformasi in 1998 paved the way for the restoration of warm, harmonious relations.
Mohammad Wahid Supriyadi, Indonesian ambassador to Russia since 2016, said we are now in the second golden age of Russia-Indonesia relations (the first being during Sukarno's presidency). Wow! Who would have guessed?
For the lay person, these days Russia invariably draws our attention indirectly, e.g. for its alleged interference in presidential elections in the United States or for being the country where Edward Snowden, the National Security Agency whistleblower, has been living in exile for over six years.
I confess Russia hasn't been that prominent on my screen lately either, until I heard about the Russia-Indonesia 70-year friendship exhibition at the National Gallery from Feb. 3 to 17 (see: "Snapshots: Indonesia, Russia exhibit 70 years of friendship", The Jakarta Post, Feb. 5). I was keen to go because of my own "Russian connections".
Yup! I was a sociology student in London (1976 to 1979), and took a course on Russia and China. The focus of my studies was Western industrial societies, so I wanted to know the other side of the Cold War (circa 1947 to 1991). It was also essential for writing my thesis on the People's Cultural Institute (Lekra), the PKI's cultural wing. Both Lekra and the PKI looked to these communist countries for guidance, especially the Soviet Union, to emulate their concept of "socialist realism" — art and literature that glorified communist values and supported the party line.
I was also connected to Russia by marriage. My late husband, Ami Priyono, was among the first seven Indonesian students sent to Moscow in 1956. Together with Sjumanjaya, they studied film at Lomonosov Moscow State University. Both eventually became prominent film directors in the 1970s and 1980s.
Ami's father, Prijono, was culture minister in Sukarno's first cabinet, serving for nine years (1957 to 1966). Prijono was a leading figure in the Murba Party (sometimes referred to as the second Indonesian communist party) and, like Sukarno, was pro-Soviet. In 1954, Prijono was awarded the Stalin Peace Prize.
So, the reason for my interest was partly a nostalgia trip and partly a desire to know more about our current relationship with the "Land of the Red Bear", as Indonesians sometimes refer to Russia.
I was accompanied by Vladimir Anisimov, head of the artist collective Bureau of Creative Expeditions and curator of the Necklace of the Equator exhibition. A distinguished gentleman in his 70s, sporting a bushy silver-gray beard, a moustache and an artist's ponytail, he was like a relic of the past, adding to the nostalgic atmosphere.
Vladimir explained in detail some of the 85 paintings on display. They were done by 10 Russian painters who over 20 years had travelled to Indonesia on various occasions, capturing scenes from Java, Sumatra, Madura, Bali, Lombok, Kalimantan and Sulawesi: landscapes, houses, ceremonies, local traditions — mainly focusing on the people. Mostly impressionistic, lots of bright colors and a touch of romanticism here and there, like the Madonna painting of a woman carrying a baby surrounded by flowers and a rainbow. No socialist realism here!
Exhibitions by Russian artists have been held before in Indonesia, in 2000, 2003 and 2005. Vladimir recalled that the opening day was usually full but after that, empty. The situation is completely different now, he said, with 200 to 300 people attending during work days and double that on the weekend.
Vladimir said they received only positive feedback. "People were impressed and spent a lot of time taking selfies with the paintings as backdrops. Maybe more time than just looking at them," Vladimir smiled wryly.
Among the crowd were a young man and woman intently discussing something related to the exhibition. They were Indonesians but spoke in very fluent English. I approached them and asked them why they had come to the exhibition. "Oh, we are Marxists. We came because we wanted to know more."
Wow, Marxists in our midst? So young and so brazenly declaring their ideological beliefs at a time when Indonesia's communist phobia is still alive and well? They really piqued my curiosity, so I took their phone numbers and chatted with them by WhatsApp the following day.
Both were 25 and were members of a group of young Marxist-Leninists who, like them, were disillusioned with the state of the world. "In 2016, when Donald Trump was elected president, it was the moment where we started really realizing the evil of the US empire and imperialism," they said.
"One of the things that really moved me," the young woman said, "was reading DN Aidit's [PKI chairman] speech for the
[party's]
44th anniversary, when he said that one of the conditions of being a PKI member is 'unmeasurable love for the people'." For her, that's what communism is: loving each other so fiercely that we fight for a world where no one has to suffer, a world free from exploitation.
Wow, talk about youthful idealism! Truth be told, any ideology, any political or economic system, as well as any religion, can be twisted to harm and oppress the people, however much our leaders wax lyrical about them, or about bilateral and international relations.
Maybe this is a time when our leaders should start listening to the younger generation to save the world. Greta Thunberg is trying hard to do that. Many more are joining her ranks, so all you politicians, bureaucrats and leaders out there, start listening!
Early version of the text published under: "Russia – Indonesia 70 years on: Some like it hot, cold or warm" in Jakarta Post
South China Sea of brewing troubles and its implications for India
For years, China, Brunei, Taiwan, Malaysia, Philippines, and Vietnam have contested overlapping claims to hundreds of coral reefs, features, and islets in the South China Sea. China's man-made islands fortified with airstrips, anti cruise missiles, control towers, naval bases has allowed it to assert its sovereignty vigorously and poised it to seize greater control of the sea. As it's economic and military position bolstered, it resorted to bullying its small neighbors by illicitly entering their territorial waters or by hindering their oil and gas explorations in the disputed waters. China hoped that it would seek to buy the acquiescence for its terrorizing tactics by luring them into economic incentives and its dubious intentions for a stable and secure South China Sea. But Indonesia, Malaysia, and Vietnam, frustrated with the status quo, are defying China's dominance in the region turning the region into a new geopolitical flashpoint.
Recently, Indonesia, who for years avoided an open confrontation with its economic partner, locked horns with China as it sent warships and F16 fighter jets off the coast of Indonesia's Natuna Islands to fend off Chinese fishing vessels in its exclusive economic zone, which China considers its fishing ground. Indonesia's patience with China's maverick overtures has worn thin since 2016 as it has been repeatedly countering the poaching of its vessels by the Chinese coast guard in Indonesia's backwaters. These counteractive measures are a testament to Indonesia's tilt to a more proactive role to curb Chinese aggression.
Another conspicuous development that raised eyebrows was Malaysia's submission to the UN for a greater share of the continental shelf beyond 200 nautical miles of its EEZ, which happened to overlap with China's claim on the entire Spratly islands (nine-dash line). Currently, Malaysia occupies five islands in Spratlys and lays claims to 12 islands. The submission is linked to a related application that Malaysia and Vietnam made 10 years ago, which met staunch opposition from China's UN mission. Mahathir, who ascended to power on the wave of simmering domestic discontent against China's pervasive economic influence, resorted to legal arbitration to possibly have added leverage over the negotiations related to the Chinese funded BRI projects which are notoriously known for pursuing debt-trap diplomacy.
In the wake of the Philippines, Cambodia, and Brunei openly courting China, the US seeks to warm up to Vietnam, the most vocal adversary to China's boisterous aggression in the South China Sea. The latest defense paper of Vietnam indicates that it is going to desist from hedging bets between the US and China and call on the foreign powers to assist their regional endeavors in constraining China's outreach in the region. After the month's long confrontation with China over its survey vessels into Vietnam's exclusive economic zone near Vanguard Ban, and Beijing's coercion of Hanoi to prevent hydrocarbon drilling in its own territorial waters with foreign partners, Vietnam introduced maritime militias which will escort the fishing fleets in the strategic resource-rich waterway to counter China's fishing militias ships.
Ironically, a country like the Philippines, who restored to law fare first in 2016, where the international arbitration panel ruling favored the Philippines and struck down China's unilaterally declared nine-dash line, has preferred to bilaterally settle the maritime disputes in contested waters through peaceful means and dithered from consolidated deterrence to oppose Beijing claims. Embracing China's billion-dollar investment in the construction of ports and the telecommunication sector signifies a tilt towards Chinese orbit at a time when the Philippines is threatening to end a Visiting Forces Agreement with the US.
ASEAN's ability to speak as a common voice on sensitive issues such as on sovereignty and territorial disputes has been under the scanner for years. China capitalizing on its economic supremacy has managed to keep a short leash on its Southeast Asian neighbors, thus it is unlikely that ASEAN will directly denounce China's hawkish behavior in the South China Sea. In 2017 ASEAN summit held in Manila, China's hard lobbying led ASEAN to drop its mention of "China's reclamation and militarization of the South China sea islands". Cambodia, China's most staunch ally in Southeast Asia during its chairmanship of ASEAN, for the first time in its history, obstructed ASEAN from issuing a joint communiqué that insisted on mentioning a reference of China's territorial disputes with ASEAN countries in the South China Sea. Cambodia to grovel China also stated that ASEAN cannot be "a legal institution" for settling territorial claims in the South China Sea.
The most fatigued issue of the Code of Conduct between China and ASEAN, which is set to be concluded in 2021, will further expose ASEAN's fraying institutional mechanism due to its flawed consensus-building process where any ASEAN member can mute  ASEAN'S voice by issuing a veto over any joint resolutions or statements.  If China is successful in framing a nonbinding COC and codifying the clause of ending foreign armed forces in the region, it will make the COC dead on arrival.  China can exploit it as a diplomatic tool to justify its unilateral disruptive actions by including ambiguous and imprecise language. Further, China will not adhere to any COC as it has repeatedly been flouting international laws without paying any heed to the international arbitration tribunal's ruling sought by the Philippines. It will lead to further erosion of the ASEAN centrality as some member states like Cambodia and Brunei might  openly support China buttressing China's views  that Asean should not be a party to the south china sea disputes and rather solve  the issue " "bilaterally". 
China's recurrent aggressive posturing in the region through the grey zone tactics such as that of sending fishermen, geological survey ships, and coast guards in the other claimants' territorial waters will irk Vietnam, Malaysia pushing them to take a harder line on the dispute resolution through multilateral intervention of the US Australia, and Japan. In this way, China might lose at its own game. Instead of bringing its neighbors to the negotiating table to accept Chinese prescribed terms of COC, they will be impervious to China's threats, and its unabashed maritime expansion will propel them to enhance their strategic ties with the US and step up joint naval exercises with the US, Australia, Japan and India.
The South China Sea symbolizes an arena of China's naval prowess hence; it has shown the audacity to enter its rival claimants' exclusive economic zone. This show of subtle coercive power is not only limited to Southeast Asian littoral states, but also India's maritime backyard in the Andaman Sea. Last September the Indian Navy expelled China's research vessels from its exclusive economic zone near the Andaman and Nicobar islands. These research vessels portray a significant threat to Indian strategic interests as they could be mapping characteristics of water to enhance its submarine warfare and deep-sea mining capabilities. China, being cognizant of India's redlines, has resorted to such subtle intimidation, thus abstaining from directly challenging India's sovereignty claims, or drawing in closer proximity to the Indian coastal states with pernicious intent.
China has been making inroads in the eastern Indian Ocean region through the development of strategic Kyaukpyu deep seaport in Myanmar giving it direct access to the Bay of Bengal, talks about constructing a secret naval base in Cambodia, and 100km long km long canal in Kra isthmus in Thailand bypassing strait of Malacca, a critical lifeline for China's energy supplies. Apart from encircling India, China's expanding naval influence astride India's Andaman and Nicobar islands stems from its need to diversify its energy supply routes as the maritime traffic to the Strait of Malacca has to traverse through the Andaman Sea, leaving China's critical energy supplies vulnerable to a blockade from its foes. Other points of leverage are its control of ports in Pakistan, Maldives, Sri Lanka, Bangladesh and now Myanmar which serve as a refueling and resupply stopover to Chinese naval vessels and warships, which patrol the critical entry checkpoints in the IOR. This, in turn, would ensure sustenance to its naval forces enabling nimble deployment in any event of war providing a strategic edge over its adversaries.
In a great game of power competition between India and China, the navy's rapid modernization has led China to dominate the waters of Indo Pacific.   China has tripled the number of frigates, cruisers, destroyers, attacked guided missile submarines, and nuclear attack submarines. China has been modernizing its submarine fleet and indigenously developing aircraft carriers, and conducting joint military drills in the western Indian Ocean region with Iran and Russia showing its naval superiority in the region. It has been also squeezing India on the Kashmir issue, its membership in NSG, while challenging India's dominance in its backyard by establishing a palpable constabulary presence in the Andaman Sea through its submarines and research survey vessels exhibiting its veiled influence in the region.
Indian Navy, which envisions the role of being a "net security provider" in the IOR and enhances the capacity building of its littoral states, is itself facing modernization deficiencies due to recurring budgetary constraints, procurement delays, corruption, and red-tapism. This year's obfuscated defense budget allocated for the Navy will lead it to pullback its capacity enhancement plans of becoming a 200 ship fleet by 2025 and will also lead to cut down on procurement of the most needed naval assets like countermeasure mine vessels, early warning helicopters, fleet support ships, aircraft carriers. This raises serious questions about the Indian Navy's ability to navigate through the most common threat of mines which impinge considerable damage to the large ships off the coast.
China's increasing military build-up has thus pinched India to drop its self imposed restraint and reinvigorate the QUAD. Along with upgrading the QUAD engagement to the foreign ministerial level , and India's consideration of inviting Australia for the trilateral Malabar exercises with Japan and USA this year suggests India's growing seriousness in giving Quad a semblance of the formal security alliance, eliciting chagrin from China. India's exclusion of China from its largest-ever multinational naval drills construes that as long as incompatibility prevails between India and China visions for the Indo Pacific, New Delhi through such naval exercises will try to deprive China of the significant shared interoperability mechanism vital for overhauling Navy's strategic maneuvers, and through these exercises ensure synergy of the free and open Indo Pacific doctrine. It is also a benign way to reinforce its naval preeminence in the Asian nautical commons when India feels a sense of unease with China's naval forays in its backyard.
India may further milk out on growing frustration of Indonesia and Malaysia with China's hooliganism and find a common cause to augment its defense cooperation. China is riding roughshod despite retaliatory responses from its Southeast Asian neighbors. Its bullying of Southeast Asian littoral states is a harbinger to how it may treat the neighbors in the future. The only positive development is the US's "piecemeal" efforts in the form of mounting freedom of navigation operations in the Taiwan straits and South China Sea. It further pricked Beijing by buttressing defense aid to Vietnam and Taiwan. While we can expect deeper defense cooperation between core ASEAN Nations and external powers like US, Australia, Japan, the US's security commitment towards the region will hinge on China's actions and the accordingly both the parties in their heated rivalry will pull the strings of the ASEAN's countries security and economic fragile thrust points to overpower each other. For now, China should make peace with the fact that its thirst for conquering the seas risks skewing power asymmetry in the US's favor as the ASEAN nations will tilt towards the US for counterpoising Beijing's rise in the Asia Pacific.
With the geopolitical fault lines in the region coming to the fore, ASEAN will now be under scrutiny for managing the delicate dancing act between its strategic allies US, and its leading trade partner China. It will also be interesting to see how Vietnam presiding this year's ASEAN chair handles the South China Sea dispute balancing the economic and strategic priorities of the group.