Proof that America's "Deep State" Exists and Controls the Government
The readers at the international-news site South Front tend to be technologically far more knowledgeable about the internet than most people (including myself) are, and so their responses to a news-report that I did on December 17th, titled "Former NSA Tech Chief Says Mueller Report Was Based on CIA-Fabricated 'Evidence'", not only corrected a misspelling of a particular spoken acronym (my "PHAT" there should have been spelled "FAT") but they also explained some technological details which enable a deeper understanding of how the CIA had perpetrated the 'Russiagate' hoax that Robert Mueller in his report as the U.S. Special Counsel had asserted to be a "Russiagate" fact (i.e., Mueller's allegations that the Russian Government had hacked computers of the Democratic National Committee). Especially informative there was this reader-comment, which comes from one of the world's leading experts on cyber technology, Luke Herbert-Hansen:
Luke Herbert-Hansen Peter Jennings
Well FAT may not
[be]
a common OS file system anymore, but it is still widely used on various removable media such as a USB sticks.
As everyone knows who has been closely following the most-reliable evidence regarding the question of how DNC emails had been copied and supplied to Wikileaks, there has been much credible, soundly-sourced, speculation that the DNC employee Seth Rich had physically copied the data from a computer there onto a thumb drive (or "USB stick"), which then was picked up in the U.S. by a Wikileaks agent, who physically delivered it to Julian Assange at London's Ecuadorean Embassy. The great independent investigative journalist (virtually barred since 2007 from being published in the U.S. anymore), Seymour Hersh, personally investigated the records of the murder of Seth Rich, both at the Washington DC police and at the FBI, and this is from the transcript I had made of his statement in a Web-posted phone-call [my boldfaces for emphasis]:
(2:50-) At some time in late spring, which we're talking about in June 21st, I don't know, just late spring early summer, he makes contact with Wikileaks, that's in his computer, and he makes contact. Now, I have to be careful because I met Julian [Assange] in Europe ten twelve years [ago], I stay the fuck away from people like that. He has invited me and when I am in London, I always get a message, 'come see me at the Ecuadorean' [Embassy], and I am fucking not going there. I have enough trouble without getting photographed. He's under total surveillance by everybody.
They found, what he had done, he [Seth Rich] had submitted a series of documents, emails from DNC — and, by the way, all this shit about the DNC, you know, was it a 'hack' or wasn't it a 'hack' — whatever happened, it was the Democrats themselves wrote this shit, you know what I mean? All I know is that, he offered a sample, he sends a sample, you know, I am sure dozens of emails, and said 'I want money'. Later Wikileaks did get the password [SETH RICH DID SELL WIKILEAKS ACCESS INTO HIS COMPUTER.] He had a drop-box, a [password-]protected drop-box, which isn't hard to do. I mean you don't have to be a whiz at IT [information technology], he was not a dumb kid. They got access to the drop-box. This is all from the FBI report. He also let people know with whom he was dealing, I don't know how he dealt, I'll tell you all about Wikileaks in a second, with Wikileaks the mechanism, but according to the FBI report, he shared his box with a couple of friends, so 'If anything happens to me, it's not going to solve your problem', okay? I don't know what that means. But, anyway, Wikileaks got access. And, before he was killed, I can tell you right now, [Obama's CIA Director John] Brennan's an asshole. I've known all these people for years, Clapper is sort of a better guy but no rocket-scientist, the NSA guys are fuckin' morons, and the trouble with all those guys is, the only way they'll get hired by SAIC, is if they'll deliver some [government] contracts, it's the only reason they stayed in. With Trump, they're gone, they're going to live on their pension, they're not going to make it [to great wealth]. I've gotta to tell you, guys in that job, they don't want to live on their pension. They want to be on [corporate] boards like their [mumble] thousand bucks [cut].
I have somebody on the inside, you know I've been around a long time, somebody who will go and read a file for me, who, this person is unbelievably accurate and careful, he's a very high-level guy, he'll do a favor, you're just going to have to trust me, I have what they call in my business, long-form journalism, I have a narrative, of how that whole fucking thing began.
(5:50-) It's a Brennan operation. It was an American disinformation, and the fucking President, at one point when they even started telling the press — they were back[ground]-briefing the press, the head of the NSA was going and telling the press, the fucking cocksucker Rogers, telling the press that we [they] even know who in the Russian military intelligence service leaked it. All bullshit.
In other words, besides the information from Bill Binney, who was an NSA whistleblower who took early retirement so he wouldn't have to continue doing what people such as John Brennan demanded, Seymour Hersh there provided yet additional confirmation to this account from the also-early-retired whistleblowing UK Ambassador Craig Murray — a close friend of Assange — who claimed that he had "met" the person in DC who supplied the thumb drive (USB stick), which then was delivered (he didn't say how) to Assange:
Here is from my news-report on 6 January 2017 which confirms and documents that:
Murray received the Hillary-campaign information on September 24th. Little over a week later, on October 7th, Wikileaks published documents from the computer of Hillary's Campaign Chairman John Podesta, and politico announced it headlining "The most revealing Clinton campaign emails in WikiLeaks release". That same day, Politico also bannered "Podesta: 'I'm not happy about being hacked by the Russians'," and the legend that 'Russia hacked the Clinton campaign' started immediately to compete in the day's 'news' stories, and diminish focus on, the contents of that information which had been 'hacked'.
However, the information from the DNC itself had been published much earlier, on July 22nd, and so this could not have come from the September 24th leak. Whether it came from the same person, or through the same courier (i.e., Murray), isn't yet known. [But it is now, from what Binney has just said, and the answer is "yes."] The Obama Administration has made no distinctions between those two data-dumps, but charges that all of the leaks from the Obama-Clinton-DNC conspiracy — both the anti-Sanders campaign during the primaries, and the anti-Trump campaign during the general-election contest — came from 'Russian hacking'. The reason why the emphasis is upon the anti-Trump portion is that the conspirators now are trying to smear Trump, not Sanders, and so to make this a national issue, instead of only an internal Democratic-Party issue. They are trying to de-legitimize Trump's Presidency — and, at the same time, to advance Obama's aim for the U.S. ultimately to conquer Russia. The mutual hostility between Obama and Trump is intense, but Obama's hatred of Russia gives added impetus to his post-Presidential campaign here. This Nobel Peace Prize winner had Russia in his gunsights well before he, as a cunning politician, made political hay out of Mitt Romney's statement that "Russia, this is, without question America's number one geopolitical foe."
Only a fool trusts the U.S. government (and the U.S. 'news'media) after 'Saddam's WMD' (which despite all the lies to the contrary, didn't exist). Like Craig Murray said, "I used to be the head of the FCO unit that monitored Iraqi weapons of mass destruction, and I know for certain, I can tell you, they knew there weren't any."
In my records, the politically progressive Craig Murray was the first individual to post to the Web a clear case that Russiagate was a U.S. Deep-State hoax: He headlined, on 31 December 2016, "Exit Obama in a Cloud of Disillusion, Delusion and Deceit", and discussed the case which now is commonly called "Russiagate." In fact, I had never found any evidence that anything he has said was false, and — especially considering the sheer number of his postings at his blog — this was a remarkable record of truthfulness (100%), which is attained by very few journalists, none of whom are publishable in the United States. These reporters are too honest, and too careful about the quality of the documentation they cite, to be publishable in the United States. They refuse to intentionally deceive their readers; and, to the exact contrary, they take great care never to deceive them. (However, I unfortunately did finally see a posting from him that included some false allegations.)
Incidentally, my December 15th news-report, "Two Huge Suppressed News-Reports in a 3-Day Period Display Corrupt U.S.-&-Allied Mainstream Press", shows how pervasive and deeply systemic this outright lying by the U.S.-and-allied press is.
As to whom the individuals are who are America's Deep State, that's discussed here. In other words: the operatives (such as mainstream American journalists) are only agents for those individuals — they are not the Deep State itself. They can easily be replaced, but the Deep State is a far more deep-seated infection, in the American body-politic, and maybe cannot be removed, at all, without replacing the entire system. More-drastic measures than "reform" would therefore be needed, in order to eradicate the Deep State and restore whatever degree of democracy the United States formerly did have. (It's now a dictatorship. In fact, that's even been scientifically proven.) My research indicates that the Deep State took control of America starting on 26 July 1945.
Two Ways that Trump Spread Covid-19 in U.S.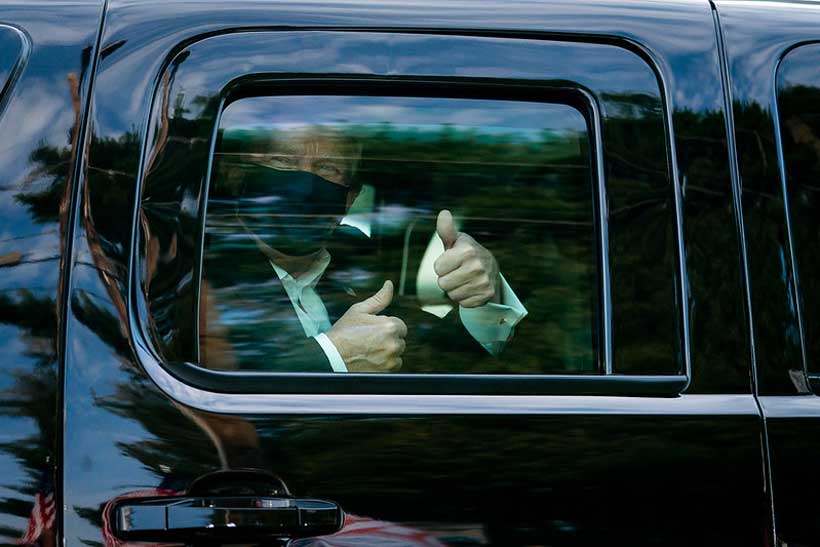 1. Encouraging infected workers to continue working even if it infects others:
On 12 May 2020, two hundred and twenty five labor organizations signed a letter to Antonin Scalia's son Eugene Scalia who was Donald Trump's appointed Secretary of Labor, and it urged his Department to change its policies "that address the standards that apply under the federal U[nemployment] I[insurance] law to determine when workers remain eligible for regular state UI or P[andemic] U[nemployment] A[ssistance] if they leave work or refuse to work due to COVID-19 health and safety concerns." In more-common language, an economist Jared Bernstein headlined in the Washington Post six days later on May 18th, "The Labor Department is forcing workers back to jobs that could make them sick" and he explained that Scalia's Department "has issued guidance that virtually ignores health risks and encourages employers to report workers who refuse job offers [while unemployed] so their unemployment payments can be taken away. The agency is busy urging employers to snitch on 'claimants that have turned down suitable work.'" Trump's Labor Department ignored the labor-organizations' letter. Then, a barista headlined at Huffpost on 22 January 2021, "I Work In A Coffee Shop In Montana. Anti-Maskers Have Made My Job Hell." She complained that the many customers who refused to wear masks were causing her to fear working there — she was blaming those customers, but not Trump. However, Trump and his Labor Secretary were responsible and simply didn't care about the safety of workers, such as her, and were instead encouraging employers to force these workers to stay on the job, though doing so endangered themselves and their co-workers. Millions of infected workers were infecting others because not to would cause them to become fired and could ultimately force them into homelessness. Maybe the billionaires who funded Trump's political career profited from such exploitation of their employees, but nationally this policy helped to increase the spreading of Covid-19. Also: since so many of those bottom-of-the-totem-pole employees are Blacks and Hispanics, etc., this Trump policy helped to cause the drastically higher infection-rates that have been reported among such groups.
2. Refusing to deal with the pandemic on a national basis:
On 15 July 2020, the Washington Post headlined "As the coronavirus crisis spins out of control, Trump issues directives — but still no clear plan" and reported that, "health professionals have urged the White House to offer a disciplined and unified national message to help people who are fatigued more than five months into the crisis and resistant to changing social behaviors, such as wearing masks and keeping a distance from others. Trump, for instance, refused to be seen publicly wearing a mask until last weekend, when he sported one during a trip to Walter Reed National Military Medical Center. 'You can get a really strong and eloquent governor who can help at the state level, but it does seem like we need some more national messaging around the fact that for many people, this is the most adversity they've faced in their life,' said Marcus Plescia, chief medical officer with the Association of State and Territorial Health Officials." Every country (such as China, Vietnam, Venezuela, South Korea, Thailand, New Zealand, and Finland) that has been far more successful than America is at having a low number of Covid-19 cases (and deaths) per million residents has dealt with the pandemic on a national and not merely local basis, but all of the worst-performing countries (such as America, which now is at 76,407 "Tot Cases/1M pop") have not.
It therefore also stands to reason that
which ranks all 50 states according to how high is the number of Covid-19 infections per million inhabitants, shows (and links to the data proving) that "In 2016, the top 17 [most Covid-infected states] voted for Trump, and the bottom 5 voted for Clinton. All but 3 of the top 24 voted for Trump." The correlation of high Covid-infection-rate with Trump-voting was astoundingly high. Trump, it seems, gave the high-infection-rate states what they had wanted. But what he gave to America is the highest Covid-19 infection-rate of any nation that has at least 11 million population. It is the 7th-highest Covid-19 infection-rate among all 219 reporting nations. Trump's policies produced the type of results that had been expected by well-informed people around the world.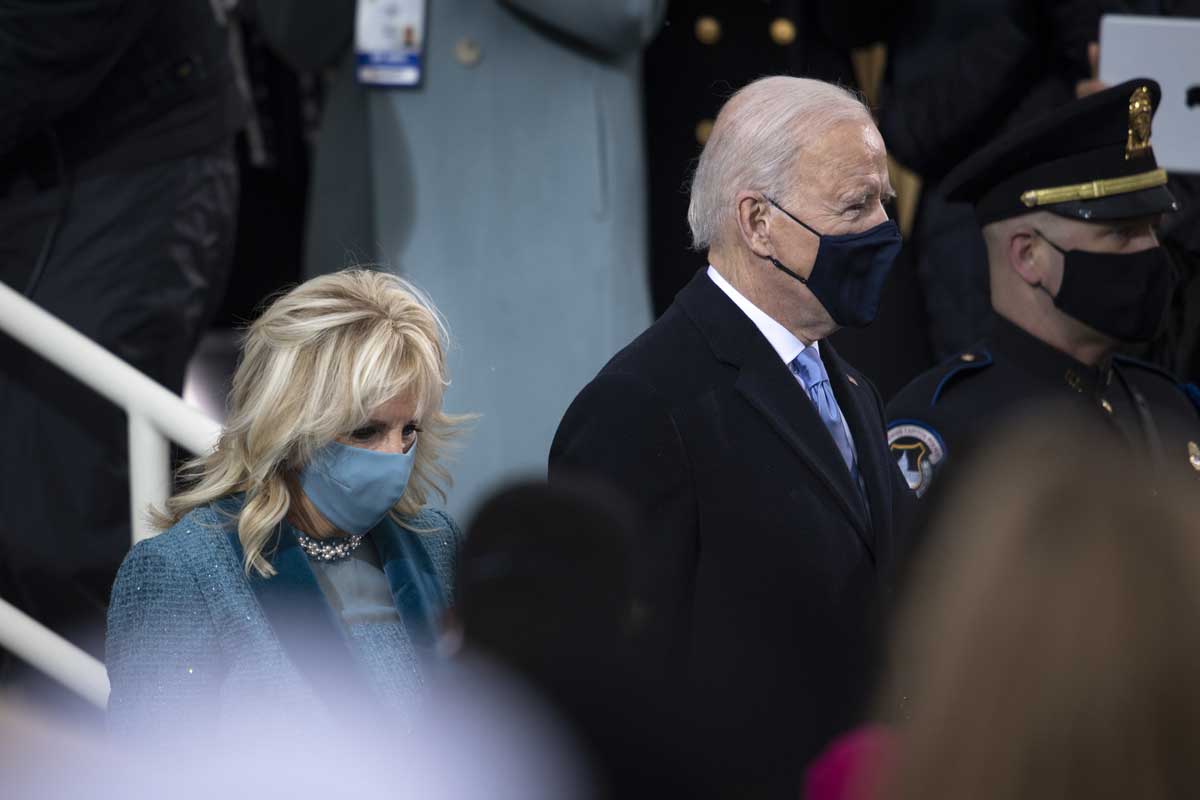 Sic transit gloria mundi — thus passes worldly glory, which seems an apt phrase for the peaceful transition of power from one administration to the next.
Joseph Robinette Biden, Jr. became the 46th president of the United States at noon on January 20th, and earlier Donald J. Trump departed the White House quietly for Florida — his last ride on Air Force One as president — leaving behind a generous and gracious letter for Biden. So it is described by Joe Biden himself. Trump did not attend the inauguration, the first president not to do so since Woodrow Wilson in 1921, who remained inside the Capitol building because of poor health while his successor Warren G. Harding was installed.
It was a most unusual inauguration this time. There were no crowds on the lawns outside; instead row upon row of American flags representing them. The official attendees all wore masks and included three former Presidents (Obama, the younger Bush and Clinton). President Carter, who is in his 90s and frail, sent his apologies.
The usual late breakfast before the ceremony and the lunch afterwards were also cancelled — one cannot eat with a mask in place! No evening inaugural balls either. These were sometimes so many that the new president and his lady could only spend a few minutes at each. In their stead, there was a virtual inaugural celebration hosted by Tom Hanks the actor. It consisted mostly of pop-singers who supported Biden plus a disappointing rendering of Amazing Grace by Yo-Yo Ma on his cello.
Biden's first act was to sign a series of executive orders to undo some of Trump's policies. He announced the U.S. would not leave the World Health Organization (WHO) and would continue to contribute to it. On climate change a complete policy reversal now means the U.S. will abide by the Paris climate accord.
Biden's other executive orders totalling 15 responded to the coronavirus crisis with the goal of giving 100 million vaccine shots by the end of April. He proposes to establish vaccine centers at stadiums and community facilities and also plans to speed up production of the supplies required for making vaccines.
The U.S. now has lost 406,000 lives (and counting) from COVID-19. That number is noted to be greater than U.S. deaths during WW2. The virus has so far infected 24.5 million people. However, the problem is more complicated than simply inoculating everyone.
Swedish authorities report that 23 people, mostly elderly and having other health issues, have died after being given the Pfizer vaccine. Its side effects apparently can be severe and mimic the disease itself. Thus given a choice, one would prefer the Moderna vaccine.
Old age is a poignant sight to behold. Biden the ex high school football star now having difficulty lifting his feet to walk. Very gamely, he even tried a jog or two to say a quick hello to bystanders during his short walk to the White House. We wish him well and hope for a successful presidential term. Thirty-six years as senator and eight years as vice-president certainly make him one of the most experienced to sit in the White House Oval Office. Good luck Mr. President!
Is Sino-Russian partnership posing a strategic threat to U.S. and democracy worldwide?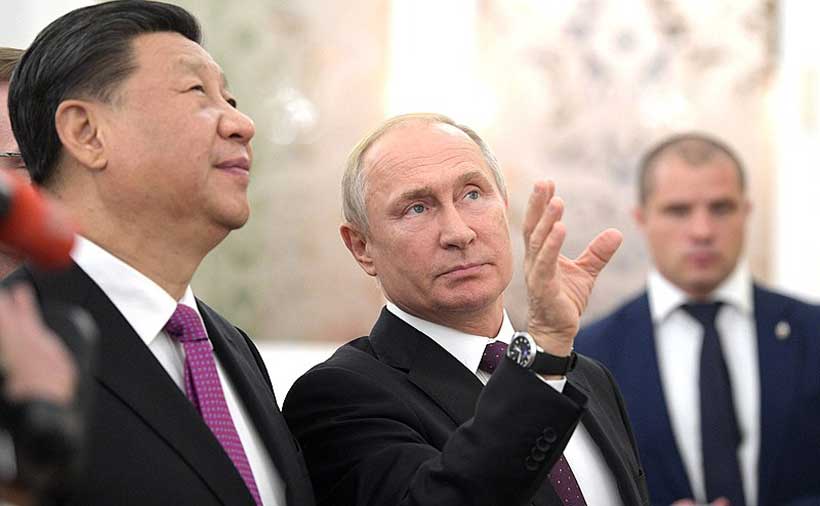 Despite significant divergence between China and Russia in both regional and international arenas, the countries have striven to expand their cooperation in several directions namely in diplomatic, political and defense realms. China and Russia consider the US as a challenge to the national security of both Beijing and Moscow. The countries are bearing in mind that alignment between Moscow and Beijing is thought to be the best possible measure to deter US hegemonic policy. Russia and China are working together to the fill the gaps of their military capability, accelerating their technological innovations, supplementing each other's defense competency to emasculate US global leadership, challenging US dominance in strategic regions as well.
Their joint naval drills are supposed to be projected as a counter-measure to minimize the US capability, and to defy US regional scenario. Furthermore, the countries accelerate their cooperation to erode US military advantages. In order to enhance their efforts, Russia provides China with advanced weapons to remove the US from their backyards. Their joint efforts have put America under immense pressure to reconsider its defense budget and its alleged commitments to advocate a free and open Indo-Pacific. The countries are doing their best to counter American Democratic measure in form of "color revolutions", substantiating each other to defend their interests in multidimensional environments, creating norms around cyber and internet sovereignty, and augmenting anti-American elements even radical Islamists to gain the power and expand their territorial control. They legitimize each other's conducts to persuade swing states to abandon the US.
Moscow and Beijing consolidating their efforts to inter to the new spaces more likely Artificial Intelligence, they strive to offer diverse digital system and other technologies. They also joined hands to disqualify American financial measures in the global economic arena especially bypass the US sanctions and minimize the US ability in financial realm as part of the US foreign policy objective.
They have long before tried to de-dollarize the world finical system, which will in turn curtail the US capability in the area of export control.
America's counter measures
Nonetheless, the US has launched counter measures to limit Sino-Russia cooperation and the threats they pose to Washington. In response to Sino-Russian partnership, the US stationed and installed vigilant technologies all around the countries to curb their liabilities. Additionally, in response to the Sino-Russian joint-partnership, the US adopted a new maritime strategy in December 2020 the three maritime services of the US military – the US Navy, Marine Corps and Coast Guard. The strategy elucidates both China and Russia as resolute adversaries, who pose a long-term strategic threat to the national security of the US in the global arena particularly in Indo-pacific domain. In comparison to the old strategies, the new strategy presses on the importance of sea control, which ascribes the possibility of armed conflict with at maritime level. Moreover, the strategy signifies the importance of Coastguard as a part of main element to deter multidimensional threats posed by Sino-Russia. The new strategy also implies and stress on building partnerships and cooperation with other countries to defend the US global perspective. It clarifies as well that current US defense capability is not sufficient. Thus, the maritime forces ought to be modernized in order to counter Sino-Russia maritime strategy. According to the new strategy, the size and shape will boldly change to answer the current and future challenges.
Are China and Russia strategically associated?
Even so, due to American Air, Land and sea superiority, in global level and particularly in Indo-pacific, Asian and African regions, which is considered as threat to the national security of China and Russia. Therefore, Moscow and Beijing agreed upon to build up partnership and cooperation along with filling each other's gaps in term of defense, aerial, sea and digital technologies, to rule out American Maritime strategic challenges. In addition, kick out the US military forces from their back yards. It is worthwhile to note Sino-Russian cooperation or partnership is not strategic, because is not built on natural basis, rather it instituted on a tactical measure to deter American aggression. It is very conventional term that the enemy of my enemy is my friend, which means Beijing and Moscow have a common enemy "the United States". Therefore, they disregard their border dispute for the time being, which will definitely be brushed up, when the US is out of the race in the global arena.
According to the management criteria, partnership or cooperation is based on three terms; short term, midterm and long term in other word operational, tactical and strategic, taking in to account the mentioned terminologies the Sino-Russia partnership is operational and tactical then to be strategic/long-term. While China has been shifting its soft strategic measures, the country tries to apply hard power in Central Asia "Russia's back yard". Beijing considers stationing military forces in the region to defend the country's Belt and Road initiative extended to the region. China wants to safeguard its geo-economic and geo-political objectives thru future military installations in Central Asia. Therefore, Beijing's motives are irreconcilable with the foreign policy objectives of Moocow for the region, because China pursues to advance trans-Eurasian transportation corridor in order to bypass Russia. Furthermore, China recently built an airport in Xining-Uyghur autonomous district close to Afghan and Tajikistan borders, which is the first airport of such kind in the mountainous area of Badakhshan. China's initiative in this form, offers Beijing enjoying upper hand to get hold on Natural resources of the disputed region. The country undertook to build extra 25 airports in the region in order to expand its military buildup. Hence, Russia reconsiders its partnership with China, because the balance between Beijing and Moscow is changing in the region.
In addition, Sino-Russian partnership is depended on China's commitment to full carbon neutrality by 2060. Beijing will reduce consumption of all fossil fuels, including natural gas, which will definitely play a significant role in future cooperation and partnership between Moscow and Beijing.
China has recently made public that the country will almost be carbon neutral in 40 years; means the country will reduce 65% of its oil consumption and 75% of its natural gas consumption. These assertions will disqualify forthcoming efforts to run a mega-pipeline "Power of Siberia-2" in order to pump Russian natural gas to China. In order to minimize its dependency on Russian Natural Gas, China has diversified its efforts to import natural gas from centrals Asian countries. China made a technological breakthrough in domestic natural gas production, which will in turn reduce Chinese dependency on Russia. In couple of decades, Russia will totally lose its fuel and gas advantages to leverage China. Between 2050.2060, China will independently handle its energy needs, and develop its defense, maritime and digital technology including artificial intelligence. China will increase its defense budget up to 1 trillion dollars. Until 2060, the US will completely be out as a major element of world order. So there would be no need for Sino-Russian cooperation, China alone would be in a position to police the world and Russia will become Beijing's number one geo-political enemy.
Sino-Russian rift
China and Russia enmity goes back to the Chinese Eastern Railway(CER) conflict took place in 1929 between Soviet Union and China, which was the bloodies conflict of its time. Joseph Stalin played a significant role to neutralize Chinese efforts to recapture the Railway. In order to attain its goals China used both conventional and asymmetric approaches to eliminate Soviet Union control over the Railway. Obtaining green signals from Japan, Stalin forcefully trespassed the region and pushed back Chinese armed forces, which was connoted as a sign of aggression, and ended up with border dispute. Throughout, the history both countries unsuccessfully endeavored to find a peaceful and acceptable solution to the border conflict. Consequently, in 2003 Russia and China signed an agreement to resolve the border dispute. In 2005, Moscow and Beijing finalized the border issue, nevertheless, Chinese leadership still claims that Vladivostok Russia's Fareast city is part of Chinese territory, besides Beijing asserts that Russia has annexed 350.000 square mile of Chinese territory.
Taking into account the above said facts, Sino-Russian partnership will break up some times in the future (2050-2060) and will change to armed conflict. Furthermore, Russia is not a solemn geopolitical adversary of the United States as China is. After the collapse of Soviet Union, both Russia and America were on the right path to normalize their relationship. Throughout, the different administrations no matter democrats or republicans leadership, Moscow and Washington achieved a lot to be aligned. For goodwill they even signed a new start to reduces their nuclear warheads and stop arm race. Due to the US eastward expansionism, Russia was driven into the arms of Beijing to establish partnership and cooperation.
Is Beijing or Moscow a national security threat?
The National Counterintelligence and Security Director Bill Evanina in his Fax News interview shed light on that no country poses a broader more severe threat to America than China. He added that Beijing's malign influence campaign against America would be one of the bigger challenge for Biden administration. He asserted from a threat perspective, Russia is a significant adversary particularly with regard to cyber intrusions, malign influence, and sowing discord in American democracy, but China poses a broader, more severe intelligence collection to the United States. According to Evanina, China continually engaged in highly sophisticated malign influence campaign against America, because America is a democracy, and democracy is bad for China. Evanina clarifies that challenge for Biden administration will be to understand the scope and scale of Chinese threats in the American landscape, domestically, and what is the best course to defeat that.
He added that part of China's malign influence has focused on politicians and elected officials, leveraging them to be engaged in promoting Beijing's scenario. Evanina signalizes that data theft by Beijing poses severe threat to the nationalized Americans. China can exploit the data for variety of nefarious purposes, and already has a significant record of exploitation of DNA for social control and surveillance of their Uyghur population at home. Evanina warned that China's collection of U.S. Genomic data is helping to fuel their precision medicine and artificial intelligence industries, which poses a long-term threat to the US biotech industry and medicine around the world at large. China continues to exploit American government and industry supply chain he said, Beijing uses American trusted suppliers and vendors against the US itself. He explained that supply chain attacks are insidious at most, because they violate the basic trust between a supplier and a consumer. Therefore, he said that it is a complicated set for the Biden administration to deal with.
A chance of reconsidering foreign policy objectives
Observing that Russia is not a significant threat to America at most, on the other, China poses, the most severe threat to the United States, so the Biden administration can give it a try to revise policies on Russia, and find out divergences and get them solved. In accordance with the US newly adopted maritime strategy, the American forces and vigilance instruments cannot be present everywhere and every time, therefore it stressed on to build and convene partnership and alliance with other countries. Unlike former strategies, the current strategy is more in favor of working together with allies. If Biden's administration tries to build trust amongst its allies, he needs to listen to his allies around the globe especially his European ones and give preference to their concerns. In European perspective, Russia is an inevitable potency in term of economic cooperation, counter insurgency, counter terrorism, and cyber security. Therefore, it is advisable that the policy towards Moscow requires to be given the kiss of life to crumble Sino-Russian partnership, and get it aligned with Washington. Most importantly, Russia is part of Europe; hence, a European orientated solution should be conveyed to motivate Russia to work together with European Union and America.