Brazil identifies a clear pathway for aligning its transfer pricing framework with the OECD standard
Brazil has identified a clear pathway for bringing its existing transfer pricing framework into alignment with the international consensus, and is weighing two options – immediate or gradual implementation, according to a new joint report by the OECD and Receita Federal, Brazil's federal revenue authority (RFB).
Transfer Pricing in Brazil: Towards Convergence with the OECD Standard assesses the similarities and differences between Brazil's transfer pricing rules and the OECD Transfer Pricing Guidelines for Multinational Enterprises and Tax Administrations, which is the international consensus on transfer pricing.
The report, released today in Brasília, identifies two options for Brazil to converge with the OECD standard, while enhancing the positive attributes of its existing transfer pricing framework. Both options contemplate full adherence to the arm's length principle, which is at the core of the OECD standard, while seeking to preserve simplification, maintain ease of compliance and effectiveness of tax administration, as well as cross-border tax certainty.
The report is the outcome of a 15-month joint transfer pricing project launched in February 2018 between the OECD and Brazil's federal revenue authority (RFB). The project, supported by the United Kingdom Foreign and Commonwealth Office (FCO), is now in the second phase with the objective of preparing a blueprint and a roadmap that will outline the implementation process.
Grace Perez-Navarro, Deputy Director of the OECD Centre for Tax Policy and Administration, told participants in a launch event hosted by RFB that the OECD would continue to support authorities during whichever implementation plan is chosen. "Aligning Brazil's transfer pricing rules with the OECD standard will reduce the barriers to investment stemming from the existing risk of double taxation," Ms Perez-Navarro said. "Convergence will also reduce the revenue losses resulting from the specific features of the current system. The OECD is committed to provide further assistance and support RFB in this process."
Special Secretary of Brazil's Federal Revenue, José Barroso Tostes Neto, also expressed support for bringing Brazil closer to the OECD standard. "The report outlines the direction of our next efforts, which is the full alignment with the OECD transfer pricing standard", said Mr Tostes Neto. "This is because our vision for the future aims at increasing integration and openness of Brazil. We are counting on all the stakeholders as well as on the OECD and the countries who provided their generous assistance and support to achieve the goal of implementing a system that will be appropriate and work for Brazil, and become an inspiration for other countries to follow."
Tanzania helpline calls time on child marriage and abuse
Child marriage continues to affect many young girls across Tanzania, in East Africa, but now a series of interventions supported by the UN Population Fund (UNFPA) are allowing children to get the support they need to avoid unwanted and potentially damaging relationships.
It was 3 o'clock on a Friday afternoon when Grace*, a counsellor at the National Child Helpline in Tanzania, received a call from a concerned teacher in Msalala, a small town in the remote Shinyanga region in the north-west of the East African country.
One of her brightest students Eliza*, aged 13, had not gone to school that day following worrying rumours that her parents intended to marry her off. She learned that they had accepted a payment in the form of a bride dowry from the family of the intended groom. The man chosen for Eliza was at 35-years-old, more than 22 years her senior.
On a recent two-day visit to Tanzania, UNFPA's Executive Director, Dr. Natalia Kanem, met with counsellors at the National Child Helpline, in the commercial capital, Dar es Salaam. The helpline is run by C-Sema, a national NGO, in collaboration with the Government.
The #116 toll-free service, available across all mobile networks in Tanzania mainland and Zanzibar, responds to around 3,500 calls a day from women and children who are at risk of violence, and from family and community members who report abuses.
The helpline has reported an increase in calls during the COVID pandemic as school closures made children more vulnerable to abuse and exploitation.
Trained volunteer counsellors like Grace give women and young people support, 24 hours a day, seven days a week. The counsellors also liaise with support networks and protection systems in the callers' locality to provide further assistance.
Eliza's story has a happy ending. As a result of Grace's coordination with local government authorities and district social welfare officers in Msalala, officers from the Police Gender and Children's Desk visited Eliza's parents and the marriage did not take place.
A whole-of-community effort
Dr. Kanem expressed gratitude to C-Sema and counsellors for their dedication to advancing gender equality and the health, rights and well-being of women and young people, including through the use of digital platforms and new technologies.
Despite progress and the commitment by the Government to tackle gender inequalities and discrimination, as articulated in the Five-year National Plans of Action to End Violence Against Women and Children, violence remains a daily reality for many women and adolescent girls.
UNFPA Tanzania is supporting efforts to eradicate gender-based violence and to strengthen protection systems across the country In addition to supporting the National Child Helpline, it is also working with police officers who staff specialized gender and children's investigation units which meet the needs of women and girls, and other one-stop support services that provide holistic care all in one place to ensure that victims of abuse do not have to go from one place to another to get medical care, psychosocial support or legal assistance.
Community centres, where women support each other and take the lead in ending violence in their communities, have also been set up.
Empowering men and boys as agents of change
Efforts to end violence are not only focused on empowering women and girls. Men and boys, and traditional and community leaders, are also included in conversations in recognition of their role and contribution to gender equality. Through extensive community outreach, UNFPA's partners are encouraging discussions around harmful stereotypes of masculinity and positive ways to support the rights of women and girls.
Engaging men in holding other men accountable is critical to creating the basis for greater equality and they must not be left out or left behind, stressed Dr Kanem. "Every girl and boy should be valued and should be taught that the expression of their right and empowerment should not be centred on overpowering others."
Supporting government-led efforts
During her visit to Tanzania, Dr. Kanem met with the country's first female President, Samia Suluhu Hassan, who expressed Tanzania's commitment to eliminate preventable maternal and child deaths, gender-based violence and harmful practices, including female genital mutilation.
Dr. Kanem commended the government's leadership and reaffirmed UNFPA's support to Tanzania to realize development targets and stronger, more inclusive socioeconomic growth with the goal of leaving no one behind.
*name changed to protect identity.
Myanmar coup: 'No sign' of end to brutal crackdown on all fronts
One hundred days since the Myanmar military seized power, the "brutal" repression of protesters has continued, despite all international efforts to end the violence, the UN rights office (OHCHR) said on Tuesday.
"The military authorities are showing no sign of letting up in their brutal crackdown on opponents in a bid to consolidate their hold on power", spokesperson Rupert Colville told journalists at a media briefing.
According to credible reports, as of 10 May, at least 782 people have been killed as security forces used unnecessary, disproportionate and lethal force, to suppress demonstrations and other forms of public participation, since the military coup on 1 February.
"While much of the world's attention has been on the number of peaceful protesters and bystanders killed by the security forces, the authorities continue to commit other gross human rights violations against the people of Myanmar", added Mr. Colville.
The OHCHR spokesperson called for greater international involvement to prevent the human rights situation there from deteriorating further.
In particular, he urged the Association of Southeast Asian Nations (ASEAN) to "react quickly and to intensify its actions" to ensure Myanmar's military leadership adheres to the commitments it made in the five-point plan agreed at the regional bloc's meeting of leaders on 24 April, in Jakarta.
The five-point consensus agreed to an immediate cessation of violence in Myanmar and that dialogue should be held among all parties to seek a peaceful solution in the interests of the people.
'Daily raids' on homes and offices
Mr. Colville went on to note that there are daily raids on private homes and offices, with more than 3,740 people currently in detention, including many in situations that may amount to enforced disappearances.
"Of those in custody, the vast majority have not been brought before a judge, while most of the 86 people prosecuted thus far have been tried in secret, with limited or no access to any form of legal counsel", he said.
"Military tribunals and courts martial have been established in several townships in which martial law was declared. At least 25 individuals have received the death sentence to date – some 20 of whom were tried in absentia."
Military 'taking relatives'
Over the past month, the military leadership has issued more than 1,561 arrest warrants against civil society activists, trade unionists, journalists, academics, public personalities and online voices, driving the vast majority of them underground.
"To intensify pressure, the military authorities have resorted to taking relatives of wanted people into custody to force them to turn themselves in to the police", Mr. Colville said, adding that there is also increasing pressure on civil servants to go back to work.
In recent weeks, more than 3,000 civil servants – nearly 70 per cent women – have been dismissed, removed, or suspended by the coup leadership. Those suspended also include 990 university professors, researchers and assistants.
In addition, there are reports that up to 11,000 more workers in the education sector were suspended on Monday.
'Deeply concerned' for those fleeing persecution
The OHCHR spokesperson also voiced "deep concerns" for the people fleeing persecution, especially human rights defenders and journalists.
According to the UN refugee agency (UNHCR), several hundred people from Myanmar have crossed into Thailand and India in recent weeks.
The people seeking safety outside Myanmar must receive such protection and support from Myanmar's neighbours, Mr. Colville urged, adding that while it can take time to decide whether an individual fleeing the country is a refugee or not, "at the very least they should be treated as an asylum seeker and not forced to go back".
"This is particularly important for people with jobs as sensitive as journalists and those active in the civil disobedience movement, opposing the Tatmadaw (Myanmar's military)."
Vaccine inequity posing 'significant risk' to global economic recovery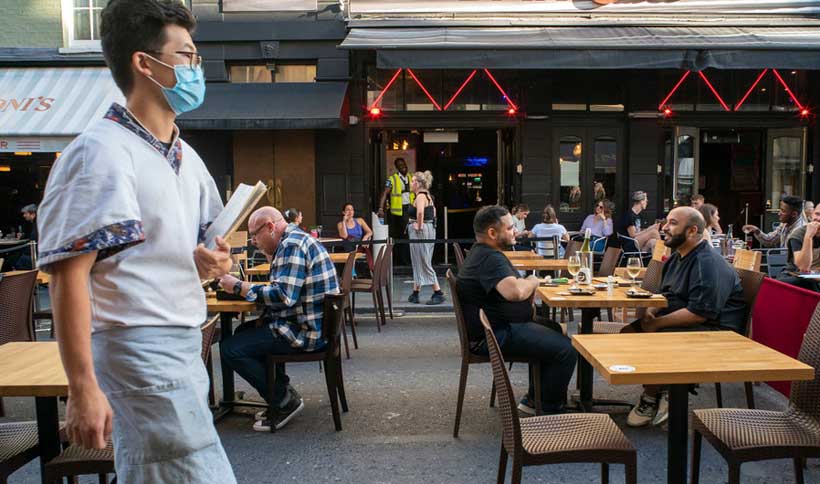 Although the outlook for global growth has improved, the ongoing impacts of the COVID-19 pandemic, as well as inadequate progress on vaccination in poorer countries, are putting recovery at risk, according to the latest UN economic forecast, published on Tuesday.
The World Economic Situation and Prospects (WESP) mid-year report warned widening inequality is threatening global growth, projected at 5.4 per cent this year.
Vaccine access critical
"Vaccine inequity between countries and regions is posing a significant risk to an already uneven and fragile global recovery", said UN Chief Economist Elliott Harris.
"Timely and universal access to COVID-19 vaccinations will mean the difference between ending the pandemic promptly and placing the world economy on the trajectory of a resilient recovery, or losing many more years of growth, development and opportunities."
The mid-year forecast updates the WESP report published in January by the UN Department of Economic and Social Affairs (DESA).
It examines the performance of the world economy since the pandemic began, as well as the impact of global policy responses and post-crisis recovery scenarios.
A mixed picture
The 5.4 per cent in projected global growth this year follows a sharp contraction of 3.6 per cent in 2020, and reflects an upward revision from the original forecast.
While the world's two largest economies – China and the United States – are on the road to recovery, growth remains fragile and uncertain in several countries in South Asia, sub-Saharan Africa, and Latin America and the Caribbean.
Many countries will not see economic output return to pre-pandemic levels until 2022 or 2023.
"For a vast majority of developing countries, economic output will remain below 2019 levels for most of 2021", the authors said. "Amid insufficient fiscal space to stimulate demand, many of these countries will face low and stagnant growth and the prospect of a lost decade."
Trade strong but uneven
The report also details strong but uneven recovery in global trade, which has already surpassed pre-pandemic levels due to demand for electrical and electronic equipment, personal protective equipment, and other manufactured goods.
Economies which depend on manufacturing have fared better, however countries which rely on tourism, or commodities, are unlikely to see a quick rebound.
Tourism services in particular, will remain depressed due to slow lifting of restrictions on international travel, coupled with fears of new waves of COVID-19 infection.
Women hit hardest
The pandemic has pushed an estimated 114.4 million people into extreme poverty, with women accounting for around 58 million of that total.
The report found that while women have been at the forefront of the crisis—
representing most health workers, caregivers and essential service providers—they have also been the hardest hit in several ways.
During the pandemic, labour force participation shrunk by two per cent worldwide, compared to only 0.2 per cent during the global financial crisis in 2007-8, but more women than men were forced to leave their jobs to meet family demands. Women-owned businesses have also fared disproportionately worse, according to the report.
COVID-19 has also dealt sharp blows to services for women's health, and reproductive health, and the disruption to education has helped undermine global progress towards gender equality. There has also been a spike in gender-based violence, which UN Women has labelled a "shadow pandemic."
Ensure inclusive recovery
As women are also underrepresented in decision-making surrounding the pandemic, and in economic policy responses, the report highlighted why recovery must be inclusive.
"The pandemic has pushed nearly 58 million women and girls into extreme poverty, dealing a huge blow to poverty reduction efforts worldwide, and exacerbated gender gaps in income, wealth and education, impeding progress on gender equality", said Hamid Rashid, Chief of the Global Economic Monitoring Branch at DESA, and the lead author of the report.
"Fiscal and monetary measures to steer recovery must take into account the differentiated impact of the crisis on different population groups, including women, to ensure an economic recovery that is inclusive and resilient."