Kazakhstan's Economic Growth to Moderate in 2020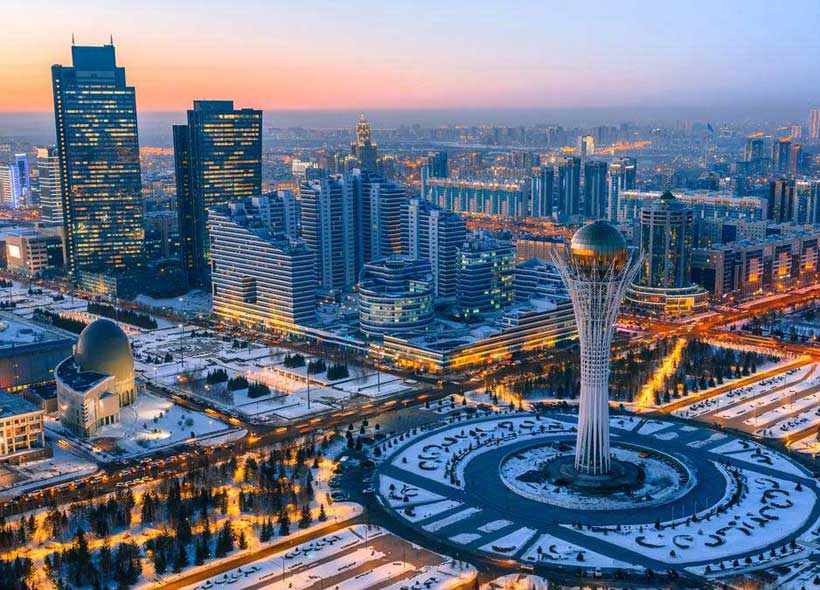 Kazakhstan's real gross domestic product (GDP) growth is projected at 4.0% for 2019, before easing to 3.7% in 2020, according to the World Bank's latest Kazakhstan Economic Update.
A solid performance in domestic demand supported annual GDP growth in 2019. Higher spending on social assistance and continued infrastructure investments helped sustain consumption and investments. Business investment has largely been driven by capital spending in the mining industry and buoyancy in residential construction.
Robust domestic demand, rising food prices, and a weaker exchange rate contributed to inflation fluctuations. The annual inflation rate rose to 5.5 percent in October 2019, slightly above the rate recorded the previous year, resulting in a tightening of monetary policy by the Central bank.
Growth will moderate in 2020, according to the report, as the impact of previous fiscal stimuli diminish gradually over time, and a weaker external environment increases vulnerability to economic shocks. Although global economic growth is expected to improve slightly in 2020, weaker-than-expected growth in the European Union (EU), Chinese, and Russian economies could rattle demand and the prices of commodities relevant to Kazakhstan's exports. Continued weak demand for corporate lending and risk-aversion by banks present another downside risk to growth.
"Although Kazakhstan's GDP has grown at a steady pace in the last two years, going forward it will be necessary to rethink subsidy policies and lending to small and medium enterprises and industries to improve markets and sustain growth", says Jean-Francois Marteau, World Bank Country Manager for Kazakhstan.
The special section of the Economic Update examines export diversification in Kazakhstan. The country is close to the growing markets of China, Europe, and Central Asia, and therefore trade offers new opportunities for economic growth that could also help diversify the economy.
The report highlights that, although Kazakhstan has made progress in diversifying its export destinations, the quality of products is still relatively low. Organization for Economic Co-operation and Development (OECD) data on trade in value-added indicates that Kazakhstan's exporters used fewer imported inputs compared to a decade earlier, which suggests a declining participation in the global value chain.
"Understanding current developments and challenges in exports is key to informing policy on necessary improvements in export competitiveness," says Sjamsu Rahardja, Senior Economist, World Bank Country Office in Kazakhstan. "Our report finds that Kazakhstan can deepen reforms in trade facilitation, attract and retain FDI, and increase participation in the global value chain."
New Data: 2020 PPI Saw Huge Drop, Stabilizing as Year Ended
New data from the World Bank shows that private participation in infrastructure (PPI) in developing countries, while taking an historic plunge in the first half of 2020 due to COVID-19, saw a very modest uptick in the second half of the year. The 56 percent drop in PPI in H1 from the previous year moderated to 52 percent for the full year. Infrastructure investment commitments in 2020 stood at $45.7 billion across 252 projects in developing countries.
"Hopefully, this data signals that the worst effects of COVID-19 on private sector infrastructure finance are now behind most developing countries," said Imad Fakhoury, the World Bank's Global Director for Infrastructure Finance, PPPs & Guarantees. "While this situation remains in flux as the pandemic's trajectory changes, we're keen on scaling up private investment in sustainable and quality infrastructure in these countries going forward—but need more resilient frameworks and enabling environments.
Fakhoury emphasized, "This is critical for building back better post-pandemic, restoring progress towards the 2030 Sustainabe Development Goals, and delivering on climate commitments to ensure green, resilient and inclusive development."
COVID-19's global impact on infrastructure was widespread and swift. Since the start of 2020, existing infrastructure projects were delayed or cancelled due to supply-chain disruptions, travel and shipping restrictions, and other obstacles. Decreased demand or required renegotiations also prevented or delayed many projects already in pipelines from achieving financial closure. Moreover, as public debt globally has risen to record levels and sovereign credit ratings have been downgraded across the developing world, the private sector reacted with caution.
Private investment commitments fell in all regions except Sub-Saharan Africa and the Middle East and North Africa, where development finance institutions played a strong role. The pandemic's impact was most severe in East Asia and Pacific, followed by Latin America and the Caribbean, Europe and Central Asia, and South Asia.
Sectorally, transport investment commitments were the lowest in the past decade—due to lockdowns, mass transit services and toll roads were hugely affected. Ports and railways were affected as well, with decreased volumes of cargo. A bright spot is that the disruption caused by the pandemic has not affected the longer-term shift towards renewable energy: of the 129 electricity-generation projects tracked in PPI's data,117 were in renewables.
Brazil, China, India, and Mexico retained their positions among countries with the top five investment commitments, with Brazil moving to first place, at $7.7 billion. Bangladesh is a new entrant to the top five, with financial closure of seven projects, including one megaproject. Burundi, the Democratic Republic of Congo, and Togo had the first PPI transactions recorded in the past five years.
Twenty-one percent of all PPI projects received support from development finance institutions through loans, equity, guarantees, insurance, interest rate swaps, and transaction advisory services. This underlines the importance of these actors in providing resources, instruments, and de-risking comfort to investors in developing countries, especially in the most difficult contexts.
Reasons for Choosing Temporary and Permanent Industrial Buildings
Professional temporary solution providers have become very innovative in designing industrial buildings. While temporary industrial structures are made of lighter materials such as aluminum and fabric or PVC covers, permanent solutions are made of steel or metal frames and sheets. All of them require good preparation of the ground, pre-fabrication of the frames and sheets, and proper installation to serve their purpose well.
Most beneficiaries of these structures are processing factories, manufacturing plants, sports clubs, schools, and many other organizations and companies. Choosing temporary and permanent industrial buildings from a reputable supplier has many perks.
So, let us dive into the reasons for choosing temporary and permanent industrial buildings to understand this topic better.
Amazing Speed of Constructions
Bye-bye brick and mortar industrial buildings that are time-consuming. Temporary and permanent industrial buildings are the way to go because they are fast and easy to fabricate and install using modern technology.
According to experts, these structures save a lot of time, especially if the frames and panels are already fabricated in the factory. Companies that need to set up new companies or expand the current ones will have everything ready in a matter of a few weeks.
Excellent Cost Saving
The economy is hard enough and the investor needs to save on capital when setting up companies or doing expansions. The good news is that temporary and permanent industrial buildings save costs by up to 30% when done by a professional company.
Smart-Space is not only innovative in their technology but they save you a lot of money when setting up your industrial structures. You can rent these structures if you only need them for a short time to save more money.
Absolute Flexibility and Versatility
If you are looking for structures that can be moved after a few years, then temporary and permanent industrial buildings are the way to go. As mentioned, they are made of frames and panels that are fastened together using bolts. Hence, they are easy to dismantle and move to a different location.
However, this work should be done by professionals to reduce damage and ensure the safety of the structures at all times.
High Level of Customization
If you are looking for functional sizes and unique designs that will maintain the theme of your company or organization, the temporary and permanent industrial buildings done by experts will be best. After a discussion of what will serve your business well, the solution provider will take a few days to do the designs with your preferred sizes and colors.
Customization also applies during the extension of an existing factory where everything is done to your preference or in the best possible way. To achieve a high level of customization, you should consider experienced solution providers.
Surprising Durability
Both temporary and permanent industrial buildings are surprisingly durable. Take steel industrial structures for example. They provide service for many years without the need for complicated maintenance. Since steel does not rust, the structure will withstand harsh weather conditions including moisture.
Structures made of metal frames and fabric are equally durable, especially when used as recommended. They also require low maintenance with no paintwork needed after every few years.
Manufacturer's Warranty
The buyers of temporary and permanent industrial buildings enjoy different manufacturer's warranty benefits. This could be the bought structures or the materials used to make them. What's more is that many reputable service providers also give warranties on the workmanship, which will save cost when there is a problem.
Conclusion
To enjoy all of these benefits, it is good to buy or lease your temporary and permanent industrial buildings from a reliable and trusted supplier. Well, there are even more benefits that you will realize once you start using these structures. So, make the right choice now.
New ways of thinking and working are necessary to reap blockchain benefits in capital markets
The World Economic Forum today released Digital Assets, Distributed Ledger Technology, and the Future of Capital Markets. Across the capital markets ecosystem, institutions are facing a combination of intensified competitive dynamics and accelerating technology advancements, presenting opportunities and challenges both to incumbents and new entrants. Although DLT is not a panacea, the report underlines how it can positively impact costs, market liquidity and balance sheet capacity while reducing the complexity, opacity and fragmentation of capital markets.
Written in partnership with the Boston Consulting Group (BCG), the report is based on nearly 200 interviews and eight global workshops with capital market incumbent players, new entrants, regulators and governments. It presents use cases from equity markets, debt markets, securitized products, derivatives, securities financing and asset management.
DLT can address real challenges and inefficiencies in some markets by providing a trusted, shared source of truth between market participants. However, the future is uncertain as there is no agreed path for market-wide adoption. What's more, as institutions still decide where to invest, varying strategies create tensions.
The report calls for a balance between innovation and market safeguards through standardization, the breaking down of silos and regulatory engagement. According to the authors, fundamentally transforming markets will require new ways of thinking and working across the industry.
"Following several years of intense hype, examples of use cases where inefficiencies and challenges are being solved with blockchain are starting to emerge across capital markets," said Matthew Blake, Head of the Future of Financial Services, World Economic Forum. "With the future for blockchain in financial services still being defined, a nuanced look at the opportunities this technology offers right now is particularly important for the financial services industry."
"Distributed ledger technology has come of age as it begins to enhance efficiencies, reduce operating costs and create new business models in capital markets, but the use cases and solutions are respective to each asset class," said Kaj Burchardi, Managing Director, BCG Platinion. "Whilst this makes sense from a commercial perspective, it has led to a complex patchwork of initiatives. For capital markets to unilaterally adopt DLT, they will require cross-institutional alignment to realize the game-changing market opportunities it can offer."