Will Asia pioneer the "de-dollarization" process?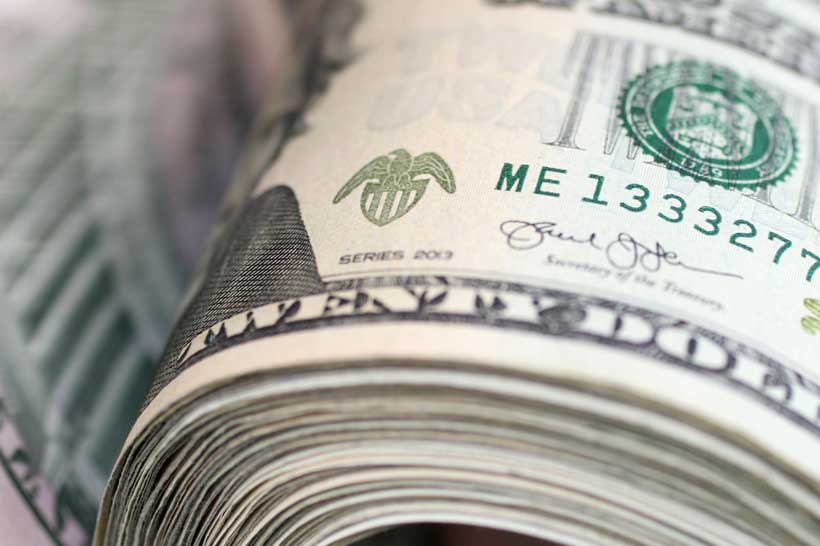 Denmark-based Saxo Bank has released a new batch of "outrageous" predictions for 2020 that it believes could potentially destabilize the entire international system existing today. The bank's experts predict, among other things, that in the coming year, the Asian Infrastructure Investment Bank (AIIB) may launch "a new reserve asset, called the Asian Drawing Right, or ADR, with 1 ADR equivalent to 2 US dollars, making the ADR the world's largest currency unit."
Blockchain technology will give the ADR additional reliability and ensure maximum transparency of payments effectively making it a conventional unit in a basket of leading world currencies and gold, with the Chinese yuan heavily prominent in the mix and the US dollar weighted at below 20 percent.
According to the Danish bank, this step is clearly aimed at de-dollarizing regional trade. Local economies will multilaterally agree to begin conducting all trade in the region in ADRs only, with major oil exporters Russia and the OPEC nations happy to sign up on their growing reliance on the Asian market.
The ADR will quickly take a sizable chunk of global trade away from the US dollar, leaving the United States ever shorter of the inflows it needs to fund its double-digit deficits. The US dollar will lose 20 percent against the ADR within months and 30 percent against gold.
By the close of the 1990s, Southeast Asian countries had started coming forward as the main competitors for US companies with local political and economic elites getting increasingly wary of the imbalances of the "unipolar model of globalization" where capital continues to accumulate mainly in countries issuing world reserve currencies. It looks like the world's leading powers now have in mind the scenario of a possible collapse of the modern world order. The policy of sanctions and financial and economic pressure, which has recently been pursued by Washington raises the prospects of a financial system or systems being created that would be independent of the United States. In Asia and Eurasia, new political alliances are emerging, including in the form of region-wide financial institutions.
The processes currently unfolding in the financial and economic life of Asia and elsewhere in the world, are in large part associated with the trade war that has been going on between the United States and China for the past few years, taking in ever new trade and economic sectors and now threatening to spill over into the sphere of finance as well. Still, the scope of this rivalry has not yet reached a Cold War level. In fact, Saxo Bank predicts an escalation of the US-China trade war to a level typical of the Great Depression era. If this is what is going to happen, the US dollar, this symbol of US dominance in the global financial system, may effectively be weaponized to undermine the development potential of any outside rivals, China included, who would no longer be able to make financial settlements, receive and issue loans, and finance their existing obligations. And all this without any immediate threat of the use of military force. One possible way of avoiding this scenario would be to create a regional reserve currency not directly dependent on either the US dollar or the Chinese yuan.
Another major factor in the evolution of the financial architecture of Asia is that China, now the world's second biggest economy, wants to be able to "better defend its economic interests and influence decision-making processes pertaining to global economic development." To this end, Beijing "needs to participate in international institutions where its voice will carry decisive weight." The creation of AIIB in 2014, where half of the bank's capital currently belongs to Beijing, was just one step in this direction. Many experts believe that China wields an unofficial veto right in the Bank's key decisions. However, as noted by Professor A. Kuznetsov, official Beijing keeps insisting that "newly created institutions present competition, not an alternative," to the IMF and the World Bank.
Overall, the Asian reserve currency's prospects depend on how regional and global financial and economic trends are perceived by the major global economies. Ever since the emergence of the global money concept, there has been only one leading world currency in use: first the Dutch guilder, then the British pound and later the US dollar. Right now, expert opinions relevant to the dynamics of the US dollar's share in the global currency vary significantly. According to a European Central Bank report released in June 2019, "the US dollar remains the world reserve currency, but its predominance has been significantly shaken." This trend towards a diversification of reserves and a year-on-year contraction of the US dollar's share in the world central banks' reserves is likewise acknowledged by a review of global trends released by the International Monetary Fund. The greenback is gradually being replaced by the euro, the Japanese yen and the Chinese yuan. There are more and more payment mechanisms independent of the United States popping up, with The Economist writing about China working hard to create its own international payment system based on the yuan. There has also been talk about China paying in yuan for its Iranian oil imports.
Is all this enough to predicate the emergence of an alternative payment system though? The US dollar still accounts for a significant share of investment and global trade, including in oil, natural gas and metals. There are at least three factors still preventing the yuan from becoming a world currency: the high cost of "financial transactions associated with the receipt and distribution of information"; "China's overdependence on Hong Kong as a regional offshore financial center," and the People's Republic's inability "to exert political influence on other world economic centers, mainly the US and the EU." There are still four factors testifying to the yuan's increasing value as a regional currency: the projected "growth of the Asian countries' incomes" leading to "an increase in demand for Chinese goods"; "the implementation of multilateral projects as part of the "One Belt, One Road" initiative, resulting in increased yuan usage in the countries of Central and Southeast Asia"; "The development of the Asian bond market leading to the standardization of international debt in RMB"; "increased demand for RMB by commercial banks and enterprises as part of the Multilateral Initiative to conduct swap operations between central banks."
Finally, the process of the yuan's "internationalization" is slowed down by the Chinese authorities' need to maintain short-term growth, while simultaneously countering "adverse external shocks."
Well, at the end of the day the global financial system may "naturally" break up into several relatively independent currency zones: the dollar, the euro and the yuan (or yen). In future, the world may likewise rest on a similar balance of power. However, these currency zones will inevitably find themselves competing among themselves, which will be a test of strength for all currency macro-regions. At the same time, the countries of the Asia-Pacific region will face a hard choice. As recently as the dawn of this century, uniting around the Japanese yen was seen by most of them as the most logical option. Now that the People's Republic of China has turned into a regional economic powerhouse and the world's second economy, the need for closer interaction between the economies of the Asia-Pacific region and the Chinese yuan is becoming increasingly evident. Meanwhile, the low level of mutual trust between a number of leading Asian countries and China may become a hurdle on the way of creating a common reserve currency.
Finally, the past 3-4 years have seen a slowdown in China's economic growth, which, in turn, could drive down commodity prices worldwide. As a result, raw materials exporters, including Russia and Saudi Arabia, whose budget deficit this year exceeds four percent of GDP, will find themselves on the losing end. Meanwhile, China and Saudi Arabia account for a significant part of the US public debt. Faced with mounting economic woes, Beijing and Riyadh might be forced, together or separately, to start selling US government bonds, "which will inevitably send their value into a tailspin," with a knock-on effect in the financial markets and the bankruptcy of a number of leading financial institutions. Such a course of events may be fraught with a new financial meltdown.
An "end of the dollar's dominance" for any other reasons, including a "sudden" emergence of a very strong alternative reserve currency, would "result, first and foremost, in a large-scale economic crisis in the People's Republic," "a collapse of oil prices" and a quick slump in "economic activity around the globe.". Therefore, China, as a founding member of the AIIB, which Saxo Bank calls the potential issuer of ADR, is hardly interested in a depreciation of the US dollar.
One should also bear in mind the fact that all leading EU countries, including Britain, Germany, Italy and France, happen to be members of the AIIB. Therefore it can be assumed that Europeans, who are intent on strengthening the euro's global standing, may not be all too happy about the prospect of a new reserve currency coming along that could challenge not only the dollar, but the single European currency as well.
Although the emerging economies' share in global savings is currently close to 50 percent, "this money keeps flowing, via international reservation channels, into the Anglo-Saxon center of the global financial system, with limited possibilities for its productive placement."
The current model of globalization is losing momentum too. This can somewhat reduce frustration with development imbalances, but per se it will hardly be able to correct the overall structural imbalances of the global economy. Economists warn about the dangers of creating a system of payments alternative to the dollar, which could bring about exchange rate fluctuations and a chaotic "capital spillovers" from one reserve currency to another and back. One thing is clear: the harder Washington tries to destroy the established "rules of the game," the louder the calls for the creation of global or regional financial systems alternative to the dollar will get. However, the creation of such systems will require large-scale and lengthy political and organizational efforts, while the price tag will be prohibitively high too. Therefore, it is highly unlikely that anyone will venture to predict exactly when this is going to happen.
From our partner International Affairs
Coronavirus: Now a two headed monster
Coronavirus, like a two headed monster killing people on one side the other side global economy;
The warrior leaderships of rich nations now creating a rain of trillions of dollars to drown one of the heads. Rich nation and their printing machines have just approved trillions of dollars, as this aggressive move will help each other and also less fortunate economies to safeguards global economic order as one global goal.

Most significant is the largest amount allocated to support Small Medium Businesses…
USA alone has allocated 350 billion dollars and many other countries doing similar initiatives, this largest ever, once in a lifetime boost to abandoned and struggling SME of the world may just open a bright new future to transform into pillar of superior performance and a pleasant surprise to all.
Coronavirus is still a global force to reckon while massive shortages may create havocs…uncertainty lingers, the stimulus packages will keep the morale and nations safer.  As rightly mentioned by President Trump, the depression and suicides rates are major concerns.
Today, nation by nation, no other local economic power base as strong as the small medium business economy of the land, and increasingly with technology the same sectors in the unfolding future stand like very powerful pillars; a random collection of many, many millions small medium businesses around the globe, like smart entities, globally savvy, technologically driven, block-chained, AI+AR+VR, entrepreneurial centered creating local grassroots prosperity.
Difficult questions: As most of these funding offered as easy loans;if SME wish no more additional loans or create additional debts to further risk their own future; but what if they rather get smart-help, global-age upskilling and re-skilling for their enterprises or global exportability guidance and customer connectivity expertise, how far will the loans concepts work? Like receiving full y subsidized payrolls or full funded digitization to improve market size. Fully funded programs, on special upskilling and skilling grants to make the fields of SME new upgrading and learning battlefields is another option. With loans only format where will they go out and shop what levels of solutions and how will they uplift on performance and exportability? They were already stuck before, now for fears of new debt, they may remain stuck again. Leadership must explore National Mobilization of Entrepreneurialism Protocols
Simultaneous synchronization of national SME base is the novel art and science of the National Mobilization of Entrepreneurialism Protocols. Not to be confused with some MBA curriculum or export promotion agency guidelines.  Nations without digital platforms on SME upskilling and reskilling beyond post Coronavirus world would look like nations without Internet in the nineties.
Two steps for Midsize Business Economy to advance on grassroots prosperity:

ONE: Identify 1000 or 1000,000 high potential small and midsize enterprises within a region or a nation, and create a national agenda to quadruple their performance on innovative excellence and exportability.
Deploy digitization of top national trade associations and chambers of commences to upgrade to world-class digital platforms so that their entire membership can skate nationally and globally showcasing their goods and services. This is a global age revolution based on entrepreneurial mobilization… study Pentiana Project

TWO: Upskilling, reskilling million small medium businesses and women entrepreneurs across nation:How do you place 10,000 or 1,000,000 SME owners on digital platforms to boost exports and innovative excellence? Why such ideas are not major funding dependent but mobilization hungry and execution starved? What special skills are required to uplift midsize business economy in 2020, how to transform? How did Alibaba generated USD$39 Billion within 24 hours on 11–11–2019, how to optimize? How Round-tables and Cabinet Level discussions are a good starting point?
Rest is easy…
Anaconda of Incompetency at the Masquerade Ball of Coronavirus
Nations of the world, enthralled in their own custom-tailored masks at the masquerade-ball of Coronavirus struggling to calm restless citizenry already wrapped in colorful flags chanting hymns of survival and populism. What's not musical is the outdated lips-service, watery promises, putty economical ideas all rejected for composting.
The Masquerade Ball of Coronavirus: advancements on human endeavor neglected, now liberated harshly by Coronavirus; in simultaneous synchronization across the 200 nations a new world-order of new business hierarchy appears, where critically thinking isolated for higher productivity, performance and profitability measured on new digital platforms, remote working, replacing old corporate bureaucracies and global dominance of downtown cores.
No, please, do not blame the national leaderships; expectancy on this special expertise was never there, caught in their own convictions, political agenda and Teleprompter guidance they are doing their best. The political rhetoric is numbing, the ignorance of science and lack of skills to understand managing restless citizenry is unforgiving. The time to face the music has arrived. The time to change the economic values measurement systems has arrived.
Unfortunately, neither required are the photo-ops; nor the regular G50 or G100 lalalands but surely a G200 –a 200 nations gathering, 24-Hour Marathons of collaborations on humanity, global mobilization of Coronavirus medical facts based deployments, interconnected conference via latest circuitry streamed to the world now being critically missed since last 100 days. Political posturing precluded such demonstration of special global level leadership; the collaborative synthesizim to bring all diversity and tolerance under a global umbrella… the bonfires of crumbled egos are now on slow-burn displays. Chaos increases…fears surmounts, failures becoming visible. Credit goes to selected leadership around the world and their medical teams for leading the charge under most difficult and unprepared circumstances.
Nations witnessed extensive overseas mobilizations of armies over decades are now in panic figuring out national mobilization to combat internal crisis. Sadly, if you end up, outside your hospital lying of pavement outside somewhere in the parking lots without help and equipment, no one will help you, the echo of the promises and lingering trials and errors on the down streaming of absolute shut-down and civil order during last 100 days are living proof of incompetency.
Needed is a voice, trusted by nation; professionalism on science, respected by global medical community and national shut down except crucial services. Most importantly, needed a national mobilization of brain-power of working citizenry to optimize from their own quarantined habitats and apply maximum innovative ideas on existing resources via remote working to create a parallel working economy, where connectivity and dialogue will bring normalcy to our national and global structure of continuity.
Wars of Silence:
In a world where economic dysfunctionalities already visible from space, muffled and gagged, the total absence of real truth-seeking authoritative national debates on hardcore issues of small and midsize business economy is where the silent anaconda of incompetency resides. All over the world, silence on these internal economic development issues are now becoming proof of incompetency and further creating increased restlessness. Suddenly, liberated, the Coronavirus has brought the world together, slowly, the silent majority of connected-billions developing a new mindshare…
In Simultaneous Synchronizations a Global Metamorphosis Challenges Corporate Thinking…
Workers of the world; majority with low wages, cannot afford to wake up in hours of darkness, depart away from the huddles of loved ones, commuting till ending up in crowded undergrounds, small elevators, climbing floors to find a lonesome desk to stay strapped till the bell rings at the end of day and drag themselves back to far away home to start the process allover next day… still worshipped today, this work model died decade ago.
Office work declared as cruelty to mankind; eliminate from the global enterprise model and replace by a smart phone backed by smart LIVE face-to-face enterprise systems so that the liberated worker force can create and produce far more via inter-linked global age where smart work is 'invisible work' for minds alone processed in their own free moving spaces. A very small percentage of workers may still be required in special places in special settings or so called offices, but too eliminated like manpower lifting millions boxes now done by robotized warehouses.
Manpower concepts declared an outdated optimization model, defined over millennia, term 'manpower' needs new definitions, most work touched by manpower now replaced by robotization, now needs new understanding of replacements and compensations.
Human-Power; declared as self-discovered superior state of mind for critical thinkers and complex problem solvers frontiers, identified as masters of robots and automation, while denier of change declared as slaves of robots, mandatory national upskilling and reskilling and national mobilization of entrepreneurial protocols will fix such issues. Without bold debates the muted progress will further decline.
Small Medium Business Economy; all over the world, the SME of the future is a very smart entity, globally savvy, technologically driven, block-chained, AI+AR+VR, entrepreneurial center creating local grassroots prosperity. Nation by nation, this largest economic block will overtake the national productivity performance and assist global financial crisis. Critically needed, the digital platforms on National Mobilization of Entrepreneurialism Protocols offering free upskilling, reskilling and uplifting hidden national talents, especially women-owned businesses, liberated from bureaucracy and traditional anti-SME funding banking systems.
Abandoned art of value creation; declared as mandatory certification requirements to measure economic progress, replacing adding fake value-manipulations totaled as progress. The real grassroots prosperity advancements are principled in real value creation and not value-manipulations.
Global charter of rights; declared as affirmation to global rules of mankind and civility, needs massive revision on civil liberties, human rights and social justice to allow societies to become highly diverse and tolerant and abide national rules. Out we came out of caves not to re-enter.
Education; declared as top quality, free from top to bottom, nationalized and heavily public funded, top pay for teachers and with very real entrepreneurial thinking. Universities recall degrees with apologies, payout refunds with time and opportunities lost.
Alvin Toffler's concepts of 'electronic cottage' spoke volumes on such progress of enterprise by replacing offices with hyper connected devices with staff in highly comfortable leisure zones or common-working-spaces as rainforest themes, as mental-comforting-habitats over four-walled- desk-chair-contraptions. This was eighties. Today, climate change issues demand elimination of billions driving to work, often in most energy dependent and uncomfortable situations while all the latest freely available interconnectivity and face to live actions because the 'managerial' concept always seeing an empty desk still considered 'body missing' from work, where paper shuffling and rubber stamping mentality have not yet crossed over the idea of hiring of 'minds' and not 'bodies' and allow 99% mundane work be done via AI. Most neglected all over the world, the upskilling and reskilling of workforce to tackle global age, last three decades leadership assumed YouTube and Universities were doing this, they were unable to decipher the regression. Coronavirus may create such simultaneous remote working global test for millions of enterprises of the world and change office-working forever.
Futurism is workless; as artificially driven technologies cunningly steal all office work, come next 1000 days the global economic chaos may force a march of billion crowding on boulevards of the world. Workless, jobless, and officeless, tired they march…never ever in the history of mankind assembled such number of once mighty, highly skilled, educated and experienced subjected to replacements by their own technological advances.
Mona Lisa Smile: Equally, no nation is safe from the onslaught of Mona Lisa smile gender-fluid robots entering our gender free work spaces and asking us politely, at least the first time, to leave our offices and never return back. Second time their asking labeled as robotic misbehavior.
The world is changing very fast, this is no longer a cliché, and it's now an explicit warning.
Mirrors on the walls: when fixing obesity demands a life-size mirror, the national citizenry must also find a large enough nation-size mirror. When grassroots prosperity in chaos and small medium business economy crushed without national mobilization of entrepreneurialism on digital platforms on innovative excellence and exportability, nations are simply doomed.
National gatekeepers of midsize business economic agenda must demonstrate global age skills to combat meltdown; Abundances and neglects will not just stir up the big drunk elephant of fake-economy in the china shop but it will directly force anaconda of incompetence to strangle further silence and quietly create demand for big budgets for riot gears. A masquerade ball of populism will start the orchestra.
Is this the worst of times; or the most opportune of times?
That lonesome crave of flying; the caterpillar under pretence of deep sleep unlearns crawling and relearns flying, breaking chrysalis spreads colorful wings and fly out in the new world. The Coronavirus is doing its job, a test of leadership nation by nation, in the short and long run the truth, diversity and tolerance will win, choose wisely and plan precisely the coming 1000 days.
Isolate and stay in safe spaces… unpredictable times ahead
Pakistan's appeal for national-debt write-off
In an interview with Associated Press, our prime minister called upon world community to write off debt burden of poor countries so as to help them cope with COVID19 epidemic (Dawn March 17, 2010).
The total debt liabilities of the country amount to Rs19, 299.2 billion (as of March 2015). Every Pakistani now owes a debt of about Rs101, 338 as compared with Rs.90, 772 in 2013, Rs80, 894 in 2012 and Rs37, 170 in early 2008.The debt-to-gross domestic product ratio stands at 66.4 percent, in which foreign debt is Rs. 6.4 trillion and domestic debt is Rs.12 trillion.
In dollar terms, Pakistan's external debt soared to 95097 USD Million in the second quarter of 2018 from 91761 USD Million in the first quarter of 2018.That's an all-time high, and well above the average of 54065.23 USD Million for the period 2002-2018. Pakistan recorded a Current Account deficit of 8.20% of its Gross Domestic Product in 2018. That's an all-time high and well above the -2.60% average for the period 1980-2018.
Pakistan's debt burden has a political tinge. For joining anti-Soviet-Union alliances (South-East Asian Treaty Organisation and Central Treaty Organisation), the USA rewarded Pakistan by showering grants on Pakistan. The grants evaporated into streams of low-interest loan which ballooned as Pakistan complied with forced devaluations or adopted floating exchange rate.
Soon, the donors forgot Pakistan's contribution to break-up of the `Soviet Union'. They used coalition support funds and our debt-servicing liability as `do more' mantra levers.
Successive Pakistan governments treated loans as freebies. They never abided by revised Fiscal Responsibility and Debt Limitation Act. Nor did our State Bank warn them about the dangerous situation.
No formal application for write-off: What a pity! Whenever International Monetary Fund's delegations visit, Pakistan's representatives keep mum about politically-motivated odious nature of our debt burden. They lack nerve to tell them point-blank Pakistan's non-liability to service politically-stringed debts. They government's dilemma in Pakistan is that defence and anti-terrorism outlays plus debt-service charges leave little in national kitty for welfare. Solution lies in debt forgiveness by donors (James K. Boyce and Madakene O'Donnell (eds.), Peace and the Public Purse.2008. New Delhi. Viva Books, p. 251).
Benefits of Write-Off: Debt forgiveness (or relief) helps stabilise weak democracies, though corrupt, despotic and incompetent. Research shows that debt relief promotes economic growth and boosts foreign investment. Sachs (1989) inferred that debt service costs discourage domestic and foreign investment. Kanbur (2000), also, concluded that debt is a drag on private investment.
In fact, economists have questioned justification of paying debts given to prop up a client regime congenial to a `master' country. They hold that a nation is not obliged to pay such `odious debts' (a personal liability) showered upon a praetorian individual (p. 252 ibid.). Legally also, any liability financial or quasi-nonfinancial, contracted under duress, is null and void.
Apparently, all Pakistani debts are odious as they were thrust upon praetorian regimes to bring them within anti-Communist (SEATO, SEATO) or anti-`terrorist' fold. To avoid embarrassing unilateral refusal of a country to repay odious debts, UN should declare which portion of debts is `odious' (Jayachandaran and Kremer, 2004). Alternatively, the USA should itself write off our `bad' debts.
Sovereignty compromised: People barter away some of their naturally-derived freedom with sovereign ruler to get security and welfare (Thomas Hobbes, John Locke et. al.). When a despot fails to deliver the goods, the contract stands broken, and the people have a right to overthrow him. Thomas Jefferson (North American colonies) enshrined this social contract in the 1776 Declaration of Independence: ` when a long train of Abuses and usurpations pursuing invariably the same Object evinces a Design to reduce them under absolute Despotism it is their Right, it is their Duty to throw off such Government and to provide new Guards for their Security'.
But, Pakistani people are too passive to overthrow their despotic unpopular governments.
The successive governments did nothing by way of welfare for the people. They could not even evolve a universal healthcare system akin to Thailand's (2002).
The government's dilemma in Pakistan is that defence and anti-terrorism outlays (26 per cent) plus debt-service charges leave little in national kitty for welfare.
A discussion was held at a seminar jointly organised by the Institute for Social and Economic Justice (ISEJ) and the Islamic Relief Pakistan under the campaign 'Breaking the Chains of Debt', at Forman Christian College. The crux of discussion was 47 per cent of whatever the government generates in revenue goes to pay off debt against 44 per cent in the previous year. Ideally, this ratio should be less than 30% to allocate more resources to social and poverty-related expenditures.
Speaking on the occasion, ISEJ Executive Director Abdul Khaliq said the debt situation was alarming and the government must review its reckless borrowing behaviour. We must demand an audit of the public debt," he said. "All new loan contracts should be subjected to a debate in parliament and its approval."
The government must stop reckless international borrowing and minimise reliance on foreign debt in the future and take measures to get the illegitimate loans cancelled, he said.
Khaliq emphasised the need for synergising efforts for a debt-free Pakistan and making the people of Pakistan the real drivers of the economy.
Three time prime minister Nawaz Sharif during his election campaign made tall claims that on assuming power he will get rid of the 'cancer of debts' and promised to break the 'begging bowl', however, there is little evidence of measures towards freedom from debt, said political economist Dr Qais Aslam.
The present Pakistan Tehrik-e-Insaf government proved no different from its predecessors and started knocking on the doors of international lenders even more vigorously, he added.
In a country where 60% of the population lives below the poverty line and 58% faces food insecurity, this additional burden means more miseries for the generations to come.
Speakers further said the impact of mounting debt burden on the people is horrific. Fiscal space for social spending has drastically squeezed. Pakistan spends just 2 to 2.6% of its Gross Domestic Product on education and health respectively, making it the lowest in South Asia.
International Monetary Fund's assessment (Express TribuneMarch 16, 2018):
In its post-programme monitoring report, the IMF assessed risks to Pakistan's economic outlook had increased. Despite changing goalposts twice, Pakistan's public debt remained higher than the limit prescribed in the revised Fiscal Responsibility and Debt Limitation Act.
The policy of building foreign currency reserves through expensive loans and ignoring the export performance haunted the policymakers.
The IMF said the elevated current account deficit and rising external debt servicing, in part driven by China-Pakistan Economic Corridor (CPEC)-related outflows, were expected to lead to higher external financing needs.
External financing would surge to around $27 billion by the end of fiscal year 2018-19 (FY19) and would go up to $45 billion by FY23.
At that time, Pakistan's external financing needs will be equal to 10% of the national output, which is a dangerous level. "Risks to public debt sustainability have increased since the completion of the EFF (Extended Fund Facility) programme. Public and publicly-guaranteed debt is expected to remain elevated at 68% of GDP by FY23." Gross fiscal financing needs will likely exceed 30% of GDP from 2018-19 onwards, in part reflecting increased debt service obligations.
However, the more alarming part is the growing challenges to arranging foreign loans. It said Pakistan had so far remained successful in contracting external borrowing that softened the impact of rising external imbalances on foreign exchange reserves.
The IMF's projections showed a bleak path for the next five years. Public and publicly-guaranteed debt is projected to remain close to 70% of GDP by 2023 under the baseline scenario.
In the absence of strong consolidation measures, the fiscal deficit is expected to remain close to 6% of GDP in the medium term, resulting in elevated debt levels.
Adverse shocks, notably to economic growth and the primary balance, could lead to public debt ratios rising well above 70%, said the IMF.
Contingent liabilities from restructuring of loss-making public sector enterprises represent additional fiscal risks. High gross financing needs may also pose potential rollover risks.
The IMF said high levels of public debt and gross financing needs presented significant fiscal risks and needed to be addressed in a timely fashion through fiscal tightening to improve debt sustainability.
Financial sovereignty threatened: Some people question is Pakistan really a sovereign state? The question is based on premise that government has ceded control of the economy to foreign entities. Both the finance minister and the governor of the State Bank of Pakistan are career officers of respectively the World Bank and the International Monetary Fund. Is the primary loyalty of these officers to their Washington-based institutions or to their country of origin? And, should we be outsourcing existential financial decisions to people with possibly divided loyalty?
IMF's changed role: The IMF and the World Bank are products of the Bretton Woods conference of 1944. Both organizations made good sense in the tattered world economy of the post-War period. The World Bank set about financing the rebuilding of Europe; while the primary purpose of the IMF was to promote international trade, which had collapsed during the war. The IMF's role was to assist member nations to maintain stable exchange rates by providing short-term credit to support their currencies.
However, the `dinosaurs' changed their roles. Over time fixed exchange rates gave way to floating rates, multiplying debt burden of recipients manifold. Markets replaced governments as the primary arbiters of the value of national currencies.
The arrangement works as follows: A poor country, due generally to mismanagement and corruption, finds itself in dire need of hard currency. Commercial lenders are unwilling to commit their funds without adequate safeguards. Enter the IMF. It offers to lend some of its own money, provided that the host government agrees to a set of economic 'reforms'. These understandably seek to enhance the borrower's ability to repay the money loaned. When a deal is struck, the IMF disburses its own funds. At the same time commercial lenders, now reassured that the borrower can repay, step in with additional funds.
Typically, the IMF's own funds constitute only a small proportion of the borrower's total debt. Commercial lenders provide the rest. Yet the IMF's participation is crucial. If it does not 'certify' a country by its participation then that country effectively gets cut off from all other sources of credit.
The question which recipients need to brood over is: Does the IMF serve their national interests? The IMF has a single overriding objective. This is to enhance the borrower's ability to service its debts. It does not care a fig for recipients' policies about poverty alleviation, price stability, employment, universal access to health care and education, and affordable rates for basic services.
Hypothetical example of debt black hole: Our external debt is $100 billion. Let's assume that the average applicable yearly interest rate is five percent and that we decide to pay it back in equal annual installments over a period of 20 years. We would need to pay annual installments of $8 billion per year for a total payback over the 20 year period of $160 billion. Of which $60 billion would be interest and the balance repayment of principal.
We run a trade deficit of $20 billion a year. If we had a trade surplus we could theoretically have had the ability to pay back some of our debt. But, with shattered industry, teetered infrastructure, and COVID19 hangover, we can't. So the only way to find the $8 billion per year to pay back our existing loans is to take new loans. We thus fall in the financial equivalent of a black hole.
Light at end of the `Hole': While light cannot escape a black hole, we can extricate ourselves from this crisis. Pakistan needs to make the most of its strategic advantages. If we did not get out loans written off as quid pro quo for Soviet collapse in Afghanistan, we should better negotiate US exit now. We should have an answer if the US asks, by way of quid pro quo, for putting permissive action links on our nuclear bombs. If Pakistanis to be denuclearized than its binary India too should be.
Pakistan government should take prime minister lead further. It should hold negotiations with lenders that are commercial banks and the international finance agencies. We should aim at repudiation of about 50 percent of debt. This should be in addition to interest rate waivers, revisions and extended terms.
Simultaneously, Pakistan should dust off burden of debt models in textbooks. Debts should be so utilised as to be able to pay off interest and principal over agreed time span.
Bad debts: Pakistani debts qualify for write-off as bad debts. Why should poor Pakistanis, lacking basic needs, pay them?
World Bank President David Malpass (Express Tribune February 12, 2020) portrayed a bleak situation of loaning policies worldwide. Like a pot calling kettle black, he chided other development banks for lending too quickly to heavily indebted countries, saying some were helping worsen already-challenging debt situations. Addressing a World Bank-International Monetary Fund (IMF) debt forum, he said Asian Development Bank, the African Development Bank and the European Bank for Reconstruction and Development were contributing to debt problems.
He said the ADB was "pushing billions of dollars" into a fiscally challenging situation in Pakistan. African Development Bank was doing the same in Nigeria and South
Africa. Pakistan was unlikely to meet debt reduction targets. The Manila-based development lender in December approved $1.3 billion in loans for Pakistan, including $1 billion for immediate budget support to shore up the countries
Public finances and $300 million to help reform the country's energy sector.
The loans came as the country is struggling with billions of dollars in debt to China
from the Belt and Road infrastructure projects, which pushed Pakistan to turn to the IMF for a $6-billion loan programme in 2019.
Malpass said there needed to be more coordination among international financial institutions to coordinate lending and maintain high standards of transparency. "And so we have a very real problem of the IFIs themselves adding to the debt burden and there's pressure then I think on the IMF to sort through it and look at the best interest for the country," he stated.
Inference: If Pakistan wants to get its loans written off, it should do more than indulge in rhetoric. `Negotiation' is a subject taught in all universities as a business course. Pakistan should learn to argue its case and decipher donors' BATNA (best alternative to negotiated agreement