Authors: Srimal Fernando and Kirtan Bhana
In Kazakhstan, like in many other nations around the globe, Independence Day is commemorated by conferring awards, national orders and medals on those that have made exemplary contributions to statehood. On December 16, 1991 the Constitutional Independence Law of the Republic of Kazakhstan was passed making Kazakhstan the last of the Soviets to leave the Union and declare sovereignty.
Many other milestones followed this historic date for the Kazakh people, including membership of the United Nations (UN), the International Monetary Fund (IMF) in 1992 and the International Atomic Energy Agency (IAEA) in 1994. This year also marks the tenth anniversary of the closing of the world's second largest Nuclear Test Site at Semipalatinsk by the historic decree of Nursultan Nazarbayev, First President of Kazakhstan, which paved the way for the adoption in 1996 of the Comprehensive Test Ban Treaty – CTBT. The country was declared a nuclear weapon free country.
Located strategically in the heart of Central Asia, Kazakhstan shares a 6800km border with Russia and a1700km border with China. Kyrgyzstan, Uzbekistan, and Turkmenistan are the other three regional neighbours. Kazakhstan is considered a landlocked country but adjoins a large part of the Caspian Sea in the west.
The Kazakh people elected a Presidential system of government with two chambers of parliament. There are 14 political parties; Nur-Otan is the current ruling party. The lower house is the Mazhilis, with 107 seats and the upper house is the Senate which has 47 members. Women representation in national and local government is steadily increasing.
Having diplomatic relations with over 120 countries, Kazakhstan has a clear multi-vector international relations policy and has achieved much on the global stage in almost three decades of independence. Being elected as a non-permanent member of the United Nations Security Council (UNSC), Kazakhstan was further crowned by being elected as president of the UNSC for 2018. Its stance on non-proliferation of nuclear weapons is well known and so is its support for the transformation of the UNSC. Kazakhstan also presented a proposal for ending terrorism in the world by 2025 during its presidency.
Kazakhstan has become a fully integrated member of the international community joining many multilateral organizations, and bilateral treaties and agreements. Turkey was the first country to present letter of credence for the Extraordinary and Plenipotentiary Ambassador to Kazakhstan.
The radical transformation of the economic to a free market has seen large foreign direct invest flows into the country, growing the economy to become the most significant in the Central Asian region. New president KassymJomart Tokayev has introduced a raft of new measures that are directly aimed at stimulating enterprise, entrepreneurship and small business development. Other reforms introduced are motivation for Kazakhstan to become one of the top 30 economic nations.
Islam was introduced to Kazakhstan in the 7th century. Its ancient history is steeped in nomadic life of hunters and animal rearing. The philosophy of Al-Farabi and the poetry of Abai is legendary and filled with folklore. The dombra, a string instrument, is at the very essence of Kazakh culture and resonates with the music of love and heartache.
Modern and contemporary art forms, classical music and ballet have also found place in Kazakh society as the younger generations narrate poetry in restaurants. This together with the Kazakh's nomadic heritage, Islamic traditions and modern art and culture has become an attraction for tourists looking for new and dynamic destinations to experience and explore. Its breath-taking landscapes and abundant natural beauty and the snow-capped mountains offers much to the intrepid traveller as it emerges as a unified nation with much potential, opportunities and prospects.
Iran looms large in Central Asia despite sanctions and Saudi financial muscle
Saudi Arabia may have been getting more than it bargained for when authorities in Khujand, Tajikistan's second largest city, ordered that the city's largest and most popular mosque be converted into a cinema.
The order followed the closure of some 2,000 mosques in the country in the last three years and the arrest last month of scores of Muslim clerics and teachers, many of whom were accused of being members of the Muslim Brotherhood, a group that is banned in both Tajikistan and the kingdom.
Fewer men sport beards in Tajikistan after being harassed by police, while women in hijabs are far and few between after many were detained and intimidated.
Imams deliver sermons praising President Emomali Rahmon that are approved by authorities, reinforcing his effort to cloak himself in Islamic legitimacy despite the crackdown.
Larger mosques are equipped with surveillance cameras to ensure prayer leaders stick to their texts.
The arrests no doubt will have pleased Saudi leaders who stepped in to help Tajikistan financially in 2015 as the country's relationship with Iran soured over Iranian demands that Tajikistan pay down its huge debt, allegations that a businessman charged with fraud in the Islamic republic had deposited large sums of money in the National Bank of Tajikistan, and a meeting between Iranian spiritual leader Ayatollah Ali Khamenei and a Tajik opposition leader.
As relations with Saudi Arabia improved and Saudi Arabia pledged to pump money into infrastructure projects like the Rogun hydroelectric power plant and a highway in eastern Tajikistan as well as education, Tajikistan accused Iran of involvement in the murder of Tajik social and political figures as well as 20 Russian military officers during the 1990s Tajik civil war, which Iran helped bring to an end.
Tajik authorities also closed down an Iranian trade and cultural center in Khujand and helped block Iran's application to become a member of the China-led Shanghai Cooperation Organization (SCO). Iran is an observer at the SCO.
Developments in Tajikistan, however, no longer look all that good from a Saudi perspective and bode ill for the kingdom elsewhere in Central Asia. In fact, the more than four years of strained relations between Tajikistan and Iran have made way for quickly warming ties.
Driving the patching up of differences is the fact that landlocked Tajikistan, like its neighbour, Uzbekistan, needs access to ports and Iranian ports, including the Indian-backed one in Chabahar at the top of the Arabian Sea, offer the cheapest and shortest transportation options.
Iran's attractiveness to Central Asian nations increases the Islamic republic's importance to the Belt and Road, China's infrastructure, transportation and energy-driven initiative to connect the Eurasian landmass to Beijing.
There is an element of irony in the Saudi-backed crackdown on mosques and clerics in Tajikistan. That was long the preserve of Uzbek president Islam Karimov, whose state security services tightly controlled religion under the guise of combating Islamic extremism, until his death in 2016.
Mr. Karimov's successor, Shavkat Mirziyoev, has promised to reverse his predecessor's repressive policies and put his government "at the service" of the Uzbek people.
Mr. Mirziyoev's reforms included emasculating the security service's Religious Committee, by ending its oversight of all religious education, publications, and gatherings, and sacking its supervisor, Aydarbek Tulepov, without replacing him.
Mr. Mirziyoev has also created an academy of higher Islamic learning that is operated by the state-run Spiritual Directorate of Muslims of Uzbekistan.
Meanwhile, delegations of Saudi businessmen visited Uzbekistan twice last year to explore investment opportunities.
Saudi Arabia's textiles-focussed Ajlan & Bros Holding Group plans to invest over the next five years up to US$2 billion in an Uzbek cotton-textile cluster.
Already a vital node for Uzbek exports and imports, Iran is nonetheless written all over Mr. Mirziyoev's transportation infrastructure plans. A decree issued in late 2017 identified as key to the plans the Uzbekistan-Turkmenistan-Iran-Oman. China-Kyrgyzstan-Uzbekistan, and three Trans-Afghan corridors.
The three Afghan corridors take a rail line connecting Uzbekistan's Termez to Afghanistan's Mazar-i-Sharif as their starting point. Uzbek plans envision the rail line being extended to the Afghan city of Herat from where it would branch out to Iran's Bandar Abbas port, Chabahar; and Bazargan on the Iranian-Turkish border.
The Central Asian focus on Iranian ports, despite harsh US sanction, takes on added significance with the Chinese-backed Pakistani port of Gwadar, a mere 70 kilometres down the coast from Chabahar, a Belt and Road crown jewel at the core of the China Pakistan Economic Corridor (CPEC), running into problems.
China Ocean Shipping Company (COSCO) recently terminated its container liner services between Karachi and Gwadar because of a lack of cargo destined for transit to Afghanistan.
Zhang Baozhong, chairman of China Overseas Port Holding Company (COPHC), insisted that transit trade was key to Gwadar's success.
Port authorities said last month that two 20-foot containers containing 54 tonnes of bagged fertilizers had been shipped to Gwadar from Karachi for onward transport to Afghanistan in what amounted to an effort to kickstart transit trade.
The Paradoxes of Social and Economic Development in Central Asia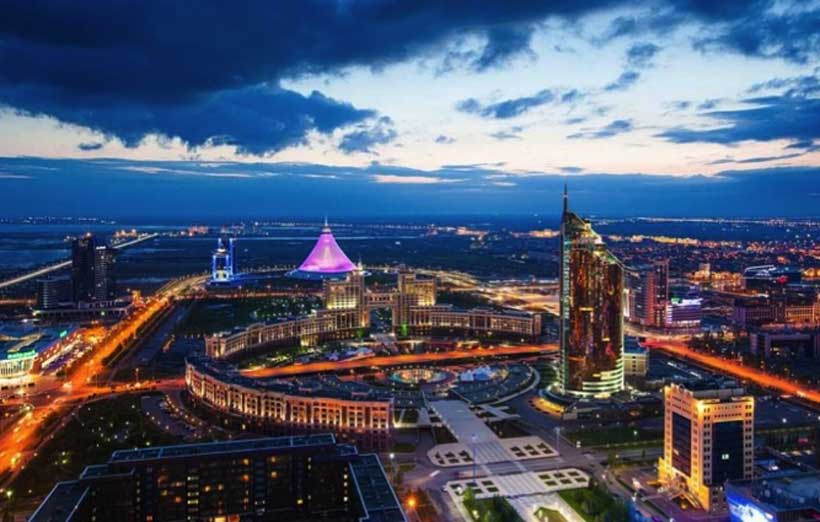 Central Asia is a region with very uneven social and economic dynamics. It is rapidly breaking down into areas with different quality of life, economic growth, environmental health, quality of social services and infrastructure access. This makes it hard to find common socio-economic problems that would be of equal concern to those living in big cities and small villages.
At the same time, Central Asia is riddled with many paradoxes that pose serious challenges to the region's socio-economic development, so it is worth examining the situation as an interplay of contradictory processes.
First, the Central Asian population is still growing, and high unemployment is compounded by a lack of skilled workforce and low quality of human capital. Despite significant migration outflow over the last 30 years, the population of the region has increased by 47 per cent or more than 23 million people. Considering the youthful population (the average age in Central Asia, as of 2015, ranged from 22 in Tajikistan to 29 in Kazakhstan) and the large number of children in families (for example, in Tajikistan the average number of children per woman is 3.8), it is evident that the growth will continue, albeit at a slower pace.
Unemployment continues to be an issue in all the countries of the region, affecting young people the most. According to official statistics, the unemployment rate ranges from 2.3 per cent in Tajikistan to 9.3 per cent in Uzbekistan, while the total number of jobless tops two million.
Experts say the problem is much bigger, though, since a large share of unemployed people is unregistered, being classified as seasonal workers or self-employed, as well as migrating to find work abroad. Hundreds of thousands in Central Asia do not register as unemployed for several reasons: the complicated and lengthy bureaucratic procedure, a lack of legal literacy and the very low labour productivity.
The share of unemployment is estimated to be 10–15 per cent in cities and 40–60 per cent in rural areas. This makes mardikor bazaars, or day labourer markets, a universal phenomenon in labour-surplus parts of Central Asia and more than five million people are pushed to travel abroad to find work.
At the same time, there is a severe shortage of skilled professionals in the healthcare, education, industry, transport and utility sectors. This is why Central Asian economies annually attract several dozen thousand foreign blue- and white-collar workers from China, Turkey, Russia, India and other countries for implementing new industrial and construction projects.
One of the main reasons for this paradox is most people's persistently low standard of education and skills in the region. The share of the able-bodied population with secondary and higher vocational education in Central Asia is significantly lower than in Russia or Europe. National education systems cannot provide the region's economies with the required amount of adequately skilled workforce. A high level of corruption, low teacher qualifications and weak infrastructure do not allow for training students properly.
This is why a large proportion of young people in Central Asia study abroad, in Europe, North America, China and other East Asian countries. Russia has a strong position as the leading supplier of skills for the region, with it currently providing education to more than 100,000 people from Central Asia, which is over a half all the international students in Russia. Even though half of these stay in Russia to work after graduating, people with Russian degrees play a crucial role in Central Asia's economic development. I am confident that their numbers should and will grow.
Second, Central Asia is characterised by rapid economic growth, which has been accompanied by a significant increase in the quality of life and success in combatting poverty in the last 20 years. At the same time, the poorly diversified local economies are dependent on the external economic situation. The small domestic market, weakened by a wave of currency devaluations in 2014–2019, cannot produce the required demand and new projects are entirely dependent on foreign companies in terms of technology.
In the last 15 years, the Central Asian economies have been growing faster than those of many of their neighbours, such as the EU, Russia, Iran and Turkey. The poorest country of the region, Tajikistan, has seen a drop in poverty from 73 per cent in 2003 to 31 in 2015. Significant changes have also been observed in GDP composition, with a significant fall in the share of agriculture. Yet the region's economies are still dependent either on mineral exports (Kazakhstan, Turkmenistan and Uzbekistan) or on workforce exports (Tajikistan and Kyrgyzstan).
Considering the small middle class – its absolute size is difficult to ascertain, but it includes about 30 per cent of the population (from 35 per cent in Kazakhstan to 5 per cent in Tajikistan) – and the small domestic market, the countries of the region are bound to go down the path of export-orientated economic development. Even so, the low level of localisation of high-tech manufacturing, the lack of skilled workers, and the dependence on imported equipment and technology in the key economic sectors all create obstacles to developing value-added exports. Despite the obvious successes of individual sectors, such as light industry (textiles, clothing and food), non-ferrous metals, construction materials and transport, Central Asian countries are increasingly reaching the objective limits of their growth.
A colossal shadow economy characterises the region. For example, according to Minister of Employment and Labour Relations of the Republic of Uzbekistan Sherzod Qudbiyev, only 40 per cent of the country's economically active population is officially employed, while the rest are engaged in the shadow sector. Widespread corruption and the active role of the state in the economy hinder the development of private business. Most big business owners either have connections to the state or accumulated their capital abroad.
Third, being located in the heart of Eurasia, the region has a unique geographical advantage. Still, its transit potential is poorly realised owing to underdeveloped infrastructure, customs and technical restrictions, as well as a high level of corruption. For example, railway freight transit across Kazakhstan in 2018 only slightly exceeded 17 million tonnes, which is a fraction of the volume carried along the Trans-Siberian Railway.
Underdevelopment of the infrastructure is the result of a variety of factors. For instance, Kazakhstan was the only country formed after the fall of the USSR that had a relatively well-developed railway network connecting all its regions. In other Central Asian states, transport between regions relied on transit through neighbouring countries. In Uzbekistan, the only railway connection from Tashkent to Termez was through Turkmenistan.
In the almost 30 years since the collapse of the USSR, Central Asian countries have built several thousand kilometres of domestic and international railway lines. Yet serious problems remain. Turkmenistan completed the consolidation of its national railway network into a single system in 2006, Uzbekistan only did so in 2018, while Tajikistan and Kyrgyzstan still do not have a fully-fledged national railway network. Road transit capacity also remains an open issue in the region.
In addition to the underdeveloped transport network, many parts of Central Asia suffer from an acute lack of other kinds of infrastructure, such as power and domestic gas supply. Systematic power supply restrictions are the norm in many areas of Uzbekistan, Tajikistan and Kyrgyzstan, and challenges related to grid access are among the most critical barriers to developing large-scale industrial production.
The housing and utilities infrastructure is also heavily stressed in Central Asian countries. For instance, according to the World Bank, central heating and small boilers are available to only 8 per cent of the population in Tajikistan, with most of those 8 per cent living in the capital Dushanbe. Heating services are also characterised by poor service quality and low supply reliability. As a result of the declining reliability of heat supply, radiators and the domestic heating infrastructure have been dismantled in almost 80 per cent of urban buildings previously connected to the centralised heating system. The severe energy crisis in the winter of 2007–2008 in Tajikistan and the accident at Bishkek Thermal Power Plant, Kyrgyzstan, in January 2018 highlight the fact that the utility gap remains.
To summarise, resolving the paradoxes outlined above will be the strategic goal for all Central Asian countries over the coming 15 to 20 years. This is precisely the key to the "big transformation" of the region that is currently underway.
From our partner RIAC
Prospects for the Fight against Extremism and Terrorism in the Central Asian Region
Central Asian countries experience diverse intersecting influences: they feel changes in the situation in the Caucasus, in the Xinjiang autonomous territory of China, in Afghanistan and the Middle East. Militants from various terrorist groups in the region cooperate, many of them fighting in Syria and Iraq. But the biggest threat to Central Asia's security is the situation in Afghanistan, where the Taliban provide organisational and logistics support to the Islamic Movement of Uzbekistan (IMU). Despite sustaining a significant blow, with its main groups squeezed out of the region, it still maintains a presence in the form of underground groups that could become active at any time, joining forces with the radical Tajik opposition and Uyghur separatists. Cells of the Islamic State (ISIS) (a terrorist organisation banned in Russia) also operate in the region.
Kazakhstan: Effective Peacekeeping Measures
The main conduits of terrorist ideology in Kazakhstan are Islamist movements and organisations. In order to minimise their effect on people's minds, the Kazakhstan government has undertaken a number of measures to improve religious education and ensure society's spiritual development.
A special body, the Agency for Religious Affairs, was established for this purpose in 2011. Another step was the screening of over 9,000 web portals, which led to 51 foreign sites being banned in Kazakhstan for promoting extremism and terrorism.
Terrorist activity in Kazakhstan has an important international political dimension. Members of Uyghur extremist organisations are active in the country. Some experts note the possibility of a merger between Kazakh underground forces and Uyghur separatists. Uyghur terrorist organisations are quite powerful. There is also the risk that terrorist groups established in oil-rich areas of the Caspian and northeastern Kazakhstan and the spread of jihadist ideology there could jeopardise China's future interests in the region.
A new trend is for radical Islamists to engage increasingly in crime while ordinary criminals are themselves turning to radical Islamism, particularly in western Kazakhstan. Prisons have become breeding grounds for Islamic extremism (as in Kyrgyzstan and some Russian regions). All prisons in Kazakhstan have turned "green," which is the term for institutions informally controlled by Islamists (as opposed to "black" prisons, which are controlled by traditional criminals, and "red" ones, where the prison administration is in full control).
The authorities are stepping up their fight against terrorism. In 2016–2017, many extremists in the country were arrested, including those with connections to criminal circles and illegal schemes (such as oil theft in western Kazakhstan).
In 2018, the National Security Committee of Kazakhstan developed a state programme for countering religious extremism and terrorism in Kazakhstan for 2018–2022. It will be funded out of the national and local budgets, as well as other funds not prohibited per Kazakhstan law. Budgetary spending on the programme will total almost 287 bn tenges (USD 747 bn).
The programme calls for border control, identification and blocking of channels used by religious extremists and terrorists for entering the Republic of Kazakhstan and importing prohibited materials into the country, including involving illegal immigration and counterfeit documents. It also provides for training law-enforcement officers and improving the facilities and infrastructure for local police inspectors.
The measures taken by Kazakhstan to counter terrorism, as well as the government's policy of tolerance towards all religions and nationalities, is generally helping to maintain security in the country.
Tajikistan: Situation Under Control So Far
In recent years, the Tajik government has stepped up its efforts to counter extremist groups.
As in the other countries of the region, the main recruiting platform used by ISIS (a terrorist organisation banned in Russia) in Tajikistan is the Internet. There are some 3 million Internet users in Tajikistan, 80 per cent of them accessing extremist content through social media either deliberately or accidentally.
During their meeting in May 2018, President of Tajikistan Emomali Rahmon and President of Belarus Alexander Lukashenko expressed their commitment to strengthening cooperation in the fight against terrorism, extremism, drug trafficking and the illegal arms trade. In October 2019, Tajikistan hosted a joint military exercise of the Collective Security Treaty Organisation (CSTO) member states, "Indestructible Brotherhood 2019." One of the components of that exercise, according to Commander of the Central Military District of the Russian Federation, Colonel-General Alexander Lapin, consisted of antiterrorist operations.
Tajikistan is a tension hotspot in Central Asia in terms of religious extremism and terrorism. A particular source of danger is neighbouring Afghanistan, where about 60 per cent of the lands along the frontier are engulfed in clashes between government forces and the Taliban and other radical Islamist groups.
At the same time, there is almost no security along the Afghan-Tajik border, including the issue of drug trafficking. The local Tajik forces supporting border guards are scant, especially since the Kulob Regiment was relocated from the 201st Russian military base to Dushanbe. Yet the government has so far managed to control the situation.
Uzbekistan: Iron-Fisted Control
The Uzbek government traditionally pursues a rigorous policy in countering religious extremism and terrorism. At the same time, extremist entities in Uzbekistan (especially the Islamic Movement of Uzbekistan [IMU]) are the strongest and most aggressive in the region. The IMU has proven to be a long-term threat and is currently cooperating with Al Qaeda and the Pakistani terrorist group Lashkar-e-Taiba. In the late 1990s, the IMU consisted of several hundred Uzbek and Tajik militants. In contrast, today it includes hundreds of thousands of militants from all the Central Asian countries, as well as China, Turkey, Azerbaijan and Chechnya.
The ultimate reasons for the rise in extremism in Uzbekistan lie in its political, socioeconomic and inter-ethnic problems, which are especially typical of the most populated areas of the Fergana Valley. The Fergana and Karategin valleys are still convenient platforms for covert terrorist activity.
One landmark event was the signing of a joint comprehensive action plan for 2018–2019 to counter the online activities of extremist and terrorist groups (code name Clean Net) between Uzbekistan and Tajikistan.
Uzbek authorities and security forces have the situation in the country under control.
Kyrgyzstan: Bad Influence from Neighbours
Extremist groups traditionally threaten the southern part of Kyrgyzstan from neighbouring Tajikistan and Uzbekistan. One reason is the country's weak law enforcement. The extremists are mostly members of the Uzbek diaspora, while ethnic Kyrgyz are less involved, primarily owing to a low level of Islamisation.
Yet the Kyrgyz have begun to fall under the influence of pseudo-educational groups like Hizb ut-Tahrir (which does not formally pursue military action but is included in the lists of terrorist organisations maintained by the security services of key global states).
A new trend has emerged in recent years with Jihadist groups forced out from Kyrgyzstan starting to exert an influence on Salafi jamaats in the country. Once in prison, members of these organisations are sometimes reported to convert their cellmates into loyal supporters in a short time.
The latest terrorist operation was the suicide bombing attack near the Chinese embassy building in Bishkek.
Since then, however, the Kyrgyz authorities have stepped up their fight against religious extremism and the influence of various Salafi movements, which is a somewhat positive trend.
According to the United Nations, the number of people convicted of terrorism and religious extremism in Kyrgyzstan has increased 5.3-fold, from 79 in 2010 to 422 in 2017. One in five of these is a woman.
The Ministry of the Interior of Kyrgyzstan reports that 4,470 people, including 865 women, were convicted of extremist crimes from January to April 2018 alone.
Turkmenistan
In early October 2018, a Financial Monitoring Service was set up under the Ministry of Finance and Economics to fulfil tasks envisaged by the Law of the Republic of Kazakhstan "On Countering Money Laundering and Financing of Terrorism."
Earlier, during a visit by the President of Russia to Turkmenistan in 2017, the two countries agreed to continue exerting joint efforts in fighting terrorism and the illicit drug trade.
In mid-November 2019, consultations were held in Ashgabat on cooperation between CIS countries in countering terrorism. Representatives of Russia, Kazakhstan, Belarus, Kyrgyzstan, Tajikistan, Turkmenistan, Uzbekistan and Armenia discussed possible ways of expanding joint antiterrorist activities within the framework of international organisations.
The participants also exchanged views on preventive measures against extremism, radicalisation of the population and financing of terrorism, noting the importance of engaging civil society and the media to increase the impact.
Specialised training was also considered, including on the use of modern technologies to mount a timely response against potential threats.
All this shows that Turkmenistan is adopting a more aggressive antiterrorist policy.
Forecast
Central Asian countries have recently stepped up the fight against terrorism and extremism, as can be seen from the lack of overt terrorist activities in the last three years. This means they need to pursue closer cooperation with one another and with Russia, as well as with the OSCE and the Shanghai Cooperation Organisation (SCO) to continue the fight against extremism.
OSCE forces can already be used to resolve issues caused by the increase in terrorist activity on the periphery of Afghanistan. A Working Group on Afghanistan has been set up for this purpose under the Council of Foreign Ministers of the CSTO. It analyses the situation and elaborates proposals for promoting the post-conflict restoration of Afghanistan, including by countering the drug trafficking and terrorist threats emanating from the country.
A Coordination Council of the Heads of Competent Authorities for Countering Illicit Drug Trafficking has been established under the OSCE, with a specific mandate to eliminate drugs based on Afghan opiates. Joint work is underway to create and strengthen anti-drug and financial "security belts" around Afghanistan and to augment mechanisms for putting a stop to drug trafficking as part of operation Kanal (Channel).
Even so, the OSCE forces need to be strengthened, and a better legal framework is required for their use. The main forces available to the OSCE in the Afghan direction are the Collective Rapid Deployment Forces (CRDF) and the Collective Rapid Response Forces (CRRF). Exercises carried out by the CRDF and CRRF focus on reflecting potential invasion by the Taliban and by Taliban-supported extremist and terrorist groups from the south. Escalation of the situation around Afghanistan may require the OSCE's military tools to be strengthened (greater numbers, more equipment, more frequent joint exercises).
A crucial decision could be to turn the OSCE into a focal point for international efforts for resolving problems related to Afghanistan. This might require creating regional coalitions between the OSCE and other international entities, both post-Soviet (SCO) and Euro-Atlantic (the EU and NATO), to counter the terrorist threat in Central Asia.
As regards cooperation with Euro-Atlantic actors, this should be based on the "selective partnership" principle, i.e., it should not compromise Russia's interests in other areas where it has disagreements with the West. It would be reasonable to establish coalitions not between individual states but between regional organisations, using a network model (i.e., with cooperation primarily along the lines of individual programmes), which could provide for more flexible threat responses.
As for the SCO, it would make sense to strengthen its Regional Anti-Terrorist Structure (RATS) based in Tashkent. Another step to consider might consist of dedicating standing units under the SCO to counter drug trafficking and extremism. Also worth researching is the feasibility of a joint police force and its potential organisational structure.
Antiterrorist efforts should address the financing of terrorism in particular. Terrorists trade drugs to get their hands on considerable funds so the "anti-drug belt" around Afghanistan (the leading global source of opiates) must be strengthened.
Other financing channels used by terrorists and extremists must also be blocked. For example, a recent trend is the financing of terrorist organisations through ordinary shops selling groceries and household goods and passing on the profits to terrorists. It is often quite challenging to track the use of a shop's profits.
To summarise, the scenario unfolding in Central Asia is not a critical one, the governments of the region are in control of the situation, and the region will remain stable in the coming years.
From our partner RIAC