Armed democracy: NATO greatest achievement for Europe
At the 30th NATO summit, following the U.S. and Russia's withdrawal from the Intermediate-Range Nuclear Forces (INF) Treaty, NATO leaders, reiterating future threats, divided the world into East and West military poles.
NATO, while stating a security strategy, continued to regard Russia as a threat to the security of Atlantic and euro area, just like it was during the Cold War. The organization also claimed that cyber operations, terrorist acts and those effective state and non-state actors that are not aligned, should be confronted as factors that have challenged the world order.
NATO's strategy has shifted from the level of security concerns over Russia and global challenges to the level of preparedness for possible military confrontation. NATO seeks to provide the ground and facilities for further deterrence, faster defense and increased capacities of the rapid reaction forces to counter possible attacks, especially in the field of terrorism and cyber-terrorism.
Although NATO, at a recent meeting, referred to the North Atlantic Treaty Organization as a defensive coalition that does not threaten any country, its field of activity indicates that the nature of the treaty is tied to war.
NATO achievement and threats to Europe
NATO plays a key role in creating armed democracy in Europe, and is also a serious threat to the continent's security.
After the end of WWII, when capitalism and communism were two dominant ideologies in international relations, the U.S., with a greed for Europe's scientific and industrial resources, entered the green continent that was tired of devastating wars. With the Marshal Plan, the U.S. chose Europe as its strategic ally to confront the Soviet Union.
Constant security is the condition for strategic partnership. Therefore, beside the Marshal Plan, only NATO-backed armed democracy could guarantee constant security for long-term strategic partnership between the U.S. and Europe.
By dictating this kind of democracy to Europe in the form of preserving values and mutual interests, the U.S. has taught European leaders and nations to stop fighting each other and join the U.S. to achieve global goals and counter communism.
By its policy, the U.S. strategic goal was to promote public knowledge in Europe. It also sought to support those policies and organizations that, on the one hand, could guarantee peace and security in Europe, and on the other persuade European nations to cooperate with the U.S. at international and trans-national level, in the context of a new order after the World War II.
In the process of reinforcing NATO, democracy expanded alongside NATO's military goals in leftist Europe. European people slowly became familiar with ballot boxes, and, by benefiting from common interests in the economic system of capitalism and neo-liberalism, they agreed with the arms race with the Soviet communist system. Therefore, a great miracle happened in transatlantic relations and developments, and yesterday's enemies became today's friends and strategic partners.
In fact, armed democracy was NATO achievement for European countries. The democracy has so far worked out very well, to the point that the cruel and criminal European countries now present themselves great supporters of human rights and environment!
Leninism and Stalinism, racism, fascism, apartheid, genocide, crematoria and cruel killings during Africa and India's colonization, appalling events in WWI and WWII, brutal killings in Srebrenica and Bosnia are only a small part of Europe's history.
After WWII, Britain, France, Belgium, the Netherlands and Luxembourg signed the Brussels Pact in 1984 and formed the Western Union Defense Organization (WUDO) in response to German threats and expansionism by the Soviet Union in eastern and central European countries.
The U.S. government, which had won the approval of the Congress to accept military commitments outside its borders in response to the Soviet intervention in the Czech coup, joined the Brussels Pact along with Canada on April 4, 1949. Finally, the U.S. and 11 European countries founded the North Atlantic Treaty Organization in Washington against Russia and Germany.
Following France's defeat in the Battle of Dien Bien Phu in Vietnam, the Soviet Union, which considered Germany as its enemy, seized the opportunity and offered Collective Security Treaty to the U.S., Britain and France in 1954, and requested NATO membership, which was rejected by all three countries.
A few months after NATO's negative response, due to its hostility with Russia, NATO accepted Italy's membership on April 4, 1949, and Germany's on May 9, 1955, in order to prevent Moscow from taking advantage of European political and security conflicts.
With Germany joining NATO, the Soviet Union established the Warsaw Pact five days later, using the military facilities of Eastern European countries, which practically triggered the Cold War.
Following the collapse of the Soviet Union, during the presidency of Boris Yeltsin, Moscow sent a letter to NATO secretary-general on December 21, 1991, asking for membership in the military bloc, which once again rejected by NATO.
Constant security, an achievement of constant threat
The serious threat to Europe's constant security is to be examined as European countries have not played an important role in maintaining and establishing durable security over the last half a century, but they reached such level of security due to the security interests created by the U.S. and NATO.
Since the Cold War, European countries have been the victims of possible nuclear conflict between the U.S. and Russia. Therefore, given the U.S. and Russian withdrawal from the INF Treaty and stationing new nuclear missiles by these countries in the green continent, Western Europe will be once again the first victim and target in a possible U.S.-Russian conflict.
In other words, the security of European countries is provided and guaranteed in the absence of the U.S.-Russian conflict, which is a constant threat at the same time of being constant security.
In the wake of widespread commitments to NATO, coupled with transatlantic relations, without NATO's support, most European states are vulnerable in the face of Russian military power due to the lack of a professional army.
In case European countries distance themselves from the U.S., even if they spend a sum more than their defense expenditures within NATO, they will not be able to form an army with deterrence capability.
In fact, European states have strategic partnerships in the context of governments and interdependencies. According to history, European nations certainly will not be friends, if not enemies.
It is nearly five decades that Europe has been trying to form an independent army to defend itself, but political disputes between European countries have prevented it from being realized. This is a pain that Europe always suffers from.
From our partner Tehran Times
Indian DRDO: A Risk In Disguise
At International Aerospace and Defence Exhibition ADEX-2013 in South Korea, India displayed its tactical nuclear missile Pragati, which has been developed by the Defence Research and Development Organization (DRDO). The DRDO authorities on their way back to India, did not load the missile on ship. Instead they left it unguarded and vulnerable at the Incheon port, South Korea, for an entire month. Afterwards, the missile was transported to India in a commercial cargo ship without the safeguards it needed as sensitive military hardware. This is no joke, this is real, an Indian battlefield tactical missile that has the capability to carry a low yield nuclear warhead at a short range was laying unguarded and dangerously exposed.
DRDO authorities did not display a dummy missile intentionally, instead an actual prototype was exhibited to be used for a live firing. Besides, DRDO did not take the responsibility of the logistical handling of the missile, instead it was outsourced to a local shipping company. Now the question is whether it was a major security lapse and breach of international laws, or DRDO intentionally did this to proliferate weapons technology. What happened during that period? Who so ever got access to the missile on that port was kept confidential! The possibility of official involvement in this incident cannot be ignored.
It is not a hidden secret anymore that DRDO and other Indian nuclear organizations have history of illicit nuclear trade and proliferation of missiles technology to other countries, like Libya, North Korea, and Iraq and so on. There is a long list of Indian individuals and entities available in nuclear archives, which are involved in arms race and proliferation.
It is embarrassing that India is a country, which is so poor in security and safety of its strategic weapons along with nuclear program is trying so hard to get into Nuclear Suppliers Group (NSG). Now the mainstreamed nuclear states must realize the Indian ambition behind not signing the NPT and still wanting to be recognized is simply that India will not act responsibly. Instead being a part of the solution, India wants to become a problem for not only the South Asian region but globe as well, by exerting hegemonic designs and military expansion.
India has already taken several actions with regional implications to bully its neighbors and threaten regional peace and stability. For instance, the major incidents of 2017 China-India border standoff and 2019 Balakot aerial combat with Pakistan. There is no point of having such huge military expansion, when one cannot handle it or use it for proliferation or mislead and malign other states to hide its own inabilities. Therefore, Indian DRDO is a risk in disguise, because it cannot assure the secure and safe handling of its own equipment as well as in frustration it is maligning commercial trade between Pakistan and China. This February 2020, DRDO and customs authorities at Deendayal Port, Kandla detained Hong Kong-registered commercial cargo ship Da Cui Yun, bound for Port Qasim in Karachi, Pakistan. They claimed that they obtained intelligence that the ship was carrying a suspicious equipment, which could be used for nuclear missiles.
Indian authorities compelled the ship staff to hand over the equipment stated as an 'industrial dryer' and took it in their custody. Eventually, to save the embarrassment India hid the truth from media. Interestingly, that equipment had nothing to do with military or weapons manufacturing. Instead it was a 'heat treatment furnace' used mainly in the manufacturing of rubber goods, such as, liquid rubber storage tanks and rubber pipes. Both Pakistani and Chinese Foreign Affairs have denied the Indian claims that the equipment was 'Autoclave', which India has alleged was ballistic missile stuff.
India is concerned that Pakistan has emerged as a more responsible nuclear country and India's NSG membership bid is in lumber because of Chinese realistic stance of ratifying NPT condition. Frustrated, Indian authorities have fabricated this incident just to malign Pakistan and China. Indian authorities have made a miscalculated decision. They should realize that such maligning tactics won't help India to divert international community's attention from its illicit nuclear trade and proliferation record. The whole event appears to accuse Pakistan for the illegal trade and nuclear proliferation, while avoiding India's own record on the proliferation of nuclear arms.
This deception shows that the hope of Indian NSG membership has been constantly refused by China and now the Indian frustration has turned to counter-blown false-flag operations in order to undermine growing China-Pakistan co-operation. The international community must stop its material support and technical assistance to India, which has exploited Indian behavior and now India is misleading international community by false flag operations. It will eventually dismantle the peace and stability.
Development of New-age Weapons Systems Becomes Key to Sustaining US Military Superiority
The technological superiority of the United States armed forces is being challenged by new and evolving threats constantly being developed by potential adversaries. To counteract these challenges, the country's Department of Defense (DoD) is expected to spend an estimated $481 billion between 2018 and 2024 to identify and develop new technologies for advanced weapon systems, giving rise to numerous revenue opportunities in this space.
"According to the most recent Defense budget (FY2021), combined spending on research, development, testing, and evaluation (RDT&E) for over 1,100 programs by defense-wide organizations is estimated to reach $106.56 billion," said John Hernandez, Senior Industry Analyst at Frost & Sullivan. "This wide variety of projects provides opportunities for a large number of commercial markets to collaborate with the DoD."
Frost & Sullivan's latest research, US Defense Science and Technology Research Market, Forecast to 2024, delivers an overview of the science and technology (S&T) research market catering to the United States armed forces and provides detailed insights into the related growth opportunities available for market participants.
The RDT&E sector is rife with market opportunities in an array of innovative technological concepts, such as artificial intelligence (AI), autonomous vehicles, robotics, cybersecurity, counter-drone technology, and hypersonics. Pursuing further developments in these areas will prove to be rewarding for companies that can successfully integrate these new capabilities into existing weapons systems.
"Most concepts being explored by the armed forces will have an impact in commercial market spaces as well," noted Hernandez. "Companies working with the DoD on RDT&E development programs will have an advantage toward the development of parallel commercial solutions."
Companies operating in this sector should explore the following opportunities to cultivate growth:
Commercial-off-the-shelf technologies and software are constantly being introduced into the defense S&T research market. RDT&E process stakeholders must be prepared to partner with the patent holders of those technologies and software.
Suppliers of legacy defense systems must continue to invest in their own research and development to keep those systems current and indispensable. This involves constant interaction and communication with defense clients to align development strategies.
Trending innovations such as directed energy weapons, robotics, artificial intelligence, and machine learning are in their growth stages with a substantial amount of development ongoing. Integration companies must envision how these new capabilities can be integrated into the battle management space and have solutions ready for implementation.
US Defense Science and Technology Research Market, Forecast to 2024 is a part of Frost & Sullivan's Aerospace and Defense Growth Partnership Service program, which helps organizations identify a continuous flow of growth opportunities to succeed in an unpredictable future.
Europe After the INF Treaty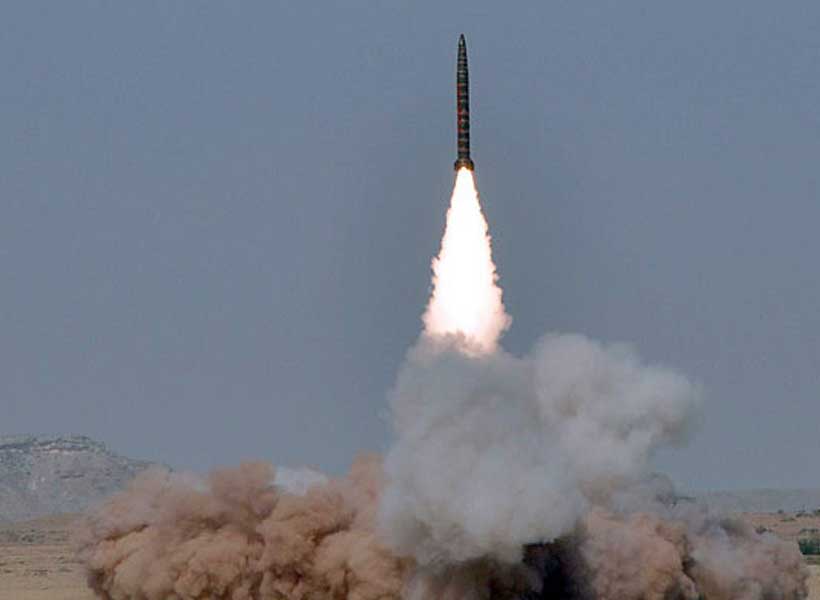 The cancellation of the INF Treaty will have a significant impact on defense and security policies in Europe. Last year's demise of the treaty will lead to a massive loss of predictability and military transparency. It will almost certainly trigger ultimately a new arms race in Europe. Nevertheless, few European leaders have chosen to contest U.S. President Donald Trump's decision to renounce the treaty in response to Russia's refusal to withdraw prohibited systems. However, there have also noticeably been no appeals from Western European politicians for the U.S. to go ahead and match the Russian deployments of intermediate-range missiles, in order to maintain deterrence and show transatlantic solidarity. One possible explanation for the lack of enthusiasm or an outraged reaction on behalf of Western European leaders might be that they may not view today's Russia as posing the same threat as the Soviet Union of the 1970s and 1980s. In the mind of most Western Europeans, the Cold War is history. Surely the Poles and Baltic states, but also Romania, Bulgaria, and even the Scandinavian countries may have a different perspective.
The gloomy truth is that West European apparent indifference to the end of the INF Treaty is neither based on confidence nor a professional assessment of security policy in Europe, but on a deep-seated reluctance to accept that military issues are back on the agenda across Europe. Granted, for Europe, the issue of missiles is no longer as central as it was thirty or forty years ago when NATO and the Warsaw Pact faced each other on a line dividing all of Europe. But the end of the INF Treaty is by no means without consequences for Europe. Most of all, Western European leaders seem to lack a complete understanding of what a post-INF Europe could look like. This stems in large part from the INF discussion in Europe being held on the wrong premise. The German Foreign Minister, Heiko Maas, for example, warned last year of a new arms race, stating that he believed that European security will not be improved by deploying nuclear-armed, medium-range missiles. Western Europe appears to be solely concerned that the nuclear element is coming back to the forefront of European security. The media, politicians and populations in countries like Germany, France or Italy, connect this nuclear element with something that goes back to the Cold War, something dangerous and fearful that had been eliminated from the European reality decades ago. The chance that this danger could come back is of course paired with emotion and met with opposition. Pictures of the European protests of the 1970s and 80s come to mind, when thousands protested against U.S. missiles being stationed in Europe. However, by mistakenly classifying the INF debate as a nuclear debate, the Europeans are narrowing the discussion and missing the main point. We are no longer in the 1980s, but it seems as if the general understanding in Western Europe regarding missile capabilities and the strategic employment of missiles is stuck in that time. While the disposal of a treaty that also admittedly limited the development of nuclear weapons may be unnerving, it must be understood what post-INF Europe will really look like, in order to be prepared. The nuclear issue itself is no longer at the heart of the debate – conventional attack and defense capabilities are front and center (even if some of these missiles are dual-capable). This should in no way discount the potential dangers that could arise for Europe. Conventional long-range missiles were not relevant at the time of the implementation of the INF Treaty because, before precision guidance, it took a nuclear warhead to guarantee an effective hit on a target thousands of kilometers away. But now conventional long and medium-range missiles have become increasingly central to a new era of warfare. Reduced costs and substantial improvements in the accuracy of conventional missiles of all ranges have made them very attractive. Low-flying cruise missiles are very difficult for ground radars to detect, and despite their relatively slow speed of travel, the defense against them proves challenging. Ballistic missiles, by contrast, move at high velocity and can potentially hit targets with minimal warning. The new arms race that is expected in Europe will certainly not unfold according to the classic Cold War model. It will not, for the most part, involve Russian and U.S. nuclear weapons systems in Europe. In addition, the numbers of these missiles are unlikely to run into thousands or even hundreds. Nevertheless, this new round of proliferation will be no less dangerous or intense.
Without the INF Treaty, there are no limitations to new land-based missile systems. The U.S. Department of Defense has already tested a ground-launched version of the Tomahawk land-attack cruise missile last year. This new cruise missile has a range of around 1,000 kilometers and could be deployed by early 2021. The U.S. has thus validated Russia's claim that the United States did not necessarily adhere to the INF Treaty to the letter either. Russia denounced previous U.S. missile tests as violations and accused the U.S. of stationing launchers as part of the Aegis Ashore ballistic missile defense facilities in Europe, capable of firing intermediate-range missiles. Russia insisted on the dual-use capability of Mk 41 (Aegis Ashore) anti-missile launch facilities in Romania and Poland. The Obama administration on the other hand had always claimed that they were purely defensive and could only be utilized for launching SM-3 interceptors to defend against missile attacks. The logic of the Russians in this matter was that the Mk 41 launchers on the Aegis ships were used to launch Tomahawk cruise missiles as well; therefore, they also have this capability as part of the land-based Aegis Ashore system. The U.S. always denied this and argued that this would require a massive modification of the software and wiring, and was also not possible because it would require a change in the bilateral stationing agreement with Poland and Romania. However, that this capability apparently does exist as demonstrated, with the latest test, has gone unnoticed in the mainstream European media.
The U.S. also tested new surface-to-surface ballistic missiles, one of which – the replacement for the Army Tactical Missile System, with a planned range of 700 km – could be deployed as early as 2023. Another one – a ballistic missile with a much longer range (3,000-4,000 km) – will not be ready for deployment until 2025. Other types of missiles are currently in the planning stage. With China and Russia investing heavily into Anti-Access/Area Denial anti-aircraft systems, ground-launched missiles have become an attractive option for the U.S. military, rather than the conventional use of air power.
There is no doubt that Russia has been violating the INF Treaty for some time and the Russian violation is part of a deliberate policy. In 2003, Moscow apparently began to develop a new family of land-based cruise missiles. This development may be interpreted as a result of a combination of several factors: while Moscow might have officially strongly condemned the U.S. withdrawal from the INF Treaty, in reality it never cared much for the treaty itself. The growing strength of China's armed forces, including its vast arsenal of land-based medium and intermediate-range missiles (95% of which would be in violation of INF, had China been a signatory), has Moscow concerned they could be at a disadvantage. In its defense planning, Russia needs to consider how to potentially handle a Chinese military threat if it ever materializes. Additionally, its southern flank, with Iran as a major missile producer, is also a growing potential concern to Russia. This explains why Moscow, as early as 2007-2008 raised the possibility of a joint withdrawal from the INF with the United States. In addition, there may also be domestic reasons. Vladimir Putin is allowing its traditional defense industry to maintain significance in Russia. This is part of a calculated policy of preserving the Russian industrial complex, recapitalizing the Russian military, and being able to develop long-range dual-capacity strike capabilities. These include surface-to-surface missiles, in line with Russian traditional military preference, as well as for cost reasons. It is also, in a sense, a retribution on behalf of the Russian military establishment against the policies of Gorbachev, who withdrew Soviet SS-20 missiles from Europe and negotiated the INF. These policies are viewed as weakness toward the West. They resulted in the demise of the Soviet Union, the loss of Russian power, and the strengthening of the West at the cost of Russian security, in the eyes of many within Russia.
The dispute over Russian compliance with the INF Treaty had intensified since 2014, especially after the United States officially alleged a Russian violation. Informed by the Obama administration about the issue since 2013, a year before making public its formal assessment of the violation (U.S. Congress had been informed as early as 2011), Europeans were initially unconvinced. American allegations increased since 2017, when Russia began deploying a ground-launched cruise missile, the 9M729, capable of traveling within the treaty's prohibited 500-5,500 kilometer missile range. U.S. intelligence agencies have assessed that the Russian military deployed four battalions of 9M729 missiles (including one test battalion). The missiles can be nuclear-capable, but according to the U.S. Director of National Intelligence, they are most likely conventionally armed. Eventually in 2019, European doubts were dispelled and several European intelligence agencies independently validated the American judgment with a high degree of probability. Russia initially denied the existence of a new missile, but then finally admitted it, arguing that the new missile was in conformity with the INF Treaty. In January 2019, it presented its arguments in detail to the international press, claiming that the missile has a range of only 480 kilometers.
Moscow could have politically capitalized on the U.S. position of unilaterally cancelling the treaty, proclaiming it would prefer to remain bound by the INF Treaty. Vladimir Putin actually suggested this possibility in December 2018. But Russia eventually acted differently: while publicly blaming the United States, it followed the exact U.S. position by announcing it was suspending its obligations as well. This while stating at the same time that it will not deploy missiles of that range if the U.S. refrains from doing so. But further deployments of 9M729s are likely to follow, since Russia claims that these missiles actually do not violate the ranges laid out in the INF Treaty. In addition, Moscow could develop a new version of the SS-26 Iskander surface-to-surface missile (whose maximum range is currently estimated at 500km) and transform it into an intermediate-range category missile. Without the constraints of the INF Treaty, the development and deployment of multiple types of missiles (including hypersonic missiles) to address objectives and threats in the 500-5,500 kilometer range is now possible with less geographical constraints.
The issue of the INF Treaty must be viewed in a global perspective, with missile proliferation, quantitative growth, and increased sophistication of Asian and Middle Eastern arsenals largely explaining the current situation. The 1987 strategic solution at the implementation of the INF Treaty became a strategic problem from Moscow's and Washington's perspectives. That there is no longer an INF Treaty in practice is the product of a new reality and a new context. This development is just as much about Russia's increasing military power as it is about the American perception of many Cold War arms control treaties being outdated and being viewed as "shackles" that are unfavorable for the United States. But above all, this development is due to the new strategic landscape in Asia.
Even before Donald Trump became president, the Pentagon regarded the restrictions due to INF responsible for the imbalances between Chinese and North Korean missiles and U.S. systems in the region. For quite some time, the INF Treaty was a constraint preventing the United States from acquiring appropriate defenses necessary for a changing context in Asia. Within America, many political ideologues have long advocated for the United States to free itself from INF restrictions, regardless of Russia's compliance or acceptance. The announcement of the cancellation of the INF Treaty also revealed the fundamentally ideological nature of a decision consistent with the disdain of international treaties perceived as constricting the United States by a large part of the American conservative camp. Consequently, like the ABM Treaty in 2002, when the Bush Administration decided to field the Ground-based Midcourse Defense (GMD) system, the INF Treaty appeared to be a constraint preventing America from acquiring the necessary means to adapt to the changing context and a new security environment.
Right now, Asia, not Europe, appears to be the primary geopolitical emphasis of post-INF missile development in the United States. In this regard, it is also not surprising that China was outspokenly supportive of the United States and Russia saving the INF Treaty, while at the same time categorically ruling out its own participation, in order to maintain its own strategic advantage. However, in Asia, aside from the U.S. territory of Guam and other small U.S. Pacific island territories thousands of miles from the Chinese coast, deployment of American ground-based ballistic and cruise missiles is extremely limited by geography. The United States instead relies on air- and sea-based platforms for long-range power projection in Asia. American basing options for post-INF missiles in Asian countries also appear very limited, geographically as well as politically. However, the day after the formal U.S. withdrawal from the INF treaty, U.S. Secretary of Defense Mark Esper said that he was in favor of deploying conventional ground-launched, intermediate-range missiles in Asia sooner rather than later.
Europe, on the other hand, with its landmass adjacent to the Russia, seems predestined for the stationing of U.S. land-based missile systems in the long run. The question remains, however, where in Europe should these missiles be deployed. The Trump administration has not yet held talks with any European governments, at least not publicly, on hosting new missiles. Another consideration is the terms on which Washington may be willing to support and carry out a missile deployment to Europe. The United States certainly will want its own troops in Europe to be equipped with the new missile systems, but will there also be an option or a push to sell or lease systems to interested European governments? The Pentagon, in any case, is already attempting to calm the potential debate and any resulting anxieties by constantly emphasizing that none of the planned missiles are nuclear systems.
How open Europeans would be to U.S. intermediate-range missile deployments will vary significantly from country to country. Some NATO countries, such as Poland and the Baltic states, which are already within reach of Russia's shorter-range missiles, like the SS-26 Iskander, are viewing the development of Russian intermediate-range missiles as an opportunity to attract a more robust and permanent U.S. military presence in their countries. Other countries, such as Germany and France, however, will be cautious of escalating the intermediate-range arms race and will have to internally deal with populations that will be opposed to missiles in their territories. During the 1980s, U.S. missile deployments caused major protests in Western Europe. This means for Russia in return, that if it wants to exploit Western European skepticism and opposition, it must strike a delicate balance between expanding its own intermediate-range missile deployments with maintaining its current outward propaganda advantage. In the Eastern European NATO countries, the situation and sentiment are entirely different, especially in Poland. Due to its history and proximity to Russia, Poland has been wary about Russia's intentions and has advocated for a resolute, sometimes even provocative policy toward Russia. According to some Polish defense analysts, Russia has already gained a considerable military advantage, because it has medium-range missiles in Europe while NATO does not. But this Russian advantage could be easily curtailed with American missiles in Europe. In their view, the end of the INF treaty is an opportunity for Eastern Europe. It could lead to a stronger alliance between the United States and Eastern European countries. If Western Europe is opposed to the stationing of medium- to intermediate-range missiles from the U.S., Poland and other countries of NATO's eastern flank may not refuse U.S. missiles on their soil. Some Polish defense planners are even going so far to recommend missiles in Ukraine or Georgia to clearly restrain Russia. They dream of Poland playing a pivotal role in the defense of Europe. For geopolitical reasons, and with American military presence, in their mind, it will become the hub for redistributing security to the whole region by strongly limiting Russia and its ambitions in Central and Eastern Europe. In a similar line of thought, a stronger alliance between the United States and the countries of Eastern Europe would potentially prove far more valuable than a broken, outdated U.S.-Russia treaty would ever be.
Therefore, as Western Europeans may be opposed to any U.S. missile deployments in Europe, the perception in Eastern Europe is quite different. Also, Western European dreams of a common defense and security policy across EU countries are very far from reality. Pro-European voices who claimed that the cancelation of the INF Treaty could be a chance to come up with the creation of a "Euro-deterrent" and European strategic autonomy in a 21st century Europe that will exercise strategic sovereignty will be quickly reminded of the realities in a post-INF Europe. There is no united European position on the defense of Europe. It is telling that the Eastern European countries in the past often turned directly to the U.S. for defense matters and not to the EU or even NATO. Poland and the United States, under President Obama, in 2010 agreed to rotate American Patriot units from Germany to Poland (resulting in Russian threats to move Iskander missiles to the Kaliningrad Oblast) as part of the so-called Patriot to Poland mission. This, for example, was a bilateral agreement between Poland and the United States. There was no NATO involvement. Poland and Romania are already hosting the U.S. Aegis Ashore missile defense systems. Although integrated into a NATO missile defense architecture, make no mistake, these are U.S. systems. The U.S. AN/TPY-2 (FBM) radar, which functions as the primary sensor for these NATO defense systems is located in Turkey and is operated by U.S. soldiers only. The actual radar and the immediate area where it is located is only accessible to U.S. personnel; no NATO member state has access to it, and this is no different for the sites in Romania or Poland. The operations for the radar in Turkey are coordinated and controlled by U.S. personnel at the U.S. Air Force base in Ramstein, Germany. All the data that the radar provides is collected by U.S. personnel and only then passed on to NATO. Contrary to what many Europeans may want to think, NATO has no direct command or control over any of the U.S. missile defense assets in Europe. The U.S. shares information with NATO and takes NATO into consideration. That is the extent of NATO involvement. All of the assets are American and potential strategic engagements to defend Europe from ballistic missile attacks are controlled and carried out by the U.S. military.
Realistically, the Europeans are only bystanders when it comes to their strategic missile defense. The Europeans were bystanders when the stability of Europe was determined by the Soviet Union and the United States in 1987 with the INF Treaty and the Europeans are bystanders now as well as Russia and the U.S. figure out how a post-INF Europe may look. Today, they remain essentially spectators, even though in 2018, the United States obtained pro forma NATO's open support for its position. The INF crisis is not a central strategic issue for Europe, also because Europe really has very little strategic say. For Europeans, the consequence and direct impact is political: the INF Treaty symbolizes the end of the Cold War and the start of a new era. The American withdrawal may lead West European populations to view the White House – which, in terms of public relations in Europe, made a big mistake by unanimously cancelling the INF Treaty – and the Kremlin – which now has the higher ground from this point of view – on an equal footing. The consequences for the already strained transatlantic relations are therefore not positive, at least not in Western Europe. Moscow has largely managed to shift the blame for the treaty's collapse mainly on Washington in the eyes of many Europeans. The abrupt U.S. withdrawal without making much effort to negotiate and discuss the allegations of breaches by both sides has fueled the perception that the U.S. is mainly responsible for the INF's failure. Therefore, Russia will continue to portray itself as simply reacting to U.S. aggression if it further deploys its own intermediate-range missiles to maintain this perception. Thus, Russia is trying to minimize European irritations at its own missile deployments while at the same time driving a wedge between the United States and its West European allies. Nevertheless, the mysterious explosion at a Russian navy's testing range last year that had been surrounded by secrecy and increased radiation levels may have drawn some attention to the fact that Russia is also very much engaged in testing and establishment of offensive capabilities and may not be so innocent after all.
One overlooked feature of the INF Treaty in the debate of post-INF Europe is that it was not entirely bilateral anymore after the fall of the USSR. After the USSR ceased to exist, it also covered former Soviet states in whose territories the production or testing of intermediate-range missiles once took place. Among these states is Ukraine, a country with a very strong domestic industrial base for the production of missile systems. Ukraine could now see the collapse of INF as an opportunity to gain some deterrent capability towards Russia with its own ballistic missiles. Kiev has already stated that it reserves the right to now develop its own missiles as necessary. With its economy in dire straits, it may also consider export of such missiles. Potential buyers in Europe would be Poland or the Baltic states, who are eager to bolster their own defenses against Russia.
Another country to consider is Turkey. Turkey too may influence future European missile proliferation. With the launch of its domestically produced Bora ballistic missile in combat against Kurdish assets in northern Iraq, Turkey has joined Syria, Iran, Israel and Russia in making use of ballistic missiles in combat in the region. Turkey is currently in the process of establishing a domestic independent defense industry. The combat use against the Kurds in northern Iraq was just as much a sales pitch, as it was an actual military operation. Turkey has announced its intention to export its missiles and it is working on more advanced ranges and precision. In the past, Turkey had planned to develop a missile with a maximum range of 2,500 kilometers. Further indicating Turkey's intention to earn offensive missile capabilities was the construction of the first Turkish satellite launching center to bolster the country's satellite programs. It could be suspected that Ankara may be intending to use its launching pad to fire the long-range missiles the government hopes to build in the long term. Turkey justifies its ballistic missile ambitions by pointing to its neighbors Iran and Syria and their missile programs. However, Turkey also views Armenia, which possesses Russian Iskander missiles, as a potential threat. With Greece being within range of Turkish ballistic missiles, the prospect of an Aegean arms race, if Greece feels compelled to acquire new weapons against its traditional rival Turkey, is not inconceivable either.
The disappearance of the INF Treaty marks the end of the post-Cold War strategic relationships. The nuclear issue itself will not be the actual topic of the debate, but rather the conventional attack and defense capabilities, something that is gravely misunderstood in Western Europe. The end of the INF Treaty reveals many things: the evolution of the international context with China's rise to power, the disinterest of Russia and the United States in Cold War arms control treaties, the deterioration of relations between Russia and the United States, the division between Western and Eastern Europe, and the powerlessness of Europe in international military matters.