Andaz Brand Debuts in Dubai With the Opening of Andaz Dubai The Palm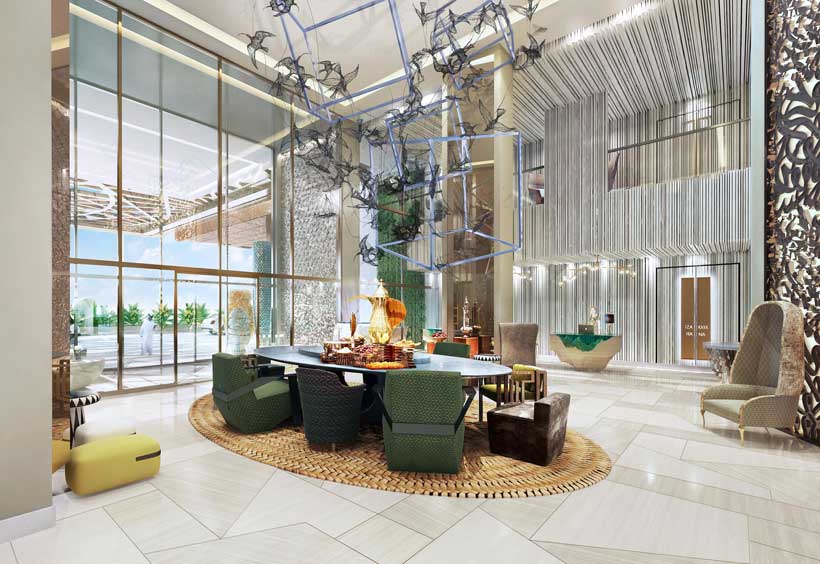 Hyatt Hotels Corporation announced today the official opening of Andaz Dubai The Palm. Joining Andaz hotels in top destinations around the world, such as Amsterdam, London, New York, Tokyo, Seoul and Shanghai, the latest addition marks the first Andaz-branded hotel in Dubai and the second in the United Arab Emirates, following the opening of Andaz Capital Gate, Abu Dhabi in 2018.
Andaz, Hyatt's luxury lifestyle brand, is rooted in local culture, immersing guests in elevated sensory experiences that celebrate the uniqueness of each property and its surroundings. Located in the heart of Palm Jumeirah, the hotel rests on the world's most iconic man-made island and offers travelers inspiring local programming, reflecting Dubai's rich culture and heritage. Andaz Dubai The Palm gives guests access to a private beach, as well as to several of Dubai's attractions, including the Nakheel Mall, Dubai Mall, Dubai Marina, Jumeirah Beach and Mall of the Emirates.
"The bustling Palm Jumeirah island serves as the ideal location for guests to immerse themselves in the sights and sounds of Dubai," said Kifah Bin Hussein, general manager, Andaz Dubai The Palm. "The hotel is created for the inquisitive traveler. Set in a vicinity known for luxury and exclusivity, Andaz Dubai The Palm reflects the city's eclectic style, showcased through local artist exhibitions and unique culinary offerings."
Concept & Design
Andaz Dubai The Palm is home to local art, embellished on the walls of the hotel in pop-up style exhibitions. The property breaks the mold with its unscripted check-in and check-out experience, without the barriers of a front desk or a queue. The journey of modern refinement commences from the moment guests arrive and transcends into every service offered.
Rooms & Suites
Encompassing 217 guestrooms, including 34 suites, and 116 residences, the property incorporates the sights, scents and textures of Dubai into every aspect of the room design. The ideal space to relax, unwind and entertain, the guestrooms are inspired by the Emirati culture with bespoke artwork and luxury amenities.
The hotel features 31 Andaz Suites, one Terrace Suite, one Prince Suite and one Royal Suite, each made with modern, minimalistic interiors and fitted with premium amenities, including separate living and dining areas, a terrace, a rain shower and a deep soaking tub.
Dining & Drinking
Home to five distinct dining venues that offer an abundance of local flavors and sensory experiences, Andaz Dubai The Palm creates a vibrant social scene through a medley of global and traditional Middle Eastern influences.
The Locale, a neighborhood eatery on the hotel's ground floor featuring an alfresco terrace, combines culinary stories from around the city and weaves a blanket of flavors that only Dubai has to offer. The restaurant is open daily for breakfast, lunch and dinner.
The sleek and stylish Hanami is a contemporary take on Japanese Izakaya, inspired by cherry blossom-gazing parties popular in Japan during Sakura season. Artfully crafted cocktails and sharing plates can be enjoyed against a backdrop of inspiring music and unobstructed skyline views from the 15th floor.
For the discerning guest, Knox is an underground speakeasy bar that challenges the status quo with a heady mix of contemporary mixology in an industrial-esque space with vintage rugs and vibrant furniture.
Expected to open in the second half of 2020 and taking its name from the friendly Macaw parrot, La Coco is a neighborhood beach club and lounge that offers casual bites and drinks poolside, so guests can enjoy a leisurely day, be it families on a fun day out or couples enjoying a sunset moment.
Guests can seek solace at The Andaz Lounge, the 'anti-office' that evokes the coziest of dens with plush seating, large tables, a library of books and a full-service bar. Decked in loud colors and featuring striking art pieces, the space stimulates engaging conversations over coffee or cocktails.
Wellness
Nestled on the 14th floor is the hotel's spa, Ora, a tranquil haven of relaxation with a carefully curated menu of facial and body treatments. On the same floor, guests will discover the adults-only Cabana pool area and state-of-the-art fitness center that completes the wellness experience.
Events
Offering approximately 6,350 square feet (590 square meters) of fluid, eclectic studio spaces, Andaz Dubai The Palm is a vibrant setting for both stylish social and corporate events.
Mandarin Oriental To Debut At Costa Navarino In Spring 2023
Mandarin Oriental Hotel Group and TEMES S.A., a leading developer and operator in high-end tourism and real estate, will introduce the first Mandarin Oriental property in Greece, at Costa Navarino – the prime sustainable destination in the Mediterranean – in spring 2023.
Mandarin Oriental, Costa Navarino will be located at Navarino Bay, an integrated resort area at Costa Navarino, in the region of Messinia, southwest Peloponnese, amidst a breathtaking 140-hectare natural landscape, overlooking the historic Bay of Navarino.
The beachfront luxury resort will feature 99 guest rooms, including 48 spacious earth-sheltered pool villas, all with outdoor terraces and stunning sea views, along with five restaurants and bars. Crafted by renowned Greek architects, Tombazis & Associates Architects and K-Studio, the unique design is aligned with Costa Navarino's sustainable principles, featuring planted roofs blending into the natural topography of the land and the use of local materials.
Additionally, this ultra-premium resort is set to feature a 1,500 m2 spa and fitness center with a stunning 25 m indoor-outdoor pool and sweeping sea views, complemented by state-of-the-art heat experiences and Mandarin Oriental's signature wellness therapies in specially designed indoor treatment rooms and outdoor pavilions.
"We are delighted to be opening our first property in Greece in Costa Navarino and look forward to sharing this striking combination of unspoiled landscape, olive groves, pristine beaches and authentic Greek culture in the region with our guests," said James Riley, Group Chief Executive of Mandarin Oriental. "We are pleased to partner with TEMES, the group that has been responsible for the creation of Costa Navarino as a bourgeoning tourism destination."
"Mandarin Oriental is renowned for delivering exemplary service and exclusive experiences in some of the most noted properties around the world," said Achilles V. Constantakopoulos, Chairman of TEMES. "We are proud to have the Group bring their hospitality expertise for the first time to Greece, signifying the further growth of Costa Navarino, which is becoming a top international destination to visit and to live".
Navarino Bay is already home to The Bay Course, an 18-hole signature golf course designed by Robert Trent Jones II, as well as the award-winning earth-sheltered Bay Clubhouse, which harmoniously blends into the lush landscape, overlooking the Bay of Navarino.
Guests of Mandarin Oriental, Costa Navarino will also benefit from the destination's other resort areas, and experience a vast range of outdoor activities, from biking and hiking to rock-climbing, tennis and water sports, as well as three more signature golf courses. Additionally, a variety of dining venues and leisure activities are available across Navarino Dunes and Navarino Waterfront.
Moreover, Mandarin Oriental, Costa Navarino will be adjacent to Navarino Agora, an open marketplace with retail, artisanal street food, open-air cinema, and authentic local experiences by day and night.
Marriott International Signs Agreement to Debut W Costa Navarino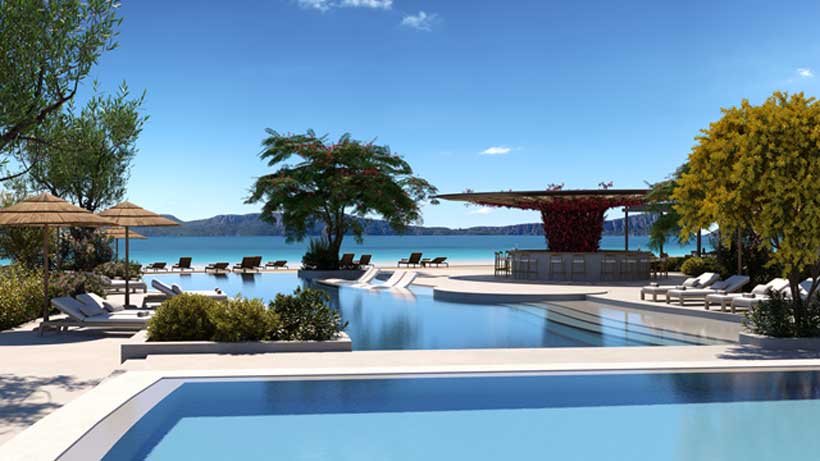 Set to welcome guests this summer, W Costa Navarino will bring detail-driven design and inspiring energy to the new Navarino Waterfront
Marriott International, Inc. today announced it has signed an agreement with TEMES S.A., a leading developer and operator in high end tourism and real estate, to debut the W Hotels Worldwide brand in Greece with the opening of W Costa Navarino. Expected to open in summer 2022, W Costa Navarino is anticipated to mark the latest addition to the ever-expanding W Escapes portfolio in Europe following locations in Spain, Switzerland and Portugal.
The new W Escape will be located in Navarino Waterfront, the newest integrated resort of Costa Navarino – the prime sustainable destination in the Mediterranean. The 13-hectare beachfront destination is located in Messinia, southwest Peloponnese. Designed by renowned Greek architects, Tombazis and Associates Architects, W Costa Navarino is inspired by the region's traditional residential areas and set to use local, natural materials such as stone, wood and reed. The distinctive interiors will be led by London-based MKV Design. The Escape is expected to feature 246 stylish rooms, suites, and villas, many with private pools staged in the Bay of Navarino with stunning Ionian Sea views.
''We are thrilled to build on our fantastic relationship with TEMES S.A. to open W Costa Navarino, strengthening Marriott International's presence in this Mediterranean paradise," said Candice D'Cruz, Vice President – Luxury Brands, Europe, Middle East & Africa, Marriott International. "Joining our portfolio of coveted W Escapes around the world, W Costa Navarino will add a distinct take on modern luxury to Navarino Waterfront. We look forward to welcoming free-spirited travelers to this new luxury playground."
W Costa Navarino is set to offer five dining venues including a destination beach club overlooking a long sandy shore, designed by Athens-based K-Studio. The 'Culinary Square' is the hotel's playful take on a deli food market with individual outlets creating a socially driven destination for all day dining. Other planned amenities include a sunset bar and the signature W Living Room. Guests will also be able to enjoy experiences and dining at neighbouring venues in Costa Navarino including the new Navarino Agora, an open marketplace with retail, street food, open-air cinema and exciting programming throughout the day and night.
"W Costa Navarino will generate a unique energy encouraging free expression and connection between a diverse mix of people, whilst respecting and honoring authentic experiences and cultures. In this important chapter for the growth of the destination, we believe W Costa Navarino will significantly contribute to our vision in further establishing Messinia as a top international destination to visit and to live," said Achilles V. Constantakopoulos, Chairman TEMES S.A.
Tennis courts and a water sports hub are part of the vision for guests to enjoy at W Costa Navarino, along with access to the destination's four signature golf courses and an array of outdoor programming including biking, hiking, rock-climbing and sailing.
There are currently two Marriott International properties in Costa Navarino— The Westin Resort Costa Navarino, offering travellers and families countless well-being activities and The Romanos, a Luxury Collection Resort, offering exquisite architecture, butler service and epicurean experiences.
5 Reasons To Go Offline at Four Seasons Resorts in Bali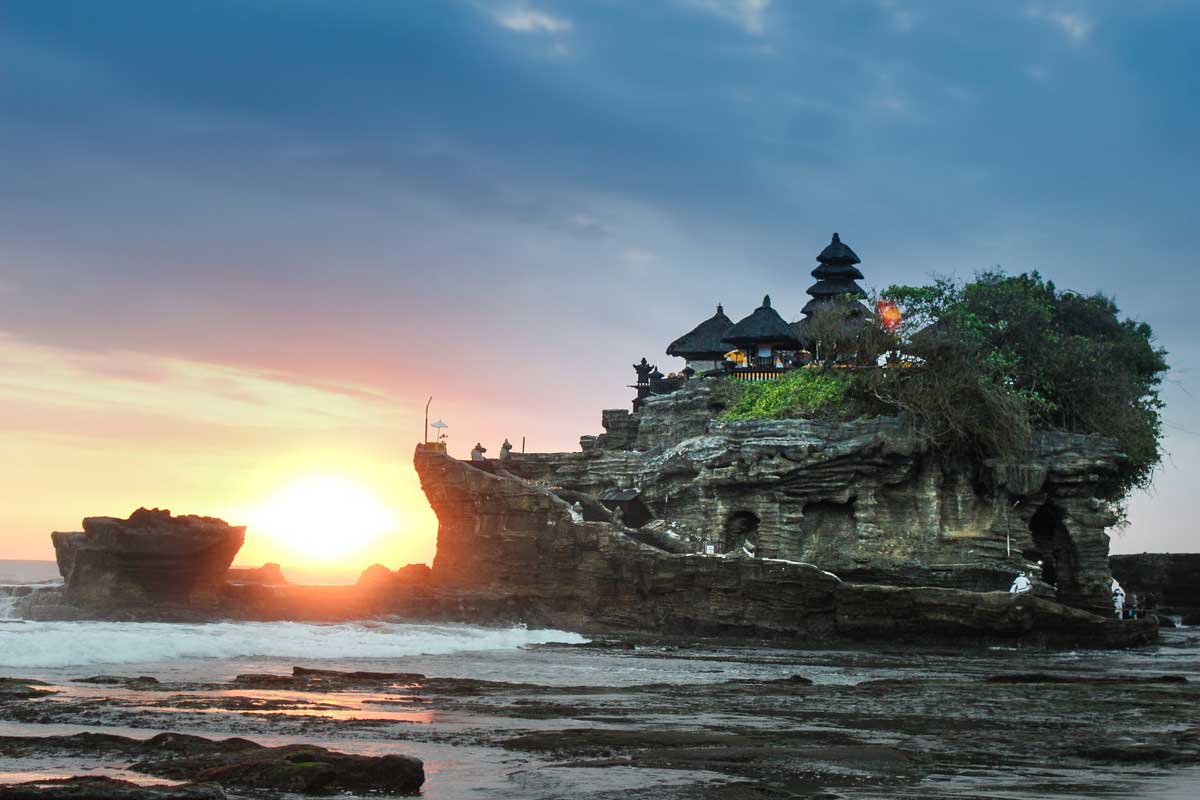 Free WiFi is expected at five-star hotels nowadays, and as such it's a standard inclusion for guests of Four Seasons Resort Bali at Jimbaran Bay and Four Seasons Resort Bali at Sayan. But the paradox of the internet and social media can be a very anti-social holiday where our phones never leave our sides. Here, we present five exclusive Four Seasons experiences that will inspire you to be in the moment. Ranging from water blessings to high-flying yoga and surf tours, you'll be disconnecting from the internet and reconnecting to each other and the wonderful world around you.
Can You Keep A Secret? This exclusive temple tour is not on anyone's bucket list. We ask guests to help us keep it that way, by resisting the urge to post the temple on social media. If you agree, our guide will take you on a scenic three-hour tour from Four Seasons Sayan in an open-air vintage VW through nearby yet untouched rice farming villages. Visit historic sites include a secluded water temple where you are welcome to bathe, or simply to enjoy the serene and undiscovered atmosphere far from selfie sticks.
Learn to surf in the sheltered confines of Jimbaran Bay or take a boat trip to explore Bali's world-class breaks with Tropicsurf's coaches and guides. On-site at Four Seasons Jimbaran Bay, the Tropicsurf philosophy is based on small groups (maximum four people) and avoiding the crowds to take your surfing to the next level, faster. For the ultimate adventure, take Asia's only heli-surfing tour to ride uncrowded waves in pristine conditions off the east coast of Java.
Bali is home to thousands of beautiful Hindu temples. We invite you to go beyond the most famous landmarks and explore hidden gems like the Goa Gong 9th century cave temple. Open to visitors by appointment only, this natural archaeological site is nearby Four Seasons Jimbaran Bay. Our resort priest Ajik Ngurah will be your guide to explore the cave's shrines and stalactites, and can also arrange a melukat water purification ritual. Not something you want to be holding your phone for!
Discover the beauty of the Ayung – Bali's longest river and part of the ancient UNESCO World Heritage-listed subak irrigation system. Our guided Four Seasons Private Rafting Adventure takes you through easy rapids flanked by virgin jungle, rice terraces and majestic gorges. Hop out of your raft and let yourself float down a quiet and calm stretch of the river, gazing up into the canopy overhead. Make a riverside landing directly at Four Seasons Sayan, where we'll be waiting to welcome you back home.
Experience the intimacy of Trust Yoga, the newest addition to the inspiring wellness program at Four Seasons Jimbaran Bay. Head to the ocean-front yoga pavilion and partner up with your soul mate, a friend or relative. Take turns being guide and flier, with postures that both require and build trust, strengthening your bond to each other and extending your practice. Our yoga instructor will lead each couple through this joyful 75-minute class, adapting postures to suit all levels. A fun way to connect emotionally and physically to someone special in your life, and a reminder that the best connections are human connections.