The growing power of tourism
International tourist arrivals grew by a further 4% between January and September of 2019, the latest issue of the UNWTO World Tourism Barometer indicates. Tourism's growth continues to outpace global economic growth, bearing witness to its huge potential to deliver development opportunities across the world but also its sustainability challenges.
Destinations worldwide received 1.1 billion international tourist arrivals in the first nine months of 2019 (up 43 million compared to the same period of 2018), according to the latest World Tourism Barometer from the World Tourism Organization (UNWTO), in line with its forecast of 3-4% growth for this year.
The global economic slowdown, rising trade, geopolitical tensions and prolonged uncertainty around Brexit weighed on international tourism, which experienced a more moderate pace of growth during the summer peak season in the Northern Hemisphere (July-September).
UNWTO Secretary-General Zurab Pololikashvili said: "As world leaders meet at the UN Climate Summit in Madrid to find concrete solutions to the climate emergency, the release of this latest World Tourism Barometer shows the growing power of tourism, a sector with the potential to drive the sustainability agenda forward. As tourist numbers continue to rise, the opportunities tourism can bring also rise, as do our sector's responsibilities to people and planet."
Tourism now world's third largest export category
Generating USD 1.7 trillion in revenues as of 2018, international tourism remains the third largest export category behind fuels (USD 2.4 trillion) and chemicals (USD 2.2 trillion). Within advanced economies, tourism's remarkable performance after years of sustained growth has narrowed the gap with automotive product exports.
International tourism accounts for 29% of the world's services exports and 7% of overall exports. In some regions these proportions exceed the world average, especially the Middle East and Africa where tourism represents over 50% of services exports and about 9% of exports overall.
This highlights the importance of mainstreaming tourism in national export policies to broaden revenue streams, reduce trade deficits and ensure sustainable development on the long run.
The world's top ten earners saw mixed results in international tourism receipts through September 2019, with Australia (+9%), Japan (+8%) and Italy (+7%) posting the highest growth, while China, the United Kingdom and the United States recorded declines. Mediterranean destinations were among the strongest performers in terms of earnings, both in Europe and the Middle East and North Africa region.
Regional performance
Growth in arrivals during the first nine months of 2019 was led by the Middle East (+9%), followed by Asia and the Pacific and Africa (both +5%), Europe (+3%) and the Americas (+2%):
Europe's pace of growth slowed down to 3% in January-September this year, from double that rate last year, reflecting slower demand during the peak summer season in the world's most visited region. While destinations in Southern Mediterranean (+5%) and Central Eastern Europe (+4%) led results, the regional average was weighed down by Northern and Western Europe (both +1%).
Also slower than last year, although still above the global average, growth in Asia and the Pacific (+5%) was led by South Asia (+8%), followed by South-East (+6%) and North-East Asia (+5%), while Oceania showed a 2% increase.
Data so far available for Africa (+5%) confirms continued robust results in North Africa (+10%) after two years of double-digit figures, while arrivals in Sub-Saharan Africa grew 1%.
The 2% increase in the Americas reflects a mixed regional picture. While many island destinations in the Caribbean (+8%) consolidate their recovery after the 2017 hurricanes, arrivals in South America were down 3% partly due to a decline in Argentinian outbound travel, which affected neighboring destinations. Both North America and Central America grew 2%.
Source Markets – mixed results among top spenders
The United States (+6%) led growth in international tourism expenditure in absolute terms, supported by a strong dollar. India and some European markets also performed strongly, though global growth was more uneven than a year earlier.
France (+10%) reported the strongest increase among the world's top ten outbound markets, reflecting surging demand for international travel for the second consecutive year. Spain (+10%), Italy (+9%) and the Netherlands (+7%) also posted robust growth, followed by the United Kingdom (+3%) and Russia (+2%).
Some large emerging markets such as Brazil, Saudi Arabia and Argentina reported declines in tourism spending this period, reflecting recent and ongoing economic uncertainty.
China, the world's top source market saw outbound trips increase by 14% in the first half of 2019, though expenditure fell 4% compared to the same period last year.
Giorgio Armani and Gino Sorbillo Named New Special Ambassadors for Tourism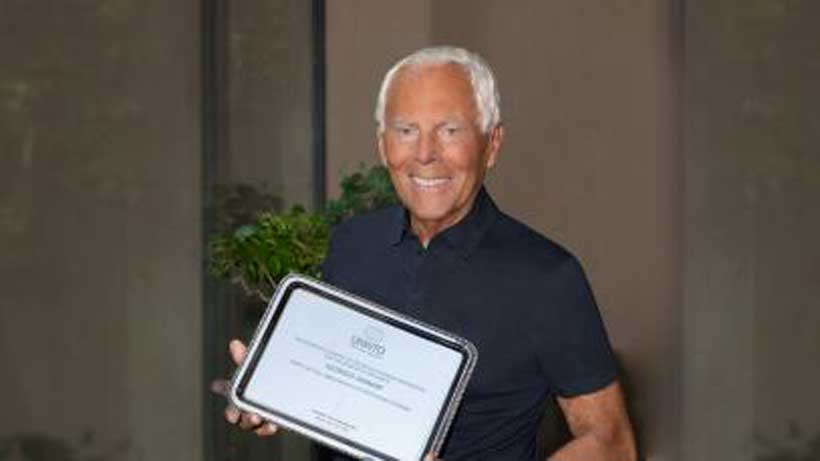 The World Tourism Organization (UNWTO) has appointed two new Special Ambassadors as it leads the restart of the sector across Europe. On the occasion of a visit of the Secretary-General to Italy, the first official delegation to travel since the closure of borders in response to COVID-19, UNWTO has named renowned fashion designer Giorgio Armani and celebrated chef Gino Sorbillo its latest Special Ambassadors for Tourism.
In their new roles, both Special Ambassadors will draw on their status and influence promote the work of the United Nations specialized agency for responsible and sustainable tourism. As leaders in gastronomy and fashion, they represent two of Italy's biggest economic sectors and two of the industries that contribute to making the country a global tourism leader. Since launching his own company in 1975, Giorgio Armani has become synonymous with Italian style. As a chef, Gino Sorbillo celebrates traditional Nepalese pizza and has opened award-winning restaurants around the world.
UNWTO Secretary-General Zurab Pololikashvili said: "Italy is one of the world's most famous tourist destinations. Each year, millions of people visit to enjoy its culture, its fashion and its gastronomy. In return, tourism supports livelihoods and local and regional economies and helps preserve this Italian culture. As UNWTO Special Ambassador for Tourism, Giorgio Armani can help amplify UNWTO's key messages of the power of tourism to create opportunities and drive growth. As UNWTO Special Ambassador for Gastronomy Tourism, Gino Sorbillo will showcase the unique ability of gastronomy to preserve and promote heritage and give tourists a unique taste of the destinations they visit."
Upon receiving the plaque, Mr Armani said: 'I am genuinely pleased to have been honoured in this way by an organisation that believes that people should be encouraged to see the beauty of the globe in a respectful and responsible manner. It has been a sense of responsibility for our community that has helped my country through this terrible pandemic, and this too is what has driven me to play my small part in helping those engaged in the fight against the virus, and the fight against the economic challenges it has posed. A belief in community – the global community – and an appreciation of the humanity we all share are what will help us build a better future for ourselves and the generations to come, through being mindful of the important things in life, like the preciousness of the environment and our duty to protect it. It is therefore an honour to take up the role of Special Ambassador for Tourism.'
The appointments also strengthen UNWTO's strong relationship with Italy, the first Member State to receive a visit from the organization's leadership since destinations around the world introduced restrictions on travel in response to the pandemic. The UNWTO delegation led by the Secretary-General will visit Rome, Italy, Milan and Venice and work with both the national and city authorities to support tourism's restart and ensure this goes hand-in-hand with wider economic and social recovery.
Small Island Destinations in Critical Need of Urgent Support as Tourism Plunges
Without strong support, the sudden and unexpected fall in tourism could devastate the economies of Small Island Developing States (SIDS), the World Tourism Organization (UNWTO) has warned. Since tourism is a strong socio-economic pillar of many SIDS, the impact that COVID-19 is having on the sector places millions of jobs and businesses at risk, with women and informal workers the most vulnerable.
In the second of its Briefing Note series on Tourism and COVID-19, UNWTO has highlighted the severe impact the pandemic could have on livelihoods in these destinations. According to the latest data from the United Nations specialized agency, tourism accounts for more than 30% of total exports in the majority of the 38 SIDS. In some countries, this proportion is as high as 90%, making them especially vulnerable to falling tourist numbers.
Such a major shock translates into a massive loss of jobs and a sharp decline in foreign exchange and tax revenues, which curbs public spending capacity and the ability to deploy necessary measures to support livelihoods through the crisis, UNWTO further warns.
International Tourists dropped 47% in the first four months
In 2019, SIDS welcomed some 44 million international tourist arrivals and the sector earned US$55 billion in export revenues. International tourist arrivals were down 47% in the first four months of this year. 
UNWTO Secretary-General Zurab Pololikashvili said: "The COVID-19 pandemic has caused an unprecedented disruption. International tourist arrivals have fallen dramatically, and destinations that rely on the sector for jobs and economic wellbeing such as small islands will be hit the hardest. As such, measures to mitigate the impact of COVID-19 on these states and to stimulate the recovery of tourism are now more critical than ever."
Informal workers and women at greatest risk
The United Nations estimates that SIDS economies could shrink by 4.7% in 2020 as compared to 3% for the world economy.
The UNWTO Briefing Note also highlights the risk posed to those working in the informal economy by the sudden fall in tourist arrivals in SIDS. As a sector, tourism is a leading global employer and, according to the International Labour Organization (ILO), more than half of all workers in the accommodation and food services sector in most SIDS reporting data are women. In many, this proportion is even higher, including in Haiti and Trinidad and Tobago (70%+).
At the same time, workers in the informal economy are at risk of falling into poverty as the impact of COVID-19 is felt in SIDS and other low- and middle-income countries worldwide, UNWTO also warns.
UNWTO Adapts Agenda for Africa to Accelerate Tourism Recovery
Member States from across Africa have shared their priorities for tourism against the backdrop of COVID-19. As with every other global region, African destinations have been hit hard by the restrictions on travel introduced in response to the pandemic. The sudden and unexpected drop in tourist arrivals has placed many millions of jobs at risk and threatened to roll back the progress made in sustainable development.
Now, as UNWTO leads the restart of tourism, African Member States have set out their vision for the sector. This builds on the UNWTO Agenda for Africa – Tourism for Inclusive Growth, the roadmap for African tourism that was adopted at the UNWTO General Assembly in 2019, and is based on the responses to a survey sent out by the Regional Department for Africa.
UNWTO Secretary-General Zurab Pololikashvili said: "This feedback from our African Member States will help us guide tourism through the challenging months ahead. The COVID-19 pandemic has had a major impact on tourism across the continent. However, UNWTO is committed to helping Africa grow back stronger and better and for tourism to emerge from this crisis as an important pillar of economies, jobs and sustainability."
Investment and innovation key priorities at continental level
At the continental level, the survey revealed that the five key areas of the UNWTO Agenda for Africa that Member States would like to see prioritized in order to better support them as they recover from the impact of COVID-19 are:
Unlocking growth through investment promotion and public-private partnerships
Promoting innovation and technology,
Promoting travel facilitation, including enhanced connectivity and tourism visa policies
Fostering resilience, including through promoting safety and security and crisis communications
Advocating for "Brand Africa"
At the same time, the survey answers showed that Member States would like to see the part of the Agenda for Africa focusing on Fostering Resilience to be realigned to reflect the current situation. This will allow for a more effective response to the impact of COVID-19 on tourism and to accelerate recovery. Alongside this, Member States across Africa also expressed a wish for UNWTO to focus future capacity building and training sessions on the topics of crisis management and communications, marketing, developing domestic tourism and promoting innovation and entrepreneurship.
Sub-regional priorities outlined
The survey also revealed the different priorities of Member States from different parts of Africa. In North Africa, the number one priority is expanding capacity building, including through the provision of more training; in both Western and Eastern Africa, Members named promoting better travel facilitation and unlocking tourism growth through investments and public-private partnerships as their priorities.
Meanwhile, advocating for "Brand Africa" emerged as the number one priority for Member States in Southern Africa, and in Central Africa, the focus is on strengthening tourism statistics systems. Furthermore, the survey also found that Member States from across the continent would like to see UNWTO add a new section to the Agenda for Africa focusing on the promotion of regional and domestic tourism. 
Last but not least, Member States also suggested UNWTO undertake a range of actions both at the political and technical level, including strengthening collaboration between governments, facilitate the creation of investment funds to support tourism and provide practical support to SMEs. These actions would be particularly beneficial to countries whose GDP heavily depends on the tourism sector including the Small Island Developing States (SIDS).