The Clinton "Email Scandal" was long and damaging to the Democratic Party with a final decision that she would not be charged with violations of federal law regarding the use of a personal email server for both personal and government emails in her role as U.S. Secretary of State. For prosecution to occur the FBI would need to prove intent that she willfully divulged classified information to our adversaries and that clearly was not present. Secretary Clinton may have experienced lack of procedural knowledge and poor judgement but she did not willfully break United States law.
I find it very important to note that the Senate Committee that issued a report on the issue in its summary concluded that the "The FBI did not use a grand jury to compel testimony and obtain the vast majority of evidence, choosing instead to offer immunity deals and allow fact witnesses to join key interviews." Because of this occurrence of not utilizing the standard Grand Jury procedure the confidentiality of an investigation was compromised and with compounding factors and procedures, did detrimentally affect the Clinton Presidency election campaign.
In an article by Dan Roberts on October 31, 2016 he noted that as Election Day became near Clinton was losing support and Trump was surging. And a week before it had been Clinton who was enjoying a high in the polls after Trump foundered in different matters. At this point it seemed certain of a Clinton victory. The timing of the FBI Director's new vigor into investigating the Clinton email scandal was condemned by the Congressional Democrats and even to the extent that the NV Senate Minority Leader Harry Reidsaid this partisan action had broken the law, including the "Hatch Act" which limits political activity of Federal employees including trying to influence or interfere with an election. Secretary Clinton was left with a daunting task to prove her innocence with just one week to the election. Her polling showed damage to her lead. And the new interest in candidate Clinton was aided by another email controversy which may have involved Russian hackers and released by WikiLeaks. These emails to and from Clintons to campaign chair John Podesta were not necessarily damaging content but were embarrassing with revelations mostly about Secretary Clinton's husband, Bill Clinton. Her polls continued to decline as Trump had no negative news being newly released and negative information from Clinton was divulged. Just turning the attention from Trump to Clintonshifted public polling significantly. During this time polling showed support wavered for Clinton by 1/3 of respondents which were wavered from FBI Director Comey's disclosures.
The Hillary Clinton email controversy did leave open the possibility of access to national security from classified information contained within or referenced to in emails that she had used her private email server for. There is no evidence of damage to national security. The investigation did reveal flaws but she should not have or currently face criminal prosecution.
The fact that the State Department's own email system was hacked in November 2014 and deemed one of the most severe ever is a counterpoint against blaming a private server for security lapses. It required the State Department IT workers to close down its entire unclassified email system for a weekend which shows the extent of capability that the Russians and other have. It is also noteworthy that a different event involved the disclosure of Clinton's personal correspondence which had been accessed via the hacking of a confidante of hers, Sidney Blumenthal. This was conducted by a hacker known as Guccifer who was later revealed to be a Romanian with the name of Marcel-Lehel Lazar. There are numerous means and methods of transmitting of classified materials including direct contact, cryptographic systems, courier services, designated hand couriers.
The partisan views, opinions and actions show the controversy involved in the email scandal. The FBI re-started its investigation and resulting negative polling ensued for Secretary Clinton. The State Department did release a large set of emails which were sent on her personal server in May of 2015 which were related to the 2012 Benghazi U.S. Consulate attack. During Secretary Clinton's term as Secretary of State 62,320 emails were received or sent from her personal server. About half of these were determined official and turned over to the State Department. Her decision to use the personal server in lieu of an official Government email was something that others utilized including predecessors. The Inspector General found that others including the former Secretary of State Colin Powell had not been in compliance with Federal recordkeeping. And the New York Times reported the Mr. Powell had suggested to Clinton to utilize private email unless it was classified information. He later denied issuing that statement. The NY Times also reported that the former Governor of Florida Jeb Bush who was also a 2016 candidate for the U.S. Presidency utilized a private email address. And a poll within a magazine showed 33% of federal workers utilized personal email occasionally for government business. Secretary Clinton said there had been no security breaches of the system she utilized and that it was well protected and the July 2016 FBI report concludes that there was no direct evidence of Secretary Clinton's server system being hacked. But technology experts conclude that experts can hack without leaving an evidence trail, not to mention that commercial firewalls and security systems are no match for high tech foreign government systems. In May of 2016 a hacker from Romania who was jailed in the U.S. for hacking told news sources he had accessed Clinton's email numerous times. Secretary Clinton said she only emailed one foreign official which was a United Kingdom destination. The Inspector General of the Intelligence Community however found that she had sent four or more messages which contained classified material. Later it was known that two of the emails sent were classified "top secret." Two-thousand emails receiving the classified designation had been identified by the time the final batch of Secretary Clinton's emails were released in March of 2016.
A controversial article appears on the internet which does present assessments and ideas that some or possibly most people will label as partisan politics but it does present a couple of good concepts in my opinion. One is that the U.S. intelligence community did not conduct a thorough investigation of the email scandal and of the national security. This is counterproductive in my opinion as the FBI is one of the top intelligence agencies the nation has and utilizes. It alleges that ultra-secret information on U.S. drone strikes could have been disclosed from Secretary Clinton utilizing a private server for her email use. James Clapper who had been Director of National Intelligence thought it was not needed and said since the details of the ultra-secret information on drone strikes had already been disclosed in earlier leaks, which were unrelated to Clinton's use of a personal email server, a national security assessment was not needed. Some say his decision was politically motivated. Then U.S. Representative Mike Pompeo, Republican, Kansas who was a House Permanent Select Committee on Intelligence strongly argued in favor of a DNI investigation.
The Senate Committee even during the initial time of the investigation found a considerable amount of important information. It concluded that Secretary Clinton did set up a private server in her home, which was in violation of the State Department policy and Federal IT standards, according to the Inspector General and State Department. The FBI director James Comey described this as "grossly negligent" which was softened with up slightly with a slight legal distinction.
FBI Director, Comey also indicated the Secretaryutilized her personal email outside of the United States and did send and receive work related emails while in the countries of U.S.adversaries. His comments werethat adversaries had "possible" access to the information. The FBI did find 110 emails in different email chains which contained classified information that was confidential at the time sent or received. Of these eight were with Top Secret information, 36 chains of Secret and eight with confidential.
It is my conclusion that mistakes or lack of judgment were made with the utilization of a personal email server but in no way did she possess intent to purposely release or leak information.
Iran-Israel: Can the low-intensity conflict turn into open war?
On Friday, November 27, on the motorway from the town of Absard to Tehran, the armoured car carrying the Head of Iran's nuclear programme, Moshem Fakhzarideh, was ambushed. The scientist was killed, probably together with his bodyguards. The news of the incident is still confusing.
The Iranian news agency Farsi News has even talked about the attackers' use of a sort of "Robot machine gun" placed on a pickup truck by the side of the motorway and apparently controlled remotely.
An evocative and probably fanciful piece of news useful to draw a merciful veilover the new debacle of the Iranian security services which, once again, have failed to ensure the safety of their scientists.
The only certain news is that Fakhzarideh was killed in an attack that runs the risk of significantly harming Iran's nuclear programme.
The scientist lived such a secluded and secret life that not even his age is known for certain.
According to the technicians of the International Atomic Energy Agency (IAEA) – the United Nations organization that oversees international controls on nuclear proliferation -until his death, Fakhzarideh was directing the very secret projects aimed at uranium enrichment, the production of high potential explosives and above all the construction of missile warheads capable of carrying fissile material.
Despite his life apart in the shadows, in 2011 the IAEA had identified him as the Head of the AMAD programme, a long-term plan organised by the Ayatollah regime twenty years ago, with the aim of turning Iran into a fully-fledged nuclear power.
Israel had identified him well before the UN technicians: in May 2003, the Mossad's deputy-Director, Tamir Pardo, outlined to his Director, Meir Dagan, and to the Israeli Secret Service's operational directors, a top-secret program to stop the AMAD plan, a program that was the result of four months of espionage in Iran, aimed at thwarting Iran's nuclear projects.
According to Israeli sources, Pardo outlined his strategic proposal in a simple way: "In this situation, Israel has three options: firstly, conquer Iran; secondly, organize a regime change in Iran; thirdly, convince Iranian politicians that the price they shall pay to continue the nuclear programme will be so high that it will better for them to stop it".
Since both the first and the second option were clearly unrealistic, the Israeli government started a "low-intensity war" against the Ayatollah regime designed to making the third option materialize. Alongside political and diplomatic measures aimed at achieving the international isolation of the Iranian regime, Israel entrusted the Mossad with the task of supporting the activities of Iranian minorities (the Kurds) and of organised groups opposed to the regime (first and foremost, the Mujaheddin El Kalkh, MEK), as well as starting plans to sabotage the production of fissile material and, above all, authorised the targeted and selective killing of key figures in the AMAD programme, the leading scientists of the nuclear projects.
The Mossad project was shared with the United States, which agreed to take on both the diplomatic and political side of the programme and a large part of the funding for the opposition groups within the Iranian regime.
Moreover, CIA and Mossad together planned a wide range of cyberattacks designed to sabotaging Iranian plutonium enrichment and production. A joint operation called "Oliympic Games" was launched, which led to the "cyber sabotage" of the computerised systems of Iranian nuclear facilities with viruses, such as the notorious Stuxnet, which in 2009 led to the stop of all the centrifuges used for uranium enrichment.
At the same time, Israel drew up a list of 15 key figures in the AMAD programme to be eliminated. The United States kept out of the plans to target Iranian scientists because Obama's CIA was afraid of being involved in clearly illegal operations.
However, as the then Director of CIA, Michael Hayden, admitted, the elimination of the technicians could prove an essential tool to frustrate Iran's nuclear ambitions.
During the first meeting of the National Security Council in January 2009, in the presence of newly elected President Obama, Hayden said as follows about the fissile material stored in the Natanz laboratories:"The issue is not how much fissile material is stored in Natanz. There are no electrons or neutrons in Natanz that can be turned into a nuclear bomb. What they are building in Natanz is knowledge. When the Iranians have enough knowledge they will go somewhere else to enrich uranium. That knowledge, Mr President, is stored in scientists' brains."
Although the United States stayed away from the targeted killings of Iranian technicians, the Mossad was not sitting on its hands.
On January 14, 2007, the nuclear physicist Ardeshir Hosseinpour died from radioactive gaspoisoning.
On January 12, 2010, Dr. Masoud Alimohammad, a leading member of the AMAD project's scientific team, was killed by the explosion of a booby-trapped motorbike parked near his car.
On November 29, 2010 it was the turn of Dr. Majid Shahriari, who was killed by a carbomb with "magnetized explosives" that two motorcyclists had attached to his Peugeot, detonating it remotely. That same day another scientist escaped death, together with his wife, as they managed to leave the car before the explosion.
In July 2011, Dr. Darioush Rezainejad, a member of the Atomic Energy Organisation of Iran, was shot dead by a motorcycle-riding gunman in front of his house. On January 12, 2012 the same fate befell the chemist, Mostafa Ahmadi Roshani, working at the Natanz facility.
This seemingly unstoppable and relentless series of targeted killings had various effects on the Iranian scientific community and Iran's politicians.
On the one hand, as Fakhzarideh himself admitted, the last and probably most illustrious victim of Israel's longa manus, it made the life of Iranian scientists a real "living hell". Under the 24-hour obsessive escort of the protection services and without a social life any longer, what at first seemed a cursus honorumturned into an infernal circle.
On the other hand, the feeling of being the target of an unstoppable spy penetration from outside made the Iranian security services suspicious, bordering paranoia, thus forcing them to suffocating internal control measures that often paralyzed their action.
Moreover, as Mossad Director Meir Dagan admitted during a rare public conference, the killings caused a "White Defection" in Iran, a constant drain of scientists who asked to leave nuclear research for other assignments.
The "low-intensity" war informally declared by Israel on Iran in 2003 has had its results.
The international community has imposed economic and trade sanctions on Iran, which have caused the collapse of its economy. In 2015 Iran accepted the "Nuclear Deal" proposed by the United Nations and signed a non-proliferation agreement guaranteed by Germany, France, Russia and the United States.
President Trump withdrew from the deal in 2018 to protest against Iran's increased activism in Yemen and Syria in opposition to Saudi Arabia, a U.S. strategic ally throughout the Middle East.
During the electoral campaign theU.S. President-elect, Joe Biden, repeatedly stated that under his administration the United States would sit back at the "Nuclear Deal" negotiating table, as he is convinced he can lead Iran again on the "right track" of nuclear non-proliferation.
Probably, faced with this prospect, Israel wanted to send a signal to Iran with the killing of the Head of its nuclear scientist team on November 27 last. Although Israel has lost the proactive support of Donald Trump after his defeat in the Presidential election, vigilance and supervision over Iran is still high and will remain so until Iran definitively gives up its dream of becoming a nuclear power capable of dictating the law with nuclear persuasion over the Persian Gulf and the whole Middle East.
In this strategy, Israel has the increasingly evident and proactive support of Saudi Arabia, the United Arab Emirates and Bahrain, within new links in a chain of regional alliances that should convince Iran to seek a way of political compromise with the counterparts on its borders and drop its hegemonic designs of recent years. Probably, instead of stimulating reprisals and retaliations, Fakhrizadeh's assassination could paradoxically make a political compromise closer.
National Security of PakistanPost 9/11: A Critical Review
Pakistan's troublesome decades preceding the millennium mark all boiled down to significant events of the morning of September 11, 2001, coupled with its prevailing traditional animosity on its eastern borders. The years following 9/11 all put Pakistan's security apparatus in an unprecedented situation unlike any faced before, especially on the internal security domain with the external security paradigm remaining unchanged. The blowback of the Afghan crisis (from the 1980s-1990s) had poised itself to strike following Pakistan's alignment towards its American ally. This new myriad of security issues ignited a destructive trial and error process for the Pakistani state, dealing with challenges unknown to it, and through that trial and error process emerged solutions: both material and ideational. The first 8 years of the millennium can easily be described as a roller coaster: starting from military rule and ending with a shift towards democratic civilian rule and filled with internal power play of politics, starting with the after-effects of the turmoil of Kargiland ending with the ill-fated Mumbai attacks along with encompassing the 2002 Military standoff which put South Asia on the brink of all-out war and lastly starting with the ill-fated menace of the 9/11 after impacts seeing no end in the 8 years.
Identifying National Security Threats & Issues
Foreign Interests:one of the core threats to Pakistan's national security emanate from the interests and actions of foreign powers, precisely the United States. The United States initiated war on terrorism starting from 2001 in Afghanistan had compelled Pakistan to be an ally. An as an ally, Pakistan had to face the brunt of war more than the American as Pakistan shares a physical border with Afghanistan and cannot escape from the ripple effects of conflict in Afghanistan.
Lack of Direction on the PoliticalLevel: The top echelons of the Pakistani state to date have not defined any or laid out a policy for National Security or National Defense policy. The lack of such a policy framework on defense and security issues starts of a domino leaving the "purpose for war" undefined. The lack of broader political end made this whole war a seemingly futile effort as the national security issues remained unaddressed.
Religious Extremism: Pakistan's toughest domestic national security threat at that time was the religious extremism. Pakistan had faced severe challenges from extremism in the early 2000s. Extremism is the fringe element to hijack our noble faith, steal the Quaid's vision, jeopardize our economic well-being, undermine our moderate outlook, and hurt our international standing. He regarded this fight against extremism and terrorism as a battle for the very soul of Pakistan.Mushrooming of Madrasas in the 1970s and 80s was the tactic used to increase the morale of fighters against the Soviets. This cause is still preliminary in the Madrasas to promote religious extremism.
Baluchistan Insurgency under the Musharraf government had been again the major threat to the national security of Pakistan. The Baloch people have always shown antagonism to the military ruler because of their confrontation with the Bloch people in the previous insurgencies and that's why the uprising in Baluchistan took more strength after a few years of Musharrafgovernment. The events that triggered the violence in the province include the murder of Nawaz Akbar Bugtiand the enforced disappearance and extrajudicial killing of Bloch people. The volcano of Baloch eager erupted after the death of Nawab Akbar Bugti and an organized rebellion started.Baluchistan Liberation Army was the deadliest liberation party in the province. They have done many violent actions in the province such as rocket attacks, suicide missions, spreading rumors, create uncertainty, in the minds of people, terrorize people, hit electricity pylons, blow up gas pipelines, etc.
Another issue regarding the Balochistan insurgency was the division of Balochistan between 'A' areas and 'B' areas. B areas were considered to be the areas where police had no jurisdiction and had given no right to police to investigate and interrogate any immoral activity in the 'B' region. Only 5% of Balochistan was an 'A' area and the rest 95% was a 'B' area. This 'B' area was the hub of all insurgents and liberation parties.
Another important national security issue was the lack of police reform to fight effectively against the threats of different nature that emerged after 9/11. Former IG Sindh ShoaibSuddle asserted in an interview, that there must be a reform in the police department so that it become adaptive and agile to the emerging threats.
Means and Methods Adopted For Dealing with National Security Threats
Counter-Terrorism Department
Punjab Police in the early 2000s had taken an initiative to counter the terrorist threats i.e. formation of a new department called Counter-Terrorism Department (CTD). Its motto is "To fight terrorism in all its manifestations" CTD registers and investigates all terrorism-related cases at the newly established CTD Police Stations. The creation of Counter-Terrorism Force (CTF) within CTD was another landmark initiative. Highly educated corporals (1200 in number) had been inducted and given the most modern training with the collaboration of the armed forces and friendly countries. These corporals had been deployed all over the Province to perform their mandated tasks. State of the art gadgetry and equipment have been provided to CTD and its infrastructure is being improved.CTD has varied functions which include Collection, collation, and dissemination of information regarding terrorism, violent extremism, Detection, and investigation of offenses of terrorism and terrorism financing under the Anti-Terrorism Act 1997.
Police Order 2002
Another method government of Pakistan had taken to cope up with national security issues was the police order 2002. The police Order 2002 was promulgated on 14 of August 2002 as Chief Executive's Order No. 22 of 2002 and it replaced the police Act of 1861 (Vof 1861). It contained 19 chapters, 188 articles, and 4 schedules. Its primaryobjective was to reform the police in such a way that it could "functionaccording to the Constitution, law, and democratic aspirations of the peopleof Pakistan"
Forensic & IT Support
This was the decision taken by the government to provide forensic and IT support. In doing so, the Government hired different IT experts to sort the computer technology challenges and related cases. On the other hand, the government hired different staff and scientists for forensic matters.
Conversion of 'B' Areas into 'A' Areas
To eliminate the terrorists and insurgent threats, the government of Pakistan had converted all the Balochistan area into the 'A' areas. And then the police department had jurisdiction overthe whole of Balochistan.
Counter Insurgency Operation
In the timeline of 2000-2008, the government of Pakistan had decided to carry out full-fledged military operations against the terrorist and insurgents sentiments. First Battle of Swat; Operation Rah-e-Haque was the first suchoperation carried out. It was the battle fought between October 2007 and December 2007.
Strategy to Eradicate Extremism
To combat extremism, Khalid Kasuri asserted that we are pursuing a multi-pronged strategy with military, political,and economic tracks. The strategy hinges on rejection of violence, enforcement of therule of law, broadening of political participation, spread of education, and expansion ofeconomic opportunities. An elaborate FATA Development plan for the Tribal areas ofPakistan has been designed, including initiatives like Reconstruction Opportunity Zones(ROZs). The effort is to wean vulnerable people away from the appeal of extremism.
Decision Making Process and National Security Interests/Objectives
The key decision-makers were as follows, in order of importance regarding decision-making powers
Pervez Musharraf: who was at the time President and Army Chief was the key decision-maker regarding issues overall and national security.
Corps Commanders Conference: the meeting of top leadership of the Pakistan Army.
National Security Council: Meeting of the top leadership consisting of government institutions and military. Includes the Prime Minister/ service chiefs and ministers.
It is important to notice that during the timeline of 2000-2008, the importance of the Corp Commander Conference outweighed National Security Council in decision making, even though the latter consisted of senior officials. Moreover, the decision-making process by military command pursued a narrow tunnel vision approach towards the national security issues. This happened due to the lack of trust in civilian authorities by military officials.
Conclusion
The first eight years demonstrate a disparity amongst the top grand strategic level and the operational and tactical levels. The security apparatus of the country has adopted to deal with the changing nature of threats but the lack of consensus and political will prevent to see through that the kinetic/operational success combine to form an overall strategic victory. To cultivate success on the national level, the top echelons of leadership need to demonstrate sincerity in dealing with issues otherwise all the costs paid in securing and defending the country will all have gone in vain.
The Nature of Islamist Violence in France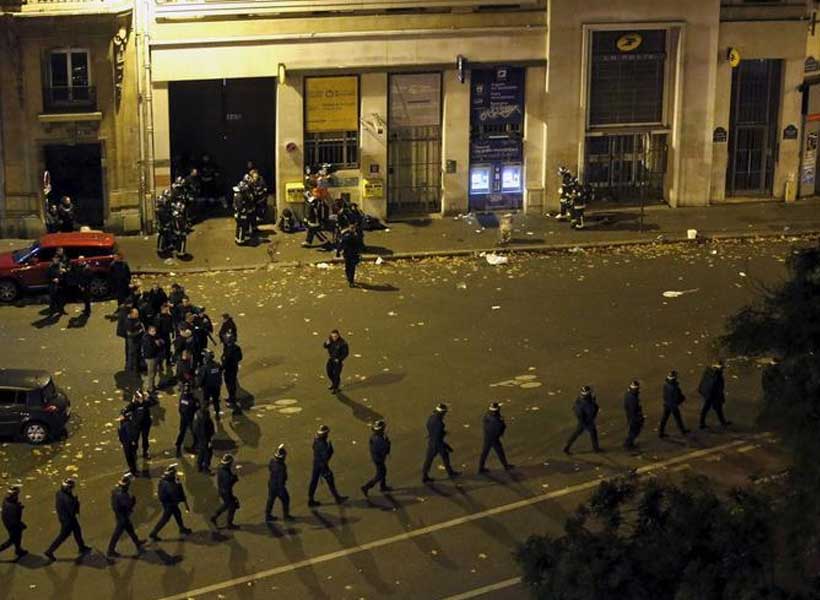 France faces a persistent jihadist threat, and all indications suggest the violence afflicting the country will continue. France has been targeted for upwards of three decades, but the frequency of attacks has increased quite dramatically over the past ten years or so. There are several reasons why it is distinctly fertile territory for jihadist activity and why militants have declared France an enemy and priority Western target. France is a European hub of jihadism and has been hit particularly hard in recent years. It has the largest Islamic population in Western Europe and, recognizing this, militant organizations devote time, effort, and resources to media production aimed at existing supporters and potentially receptive elements within French society. While only a small percentage of this varied demographic is involved with jihadist activity, individuals residing in France conduct most attacks. In other instances, militants travel to France and gain entry prior to committing violence. The country's population profile is important to consider but does not explain why some are willing to kill and die for their cause on French soil.

Historically, much of the Islamist violence against France has been motivated by French interference in Muslim lands. This was true of the Algerian Armed Islamic Group (GIA) in the 1990s and is largely the case with al-Qaeda and the Islamic State (IS) today. Jihadists have consistently made this clear in their propaganda and martyrdom statements. In addition to this, militants have struck religious targets and there has been imported conflict related to external events.

The 2015 attack on Charlie Hebdo's offices and recent series of blasphemy-motivated incidents represent a marked typological development for jihadism in France. In response to the public's demand for action, French President Emmanuel Macron has announced measures to fight "Islamist separatism" and has been working with European and international partners on matters of border security. Macron's statements and announced policies have evoked outrage from some within France and internationally. Jihadists are capitalizing upon this and propagandizing Macron's strategy in a way that hardens the enemy distinction of France, framing it as a nation that is waging war against Muslims at home and abroad. This is a very potent narrative for inciting violence.

National Security Profile
Emmanuel Macron has been criticized for his strategy as well as his comments about Islam being "in crisis". Macron's remarks are particularly noteworthy given the composition of French society. Islam is the second largest religion in France and Pew Research Center estimates there are 5,720,000 Muslims living in the country, accounting for 8.8% of the total population. Other sources place this figure closer to 5 million. Macron is accused of over-generalizing and stigmatizing the nation's Islamic population in response to the actions of a comparative few.

The veracity of Macron's claims can be debated, and the efficacy of his plan is unknown at this time but there is significant public pressure on the government to address the momentum of militant violence. The attacks have spurred discussion about strengthening French border security and immigration policy. Macron has called for the "refoundation" of the Schengen area and has urged Europe to do more to prevent illegal immigration, citing threats posed by trafficking networks with terror links.
The global context saw tremendous geographical expansion and numerical growth in Islamist militancy over recent decades. These broader international trends have notably affected the European jihadist landscape and associated ideological currents have influenced some elements within France. France is as well a site of militant network formation and there is a degree of interplay between domestic and international dynamics.
In 2018, the Center for Strategic and International Studies estimated the number of "Sunni Islamic militants" worldwide to be around four times higher than on September 11, 2001. A study by the Dutch General Intelligence and Security Service (AIVD) found that France was the Western nation most often attacked from January 2004 to December 2018, accounting for 27% of all incidents. The AIVD says the first jihadist attack on French soil during this period was in 2012 and since then, the country has experienced frequent violence. Additionally, the Program on Extremism estimated that France has been the target of 35% of all combined attacks conducted in Europe and North America since 2014.

Several other assessments have illuminated the scale of France's security troubles. In 2017, European Union anti-terror chief Gilles de Kerchove warned there were 17,000 militant Islamists living in the country. Following the December 2018 Christmas market attack in Strasbourg, France 24 reported that approximately "26,000 people who are believed to pose a danger to France are currently categorised as fiché S," and "roughly 10,000 of those are believed to be religious extremists who have been radicalised, some in fundamentalist mosques, some online, some in prison and others abroad." Upwards of 2000 French nationals have reportedly joined the Islamic State and in 2016 the French government estimated that 1,400 prison inmates were "radicalized".

Foreign Policy
From the Armed Islamic Group in the 1990s to al-Qaeda and the Islamic State today, France's enemies have been forthright about what motivates them to conduct attacks. French intervention in Muslim lands has fueled decades of Islamist resentment. Jihadist leaders continually reiterate this in their messaging, as do attack perpetrators in their martyrdom statements and claims of responsibility.

France had various degrees of involvement in the Algerian Civil War, the Gulf War, the War in Afghanistan, the Libyan Civil War, and the conflict in Mali. France has deployed 5,100 military personnel to the Sahel and has around 1,000 more troops stationed in Iraq. It maintains a military presence in Mali, Chad, Niger, Ivory Coast, and Burkina Faso as part of Operation Barkhane. This is France's largest operational military footprint in Africa since the 1950s. France has also played a highly visible and multifaceted role in fighting the Islamic State in the Middle East.

Jihadist propaganda frames the country as an aggressor, foreign occupier of Muslim lands, and a crusader state waging war on Islam. Following 9/11 and entry into the War in Afghanistan, France and other coalition nations were increasingly portrayed in this way. Al-Qaeda propagated similar narratives following the 2013 launch of Operation Serval in Mali.
The development of media campaigns specifically geared towards Western audiences has increased the reach and traction of jihadist narratives within these societies. Incorporating this approach into the overall military strategy against their enemies helped bring the war to the streets of Western cities. Al-Qaeda's propaganda efforts in the 2000s and early 2010s had some success with incitement, but the Islamic State drastically increased the offensive tempo against the West in 2014. Although there were jihadist plots in the 2000s, militants did not have a great deal of operational success on French soil again until the turn of the decade. France notably refrained from the 2003 War in Iraq and seemingly avoided much of the violent backlash associated with it. The general growth of Islamist militancy since 9/11 is another contextual trend to consider.

The Islamic State demonstrated its capabilities through its sweeping military victories, caliphate, unprecedented propaganda infrastructure, and vast global reach. When the US-led coalition intervened against the organization in Iraq and Syria, IS harnessed its robust media apparatus to launch targeted campaigns against participating nations. The Islamic State's top leadership declared France an enemy and the organization produced specialized French language video, audio, and online print materials. IS has also been very effective in its use of social media and messaging applications.

The Islamic State's spokesman at the time, Abu Muhammad al-Adnani, released a statement in September of 2014 that tracked with the evolving trends of jihadist violence in the West. Adnani was very explicit in his instructions, "If you can kill a disbelieving American or European – especially the spiteful and filthy French – or an Australian, or a Canadian, or any other disbeliever from the disbelievers waging war, including the citizens of the countries that entered into a coalition against the Islamic State, then rely upon Allah, and kill him in any manner or way however it may be." He provided simple tactical advice to streamline the attack process, "If you are not able to find an IED or a bullet, then single out the disbelieving American, Frenchman, or any of their allies. Smash his head with a rock, or slaughter him with a knife, or run him over with your car, or throw him down from a high place, or choke him, or poison him."

Blasphemy
There had been demonstrations against Salman Rushdie in the late 1980s and against the publication of cartoons depicting the Prophet Muhammad by Denmark's Jyllands-Posten in 2005, but not lethal attacks of this nature over such things on French soil. The recent surge in these kinds of incidents and the animosity over Emmanuel Macron's plan to fight "Islamist separatism" have added dimension to France's jihadist threat. Militant propaganda has focused on blasphemous acts by French citizens and has framed Macron's strategy as a direct attack on the country's Muslim population.

 There were several warning signs leading up to the 2015 Charlie Hebdo attack. A 2010 issue of al-Qaeda in the Arabian Peninsula's (AQAP) Inspire magazine featured a timeline of events related to depictions of the Prophet Muhammad from 2005 to 2010, which included explicit mention of Charlie Hebdo. Anwar al-Awlaki warned, "If you have the right to slander the Messenger of Allah, we have the right to defend him. If it is part of your freedom of speech to defame Muhammad it is part of our religion to fight you." Awlaki wrote about "the hatred the West holds towards Islam and the Prophet of Islam". He called for retaliation and claimed that "Defending the Messenger of Allah is a greater cause than fighting for Palestine, Afghanistan or Iraq; it is greater than fighting for the protection of Muslim life, honor or wealth." Awlaki focused on Western insults towards the most sacredly held beliefs of many Muslims, sanctified anger over these offences, and gave the greenlight for reprisal.

A subsequent 2013 issue of AQAP's Inspire included a section about the "French crusader intervention in Mali" and a wanted poster featuring individuals accused of insulting Islam. Charlie Hebdo's Stéphane Charbonnier was among the designated figures. On January 7, 2015, brothers Said and Cherif Kouachi conducted a raid on Charlie Hebdo's offices that killed 12 people, including Charbonnier. The shooters had trained in Yemen, identified with AQAP, and executed the attack in retaliation to the magazine's depiction of the Prophet Muhammad.
Blasphemy-motivated violence has reemerged with intensity in recent weeks, sparked again by the republication of these cartoons. Events transpired rather quickly with the high-profile Charlie Hebdo trial, the stabbing near the magazine's former offices, the announcement of Emmanuel Macron's plan, the beheading of history teacher Samuel Paty, and the church attack in Nice. Leaders of Muslim nations have scorned Macron, anti-France protests have erupted across the Islamic world, consumer boycotts have been promoted against French products, and there was a stabbing and subsequent Islamic State-claimed bombing targeting French diplomatic personnel in Saudi Arabia. Jihadist organizations and their online supporters have been actively stoking hostilities, celebrating the attacks, and calling for more violence. They have focused on Macron as a figurehead for insults to Islam and the Prophet Muhammad. The French government is accused of enabling and even encouraging blasphemy.

France is faced with a complex threat from independent actors as well as militants directed, guided, and inspired by jihadist organizations. France is in a precarious position and faces potential violence if a certain foreign policy decision is made, a citizen blasphemes, the state enacts a security measure, or an external event occurs in some foreign flashpoint. This reality informs the French desire to assert national sovereignty. France's security environment is showing signs of deterioration and there is nothing to suggest the violence will subside anytime soon. It is clear the French people want meaningful action and time will reveal if Emmanuel Macron's approach will have any real impact.