More Companies and Government Ambition Required to Meet the "Net Zero" Challenge
Four years after the Paris Climate Agreement, tangible action from governments is falling short of trajectories needed to restrict global warming to 1.5° Celsius. This is well documented in the recently released UN Environment Closing the Gap report. To date, however, a minority of businesses are taking the necessary steps to reduce emissions and of those who are, much more ambition will be required based on the findings of a new report, The Net Zero Challenge, published today by the World Economic Forum.
The report is released as negotiators gather in Madrid at COP25 to discuss the finer details of the Paris Agreement which called for emissions reductions of 3-5% per year. This is a long way off the annual increase in emissions of 1.5% that we are seeing today.
"2020 is a crucial year for delivering on climate action ambition and it is vital that governments and businesses now work together. For both the public and private sector, collaborative action on climate can spur rapid innovation, growth and jobs in a sluggish economic outlook; what the world needs is a combination of public ambition, policy certainty and company leadership to create a tipping point," said Dominic Waughray, Managing Director at the World Economic Forum.
Governments: from a slow start, climate action ambitions are growing to address the challenge
67 countries have to date stated an ambition to reach net zero emissions by 2050. These countries account for c.15% of global GHG emissions. Of these countries, sixteen (accounting for less than 6% of emissions) have developed roadmaps and intermediate targets; and even fewer – seven – countries have instituted policy frameworks that could realistically support reaching a net zero emission goal. These countries – Bhutan, Costa Rica, Denmark, Iceland, The Netherlands, Suriname, Sweden, – account for just 2% of global GHG emissions.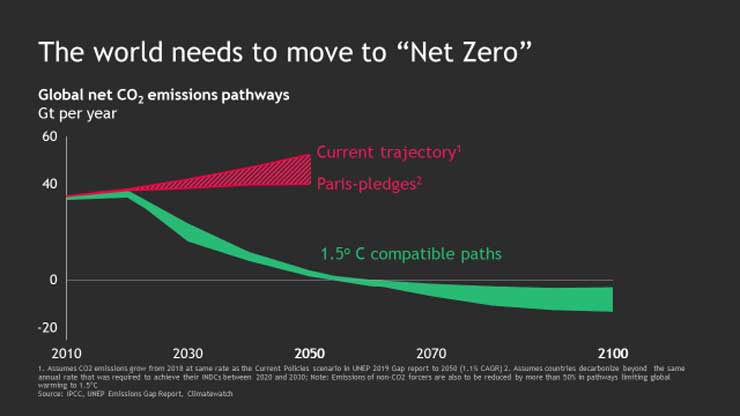 The report does, however, find signs of progress that some governments are beginning to set ambitious climate targets. For example, Morocco has developed the world's largest concentrated solar farm with a goal of sourcing 50% of its electricity from renewable sources in just 10 years. India is currently implementing the largest renewable power programme in the world, targeting 175 GW of installed capacity by 2022.
The report, done in collaboration with Boston Consulting Group (BCG), also finds signs of action at the sub-national level. For example, the state of South Australia is targeting 50% renewable power by 2025. In the United States, meanwhile, seven states are targeting zero-carbon energy systems by 2050.
Overall, the report adds to the evidence that there is much political work to be done to raise ambition levels for climate action ahead of when the Paris Agreement is due to begin in November 2020.
Companies and Climate Action: A New Impetus is Required
When it comes to companies and emissions, the report highlights the gap in corporate ambition that must be closed. While 7,000 businesses disclose their emissions to CDP, a non-profit organization that monitors global emissions, the report finds that only a third provide full disclosure, only a quarter set a specific emissions reduction target and only one in eight are so far reducing their emissions year-on-year.
The report also finds that, on average, both short-term and long-term targets are about half of what are needed for a 1.5°C world; on average, short-term targets currently aim for minus 15% instead of minus 30% reductions; while longer-term targets on average currently aim for 50% reductions instead of net zero by mid-century.
There is, however, some variation across industries. Financial and energy companies, are the most advanced when it comes to disclosing, setting targets and reducing emissions; and emissions reductions in the power sector provide a good case on how other sectors might respond to a mixture of smart policies and demand signals. In each sector there are examples of corporations acting decisively to build a first-mover competitive advantage through higher efficiency, lower risks and new green revenues.
The report identifies two major reasons why corporate climate action has so far not reached a tipping point. One is that chief executive officers still find themselves under greater pressure to deliver short-term returns than to demonstrate progress against climate goals. A plethora of ESG (environmental, societal and corporate governance) guidelines is not helping to create clarity or a clear benchmark to judge performance, leading – in the words of one banking CEO – to "real confusion and little action" in the investment world. The other is the lack of reliable policy frameworks at national and international level. All 25 CEOs interviewed as part of the project confirmed, for example, that without a meaningful price on carbon the transition cannot be accelerated at the speed and scale needed.
A call to action from the World Economic Forum
Whilst diplomatic and multilateral political efforts during 2020 will focus on raising ambition levels among governments, the World Economic Forum will use its platforms to promote a complimentary call to action for higher ambition levels among companies and the finance community and for more partnerships. This call for action, which will start in Davos 2020, includes:
An updated Davos Manifesto for 2020 on the universal purpose of a company, which notes that a company is more than an economic unit generating wealth, will be presented to all CEOs to consider. The Manifesto calls for performance to be measured not only on the return to shareholders but also on how it achieves it environmental, social and good governance objectives.
An initiative underway with the Forum's International Business Council to develop a definitive methodology for standard ESG principles that companies can adopt as a complement to standard financial metrics with support from the "Big Four" accounting firms, which will include common approaches on climate emissions target setting and tracking
The release of a catalogue of "Lighthouse Projects" that show concrete examples of how many leading companies are setting and implementing bold emissions reduction strategies in line with net zero by mid-century, and how other companies can join or replicate these efforts. Such Lighthouse Projects include the Mission Possible Platform, RE100, the UN-convened Net Zero Asset Owners Alliance, the CDSB and over 50 other specific examples of company actions and public-private collaborations in the climate and wider environmental agenda.
To support these efforts, the Forum has also convened a community of CEO Climate Leaders; these are leaders of some of the world's largest businesses that are committed to support assertive climate action.
"Climate change is the single greatest threat that humanity faces. Businesses that don't take climate action will be punished by their stakeholders as well as by the planet," said Alan Jope, CEO, Unilever.
Greenpeace Challenges Banks over $1.4 Trillion Invested in Fossil Fuels since Paris Agreement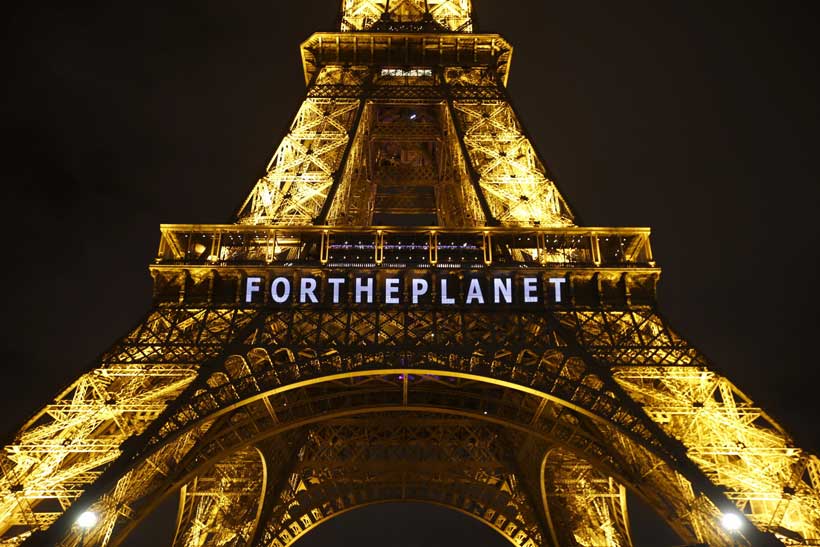 Since the groundbreaking Paris summit on climate change in 2015, 24 global banks have invested $1.4 trillion in the fossil fuel industry, according to Jennifer Morgan, Executive Director of Greenpeace International. Greenpeace's report, It's the Finance Sector, Stupid, published today, puts the blame for the climate emergency at the feet of the banks, insurers and pension funds that participate in Davos. The report adds that $1 trillion could buy 640GW of solar power, more than the current global capacity.
However, financiers on the panel, tasked with solving the "green growth equation", argued that the international financial system is fundamentally reshaping itself around how to transition to a net-zero economy. They are responding to the demands of their clients as well as directly feeling the heat through, for example, having to reprice the cost of insurance risk.
Mark Carney, Governor of the Bank of England, said: "With major investors, the question is: what is your plan to get to net zero?" Two-thirds of questions at bank AGMs are now around these issues, he said, adding: "Everyone knows they need a plan." Carney acknowledged Greta Thunberg's reference at the Annual Meeting today that on our current emissions trajectory we will – in a little over eight years – most probably breach the limit required to restrict global warming to 1.5C. He called for a credible trajectory towards a green transition, based on an agreed timeframe and common metrics. This, along with public pressure and government policy, will determine where capital flows, he said
Governments are lagging behind. We are in the midst of the largest civil society protests since the Iraq and Vietnam wars, Morgan said, but "it's actually the politics that's holding us back on this". She called on government leaders to take courage, sit down with experts, civil society and innovators, and put together what we know needs to be done. Carney pointed to November's COP26 meeting in Glasgow as the opportunity to get private actors and regulators together to ensure that climate change is taken into account in every financial decision.
Speaking as a member of the board of directors for Saudi Aramco, Andrew N. Liveris agreed that governments have been slow and called for businesses to "get very serious on the financial side of KPIs". Outcomes will only emerge if we hold people accountable to the right KPIs, he said, adding that COP26 is an opportunity to develop metrics that business will respond to.
However, governments also need to get their own houses in order, said Mariana Mazzucato, Professor of Economics of Innovation and Public Value; and Founder and Director, Institute for Innovation and Public Purpose, of University College London. Currently, governments steer three times more subsidies towards fossil fuels than towards climate solutions. The UK's Department of Transport has a £30 billion procurement budget that is focused more on cost efficiencies than transitioning to a zero-carbon economy, she said. The German government, by contrast, has made public procurement conditional on sectors, such as the steel industry, transforming themselves. Mazzucato asked how genuine the claimed transformation of the finance sector really is. "Currently there is lots of talk, but all the walk is going in the wrong direction," she said. What will really cause change is the way we govern businesses, she said, asking: "Why don't we have a financial transaction tax?"
Panellists all agreed on one key issue – 2050 is far too late to achieve a net-zero economy. "We cannot get to 2030 and still have this conversation", said Liveris.
UNEP, IUCN to launch new €20m programme on ecosystem-based adaptation
The UN Environment Programme (UNEP) and the International Union for Conservation of Nature (IUCN) are jointly launching the Global Fund for Ecosystem-based Adaptation [2020-2024], which aims to provide targeted and rapid support mechanisms through seed capital for innovative approaches to ecosystem-based adaptation. At the recently concluded UN Climate Change Conference (COP 25) in Madrid, the Federal Environment Ministry of Germany (BMU) announced that it would provide €20m for the new UNEP-IUCN programme, officially titled "Support for the Implementation and Upscaling of Ecosystem-based Adaptation."
Ecosystem-based adaptation (EbA) refers to the set of approaches that involve the management of ecosystems to reduce the vulnerability of human communities to climate change. The restoration of mangroves and coral reefs, for example, protects coastal areas from the impacts of rising sea levels, while planting and restoring vegetation on hillsides and mountains prevents erosion and landslides during extreme rainfall.
EbA is a key pillar of the movement to promote ecosystem-based, or nature-based, measures for climate change adaptation, which have gained scientific and policy interest over the past few years due to their multiple benefits for people and the planet.
Through its International Climate Initiative (IKI), the BMU is now increasing its financial commitments for ecosystem-based adaptation by around €60 million, which includes the new UNEP-IUCN programme.
Germany's Federal Environment Minister Svenja Schulze commented: "Nature often provides the best solutions for climate action and adaptation to climate change. In addition to climate action and nature conservation, such projects often bring social benefits as well: They help people in vulnerable developing countries in particular to adapt to climate change. People in these countries are often much more directly dependent on nature. This is equally true for agriculture and for coastal protection."
The multi-year Global EbA Fund, established by UNEP and IUCN, will draw on and support the growing momentum behind nature-based solutions and EbA, along with major movements such as the UN Decade on Ecosystem Restoration.
The Fund will have a specific focus on working with local NGOs and INGOs with relevant EbA experience and local presence, and with governments on specific gaps in technical knowledge and understanding.
"Nature-based solutions are increasingly recognized as integral to global climate action," said Inger Andersen, Executive Director of UNEP. "With this new programme, we are using the power of ecosystems to help societies adapt to climate change. Ecosystem-based adaptation is now being undertaken by more and more Governments and organizations all over the world."
"This work demonstrates that it's not only us that protects nature, but also nature that protects us," she added. "We are grateful to the Federal Environment Ministry of Germany for its support of this important initiative."
Nature-based solutions, including ecosystem-based adaptation, were a central pillar of the UN Climate Action Summit in September 2019, with the Global Commission on Adaptation (GCA) launching its eight Action Tracks for adaptation, along with a landmark report that argued for the increase of nature-based and ecosystem-based measures for climate change adaptation. UNEP will be leading the Action Track for nature-based solutions, and the results of the Global EbA Fund will contribute to addressing the barriers identified by the GCA process.
"In 2009, IUCN framed the concept of ecosystem-based adaptation, and since then has globally promoted its use to increase society's resilience to climate change," said Dr. Grethel Aguilar, Acting Director General of IUCN. "Ecosystem services and biodiversity are our best allies against climate change, and if we all use them wisely, both the planet and humanity will thrive. The generous contribution of the German government will help us scale up actions that put nature at the centre of sustainable development."
UNEP and IUCN will be supporting target countries in implementing EbA measures to meet their global plans and commitments. The measures funded by this programme will be supported by specific expertise- and capacity-building, while strengthening information, knowledge and political will for nature-based solutions to adaptation. To do so, IUCN and UNEP will draw on their extensive existing networks, tools and expertise, including Friends of Ecosystem-based Adaptation (FEBA), supported by IUCN, and the Global Adaptation Network, supported by UNEP.
The two organisations will serve as catalytic conveners by engaging key stakeholders to proactively scale up commitments through strategic partnerships, building on key high-level political processes.
The partnership between UNEP and IUCN will leverage a long history of EbA approaches and projects. Together, IUCN and UNEP have been involved in more than 80 EbA-related projects since 2010.
1t.org Announced to Accelerate Nature Restoration to Tackle Climate and Biodiversity Crises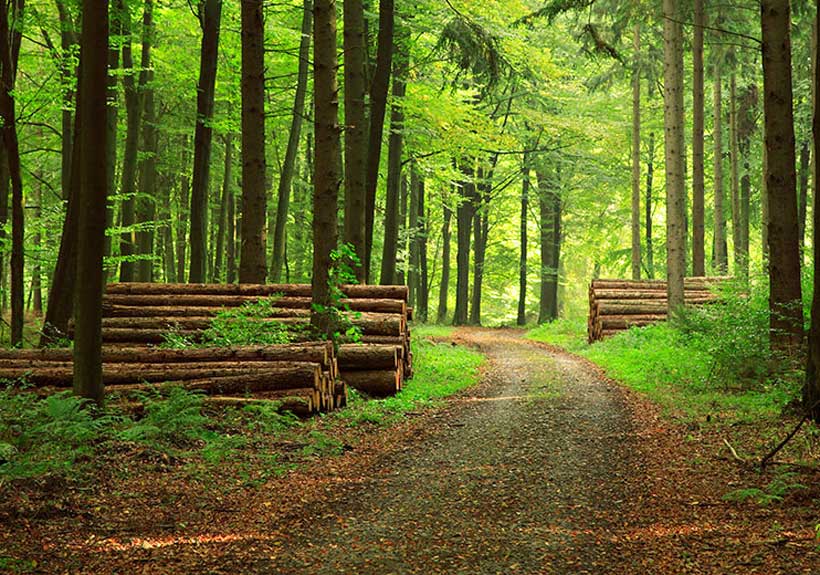 1t.org is a World Economic Forum initiative, designed to support the trillion tree community. It is being set up with the initial financial support of Marc and Lynne Benioff. 1t.org is a platform for leading governments, businesses, civil society and ecopreneurs committed to restoring and reforesting the planet.
The plan, outlined at the World Economic Forum Annual Meeting 2020 by the Forum's Executive Chairman Klaus Schwab, represents a major initiative in the global effort to tackle the climate change and biodiversity crises.
Nature-based solutions – locking-up carbon in the world's forests, grasslands and wetlands – can provide up to one-third of the emissions reductions required by 2030 to meet the Paris Agreement targets. They are one of four critical transitions needed to tackle the climate crisis in the coming decade, alongside transforming the energy, heavy industry and finance sectors. Several recent science publications have highlighted the significant restoration potential in every country to reverse centuries of decline and to restore previously forested lands, including lands recovering from fires.
Klaus Schwab, Founder and Executive Chairman of the World Economic Forum, said: "The next decade must see unprecedented levels of collaboration if we are to meet global climate, biodiversity and Sustainable Development Goals. 1t.org presents an important example of how stakeholders from all walks of life and all ages can work together to achieve a single, globally significant goal."
In a special address, Donald J. Trump, President of the United States, announced US backing of the initiative: "I am pleased to announce that the United States will join the 1 Trillion Trees initiative being launched here at the World Economic Forum. We will continue to show strong leadership in restoring, growing and better managing our trees and our forests."
Significant momentum exists on reforestation – many initiatives and organizations are working to conserve and restore forests at scale such as the Bonn Challenge, the Global Partnership for Forest Landscape Restoration, and the work of many environmental NGOs like American Forests, or the Trillion Trees Initiative (led by Birdlife International, WCS and WWF UK). 1t.org offers an opportunity to help join-up these initiatives in a unifying platform and provide support in critical areas, including the mobilization of funds and political support. 1t.org will also enable improved connectivity of initiatives and help to inspire and enable more champions and entrepreneurs.
1t.org is being created to serve all actors working on restoration and reforestation and will provide a global platform for any reforestation commitment, initiative or campaign, from the grassroots level to large, multi-country efforts. It will provide a pathway for anyone who wants to join the reforestation movement. 1t.org work to support the Saudi Arabian G20 Presidency, which has made Safeguarding the Planet a key aim; and the UK Presidency of COP26. It also aims to make a major contribution to the UN Decade on Ecosystem Restoration 2021-2030 led by UNEP and FAO. Specifically, 1t.org will focus on the following three key action areas:
1t.org will encourage and enable millions more grassroots reforestation champions by providing a digital platform (UpLink) to connect them with the opportunities, tools and resources they need to thrive.
1t.org will work to overcome the many socio-economic barriers that hold reforestation back by catalysing top-down system change – such as policy change, incentives, market creation and access to funding and technology.
1t.org will work to raise the level of ambition and spending from business, governments and philanthropists, and provide guidance to turn that ambition into action.
Reforestation: The science
Greenhouse gas emissions reached a record high of 55.3 Gigatonnes of CO2-equivalent in 2018. According to UNEP's Emissions Gap Report, the Earth's ability to have a two-thirds chance of keeping climate change below 1.5 degrees Celsius means that we have to reduce emissions by 55% between now and 2030. At current emission levels, our "carbon budget" for the 1.5 degrees Celsius warming limit will be depleted before 2030.
Meanwhile, GHG emissions are showing no sign of peaking any time soon. While this prognosis is bleak, nature-based solutions offer the prospect of buying valuable time. Growing, restoring and conserving 1 trillion trees over the coming decade could result in up to 12Gt CO2 being sequestered from the atmosphere each year, with the same trees storing up to 205 Gt of CO2-equivalent once mature. In total, it is estimated that nature-based solutions such as reforestation could provide up to one-third of the needed climate solutions by 2030 to meet the 1.5 degree goal.
What the leaders say
"The 2019 UNEP Emissions Gap Report shows that we are on the brink of missing the 1.5°C target, thereby resulting in a future of serious climate change impacts," said Inger Andersen, Executive Director of the UN Environment Programme (UNEP). "Nature is one of our best allies to significantly reduce emissions and build resilient societies, but time is running out. The UN Decade on Ecosystem Restoration (2021-2030) is an important initiative which brings together countries, businesses and individuals from across the world, to restore ecosystems and restore the planet. The 1t.org platform convened by the World Economic Forum provides a global public-private action platform to help translate these commitments and accelerate reforestation, restoration and conservation of forests."
Ivan Duque, President of Colombia, said that "Our responsibility to conserve and protect biodiversity and to fight against climate change is motivated by the urgency we share to prevent the degradation of forests and other ecosystems. I committed to planting 180 million native trees by 2022 to restore 300,000 hectares of Colombian ecosystem. Today, we have planted 24.5 million trees and restored 40,227 hectares. I trust that the 1t.org platform will help scale these efforts and accelerate restoration action globally."
The need for accelerated action was also highlighted by Marc Benioff, Chairman and co-Chief Executive Officer of Salesforce,who said:"We are facing a planetary climate crisis and trees are one of the most effective ways to sequester carbon and stop the worst effects of climate change." Benioff also announced that, "in support of the 1t.org mission, Salesforce has set a goal to support and mobilize the conservation and restoration of 100 million trees over the next decade."
For Dame Jane Goodall, Founder, Jane Goodall Institute and UN Messenger of Peace: "1t.org offers innovative technologies which will serve to connect tens of thousands of small and large groups around the world that are engaged in tree planting and forest restoration. Creating this 'greening global community' will allow for sharing critically needed funding and best practices – just what is needed to achieve the trillion trees goal in 10 years. Towards the 1t.org goal, I am proud to announce that our Roots & Shoots programme, which empowers young people in 60 countries, has committed to planting over 5 million new trees over the coming year. Now is the time for everyone on the planet to do their part."
"Forests are not only exceptional ecosystems; but, for indigenous peoples, they are also our pharmacies, our supermarket, our school," said Hindou Oumarou Ibrahim, President of the Association of Indigenous Women and Peoples of Chad. "As indigenous peoples, we will not watch our forest burn without acting. We are ready to protect and repair the forests. The 1t.org platform offers exciting opportunities to combine science, finance and indigenous peoples knowledges for climate action."