Advantages of industrial parks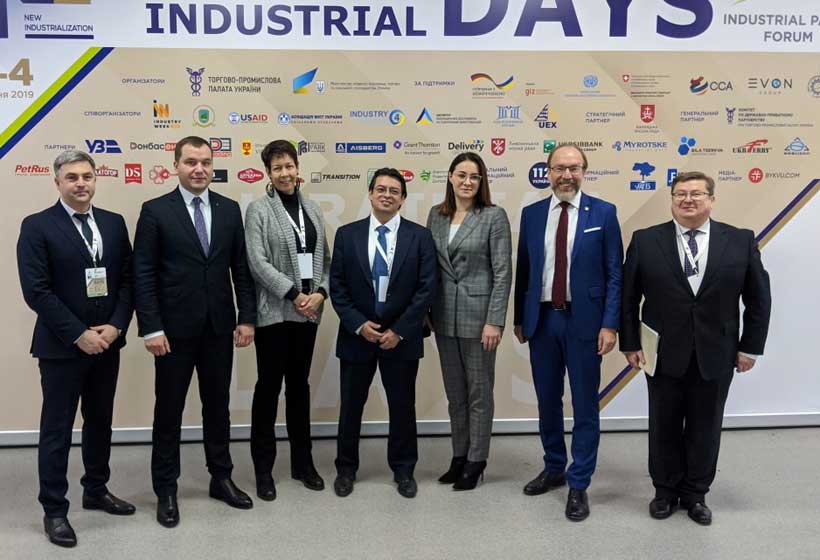 The United Nations Industrial Development Organization (UNIDO) took part in the Ukrainian Industrial Days event co-organized by Ukraine's Chamber of Commerce and Industry and the Ministry of Economic Development, Trade and Agriculture.
UNIDO's representative delivered welcoming remarks at the Second Annual Forum on Industrial Parks held within the framework of the Industrial Days event which aimed to facilitate the development of synergies between governments and private sector organizations and foster innovative industrial-agrarian models allowing for sustainable economic development.
"Industrialization is more than an engine of economic growth; it is also the catalyst for the technological, financial and socio-economic transformation," said the UNIDO representative. "A major advantage of industrial parks is that they provide an institutional framework, modern services and a physical infrastructure that may not be available in the rest of the country."
The event served as a platform to promote industrial parks and eco-parks as a tool to further inclusive and sustainable industrial development both in developed and developing countries.
Meet the Climate Heroes Coming to Davos
This year's World Economic Forum 2020 Annual Meeting will be more action-oriented than ever. Or, in the words of Founder and Executive Chairman Klaus Schwab, a "Do shop, not a talk shop." Helping bring about systemic change to return our planet to a sustainable path will be an unprecedented number of leaders from across civil society making progress at the community, national and global level, including:
Teenage changemakers
Fionn Ferreira (Netherlands): as a young scientist, Fionn has created a project extracting micro plastics from water and aims to prevent them from reaching oceans.
Ayakha Melithafa (South Africa): this 17 year-old South African advocates for low-carbon footprint in her community and advocates for the inclusion of diverse voices in climate activism.
Autumn Peltier (Canada): Autumn has been advocating for water conservation since the age of 8 and is Anishinabek's Chief Water Commissioner, representing over 40 First Nations in Canada.
Greta Thunberg (Sweden): Greta is an International climate activist and leader of the school strike for climate movement
Melati Wijsen (Indonesia): with her initiative Bye Bye Plastics that she founded with her sister, she has banned plastic bags, straws and Styrofoam on Bali since 2019.
Civil Society and Academia
Gary Bencheghib (Indonesia): Gary's film-making has brought home the impact of environmental degradation to millions of people. For example in a film he made navigating the world's most polluted river in Java in a kayak made of plastic bottles
Kerstin Forsberg (Peru): Kerstin has lead dozens of community-based environmental projects in Peru, engaging hundreds of citizen scientists and over 50 schools in marine education.
Salvador Gómez-Colón (Puerto Rico): after Huricanne Maria devastated Puerto Rico in 2017, Salvador developed project 'Light and Hope' which supported over 3000 families with solar lamps and manual washing machines.
Jane Goodall (USA): A world-renowned primatologist, Jane's work has paved redefined the relationship between humans and animals
Krithi Karanth (India): As Chief Conservation Scientist and Director of the Centre for Wildlife Studies, Kirithi's work focuses on human-animal conflict and land use change
Wanjuhi Njoroge (Kenya): A Global Shaper, Wanjuhi founded #SaveOurForestsKE a campaign that raised awareness about the decimation of forests and led to a nine-month ban on national forest logging in the country.
Carlos Afonso Nobre (Brazil): Carlos dedicated his career to the Amazon region and developed pioneer research on the climate impacts of deforestation.
Johan Rockström (Germany): Johan's work developing the planetary boundaries framework that facilitates human development while defending the planet's boundaries is regarded as seminal.
Lord Nicholas Stern (UK): Lord Stern's seminal 2006 study on the economics of climate change was the first of its kind to quantify the cost of climate change.
Holly Syrett (Netherlands): Holly led a grassroots approach in 40 cities for citizens to re-use, re-purpose, buy less, buy second-hand and use their purchasing-power to support items that respect people and planet.
Neel Tamhane (Bangladesh): Neel's citizen-led tree-planting drive has already planted 9 billion trees in 27 cities in South Asia.
Asha de Vos (Sri Lanka): Asha founded the Sri Lankan Blue Whale Project in 2008, the first long term study on blue whales within the northern Indian Ocean
The World Economic Forum is also showcasing a series of installations, including Partnering with Nature, developed in collaboration with the Cooper Hewitt, Smithsonian Design Museum, the Algae Platform by Atelier Luma and Department of Seaweed by Julia Lohmann, two projects exploring the potential of algae as an alternative to conventional materials such as plastic; and Totomoxtle by designer Fernando Laposse which aims to reintroduce native varieties and restore indigenous farming practices in Mexico.
Artificial Intelligence Toolkit Helps Companies Protect Society and Their Business
The global spend on artificial intelligence (AI) is expected to hit $52 billion in the next three years and to double the annual growth rates of major economies in the next 15. Approximately 29 countries have created national AI policies to mitigate the potential risks, but there are only a handful companies that have openly talked of doing the same.
"Companies will play a significant role in how AI impacts society," said Kay Firth-Butterfield, Head of Artificial Intelligence at the World Economic Forum. "Yet, our research found that many executives and investors do not understand the full scope of what AI can do for them and what parameters they can set to ensure the use of the technology is ethical and responsible."
To help boards tackle this challenge, the World Economic Forum worked with more than 100 companies and technology experts during the course of a year to develop the Empowering AI Toolkit. Built with the structure of the board meeting in mind, the toolkit aligns 12 learning modules with traditional board committees and working groups. It aims to help companies make informed decisions about AI solutions that protect the customer and shareholders.
It is the first toolkit to provide common ground for companies worldwide to help prepare board members so they have a clearer understanding of the current landscape. It covers the board's responsibilities specific to the module in question, and provides resources for further learning as well as a breakdown of oversight tools and case studies.
"AI is one of the biggest game changers for businesses, governments and society as a whole, and a huge source of opportunities to solve some of our most important challenges, said Elena Alfaro, Global Head of Data and Open Innovation, BBVA. "But the power that AI brings us has to come with similar take on responsibility from creators and users. This is why BBVA has collaborated with World Economic Forum in the development of this Toolkit, with the hope that it is widely spread and used."
"Integrity, Ethics and risk management are boardroom matters which are directly impacted by AI", said Jesus Mantas, Senior Managing Partner at IBM and board member at Biogen Inc. "Board directors have a duty to provide oversight to the enhancements required to integrity principles, 'human in the loop' policies, and risk management frameworks to include the effect of AI algorithms becoming the norm in every operational aspect of corporations. The AI Toolkit is a great way for directors to better understand their enhanced responsibilities."
AI experts in collaboration with board members and key stakeholders from more than 100 companies in six countries designed Empowering AI Toolkit to ensure that it meets the specific needs of business leaders and can lead to practical action and tangible impact.
"Artificial intelligence is a tool in a corporate board's toolkit," Firth-Butterfield said. "Boards need to know when to deploy it and how it aligns with a company's overall strategy. The board, as the custodian of a company's long-term ethical approach to business and the overseer of strategy, has a critical agenda-setting and oversight role in this area."
The Empowering AI Toolkit was created by the World Economic Forum with Centre for the Fourth Industrial Revolution Network Fellows from Accenture, BBVA, IBM and Suntory Holdings. Among the many others who contributed to its development were AI4All, Australian Institute of Company Directors, Best Practice AI, Latham & Watkins, Saudi Aramco and Splunk.
Collaborator quotes:
"Having such a toolkit is not a luxury," said Nabil Al Nuaim, Chief Digital Officer of Saudi Aramco. "It's a necessity to inform boards of directors of AI and its overarching effects. Using AI responsibly is one of the core tenants of our digital transformation program and we're keen in partnering with Centre for the Fourth Industrial Revolution Network to expand the toolkit to guide c-suite level executives in their journey to plan, implement, and monitor AI in their respective companies."
"As business races to capture the opportunities associated with AI and AI-driven tools, management and boards are charged with understanding and overseeing these transformative technologies and their impact," said Karen Silverman, a Partner at Latham & Watkins LLP. "We are pleased to partner with the World Economic Forum's Centre for the Fourth Industrial Revolution on this essential toolkit, which provides easy-to-reference resources and strategies to support boards in this critical work."
"As use of Artificial Intelligence rapidly becomes ubiquitous across the global economy, boards must understand the technology, its potential and its risks, said Leonard Stein, SVP Global Affairs, Splunk Inc. "The AI Toolkit provides a means for directors both to honor their fiduciary duties as well as identify new sources of business value."
New UNIDO publication on Quality Infrastructure and the SDGs
If companies want to access and compete in new markets, they have to demonstrate the quality and safety of their goods and services and comply with international standards in the target markets. Quality Infrastructure is a system offering a complete package covering essential aspects such as policy, institutions, service providers, and the value-adding use of international standards and conformity assessment procedures.
A new publication from the United Nations Industrial Development Organization (UNIDO), entitled, "Rebooting Quality Infrastructure for a Sustainable Future", is a call for action for rethinking and adapting Quality Infrastructure (QI) to achieve the Sustainable Development Goals (SDGs) and to respond to the impacts of the Fourth Industrial Revolution, including artificial intelligence, smart manufacturing, smart energy, smart agriculture and the circular economy. UNIDO argues that QI development needs to undergo a paradigm shift to adapt to these changes and sustainably and effectively contribute to the achievement of the SDGs.
The publication also demonstrates through concrete examples and QI success stories from UNIDO and stakeholders worldwide how QI contributes to three key dimensions of the 2030 Agenda for Sustainable Development – People, Prosperity, and Planet – and in doing so, how it can serve the sustainable development paradigm within the framework of a circular economy.
The publication is primarily aimed at policymakers, people working in national QI systems, and other QI stakeholders. It is also relevant for those developing national implementation plans for the SDGs.