As they extend their power grids, build more roads and bigger cities, and cultivate forestland, developing countries in Asia and the Pacific are increasingly contributing to the global climate change problem. Two of the top three emitters of greenhouse gases are developing countries in Asia—the People's Republic of China and India. At the same time, five Asian developing countries are among the top 10 most climate-vulnerable countries in the world. Across the region, livelihoods and economic growth are increasingly exposed to climate change impacts and disaster risk. Clearly, Asia and the Pacific must play a strong role in efforts to address climate change.
As the region's development bank, the Asian Development Bank (ADB) is committed to remaining the partner of choice for climate action by our developing member countries. In 2015, as world leaders gathered in New York to launch the Sustainable Development Goals, ADB made a bold announcement—a commitment to double our climate investment to $6 billion annually by the end of 2020.
Coinciding with the call for action at COP25, the United Nations' Conference on Climate Change, ADB has proudly reached this achievement one year ahead of time. ADB's climate-related financing for 2019 comprises $1.4 billion for financing adaptation and $4.8 billion for mitigating climate change.
The feat is the result of a singular focus to integrate climate actions into our entire operations. ADB has introduced climate risk screening of our project portfolio, undertaken diagnostics on the critical infrastructure at risk in the region, and introduced new financing instruments such as contingent disaster risk financing for financial resilience. ADB is strengthening its investments in renewable energy and energy efficiency, sustainable transport and urban development, and climate smart agriculture. This has been accompanied by actions to enhance the transparency of our climate operations by publicly disclosing project-level information of our climate portfolio and enhancing capacity and technical assistance for delivery. The spirit of One ADB has underpinned this achievement, with the collaboration of our sovereign and non-sovereign operations and knowledge departments steering us toward this target. One example of the many that illustrates this is the Pacific Renewable Energy Program, which is providing an innovative blend of loans, guarantees, and letters of credit to encourage private sector investments in renewable energy. ADB's treasury department also contributed to the endeavor by issuing green bonds amounting to $5 billion as an added financing mechanism.
In addition to scaling up its own climate financing, ADB has been working on new and innovative co-financing opportunities with public and private partners. For example. ADB has mobilized concessional financing from the Green Climate Fund (GCF) for nine projects worth a total of $473 million in grants and concessional financing.
Building on the momentum of our climate finance milestone, ADB is pursuing new and ambitious targets on climate change for the coming decade in our Strategy 2030—cumulative climate financing of $80 billion from 2019-2030 and a commitment to make 75% of our projects climate-relevant by 2030. Furthermore, by steadily increasing shadow carbon price, which factors climate costs into our project economic analysis, ADB is reflecting the urgency of shifting to low carbon alternatives.
However, given the narrowing window for avoiding catastrophic climate change, mobilizing finance at the necessary speed and scale remains a huge challenge. The Nationally Determined Contributions of many countries have outlined the financing needed to achieve their climate ambitions under the Paris Agreement. According to one estimate, it is $4.4 trillion or $349 billion annually[1]. While there are no robust and comprehensive estimates available for the Asia and Pacific region, an assessment by ADB on Asia's infrastructure needs found that $200 billion will be needed annually to address climate actions in energy, water, and transport[2].
Though national governments and development financing institutions should devote more of their financial resources, the bulk of climate financing will necessarily have to come from private investors. This highlights the need to deploy climate financing in a way that enables and mobilizes private sector finance. But the good news is there is a robust, and growing, body of evidence that the benefits of climate action already far outweigh the costs—representing a significant opportunity for the private sector. For example, the New Climate Economy Initiative, to which I have contributed as a Commissioner, has found that investment in low-carbon growth is associated with a cumulative economic gain of $26 trillion until 2030. Meanwhile, a recent report by the Global Commission on Adaptation found that investing $1.8 trillion globally from 2020 to 2030 in five key areas—early warning systems, climate-resilient infrastructure, improved dryland agriculture, mangrove protection, and more resilient water resources—could yield $7.1 trillion in net benefits.
The provision of finance is just one part of the climate change puzzle—high technology, policy support, and capacity development to build better institution are also critical. But by further scaling up collective actions on addressing climate change by national governments, development partners, and the private sector, we can greatly respond to the voices of younger generations and vulnerable populations across the world for bolder action that ensures our common future on a healthy planet.
[1] L. Weischer et al. 2016. Investing in Ambition: Analysis of the Financial Aspects in (Intended) Nationally Determined Contributions. Briefing Paper. Germanwatch e.V. and Perspectives Climate Group: Bonn. https://germanwatch.org/en/download/15226.pdf
[2] ADB. 2017. Meeting Asia's Infrastructure Needs
WEF 2020: A Blank Check on Climate Change Costs
At the WEF Davos 2020, is there already a blank check issued from stakeholder capitalists to Greta Thunberg to go and fix global climate damages? If not, too bad…just relax full payment may be coming.
First some facts; big and small governments have no money, big businesses have no money, what disappears in heavenly bushes of the paradise-accounting always stays there. The world is basically broke to fix this monumental problem; broke it's mentally and crushed morally, broke is also the global populace, exhausted and restless, unless their survival on sustenance, equality and social justice not addressed at much faster rate over populism mobs may appear.
The Blank Check: Enters the five million small medium businesses of the world; a super economic force to reckon with on platform economy.
In broader strokes, as a simple example, The United States Business Administration, the SBA has some 13 million small medium size enterprises as members. Now imagine, if five million of such enterprises, already doing USD$2-5 million in annual turnover were placed on national mobilization of entrepreneurialism to boost special skills on innovative excellence to produce exportable quality. Now imagine if each one added only one-million in additional revenue to their current operations what will happen, basic math. Five million small enterprises times one million new revenue each equals 5,000,000 x 1,000,000 = 1,000,000,000,000 or one trillion.
Now imagine, if there were 25 million such enterprises scattered across the world, each adding two million dollars as a base per year that will be 50 trillion dollars… or 10 five times the revenue of the world's five largest and most powerful technology companies. This is a wake-up call to exhausted economies. These operations are less new funding dependant they are execution hungry and deployment starved.
There are some 100 million SME in such mix around the world; if mobilized on national entrepreneurial platforms would have enough strength to help and fix local community issues, as entrepreneurs by their DNA are cause centric and will take care of such global climate issues, unlike short term shareholders on money schemes. The lack of discussion on SME revival are main reason, such silence proves lack of vision and global-age knowledge on entrepreneurial transformation and most importantly about global consumption and how to create real value creation. The spotlight on hedge funded value manipulations take all the attention and systematically the entrepreneurial talent of SME suppressed for not being glamorous enough on talk shows over earth shattering robotic technologies.
Fact: The world can easily absorb unlimited exportable ideas in unlimited vertical markets. Fact: The well-designed innovative ideas are worthy of such quadrupled volumes. Fact: The entrepreneurial and dormant talents of a nation are capable of such tasks. Fact: The new global age skills, knowledge and execution are now the missing links
The world is changing fast; this is no longer a cliché, now a serious warning: You can always tryout a change and start with some 500 small and medium enterprises in your own local region on national mobilization of entrepreneurialism protocols and measure the impact of innovative excellence on the local grassroots prosperity. Currently there are already 11,000 Chamber of Commerce in the world with combined membership of 45 million, somewhere here in lack of digital platforms are 25 million enterprises eager and ready to boost their revenues by million each. The art and science of global showcasing of its members with global bounce is a solid start on export strategy. Bold and open debates will streamline the fears of missing skills at the top to tackle such large scale deployments.
The rest is easy
UNDP: Reshaping the Global Development Agenda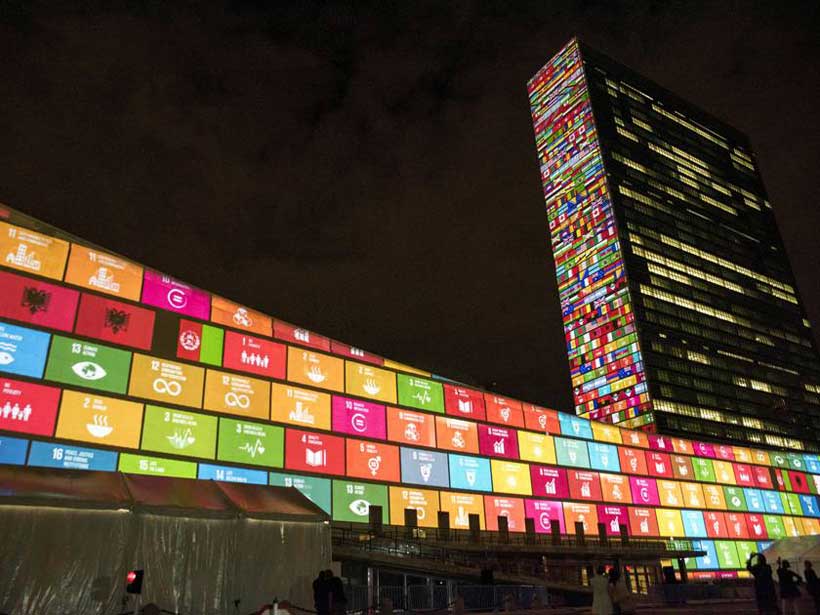 The establishment of United Nations Development Programme (UNDP) ushered a new era during the course of United Nations (UNs) exemplary journey. In September 2000 at the Millennium Summit the world leaders pledged to reduce poverty by 2015 focusing on the eight Millennium Development Goals (MDGs) . After all, the UNDP has been able to take the lead in accomplishing global impact on humanitarian priorities. As a result of this effort the UNDP played a pivotal role in taking a billion people out of extreme poverty by reducing global poverty by half over the last 30 years. This was closely related to the UNDP's visionary leadership reshaped the future of the global sustainable development agenda in the shortest possible time. Over the years UNDP projects have had measurable success in protecting the environment. For example the UNDP allocated over US$ 5600 million supporting nearly 4600 new projects worldwide (UNDP, 2019). Of this the largest recipients in 2019 were Afghanistan, with an estimated total of US$ 530 million. The recent initiatives implemented by the UN development agency will begin to impact systematically and begin to grow in magnitude touching all aspects of human life over the coming decades.
One of the most important components of the UNDP journey was the Human Development Report (HDR) that paved the way to discuss the meanings and measurements of human development that can enlarge people's choices. Speaking at the launch of 2019 Human Development Report on 11 December 2019 the current Administrator of the United Nations Development Programme Achim Steiner said, "In terms of productivity, the report shows that the growing market power of employers is linked to a declining income share for workers. It argues that anti-trust and other policies are key to address the imbalances of market power". It is noteworthy to mention after more than five decades of global outreach the UN development agency seeks to adopt a strategy addressing inequality and social exclusion, preventing and mitigating conflicts and disasters, economic recovery, development planning and inclusive sustainable growth.
Globally climate change has been a concern in the recent years. Renewable energy is considered to be one of the alternatives that can combat global warming and stabilise the climate. Roughly US$2.5 billion has been provided to 140 countries for climate change initiatives and the UNDP was the largest implementer in combating climate change globally.
Another major area of worldwide concern was the displacement of people due to armed conflicts. The United Nations High Commissioner for Refugees (UNHCR), Global Trends report findings shows conflict and violence have forcibly displaced 65.3 million people globally. The adoption of conflict and development analysis (CDA) tools designed by the UNDP for building practitioners aims to strengthen peace and security in war and in post-war countries. However the UNDP remains committed to successfully strengthen democracy and good governance through transparent institutionalizing process in developing nations.. Infrastructures for Peace can be an important tool to prevent conflicts. By laying a solid foundation for Peace initiative designed by UNDP to strengthen the capacity and to manage conflict is one such successful programme. Today the United Nations Development Programme (UNDP) plays a fundamental responsibility with worldwide communities to address global, regional and national challenges. Since its inception the United Nations development agency has made significant solutions to world's most pressing problems.
China-Pakistan Economic Corridor: Promoting Perspectives from Pakistan
China-Pakistan Economic Corridor (CPEC) is defined by the Government of Pakistan as "the growth axis and development belt featuring complementary advantage, collaboration, mutual benefits and common prosperity." The mega-project is one of the largest bilateral investment (US$52 billion) underway anywhere in the world. Despite all the advantages, international media has shown weariness on CPEC on grounds of 'debt trap and transparency,' largely swayed by great power states who fear geopolitical repercussions. For a grandeur development program such as CPEC, it is natural to have opposition from states having vested interests of power. Therefore, in order to strengthen CPEC and make it inclusive, there is a need to strategically market CPEC at international platforms to address the apprehensions of regional and international partners.
A flagship project of the Belt and Road Initiative (BRI), CPEC is in tandem with President Xi Jinping's vision of 'Chinese dream', which avows to commercially link China to Africa, Europe and the Persian Gulf by ways of land and maritime routes. CPEC infrastructure projects, similarly in recognition of the vision comprises of mega-network of highways, railways, and energy pipelines to link Western China to the Arabian Ocean via the Gwadar Port. Pakistan and China have an efficacious history of economic cooperation; developments as diverse as the Karakoram Highway, Thar Coal Power Project, Karachi-Gwadar Coastal Highway, Chashma Nuclear Power Plant, and a number of hydro-power projects was achieved as a result of the bilateral partnership.
Pakistan's business environment has considerably improved in recent years, as result of CPEC investment and projects. It is now ranked by World Bank Ease of Doing Business as 108 among 190, a considerable improvement by 28 places. Moody's International has also upgraded Pakistan rating outlook to 'stable' from 'negative'. Foreign companies, such as Hong Kong based Hutchinson Port Holdings have invested $240 million for the up gradation of container terminal at Karachi Port, which recently made history by welcoming largest ever container vessel in the country. According to the Parliamentary Secretary for Planning Development and Reform, Pakistan has completed 13 projects worth around 11 billion dollars, while 13 projects worth 18 billion dollars are under underway, and another 21 billion dollar projects are in the pipeline. According to estimates by financial pundits, the success of CPEC can provide a growth rate of 10 to 15 percent by 2030 to Pakistan's economy.
A number of initiatives have been taken by the public and private sector institutes in Pakistan, to raise awareness regarding CPEC prospects and opportunities. International CPEC Workshop (ICPECW), Obortunity, a 2.5 weeks international learning and networking platform is annually organized by National Defence University (NDU), Islamabad. The workshops is based on lecture-discussions from leading experts on CPEC and BRI, comprising of networking dinners, seminars and meeting with leaders of state institutions in China and Pakistan. The 1st ICPECW was held from 17th April to 3rd May 2019 at Gwadar, Beijing and Islamabad. The 2nd International CPEC Workshop (ICPECW) will similarly be held from 2nd March to 19th March 2020, as a dedicated CPEC platform to bridge the gap between private and government circles. An initiative was also taken by Higher Education Commission (HEC), which established CPEC Consortium of Universities in Islamabad to promote business-to-business linkages between China and Pakistan. The scope of the Consortium has recently been enhanced by adding 56 universities from the two countries, to cover all major areas of higher education.
Nevertheless, Pakistan needs to take similar initiatives at international level. Foreign Office along with various international trade missions maybe tasked to hold seminars, workshops and conferences to raise awareness regarding CPEC. Regional organizations including the Shanghai Cooperation Organization (SCO), South Asian Association for Regional Cooperation (SAARC) and the Organization Islamic Cooperation (OIC) maybe taken into the loop for raising awareness regarding investment and growth opportunities of CPEC. It maybe added that strong economic ties has the prospective of pacifying antagonistic rivalry and lead to cooperation in other strategic areas.
The turn in global events have aggravated the Western anxieties regarding the BRI as consisting of 'predatory initiatives' and CPEC has unfortunately become part of the spectra. The fact nevertheless is that 90 percent of developing country's debt, including that of Pakistan is outstanding to Western institutions and countries. It is also striking to note that China as a result of indigenous reforms was successfully able to pull over 800 million people out of poverty, whereas according to analysts Pakistan continues to be meshed in cycles of stagnated growth and debt trap, despite the assistance of IMF. A diplomatic effort to promote Pakistan's discourse on CPEC in the long-run would help enhance the scope of the project and gain the confidence of global investors.