Sri Lanka Appoints New Minister for Foreign Relations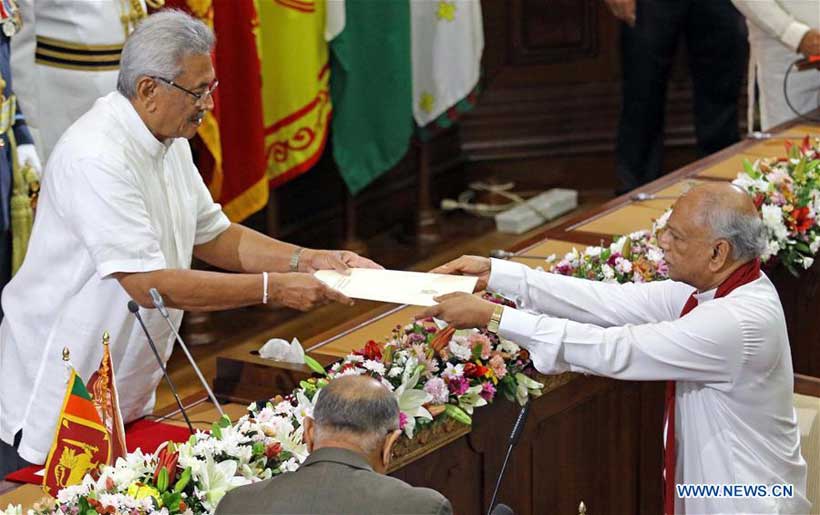 The newly-elected Sri Lankan President, Gotabaya Rajapaksa appointed Dinesh Gunawardena as the Minister of Foreign Relations after his Presidential election in 2019. In addition to Foreign Affairs, Dinesh Gunawardena was also appointed as the Minister of Skills Development, Employment and Labour Relations. The new foreign minister Gunawardena hails from a well known political family in Sri Lanka .His father Philip Gunawardena is a famous national hero known as 'the Father of Socialism'. Gunawardena a graduate from the University of Oregon in the US, entered politics in 1972. In 1983 as the general-secretary of Mahajana Eksath Peramuna's (MEP) he entered Parliament in a by-election held in Maharagma. He is well-known as a long-standing parliamentarian and has served as a minister several times since the mid 90s.
The new Minister of Foreign Relations Gunawardena is supposed to implement a friendly and Non-aligned Foreign Policy. In a recent newspaper interview he stated "Sri Lanka will have a strict neutral foreign policy where it will strive to have only friends and not foes among the global community"(Sunday Observer,2019).In this context there is a history to this non-aligned policy. At the outset, Sri Lanka was a founder member of the Non Aligned Movement (NAM). As part of this approach, the new Sri Lankan government had outlined in the manifesto how the presidency would implement the Foreign Policy over the next five years. The manifesto mentions a key phrase "Friendly and Non-aligned Foreign Policy .We will not fall on our knees before any country in maintaining foreign and trade relations. We will always be mindful of our national sovereignty and maintain friendly relations with other countries from a standpoint of equality. Our government will restore Sri Lanka's national pride and dignity". (Gotabaya Rajapaksa manifesto, 2019)
Minister of Foreign Relations Dinesh Gunawardena assumed duties at the Foreign Ministry on Monday 25 November 2019. While meeting staff members of Ministry of Foreign Affairs the Minister mentioned that the "Foreign Service is highly regarded and the entire country is looking towards the Foreign Ministry to find solutions for external pressures and challenges". Sri Lanka being an Indian Ocean island nation strategically located at the international maritime crossroads has significant diplomatic influence with the international community. Therefore Sri Lanka needs a far-sighted foreign policy vision along with well-aligned and sound domestic policies. It is, therefore, vital that the new Foreign minister sets out the country's position towards Asian, African nations and the West to ensure that Sri Lanka is able to achieve its foreign policy goals over the next five years.
Silver Linings of the New Political Map of Pakistan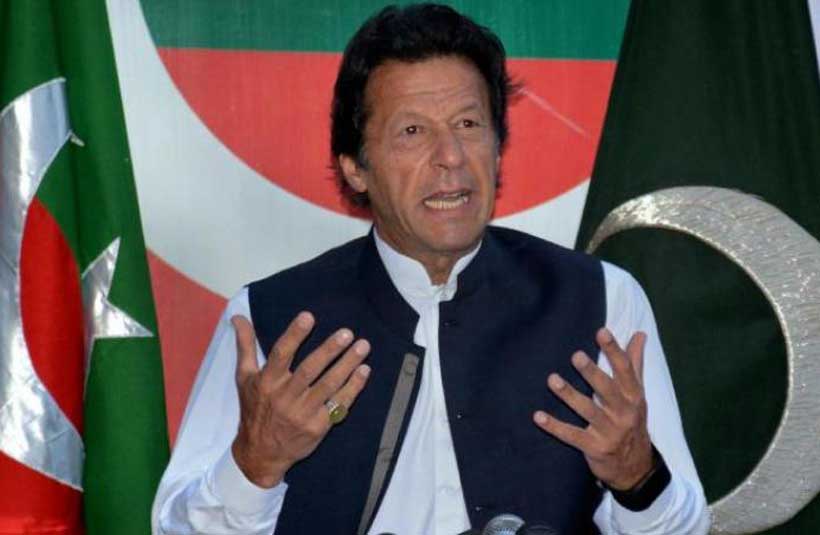 A 'new political map' of Pakistan was need of the hour in the midst of Indian controversial unilateral decisions in the region. With updated map, Pakistan clearly defines Jammu & Kashmir (J&K) as "disputed territory"; rejects Indian abrogation of Article 370 and 35-A that revoked J&K's semi-autonomous status; and demands United Nations Security Council (UNSC) resolutions on J&K to be implemented in their true letter and spirit.
In his address to the nation, on August 04, 2020, Prime Minister Pakistan Imran Khan reiterated the implementation of UNSC resolutions, giving the Kashmiri people their right to self-determination. "Their right to self-determination, given to them by the world community, has still not been given. And we clearly want to say to the world that it is the only solution," he said. As part of Pakistan's efforts, he assured that "we will do political struggle, we don't believe in military solutions. We will remind the UN again and again that you had made a promise [to the people of Kashmir] which you did not fulfill."
According to the new map, the final settlement of the J&K dispute will be in accordance with the UNSC resolutions. In this respect, the remaining area is clearly indicated as Indian Illegally Occupied Jammu & Kashmir (IIOJ&K). Second, the new map finally shows the long due development with the extension of the Line of Control (LoC) beyond NJ980420 to the Karakoram Pass, separating Pakistan and India's position in the context of Actual Ground Position Line. Third, Pakistan rejects Indian claim on the western bank with the line for Sir Creek on the eastern bank on the basis of Thalweg doctrine. Fourth, the present map clearly integrates Federally Administered Tribal Areas (FATA) with Pakistani province Khyber Pakhtunkhwa (KPK).
While rejecting the map, India regarded it "an exercise in political absurdity… these ridiculous assertions have neither legal validity nor international credibility". As per India's Ministry of External Affairs' statement, "Islamabad's move confirms the reality of Pakistan's obsession with territorial aggrandisement supported by cross-border terrorism". In response, Foreign Office of Pakistan rejected Indian MEA's statement and argued that "India cannot create a smokescreen for its illegal and unacceptable actions in Indian occupied Jammu & Kashmir, including those taken since 5 August 2019.It is preposterous for a country that is compulsively expansionist, and a brazen practitioner of state-terrorism, to level charges against others."
Indian response was misunderstood as well as misinterpreted, not to mention social media responses on the development. That is why, the record needs to be set straight. The new map strengthens sovereignty of Pakistan with clear depiction of its sovereign claims and country's position on its borders. Moreover, the new also negates the validity of all fake maps, circulating in and outside Pakistan. For instance, Post abrogation of article 370 and 35-A, Indian maps showed the illegally annexed areas of Jammu and Kashmir (including Ladakh) as well as the liberated areas of Azad Kashmir and Gilgit-Baltistan and Aksai Chin as belonging to India.
Since 1947, India has been in illegal occupation of parts of J&K and has continuously violated UNSC resolutions for many years. India does not pay heed to the international law and norms by manifesting textbook bigotry. Over the years, bids to quell the unflinching freedom struggle have not been fruitful for India. Pakistan's position, however, remains clear, unambiguous and consistent. The resolution of J&K dispute lies in the realization of the Kashmiris' inalienable right to self-determination through an impartial plebiscite as per the guidance of the UN. In addition, Pakistan needs to move forward from just highlighting the issue in various capitals around the world to lobbying for legislators, human rights activists and the international media to play their long overdue role in the peaceful struggle of Kashmiris' against Indian fascist designs. Nevertheless, the political map issued by Pakistan emphatically reaffirms this abiding commitment."
India – Nepal bilateral relations stripped by China's hegemonic theme in South Asia
During this amid global pandemic, India meets particular strain from its northern neighbors' country's foreign policy. India and China have a significant disparity over the border issue. India is standing up to china by standstill the economic activities in both countries. India and Nepal have a strong bilateral relation performed was a significant role in Himalayan frontiers. India and Nepal shared deep cultural, economic, social, and political relations over many centuries. The ties between both countries frayed slowly started from the border disputes that arose after defense minister Rajnath Singh inaugurated a crucial road going through lipulekh to Kailash and Manasarovar, that route could quickly build connectivity within India with the Tibetan Plateau. The Nepal government protested that it could challenge the national sovereignty and status quo and fueled the #back of India movement in Nepal, which became a principal reason for bilateral instability in both countries. Nepal proclaims 400 sq km of Indian land in Kalapani, Lipulekh, and Limpiyadhura as part of Nepal territory. Kathmandu sends the new political map to the United Nations and Google for international recognition. India and Nepal claim the same disputed territory on their political map. India was the primary trade partner of Nepal, more than 65% of Nepal's trade deals are possible through the Indian ports, so India dominated a larger scale in Nepal import and export sectors. In the meantime, China attempts to replace India's position in Nepal's economic and political domain. Recently Chinese President Xi Jinping said, "China and Nepal have always treated each other as equals," although China revived the rail project between Nepal and China, the project cost estimate over USD 300 Million, with the determined deadline of completion in 2025. After the Rail connectivity, China ultimately became a lager trade partner in Nepal overthrow India. The domestic politics of Nepal, Currently Nepal ruling party Nepal Communist Party (NCP), is looking for political interest through China. Nepal is tilting towards China under the leadership of Prime Minister K P Oli and his Nepal Communist Party. Nepal took actions including banned Indian private news network broadcasting in Nepal, changed its citizen's law, which makes disconcerted for India and constructed a helipad in a disputed location. China people liberation army (PLA) recently deploy the troops in Lipulekh pass, which currently disputed land between India and Nepal border. China mainly intervenes with India and Nepal's disputes to obtain Nepal support accomplished to constrain India. China played a pivotal role in generating the anti-Indian rhetoric approach in Nepal's internal domain.
Why is Nepal significant for China's expansionism?
In Contemporary world politics, Dragon adopted an encroach approach upon neighbors' countries. Nepal became a preeminent part of Chinese command and strategies to contend with India in every possible channel. Although the ambitious project of China to revive the ancient silk route and became the dominant financial capital in south Asia, it could be possible by Nepal's proximity. China is striving to stimulate and tempt Nepal with multiple aids, economic growth, and acquisition by coordinating with the current ruling party of Nepal. On 2nd July 2018, The Business Standard published an article that highlights "by throwing money at Nepal, China limiting India influence in the region" for an extended period, China was invested in Nepal to gain political backing. Nepal is undoubtedly an essential aspect of the security of Indian's borders. China's military troops frequently entered in Indian territory (northeast state), and Nepal always became a barrier for such expansionism footsteps towards India's territory. The border dispute was not new between both countries started from the Sugauli Treaty to kali river disputes, and both nations resolve such issues with bilateral negotiations. India also needs to ensure and revitalize the peace treaty between both countries. As sooner India solve the border dispute, it ultimately creates less chance to china's intervene.
Since the dispute occurred, India and Nepal finally agreed for a custom high-level meeting regarding address the connectivity and development in both countries. India needs to adopt soft power diplomacy to maintain goodwill political relations with Nepal. As this global pandemic circumstances, India provided pharmaceutical and financial assistance to Nepal citizens. As a democratic ethics laden nation, Nepal – India border issue is easily solvable, with the restoration of the peace treaty with the modernized canvas. India requires adopting a new foreign policy to retrieve peaceful treaties with a new approach to cooperation with Nepal. India always admired the neighborhood's first policy. The regional cooperation in the south Asian region necessitated fostering by India. India requires to get its act together and promote the regional cooperation structures with an inter-governmental organization that would unite the southern Asia region, such as the SAARC and BIMSTEC.
Rethinking "Naya" Pakistan
"We (Pakistan) will eat grass, even go hungry, but we will get one of our own (Atom bomb), We have no other choice!" said ZA Bhutto, the then President of Pakistan. Almost 55 years have passed since then and Pakistan now, is on the verge of getting a title of 'a failing nation'. The whole journey of this nation is full of ups and downs. Prime Minister Imran Khan came into power by promising to create a "Naya Pakistan", however almost 2 years have passed and there is no sign of any major development in the country. From the last two decades, Pakistan is being labelled as the failed nation and has suffered bankruptcy along with bad governance-related issues. Although having an alliance with U.S.A (earlier) and now with China has helped the nation to overcome these Situations but nothing major can be pointed out. The current Prime Minister Imran Khan followed the same modus operandi of any other political party, i.e. to criticize the previous governments for the economic downturn and didn't achieve anything significant in the process of reviving Pakistan's economy. The economic downturn can be seen with the multiplicity of other factors such as the low foreign exchange reserves, low exports and high inflation. During his election rallies, PM Imran Khan promised to put the nation on the path of development and even expressed his views to promote the relations with India. However, during his tenure, the relations with India has only worsened. From domestic affairs to international affairs, the involvement of the Pakistani Army in the policymaking has increased in recent years. Gopalaswami Parthasarathy once said that "Every country has an army but in Pakistan, an army has a country", this very simple statement shows the deep involvement of the Pakistani army in the domestic issues.
Let's discuss the major challenges of Pakistan has facing now
Economic Challenges
India and Pakistan went different ways when India got independence from Britishers. However, the countries suffered the same fate in the early years with their same socio-economic conditions; with nearly half of the population under poverty. Both nations shared the same economic challenges but where one side India's gradual economic development attracted foreign investors, Pakistan's involvement in the Afghan war, the emergence of religious parties and domination of army in domestic affairs made Pakistan's economic development arduous. From 1988, Pakistan has sought assistance from the IMF more than 10 times, which indicates its bad economic policies and planning. Pakistan has always shared its GDP's lion share to its Army and nuclear programs, unfortunately, this made Pakistan's economic planning incompetent. According to the budget of the fiscal year 2019-20 of Pakistan, all the major economic indicators have shown a downward movement like the growth indicator went down almost by 50% from 6.2 % to 3.3 % and even the inflation indicator is expected to go down by 13%. These figures are all-time low in the last 10 years and the recent bailout package worth $ 6 billion from IMF needs strong political will power in policymaking.
Religious Minorities
The Constitution of Pakistan guarantees "fundamental rights, including equality of status, of opportunity and before the law, social, economic and political justice, and freedom of thought, expression, belief, faith, worship and association, subject to the law and public morality" to its citizens. Many years have passed but none of these rights were ever given to the minorities of Pakistan. In 2018, Imran Khan promised that "PTI will protect the civil, social and religious rights of minorities; their places of worship, property and institutions as laid down in the Constitution." But according to the USCIRF 2020 report, the continuous negative trends show the systematic enforcement of blasphemy and anti-Ahmadiyya laws, and authorities' failure to address forced conversions of religious minorities—including Hindus, Christians, and Sikhs—to Islam, indicating the severely restricted freedom of religion or belief. Pakistan has a rich culture because of the different religious communities but the increasing persecution and atrocities cases on the minorities shows the worrisome disparity in the society. In 2019, a Hindu veterinarian has been charged with the blasphemy against Islam and protestors even burned down the shops of many Hindu shop owners. Increasing extremism and intolerance towards minorities in Pakistan is one of the major concerns for international organisations. In the same report of USCIRF mentioned that around 80 people were imprisoned for blasphemy, and half of them are facing the life sentence or death. This law has been used as the major tool for hardliners to marginalize the minority communities and over 70 people had been lynched to death in Pakistan on blasphemy charges since 1990. All these cases raise the questions on the current government and its efforts to promote a safe society.
Judicial Corruption
"All the rights secured to the citizens under the Constitution are worth nothing, and a mere bubble, except guaranteed to them by an independent and virtuous Judiciary." Said Andrew Jackson.
Having an independent judiciary system is one of the most important pillars for any democratic nation but in the case of Pakistan, it's just another tool for oppression and abuse of power. Recently Pakistan got 120th rank in the rule of law 2020 index out of 128 countries, the three major indicators went down negative. In 2019, a video went viral in which a NAB judge was discussing how he convicted the former prime minister of Pakistan Nawaz Sharif for owning unexplained properties in London, delivered his decision under coercion. Since 1973, Armed forces targeted the independence of the judiciary to manipulate the decisions in their favour. In 2018, Islamabad high court judge was sacked for accusing the ISI as he said that country's intelligence agency was manipulating the judicial proceedings to get the favourable decisions. This was not the first time where the involvement of ISIS undermined the independence of the judiciary system of this nation. Unfortunately, this was the case that happened during the making of so-called Naya Pakistan of Imran Khan.
Way forward
These are not the only areas where Pakistan is suffering but even the corrupt bureaucratic system and bad foreign policy choices put the country on the path to isolation in the international arena. The continuous obsession over Kashmir and growing extremism in the country can be seen in the policymaking process. People of Pakistan need to rethink about the idea of "Naya Pakistan" and the constant military involvement in their domestic affairs. Though PM Imran khan has tried to make some positive efforts towards religious minorities but he has failed to bring out any major changes in the society. As the Pakistani economy is already struggling, the recent COVID outbreak will soon put the nation on the ventilator support. One can decipher that the Imran Khan government will soon be facing major challenges in front of him and the only way forward would be taking difficult decisions such as to reform the existing economic and foreign policy.