Kartarpur may be the first drop of rain
On November 09th, 2019, Pakistan and India opened the first-ever visa-free corridor between the two countries to facilitate the pilgrimage of Sikhs – a minority community in both India and Pakistan but with major chunk of its populace settled in India – to their second holiest site located in Katarpur, a border village in Pakistan's Punjab province.
Inaugurated on the respective sides by the Prime Ministers of India and Pakistan, the4.1 km long corridor –connecting­ Dera Baba Nanak Shrine in India with Gurudwara Kartarpur Sahib in Pakistan – will enable more than5,000 devotees to visit the holy shrine everyday and is widely being regarded as the first drop of rain in the decade's long history of the desiccated and conflictual relationship between the two neighbours.
An occurrence such momentous that it effectively exalted Prime Minister of Pakistan Imran Khan as the most beloved figurefor Sikhs, besides actuating Prime Minister Narendra Modi to issue a rare and extraordinary message of gratitude towards his Pakistani counterpart, despite the contextual reality that later has been drawing parallels between the Indian PM and Nazi leader Hitler after the Indian government's draconian venture in the disputed region of Jammu and Kashmir (J&K) steeped the relations between the two countries to an unprecedented low.
The trudge to this landmark breakthrough was as arduous and bumpy as it could have been between the two nations that share a 07 decades-long history of the antagonism. Although, the demand of Sikhs to be granted access to the revered shrine – located just a few kilometers away from the Redcliff Line – is as old as the two antagonist nations, interminable strains in the relationship between the two countries proved to be an impediment in the way of this few kilometers of journey across the border.
Even as Pakistan extended the olive branch and Indian politician Navjot Singh Sihdu – who attended PM Khan's oath-taking ceremony in August last year – was apprised by Pakistani COAS about his country's readiness to open the "corridor of peace", cynicism and suspicion from Indian side were axiomatic. Sidhu was barraged with denunciation back home for embracing Pakistan's top military official, while the sciolists in Indian political and strategic community tried to conjecture about the "covert designs" behind Pakistan's apparently benevolent move. Indisputably, India was not left with any other choice except for accepting the Pakistani offer as responding otherwise could have infuriated its 22 million-strong Sikh minority. Though the Modi government hesitatingly expressed its consent for the construction of the corridor, it didn't respond positively to the successive dialogue offers made by PM Khan.
To add to the complexity was the hyper-nationalistic and anti-Pakistan narrative adopted by PM Modi during his recent election campaign after he had fallen short of delivering on his previous election promises as regards transforming the Indian economy and improving people's lives. As if Pakistan bashing was not enough to garner votes, Modi went as far as to push the two countries almost to the brink of a nuclear exchange in February 2019 when in response to an attack– purported to be a false-flag – at Indian security forces in restive Kashmir, he ordered Indian Air Force (IAF) to bomb targets inside mainland Pakistan, provoking a daring response from Pakistan Air Force (PAF) the next day resulting in the downing of an IAF jet and arrest of an Indian pilot by Pakistani forces, who was returned few days later.
Nevertheless, the perilous brinkmanship worked spectacularly for Modi and his right-wing BJP secured an overwhelming majority in the lower house of parliament, full credit to the shrewd manipulation of mainstream and social media– which abetted the regime's efforts to cunningly overshadow the embarrassment of aircraft downing and capture of pilot with the celebrations of "punishing Pakistan".
After winning elections, Modi further upped the ante in the disputed J&K and after imposing an all-out communication clampdown and enacting a security blanket over the valley of Kashmir – the state's only Muslim majority region – unilaterally repealed the region's decades-old semi-autonomous status.
Predictably, it evoked a strong response from Pakistan which downgraded diplomatic ties with India, cut-off trade and expelled the Indian High Commissioner while refusing to send his own to New Delhi. Then followed a long diplomatic scrimmage between the two countries with Pakistan trying to rally the support of international community against the tyrannical Indian moves in the occupied valley and India responding with counter moves aimed at hurting Pakistan diplomatically and economically, besides propagating the deceitful mantra of "all is well" for Kashmir.
Notwithstanding the reignited tensions, when Pakistan decided to move ahead with the opening of the corridor as per schedule, it was regarded as a bold diplomatic move. Though it would have earn the country appreciation abroad, a severe backlash from the opposition at home was very much on the cards and at a time when leader of a right-wing political party Maulana Fazal-ur-Rehman was holding a sit-in in Islamabad with his thousands of zealot supporters demanding Khan's resignation, the risk of domestic backlash had increased manifold.
Nevertheless, Khan's government with the undisguised support of country's powerful military moved ahead with the decision despite criticism from opposition politicians like Maulana Fazal-ur-Rehman and Bilawal Bhutto Zardari – whose left-wing Pakistan People's Party (PPP) frequently champions religious freedom and interfaith harmony but didn't miss the opportune moment to ensure the "obligatory" political point-scoring.
Although, Pakistan has made a landmark move despite soaring regional tensions and domestic pressure and opening of the border corridor can be rightfully considered as the first drop of rain after decades of desiccation, the chances that a rainstorm may follow which can convert the roads into the river, remain ever more slim and the major impediment is the simmering volcano; the dispute of Jammu & Kashmir (J&K) – a sticking point mentioned by Khan in his speech on the day of the inauguration of corridor.
For more than seven decades the outstanding issue of J&K has been instigating hostilities between the two now nuclear-armed neighbors and recent unilateral actions by India – which violate numerous United Nations Security Council (UNSC) Resolutions and various bilateral accords with Pakistan – have just added to the fire and fury. Essentially, Modi's regime's recent actions in J&K has taken the matters to a point of no-return and the chances of Pakistan making any further peace overtures towards India or responding to any – though highly unlikely – Indian peace initiative, are slightest.
The pessimism around talks has already been echoed by Khan when he made it abundantly clear that until Indian government ends its oppressive clampdown in the valley of Kashmir and restores pre-August 5th, 2019 status of disputed J&K – an even distant possibility – negotiations remains out of question.
Even though, there is a remote possibility that Khan's government – which has almost lost its initially built momentum against India over Kashmir and seems to be more concerned with other domestic and regional issues – will even subtly try to normalize the relationship with India, yet a slight nuance of any such move is likely to evoke strong backlash from country's religious right as well as the political opposition. And given the virtual reality that supporting Kashmir cause is regarded as a symbol of nationalism in Pakistan, and country's powerful military establishment and Khan are already facing accusations of striking a deal on Kashmir, it is even unlikely that Pakistan will venture on taking any further risk of making up with India, only to spark a general enragement.
India under Modi is undergoing a massive transformation and into the 6th consecutive year of BJP's rule, the country's fundamental secular outlook is under threat. In 1947, while Pakistan was being founded as a country for Muslims, India's founding fathers envisioned a secular outlook for the culturally, religiously and ethnically diverse country. Seven decades below the line, Modi regime – despite publically pledging to safeguard India's secular constitution – has embraced a fundamentally opposite course.
Rise of far-right may be a global phenomenon but India presents the most extreme and violent version of this imminent menace – a reality axiomatic by the rising religious intolerance, especially against Muslims; increased and generally overlooked incidents of mob-violence against minorities; cow vigilantes– which represent a militant brand of Hindu nationalism – patrolling the streets of India to impose their own version of "law" under state's patronage; a sudden rise in the incidents of hate speech by the leaders of ruling party without facing any admonishment; the taming of Indian media to ally with government's jingoistic policies and religiously incendiary rhetoric; various democratic and constitutional institutions conceding to the majoritarian impulse rather than adhering to constitution; ever reducing political space for dissent and opposition parties; and the recently introduced Citizenship Amendment Bill, which exclusively discriminates against Muslims.
These alarming trends clearly point out that Modi regime – in pursuance of Hindu supremacist Hindutva ideology – is steadfastly navigating the world's largest democracy into the abyss of Fascism. Arguably, given the emerging trends in Indian society, Khan's analogy between Modi and Hitler was not that erroneous and many Indian politicians and commentators have also expressed concerns that the early signs of Fascism are already obvious in Indian society.
Narendra Modi – who came to power with an alluring economic reform and development agenda – is now totally reliant on anti-Muslim divisive politics and to a tragic consorting, the democratic and constitutional institutions of the country – which were to place a hindrance in the way of this majoritarian brand of politics – seem to be accomplices. With no institutional and social hindrance to the Hindutva –a brand of politics kept at bay for many decades – this divisive menace is now finally engulfing India's political and social landscape and ultimately threatens the internal cohesion of diverse Indian society.
Given the ideological and historical context, Kashmir presented a test-case for the protagonists of Hindutva. The state of J&K – a Muslim majority region that acceded to Hindu majority India –was cherished as asymbol of India's secular identity. However, Modi's government's revocation of region's special status – which is fundamentally aimed at paving the way for introducing massive demographic changes in the region converting Muslims into a minority, essentially following the Israeli model in the West Bank –will not only help the regime in crushing the self-determination sentiments in the valley but will also be a major milestone achievement en route to transforming India into a Hindu state.
Ironically, Muslims living in India are not the only prey of rising Hindu Fascism and expansionist Hindutva have regional and global implications. Being a homeland to the successors of those "outsiders" who ruled the Hindu majority India for more than 850 years, Pakistan becomes the major nuisance for the Hindu supremacists currently in-charge in India. February 2019 nuclear brinkmanship by Modi regime; uninterruptedPakistan bashing by Indian media; adaptation of a well-choreographed anti-Pakistan narrative during elections campaigns by Indian politicians; vigorous Indian attempts to get Pakistan blacklisted by FATF; and continuous fomentation of subversive activities by Indian intelligence inside Pakistan point out that Pakistan's long-held apprehensions about India plotting to weaken the country's federation to ultimately subsume its tumbling parts, were not misplaced.
In fact, weakening Pakistan internally, disintegrating it and ultimately subsume its parts will be a step forward in the way of realization of the "Greater India" dream of Rashtriya Swayamsevak Sangh (RSS),the organization regarded as the ideological patron of ruling BJP and the major proponent of Hindu supremacist, majoritarian and expansionist Hindutva ideology with current Indian PM and most of the leaders of BJP as its life-long members.
To put the things in a nutshell, the opening of the Kartarpur corridor may be a sanguine gesture by Pakistan but India doesn't seem to be even interested in some reciprocity. The issue of J&K – which has become further complicated due to India's overassertive and intransigent attitude – presents an immediate stumbling block in the way of this "first drop of rain" being followed by a "downpour"– which can turn the dry and desiccated road into a river.
In the long-run, as the Modi government pursues the Hindutva policies and continues on a path to hurt Pakistan internally, economically and globally, chances of any further optimistic gesture from either side become even remote. And given the aforementioned immediate and long-term hurdles and the virtual reality that relations between the two countries have gone such desiccated that only continuous down pouring turning the roads into the rivers can provide the required panacea, Kartarpur corridor is likely to be proved as yet another noteworthy but futile confidence-building measure (CBM), without any significant headway towards long-lasting peace in the region.
Pakistan desires dialogue and cooperation with the EU
Renew Europe, a liberal, pro-European political group of the European Parliament, presented a resolution and was passed by the EU by an overwhelming majority of 681 votes against six only. Extremist, racist groups influence the EU. No doubt, the whole world is suffering from intolerance and extremism. There are many racist movements in America and Europe too.
Pakistan being an open and democratic country, enjoys total freedom of expression to its citizen. There must be diverse voices within Pakistan. The Government of Pakistan is a parliamentary system. All matters are discussed in the parliament, which is responsible for building consensus on all crucial issues and addressing the concerns of all groups, factions, parties, minorities, etc.
Historically, Pakistan was a very tolerant and peace-loving, balanced society, but during the 1980s war in Afghanistan, Pakistan was radicalized by design. The western world deliberately promoted intolerance, religious extremist, and terrorism. Almost all intelligence agencies of the leading Western World were engaged in Pakistan for arming, training, and inspiring youth for Jihad in Afghanistan. These international intelligence agencies collected radical individuals from all over the world and concentrated them in Pakistan to launch Jihad in Afghanistan; Many terrorist organizations were created by them in the whole Muslim world, was either, Mujahideen, Taliban, Daesh, Al-Qaida, or ISIS, Boko-Haram, or any other militant group, was the creation of Western World and used for particular objectives. After achieving their goals, they banned them and kept their distance from them. And she was now blaming them for terrorism, Unfortunate!
Pakistan was a close ally of the US, NATO, and Europe (Western World), an essential front-line state in the Afghan war, and a non-NATO ally in the war on terror. Pakistan suffered extremism, intolerance, terrorism, gun culture, and drug culture, promoted by the Western world. Pakistan is a victim state.
The visionary leadership in Pakistan is very much clear about the situation and determined to establish the rit of government while staying within the democratic values of our system. The recent unrest in Pakistan was a domestic issue, just like in many parts of Europe and America. The incident of Capitol Hill, Killing of Gorge Floyd, and followed continued protests and demonstrations in America; agitations, demonstrations in many parts of Europe are witnessed often, it is believed that all governments are trying to resolve their domestic issues within their Constitution. There was no external pressure on either of these governments. It is expected that let Pakistan overcome its domestic crisis, and the capable Government of PM Imran Khan has already resolved the issue amicably.
Under this scenario, the adoption of a resolution by the EU is not appreciated and, in fact, has hurt the feeling of ordinary Pakistani. It reflects the bias of EU only. A resolution presented by the extremist group should not be the voice of the whole EU. Trust, there must be many reasonable, moderate, and unbiased members in the EU parliament who think logically and rationally. The adoption of such a resolution is totally irrational, irresponsible, and against the globalization spirit.
While Pakistan is engaged to clear the mess created by Western World and almost near to succeed entirely, there is a dire need for International support, and coercion may not be fruitful at this critical moment. It is hoped that the EU may re-consider the resolution and revert it immediately. All peace-loving parliamentarians in the EU are appealed to think rationally and logically to promote international cooperation and understanding to defeat intolerance, bais, extremist, terrorism and turn the whole world into a better place to live and gift our next generation peace, stability, harmony, and prosperity.
However, Islamophobia is an international phenomenon in recent decades all over the Western World. The Prime Minister of Pakistan mentioned it in his speech at the United Nations General assembly (UNGA) last year. A similar resolution was also passed in the OIC. The whole Muslim World is worried and unhappy over blasphemy in the few western countries. There were protests and demonstrations by Muslims all over the world, with various intensities. At the same time, Muslims respect other religions and deserve to reciprocate respect for Islam.
The federal government in Pakistan has decided to address the European Parliament's reservations after the body had called for an appraisal of Pakistan's GSP Plus status. The development came after Prime Minister Imran Khan chaired a meeting involving senior ministers of the cabinet. It was called in response to a resolution approved by the European Parliament a few days ago, calling for an assessment of Pakistan's GSP Plus status. The premier stressed the government would not compromise on the laws about the finality of the Prophethood. The participants, during the meeting, decided to address the reservations of the European Union. It was also unanimously agreed that the protection of minorities in the country would be ensured. The participants believed the GSP Plus trade agreement has nothing to with blasphemy laws.
In response to the European Parliament's resolution, the Foreign Office had expressed disappointment over the development."The discourse in the European Parliament reflects a lack of understanding in the context of blasphemy laws and associated religious sensitivities in Pakistan – and the wider Muslim world. The unwarranted commentary about Pakistan's judicial system and domestic laws are regrettable," read a statement by the FO.
"Pakistan is a parliamentary democracy with a vibrant civil society, free media, and independent judiciary, which remains fully committed to the promotion and protection of human rights for all its citizens without discrimination," the Foreign Office had added.
The FO had emphasized that Pakistan is proud of its minorities who enjoy equal rights and complete protection of fundamental freedoms as enshrined in the Constitution. Judicial and administrative mechanisms and remedies are in place to guard against any human rights violations.
"Pakistan has played an active role in promoting freedom of religion or belief, tolerance, and inter-faith harmony. At a time of rising Islamophobia and populism, the international community must exhibit a common resolve to fight xenophobia, intolerance, and incitement to violence based on religion or belief and work together to strengthen peaceful co-existence."
There exist multiple mechanisms in place between Pakistan and the EU to discuss the all-inclusive spectrum of bilateral relations, including a devoted Dialogue on Democracy, Rule of Law, Governance, and Human Rights. Pakistan would continue to remain definitely engaged with the EU on all issues of mutual interest. Pakistan believes in dialogue under the charter of the UN. Pakistan desires an early dialogue and settlement of all differences amicably. Any unilateral decision may not be fruitful to either side. It is time to strengthen our ties and mutual support. Only by collective efforts may we turn this universe into a better place to live for humankind. Pakistan assures its best possible cooperation at all times and awaits reciprocity from the EU.
Religion Freedom Index of Bangladesh: Current Developments and Government Responses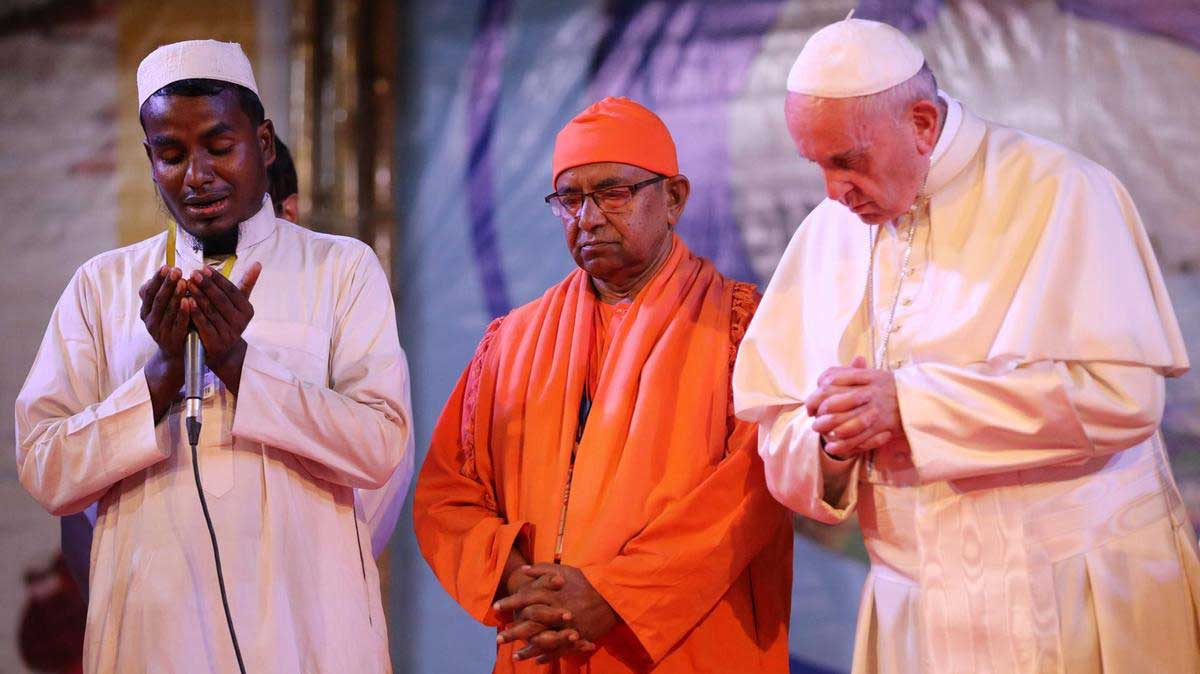 Aid to the Church in Need (ACN) recently published its annual Religious Freedom in the World 2021 Report (RFR) that scrutinizes the situation for all major religion groups in 196 countries across the world. The report found that, over the past two years, oppression against susceptible faith communities has augmented in all but one of the 26 countries listed in the survey's worst ('red') category. Bangladesh is that only country whose position on the red list of religious persecution remains unchanged.
The annual report says that religious freedom is being undermined in one out of every three countries in the world which composed two-thirds of the world population. 62 countries out of a total of 196 face severe violations of religious freedom. The situation of minorities in India and Pakistan is deteriorating further. The situation in China and Myanmar is the worst. According to the report, the situation is worse in 95 percent of the 26 countries where persecution is taking place. Nine new countries have been included in this list- seven from Africa and two from Asia.
The report on Bangladesh says that the torture of minorities has not increased in recent years but the influence of Islamic groups is increasing in the politics of Bangladesh. However, the government has been successful in subdue the influence and maintaining religious freedom. For instance, after the rise of Islam-fabric politicization leading by "Hefazat-e-Islam", the top leaders and at least 375 people nabbed for their recent violent activities. The strict position of law enforcement agencies against the rampage of the group denotes the zero-tolerance of Bangladesh government in ensuring religious freedom and upholding "secularism" which is one of the state principals of its constitution. The argument can be evident with the recent report of the European Foundation for South Asian Studies (EFSAS) titled, "Bangladesh and Pakistan: acting against extremism versus making a show of acting against extremism". Highlighting the activities of the Islamist group Hefazat-e-Islam (HIB) in Bangladesh and the radical Tehreek-e-Labbaik (TLP) in Pakistan, the report comments that Bangladesh government has been making "noticeable progress in dealing with the radical Islamist HIB whereas Pakistan has floundered dramatically in its inconsistent, ill-considered and ill-implemented attempts to pacify the TLP". Besides, the initiatives of the Bangladesh government in protecting the minority rights are so much praiseworthy.
According to the 2019 Report on International Religious Freedom of US Department of State, to advocate the minority rights and to foster religious tolerance, Bangladesh government has taken a number of initiatives such as-
•Providing guidance to imams throughout the country to prevent militancy and monitoring mosques for "provocative messaging".
•Deploying law enforcement personnel at religious sites, festivals, and events considering potential violence. The Economic Times reported that 30,000 and 31,272Durga Pujas were organized across the country in 2017 and 2018 respectively without any security issue.
•Zero-tolerance to Islamic militancy. For instance, Special Tribunal convicted and sentenced to death seven of eight defendants who were accused in the 2016 killings of 22 mostly non-Muslim individuals at the Holey Artisan Bakery in Dhaka.
•Offering stipends to students from the minority groups in the primary and secondary level; and
•Providing funds for minority rituals and social activities.
Most importantly, Bangladesh ensures a level playing field in the employment sectors and a viable people-to-people contact. 'Dhormo Jaar Jaar, Utsob Shobar,' (Religion for own, but festivals for all" is a testimony of its secular values and communal harmony. The ACN report itself showed, in Bangladesh, where due to fear of infection, minority faith groups were incapable of offering the last rites to family members, an Islamic charity buried not only Muslim but also Hindu and Christian victims of COVID-19. Besides, reliefs were equally provided to every sector of the society regardless of their race or religion.
To conclude, Bangladesh always believes in fraternity beyond ethno-religious affiliations and practiced secularism in daily life throughout the history. But at present, due to the rise of right-wing populist politics both at regional and global level and rise of fundamentalism, religious harmony in Bangladesh is also affected. However, comparatively, Bangladesh is doing better than many regional states and the country is destined to overcome the challenges in near future due to the pro-active role of the government in this regard.
West Bengal Election: Implications for Indian Politics
After a tumultuous eight phase election process, Trinamool congress has become successful to retain power for consecutive third terms amidst growing popularity of saffron tide. However, Mamata Banarjee's Trinamool congress has successfully halted the tide at West Bengal frontier. The victory of TMC in the state testifies to "Bengal Exceptionalism" and is also a victory for Indian secularism.
The Trinamool Congress (TMC) victory in the assembly election has far reaching repercussions for wider Indian politics. For one, it sends a resounding message to Bharatiya Janata Party (BJP) that their dream of monolithic Hindu India is still far-fetched. While BJP was much enthusiastic and ardent to gain a victory in the election, as evidenced by Amit Shah's intermittent visit to Bengal and the latter's incendiary rhetoric and Prime Minister Modi's several visit to state to canvass votes. Interestingly, the ubiquitous display of Narendra Modi's posters led one commentator to sardonically quip whether NarendraModi is vying for chief minister position. This partly explains the importance BJP and Narendra Modi attached to West Bengal election.
Above all, this election was important for BJP to prove their regional appeal. BJP's vision of "one state, one party" largely hinged on the victory in the Bengal. If BJP could win in Bengal, there had been possibility that other states would fall in order. This significance of Bengal election illuminates the importance that BJP attached to Bengal and their buoyant activities to seal the victory.
Bengal was long been known as bastion of ethnic politics rather than communal one. It was never been a fortress of all-India political parties. Even, in its heyday of all India politics, Indian National Congress (INC) couldn't gain much favor in Bengal election as the politics in Bengal is driven by an appeal to "Bengali-ness" which other nationwide party lacks.
However, upheavals in Bengal politics had been unmistakable in recent times. Especially, the event of BJP's significant performance in 2019 union elections led some observes to presage an ominous trend of Bengal politics unfolding. The BJP's 40% share of vote from Bengal is largely an anomaly in the Bengal's election history where all India political parties had hard time managing minuscule portion of the votes. The 2019 election result therefore doesn't augur well for TMC in 2021.The defections of stalwart TMC leaders in favor of BJP exacerbated this grim predication and forbade an electoral mishap for TMC.
The detractors implicated Trinamool Congress for power abuse, extortion, misappropriation of welfare money and egregious Muslim appeasement. Especially, BJP seek to frame Trinamool Congress as anti-Hindu party. They had pointed to how Mamata Banarjee had benefitted Muslim clerics inordinately by providing them with benefits which their counterpart of Hindu religion was deprived of. Beside, "Bangladesh Card" had been recurrently employed to accuse the alleged lenient approach of TMC with regards to Bangladeshi migrants.
BJP capitalized on anti-incumbency resentment emanating from prolonged period of TMC role which had generated local level corrupted politician and scandals of misappropriated welfare schemes facilitated BJP rhetoric. Besides, BJP promised that the coordination with center government will be far easier if BJP gains state power. BJP rallied unemployed youth with the pledge of jobs had BJP
ascent to Bengal throne. Above all, BJP appealed to Hindu sentiments of the 60% majority Hindus of the state.
However, with the charismatic leadership of Mamata Banarjee and the promise of being rooted in Bengali soil and a proponent for peaceful communal relations, Mamata Banarjee's TMC has been indomitable as manifested by resounding victory of Trinamool Congress.
The BJP's promise of "Hindu Bengal" hadn't materialized as West Bengal had long been a fortress of communal harmony, largely an aberration from all other Indian states. This communal harmony has been again bolstered by defeat of BJP in the assembly election.
The result of the election will largely reverberate across India with far-reaching consequences. Firstly, the victory of Trinamool Congress means that Modi's vision of monolithic India isn't viable in view regional peculiarities. Secondly, it safeguards the federal structure of India in face of increasing intrusion of central government. It also will restrain Narendra Modi's unchecked centralization of the state. Thirdly, it will make Mamata Banarjee a spokesperson and central figure of anti-BJP movement in absence of vigorous congress presence. Fourthly, it puts an end to NarendraModi's contentious CAA(Citizen Amendment Act) and other policies.
Lastly, this win of Mamata Banarjee has the possibility of catapulting her to the heft of an all India leader. Especially, in the absence of a BJP's strong chief minister face, Mamata Banarjee was vying with Prime Minister Narendra Modi. This has momentous implication. This will consolidate the popularity of TMC in other states also with the image of Mamata Banarjee and memory of implicitly defeating Narendra Modi serving as an accelerator of her all-India appeal.
Nevertheless, there is marked indications that the Bengal politics has irrevocably altered in the process of this election. While Bengal had long been the indisputable image of Indian secularism, the communal tendencies have made deep inroads in Bengal politics. BJP has surpassed all other local political parties and now only second to TMC. This trend is unnerving for secular Bengal as well as India. However, it can now rightly be articulated that saffron tide of communalism has been retarded. This victory of Mamata Banarjee has reverberation across India and can be termed as the victory of Indian secularism and federalism.