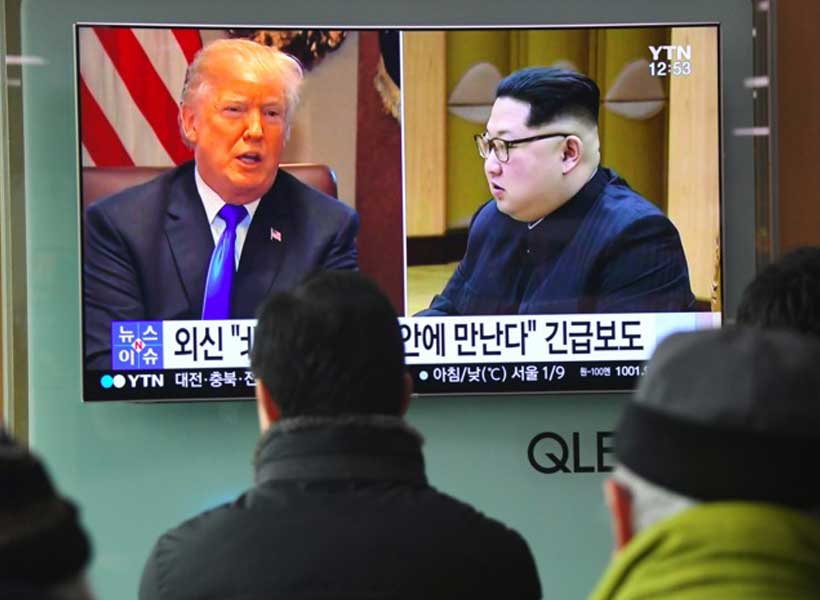 It's Back to "Rocket Man": Trump Steadily expanding risks of a Nuclear war With North Korea
"Fools, visionaries, sufferers from delusions, neurotics and lunatics have played great roles at all times in the history of mankind, and not merely when the accident of birth had bequeathed them sovereignty. Usually, they have wreaked havoc."-Sigmund Freud
"We fell in love" crowed Donald Trump about Kim Jung Un, after their Singapore summit back in June 2018. But this grotesquely curious romance was destined not to last. In fact, since early December 2019, it's been consistently retrograde, back to Trump's nonsensical recriminations; that is, to the American president's conspicuously demeaning reliance upon childish epithets.
But to what conceivable strategic purpose? Once again, at least for the still-dissembling White House, it's not about substantive geopolitical threats. Instead of purposefully enhancing American diplomatic leverage – which might actually make some bargaining sense – it's just about "rocket man."[1]
Even at this late point, objective strategic analyses are altogether necessary. Leaving aside the obvious futility of launching ad hominem insults as allegedly productive diplomacy, any upcoming crisis decision-making processes between Washington and Pyongyang will be shaped by Kim Jung Un's unswerving commitment to personal military power. Inevitably, the flagrantly simplistic notion that this North Korean dictator would ever consider trading off the most visibly tangible implements of such power for presumptive national economic benefits is erroneous on its face.
In strategic matters, truth is always exculpatory. North Korea's nuclear arsenal is irreversible. Prima facie, "denuclearization" remains an unrealizable goal – a bitterly naive and conveniently distracting fiction.[2]
What next? The best case scenario available to the United States must now be a mutually acceptable relationship of stable nuclear deterrence. Still, there will be various "potholes" and recurrently unpredictable nuances. Going forward, a generally understated but particularly serious sub-risk for both the United States and North Korea will concern inadvertent nuclear war.
Oddly enough, the actual level of public concern about such prospectively grievous conflict – at least from the standpoint of palpable population fears – remains incommensurately small.
Now what? To begin, President Trump must carefully approach these complex issues at a suitably conceptual level. Then inter alia, it would become easier for Trump and his advisors to understand that the specific nuclear war risks posed by inadvertence must be carefully differentiated from the expected hazards of any deliberate nuclear war. The particular hazards of an intentional nuclear war could stem only from those Washington-Pyongyang hostilities that had been purposely initiated with nuclear weapons and/or deliberately responded to with nuclear weapons.
Moreover, this argument holds whether such unprecedented military actions were undertaken to achieve some form of strategic surprise, or as the result (expected or unexpected) of North Korean enemy irrationality.[3]
There is more. In any deliberate nuclear war scenario, and before any presidential ordering of an American preemption,[4]the expressly designated North Korean leadership would need to appear to US intelligence as(a) operationally nuclear and (b) psychologically irrational. Without this second expectation, any US preemption against an already-nuclear North Korean adversary would be irrational.
Trump, therefore, must continuously monitor not only relevant North Korean nuclear assets and capabilities, but also the substantially intangible mental health (decision-making) characteristics of Kim Jung Un. Although some might mock this second intelligence imperative as unnecessary or even impossible, it nonetheless remains conceivable that the authoritative dictator in Pyongyang could sometime choose to pretend irrationality. What then?
In fact, as we already well know, it is only Kim Jung Un's counterpart in the White House (and not Kim himself) who has mused publicly about the potential rationality of pretended irrationality and who (until recently) took evident pleasure in claiming that the two presidents once "fell in love" back in Singapore.
When the US president and his latest batch of national security advisors consider the co-existing and fearful prospects of an inadvertent nuclear war with North Korea, their primary focus should remain oriented in institutional directions. This means attention to the expected stability and reliability of Pyongyang's command, control and intelligence procedures. Should it be determined that these "C3I" processes display unacceptably high risks of mechanical/electrical/computer failure; indecipherable pre-delegations of nuclear launch authority; and/or unpredictable/unreliable launch-on-warning procedures (sometimes also called "launch-on-confirmed-attack"), a still-rational American president could then feel a more compelling need to consider an appropriate preemption.
A complex factor in any such decision-making process would be the apparent advent of hypersonic weapons in North Korean arsenals, and the extent to which any such ominous emergence was being suitably paralleled in American arsenals.
At this already advanced stage in North Korean nuclear military progress, the probable costs to the United States and certain of its allies accruing from any such defensive first-strike would be overwhelming and more-or-less "unacceptable." Somehow, this foresee ably urgent understanding seems to have escaped Donald Trump, who has stated publicly on several worrisome occasions that North Korean tests of short-range missiles "do not worry" him. Among other shortcomings, this blithe and shallow presidential observation suggests that Trump is focused only on direct (long-range) missile threats to the United States, and somehow remains continuously unmindful of escalatory possibilities.
These inherently bewildering prospects include the profoundly destabilizing impact of shorter-range missiles upon US regional allies.
In principle, at least, certain calculable preemption options cannot be dismissed out of hand. More precisely, any residual American resort to "anticipatory self-defense" could be nuclear or non-nuclear and could even be indicated without any express regard for Kim Jung Un's presumed rationality. Still, the well-reasoned cost-effectiveness of any US preemption would almost certainly be enlarged by any such carefully calculated presumptions.
What would be the most plausible reactions concerning a Trump-ordered preemption against North Korea? When all significant factors are taken into analytic account, Pyongyang, likely having no meaningful option to launching at least some massive forms of armed response, would intentionally target designated American military forces in the region and/or certain high-value South Korean armaments/personnel. President Trump, still assuming enemy rationality, should then expect that whatever its precise configuration of selected targets, North Korea's retaliatory blow would be designed in part to avoid any massive (including nuclear) American counter-retaliations.
All such high-consequence calculations would involve multiple adversarial policy intersections, some which could be genuinely "synergistic"[5] and would assume perfect rationality on all sides. If, for example, the American president should decide to strike first, the response from Kim Jung Un should then be expectedly proportionate,[6] that is, similarly massive. In this heuristic escalatory "game, "the willful introduction of nuclear weapons into any ensuing conflagration might not be dismissed by either "player."
What happens next?
As Swiss playwright Friedrich Durrenmatt has written, perhaps prophetically in this US-North Korea war scenario, "Sometimes, the worst does happen."
Noteworthy, too, at least at such a markedly uncertain and unprecedented point of prospective belligerency, any such game-changing introduction would more likely originate from the American side. This singular but all-embracing inference is based upon the understanding that while North Korea already has nuclear weapons and missile delivery vehicles (consequential weapons and delivery vehicles by definition), it is not yet prepared to seek "escalation dominance" vis-à-vis the United States. More precisely, for the moment, at least, it would seemingly be irrational for Pyongyang to launch its nuclear weapons first.
Sometime, at least in principle, Trump, extending his usually favored stance of an argumentum ad bacculum (an illegitimate appeal to force) could opt rationally for a "mad dog" strategy.[7]Here, the American president, following his just-ordered preemption, would deliberately choose a strategy of pretended irrationality.
There is more. Any such determined reliance, while intuitively sensible and expectedly compelling, could backfire, thereby opening up a slippery path to various unstoppable escalations. Such a self-propelling competition in risk-taking could also be triggered by the North Korean president, then pretending to be a "mad dog" himself. Significantly, any feigned irrationality stance by Kim Jong Un might be undertaken exclusively by the North Korean side, or in an unplanned "synergy" with the United States.
In all conceivable variants of crisis bargaining situations between Washington and Pyongyang, and even without any calculable synergies, highest-level decision-making processes would be resoundingly and meaningfully interdependent.
All this means, inter alia, greater levels of complexity for decision-makers to unravel and a measurably lesser significance assigned to any once-presumptive "love" relationship between the two adversarial presidents.
Regarding complexity, and in absolutely all possible bargaining postures, each side would have to pay reciprocally close attention to the anticipated wishes and intentions of Russia (Cold War II[8]) and China. Aptly, one must now inquire, does President Trump genuinely believe that China would find it gainful to support him in any pending nuclear crisis with North Korea? To answer such a query, it ought to become plain that Trump's still-ongoing and largely incoherent trade war with China will prove manifestly "unhelpful."
Immediately, relevant scenarios must be explicitly posited and dialectically examined.[9]If President Donald Trump's initial defensive first strike against North Korea were observably less than massive, for example, a still rational adversary in Pyongyang would likely take steps to ensure that its optimal reprisal was correspondingly limited. But if Trump's consciously rational and calibrated attack upon North Korea were (wittingly or unwittingly)launched against an irrational enemy leadership, the response from Pyongyang could then bean all-out retaliation.
This unanticipated response, whether a non-nuclear or non-nuclear-nuclear "hybrid" response, would be directed at some as yet indeterminable combination of US and allied targets.
Inevitably, by any sensible measure, this response could inflict starkly grievous harms.
It is now also worth considering that a North Korean missile reprisal against US interests and personnel would not automatically exclude the American homeland. However, should the North Korean president maintain a determinedly rational "ladder" of available strategic options, he would almost certainly resist targeting any vulnerable civilian portions of the United States. Should he remain determinably willing to strike targets in South Korea and/or Japan, he would still incur very substantial risks of an American nuclear counter-retaliation.
In principle, at least, any such US response would follow directly from this country's assorted treaty-based obligations regarding "collective self-defense."[10]
Such risks would be much greater if Kim's own aggressions[11]had already extended beyond hard military assets, either intentionally or as "collateral damage" brought unwittingly to soft civilian populations and/or infrastructures.
There is more. Even if the unimaginably complex game of nuclear brinksmanshipin Northeast Asia were being played exclusively by fully rational adversaries, the rapidly accumulating momentum of events between Washington and Pyongyang could still demand each "contestant" to strive relentlessly for escalation dominance. It is in the notably unpracticed dynamics of such an explosive rivalry that the prospect of an actual "Armageddon" scenario could plausibly be actualized.
"Sometimes," reminds Friedrich Durrenmatt, "the worst does happen."
This unprecedented outcome could be produced in unexpected increments of escalation by either or both dominant national players, or instead, by some sudden quantum leap in destructiveness undertaken by the United States and/or North Korea.
Looking ahead, the only predictable element of this foreseeable US-North Korea strategic game is this situation's irremediable and boundless unpredictability. Even under the very best or optimal assumptions of enemy rationality, all relevant decision-makers would have to concern themselves with potentially dense or confused communications, inevitable miscalculations, cascading errors in information, unauthorized uses of strategic weapons, mechanical, electrical or computer malfunctions and poorly-recognized applications of cyber-defense and cyber-war.
Technically, one further analytic distinction is needed between inadvertent nuclear war and accidental nuclear war. By definition, an accidental nuclear war would be inadvertent, but reciprocally, an inadvertent nuclear war need not necessarily be accidental. False warnings, which could be spawned by mechanical, electrical or computer malfunction, or by hacking,[12]would best fit under the clarifying narratives of an accidental nuclear war. Most worrisome, however, for all concerned, would be those forms of inadvertent nuclear war occasioned not by accident, but by confusion and/or miscalculation.
Irony is applicable. Such prospectively irremediable outcomes could be expressed though neither side had actually wanted war.
"Everything is very simple in war," says Carl von Clausewitz inOn War, "but the simplest thing is still difficult." With this seemingly banal but still profound observation, the classical Prussian strategist makes plain that capable military planning is always problematic. In large measure, this is because of what Clausewitz so famously called "friction."In essence, friction describes "the difference between war as it actually is, and war on paper."
Unless US President Donald Trump is able to better understand this core concept and prepare to meticulously manage all unpredictable risks of an unintentional war with North Korea, any future warnings about "rocket man" would prove operationally immaterial or blatantly injurious. While the specific identifiable risks of any deliberate or intentional nuclear conflict between the United States and North Korea should remain front and center in Washington, such formidable risks ought never be assessed apart from these other hazards of crisis decision-making. Significantly, all of these strategic risks could be overlapping, mutually reinforcing and/or synergistic. In at least some suchdaunting circumstances, the palpable "whole" of cumulative risk effects would be greater than the simple additive sum of constituent "parts."
At that point, recalling US President Trump's earlier inversion of what is actually true, it will be too late to purposefully understand what is most important: Nuclear crisis bargaining between adversarial states should be based not on "attitude," but on "preparation." Further, such inevitable bargaining ought never be founded upon any presumptive "love" relationships between the relevant adversaries or on any demeaning epithets drawn whimsically from contemporary musical compositions (e.g. "Rocket man").
To meaningfully reduce the steadily-cascading risks of a nuclear war with North Korea, Donald Trump should immediately cease his caricatural personalizations of world politics, and focus instead upon far more serious policy considerations of intellectual substance.

---
[1]https://news.yahoo.com/trump-revives-threat-force-against-023727996.html
[2]https://www.cnn.com/2019/12/07/us/north-korea-denuclearization-off-table/index.html Also, see earlier, by this writer, at Yale Global Online: Louis René Beres, https://yaleglobal.yale.edu/content/too-late-north-korea-denuclearization
[3] Recalling the 20th-century German philosopher, Karl Jaspers: "The rational is not thinkable without its other, the non-rational, and it never appears in reality without it." This insight can be found in Jaspers' "Historical Reflections" on Kierkegaard and Nietzsche.
[4] Worth noting here too is that any such ordering of a preemptive attack (defensive first strike) by an American president would be problematic under US law (especially underUS Constitutional constraints). Always, there are critical jurisprudential as well as strategic implications involved.
[5] In any synergistic intersection – whether in chemistry, medicine or war – the "whole" of any result would exceed the simple sum of policy-determining "parts."
[6]In legal terms, the principle of proportionality is contained in both the rules governing the resort to armed conflict (jus ad bellum) and in the rules governing the actual conduct of hostilities (jus in bello). Regarding the former, proportionality relates to self-defense. In the latter, it relates to conduct of belligerency. Proportionality is itself derivative from the more basic principle that belligerent rights are not unlimited (See notably Hague Convention No. IV (1907), Annex to the Convention, Section II (Hostilities), Art. 22: "The right of belligerents to adopt means of injuring the enemy is not unlimited").
[7] This term has certain historical roots in former Israeli Minister of Defense (General) Moshe Dayan's remark about his own country's strategic vulnerabilities: "Israel must be seen as a `mad dog,' too dangerous to bother." (See discussion by this writer, Louis René Beres, Surviving Amid Chaos: Israel's Nuclear Strategy (Rowman and Littlefield, 2016; 2nd ed., 20180.
[8]In political science terms, positing the expansion of "Cold War II" means expecting that the world system is becoming increasingly bipolar. For early writings, by this author, on the global security implications of just such an expanding bipolarity, see: Louis René Beres, "Bipolarity, Multipolarity, and the Reliability of Alliance Commitments," Western Political Quarterly, Vol. 25, No.4., December 1972, pp. 702-710; Louis René Beres, "Bipolarity, Multipolarity, and the Tragedy of the Commons," Western Political Quarterly, Vol. 26, No.4., December 1973, pp, 649-658; and Louis René Beres, "Guerillas, Terrorists, and Polarity: New Structural Models of World Politics," Western Political Quarterly, Vol. 27, No.4., December 1974, pp. 624-636.
[9] The base term, "dialectic," originates from the Greek expression for the art of conversation. A common contemporary meaning is method of seeking truth by correct reasoning. From the standpoint of shaping Israel's nuclear strategy, the following representative operations could be regarded as essential but nonexclusive components: (1)a method of refutation conducted by examining logical consequences; (2) a method of division or repeated logical analysis of genera into species; (3) logical reasoning using premises that are probable or generally accepted; (4) formal logic; and (5) the logical development of thought through thesis and antithesis to fruitful synthesis of these opposites.
[10] For the differences between "collective self-defense" and "collective security," see this writer's early book: Louis René Beres, The Management of World Power: A Theoretical Analysis (University of Denver Monograph Series in World Affairs) (1973).
[11] Since World War II, aggression has typically been defined as a military attack, not justified by international law, when directed against the territory of another state. The question of defining aggression first acquired legal significance with the Draft Treaty of Mutual Assistance of 1923. One year later, the Geneva Protocol of 1924 provided that any state that failed to comply with the obligation to employ procedures of peaceful settlement in the Protocol or the Covenant was an aggressor. Much later, an authoritative definition of aggression was adopted without vote by the UN General Assembly on December 14, 1974.
[12] This prospect now includes the plausible advent of so-called "cyber- mercenaries."
Latin America – Russia: An Agenda for Constructive Cooperation in the Post-COVID-19 Era
On Tuesday, August 4, the outstanding video-conference "Latin America – Russia: an Agenda for Constructive Cooperation in the Post-COVID-19 Era" was held organized by the Valdai Club , the Russian Embassy in Guatemala, the American Chamber of commerce (AmCham), the Central American Parliament (Parlacen) the SIECA(Central American Secretariat for Economic Integration), the United Nations Conference on Trade and Development (UNCTAD) and the CRIES of Argentina (Regional Coordination of Economic and Social Research).
The video conference was attended by Alexis Rodzianko as moderator (president of AmCham Russia). And an outstanding panel of speakers with:
Russian Deputy Foreign Minister Sergei Ryabkov; Nadia de León (chairman of PARLACEN) Melvin Redondo (general secretary of the SIECA); Yaroslav Lissovolik (programme director at Valdai Club); Richard Kozul Wright (director of division on globalization and development strategies UNCTAD); Daniel Russell (Ceo of USRBC) and Lila Roldan Vásquez (head of the CARI –Argentina- Eurasian studies group)
After a brief presentation and comments by the moderator Alexis Rodzianko (president of the Russian-American Chamber of Commerce) on the nature of the video-conference and the panelists in it, Russian Deputy-Minister of Foreign Affairs Sergey Ryabkov started the dialogue expressing his satisfaction with the existence of this kind of spaces for reflection in such difficult global times. We quote some of his more outstanding phrases:
" Russia and the United States continue their dialogue on joint efforts to combat the pandemic, and this is good news".
"Washington, however, does not abandon its claims for global hegemony. This poses a threat to international stability and security.".
He stated the need to increase channels of cooperation when the coronavirus is ravaging the entire planet, for the first time in humanity, it faces a threat that affects the entire planet, this poses a dramatic challenge, the frustrating statistics of Covid- 19 have the same effects as a war, this era requires the consolidation of international efforts together and that Russia hopes that large-scale cooperation can act as a vector for a more multipolar world.
He also denounced international actors, the countries that privilege self-interest over those of the international community in times of crisis due to the pandemic. He cataloged irresponsible and short-sighted countries that ignoring the UN declarations, mainly the western powers, continue with sanctions measures to other countries, sanctions that hinder the acquisition of medical supplies and assistance, including Latin American countries, without even foreseeing the lifting of sanctions even for the time of the pandemic.
He was also very critical of the attitude of the United States in various multilateral fields such as its withdrawal from the Open Skies treaties; missile weapons treaties such as INF and START II; the North-American withdrawal from the World Health Organization.
On the cooperation agenda of Latin America – Russia, he highlighted the negative factors that Latin America faces in its current situation:
"Latin America continues to face dramatic social inequalities and political de-stabilizations: The US continues its efforts to redraw the political map of Latin America to serve its interests."
He stressed that:
"From Russia with much disappointment and concern some time ago we observed how the Monroe Doctrine and all the ideology linked to it was officially reintroduced by the United States.".
As positive factors he pondered that for Russia, Latin America has always been a region of political tolerance, economic opportunities and cultural affinity:
"For Russia, the relationship with Latin America is a value in itself of its foreign policy and bases its cooperation agenda in the region based on a pragmatic and de-ideological vision, Russia does not seek to engage its partners in geopolitical dilemmas where they must choose between friends and enemies".
"And these links have always had a positive dynamic in energy, communications, technology, medicine, logistics and transportation. We seek technological and commercial alliances, diversifying their bases".
"A paramount of Russian cooperation with Latin America was the activation in 2019 of the Latin American Institute of Biotechnology (in Managua, Nicaragua) that produces, insulin and interferon and vaccines for Latin American consumption".
Despite the delicate situation worldwide, the deputy-minister remained optimistic that crises improve prospects for international cooperation, and that Russia-Latin America cooperation will continue to consolidate.
"During this pandemic, Russian assistance has been received by: Costa Rica, the Dominican Republic, Nicaragua, Venezuela, Cuba, in testing teams and personal health protection, in addition to humanitarian aid."
The possibility of assistance to other countries in the region such as Paraguay, Colombia, and Peru has been addressed.
The Russian Direct Investment Fund announced the signing of an agreement under which 150,000 Avifavir packages will be sent to seven Latin American countries: Argentina, Bolivia, Ecuador, El Salvador, Honduras, Paraguay and Uruguay. In addition, Russia will also send supplies of the antiviral drug to South Africa and transfer the technology to Bolivian firm Sigma Corp SRL in order for it to be produced locally.
Closing of the presentation
The deputy-minister Ryabkov cerró su presentación marcando que en las difíciles circunstancias actuales es fundamental evitar la politización de la situación de la pandemia, un verdadero desafío global, que requiere esfuerzos conjuntos entre todos los Estados, y que Rusia está preparada para hacer su aporte y que lo está haciendo.
The deputy-minister Ryabkov closed his presentation by stating that in the current difficult circumstances it is essential to avoid politicizing the situation of the pandemic, a true global challenge, which requires joint efforts between all States, and that Russia is ready to make its contribution, and it's doing it.
Questions and Answers Section
In the questions and answers section of the dialogue, he answered a question about the role of Russia in the binomial-dilemma that would appear to present itself to Latin America in the strategic competition between the US and China:
"Russia won't be part of that geopolitical game"
He made it clear that Russia will surely not be part of a possible geopolitical triangular game with the US and China in Latin America, since it does not have the same capabilities as the other two actors (US-China) and that from the strategic vision of Russia relations with Latin America should be characterized by a cooperative logic of mutual benefit (win-win) and pragmatism, the relationship with this region should not emulate previous models of relations between center and periphery and he highlighted the Russian-Argentine relationship as an example of a link of mutual benefit.
Russia will not act for Latin America as an actor to support itself in a counterbalance, to offset the competition between Beijing and Washington in the region, but it will continue to maintain cooperative relations with Latin America, although he clarified that trilateral cooperation, as in the case of the Covid-19 pandemic should not be ruled out.
"Those practices go against the core elements and principles of international law and the United Nations Charter."
It was his answer to the question about Russia's position on the persistent US policies of imposing economic sanctions unilaterally (such as in the blockades against Cuba and Venezuela) that impede the fluidity of international cooperation (in times of pandemic, necessary international aid) and that Russia has also been suffering the same extortionary measures since the referendums that consecrated the return of the Crimean territories to Russia in 2014, and in which in this aspect Russia has not found a "common ground" with the United States for dialogue.
"We have to find ways to ensure relief to the countries most in need and with the fewest resources"
He argued that it is the responsibility of institutions such as those of the Breton Woods system, the G20, the Club de Paris, the economic powerhouses to find coherent strategies to achieve this objective. Macroeconomic policies of expansion, not austerity, should be promoted globally.
My own questions
As an observer-participant of the digital event, I was able to ask the Deputy-Minister two questions:
"is there any prospect from Russia to collaborate with South American efforts to "catch up" with the latest technology?"
In this response, he expressed his wish that such cooperation be carried out, since Russia has a lot to contribute, he said regarding the digitization of public services, of special interest today in public health services, other axes of technological cooperation could include biotechnology, pharmaceuticals, and he stated that Russia is not exaggerating by claiming that it has made important advances in the development of drugs that help combat Covid-19 in the near future. Regarding this, he highlighted the observations of his presentation, where he mentioned that Russia has significantly promoted the installation of technology in Central America (the Latin American Institute of Biotechnology).Other areas of cooperation of interest mentioned were telecommunications and the peaceful use of nuclear power, agricultural technology.
These cooperation dynamics, he argued, will always be guided by pragmatic visions; Russia will not subject its partners to geopolitical dilemmas.
is there any interest from Russia to improve Argentina's naval capabilities in fishing, hydrocarbons, naval surveillance, etc?
In this regard, he pointed out that initial contacts had taken place in the Macri administration and that he is sure that under the administration of President Alberto Fernández these contacts would continue.
He quoted the slogan: "it is the economy, stupid" when explaining the interest that exists between both governments and their respective businessmen to associate in relation to the naval field, but the contacts are still distant.
Regarding fishing exploitation, he acknowledged his lack of knowledge about any Russian-Argentine association project on the subject, but he stressed that this doesn't mean that it is not an interesting area of cooperation to continue advancing the in the bilateral agenda.
For the last, he emphasized that when travel and contacts will be reestablished, all those axes of cooperation can be discussed further, without major impediments.
From our partner International Affairs
Hiroshima and the Peace of the Bomb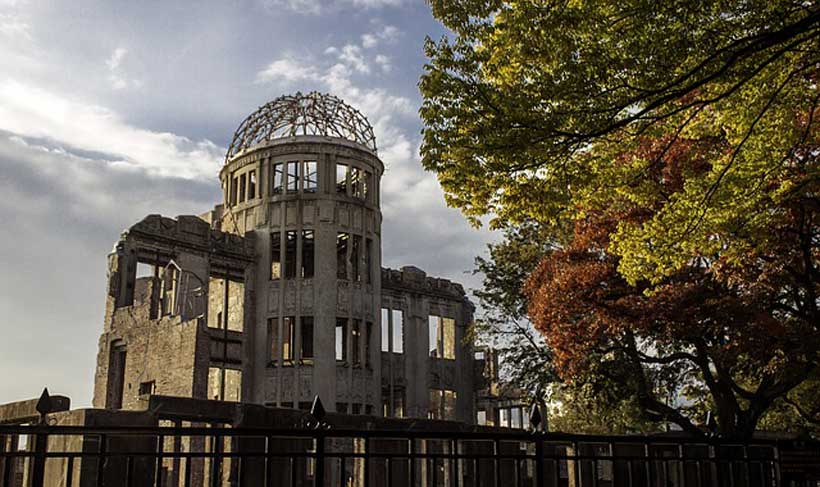 Seventy five years ago this week, the world witnessed a cataclysm that was to change the nature of war forever: The atom bomb was dropped on Hiroshima, and worse — while the Japanese argued among themselves about whether and how to surrender — a second bomb was dropped on Nagasaki three days later on August 9th. Now there was no other rational choice, and the Japanese gave up.
If anything good ever came out of a war, it was the generous peace. The US helped in the reconstruction of the defeated nations. As a teenaged student in London, I remember visiting Germany a dozen years after the war ended. Major centers had been flattened by the bombing. In Hamburg, one would see a few residential buildings and then ruins as far as the eye could see as if a massive earthquake had hit. A never ending horror across all major cities and a shortage of labor. So the Turks came … and stayed. Welcome then, not so much now.
The Germans were humble — a humility that would gradually diminish with the country's resurgence as one observed over succeeding decades. Cleanliness and order are part of the national psyche, particularly the latter. Everything in order — 'Alles in ordnung'. It even applies on a personal level as someone might ask exactly that if you appear disturbed. It then means, 'Everything okay?'
A grease spot on the otherwise fresh tablecloth at breakfast, my fastidious six-year old daughter complained. It was whisked away with apologies and immediately replaced. Order restored. Ordnung muss sein says the German proverb.
In dollar terms, Germany is now the world's fourth largest economy, Japan the third. The world has not ended despite economic interests being often cited as a cause of war. In fact, we are grateful for their products judging by the numbers of their automobile names in the US. Japan appears to have eclipsed the famed auto giants of the past, GM, Ford and Chrysler and UK icons long forgotten. And Donald J. Trump has a beef with both countries and is busy pulling out troops from Germany. Of course the giant dragon of exporters to the US, namely China, is for President Trump our public enemy number one.
The bombs on Hiroshima and Nagasaki were not the end, merely the beginning, and at the back of our minds remains the terrifying hope that it is not the beginning of the end.
Following the US, there soon were other nuclear powers: the UK and the Soviet Union followed by France, then China. After China, India was not to be left behind, and after India the same logic applied to Pakistan. Then there is Israel seeking external security while like diseased fruit, it rots from the inside. And let us not forget nutty North Korea.
When the US and the Soviet Union faced off with thousands of nuclear weapons, the strategists produced the theory of mutually assured destruction. Its acronym MAD was closer to the truth than its Pentagon proponents could ever have imagined for they would have destroyed not just each other but the world.
Even India and Pakistan with 100-plus weapons each could cause a nuclear winter from the fall-out and the dust covered skies. The subsequent crop losses and famines would kill many more across the world than the devastation wrought by the bombs. It is just one more reason why nation states could eventually become obsolete.
Fortunately, for the human race, nuclear war is more potent in the threat than in the execution; the latter would certainly certify MAD. The response to a military threat carrying the phrase 'by all means necessary' is enough to cool things down quickly. It was Pakistan's reply to India's threat to expand an incident in the disputed Kashmir region with an attack on mainland Pakistan. In that sense, nuclear weapons have become a sort of insurance policy. Pakistan and India have fought several major wars but none since both sides acquired nuclear weapons. The cost is unthinkable, and one hopes will remain so in the minds of strategists.
Such is the world my generation is leaving to you: flawed but holding together all the same.
China Replacing Russia as the Boogeyman in the U.S. Presidential Campaign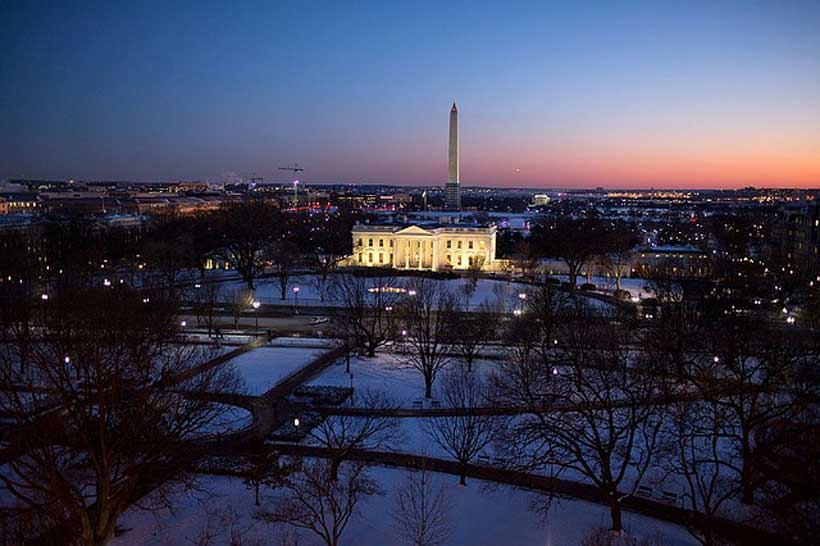 During the 2016 U.S. Presidential bid, Russia was picked as a scapegoat to justify the loss endured by the Democratic party candidate. Moscow was vilified for interfering in the election via the dissemination of false information. After the election, a judicial investigation was launched, ending with no evidence of the collusion.
Despite that fact, in 2017 and 2018, the U.S. imposed economic sanctions against Russian entities. This led to the further aggravation of already sour ties undermined by the Ukrainian crisis in 2014. As an act of reprisal for Moscow's alleged meddling into the conflict, U.S. Congress initiated new economic sanctions.
Russia became what can be regarded as a boogeyman to be reprimanded for whatever misfortune happens — be it ex-spy Sergei Skripal's poisoning in 2018 or Russia's alleged bombings of peaceful residents in eastern Aleppo. Russia got blamed for everything, even though the evidence was missing.
In 2017 the U.S. and Russia crossed swords in a diplomatic row by cutting staff numbers and closing each other's consulates. Since then, both countries have been experiencing alienation from one another, culminating in the recent cancellation of several arms control agreements (i.e., INF, Open Skies).
By the same token, the U.S. has recently upped the ante in handling thorny issues with China, which came under the spotlight during the American presidential campaign. Both candidates — J. Biden and D. Trump — appeal to their supporters using China, competing for the reputation of leaders with the toughest stance towards Beijing.
China is an obvious target of criticism for the U.S. President, who is adamant about securing his second term in office. It is hard to find any other positive agenda as soon as he failed to deliver an efficacious response to the pandemic, which has already put the country's economy at risk of recession with a gloomy long-term economic outlook.
Russia can no longer alone serve as a scapegoat for misdoings of U.S. politicians. Such rhetoric has been present in American media for such a long time that it has eventually lost some of its appeal to the U.S. audience.
Following a blueprint tailored for Russia, the U.S. has resorted to a maximum pressure campaign against China. In 2018 a full-scale trade war erupted and was followed by sanctions introduced against the most vital industry for China's global rise — the hi-tech sector. Huawei and ZTE were swiped from the U.S. market. The U.S. also has been widely applying its longer-used instrument of sanctions not solemnly limited to hi-tech giants. Chinese officials in Xinjiang and foreigners doing business in Hong Kong also fell under various restrictions.
As for now, the pendulum has swung from economic agenda to geopolitics and ideology — with the latter being a novelty for U.S. policy towards China. Despite that, China and Russia were already labelled "rival powers … that seek to challenge American values" in 2017, Trump's national strategy.
In January 2020, Secretary of State M. Pompeo called the Communist Party of China (CPC) the "central threat of our times." As for Russian ideology, the country was already eloquently described as an "evil state" during the 2016 U.S. presidential campaign. In July 2020, Mr. Pompeo called on the Chinese people to help "change the behavior" of their government. Thus, he designated CPC as an ideological and independent entity separate from Chinese citizens.
In order to sharpen the rhetoric, U.S. politicians stopped addressing Xi Jinping as "president," calling him "general secretary" instead — an act which deprives Mr. Xi of political legitimacy usually bestowed upon the elected leader. Another menacing sign is that the U.S. is reportedly reviewing a proposal to ban CPC members from traveling to the U.S., which would basically mean the start of an active phase of ideological confrontation.
Similar to the 2017 Russian-American diplomatic row, today the U.S. and China are also exchanging attacks on each other's diplomatic missions. For example, from geostrategic perception, in mid-July, the U.S. officially recognized China's claims in the South China Sea as "unlawful" and made it clear that its strengthening of the policy with regard to SCS is aimed at halting China's use of coercion.
Both countries do not want to play alone in a tit-for-tat game. The U.S. has already summoned its allies to form a group of democratic countries to oppose the CPC. France and Britain have recently bowed to long-term U.S. pressure to convince allies to steer clear of the Chinese 5G technology.
China is also gearing up by upholding contacts with its tried and tested partners — namely Russia. Despite a minuscule slide in bilateral trade (a 4% decline compared to 2019) amid COVID-19, political cooperation has been developing. In early July, both countries demonstrated close coordination in high-level international organizations by vetoing extension of cross-border aid in Syria. During a telephone call to Vladimir Putin on July 8, President Xi vowed to intensify coordination with Russia internationally, including in the UN.
Russia and China currently maintain close and regular cooperation. According to the Russian ambassador to China A. Denisov, up to now, both presidents have held four telephone conversations and are currently working on preparation for a state visit of the Russian President to China, as well as on the participation of Xi Jinping in SCO and BRICS forums in Russia with open dates.
A new trend in China-Russia cooperation can be noted in the sphere of coordination of bilateral actions to oppose Western ideological pressure in the media. On July 24, spokespeople of the Ministries of foreign affairs held a video-conference on the information agenda. The parties recognized Western powers' attempts to interfere in the internal affairs of China and Russia by disseminating fake news and placing restrictions on journalists' work.
U.S. attempts to alienate and isolate China provide Beijing with no other choice but to seek further expansion of cooperation with like-minded states, be it Russia or any other country open for cooperation.
From our partner RIAC