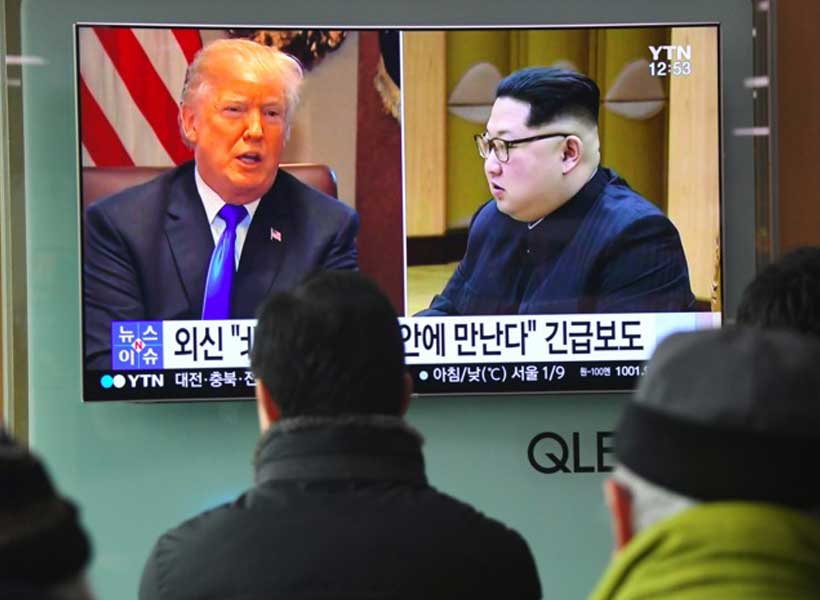 It's Back to "Rocket Man": Trump Steadily expanding risks of a Nuclear war With North Korea
"Fools, visionaries, sufferers from delusions, neurotics and lunatics have played great roles at all times in the history of mankind, and not merely when the accident of birth had bequeathed them sovereignty. Usually, they have wreaked havoc."-Sigmund Freud
"We fell in love" crowed Donald Trump about Kim Jung Un, after their Singapore summit back in June 2018. But this grotesquely curious romance was destined not to last. In fact, since early December 2019, it's been consistently retrograde, back to Trump's nonsensical recriminations; that is, to the American president's conspicuously demeaning reliance upon childish epithets.
But to what conceivable strategic purpose? Once again, at least for the still-dissembling White House, it's not about substantive geopolitical threats. Instead of purposefully enhancing American diplomatic leverage – which might actually make some bargaining sense – it's just about "rocket man."[1]
Even at this late point, objective strategic analyses are altogether necessary. Leaving aside the obvious futility of launching ad hominem insults as allegedly productive diplomacy, any upcoming crisis decision-making processes between Washington and Pyongyang will be shaped by Kim Jung Un's unswerving commitment to personal military power. Inevitably, the flagrantly simplistic notion that this North Korean dictator would ever consider trading off the most visibly tangible implements of such power for presumptive national economic benefits is erroneous on its face.
In strategic matters, truth is always exculpatory. North Korea's nuclear arsenal is irreversible. Prima facie, "denuclearization" remains an unrealizable goal – a bitterly naive and conveniently distracting fiction.[2]
What next? The best case scenario available to the United States must now be a mutually acceptable relationship of stable nuclear deterrence. Still, there will be various "potholes" and recurrently unpredictable nuances. Going forward, a generally understated but particularly serious sub-risk for both the United States and North Korea will concern inadvertent nuclear war.
Oddly enough, the actual level of public concern about such prospectively grievous conflict – at least from the standpoint of palpable population fears – remains incommensurately small.
Now what? To begin, President Trump must carefully approach these complex issues at a suitably conceptual level. Then inter alia, it would become easier for Trump and his advisors to understand that the specific nuclear war risks posed by inadvertence must be carefully differentiated from the expected hazards of any deliberate nuclear war. The particular hazards of an intentional nuclear war could stem only from those Washington-Pyongyang hostilities that had been purposely initiated with nuclear weapons and/or deliberately responded to with nuclear weapons.
Moreover, this argument holds whether such unprecedented military actions were undertaken to achieve some form of strategic surprise, or as the result (expected or unexpected) of North Korean enemy irrationality.[3]
There is more. In any deliberate nuclear war scenario, and before any presidential ordering of an American preemption,[4]the expressly designated North Korean leadership would need to appear to US intelligence as(a) operationally nuclear and (b) psychologically irrational. Without this second expectation, any US preemption against an already-nuclear North Korean adversary would be irrational.
Trump, therefore, must continuously monitor not only relevant North Korean nuclear assets and capabilities, but also the substantially intangible mental health (decision-making) characteristics of Kim Jung Un. Although some might mock this second intelligence imperative as unnecessary or even impossible, it nonetheless remains conceivable that the authoritative dictator in Pyongyang could sometime choose to pretend irrationality. What then?
In fact, as we already well know, it is only Kim Jung Un's counterpart in the White House (and not Kim himself) who has mused publicly about the potential rationality of pretended irrationality and who (until recently) took evident pleasure in claiming that the two presidents once "fell in love" back in Singapore.
When the US president and his latest batch of national security advisors consider the co-existing and fearful prospects of an inadvertent nuclear war with North Korea, their primary focus should remain oriented in institutional directions. This means attention to the expected stability and reliability of Pyongyang's command, control and intelligence procedures. Should it be determined that these "C3I" processes display unacceptably high risks of mechanical/electrical/computer failure; indecipherable pre-delegations of nuclear launch authority; and/or unpredictable/unreliable launch-on-warning procedures (sometimes also called "launch-on-confirmed-attack"), a still-rational American president could then feel a more compelling need to consider an appropriate preemption.
A complex factor in any such decision-making process would be the apparent advent of hypersonic weapons in North Korean arsenals, and the extent to which any such ominous emergence was being suitably paralleled in American arsenals.
At this already advanced stage in North Korean nuclear military progress, the probable costs to the United States and certain of its allies accruing from any such defensive first-strike would be overwhelming and more-or-less "unacceptable." Somehow, this foresee ably urgent understanding seems to have escaped Donald Trump, who has stated publicly on several worrisome occasions that North Korean tests of short-range missiles "do not worry" him. Among other shortcomings, this blithe and shallow presidential observation suggests that Trump is focused only on direct (long-range) missile threats to the United States, and somehow remains continuously unmindful of escalatory possibilities.
These inherently bewildering prospects include the profoundly destabilizing impact of shorter-range missiles upon US regional allies.
In principle, at least, certain calculable preemption options cannot be dismissed out of hand. More precisely, any residual American resort to "anticipatory self-defense" could be nuclear or non-nuclear and could even be indicated without any express regard for Kim Jung Un's presumed rationality. Still, the well-reasoned cost-effectiveness of any US preemption would almost certainly be enlarged by any such carefully calculated presumptions.
What would be the most plausible reactions concerning a Trump-ordered preemption against North Korea? When all significant factors are taken into analytic account, Pyongyang, likely having no meaningful option to launching at least some massive forms of armed response, would intentionally target designated American military forces in the region and/or certain high-value South Korean armaments/personnel. President Trump, still assuming enemy rationality, should then expect that whatever its precise configuration of selected targets, North Korea's retaliatory blow would be designed in part to avoid any massive (including nuclear) American counter-retaliations.
All such high-consequence calculations would involve multiple adversarial policy intersections, some which could be genuinely "synergistic"[5] and would assume perfect rationality on all sides. If, for example, the American president should decide to strike first, the response from Kim Jung Un should then be expectedly proportionate,[6] that is, similarly massive. In this heuristic escalatory "game, "the willful introduction of nuclear weapons into any ensuing conflagration might not be dismissed by either "player."
What happens next?
As Swiss playwright Friedrich Durrenmatt has written, perhaps prophetically in this US-North Korea war scenario, "Sometimes, the worst does happen."
Noteworthy, too, at least at such a markedly uncertain and unprecedented point of prospective belligerency, any such game-changing introduction would more likely originate from the American side. This singular but all-embracing inference is based upon the understanding that while North Korea already has nuclear weapons and missile delivery vehicles (consequential weapons and delivery vehicles by definition), it is not yet prepared to seek "escalation dominance" vis-à-vis the United States. More precisely, for the moment, at least, it would seemingly be irrational for Pyongyang to launch its nuclear weapons first.
Sometime, at least in principle, Trump, extending his usually favored stance of an argumentum ad bacculum (an illegitimate appeal to force) could opt rationally for a "mad dog" strategy.[7]Here, the American president, following his just-ordered preemption, would deliberately choose a strategy of pretended irrationality.
There is more. Any such determined reliance, while intuitively sensible and expectedly compelling, could backfire, thereby opening up a slippery path to various unstoppable escalations. Such a self-propelling competition in risk-taking could also be triggered by the North Korean president, then pretending to be a "mad dog" himself. Significantly, any feigned irrationality stance by Kim Jong Un might be undertaken exclusively by the North Korean side, or in an unplanned "synergy" with the United States.
In all conceivable variants of crisis bargaining situations between Washington and Pyongyang, and even without any calculable synergies, highest-level decision-making processes would be resoundingly and meaningfully interdependent.
All this means, inter alia, greater levels of complexity for decision-makers to unravel and a measurably lesser significance assigned to any once-presumptive "love" relationship between the two adversarial presidents.
Regarding complexity, and in absolutely all possible bargaining postures, each side would have to pay reciprocally close attention to the anticipated wishes and intentions of Russia (Cold War II[8]) and China. Aptly, one must now inquire, does President Trump genuinely believe that China would find it gainful to support him in any pending nuclear crisis with North Korea? To answer such a query, it ought to become plain that Trump's still-ongoing and largely incoherent trade war with China will prove manifestly "unhelpful."
Immediately, relevant scenarios must be explicitly posited and dialectically examined.[9]If President Donald Trump's initial defensive first strike against North Korea were observably less than massive, for example, a still rational adversary in Pyongyang would likely take steps to ensure that its optimal reprisal was correspondingly limited. But if Trump's consciously rational and calibrated attack upon North Korea were (wittingly or unwittingly)launched against an irrational enemy leadership, the response from Pyongyang could then bean all-out retaliation.
This unanticipated response, whether a non-nuclear or non-nuclear-nuclear "hybrid" response, would be directed at some as yet indeterminable combination of US and allied targets.
Inevitably, by any sensible measure, this response could inflict starkly grievous harms.
It is now also worth considering that a North Korean missile reprisal against US interests and personnel would not automatically exclude the American homeland. However, should the North Korean president maintain a determinedly rational "ladder" of available strategic options, he would almost certainly resist targeting any vulnerable civilian portions of the United States. Should he remain determinably willing to strike targets in South Korea and/or Japan, he would still incur very substantial risks of an American nuclear counter-retaliation.
In principle, at least, any such US response would follow directly from this country's assorted treaty-based obligations regarding "collective self-defense."[10]
Such risks would be much greater if Kim's own aggressions[11]had already extended beyond hard military assets, either intentionally or as "collateral damage" brought unwittingly to soft civilian populations and/or infrastructures.
There is more. Even if the unimaginably complex game of nuclear brinksmanshipin Northeast Asia were being played exclusively by fully rational adversaries, the rapidly accumulating momentum of events between Washington and Pyongyang could still demand each "contestant" to strive relentlessly for escalation dominance. It is in the notably unpracticed dynamics of such an explosive rivalry that the prospect of an actual "Armageddon" scenario could plausibly be actualized.
"Sometimes," reminds Friedrich Durrenmatt, "the worst does happen."
This unprecedented outcome could be produced in unexpected increments of escalation by either or both dominant national players, or instead, by some sudden quantum leap in destructiveness undertaken by the United States and/or North Korea.
Looking ahead, the only predictable element of this foreseeable US-North Korea strategic game is this situation's irremediable and boundless unpredictability. Even under the very best or optimal assumptions of enemy rationality, all relevant decision-makers would have to concern themselves with potentially dense or confused communications, inevitable miscalculations, cascading errors in information, unauthorized uses of strategic weapons, mechanical, electrical or computer malfunctions and poorly-recognized applications of cyber-defense and cyber-war.
Technically, one further analytic distinction is needed between inadvertent nuclear war and accidental nuclear war. By definition, an accidental nuclear war would be inadvertent, but reciprocally, an inadvertent nuclear war need not necessarily be accidental. False warnings, which could be spawned by mechanical, electrical or computer malfunction, or by hacking,[12]would best fit under the clarifying narratives of an accidental nuclear war. Most worrisome, however, for all concerned, would be those forms of inadvertent nuclear war occasioned not by accident, but by confusion and/or miscalculation.
Irony is applicable. Such prospectively irremediable outcomes could be expressed though neither side had actually wanted war.
"Everything is very simple in war," says Carl von Clausewitz inOn War, "but the simplest thing is still difficult." With this seemingly banal but still profound observation, the classical Prussian strategist makes plain that capable military planning is always problematic. In large measure, this is because of what Clausewitz so famously called "friction."In essence, friction describes "the difference between war as it actually is, and war on paper."
Unless US President Donald Trump is able to better understand this core concept and prepare to meticulously manage all unpredictable risks of an unintentional war with North Korea, any future warnings about "rocket man" would prove operationally immaterial or blatantly injurious. While the specific identifiable risks of any deliberate or intentional nuclear conflict between the United States and North Korea should remain front and center in Washington, such formidable risks ought never be assessed apart from these other hazards of crisis decision-making. Significantly, all of these strategic risks could be overlapping, mutually reinforcing and/or synergistic. In at least some suchdaunting circumstances, the palpable "whole" of cumulative risk effects would be greater than the simple additive sum of constituent "parts."
At that point, recalling US President Trump's earlier inversion of what is actually true, it will be too late to purposefully understand what is most important: Nuclear crisis bargaining between adversarial states should be based not on "attitude," but on "preparation." Further, such inevitable bargaining ought never be founded upon any presumptive "love" relationships between the relevant adversaries or on any demeaning epithets drawn whimsically from contemporary musical compositions (e.g. "Rocket man").
To meaningfully reduce the steadily-cascading risks of a nuclear war with North Korea, Donald Trump should immediately cease his caricatural personalizations of world politics, and focus instead upon far more serious policy considerations of intellectual substance.

---
[1]https://news.yahoo.com/trump-revives-threat-force-against-023727996.html
[2]https://www.cnn.com/2019/12/07/us/north-korea-denuclearization-off-table/index.html Also, see earlier, by this writer, at Yale Global Online: Louis René Beres, https://yaleglobal.yale.edu/content/too-late-north-korea-denuclearization
[3] Recalling the 20th-century German philosopher, Karl Jaspers: "The rational is not thinkable without its other, the non-rational, and it never appears in reality without it." This insight can be found in Jaspers' "Historical Reflections" on Kierkegaard and Nietzsche.
[4] Worth noting here too is that any such ordering of a preemptive attack (defensive first strike) by an American president would be problematic under US law (especially underUS Constitutional constraints). Always, there are critical jurisprudential as well as strategic implications involved.
[5] In any synergistic intersection – whether in chemistry, medicine or war – the "whole" of any result would exceed the simple sum of policy-determining "parts."
[6]In legal terms, the principle of proportionality is contained in both the rules governing the resort to armed conflict (jus ad bellum) and in the rules governing the actual conduct of hostilities (jus in bello). Regarding the former, proportionality relates to self-defense. In the latter, it relates to conduct of belligerency. Proportionality is itself derivative from the more basic principle that belligerent rights are not unlimited (See notably Hague Convention No. IV (1907), Annex to the Convention, Section II (Hostilities), Art. 22: "The right of belligerents to adopt means of injuring the enemy is not unlimited").
[7] This term has certain historical roots in former Israeli Minister of Defense (General) Moshe Dayan's remark about his own country's strategic vulnerabilities: "Israel must be seen as a `mad dog,' too dangerous to bother." (See discussion by this writer, Louis René Beres, Surviving Amid Chaos: Israel's Nuclear Strategy (Rowman and Littlefield, 2016; 2nd ed., 20180.
[8]In political science terms, positing the expansion of "Cold War II" means expecting that the world system is becoming increasingly bipolar. For early writings, by this author, on the global security implications of just such an expanding bipolarity, see: Louis René Beres, "Bipolarity, Multipolarity, and the Reliability of Alliance Commitments," Western Political Quarterly, Vol. 25, No.4., December 1972, pp. 702-710; Louis René Beres, "Bipolarity, Multipolarity, and the Tragedy of the Commons," Western Political Quarterly, Vol. 26, No.4., December 1973, pp, 649-658; and Louis René Beres, "Guerillas, Terrorists, and Polarity: New Structural Models of World Politics," Western Political Quarterly, Vol. 27, No.4., December 1974, pp. 624-636.
[9] The base term, "dialectic," originates from the Greek expression for the art of conversation. A common contemporary meaning is method of seeking truth by correct reasoning. From the standpoint of shaping Israel's nuclear strategy, the following representative operations could be regarded as essential but nonexclusive components: (1)a method of refutation conducted by examining logical consequences; (2) a method of division or repeated logical analysis of genera into species; (3) logical reasoning using premises that are probable or generally accepted; (4) formal logic; and (5) the logical development of thought through thesis and antithesis to fruitful synthesis of these opposites.
[10] For the differences between "collective self-defense" and "collective security," see this writer's early book: Louis René Beres, The Management of World Power: A Theoretical Analysis (University of Denver Monograph Series in World Affairs) (1973).
[11] Since World War II, aggression has typically been defined as a military attack, not justified by international law, when directed against the territory of another state. The question of defining aggression first acquired legal significance with the Draft Treaty of Mutual Assistance of 1923. One year later, the Geneva Protocol of 1924 provided that any state that failed to comply with the obligation to employ procedures of peaceful settlement in the Protocol or the Covenant was an aggressor. Much later, an authoritative definition of aggression was adopted without vote by the UN General Assembly on December 14, 1974.
[12] This prospect now includes the plausible advent of so-called "cyber- mercenaries."
Not a Usual "Trump Blunder" Rather US has Used a Cleverly Manipulated Strategy in Iran
There is a little doubt that the recent move by Washington have already started having short term impacts in the Middle East but there are many other aspects which should not be forgotten and they might compensate for those short-term mishaps in the region.
Limited Menu of options for Tehran
Although Iran has started using its options of warfare in the region against US troops it has to be noted that it has a very limited scope of options available presently. It does have the warfare tools but present circumstances are such that Tehran is in no position to use them up to their maximum plausible extent. Washington seems to have taken a clear advantage of the crisis that Iran has been facing after the decision that White House took to revoke the Nuclear Deal with Iran in mid of 2018. Given the fact that Iran is suffering from domestic crisis and its citizens are echoing the democratic values inside the country, for US it could have been no better time to make an attempt to destabilize the Foreign policy aspects of Tehran. Soleimani, as an influential leader in the region, had an ability to easily gameplay the political affairs of other neighbouring countries and thereby increasing a probability of "Iran Friendly" region but after his assassination the vacuum created by him would not be filled sooner. In this context, Iran's ability to persuade its neighbours in its favour during any possible conflict with US in future has also got a severe blow.
The options which Iran could have used are harming US bases in its nearby borders – which it has already done by blowing US bases in Iraq; using a covert warfare against Washington troops and officials – which yet again has been used when US embassy in Iraq came directly into attack from one of the radical military organisation known to have links with Tehran – the Hezbollah; it could also continue going against the provisions of Nuclear Deal up to an extent but not completely – because of segregation that it might face, in a worst case scenario, from other partners of Trade Deal which are also essentially members of European Union. Simultaneously considering the Syria problem and its own domestic issues, it is highly unlikely that Iran at this moment would like to have an excessive influence of Kremlin beyond a particular limit.
Also given the global slowdown; US Congress' opinion in the further tussle with Iran; Tehran's own economic issues; and a regional political instability in Middle East, a full-fledged war is a hypothetical situation which is highly unlikely to take place in near future. So, Tehran, even after having a potential to compete US up to some extent wouldn't be able to do so in the present global order.
Iran's Domestic Problems
Presently Iran is stuck into its own domestic problems which revolve around its political and economic spectrum. After the Iranian Revolution of 1980s, the realities have changed when it comes to Iranian politics and its various important components. A complete contrast can easily be observed in the country. In the early years, there was more of a single party system having only Islamic Republican Party and more than half of the representatives belonged to one particular section of the society – the clerics. More profoundly, the electorates or the people weren't literate enough, the media was not free from the state influence, and overall a much more conservative and non-vocal society was there.
Presently there's a multi-party system in the country having a much more educated group of electorates which occasionally raises its voice on various issues, there's no more unlimited censorship on the media and women participation in the parliament has also seen a growth.
Given the economic slowdown in the country after the US imposed the sanctions in 2019 on the countries importing the oil and other natural resources from Tehran and failure of JCPOA in long term to create employment among the youth of the country backed by the changed political reality has created a domestic turmoil in the country. People have come out on the streets and have shown their anger to the decision makers by raising their concerns of unemployment amid the economic backlash that country has been going through. Furthermore, the issues of corruption and shutting down the protesters by present regime have just escalated the turmoil.
In this situation where the regime was going through its domestic crisis, it faced a severe disadvantage of having a lack of public support and thereby giving an optimum chance to Washington to strike on its another stronger branch – the military. Now by striking the military and assassinating Iran's one of the most prominent military leader since decades, it has left Iran in a situation where it is shaken from both within inside – by internal challenges as well as from outside – by loss of a military leader thereby affecting its influence in the region as well as in the direct warfare.
Middle East without US is Not Possible at the Moment
Thinking of Middle East, presently, without US involvement would be immature. The region has always been high on the political instability having a constant tussle among the regional players. Trump, for his political motivations, might have had announced his will to free the region from US military but the policy makers in the Washington themselves are aware that leaving Middle East in the an era which has marked the chaos of political instability could be a major risk and certainly couldn't be afforded as it would directly or indirectly lead to the regional tussle as well as hurdle in the global imports and exports of the trade of oil, petroleum, and other natural resources. Given this, Trump has yet again got an excuse to maintain US's presence in the region as well as countering his political opponents for not fulfilling the election promise which he had made.
The Economy that US would like to Excel
The core benefit that Trump would be getting from this warfare with Iran – which is quite far away from a direct full-fledged war – is the economic boost for US and simultaneous exponential economic loss for Tehran. Since 2018, world has seen a complete flip in an overall picture of Washington's net import and export of oil and other natural resources. This initially had created a conundrum for the OPEC countries and their respective policies. Now Trump is using it as a covert warfare weapon against Iran in the given circumstances. In September 2019, the US exported 140,000 bpd more total crude oil and petroleum products than it imported; and total exports exceeded imports by 550,000 bpd in October. Also, the expected estimate for the same in 2020 is 13.2 billion bpd.
OPEC countries are mostly from Middle East and the political instability in the region clearly implies the hurdles in the exports of oil, petroleum and shale giving direct benefit in the trade and exports of these resources to the US. Moreover, the already imposed US sanctions on the countries importing the resources from Iran backed by the fact that deadline of May 2020 for exemptions of sanctions to those countries like India which didn't face sanctions at first place will further reduce Iranian market of export of resources and giving a clear edge to US in near future.
Thus, it would be very much incorrect to perceive the killing of military leader of Iran mainly as a mistake of White House. Trump might have a history of doing blunders but this time he has played cleverly in the region. It would be noteworthy to have a look at future implications and how Iran – after suffering few major blows – finds a way to deal with the situation which presently is not in its favour and in future too is moderately likely to be reinforced on the US side unless a major mistake is committed by Washington.
Reading tea leaves: US backs off support for regime change in Iran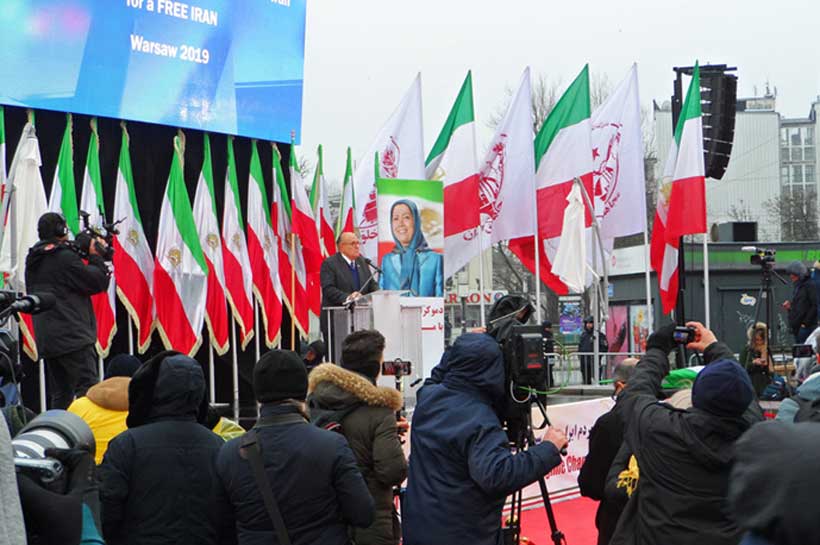 An Iran hawk who advocated killing general Qassim Soleimani, US Secretary of State Mike Pompeo has ordered his diplomats to limit contacts with militant Iranian exile and opposition groups that support either regime change or greater rights for ethnic groups like Kurds and Arabs.
Coming on the back of the Soleimani killing, Mr. Pompeo's directive appears to put an end to the Trump administration's hinting that it covertly supports insurgent efforts to at the very least destabilize the Iranian government if not topple it.
A litmus test of the directive by Mr. Pompeo, known to have a close relationship with Donald J. Trump, is likely to be whether the president's personal lawyer, Rudolph Giuliani, distances himself from the controversial National Council of Resistance of Iran (NCRI), an offshoot of the Mujahedeen-e-Khalq, a group that was taken off the US Treasury's list of designated terrorists several years ago.
Mr. Giuliani is a frequent, well-paid speaker at gatherings of the group that has built a significant network among Western political elites. The council and the Mujahedeen openly call for regime change in Iran.
The Mujahedeen were moved with US assistance from their exile base in Iraq to a reportedly Saudi-funded secretive facility in Albania.
A New Jersey-based lobbying firm hired by the NCRI, Rosemont Associates, reported last year in its filing as a foreign agent frequent email and telephone contact on behalf of its client with the US embassy in the Albanian capital of Tirana as well as Brian Hook, the US Special Representative for Iran, and Gabriel Noronha, an aide to Mr. Hook.
In his directive, Mr. Pompeo said that "direct US government engagement with these groups could prove counterproductive to our policy goal of seeking a comprehensive deal with the Iranian regime that addresses its destabilizing behaviour."
The secretary went on to say that Iranian opposition groups "try to engage US officials regularly to gain at least the appearance of tacit support and enhance their visibility and clout."
Mr. Pompeo's cable, while keeping a potential negotiated deal with Iran on the table, does not stop other US government agencies from covertly supporting the various groups, that also include Arab Struggle Movement for the Liberation of al-Ahwaz (AMLA), the Komala Party of Iranian Kurdistan, and the Kurdish Democratic Party of Iran (KDPI).
Iran, which has long believed that the United States, alongside Saudi Arabia and Israel, supported the Mujahedeen as well as ethnic militants that intermittently launch attacks inside Iran, is likely to take a wait-and see-attitude towards Mr. Pompeo's directive that could be seen as a signal that the Trump administration is not seeking regime change.
The timing of the directive is significant. Iran responded to the killing of Mr. Soleimani with carefully calibrated missile attacks on US facilities in Iraq in a bid to create an environment in which backchanneling potentially could steer the United States and Iran back to the negotiating table.
While it was uncertain that one round of escalated tensions would do the trick, potential efforts were not helped by the death of Oman's Sultan Qaboos bin Said al Said, a key interlocutor who has repeatedly helped resolve US-Iranian problems and initiated contacts that ultimately led to the 2015 international agreement that curbed Iran's nuclear program.
In his directive, Mr. Pompeo, referring to Komala, acknowledged that "Iran's regime appears to assess that the United States and/or Israel support this group of militant Kurds."
Iranian perceptions were reinforced not only by calls for regime change by senior figures like Mr. Giuliani and Saudi prince Turki al-Faisal, a former head of the kingdom's intelligence service and ex-ambassador to Britain and the United States, but also the appointment in 2018 of Steven Fagin as counsel general in Erbil in Iraqi Kurdistan.
Shortly before moving to Erbil, Mr. Fagin met In Washington as head of the State Department's Office of Iranian Affairs, with Mustafa Hijri, leader of the KDPI as it stepped up its attacks in Iranian Kurdistan.
Iranian perceptions were further informed by the appointment of John Bolton, Mr. Trump's since departed national security advisor and like Mr. Giuliani a frequent speaker at NCRI events, who publicly advocates support of ethnic insurgencies in Iran in a bid to change the regime.
As Mr. Trump's first director of the Central Intelligence Agency, Mr. Pompeo named Michael D'Andrea, a hard-charging, chain-smoking covert operations officer, alternatively nicknamed the Dark Prince or Ayatollah Mike, whose track record includes overseeing the hunt for Osama Bin Laden, as head of the CIA's Iran operations.
The appointment was followed by publication by a Riyadh-based think tank believed to be close to crown prince Mohammed bin Salman of a study for Saudi support for a low-level Baloch insurgency in Iran. Prince Mohammed vowed around the same time that "we will work so that the battle is for them in Iran, not in Saudi Arabia."
Pakistani militants have claimed that Saudi Arabia had stepped up funding of militant madrassas or religious seminaries in the Pakistani province of Balochistan that allegedly serve as havens for anti-Iranian fighters.
The New York Times reported this week that aides to Prince Mohammed had in the past discussed with private businessmen the assassination of Mr. Soleimani, an architect of Iran's regional network of proxies, and other Iranians as well as ways of sabotaging the country's economy.
Mr. Pompeo's directive is unlikely to persuade Iran that Washington has had a change of heart. Indeed, it hasn't. Mr. Trump maintains his campaign of maximum pressure and this week imposed additional sanctions on Iran.
Nonetheless, potentially taking regime change off the table facilitates backchanneling that aims at getting the two nations to talk again.
Entangling between Escalation De-escalation
The US airstrike in Iraq has further fueled the already bloody race of having regional influence between the US and Iran. The Middle East has been hub of resources and encompasses crucial Sea Lines of Communications(SLOCs) i.e. Persian Gulf and Strait of Hormuz. These two SLOCs have been main trade routes for regional and extra-regional states for oil transportation. The region is significant so that's why it has always been in conflict-prone situation. Interstate and intrastate actors have been involved. The wave of Arab Spring and emergence of Islamic State of Iraq and Syria (ISIS) have already put region in chaos. Now US killing of prominent Iranian leader (Soleimani) of Quds force in Iraqmay takes region to the verge of war. In 2018, Trump declared Islamic Revolutionary Guard Corps Quds Force as a terrorist force. Trump has justified killing by saying that " Soleimani was a terrorist and that assassinating him was a defensive action that stopped an imminent attack". Now Iran is also following for tit for tat mechanism by declaring all US forces as terrorists and Iran did missile attack on US military bases held in Iraq and justified this attack in the same as the US did.
Trump acted unilaterally ,in which will of Iraq and world community were not included and this is true depiction of its imperial arrogance as Middle eastern region has been in warlike situation and this incidence may escalate the situation. There are chance of war as Iran unfurl red flag on mosque Jamkaran in first time in history and in Shiite religion red flag symbolizes vengeance. Gen Qasim Soleimani was close to Iran's supreme leader, Ayatollah Ali Khamenei, who on Friday issued a statement calling for "three days of public mourning and forceful revenge, in a declaration that amounted to a threat of retaliation against the United States andhis departure to God does not end his path or his mission".
Iran has made retaliation in response to Soleimani killing with missile attack on US bases; Al asad and Erbiland opted same time at which US attacked on Iranian general. In counter response to Iranian attack US put strict economic sanctions on Iran and also reiterated that NATO should strengthen its position in Middle east. While on the other hand, Trump said that US does not want war but peace. This is true illustration 'Carrot and stick' diplomacy. The Soleimani'successor Major General Ismail Qaani has given statement yesterday that "We promise to continue Martyr Soleimani's path with the same strength and his martyrdom will be reciprocated in several steps by removing the US from the region". After attack supreme leader of Iran said that this attack is slap on US face and it is not enough that US did. Moreover Iranian foreign minister , Javad Zarif also said that "we will defend our own territory, we will defend our people," Zarif told CNN's Fred Pleitgen. "The United States can defend the United States, but the United States cannot claim to be defending the United States several thousand miles away." This is how Iran can retaliate and zaarif's statement depicts that Iran wants to wipe out US from the region. US is extra regional states , whereas Iran is regional state and has allies and proxies in the countries.
"We have people on our side in this region," Zarif said. "Beautiful military equipment doesn't rule the world, people rule the world. President Trump has to wake up to the reality that the people of this region are enraged, the people of this region want the United States out."
The statements from the Iranian personnel are true depiction that this airstrike it is possibility of full fledge war. Because the US has also military presence in the region i.e. Thousands of US troops have been deployed to Saudi Arabia, and there are some 5,000 at bases in Iraq. The US also has a chief air base in Qatar and a naval occurrence in Bahrain not only this also has troops in United Arab Emirates, Kuwait and Jordan. Tehran said that she is not in urgency and they will choose target wisely and will respond with decisive deterrent effect. Trump reiterated that "If Iran attacks an American Base, or any American, we will be sending some of that brand new beautiful equipment their way…and without hesitation". Iran responded to it as , it was US, who started war now get ready to face the music. Iran has deployed it ballistic missiles( short and medium range) on ready mode and US bases in region are also vulnerable to threat but US also exercising its satellite for surveillance.
The US has been an established World Power so its US responsibility to not to escalate tensions as Great powers always have to choose the path; soft power or hard power. In the present situation diplomacy is best solution to de-escalate the crisis. After Iranian attack Trump mentioned in his speech that US wants peace but on the other hand also stress NATO to strengthen its position in Middle east and put sanctions on Iran. So still danger is there between Iran and US as Iran also has missiles and proxies that can hit America. On the other hand , US has been an unrivaled power and its alliances from Israel to Europe may damage Iran. US war with Iran, whether it be asymmetric or proxy, will be horrible.
Hence the region has been hub to regional and extra-regional powers and in any sort of conflict. State, non state actors, regional and extra-regional states may also engage which can in turn lead towards full fledged war. Moreover in the fighting of two, third part can take advantage of the situation i.e. ISIS in the Middle east can strengthen its roots in the region while US and Iran are busy in confrontation with one another. The world community should and will have to come with solutions to avoid inadvertent escalation between US and Iran and standoff between the two states may bring the region on the verge of war and in which no one will get anything but destruction.