The role of data and statistics for evidence based policy making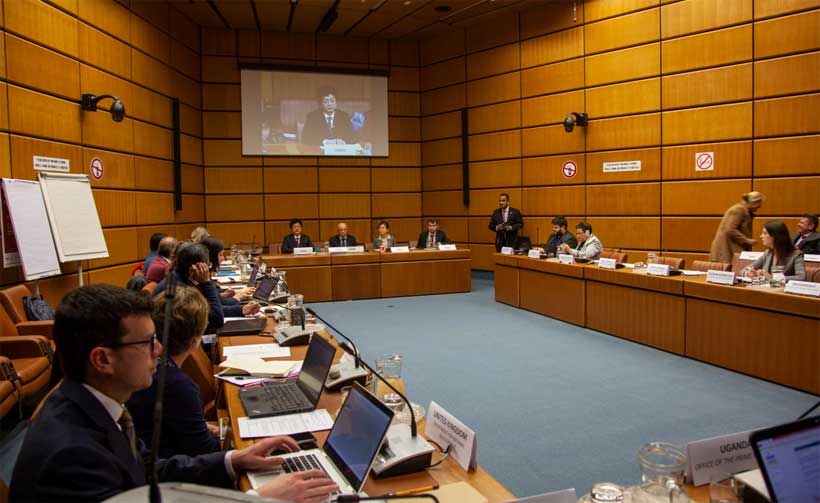 An international workshop on data and statistics for evidence-based Voluntary National Reviews (VNRs) taking place at the headquarters of the United Nations Industrial Development Organization (UNIDO) is a joint initiative of UN Statistics Division (UNSD), New York and UNIDO Statistics Division. The voluntary national review is a mechanism for the regular reviews of the Sustainable Development Goal (SDG) process which are prepared by Member States and presented to High-Level Political Forum. It facilitates sharing of experiences in monitoring the implementation and achievements towards the achievement of the 2030 Agenda for Sustainable Development.
Opening the workshop, Hiroshi Kuniyoshu, UNIDO's Deputy to the Director General and the Managing Director of the External Relations and Policy Research Directorate, welcomed the participants and hailed the role of data and statistics for evidence based policy making. He thanked UN Statistics Division for maintaining a close cooperation with the UNIDO statistics division in undertaking such important international event.
The workshop is attended by more than 40 participants representing national statistical offices and policy making bodies of different member-states as well as by representatives from UN agencies and international non-governmental organizations. Participants are presenting the national SDG monitoring mechanisms and processes and discussing the measurement gaps that impede monitoring of national policies. The workshop will continue till 12 December 2019.
World's Largest Companies Support Developing Core Set of Universal ESG Disclosures
On Tuesday, the chief executive officers of many of the world's largest companies expressed support for aligning on a core set of metrics and disclosures in their annual reports on the non-financial aspects of business performance such as greenhouse gas emissions and strategies, diversity, employee health and well-being and other factors that are generally framed as ESG topics.
Though business leaders increasingly see the topics of ESG and the SDGs as important to long-term business value creation, lack of comparable ESG reporting in mainstream reports hinders the meaningful benchmarking of sustainable business performance by investors and society. Additionally, this prevents effective communication about a company's long-term and sustainable value creation.
The IBC of the World Economic Forum discussed a proposal prepared by the Forum in collaboration with the Big Four accounting firms – Deloitte, EY, KPMG and PwC – titled Toward Common Metrics and Consistent Reporting of Sustainable Value Creation. The proposal recommends a set of core metrics and recommended disclosures. The intent is for the metrics to be reflected in the mainstream annual reports of companies on a consistent basis across industry sectors and countries.
"For stakeholder capitalism to become a reality, we must be able to measure companies' performance on environmental, social and governance metrics," said Klaus Schwab, Founder and Executive Chairman of the World Economic Forum. "The International Business Council's decision to endorse this principle, and their willingness to be measured in their annual reports on more than profits, is a crucial step to change our economic system for the better."
The proposed metrics and recommended disclosures have been organized into four pillars that are aligned with the SDGs and principal ESG domains. They are:
– Principles of Governance
Aligned with SDGs 12, 16 and 17, "principles of governance" focuses on a company's commitment to ethics and societal benefit
– Planet
Aligned with SDGs 6, 7, 12, 13, 14 and 15, "planet" looks at the themes of climate sustainability and environmental responsibility
– People
Aligned with SDGs 1,3, 4, 5 and 10, "people" examines the roles human and social capital play in business
– Prosperity
Aligned with SDGs 1, 8, 9 and 10, "prosperity" focuses on business contributions to equitable, innovative growth
The metrics are drawn, wherever possible, from existing standards and disclosures such as GRI, SASB, TCFD, CDSB and others. Instead of reinventing the wheel by creating a new standard, they aim to amplify and elevate the rigorous work that has already been done by these initiatives, bringing their most material aspects into mainstream reports on a consistent basis.
"By aligning companies with asset owner and asset managers through common, limited and meaningful metrics, we will ensure sufficient capital is available to meet the Sustainable Development Goals," said Brian Moynihan, Chairman and Chief Executive Officer, Bank of America. "Companies can deliver great returns for their shareholders, invest in their employees, share their success with the communities in which they operate and drive progress on societal priorities."
Adoption of such recommended universal metrics and disclosures by IBC companies is intended to be a catalyst for greater alignment and synergy among existing ESG standards and ultimately a system-wide solution, such as a generally accepted international accounting or other reporting standard drawn from best practice.
At the request of the IBC, the World Economic Forum will continue to consult with interested companies and other stakeholders to further develop and test these metrics and universal disclosures as well as to engage and collaborate with policy-makers, businesses and civil society groups who wish to see this work progress.
Global Leaders Unite Under the Food Action Alliance to Deliver a Better Future for People and Planet
The World Economic Forum, the International Fund for Agricultural Development (IFAD)and Rabobank, together with a growing roster of private and public sector partners have come together to launch the Food Action Alliance (FAA). The FAA brings together the international community to tackle an urgent historic challenge: to reshape the way we think, produce, supply and consume food.
The FAA is a coalition of organizations and initiatives who through collective action significantly strengthen the impact of agricultural value chains to produce food efficiently, sustainably and accessibly, in support of a transition to healthier diets and improved environmental outcomes. The FAA builds on the extensive experience of World Economic Forum's New Vision for Agriculture initiative.
It mobilizes a next generation of multistakeholder partnerships that build on existing synergies and complementary capacities to deliver food systems that are efficient, sustainable, inclusive, nutritious and healthy in line with the United Nations' Sustainable Development Goals (SDGs). It does so by providing a framework for collective knowledge and action on systemic issues such as on food security and nutrition, inclusive growth and decent jobs, environmental sustainability and climate resilience – affecting the sustainability of global food systems.
Partners of the FAA include African Development Bank (AfDB), Alliance for a Green Revolution in Africa (AGRA), Bayer AG, Bharat Krishak Samaj (Farmers' Forum India), Food and Agriculture Organization of the United Nations (FAO), Global Environmental Facility (GEF), Grow Africa, Grow Asia, IDH – The Sustainable Trade Initiative, Indigo Ag, Inter-American Institute for Cooperation on Agriculture (IICA), International Center for Tropical Agriculture (CIAT), International Fund for Agricultural Development (IFAD), Rabobank, Royal DSM, Southern African Confederation of Agricultural Unions (SACAU), UPL, World Business Council for Sustainable Development (WBCSD), WWF International and the World Economic Forum.
"Partners in the Food Action Alliance believe that fragmentation within the current food system represents the most significant hurdle to feeding a growing population nutritiously and sustainably. We urgently need new business models and innovative partnerships to transform the way food is produced, supplied and consumed," said Sean de Cleene, Member of the Executive Committee and Head of Food Systems Initiative, World Economic Forum.
To achieve a vision for efficient, sustainable, inclusive, nutritious and healthy food systems, the FAA brings together stakeholders from all sectors – government, business, farmer associations, international organizations, civil society and academia – to mobilize a country driven agenda towards meeting the SDGs. Ishmael Sunga, Chief Executive Officer of the Southern African Confederation of Agricultural Unions (SACAU) said: "Putting farmers at the heart of discussions for solutions and actions is key to implement pathways for food systems transformation. Partners in the Alliance have the potential to significantly support economic development, decent jobs, sustainable and resilient agriculture practices, benefiting millions of smallholder farmers."
The current food system is not structured to cope with a rapidly growing population, climate shocks and the rise of hunger and obesity. Under business-as-usual scenarios, an estimated 637 million people will be undernourished while health systems could face a bill of $1.2 trillion every year from 2025 for treating medical conditions related to obesity. Today's agricultural supply chain, from farm to fork, accounts for between 21% to 37% of greenhouse gas emissions.
The food system is inefficient in many respects. For example, around one-third of food, accounting for around $1 trillion, is wasted across the supply chain. Many farming methods that are successful in increasing output – and therefore farmer incomes – deplete natural resources such as soils and forests, making them unsustainable in the longer term.
"We need wider and deeper collaboration along the food value chain to de-risk investing in agriculture. This will in turn allow financial system partners and investors to come in and provide the much-needed access to finance. The Food Action Alliance brings these players together in coalitions, which can jointly create solutions for people, planet and markets," said Wiebe Draijer, Chairman of the Managing Board, Rabobank.
The Food Action Alliance will play a key role in advancing the goals toward the United Nations 2021 Food Systems Summit, which will bring together the international community raising the urgency for food system transformation to the highest level. Agnes Kalibata, President, AGRA and the UN Secretary-General's Special Envoy for the 2021 Food Systems Summit said: "We need transformative thinking and action to achieve the goals we have set for ourselves by 2030 – for people, for the environment and for our shared future. By demonstrating concrete business models and pathways to transforming food systems, the Food Action Alliance is a great example of a new approach that can make a significant contribution to the 2021 Food System Summit and, more importantly, deliver on aspirations of countries and all our people."
The Food Action Alliance will be initially active in Latin America, Africa, India and South-East Asia. Various multistakeholder consultations are taking place to identify flagship opportunities for improving the scale and sustainability of existing agricultural value chains. Expert groups focused on generating and disseminating knowledge and developing new solutions on issues such as resilient farming practices, financial solutions and technology platforms will support existing and new initiatives.
"The Food Action Alliance provides the links between projects, initiatives and organizations needed to achieve change at scale. Together, we believe that coordinated action has the potential to improve the economic livelihoods of hundreds of millions of smallholder farming families and create a sustainable food system for future generations", said Gilbert F. Houngbo, President of IFAD.
Fifteen Years to Save the Amazon Rainforest from Becoming Savannah
The pace of deforestation in the Amazon, coupled with last year's devastating forest fires, has pushed the world's largest rainforest close to a tipping point beyond which it will turn from a carbon sink to a carbon source.
Without immediate action to halt deforestation and start replacing lost trees, half of the entire Amazon rainforest could become savannah within 15 years, according to Carlos Afonso Nobre, Director of Research at the Brazilian Academy of Sciences. The Amazon's tropical forests create 20%-30% of their own rainfall, so preserving them is as vital for regional weather systems and food production as it is for stabilizing the global climate. "Deforestation is now at 17%," said Nobre, "but if it exceeds 25%, we will cross the tipping point."
Colombia has stepped up to the challenge, setting targets to plant 180 million trees and reduce deforestation by 30% by 2022. President Ivan Duque told a packed hall that "the greatest challenge of our time is climate change". In September 2019 he convened the Leticia Pact of seven Amazon countries whose presidents have personally committed to work together to protect the rainforest.
"We have to defeat deforestation," said the president, whose country is 35% rainforest. He has also launched a strategy of Biodiverse Cities, in which Colombian cities within forest areas will develop circular economies to protect biodiversity and the environment. "Thirty-four million people live in the Amazon," said Duque, adding: "We need those societies to be able to preserve themselves and preserve forest ecosystems."
Al Gore, Vice-President of the United States (1993-2001); and Chairman and Co-Founder, Generation Investment Management, agreed that indigenous people and their knowledge must be respected. For centuries, people have made a way of life in the Amazon that is not destructive. While poverty in the region needs answers, Gore said that clearing the rainforest to plant crops is a "false hope" as the richness of the rainforest is in the canopy and its wildlife, not in its thin soils.
Nobre has developed the idea of an Amazon Third Way in which modern technology taps into and develops traditional wisdom to create a new bioeconomy. The acai berry, for example, brings over $1 billion into the Amazon economy. It is second only to beef in terms of value yet uses just 5% of the area taken by up cattle ranches – making the berry 10 times more profitable than the beef.
Solutions need to be global as well as local. Nobre called on assembled business leaders to support global supply chains that are deforestation-free and to promote the emergence of a new bioeconomy.
Emphasizing the sense of urgency, Gore declared that "the climate crisis is way worse than people generally realize and it's getting worse way faster than any of us realize". He called on politicians in particular to rise to the challenge: "This is Agincourt, this is Dunkirk, this is 9/11," he announced with passion.
Fellow panellist Jane Goodall, famous for her work with chimpanzees and community development across Africa, called on all of us to get involved in the World Economic Forum's 1 Trillion Trees Initiative. She said we need ways of compensating people for looking after tropical rainforests on our behalf, as currently we are not paying for forests despite needing them everywhere. She cautioned people against making the tone of the debate too "doom and gloom" and left the hall with this message: "Give the youth hope, because if you lose hope, you give up."