Lebanon and Sri Lanka: An Extraordinary Relationship and a Bright Future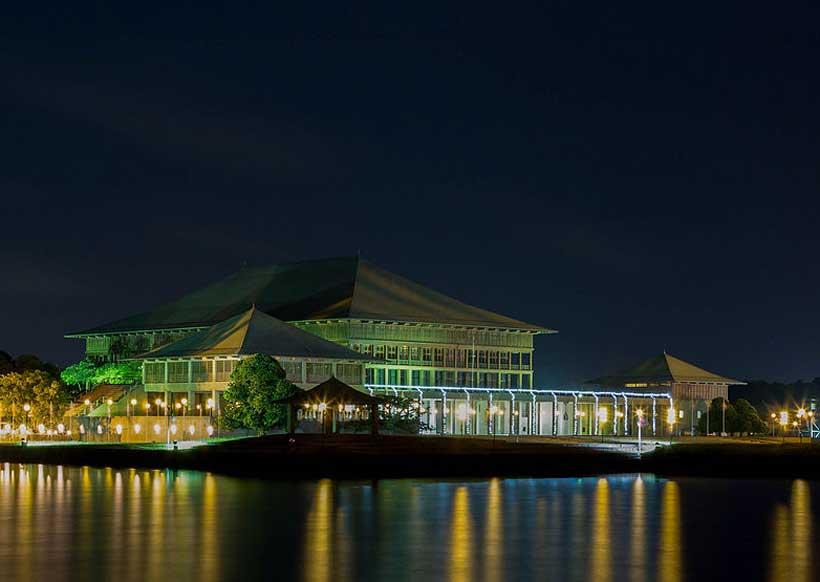 Since the Silk Road, Arabs turned to Asian countries, and this was the reason for the spread of Arab civilization in many Asian countries. The Arab merchants headed towards Sri Lanka because of its geographical position. This island was a point of rest and cultural interaction between Sri Lankans and Arabs, and this is an important reason for the presence of Muslims in Sri Lanka.
The Sri Lankan-Lebanese relationship is long established. In the common history of these two countries, there are many good events. It is important to note that Sri Lanka is a peaceful country that has always been friendly to Lebanon at all times. In 1990, the relations between Lebanon and Sri Lanka became official after the establishment of diplomatic exchange. Sri Lanka's first ambassador to Lebanon was appointed in 1997 and the diplomatic mission began in 1998. Prior to that, the Sri Lankan ambassador was appointed to Saudi Arabia, Egypt and Lebanon.
Sri Lanka's foreign policy is based on the principle of friendship with all and hostility to no one, which has made this country a special place for Lebanese diplomacy. Sri Lanka traditionally follows a non-aligned foreign policy and does not take sides with major powers. Sri Lanka also has good relations with ASEAN countries, South Asian countries and major powers such as China, the United States and Russia, which has strengthened its internal peace.
Political and economic interest requires any country with ties to Sri Lanka to engage peacefully and diplomatically, because power and superiority with this island will have a negative effect. Sri Lanka is an active member of the United Nations and founding member of the Non-Aligned Movement (NAM), member of the Commonwealth of Nations, South Asian Association for Regional Cooperation (SAARC), World Bank, International Monetary Fund (IMF), Asian Development Bank (ADB) and Colombo Plan.
The estimated number of Sri Lankan citizens in Lebanon is between 80,000 and 90,000, most of them workers. There is also a Sri Lankan battalion active in the peacekeeping force in Lebanon. The main task of the Sri Lankan battalion is to ensure security of Force Headquarters compound where all command elements, branches and all key personnel including the Force Commander / Head of the Mission are accompanied. These tasks also include; applying all FB measures in accordance with the alert status established by UNIFIL Force Commander, providing updated information and assesses the FP situation in their respective areas as requested by the Force Protection Working Group.
During the visit of the State Minister Mr.Vasantha Senanayake to Lebanon, he expressed his country's desire to develop bilateral relations with Lebanon and joint support in international forums. During that visit, the State Minister considered that the Sri Lankan state is interested in direct flights between the two countries in order to encourage tourism and communication, and called on the Lebanese state to open an embassy in Colombo. He said that Sri Lanka's participation in UNIFIL reflects the goodwill of the Sri Lankan state towards Lebanon for the security and safety of the people.
Trade relations between Lebanon and Sri Lanka are thriving and are developing considerably year after year. Lebanon can import a lot of goods from Sri Lanka especially since this country is rich in natural resources such as rubber products, garments, gem,jewelry, spices, fisheries products, fruits, pharmaceuticals, coconut charcoal, pearls and precious stones. Many Lebanese products can be exported to Sri Lanka such as Dairy products, marble tiles, cosmetics, construction machineries, agricultural and hospital equipment.
The bilateral relationship between Lebanon and Sri Lanka is a good example of active and peaceful diplomacy. The actual history of that relationship dates back to time and in 1990 it was formalized through diplomatic representation. Many generations of Sri Lankans have come to know a lot about Lebanese culture because they were brought up in Lebanon; those can be considered honorary citizens.
You will hear from every Lebanese who visited Sri Lanka amazing words about the beauty of this island and the goodness of its people. The Lebanese should welcome every Sri Lankan in Lebanon and treat them in a respectful and humane manner, whatever their job or social position.
Justifying a Pakistani Response to India's Hybrid Warfare Campaign
Hybrid warfare has irreversibly changed the dynamics of war in the contemporary era. In a way, it can be perceived as forming a 'new normal' that has also transformed the nature of warfare in South Asia, one of the most volatile regions of the world. There is no doubt in claiming that Pakistan has been a victim of 'hybrid warfare' widely perceived to be launched and sponsored by India. This has remained evident even in the region's history where the situation in East Pakistan in 1971 involving the promotion of Mujib's six-point plan, and the training and support offered to the Mukti Bahini's violent separatist movement were all led by India. In the same vein, the current extent of hybrid warfare against Pakistan can also be analyzed from the fact that India is still waging a Low-Intensity Conflict (LIC), through the employment of its proxies in the region. These are further bolstered by its Anti-Pakistan psychological operations, mainstream and social media campaigns, information operations, false flag operations, and undermining Pakistani interests economically, politically and diplomatically at various international forums. As a result, Pakistan is being forced to counter this hybrid warfare campaign through greater preparedness and a concerted strategy as this 'new normal continues to threaten Pakistan's national security.
These hybrid threats to the national security of Pakistan have resultantly become a major concern for its politico-strategic outlook. In view of this, the unrest in Baluchistan, which is all the more pertinent because of CPEC, is not acceptable to Indian interests at the present. Hence, this forms one of the primary reasons behind its sustained campaign against Pakistan. This is evident for instance in how Kulbhushan Jadhav, a serving Indian military officer was convicted for spying inside Pakistan and supporting terrorism in Baluchistan. Furthermore, the Balochistan Liberation Army (BLA), a terrorist group that has been known for decades as being backed by India was also reportedly involved in an attack on the Chinese Consulate in Karachi back in November 2018. Similarly, the Pashtun Tahafuz Movement (PTM) movement which is evidently involved in anti-state activities is also widely understood as being sponsored by India's Research and Analysis Wing (RAW) and Afghanistan's National Directorate for Security (NDS). has All the above have thus carried all the hallmarks of both the NDS's and RAW's past activities and nefarious motives with regard to destabilizing Pakistan.
In addition to this, Pakistan has been the target of multiple Indian sponsored 'hybrid' campaigns at the international diplomatic level specifically when it comes to Pakistan's nuclear program. In this regard, India has been working for quite some time to project Pakistan as a country involved in nuclear proliferation. As a result, significant lobbying at various multilateral forums has been carried out by India to paint Pakistan as an irresponsible or even 'rogue' nuclear weapons state. Whereas, in fact, the irony is that it is Mr. Modi's BJP led Hindu Nationalist and Extremist government that is willfully acting the role of the irresponsible near unhinged nuclear weapons state through his consistent and deliberate negative nuclear signaling against Pakistan. Thus, it is instead India which coupled with its sustained hybrid warfare campaign against Pakistan manifests a very real danger in terms of the present situation escalating towards the nuclear realm. This, for instance, is further evident in how Mr. Modi has repeatedly threatened Pakistan with the use of nuclear weapons – such as thermonuclear weapons – solely for the sake of political and electoral goals. As such, India has actively aimed to portray Pakistan's nuclear posture and doctrines as a 'Nuclear Bluff', blaming Pakistan for 'Nuclear Blackmailing'. All while the Indian Nuclear Arsenal, which unfortunately still remains under the control of Hindu Extremists, and presents a more pressing and immediate danger.
The fact, however, remains that within the current scenario in India; conditions are ripe for Pakistan to wage its own campaign to bolster its stance at the international as well as the domestic level within India by launching its own hybrid warfare campaign. For instance, the Indian government's unilateral revocation of the special status of the Kashmir region that had been previously granted under Articles 370 and 35(A) of the Indian constitution has played a key role in bringing to surface deep-seeded and pre-existing communal tensions. In the same way, the discriminatory decision by the Indian Supreme Court regarding the demolition of the Babri Mosque which the court has ironically based on preserving the balance between Hindus and Muslims has also inflamed tensions even further. Similarly, the recent controversy surrounding the 'Citizen Amendment Bill' (CAB)has also come to represent India's failed attempts at justifying its Anti-Muslim agenda. In view of all these challenges being posed to Indian Muslims, Pakistan can opt for a more offensive stance in helping further accelerate the widely foreseen demise of the ruling BJP government, which in itself is primarily of its own making. At the very least Pakistan can provide moral and logistical support to some of India's most marginalized groups to help lay bare the injustices and wickedness of the ruling BJP. Thus, appealing to a more principled stance aimed at a domestic Indian as well as a wider international audience.
Hence while Pakistan is facing a variety of threats from India, it has not yet undertaken a similar campaign of its own to counter and respond to such threats in kind. Despite the Indian government's continued atrocities, the fact remains that Pakistan still holds a highly principled stance vis-à-vis the tactics currently being employed byIndia. The difference remains that based on this scenario, any action taken by Pakistan would be based on championing a purely more inclusive and pluralist approach promoting human rights in the face of a violent extremist ideology. The recent opening of the Kartarpur Corridor stands as a valid case in point. As such Pakistan's stance remains miles apart from India's deliberate, deep-seeded and destabilizing divisions fueled by hate and indifference. In essence, championing 'A New Normal' that is worth fighting for.
Pakistan Seeks Peace in the Region as well as Globally
Pakistani narrative is gaining momentum worldwide. Pakistan's peace efforts in the Middle-East, Afghanistan, and any other part of the world are lauded and got well recognition. In fact, Pakistan was the victim of Afghan-War for 4 decades and suffered huge economic, political, and social losses. Pakistan is willing to share its bitter experiences and trying its best to promote Peace globally.
PM Imran Khan, in an interview with German broadcaster Deutsche Welle (DW), said "Then there is Afghanistan. Pakistan is doing its best to bring peace to Afghanistan. It is a country that has suffered so much in the past 40 years. We pray that the Taliban, the Americans, and the Afghan government achieve peace".
"I think they are heading towards a ceasefire. We are hoping that the US-Taliban talks succeed, as we have a new government in power in Afghanistan with President Ashraf Ghani being re-elected," PM Imran remarked when asked about the Afghan situation.
"Peace in Afghanistan would open up trading opportunities in Central Asia. It [Afghanistan] would also become an economic corridor for us. If there is peace in Afghanistan, our people in Khyber Pakhtunkhwa province, which borders Afghanistan, will also benefit," he said.
"Pakistan has played its part in peace talks. There was a hostage situation and with Pakistan's efforts, two out of three Western hostages were released. So, we are doing our best with whatever influence we have," he added.
Pakistan has emerged as a Peace-Loving nation and well matured, responsible state. The Visionary leadership in Pakistan has taken several initiatives for Peace and Stability. Our role in Afghanistan, to bring the Taliban to the negotiation table with The US is one of its big success. PM Imran Khan has visited Tehran and Riyadh, to diffuse tension between Saudi Arabia and Iran. Pakistan supports to diffuse US-Iran Tension. Foreign Minister of Pakistan has been traveled to Tehran, Riyadh, Oman, and the US for dissolving tension. Pakistan has such experience and influence in the region to mediate among stake-holders for Peace and overcoming the differences.
While India is the opposite case. PM Imran Khan, in an interview with German broadcaster Deutsche Welle (DW), said that India had been taken over by an extremist ideology known as Hindutva which is inspired by the German Nazis, and its [Hindutva's] founding fathers believed in racial supremacy. It is really a big tragedy for the region that India has been taken over by the extremist Rashtriya Swayamsevak Sangh (RSS) and warned the global community that the nuclear-armed country was being run by extremists.
PM Imran Khan said "It is a tragedy for India itself — and for all its neighbors — that the country has been taken over by RSS, an organization which also assassinated the great Mahatma Gandhi. A nuclear-armed country is being run by extremists, and Kashmir has been under siege for over five months".
His remarks came in a response to questions, about tensions in South Asia and the occupation of Kashmir by Indian troops. "Just as the Nazi ideology was built on hatred for minorities, the RSS ideology is also based on hatred for Muslims and other minorities, including Christians." India is building detention camps in the same lines as Nazi in Germany. In fact, there exist similarities between RSS ideology and Nazi ideology. So one should expect a similar outcome, or even worse. He further said that he was the first leader to warn the world about what is happening in India. India has been taken over by an extremist ideology known as Hindutva. India is no longer a Secular or democratic country. It is the ideology of RSS. The RSS, a political organization founded in 1925, inspired by the German Nazis, and following its steps in a much bigger and advanced manner.
It is worth mentioning that India and Pakistan, both are nuclear countries and possess enough compiles of weapons to destroy each other completely. If the international community keeps its role of spectators, it might lead to a big disaster not only for India itself but as well as for Pakistan, all neighboring states, whole region and global.
In response to a question about the disproportionate coverage accorded to protests in Hong Kong as opposed to the siege of occupied Kashmir, PM Imran said that the tragedy of Kashmir was much greater but commercial interests are more important for western countries. "Unfortunately, commercial interests are more important for Western countries. India is a big market and that is the reason behind the lukewarm response to what is happening to some eight million people in Kashmir, as well as to minorities in India," he noted. Although the general public in such countries stands with the Peace and protests against India atrocities in Kashmir and against its minorities. The general public around the world condemned Indian record violations of Human Rights.
It is appealed to the UN, the International Community, All peace-loving nations and Individuals to approach India and take appropriate measures to defuse tension in the region.
Save Humanity! Avert Disaster!
India: Domestic policy trends and development problems
The impressive victory scored in last spring's parliamentary elections in India by Prime Minister Narendra Modi inspired numerous comments about the start of a new stage in the development of one of the largest countries around. However, the spate of dramatic events that have since happened in India has drawn attention to the negative trends in the world's second most populous nation.
Since its coming to power in May 2014, the current Indian leadership has set itself ambitious and long-term goals aimed at strengthening both the country's authority in the world, its status as a "serious global player" and creating new opportunities for its accelerated development and economic growth.
"Over the past five years, Modi has sought to regain India's lost strategic position in South Asia and ensure its recognition as a regional leader according to the country's de facto role in the region," said Dattesh Parulekar, vice president of the Forum for Integrated National Security (FINS). In its effort to overcome the growing imbalances in development, the Modi government launched a number of large-scale economic administrative, financial and social reforms. Moreover, authorities still declare their intention to bring the national GDP to $5 trillion by 2024.
Another important goal being pursued by the government is centralization of the state and national consolidation, which it considers vital for the country's further development and sway, including in international affairs. From the standpoint of domestic policies, it is primarily about encouraging the growth of Hindu national and religious identity. Hence, as many foreign observers believe, the elimination by the Modi government in August 2018 of the special status of Jammu and Kashmir, then the country's only predominantly Muslim administrative unit. The decision was fully in line with the ultimate goal pursued by the ruling Bharatiya Janata Party (BJP) and the forces supporting it, i.e. the proclamation of India as a Hindu nation. Playing to the sense of ethnic identity of most of the country's inhabitants already brings political dividends with the BJP winning 37 percent of votes in the last parliamentary elections, compared with 31 percent it had in the previous legislature. Narendra Modi's party has also been quickly strengthening its hand in state power structures, including through "defections" from rival parties.
On the other hand, the government's policy of centralization, above all consolidation of the state and society, is inevitably contributing to the radicalization of the country's ethnic minorities, primarily Muslims, whose number, according to recent estimates, now exceeds 200 million. Last year saw a spate of Muslim protests. In the summer of 2019, the BJP-led government of the northeastern state of Assam established, under the pretext of combating illegal immigration, a National Register of Citizens. Of the state's 32 million residents, 2 million, mainly Muslims, were recognized as "non-citizens." In August 2019, the central government revoked the status of limited autonomy granted to the state of Jammu and Kashmir, with local media reports putting the number of protesters under lockdown at "thousands."
Finally, a new version of the Indian Citizenship Act, which critics accused of discriminating against Muslims and of being an attempt to undermine the secular underpinnings of the Indian state, was adopted in December, 2019. The new-look Act raised a new wave of protests among the country's Muslims. As a result, the ethno-religious issue can also become a convenient tool in the hands of Narendra Modi's opponents.
Finally, with the government boosting the country's national self-awareness, it becomes almost inevitable that it will take a tougher stand vis-à-vis India's traditional opponent, Pakistan, and its strong economic competitor, China. The escalation of military tensions with Pakistan that happened in February 2019, showed how quickly these two traditional foes can actually come to blows. Moreover, the dispute between Beijing and New Delhi over the ownership of the Aksai Chin Plateau, a region on the border with China, Pakistan and India, indirectly enmeshes Beijing in the territorial problems of Kashmir.
According to Indian observers, "unable to stand up to the inevitable large-scale industrial and infrastructure offensive by China through the Himalayas and the sea routes of South Asia, which are the traditional sphere of India's influence," New Delhi needs to implement "a counterbalance strategy." However, despite its undoubted foreign policy and diplomatic achievements, which have contributed to Narendra Modi's popularity inside the country, India has increasingly been lagging behind China in economic terms. Therefore, fundamental financial and economic problems threaten to become India's Achilles heel.
The relatively slow pace of India's socio-economic development remains the main obstacle to strengthening the country's position in Asia and the world as a whole. The country is subject to all the standard "developmental diseases" that always come with accelerated economic and social transformations. The modernization of Indian society is also hampered by vestiges of traditionalism. Intense discussions continue "regarding the sustainability of the current models of socio-economic development."
The Economist singles out environmental degradation, serious problems in the field of education and a crisis in public administration as the three main challenges to India's development.
After he came to power in 2014, Narendra Modi had to tackle multiple problems that had remained unsolved for decades. His government is trying to combine federal programs to help the country's poorest, who account for up to 22 percent of the country's population, with initiatives such as "Make-in-India" and "Startup India" designed to stimulate economic and business development. Experts say that "although no special breakthroughs in these areas have yet occurred, the secret of Modi's popularity is that he at least started these programs."
They also point to the government's traditional (and growing) appetite for playing a strong directive role in the economy.
In November 2016, the government took out a hefty 86 percent of all cash out of circulation as part of an experiment to root out corruption only to face a liquidity crisis. Combined with a campaign against "shadow economy," the measure seriously undermined production and employment, slowed down the pace of economic growth, "and also reduced tax revenues." A sweeping reform of the national tax system, undertaken in 2017, provoked a months-long "collapse" of the taxation sphere and sparked mass-scale protests. According to HSBC, India's GDP growth rate has been steadily declining since mid-2017. According to Bloomberg and the Center for Monitoring Indian Economy (CMIE), the volume of new investment projects in India has also been declining since 2015. The downturn began a year after Modi came to power. Amid the continuous growth of the Asian countries' role in the global economy, finance and trade, the current slide of the region's second largest economy appears very contradictory and illogical.
Narendra Modi and his opponents are fiercely arguing whether the current economic downturn is cyclical or structural. Economists are also debating on this issue. "The government apparently believes the recession is cyclical." Modi's critics argue that despite "consistent cuts in interest rates" and a budget deficit "of 102 percent in 2019," the economic slowdown has been going on for several years now, Asia Times wrote. Mounting problems in the economy even forced New Delhi to withdraw from negotiations on the Comprehensive Regional Economic Partnership (RCEP) after seven years of talks, "literally just a step away from signing the agreement." According to Indian business publications, RCEP, which was negotiated between ASEAN and the bloc's six free trade agreement partners, "will now be dominated by China. India's membership in RCEP would have been tantamount to a trade agreement with China; something Indian industry is unprepared for now."
Leading Indian economists believe, however, that pulling out of the RCEP agreement will benefit the Indian economy only if the government "immediately" starts to reform the land, labor and capital markets. New Delhi should also focus on encouraging competition, deregulating the economy and facilitating market access if it doesn't want to see its regional commodity circulation seriously falling behind China's, and its capital and technology exports, as well as state financing of domestic companies' overseas projects, remaining significantly inferior to Chinese.
Russia's chances of playing an important role in the positive transformation of its long-standing strategic partner look pretty good. In geopolitical terms, we are talking about the dialogue between the leaders of Russia, India and China, which resumed in December 2018. All three parties consistently emphasize the partnership nature of their relations as well as their shared interests and goals "in the field of development."
Economy-wise, the Russian Council on Foreign Affairs believes that Moscow can do a lot in terms of helping its Indian partners on issues ranging "from high technology and defense, to building modern infrastructure and poverty reduction." This, however, requires a qualitative improvement in the existing model of interaction to bring it fully in line with the realities of 21st century global politics, all the more so amid attempts being made by a number of countries, primarily the US, France and Israel, to sidestep Russia on the Indian track.
Right now, it looks like India could be one of the first major world powers to solve a super-complex dilemma of successfully dovetailing the priorities of security and national development. Despite all the shortfalls of his first term in office, Narendra Modi and his team have managed to even expand their support base among voters from across the country's political spectrum. The government now has to prove its ability to kick start the country's long-term internal development, while simultaneously move toward making India a system forming power in South Asia.
From our partner International Affairs