Why Wealthy Countries Must Step Up Their Contribution to Fight Global Poverty
Member countries of the International Development Association (IDA), a part of the World Bank Group, are meeting shortly to discuss the 19th replenishment of IDA, which will set the agenda for assistance to the poorest developing countries for the three-year period starting in July 2020. Algeria, Egypt, Iran, Kuwait, and Saudi Arabia contributed funds for the 18th replenishment for IDA, which covers the period July 1, 2017 to June 30, 2020. It is critical that these countries — and others in the Middle East and North Africa (MENA) region who could potentially contribute — sustain and increase their presence and participation in this important international forum and support a global public good.
This coming IDA replenishment is an opportunity for MENA countries to make their contribution and presence felt. Starting in 2020, MENA will be the epicentre of several global discussions and events: The Kingdom of Saudi Arabia is hosting the G20 members, Egypt is the chair of the African Union, the first World Expo in the region will be held in Dubai, the 2021 World Bank-IMF Annual Meetings will take place in Marrakech, and the region will see its first soccer World Cup in Doha in 2022. While these events are significant in their own right, a substantially higher financial contribution from MENA countries to IDA will demonstrate the region's capacity to lead on long-term global challenges such as poverty reduction, inclusive growth, and climate change.
IDA was created in 1960 to provide 'soft-loans' — grant funding, concessional loans, debt relief — to the poorest developing countries who could not afford to borrow on the terms that could be offered by the International Bank for Reconstruction and Development (IBRD). IDA has become one of the largest sources of assistance for the world's 77 poorest countries and the foremost instrument to channel multilateral funding where it is needed the most and in the quickest and most efficient way possible. There is no bigger source of donor funds for basic services in these countries.
Since 1960, IDA has provided almost $400 billion for investments in over 100 countries. IDA's support has paved the way toward equality, economic growth, job creation, higher incomes, and better living conditions. IDA's work covers primary education, basic health services, clean water and sanitation, agriculture, business climate improvements, infrastructure, and institutional reforms. More recently, IDA has intervened in a big way to bring hope to people affected by conflict and violence, including in the MENA region. Of course, IDA is now prioritizing investments to deal with the worst impacts of climate change.
Since 2000, IDA has provided more than $88 billion in financial assistance to Arab and Muslim countries. In IDA18, more than 50% of the resources were allocated to 28-member countries of the Organization of Islamic Cooperation. Countries like Bangladesh, Pakistan, Burkina Faso, Niger and Mali are among the biggest beneficiaries of IDA. In the MENA region, Djibouti, Syria, and Yemen are IDA beneficiaries.
In Yemen, through its many contributions, IDA has played a critical role to provide relief and mitigate the long-lasting impacts of the country's tragic conflict. Quite literally, IDA has saved lives! It has helped Yemenis fight diseases and famine. IDA helped train nearly 12,000 health personnel and immunize 6.9 million children (five million of them under 5 years old). Through an emergency program, IDA has helped ensure around 9 million vulnerable Yemenis have access to food and other basic necessities.
In Djibouti, from 2014–18, IDA provided essential services to 1.9 million people. Thousands of pregnant and lactating women, adolescent girls, and children under age 5 benefited from basic nutrition services. During the same period, over 24,000 women gave birth attended by a qualified health practitioner, up from just 1,000. IDA also helped immunize 78% of children before their first birthday in 2018, up from 33% in 2012.
The conflict in Syria, now into its eighth year, continues to take a heavy toll on the life of Syrian people and on the Syrian economy. The death toll in Syria directly related to the conflict as of early 2016 is estimated to be between 400,000 (UN, Apr 2016) and 470,000 (Syrian Center for Policy Research, Feb 2016), with many more injured, and lives upheaved. The conflict has internally displaced about 6.2 million people, including 2.5 million children. Over 5.6 million are officially registered as refugees (UNHCR, 2019). In Lebanon, IDA is helping the country enrol 200,000 Syrian children in public schools. In Jordan, IDA assistance is creating 100,000 jobs for Jordanian nationals and Syrian refugees.
Beyond the MENA region, from the conflict ravaged Democratic Republic of Congo to the earthquake affected Pakistan, or from Haiti and Nepal to Tajikistan and Myanmar, IDA is a strong development partner for the poorest countries. Building on its experience of supporting Syrian refugees and host communities, IDA has helped reintegrate displaced people in more than 10 countries including Afghanistan, Bangladesh, Niger, and Pakistan.
International institutions, of which IDA is a recognized leader, remain important for some of the most lagging regions and communities in the world. Independent assessments have documented the tremendous benefits of IDA's support for the development of poor countries. Many people are unaware that countries such as China, India, and South Korea were beneficiaries of IDA assistance in the past, but now they have become donors giving back to the international community.
Institutions like IDA deserve our utmost support because when misfortune strikes countries, the knowledge and financial resources of institutions such as IDA can save, protect, and nurture lives. These institutions can provide ideas for development strategies and funds for critical infrastructure. To eliminate extreme poverty and boost shared prosperity, institutions like IDA are a valuable ally for governments and citizens.
The World Bank Group is grateful for generous financial contributions to IDA from the international donor community. However, I believe that the more fortunate MENA countries can and must enhance their contribution to IDA. Some countries in the MENA region are among the wealthiest in the world. Their good fortune presents an opportunity for the MENA region to take on a leadership role in this important forum. It is also a wonderful opportunity to help those in need, which is fully in line with the region's rich history of generosity towards the less fortunate.
IDA has a critical global mission — and its successes to date are only possible because of the generosity of its members. More substantial financial contributions to IDA are good for MENA's standing in the international community. It is also the right thing to do.
The Covid After-Effects and the Looming Skills Shortage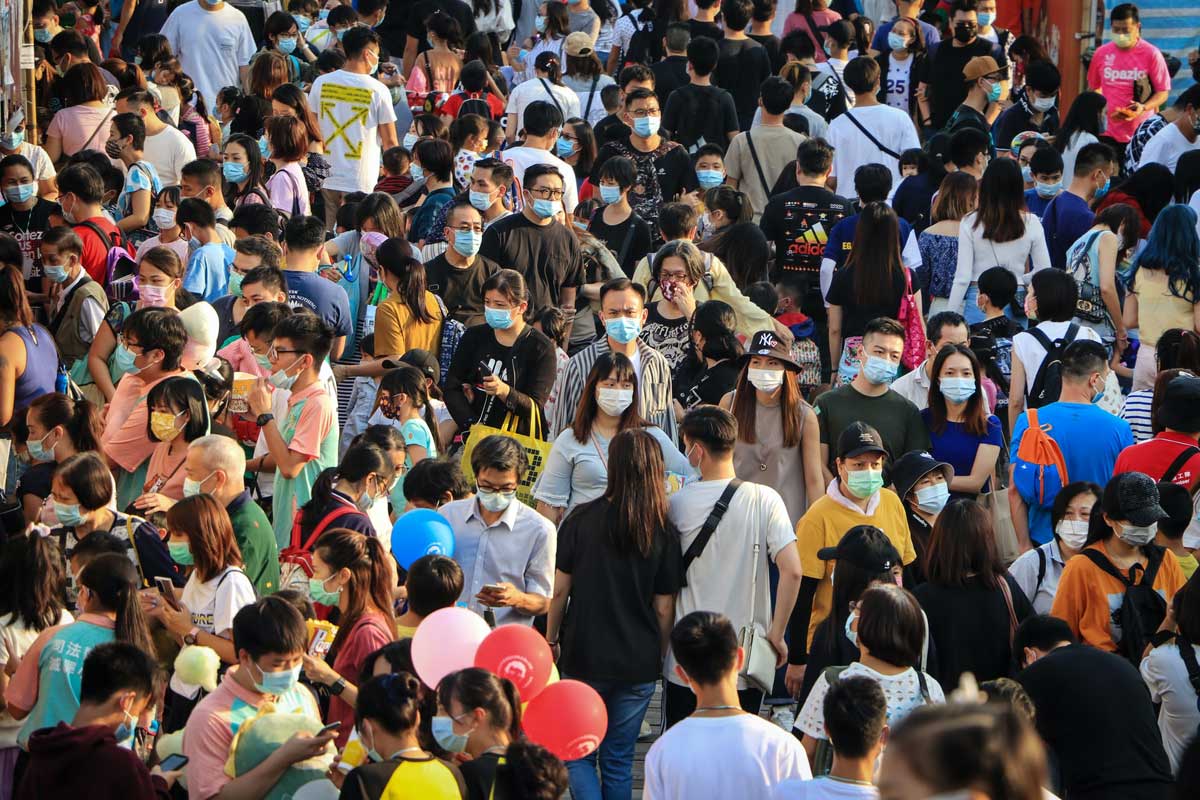 The shock of the pandemic is changing the ways in which we think about the world and in which we analyze the future trajectories of development. The persistence of the Covid pandemic will likely accentuate this transformation and the prominence of the "green agenda" this year is just one of the facets of these changes. Market research as well as the numerous think-tanks will be accordingly re-calibrating the time horizons and the main themes of analysis. Greater attention to longer risks and fragilities is likely to take on greater prominence, with particular scrutiny being accorded to high-impact risk factors that have a non-negligible probability of materializing in the medium- to long-term. Apart from the risks of global warming other key risk factors involve the rising labour shortages, most notably in areas pertaining to human capital development.
The impact of the Covid pandemic on the labour market will have long-term implications, with "hysteresis effects" observed in both highly skilled and low-income tiers of the labour market. One of the most significant factors affecting the global labour market was the reduction in migration flows, which resulted in the exacerbation of labour shortages across the major migrant recipient countries, such as Russia. There was also a notable blow delivered by the pandemic to the spheres of human capital development such as education and healthcare, which in turn exacerbated the imbalances and shortages in these areas. In particular, according to the estimates of the World Health Organization (WHO) shortages can mount up to 9.9 million physicians, nurses and midwives globally by 2030.
In Europe, although the number of physicians and nurses has increased in general in the region by approximately 10% over the past 10 years, this increase appears to be insufficient to cover the needs of ageing populations. At the same time the WHO points to sizeable inequalities in the availability of physicians and nurses between countries, whereby there are 5 times more doctors in some countries than in others. The situation with regard to nurses is even more acute, as data show that some countries have 9 times fewer nurses than others.
In the US substantial labour shortages in the healthcare sector are also expected, with anti-crisis measures falling short of substantially reversing the ailments in the national healthcare system. In particular, data published by the AAMC (Association of American Medical Colleges), suggests that the United States could see an estimated shortage of between 37,800 and 124,000 physicians by 2034, including shortfalls in both primary and specialty care.
The blows sustained by global education from the pandemic were no less formidable. These affected first and foremost the youngest generation of the globe – according to UNESCO, "more than 1.5 billion students and youth across the planet are or have been affected by school and university closures due to the COVID-19 pandemic". On top of the adverse effects on the younger generation (see Box 1), there is also the widening "teachers gap", namely a worldwide shortage of well-trained teachers. According to the UNESCO Institute for Statistics (UIS), "69 million teachers must be recruited to achieve universal primary and secondary education by 2030".
From our partner RIAC
Accelerating COVID-19 Vaccine Uptake to Boost Malawi's Economic Recovery
Since the onset of the COVID-19 pandemic, many countries including Malawi have struggled to mitigate its impact amid limited fiscal support and fragile health systems. The pandemic has plunged the continent into its first recession in over 25 years, and vulnerable groups such as the poor, informal sector workers, women, and youth, suffer disproportionately from reduced opportunities and unequal access to social safety nets.
Fast-tracking COVID-19 vaccine acquisition—alongside widespread testing, improved treatment, and strong health systems—are critical to protecting lives and stimulating economic recovery. In support of the African Union's (AU) target to vaccinate 60 percent of the continent's population by 2022, the World Bank and the AU announced a partnership to assist the Africa Vaccine Acquisition Task Team (AVATT) initiative with resources, allowing countries to purchase and deploy vaccines for up to 400 million Africans. This extraordinary effort complements COVAX and comes at a time of rising cases in the region.
I am convinced that unless every country in the world has fair, broad, and fast access to effective and safe COVID-19 vaccines, we will not stem the spread of the pandemic and set the global economy on track for a steady and inclusive recovery. The World Bank has taken unprecedented steps to ramp up financing for Malawi, and every country in Africa, to empower them with the resources to implement successful vaccination campaigns and compensate for income losses, food price increases, and service delivery disruptions.
In line with Malawi's COVID-19 National Response and Preparedness Plan which aims to vaccinate 60 percent of the population, the World Bank approved $30 million in additional financing for the acquisition and deployment of safe and effective COVID-19 vaccines. This financing comes as a boost to Malawi's COVID-19 Emergency Response and Health Systems Preparedness project, bringing World Bank contributions in this sector up to $37 million.
Malawi's decision to purchase 1.8 million doses of Johnson and Johnson vaccines through the AU/African Vaccine Acquisition Trust (AVAT) with World Bank financing is a welcome development and will enable Malawi to secure additional vaccines to meet its vaccination target.
However, Malawi's vaccination campaign has encountered challenges driven by concerns regarding safety, efficacy, religious and cultural beliefs. These concerns, combined with abundant misinformation, are fueling widespread vaccine hesitancy despite the pandemic's impact on the health and welfare of billions of people. The low uptake of COVID-19 vaccines is of great concern, and it remains an uphill battle to reach the target of 60 percent by the end of 2023 from the current 2.2 percent.
Government leadership remains fundamental as the country continues to address vaccine hesitancy by consistently communicating the benefits of the vaccine, releasing COVID data, and engaging communities to help them understand how this impacts them.
As we deploy targeted resources to address COVID-19, we are also working to ensure that these investments support a robust, sustainable and resilient recovery. Our support emphasizes transparency, social protection, poverty alleviation, and policy-based financing to make sure that COVID assistance gets to the people who have been hit the hardest.
For example, the Financial Inclusion and Entrepreneurship Scaling Project (FInES) in Malawi is supporting micro, small, and medium enterprises by providing them with $47 million in affordable credit through commercial banks and microfinance institutions. Eight months into implementation, approximately $8.4 million (MK6.9 billion) has been made available through three commercial banks on better terms and interest rates. Additionally, nearly 200,000 urban households have received cash transfers and urban poor now have more affordable access to water to promote COVID-19 prevention.
Furthermore, domestic mobilization of resources for the COVID-19 response are vital to ensuring the security of supply of health sector commodities needed to administer vaccinations and sustain ongoing measures. Likewise, regional approaches fostering cross-border collaboration are just as imperative as in-country efforts to prevent the spread of the virus. United Nations (UN) partners in Malawi have been instrumental in convening regional stakeholders and supporting vaccine deployment.
Taking broad, fast action to help countries like Malawi during this unprecedented crisis will save lives and prevent more people falling into poverty. We thank Malawi for their decisive action and will continue to support the country and its people to build a resilient and inclusive recovery.
This op-ed first appeared in The Nation, via World Bank
An Airplane Dilemma: Convenience Versus Environment
Mr. President: There are many consequences of COVID-19 that have changed the existing landscape due to the cumulative effects of personal behavior. For example, the decline in the use of automobiles has been to the benefit of the environment. A landmark study published by Nature in May 2020 confirmed a 17 percent drop in daily CO2 emissions but with the expectation that the number will bounce back as human activity returns to normal.
Yet there is hope. We are all creatures of habit and having tried teleconferences, we are less likely to take the trouble to hop on a plane for a personal meeting, wasting time and effort. Such is also the belief of aircraft operators. Add to this the convenience of shopping from home and having the stuff delivered to your door and one can guess what is happening.
In short, the need for passenger planes has diminished while cargo operators face increased demand. Fewer passenger planes also means a reduction in belly cargo capacity worsening the situation. All of which has led to a new business with new jobs — converting passenger aircraft for cargo use. It is not as simple as it might seem, and not just a matter of removing seats, for all unnecessary items must be removed for cargo use. They take up cargo weight and if not removed waste fuel.
After the seats and interior fittings have been removed, the cabin floor has to be strengthened. The side windows are plugged and smoothed out. A cargo door is cut out and the existing emergency doors are deactivated and sealed. Also a new crew entry door has to be cut-out and installed.
A new in-cabin cargo barrier with a sliding access door is put in, allowing best use of cargo and cockpit space and a merged carrier and crew space. A new crew lavatory together with replacement water and waste systems replace the old, which supplied the original passenger area and are no longer needed.
The cockpit gets upgrades which include a simplified air distribution system and revised hydraulics. At the end of it all, we have a cargo jet. If the airlines are converting their planes, then they must believe not all the travelers will be returning after the covid crisis recedes.
Airline losses have been extraordinary. Figures sourced from the World Bank and the International Civil Aviation Organization reveal air carriers lost $370 billion in revenues. This includes $120 billion in the Asia-Pacific region, $100 billion in Europe and $88 billion in North America.
For many of the airlines, it is now a new business model transforming its fleet for cargo demand and launching new cargo routes. The latter also requires obtaining regulatory approvals.
A promising development for the future is sustainable aviation fuel (SAP). Developed by the Air France KLM Martinair consortium it reduces CO2 emissions, and cleaner air transport contributes to lessening global warming.
It is a good start since airplanes are major transportation culprits increasing air pollution and radiative forcing. The latter being the heat reflected back to earth when it is greater than the heat radiated from the earth. All of which should incline the environmentally conscious to avoid airplane travel — buses and trains pollute less and might be a preferred alternative for domestic travel.